Jim Kinnier Stanner Golf Classic –

2 WEEKS AWAY!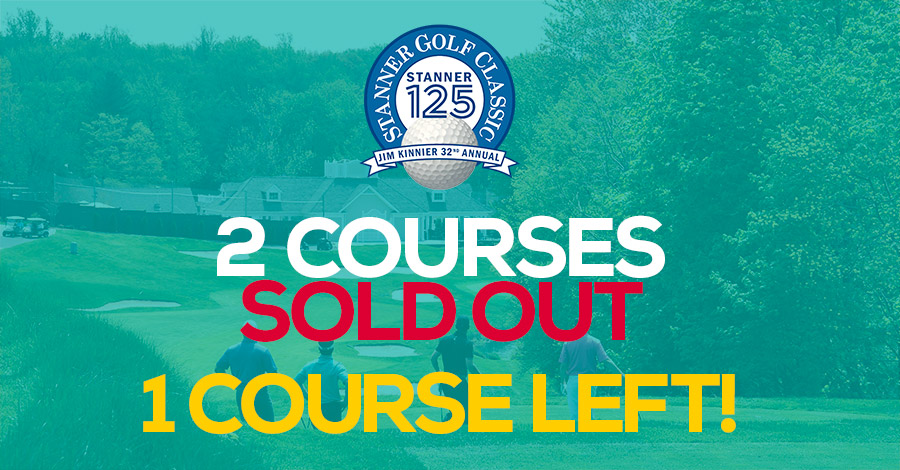 Attention Stanners and friends! This is your last chance to register for this year's Jim Kinnier Stanner Golf Classic! Currently, two of our three courses are SOLD OUT. There are spots still remaining at just ONE COURSE, so if you would still like to play, please contact Matt Rizzotti as soon as possible. All golfers will enjoy brunch, a mid-morning shotgun start, food and beverages throughout their round of golf, as well as an evening program featuring cocktails, a gourmet dinner, and dessert. We are also accepting reservations for dinner only.
Remember, our outing also includes opportunities to win great prizes through our live and silent auctions and our raffle. This year's raffle prizes are: 1st Prize: 2 Tickets to the Super Bowl (airfare & hotel included); 2nd Prize: 4 Day/3 Night Trip for 2 to Las Vegas (airfare & hotel included); 3rd Prize: 55" HDTV. Tickets are still being accepted and will also be available during the event!
JOURNAL ADS: While we are no longer accepting ads for our printed journal, we are still accepting digital ads that can be added to our online only journal. Sponsor a journal ad in support of this year's Stanner Golf Classic or in honor of our 2018 Golf Chairman, longtime benefactor and outing supporter Robert Rossi '81. Choose from the following donation levels: Gold Page – $1000 | Silver Page – $750 | Blue Page – $500 | White Page – $400 | Half Page – $200 | Quarter Page – $100
VOLUNTEERS: We are still seeking volunteers for the Stanner Golf Classic. If you are available to lend a hand to your alma mater on May 7th please contact Matt Rizzotti (see info above).
---
Swimming Alumni Reunion –

REGISTER NOW!
When & Where: June 9th, 2018 | 5:00PM @ Molloy
Who: Alumni, family members, friends
Tickets: $80 per person; $40 for Classes of 2007-2017
Contact: Craig Katinas '93 | 718.943.3151
Attention all Stanner Swimmers! Join us on Saturday, June 9th for a reunion event celebrating the success of our over 45 year old swimming program. In recognition of this special occasion, we will be honoring all athletes, coaches and staff who have been a part of this amazing and decorated program for so many years. Your admission includes cocktail hour, a dinner reception, and open bar. Register online at www.molloyhs.org/events/ or contact Craig Katinas '93 for more information.
---
St. Ann's Communion Breakfast – RSVP!
When: Sunday, June 3, 2018 | 10:00AM
Where: Archbishop Molloy High School
Contact: Merl Doyle | mdoyle@molloyhs.org | 718.441.9210
The Stanner Alumni Center is proud to announce our St. Ann's Communion breakfast for all graduates of St. Ann's Academy (Molloy was known as St. Ann's from 1892 – 1957) as well as graduates from the Classes of 1960-1967. If you have connections to St. Ann's or are a graduate from these years, please consider attending this free event on June 3rd. The program includes Catholic Mass celebrated at the school, followed by a delicious buffet breakfast. We will also display yearbooks and other items for a dose of nostalgia. Your RSVP is requested. Please contact Ms. Merl Doyle to RSVP or for more information.
---
Walk/Run for Karina –

VOLUNTEERS NEEDED!
When: Saturday, June 23, 2018 | 11AM – 11PM
Where: Archbishop Molloy High School
Contact: Matt Rizzotti '04 | 718.943.3186
Save the Date
Join us at Molloy on Saturday, June 23rd as we again remember a beloved member of our Stanner community, Karina Vetrano '04. Last year, Molloy held a two day, overnight walk/run vigil in remembrance of Karina. This year, our walk/run event will kickoff at 11:00AM and conclude at 11:00PM, all on June 23rd (11 being Karina's favorite number). More details and registration info will be released soon. All proceeds from this event will support the Karina Vetrano Memorial Scholarship, benefiting future young women entering Molloy. Please save the date, or contact Matt Rizzotti with any questions.
VOLUNTEERS: We're looking for volunteers! Please let us know if you are available to volunteer during any portion of our event honoring Karina Vetrano. Contact Matt Rizzotti if interested (see info above).


Stanner Players Present: "You're A Good Man, Charlie Brown"
Where: Molloy's Ralph DeChiaro Theater
Contact: stannerplayers@gmail.com
Reserve Tickets: Visit EventBrite.com and search "Archbishop Molloy"
*Note: The performance on April 26

th

is reserved for students and faculty only
After weeks of rehearsals, set building, and costume design, the Stanner Players are ready to present their spring musical! You're A Good Man, Charlie Brown, written by Clark Gesner and originally released in 1967, tells the story of the beloved Peanuts characters created by Charles M. Schulz. Charlie Brown, Linus, Lucy, Sally, Schroeder, Snoopy, and the rest of the gang will take center stage in Molloy's Ralph DeChiaro Theater April 26th-29th. Alumni, family members and friends are invited to come out and support our Players and enjoy the show!
If you would like to learn more about this year's cast or catch a few previews, be sure to follow @stannerplayers on Instagram!
---
Molloy Hosts First "Women at Work" Panel
by Joe Sommo '03 with contributions by Lauren Klein '19 and Deepa Gopaul '19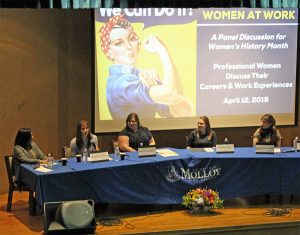 Students, faculty, and parents filled the Ralph DeChiaro Theater on April 11th to witness Molloy's first ever "Women at Work" Panel. The after school event, originally conceived by Assistant Principal Ms. MaryAnn Safrey, invited several alumnae in the workforce or in college back to Molloy to share their experiences and give advice on how to be successful in the current professional landscape. The panel included Christy Dey '16, Marcella Kocolatos '08, Camille Pajor '05, Jessica Petschauer-Attanasio '04, Ashley Regazzi '04, Jennifer Safrey, and Devin Triolo.
Christy, a student at Barnard College, is an Economics major with a minor in Environmental Science. She is also a part of the JP Morgan Smart Start Scholarship Program, which is a financial program open to college students interested in business, engineering, and computer science. She also recently took part in a research and development trip, where she helped create a trash disposal system for a community in Gautemala. Her advice: "You have nothing to lose, but everything to gain. Every opportunity, big or small, you have to be willing to put yourself out there." When later asked for her thoughts on the panel, Christy said she was "impressed by the turnout and interest shown by Molloy's student body."
Marcella, a graduate of Macaulay Honors College at Hunter, is a staff attorney at A Better Balance: The Work & Family Legal Center, a national non-profit legal advocacy organization dedicated to ensuring that workers may care for themselves and their families without sacrificing their economic security. She has advised hundreds of workers on their rights related to pregnancy, sick time, family and medical leave, and anti-discrimination. During the discussion, she stressed the importance of having compassion for others in any line of work. "Have empathy," she urged.
Camille is the Title IX Coordinator of the Julliard School, where she is responsible for leading the school's response, education, and compliance efforts relating to sexual misconduct. She is also a returned Peace Corps Volunteer, having served in Ukraine from 2009-2011. Her advice: "Relentlessly go after your dreams."
Jessica, a graduate of Brooklyn College with a Masters of Fine Arts in Arts & Business Management, is the licensed Brands Coordinator at Disney Theatrical Group, managing the branding and business strategy for Disney on Ice worldwide. She also has an extensive background as a stage performer and once served as Director of The Stanner Players. Her advice on facing discrimination: "Don't listen to what other people tell you." She also suggested "Googling" everything to be best prepared for any interview.
Ashley, who participated remotely from California, manages a research team at Memorial Sloan Kettering Cancer Center. Ashley's team develops new treatments and tests for cancers of the urinary tract. She has co-written articles for Nature Magazine, the American Cancer Society, and the Journal of Clinical Oncology. She is a graduate of Columbia University and is a frequent volunteer with their Alumni Association (as well as Molloy's). Ashley encouraged Stanners to "never assume that their application or resumé has been read" and to "talk about your experiences as much as you can" during job interviews.
Jennifer, daughter of MaryAnn Safrey, shared her experience as someone who switched careers. She originally worked as a news copy editor for the Boston Herald, eventually leaving to publish five novels. After taking time to further reflect, she realized her "comfort through everything" was yoga. She went on to open her own yoga studio called Emerald Yoga. "The world is constantly shifting. One day, the world will need your gifts in a way you can't even begin to fathom right now. We need you," said Jennifer.
Lastly, Devin, a family member of math teacher Ms. Danielle Jones, was not present, but Ms. Jones spoke on her behalf. Devin is the owner and founder of SHOP SIDE OF GUAC, a women's online retail platform. Devin is responsible for handpicking clothing items, hiring models, taking pictures of said models, editing photos, uploading content, and many more parts of her business model. She has worked her way to establishing relationships with Lord & Taylor and Dillard's, giving her the opportunity to handpick clothing items to be sold in their stores. Ms. Jones highlighted Devin's work ethic as a business owner as a strong one to emulate.
In closing, we share the following excerpt from an article written by juniors Lauren Klein '19 and Deepa Gopaul '19:
"A very common theme throughout the event was the place you start off isn't always the place you'll end up in. Your passions will change, your interests will change, and your dreams will change. And that's okay. "Take every opportunity with a positive attitude," said one of the panelists. A lesson learned: you have to pursue your own passions and make a dream for yourself. Do what makes you happy and, "relentlessly go after your dreams." This event as a whole was uplifting and inspiring for all spectators. It was immensely motivating to see several strong independent women share their experiences and advice. Without a doubt in our minds, the future is in fact female.
Thank you to Ms. Safrey, all of our panelists, and to teachers Ms. Kobinski '04, Ms. Jones, Ms. Massowd '07, Ms. Henning, Ms. Callagy '05, Ms. Akter, and Ms. Winters '06 for their support of this event.
---
Around the School
It's Official: Brown Signs National Letter of Intent to Attend UCLA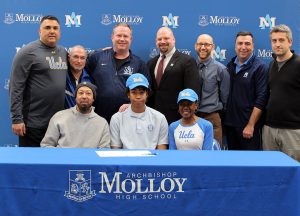 On March 28th, Moses Brown '18 became the first Stanner to represent Molloy in the McDonald's All-American Games in basketball since former NBA great Kenny Anderson '89. The 7'2" five-star recruit played for 13:00 minutes and recorded 11 points, 2 blocks, 5 rebounds, and a .625 FG% in the game, which was televised nationwide on ESPN. This came just weeks after Moses and his varsity teammates competed in the CHSAA and NYS playoffs, as well as the announcement of his intent to attend UCLA next fall. On April 11th, Moses made the move official by signing a national letter of intent to become a UCLA Bruin. Molloy held a signing ceremony where Moses was joined by his father, Malcolm, and his aunt, Josephine Ross, as well as coaches, teachers, teammates, Head Coach Mike McCleary, and Principal Penikas. On April 16th, USA Today named Moses to its 2017-18 All-USA New York Boys Basketball First Team. Cole Anthony '19 was named Second Team. | All-American Games Roster | 2017-18 ALL-USA New York Boys Basketball Team
---
Read the Spring Issue of "The Stanner"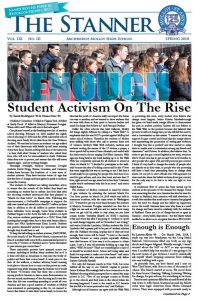 We invite our community to enjoy the latest issue of our award-winning student newspaper: The Stanner. This year's spring issue includes many wonderful articles written by our very talented student-journalists. Topics includes the recent rise in student activism, senior and teacher spotlights, the benefits of enrolling in AP courses, a look at Stanner sleeping habits, the possibility of new uniforms next year, recaps of the Senior Show and the Women at Work Panel, the sports page, and more! Visit our website at www.molloyhs.org/stannernewspaper/ and click the thumbnail for Spring 2018 to read all the latest Molloy news as reported by our students!
---
Download 2017-18 Spring Sports Schedule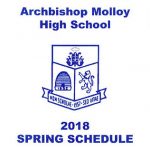 Come out and cheer on our Stanners this spring! Baseball, softball, lacrosse, handball, tennis, golf, and outdoor track & field are all underway. Click the thumbnail to the right to download the full spring schedule with home and away dates and times. For more information on Stanner athletics visit www.molloyhs.org or call 718.441.2100.
Download 2017-18 Spring Schedule
---
Pride for 125 Contest Reminder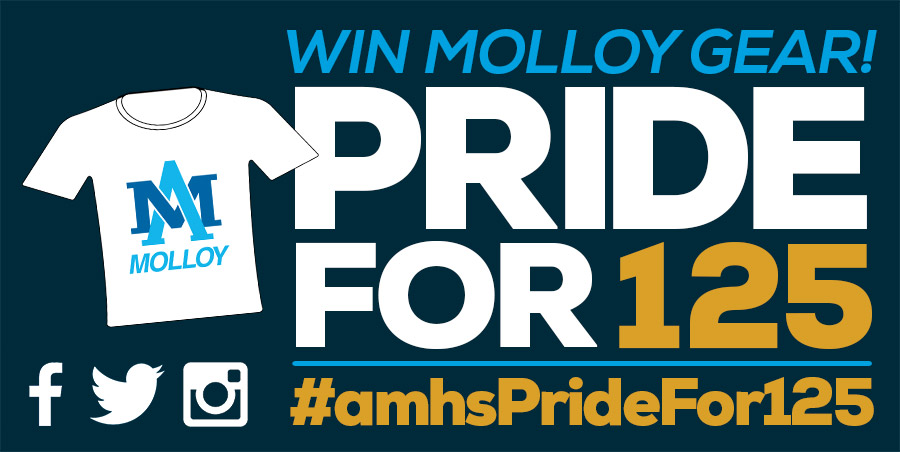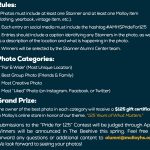 Our "Pride for 125" contest is still going! We're continuing our celebration of 125 Years of What Matters by giving Stanners a chance to win Molloy gear. To be eligible to win, Stanners should take a photo of themselves, or with their families and friends, wearing Molloy apparel or with vintage items (yearbooks, mugs, diplomas, jerseys, etc.) and post it to social media (Facebook, Twitter, Instagram) using #amhsPrideFor125 … Four winners, one from each of four categories, will receive a $125 gift certificate to Molloy's online store. Photos are judged based on creativity by members of the Stanner Alumni Center staff. Click the thumbnail to the right for the full rules and photo categories. The contest runs through April, so post your photos now! Contact alumni@molloyhs.org with any questions.


Young Alumnus Self-Publishes First Novel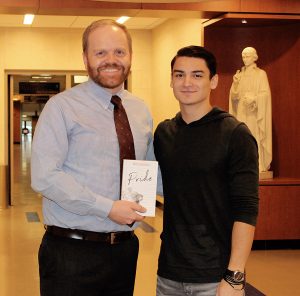 Sometimes the path we take toward success and self-satisfaction is not always clear. In the case of Kosta Rosvoglou '13, the young Stanner alum cherishes his own coming of age story. The Fordham grad, with degrees in Marketing and English, acknowledges that he went through a period of time when he lost sight of the future. Despite this uncertainty, what remained clear was his love of writing, which was once nurtured at Molloy by teachers like Mr. Vellucci and Mr. Kilkelly. "I always liked to write. In my last year of college, after losing sight of things for a while, I picked up a pen and a piece of paper and started writing. As I wrote about events in my own life, ideas flowed for the next six or seven months, and they eventually translated into a fictional story. I found my way through writing," says Kosta. (Pictured right w/Mr. Cameron)
The result of Kosta's writing revelation is Pride, a coming of age story about main protagonist Jason Young. Jason is a high school basketball player with great expectations placed on him by his family and friends. He is very ambitious and faces pressure in most aspects of his life. Suddenly, an unforeseen tragedy changes Jason's life forever. He is ultimately forced to take a step back, evaluate his life, leave his comfort zone, and rediscover the things that matter most. The book essentially asks: "How do you deal with what life throws at you?"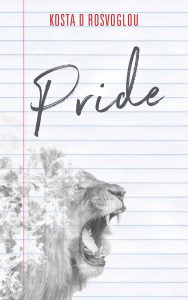 "I used to play basketball in high school. It was a big part of my life," says Kosta, who notes that many details from the book draw from his own experiences – even some from Molloy. "High school kids will identify with this story. If they feel overwhelmed, or are still figuring things out at a young age, this story reminds them that you can lose sight of things at any time, but although things might not go as you planned, sometimes the strongest and most successful people make a name for themselves after things don't go the right way."
Kosta's hope for Pride is for it to land in the hands of high school teens across America. "I really think teens could find a positive message in this book. A kid somewhere who is lost may pick it up and be inspired by learning that while things can get bad, good can come from that." Kosta hopes that the book will eventually be picked up by a big publisher, but until then he is enjoying working at Universal McCann, a global media and advertising agency that represents major brands like Chrysler, Coca-Cola, Hershey's, and more. He also has ideas for a Pride sequel as well, but that is a story for another day.
Pride is currently available in paperback and on Kindle on Amazon.com
---
Class Updates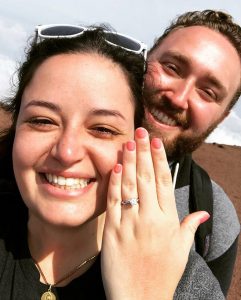 Congratulations to Allison Travers '11 and James MacDonnell '11, who were engaged at the top of Haleakalā (East Maui Volcano) in Maui, Hawaii, on Easter Sunday!
---
Friends and family are joining together to help Dennis Sheehan '88, a Stanner in need. Dennis suffered a stroke recently, which has led to health complications due to aphasia. CLICK HERE for more information. We ask our community to please keep Dennis and his family in your prayers as he continues his recovery.
---
Richard Greene '60 was inspired by our recent Track & Field Reunion to think back to his own days running for both St. Ann's AND Molloy. Richard is part of only a handful of classes who can claim to have attended both St. Ann's and Molloy during its transition. In Richard's words:
"I ran track back in 1956 at St. Ann's Academy. I was the first class to enter Molloy. We ran the 100 yd. relay at the old Madison Garden in NY. As such, we broke the record in a city-wide track meet. This race was run on the old wooden track with spikes. Until this day we still hold the record because they tore down the old Garden and replaced the race in meters in the new Garden. Thereafter, they replaced the track in the new Garden with modern surface. I don't recall if this record was lost or not recorded. Our track coach was Br. Eugene. I'm proud to say we still hold the 100 yd. record today as it will never be run again. This has become a fun Molloy story that we have told for many years to friends." (Pictured: Richard Greene and Ralph Benzenberg '60 zipping up their over-sized track jackets as young Molloy boys)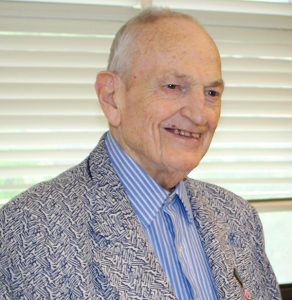 We are saddened to share the passing of John J. Howley '48, grandfather of Kiernan Smith '20. John was a very proud Stanner, as he was a graduate of St. Ann's Academy and stayed connected to our community for over 70 years. John was a regular guest at our St. Ann's Communion Breakfast each spring, as well as a guest at alumni reunions and other functions. John recently attended our Stanner Alumni Reunion in November 2017, where he received a standing ovation as the eldest alumnus in attendance. Just weeks later, John proudly attended our Stanner 125 Anniversary Mass in celebration of the founding of St. Ann's Academy in 1892. He also attended the Andrew Harvey Memorial 5K Fun Run last October, where he cheered on his grandson during the race. We've enjoyed John's wonderful stories over the years and have appreciated his kindness, as well as his loyalty to and love for our alma mater. Please join us in prayer for John and his family. | Read more about the life of John J. Howley

We are saddened to share the sudden passing of Carl Ahlgren '85. We will share details regarding arrangements for Carl when they become available. Please keep Carl and his family in your prayers.

Please pray for the repose of the soul of Deborah Ellen Barrow, daughter of Len Pollner '52.

Join us in prayer for the repose of the soul of John W. Scanlon '49.

We are saddened to share the passing of Patrick A. Hoey, beloved father of Peter W. Hoey '77, on April 12th. Please keep Patrick and the Hoey family in your prayers.

Please pray for the repose of the soul of Mary Quattrochi, mother of Ciro Quattrochi (President of Lay Faculty Association).