Around the School
Molloy Adds AP Computer Science Principles Course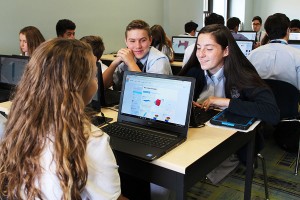 PRESS RELEASE – Briarwood, NY – Archbishop Molloy High School has introduced a new AP Computer Science Principles course this fall, following in the school's own trend of celebrating technology throughout its curriculum. While an advanced placement course, it is structured to be inclusive as it is not reliant on a student's prior knowledge of the source material. The course will review web design, programming, search engine optimization, and original computer-based artifact creation. Principal Darius Penikas is excited for the opportunities the course presents students. "We place a tremendous emphasis on technology here at Molloy, and this course will support that effort. Students who enroll in the course will create functional content such as programming their own apps. AP Computer Science Principles is remarkably applicable to the modern work environment because it quantifies the importance of computers and their impact on our world."
Fall 2016 marks the first time AP Computer Science Principles is being offered by the College Board. Molloy jumped at the opportunity and accommodated the new course by extending the school's day to day schedule and adding an expert in the field. Ms. Edit Boral, who will teach the course, is a 25 year veteran of Computer Science education and brings a vast knowledge base. Further support for the program comes by way of a grant awarded by Mobile CS Principles (MCSP), an organization supported by National Science Foundation grants and endorsed by the College Board. MCSP endeavors to "provide a broad and rigorous i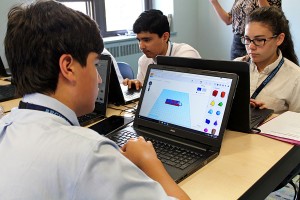 ntroduction to computer science based on App Inventor."
"The addition of this course is our first step in an expanded computer science curriculum initiative," said Mr. Penikas. Other efforts, including AP Computer Science A (Java Programming) and the after school STEAM Club (Science, Technology, Engineering, Art, and Math), will supplement Molloy's mission to provide top tier computer science instruction as well as opportunities for real world applications. "We will always continue to look for ways to enhance the program. A 3D printer has been ordered, and full courses in web and app design are also planned," said Mr. Penikas.
Class of 2016 Among College Board's AP Scholar Roster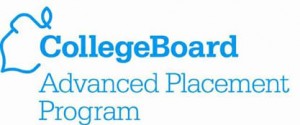 PRESS RELEASE – Briarwood, NY – The College Board announced earlier this week its AP Scholar Roster for 2016. These awards recognize high school students who have demonstrated college-level achievement through AP courses and exams. Students who score 3 or higher on three or more AP exams are considered AP Scholars. Students who score at least 3.25 on all AP exams taken and earn scores of 3 or higher on four or more exams are AP Scholars with Honor. The AP Scholar with Distinction is granted to students who receive an average score of at least 3.5 on all AP exams taken and scores of 3 or higher on five or more of these exams. Molloy's total number of scholars in 2016 is 81. Their combined average score is 3.78. Congratulations to the following alumni from the Class of 2016:
Class of 2016 AP Scholars – Vincent Antignani, Jada Bacchus, Sitorie Bachan, Victoria Brucas, Daryl Caffarone, Yves Chen, James Curran, Alexandria Dominguez, Garret Genco, Laura Geoghegan, Alexander Gliagias, Kelly Huang, Daniel Jimenez, Sarah Kowpak, Siobhan Loftus, Megan McLoughlin, Isabella Mercado, Alejandro Montoya, Christopher Ortega, Nicole Pagnotta, Victoria Perillo, Kleanthis Plakas, Alessandra Ricciardi, Katharine Sapienza, Raffaele Scarpitti, Amanda Tracey, Sylvie Williams, Stacy Zachariah.

Class of 2016 AP Scholars with Honor – Perry Chresomales, Andrew Chui, Christy Dey, Dylan Haynes, Jake Infante, Jane McNoble, Alexandra Petot, Claudia Raciborski, Sophie Robinson, Hailey Tom.

Class of 2016 AP Scholars with Distinction – Maria Aliberti, Shania Chua, Terence Coppinger, Jordan Fierek, Michael Gillooley, Maria Goetz, Jaila Guevarra, Maria Gulino, Stacy Kanellopoulos, Caroline Kelly, Lucia Lin, Oliver Mai, Peter Maisano, Rose Maisano, Jack Mangin, Alessandro Markovic, Harris Mohsin, Michael Najac, Emily Peckham, Austin Pizzella, Samantha Racan, Konstantina Raptis, Mikayla Roberts, Shibangi Saha, Harmanveer Singh, Laksumi Sivanandan, Petra Stiglmayer, Brendan Woods, Matthew Zwolak.
A list of AP Scholars from the Class of 2017 can be found under latest news at www.molloyhs.org.
Checkmate! Alumni Return for Chess Reunion
The Stanner Alumni Center would like to thank Mr. Mike Harrison and our alumni for making last weekend's Chess Reunion a great success. Chess has been a part of Molloy's culture for decades, and Mr. Harrison has proudly moderated the club and team for the majority of his tenure at Molloy. His enthusiasm for the game has not only inspired students to become better players, but it has also helped create a fun atmosphere that students want to be a part of. In turn, club members establish a tight bond with each other.
In celebration of Mr. Harrison's many contributions to Molloy's chess program, alumni and current club and team members came together on September 17th for a few friendly rounds of chess and bughouse games. And, of course, there was pizza from local neighborhood favorite Alba's (in keeping with the club's tradition). Alumni also presented Mr. Harrison with a plaque commemorating his dedication and service to Molloy chess.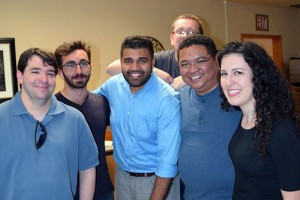 "It felt nice to be recognized, but I was much happier to see the alumni and catch up with them," said Mr. Harrison. "It's great that they reconnected with the school, and also that they established new connections with each other. Now we have a nice core of alumni interested in hosting future chess events. It was also nice to have the students interact with the alumni. Between the pizza, the bughouse games, the conversations, and everything else, it was an great day and we all had fun." Mr. Harrison also noted that the alum who traveled the furthest to attend the reunion was Christian Almazan '99, who currently lives in Colorado. "Christian scheduled his annual trip to visit family so it would allow him to come to the chess reunion. I was very happy to see him," said Mr. Harrison. (Pictured L-R: Philippe Bero '03, Ryan Cammarata '06, Stephan Mahabir '03, Kamil Klimowicz '03, Arwin Castillo '02 & Ashley M. Regazzi '04)
Read future issues of The Beehive for potential updates on events for Molloy's chess community. Special thanks to Ashley Regazzi '04 for capturing the event in her wonderful photos, some of which you can view below. All photos from the event can be found at www.facebook.com/ArchbishopMolloy.
Alumni Pipes & Drums Band Recruiting New Members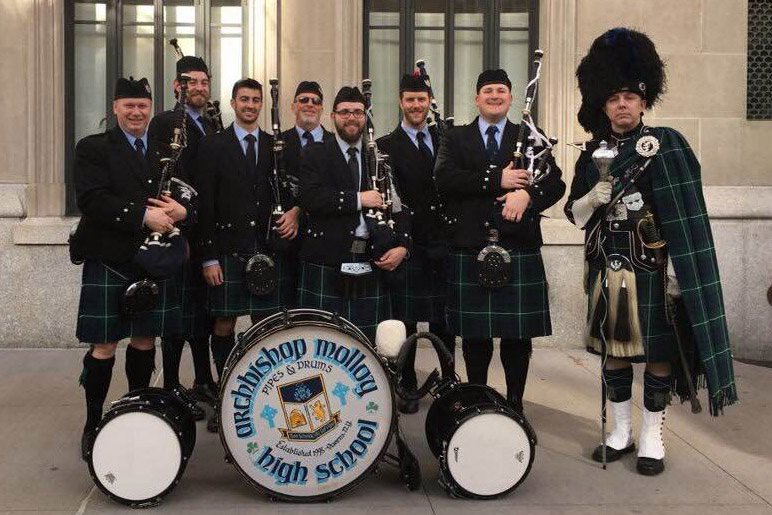 For over 20 years, Molloy's Pipes & Drums Band has been a beloved part of student life. Whether ceremoniously playing at the start of our annual Walkathon, delighting audiences at International Day, or parading on St. Patrick's Day, the band makes its presence felt all around our community. Band members also form a unique bond with each other, a bond which has now influenced the founding of Molloy's very own Alumni Pipes & Drums Band.
"I had been part of the '2 o'clock club' at Molloy," said Joe McMenamin '99, one of the Stanners behind the recent alumni band effort. "Eventually some classmates encouraged me to give Pipes & Drums a try. I ended up loving it and making great friends." Brian Davis '02 was an underclassman when he joined Pipes & Drums. Now he's one of the leading members of the alumni band along with Joe. "There's a level of fascination that comes with bagpipes. As a student I wanted to challenge myself and learn to play something unique," Brian explained. His risk paid off. "The thrill of marching on St. Patrick's Day is incredible, and fortunately now through the alumni band I can experience that again. I'm proud to represent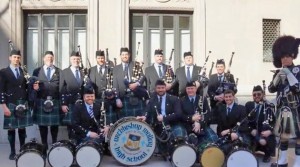 Molloy as part of one of New York City's oldest and greatest traditions. Additionally, the friends I made in the band were for a lifetime, and it's great to play with them again."
In 2014, Christian "Tian" Doran '03, a former Pipes & Drums Band member and friend of many, passed away unexpectedly. "We had thought about starting an alumni band for a couple of years, but it was only an idea until Tian passed away," explained Joe. "Tian's family asked me if I could get some alumni together to play bagpipes at his funeral. It was a sad day, but it was then that we put the alumni band idea in motion. It was one last gift from Tian." Mr. Jim Sheldon '88, then moderator of the student band, was receptive to the idea and invited alumni to practice at Molloy once a week. After shaking off the rust, the alumni band began accompanying the student band at various events including parades in Rockaway, Bay Ridge, Garden City, Park Slope, and the 5th Avenue Parade.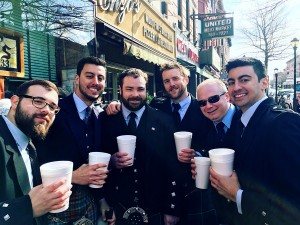 "It's been great reconnecting with old friends and teachers while getting to know players from other class years," said Brian. "Since it has been such a success, we want to increase our network of available band members, therefore boosting our numbers and presence in parades and events while keeping the tradition of the band alive. The existing network has been great in sharing gigs as they arise, and we would like to add more alumni to that network." Joe echoed Brian's sentiments. "It would be great for the current students to see the passion of more alumni, in turn encouraging them to stay in touch and act as a feeder band for the alumni band."
If you played Pipes & Drums at Molloy, or have played in other Pipes & Drums bands, and are interested in performing with our alumni and students at various functions, please contact alumni@molloyhs.org.
Upcoming Events
Baseball Reunion – THIS WEEKEND!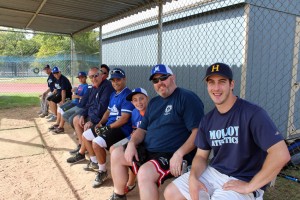 Last day to register! Join us tomorrow, September 24th, for a great day featuring a Varsity baseball game (10:00am), a tailgate BBQ (11:30am), and an alumni softball game on Stanner Field (Time TBD). The hat pictured, which pays tribute to Jack Curran, will be available for purchase at this event. Your ticket includes lunch, beverages, and a complimentary Molloy t-shirt (for Alumni). Families with kids welcome! Walk ups are also welcome!
Andrew Harvey Memorial 5K Fun Run – NEXT WEEKEND!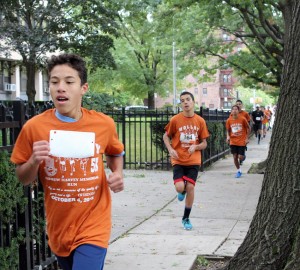 Less than one week left to register! All members of the Molloy community are invited to the Andrew Harvey Memorial 5K Fun Run on October 2nd. The 5K race will challenge you on a route through Briarwood. A One Mile Race and Little One's Dash are also offered. Refreshments will welcome all runners and guests upon completion of the races. Top finishers in each age group will be awarded with medals. All runners will receive a 5K t-shirt too! Register online or download a flyer to mail addressed to: Archbishop Molloy High School: ATTN: Frank Gambino, 83-53 Manton Street, Briarwood, NY 11435.
Molloy Oktoberfest – TWO WEEKS AWAY!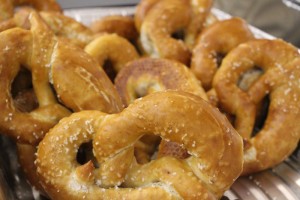 Come out to Molloy on Thursday, October 6th and enjoy brats and brews with classmates, family and friends. Our annual Molloy Oktoberfest is open to all members of the Stanner community ages 21 and up. It will feature classic Bavarian style food, music, and décor as well as a complimentary prize raffle. Consider this is a fun, relaxing evening and a great opportunity to enjoy dinner and a few laughs with classmates and friends. Contact Joe Sommo '03 with any questions.
Women's Alumnae Network Private Rooftop Happy Hour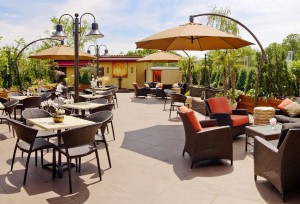 Molloy alumnae are invited to attend our Women's Rooftop Happy Hour event on Friday, October 21st, 2016 at Il Bacco of Little Neck. Enjoy a buffet dinner, open bar, and a unique opportunity to connect with your fellow Stanner alumnae. The event will take place on Il Bacco's private rooftop patio from 7pm-10pm. Special thanks to Keri Anne Jetter '04, Carissa Jordan '04, Jessica McEntee '05, and Christina Rizzotti '04 for their help in planning this event.
Stanner Alumni Reunion
The Stanner Alumni Reunion for class years ending in 1 and 6 (excluding 2016) will be hosted here at Molloy on Saturday, November 5th. Alumni should have already received their invitation in the mail. If you did not receive your invitation, please contact alumni@molloyhs.org and provide an updated mailing address. Your admission includes dinner, dancing, dessert, and open bar. More info about the evening's program and online registration can be found on your class event page at www.molloyhs.org/events.
We are looking for class agents to act as representatives for each class celebrating their reunion. Class agents are volunteers that work with the Stanner Alumni Center to actively spread the word about the reunion in an organized effort to recruit classmates. We are not always able to reach every alumnus with an invitation, but you can help. Interested alumni should contact Matt Rizzotti '04.

Richard Wagner '81 is a former NYC Transit Officer (1985) and Nassau County Police Officer (1987-2010). He met many Stanners while on the job and enjoys reminiscing with fellow alumni about the days back on Manton Street. Rich would like to reconnect with other members of his Class of 1981 via email. If you would like to connect with Rich please let us know at alumni@molloyhs.org.
Thank you to Tony O'Shea '83 for sharing the above photos from the Robert Scandole Memorial Fundraiser, which took place this past summer. The annual fundraiser honors the late Robert Scandole '83, a beloved husband, father, and friend who tragically passed away on September 11th, 2001 while working for Cantor Fitzgerald in the World Trade Center. Tony caught up with classmates Jim McGuire '83 and James Lynch '83 at the event, and all were proud to represent their class in honoring Robert. Thanks to the wonderful donations received from this annual fundraiser as well as a recent gift challenge, over $20,000 has since been raised for the Robert Scandole Memorial Scholarship. "Establishing this scholarship was a way to keep Robert's name and legacy alive in support of something he would be proud of. The scholarship assists students who meet all academic requirements, but who may be experiencing financial difficulties," explained Robert's brother, Chris Scandole, in the August issue of Stanner Life. If you'd like to make a gift to Robert's memorial fund, visit www.molloyhs.org/donate.


We are saddened to share the passing of Paul Bereza '79, brother-in-law of Mike Sweeney '79. Please keep Paul and his family in your prayers.

 It is with sadness we share the passing of Lillian Colletti, loving mother of Anthony Colletti '74, Sal Colletti '79 and Paul Colletti '82, grandmother of Ashley Callagy '05 and Katrina Colletti '08, and many other family members. Please remember Lillian and her family in your prayers.