The Class of 2016 Earns Over $100M in College Scholarships, Graduates with Endless Potential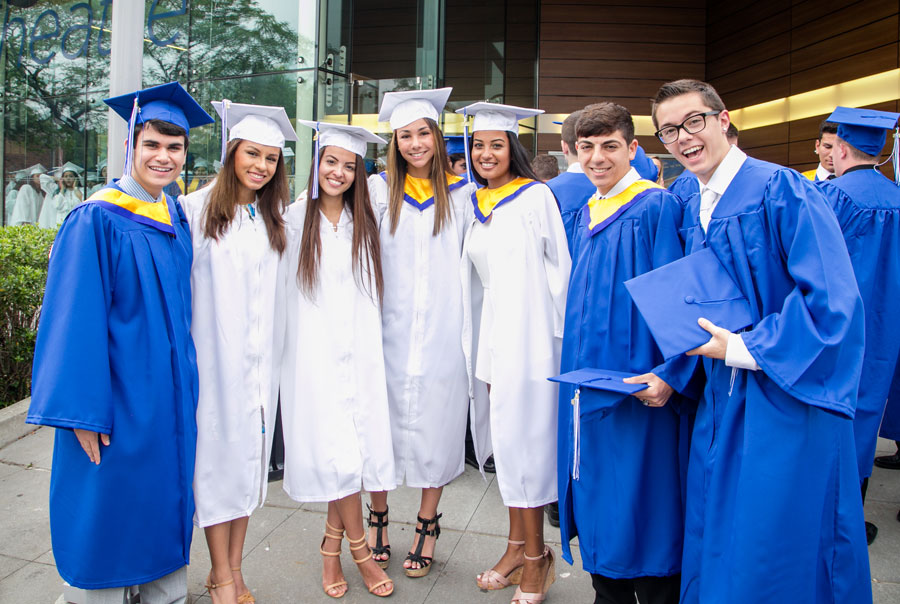 Saturday, June 4th, marked Archbishop Molloy High School's 124th commencement ceremony. The Class of 2016 made their proud procession to the stage in the Colden Auditorium at Queens College in front of friends and family – a culmination of four years of hard work. Like many classes before them, the Class of 2016 has left their own unique imprint on Molloy. They have made a lasting impression on their teachers and on one another, and they have also set a new standard in academics and athletics for future classes to reach. Amazingly, the Class of 2016 has earned over $100 million in college scholarships. 1,353 scholarships were awarded to 252 students (63% of the class) from many of the top universities in the world (listed below).
"What do you do now?" asked Principal Darius Penikas during his commencement remarks. "You will soon begin your college career and, before you can blink, will find yourselves in the professional world. Judging by your record, you will rise quickly to positions of leadership and influence…I recommend that you make your future decisions, especially the most important decisions, based on the core principles that you learned at Molloy. Let the life and example of St. Marcellin Champagnat be your guide. Like Marcellin, be bold, be kind, be present, work hard, be generous with your time, be thankful for all you have been given, and allow God to be present in your life."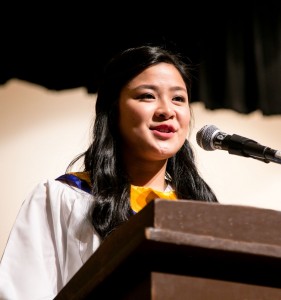 Salutatorian Shania Chua '16 addressed her peers during the commencement ceremony. "Remember, academics are important, but they aren't everything. No number on a paper is capable of indicating your potential. It is what you take from the experience. It is how you are affected. It is how you have changed as a result of the experience that shows your true maturity because the only person stopping you from success is yourself. Thank you, Molloy. Thank you for placing me amongst such a bright group of students that challenged me on a daily basis and showed me the true meaning of friendship. Feeble steps as freshman have led to huge leaps as seniors. Like a baby experiences his first, we have experienced our firsts of adulthood. Firsts are what force us into uncomfortable situations. Firsts are what change us and develop us into the people that we are today. So my fellow graduates, I ask you to never stop experiencing your firsts."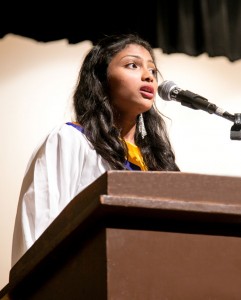 Valedictorian Shibangi Saha '16 shared her remarks as the commencement ceremony continued. "What can I possibly say that justly describes our journey together as classmates? What advice or thoughts can I offer to such a talented group of individuals who have survived so much, and emerged from every obstacle stronger and wiser? Today we celebrate the constant perseverance and determination that got us to this point, and will carry us for the rest of our lives." She continued, relating her own very personal struggle within her Molloy journey. "In the summer before my sophomore year, I lost my mother. I had lost my identity as a daughter and had no one to call 'mom'. My mother's death changed me in profound ways…I learned that tomorrow is never certain. I also learned that when everything in your world seems to fall on you, you can emerge from under the rubble and breathe again…I am sharing my story with you to offer hope and strength for your new life…Things do go wrong. Losses of opportunity, dreams, hope, and even life. What happens next? We must overcome the adversity, no matter when or how it hits."
Valedictorian Remarks | Salutatorian Remarks | Principal's Remarks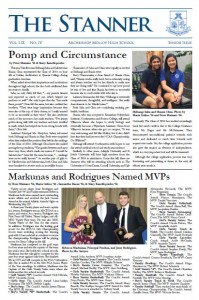 This year's graduates are attending colleges including Amherst, Barnard, Baylor, Boston College, Marist College, Northeastern, Purdue, Sophie Davis School of Biomedical Education, University of Arizona, University of North Carolina, University of Notre Dame, University of Pennsylvania, Tufts University, United States Naval Academy, University of Edinburgh (UK), Vassar, Villanova, Williams College, and Yale among many other fine schools. 18% of the Class of 2016 will attend nearby St. John's University. 7% of our graduates will make their way to Adelphi in the fall. 3% will call NYU home, while another 3% will continue their journey at Fordham. (See more in the Senior Issue of The Stanner newspaper by clicking the thumbnail to the right)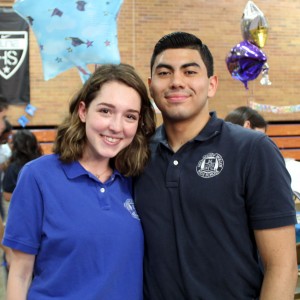 On Monday, June 6th, the Class of 2016 came together one last time to celebrate their Graduation Breakfast in the Jack Curran Gym. Teachers served up plates of hot food, while our newest alumni signed yearbooks, shared memories, and promised to stay in touch with each other and their alma mater. You will always be welcome to come home, Class of 2016! Please come visit any time and share all of your successes with us in the months and years ahead – and be sure to let us know if we can ever help you. Non scholae sed vitae. (Note: See Br. Pat Hogan's remarks at the Graduation Breakfast in this week's Reflection in the right column)

Top Players Honored at Athletic Awards Night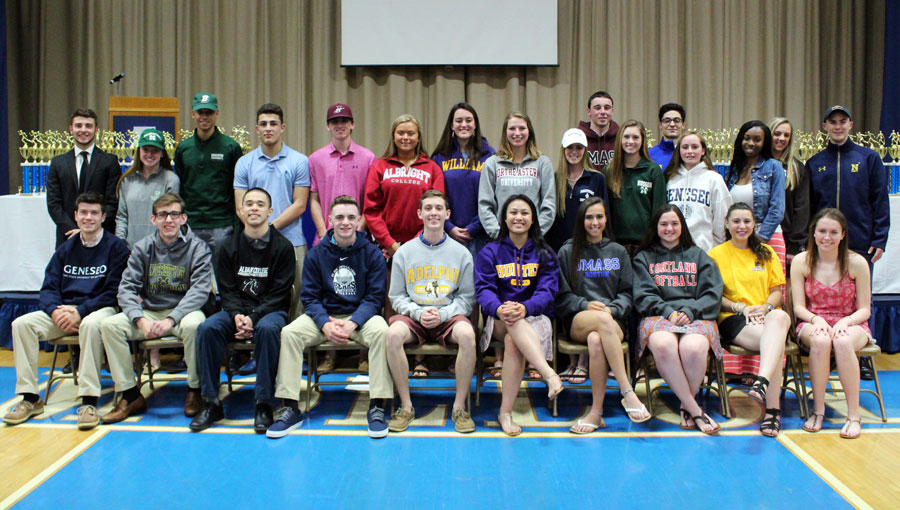 Late May and early June provide many moments of celebration here at Molloy. It's a time to look back on what has been achieved, and an opportunity to gain extra motivation for whatever challenges lie ahead. One such celebration is that of the student-athlete, which culminates with Athletic Awards Night. This year, on May 25th, Molloy honored its most outstanding student-athletes who demonstrated an ability to balance their performance in the classroom as well as on the field of play.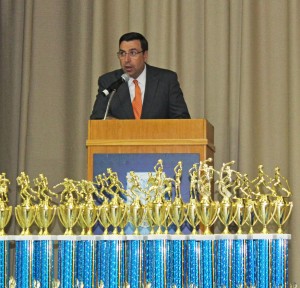 "Molloy opened its doors almost 60 years ago, and our athletic programs have always been a vibrant factor in our mission to enhance the mind, body, and spirit of our students," said Mr. Mike McCleary, Athletic Director, in his remarks. "The student-athletes of today are continuing the tradition of excellence here at Molloy. Through daily practices and tremendous efforts, our student-athletes have enjoyed much success this year. Together they have won 4 divisional titles, reached 4 league finals, won 11 Brooklyn/Queens Championships, and reached 3 City Finals while winning 1 City Championship. In addition, we had 4 teams reach the State playoffs." (Athletic Director Mike McCleary speaks at Athletic Awards Night. In the foreground are the many trophies to present)
Student-athletes were called one by one to receive their awards, including MVPs for each sport. Players posed with their coaches for photos, while a montage of photos from the 2015-16 school year was played. The Jack Curran Outstanding Senior Athlete Award was also presented to the best male and female athletes in the senior class. This year's female recipient was Rebecca Markunis '16, who has competed on Molloy's Varsity golf team for four years. She is 45-3 all time competing against all male competition.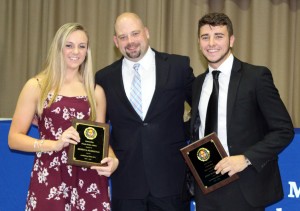 She participated in the State Playoffs as early as a freshman and later won the NYC Junior PGA Championship. She is ranked #1 in the Met PGA Junior Player of the Year standings. She was also captain of the girls Varsity swim team, which has gone 86-2 during her tenure including several undefeated seasons. Rebecca will attend Lehigh University in September. This year's male recipient was Jesse Rodriguez '16. Jesse was captain of the Varsity soccer team and was First Team All Tablet and Times Ledger as a senior. He was MSG Varsity Player of the Year and All-MSG Varsity First Team. Jesse was the leading goal scorer for the 2015-16 City Champion soccer team and provided the winning goal with 12 seconds left to secure that championship. He is attending Siena College in the fall. (Pictured L-R: Rebecca, Principal Darius Penikas, and Jesse)
Seniors were thanked for all of their hard work for four years, as well as all of the parents who support our Stanners in their athletic endeavors. "I would also like to thank our coaches, who together are clearly the best staff in the CHSAA," said Mr. McCleary proudly.
Winners listed in PDF format: Athletic Awards Winners | Student-Athlete Awards

Br. James Norton '63 Honored at Counseling Event
Molloy's guidance and counseling staff recently attended an event hosted by the Catholic Secondary School Counselors of New York City (CSSCNYC). The event, held at Fordham University's Lincoln Center campus, is an annual gathering through which the organization connects counselors from Catholic schools around NYC to discuss the various issues teens often face. This year's topics included cyber bullying and Internet awareness. The organization also honors individuals who have demonstrated outstanding achievement in counseling services and working with teens or have made significant contributions to the field. Molloy's own Br. James Norton '63 was this year's honoree and was presented with the Jack Callery Award for Excellence in School Counseling. This is the first time anyone from Molloy has received this award. Br. James was presented the award by Christine Curcio and Maria Pacheco, President and VP respectively of CSSCNYC. Mr. Chris Dougherty '91, chair of Molloy's guidance department, shared words about his colleague during the presentation. "Br. James has built a foundation of love and compassion with students, alumni, and staff. He's been the rock here; a true role model, mentor, friend, and inspiration. He definitely deserves this 'lifetime achievement' award."
Mr. Ted McGuinness '81, a college guidance counselor, was also in attendance to support Br. James. "It's important for Molloy to be represented at this event, because we learn so much from sharing and interacting with counselors from Catholic high schools all over the city. It's a good way to stay up to date on evolving best practices in other departments." (Click photos for captions)
Around the School
Students Visit Bloomberg Offices
Students in Molloy's Investment and Environmental Clubs recently had the opportunity to visit the Manhattan offices of Bloomberg L.P. Representatives at Bloomberg demonstrated the use of a trading platform/software that helps the user understand trading through a unique analysis process. Essentially, users analyze a stock and its characteristics and determine if it is worth investing in. "The students got a nice hands-on experience through their presentation. They saw the program in action and got to use it themselves," explained Mr. Mike Harrison. "The program allows the user to test out the parameters of a stock, like its PE Ratio and whether it's a small cap or large cap stock, and then plug in certain characteristics. The Bloomberg platform then narrows down the field of companies based on the parameters and provides the best investment opportunities for the user." After the presentation, students enjoyed a tour of the Bloomberg offices, which was of interest to the Environmental Club because a large percentage of the construction and furnishing elements within the building are recycled refuse. "It was great for the students to see a company that does well for the environment," said Mr. Harrison.
(Photos courtesy of Amanda Garcia / Bloomberg)
Students Remember PFC Louis Willett '63
Several history classes continued the tradition of honoring PFC Louis Willett '63 in observation of Memorial Day. Students visited the Willett's Hall of Fame etching and read his Medal of Honor citation. An excerpt from the citation:
"For conspicuous gallantry and intrepidity at the risk of his life above and beyond the call of duty. Pfc. Willett distinguished himself while serving as a rifleman in Company C, during combat operations. His squad was conducting a security sweep when it made contact with a large enemy force. The squad was immediately engaged with a heavy volume of automatic weapons fire and pinned to the ground."

"Despite the deadly fusillade, Pfc. Willett rose to his feet firing rapid bursts from his weapon and moved to a position from which he placed highly effective fire on the enemy. His action allowed the remainder of his squad to begin to withdraw from the superior enemy force toward the company perimeter. Pfc. Willett covered the squad's withdrawal, but his position drew heavy enemy machine gun fire, and he received multiple wounds enabling the enemy again to pin down the remainder of the squad. Pfc. Willett struggled to an upright position, and, disregarding his painful wounds, he again engaged the enemy with his rifle to allow his squad to continue its movement and to evacuate several of his comrades who were by now wounded. Moving from position to position, he engaged the enemy at close range until he was mortally wounded."

"By his unselfish acts of bravery, Pfc. Willett insured the withdrawal of his comrades to the company position, saving their lives at the cost of his life. Pfc. Willett's valorous actions were in keeping with the highest traditions of the U.S. Army and reflect great credit upon himself and the Armed Forces of his country."
Students prayed for PFC Willett and all heroes who have made the ultimate sacrifice in defense of our country and our freedoms. Special thanks to retired US Navy Captain Larry Seible '63 for donating the beautiful floral arrangement (pictured with students) placed under PFC Willett's portrait in observance of Memorial Day Weekend.
Feast of St. Marcellin Champagnat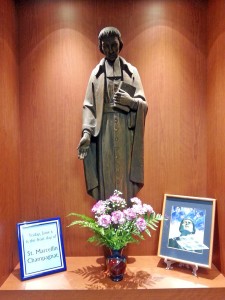 Monday, June 6th marked the feast day of St. Marcellin Champagnat, which is a wonderful opportunity to pause and reflect on our role as Marists in our global community. Alumni are called, just as our students are, to observe the Five Pillars of Marist Charism: Simplicity, Family Spirit, Presence, Love of Work, and Love of Mary. Serve your neighbors, put the needs of others before your own, and continue to nurture your faith. Whether you're a freshman student, a senior, a graduate of the Class of 2016, or a graduate of the class of 1955, you are and will always be a member of our Marist family! For more on the Feast of St. Marcellin Champagnat, please view the video below, which features a message from Br. Emili Turú, Superior General of the Marist Brothers.
JV Softball Wins "AA" Division City Title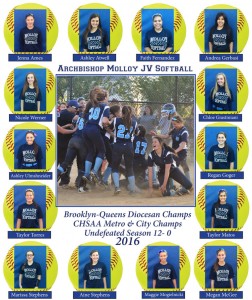 In a follow up to an article in our last Beehive, we're proud to share that Molloy's girls JV softball team has won the "AA" Division City Title. The JV squad earned a decisive 14-1 victory over Notre Dame Academy in Staten Island. Adding to the impressive victory, Nicole Werner pitched her third no-hitter of the season, while Aine Stephens and Ashley Ulmschneider contributed a combined six hits and four RBI. The team's final record stands at 16-1. Congratulations to the team and Coach Lou Santos! | Read more in the Queens Chronicle
Upcoming Events
Stanner Alumni Reunion – REGISTER NOW!
When: Saturday, November 5th, 2016
Where: Archbishop Molloy High School
Who: Classes of 1946, 1951, 1956, 1961, 1966, 1971, 1976, 1981, 1986, 1991, 1996, 2001, 2006, 2011
Admission: $100 per person | $150 w/spouse or date
Discount for Class of 2011: $50 per person
Discount for Class of 1966: Complimentary for you w/spouse or date
Contact: Matt Rizzotti |mrizzotti@molloyhs.org | (718) 943-3186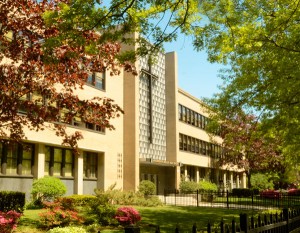 The Stanner Alumni Reunion for class years ending in 1 and 6 is all set to take place here at Molloy on Saturday, November 5th. The Reunion is a wonderful opportunity to reconnect with your alma mater, rekindle old friendships, and make new ones with classmates and teachers alike. We will be celebrating many wonderful milestones, including the Class of 1966's 50th "Golden" Anniversary, as well as the Class of 1991's 25th "Silver" Anniversary. Your ticket includes dinner, dancing, dessert, and open bar. More information about the evening's schedule, valet parking, and more can be found on your class event page at www.molloyhs.org/events.
Please click the link above to visit the event calendar and find your class event page. If you have any questions at all about the reunion please contact Matt Rizzotti '04 via the information above.

Last Call for "Stanner Life" Magazine!
This is your last opportunity to be included in our "Class Updates" article in this summer's issue of Stanner Life magazine. Have you graduated and earned a degrees, started a new business, gotten married, traveled, or bumped into other Stanners along the way? Please share your story with us! If interested please submit a one paragraph update along with a relevant, high resolution photo. If applicable, please try to name as many Stanners as possible who may play a part in your update, or provide a photo caption if possible. Our goal is to represent each decade of alumni with stories, so whether you're 60 years out or just graduated in 2016, we want to hear from you. All submissions or any questions about the magazine should be sent to Alumni Communications Director Joe Sommo '03 at jsommo@molloyhs.org. Please also remember to email Joe if you need to share a new mailing address with Molloy.
Class Updates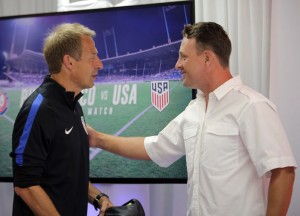 Jack Stefanowski '93 served as the head coach of the Puerto Rican National Soccer Team against the United States National Team on May 22nd. Formerly the head coach of the Nepalese National Soccer Team, Stefanowski has once again found success in Puerto Rico after a four year hiatus. His last work there came with the Puerto Rico Islanders in 2012. The match between Puerto Rico and the USA was held at Juan Ramón Loubriel Stadium in Bayamón, Puerto Rico. The United States pulled out the victory 3-1. Pictured is Stefanowski (right) greeting Jurgen Klinsmann, head coach of the US National Team, prior to kickoff. (Photo courtesy of Jack Stefanowski)
Jillian Spataro '13 is currently an incoming senior at NYU's Tandon School of Engineering where she is studying for a degree in Computer Science with a minor in Cyber Security. This past year, Jillian was awarded the National Science Foundation's Scholarship for Service, also known as Cyber Corps. This Federal award is a unique program designed to increase and strengthen the cadre of federal information assurance professionals that protect the government's critical information infrastructure. It is through this program that Jillian was fortunate enough to earn an internship with the National Security Agency this summer in their CAE for Cyber Operations program. Jillian is also mentioned in the following news segment reported by ABC News: College Students To Meet Demand for Cybersecurity Experts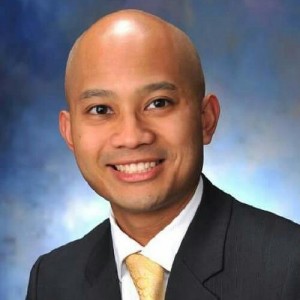 Lorenzo Cervantes '98, Chief of Ophthalmological Surgery at Waterbury Hospital in Connecticut, recently made some interesting news. The article is in regards to a type of cornea transplant called DMEK, which has become more popular in recent years for conditions such as Fuchs' Corneal Dystrophy and Corneal Edema. "These are the major reasons for needing a cornea transplant in the United States today," said Lorenzo. "I was the first surgeon in CT to offer this procedure last year, and we've been getting great results with it." | Read More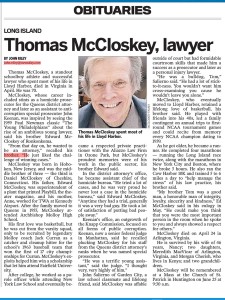 A Memorial Mass is planned to remember Thomas P. McCloskey '63, who passed away on April 28th, 2016. The Mass will take place St. Patrick's Roman Catholic Church in Huntington, NY on June 25th at 9:30am. We encourage classmates and friends to attend these services and remember the great man Tom was. A tribute will follow Mass. For more information please contact alumni@molloyhs.org. Click the image to the right for more about Tom's life.

We are saddened to share news of the passing of Palo Z. Rukaj, father of senior of Julia Rukaj '16. We ask that you please keep Palo and his family in your prayers.