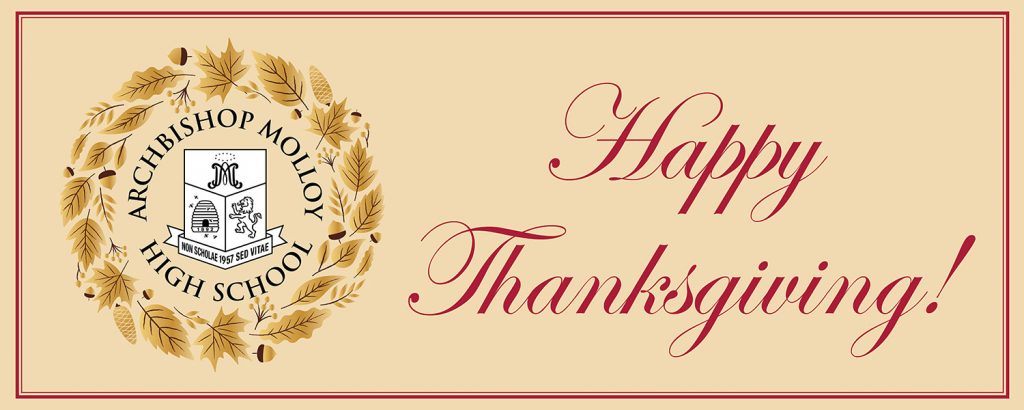 Make a Gift to Molloy This Giving Tuesday 11/30
On November 30, 2021, Archbishop Molloy High School joins communities and non-profits around the world by participating in #GivingTuesday, a global day of giving and unity. On this day, Molloy will highlight three special funds that impact Mission, Scholarship, and Student Enrichment.
The Brother Declan Murray Fund: Provides grants directly impacting Molloy's retreat, encounter, and summer programs, all held at the Marist Brothers' Center at Esopus.
The Lou Santos Scholarship: Awards a four-year scholarship to Catholic students from New York City with economic hardships.
The Murphy Scholars Program: Created in honor of Dr. Pat Murphy, this program provides grants to students who enroll in unique summer programs at a college/university of their choosing.
GIFT MATCH CHALLENGES
Molloy is excited to share that our generous alumni have blessed our community by providing over $50,000 as a gift challenge. For every $2 a donor gives to support the Br. Declan Murray Fund or the Lou Santos Scholarship, these generous donors will contribute $1. That means: your gift of $50 becomes $75, a $200 gift becomes $300, and so-on. Thank you for your generosity, and "God Bless All Stanners!"
HOW YOU CAN GET INVOLVED ON GIVING TUESDAY
Donate – Make your gift at www.molloyhs.org/donate/ …. Every gift, no matter the size, will help impact the Marist mission here at Molloy.

Share our #GivingTuesday campaign with your family and friends on social media on November 30th.


---
Alumni Return to Molloy for Thanksgiving Liturgy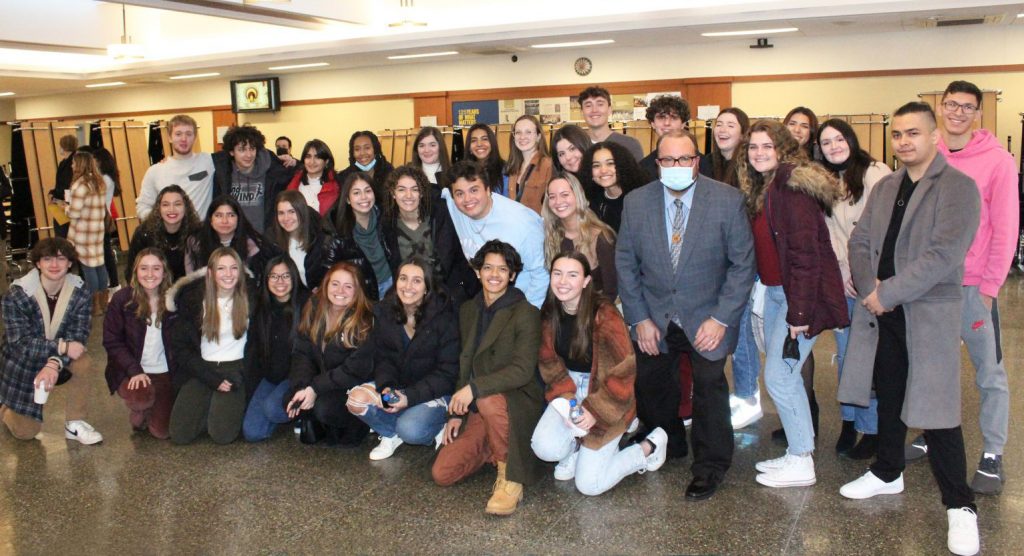 Earlier today, November 24th, Molloy welcomed 100 alumni back to Stanner High to attend our annual Thanksgiving Liturgy! The school-wide Liturgy welcomed students from each grade into the Jack Curran Gymnasium and also streamed live to students in their classrooms. Together our community reflected on all we have to be thankful for and prayed for each other. We also celebrated the many cultures that represent the Molloy community, as students carried flags as part of a special presentation during the Liturgy.
Following the Liturgy, alumni in attendance enjoyed a light reception featuring hot cocoa and chocolate chip cookies. There were many alumni from the Classes of 2020 and 2021, and it was so wonderful to see them again. For the Class of 2020, it was the first time many of them had been back at Molloy since their unique outdoor diploma pickup on Manton Street in August 2020. We were excited to let them know that we will invite them back once again for a Class of 2020 Brunch this December. More details to come.
We are so thankful that we had the opportunity to celebrate this beloved tradition once again with our alumni. Below, please enjoy photos from today's Liturgy and Reception. We wish everyone a Happy Thanksgiving, good health, and happiness!
Liturgy photos by Stephanie Mohabir '23.
---
Molloy Reunion Weekend – Photos Now Available!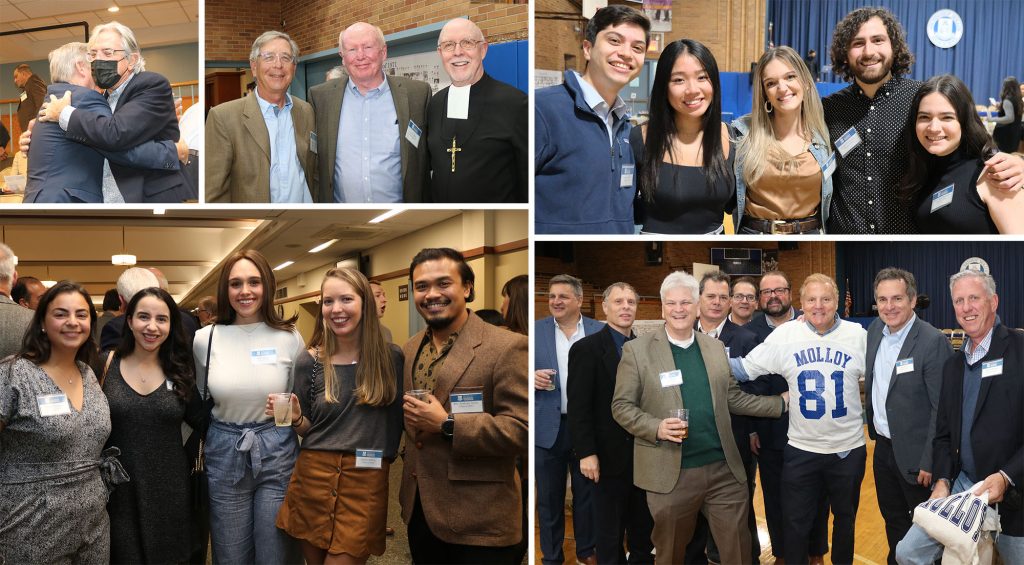 Molloy Reunion Weekend Photos are now available! On November 5th and 6th, Molloy welcomed over 500 alumni back to Briarwood for Reunion Weekend. The event welcomed classes that had their Reunion postponed last year, and we welcomed this year's regularly scheduled classes. Congratulations once again to all of our celebrating classes, including: 1960, 1961, 1965, 1966, 1970 (50th Anniversary), 1971 (50th Anniversary), 1975, 1976, 1979 (special birthday celebration), 1980, 1981, 1985, 1986, 1990, 1991, 1995 (25th Anniversary), 1996 (25th Anniversary), 2000, 2001, 2005, 2006, 2010, 2011, 2015, and 2016!
The buttons below link to our three photo galleries, and you'll find a mini-gallery in The Beehive featuring a sampling of some of our bigger reuniting classes. Special thanks to Frank Bailey '75 and Vicky Higuera for photographing Reunion Weekend.



---
Congratulations to the Stanner Players!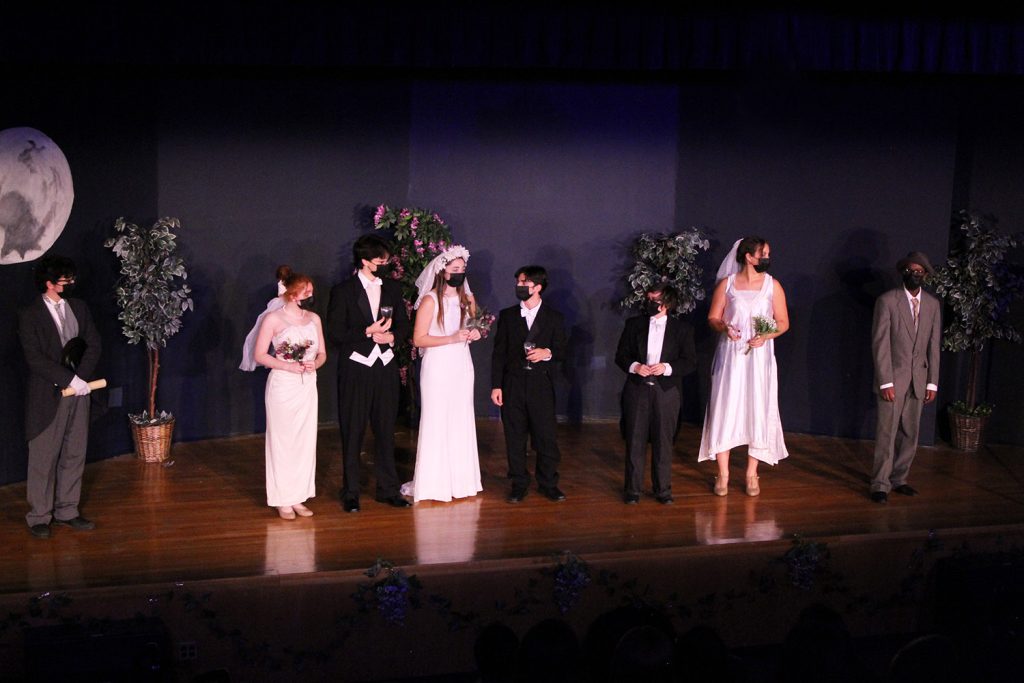 Photos by Petros Georgiou '22.
Congratulations to the Stanner Players and Director Ms. Shannon Winters '06, who recently wrapped up a full weekend of in-person/virtual performances of A Midsummer Night's Dream by William Shakespeare! Back in 2010, the Stanner Players took audiences on a whimsical journey through this classic theatre comedy. Now, in 2021, Ms. Winters says she had the right group of actors to not only revisit Midsummer, but also switch things up. According to Ms. Winters, "Because Midsummer is one of the most produced plays for high school students, I wanted to put a different spin on it so that it wouldn't be the usual Renaissance style retelling. Given we are at the start of the 2020s, the nostalgia of the 1920s seemed appropriate, as well as that we are finally welcoming back a limited in-person audience, so it seemed like something worth celebrating indeed!"
You can read more Director's Notes as well as information about the talented cast and crew by downloading the digital program. Click the button below to download.

---
Food Drive Wraps Up, Christmas Toy Drive Begins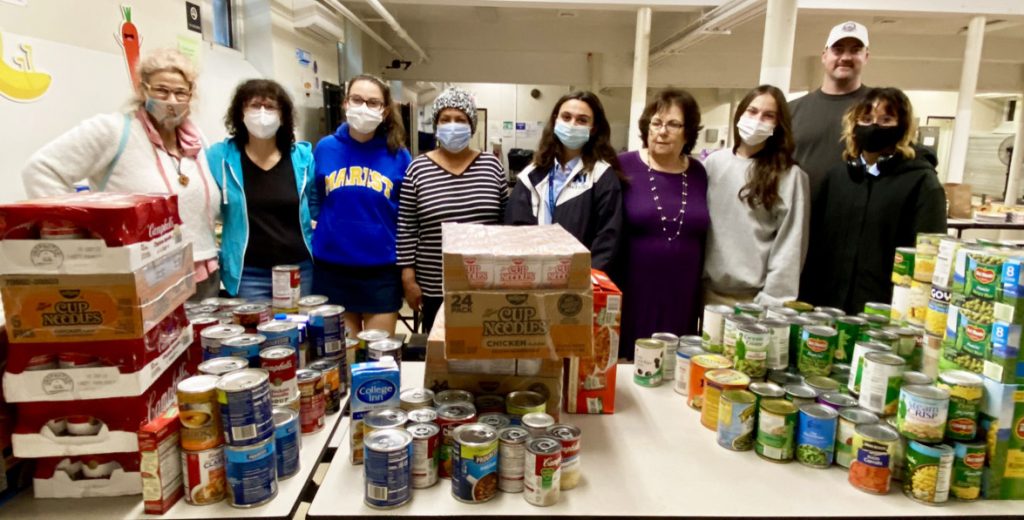 On Monday, November 22nd, Molloy wrapped up its Thanksgiving Food Drive. Students, faculty, and Stanner families collected over 2,000 cans and boxes of non-perishable food items to help Queens families in need. Ms. Lori Wilson and Ms. Dorothy DeNoto accompanied a small group of students to deliver the food to Presentation Food Pantry. While there, the students heard a presentation about how the food pantry started years ago, and how many people it serves on a weekly basis.
Molloy has now begun its Christmas Toy Drive! Students and families are asked to consider donating new, unwrapped toys for newborns through age 16 children. Gift cards will also be accepted. All items will be donated to Catholic Charities, while gift cards will be shared with families in need so they can choose their own gifts. The drive will end on Saturday, December 11th. Additionally, students will collect gently used men's winter coats, hats, gloves/mittens, and new men's underwear and socks, to be donated to the homeless.
Thank you to our community for helping those in need this Thanksgiving and Christmas season.
Alumni and friends are invited to contribute items for these drives. If you drop off a toy, gift card, or clothing item in-person at the school, please ring the bell and enter through the Manton Street doors, and leave the item(s) with our Safety & Security officers at the front desk. Thank you!
---
Molloy to Host Qubit x Qubit Event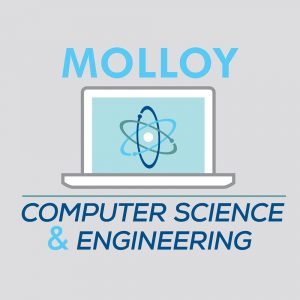 Computer Science & Engineering — Press Release — Archbishop Molloy High School and Qubit by Qubit will partner to host the first in-person event for Qubit by Qubit's year-long Introduction to Quantum Computing course for high school students. The event will be held on December 3, 2021 for Qubit by Qubit 2021-22 course students and will feature invited guests from local quantum research groups and companies.
In partnership with industry leaders like IBM Quantum, Qubit by Qubit pioneers innovative programs for K-12 students with the goal of making quantum computing accessible to students, particularly students historically underrepresented in STEM. To date, Qubit by Qubit has taught nearly 15,000 students through online courses, camps, and workshops on quantum computing. Archbishop Molloy High School was one of the first high schools to offer quantum computing to their students through Qubit by Qubit in 2020 and is now one of over 100 school partners globally.
Learn more about Molloy's Computer Science & Engineering Program at: www.molloyhs.org/csdept/
---
Cross Country Championships & Alumni Race
The CHSAA Intersectional Cross Country Championships were held on November 13th. Congratulations to our Girls XC Team for finishing ninth, our Boys XC Team for finishing twelfth, and our alumni team for finishing second (pictured top left). Congratulations to our state qualifiers (pictured top right): Aoife Garvey '25, Grace Murphy '23, and John Stravalle '22. | Click Here for Full Results
---
Molloy Represented at Marist Youth Encounter
Earlier this month, a small group of Molloy students and faculty volunteers participated in the Marist Youth Encounter at the Marist Brothers' Center at Esopus. It was the first such retreat at Esopus in 20 months. The Marist Youth Encounter is a way for our students and faculty to give back to the greater Marist world and to participate in a wonderfully designed retreat. Three more Marist Youth Encounters will be offered through the remainder of the school year, each welcoming 15 Molloy students (Juniors and Seniors).


Class of 2020 Brunch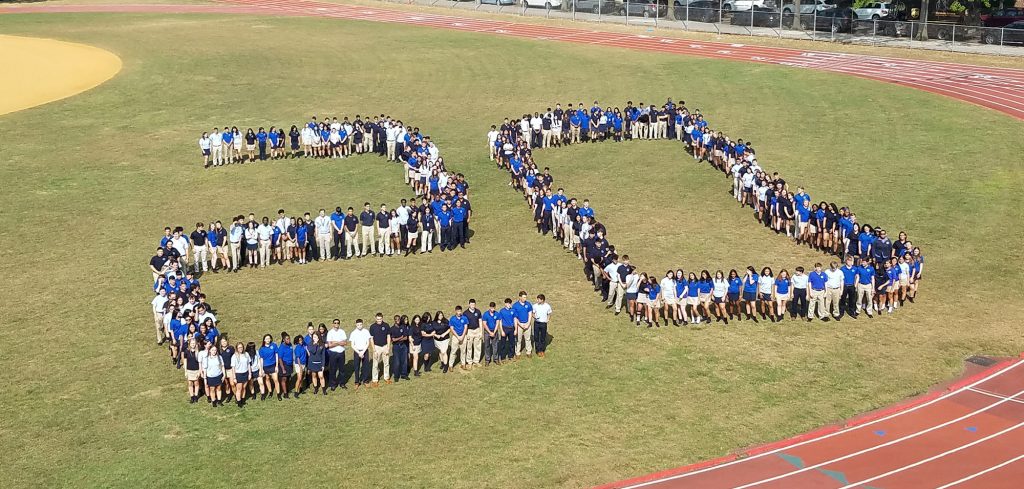 When: Tuesday, December 21, 2021 | 11:00am
Where: Archbishop Molloy High School
Who: Class of 2020
Health & Safety: Proof of Vaccination or Negative COVID-19 Test Required (NYS Regulations)
Maximum Capacity: 250 Person Limit (NYS Regulations)
More details coming soon.
In March 2020, Molloy shifted to virtual learning for the first time in its history due to the spread of COVID-19. The remainder of the 2019-20 school year was virtual, which affected many school events and disrupted many memories for the Class of 2020. The Class of 2020 was unable to celebrate many of the annual events that make their last year of high school special.
We will never forget this amazing, resilient class, In turn, Molloy is excited to welcome back members of the Class of 2020 for a special brunch on Tuesday, December 21, 2021. We look forward to celebrating with this historic class once more. More details will be shared soon, so stay tuned!
---
Stanner Games Returns!
When: Sunday, January 16, 2022
Where: The Armory
Who: Volunteers Needed!
Health & Safety: Proof of Vaccination Required for Entry
Molloy is excited to once again host its annual Stanner Games Track & Field Meet at The Armory in Manhattan. Our Track & Field coaches are seeking volunteers to serve as Stanner Games Officials. If you are interested in volunteering, please contact alumni@molloyhs.org.


Job Opportunities at NKSFB, LLC
An alumnus shares the following link to job opportunities at NKSFB, LLC, along with a description of the organization: NKSFB, LLC is the largest business management firm in the United States with offices based in Los Angeles and New York. With over 500 employees NKSFB, LLC focuses on the business management and tax needs for many of the world's top entertainers, musicians (recording and touring), producers, athletes, executives, high net worth individuals and entrepreneurs. | Click Here to Browse Available Positions
---
'60 Grads Meet for Mini-Reunion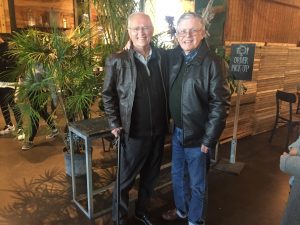 Ralph Benzenberg '60 and Richard Greene '60, both unable to attend Molloy Reunion Weekend in New York, held their own mini-reunion on November 7, 2021, meeting for brunch in Westport, CT. Ralph and Richard enjoyed reminiscing about their days at Molloy and all their wonderful memories. Ralph and Richard ran track together at Molloy back in 1957, and a vintage photo of them appeared on the cover of the 2014 edition of Stanner Life magazine.
---
Congratulations To Marist Jubilarians of the US Province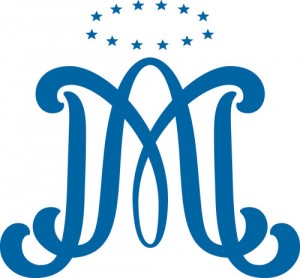 Archbishop Molloy High School would like to congratulate the Marist Brothers celebrating Jubilarian anniversaries, including during the 2020-21 academic year and the current 2021-22 year. Congratulations to:
2020-21 Jubilarians: 70th Anniversary: Vincent Jerome, Br. Albert Philip, Br. Julio Vitores | 60th Anniversary: Michael Brady, Br. Joseph McAlister, Br. James McKnight '60

2021-22 Jubilarians: 75th Anniversary: Alfred George | 70th Anniversary: Dominic O'Brien | 60th Anniversary: Gerard Brown, Bro. David Cooney, Br. Gerald Doherty, Br. Michael Laratonda, Br. Marcos Longoria, Br. John Raeihle '61.
Thomas McKnight '64 shared some words about his brother, Br. James McKnight '60: "On August 15, Br. James will be celebrating 60 years as a Marist Brother. Although he never attended Molloy, he did attend St. Ann's Academy and left after his freshman year to enter the Marist Novitiate at Esopus. During his years at Marist College, he asked to be assigned to the Marist Mission in the Philippines. Over 20 years later, he came back to the United States and taught in various Marist High Schools. Because of my brother's vocation, my parents decided to send myself, Class of 1964, my brother Dan, Class of 1970 and my brother Frank, Class of 1975, to Archbishop Molloy High School. I'm sure my brothers and myself still realize the blessing we've received from attending a Marist Brothers high school. This all started because of our older brother, Br. James, FMS."
---
2021 NYC Marathon – Updated
In our last Beehive, we congratulated several Stanners who ran this year's NYC Marathon! Since then, we've learned of two more alumni who ran this year's race. We send hearty congratulations to Allison Terranova '14 (pictured top left), for completing her first NYC Marathon with a time of 6:01:22. Allison ran with the American Cancer Society. Congratulations also to Steve Krauss '79, who ran his first NYC Marathon while celebrating his 60th birthday. Steve ran the race with his daughter, finishing with a time of 5:35:07 (including stops to visit family and friends along the way).
Did you run the NYC Marathon this year? Have you run in past years? Let us know! Send the year you ran, your best time, and your most recent time to alumni@molloyhs.org. | Click Here for a List of Past Results
---
Class Updates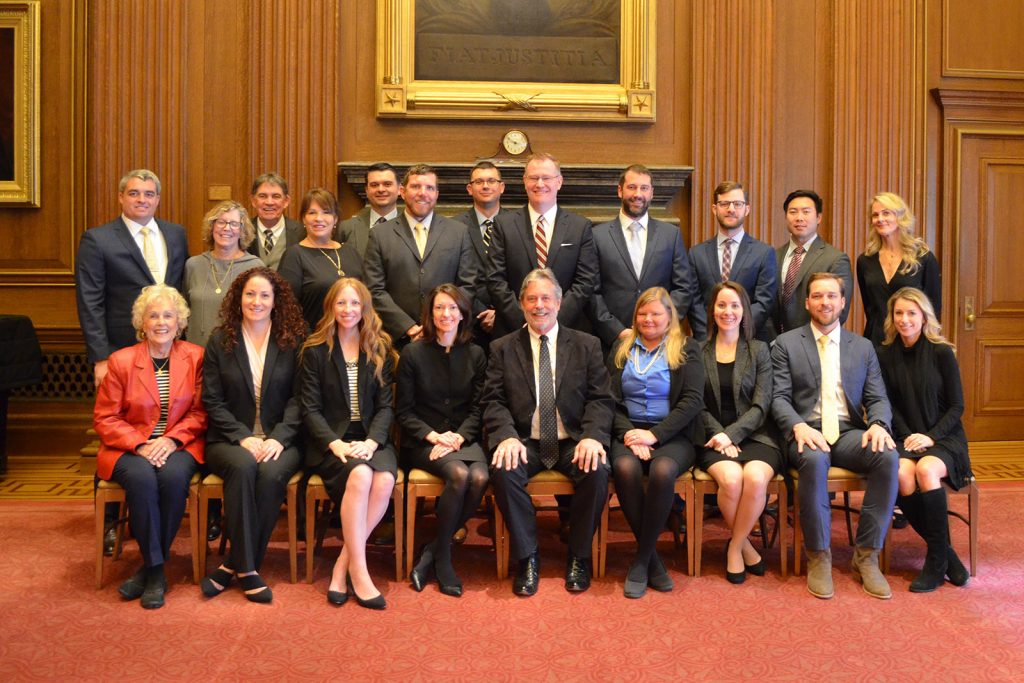 After beginning his career working in corporate law for Am Law 100 law firms, Jason Campbell '93 founded Charlestown Law Group in 2018 in Charlestown, MA. Charlestown Law Group is a general practice law firm located in the landmarked Schrafft's Building in Sullivan Square. They offer a wide variety of legal services but specialize in automobile related violations. Substantial discounts are offered for Molloy students and alumni who "allegedly" find themselves on the wrong side of the law anywhere in the Commonwealth of Massachusetts. Attorney Campbell continues to reside in the landmarked Charlestown Navy Yard. For more information, please visit: https://charlestownlawgroup.com/
(Pictured Right: Jason R. J. Campbell, Esq standing top row, fifth from right, at his US Supreme Court swearing-in ceremony in Washington, DC in 2019. He is surrounded by extended family, friends, and colleagues. Click to enlarge.)



We were recently informed of the passing of Kevin Leonard '68 on August 21, 2021. Please keep Kevin and his loved ones in your prayers.

We were recently informed of the passing of Vincent F. Murray '83 on January 31, 2021. Please keep Vincent and his loved ones in your prayers. | Click Here for Memorial Page

We were recently informed of the passing of Roddy Gerraughty '64 on December 19, 2020. Please keep Roddy and his loved ones in your prayers.

We were recently informed of the passing of Hans-Peter Novotny '78 on November 3, 2020. Please keep Hans-Peter and his loved ones in your prayers. | Click Here for Memorial Page