---
Posted On December 1, 2023

Alumni Come Home for Thanksgiving
On November 22nd, Molloy celebrated a beloved tradition – our Thanksgiving Liturgy! Every November, the Liturgy serves as an opportunity for members of the Molloy community to give thanks in one shared space, with students, alumni, staff, and faculty joined as a family.
This year, celebrant Fr. Peter Purpura '99, of the Our Lady of Hope parish, and other speakers emphasized the importance of pausing during this time to give thanks for what we have, as well as to show thanks for all those around us who impact our lives. We can all embody acts of thanks and kindness, whether big or small, that can have the power to change someone's life. Giving thanks to others can serve as a reminder that we are all known and loved by God.
After the Liturgy, visiting alumni moved into the cafeteria for a special reception to catch up with old friends and spend time with some of their favorite faculty members! Everyone also enjoyed delicious chocolate chip cookies and hot cocoa.
Thank you to everyone who continues to make Molloy's Thanksgiving Liturgy a special, family-filled event. We hope everyone had a happy and blessed Thanksgiving!
---
The Stanner Players Present: Radium Girls
Congratulations to the Stanner Players for their excellent run of Radium Girls! After weeks of hard work and countless rehearsal hours, Director Ms. Shannon Winters '06 and the Stanner Players put on a gripping drama inspired by the true story of the female factory workers employed by the U.S. Radium Corporation. From stage crew to leading roles, every Stanner Player made sure the production of Radium Girls was one of their best shows yet.
Senior Charlize Collado '24, one of the leads in the production, shares, "Radium Girls was my final play at Molloy and I wouldn't have wanted it any other way. I loved playing a part in this meaningful piece and I was lucky enough to portray Grace Fryer. I felt hers and the other radium girls' pain through acting out their story. I think Ms. Winters, Joanna Troyanos '15 (Assistant Director), the cast, and the crew did a wonderful job in articulating this difficult story and that the Radium Girls would be proud."
Photos taken by student photographer Krystal Valentin '25.
---
Senior Duo Create Non-Profit Youth Tennis Program
Acts of service are an integral part of a Stanner education. As members of the National Honor Society (NHS), Jose Pouso '24 and Timotej Stofa '24 are required to complete 30 service hours before the school year ends. Instead of participating in a program that already exists, they decided to create their own non-profit youth tennis program called Cracked Courts!
Cracked Courts invites children from Queens to the public tennis courts at I.S. 010 Horace Greeley, where Jose and Tim lead introductory tennis lessons. "We've both been playing tennis since we were four," says Jose, "and we know lessons are really expensive." Tim adds, "We have the tennis knowledge, and we wanted to do something impactful." The two created an Instagram account and put fliers up around the neighborhood of the school to garner interest for the program.
Officially beginning in late September 2023, Cracked Courts has hosted two lessons, teaching 12 participants. The lessons last three hours, and they include a warm up workout, hitting back and forth with Jose, and hitting targets on a handball court with Tim. "We provide kids with everything they need," shares Jose, with Tim adding, "No prior experience is required. If a kid has an interest in tennis, we encourage them to stop by and we'll provide the tennis balls and rackets." Volunteers helped Jose and Tim with one of the lessons, and they hope that as the program grows, so will their number of volunteers. Although two or three more outdoor sessions are currently being scheduled, the goal is to find a donor or raise money to host the program in an indoor court.
Both students hope to continue Cracked Courts well after their 30 service hours are up, even going so far as to make a plan for college. Tim says, "Hopefully we can bring this to our respective schools, and re-create Cracked Courts in college. I'd even like to do something like the Second Serve organization, which donates tennis equipment to kids around the world that can't afford their own." Keep up the great work, Jose and Tim!
---
Download The Stanner Newspaper: Fall 2023 Edition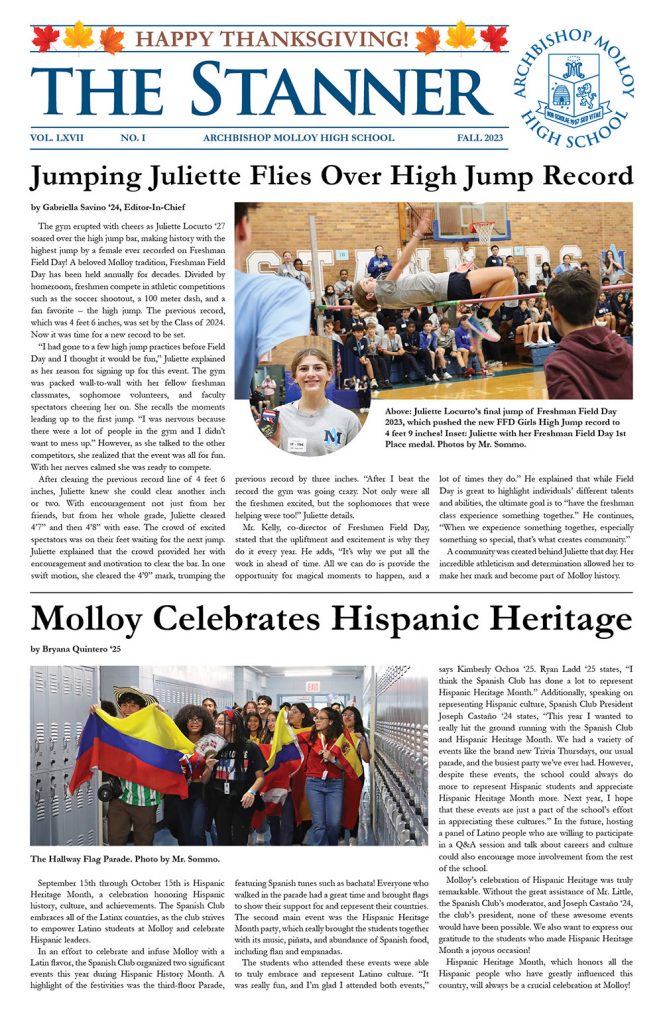 We invite you to download the latest edition of The Stanner newspaper! Molloy's student newspaper has been a staple among school activities for over 75 years. The newspaper is currently released on a seasonal schedule, with fall, winter, and spring issues being released annually. In addition, a special senior issue is published every June. The latest issue highlights the busy fall season at Molloy, including sports, cultural celebrations, individual achievements, new faculty, and much more. Click the button below to download The Stanner as a PDF. Congratulations to the newspaper staff on a great first issue!
---
News From Quantum Computing
In November, Molloy's Quantum Computing students had the chance to participate in the Open TA Merging Tech panel discussion organized by The Coding School. The panel discussion featured graduate engineering students who are also TAs in the course. It covered their paths into quantum technology, including early interests, research experiences, and the interdisciplinary nature of their studies. The panelists underscored the integration of physics, mathematics, and coding throughout their academic paths. The conversation emphasized the significance of cultivating proficiency in these domains for individuals aspiring to delve into the realm of quantum technology within the engineering field.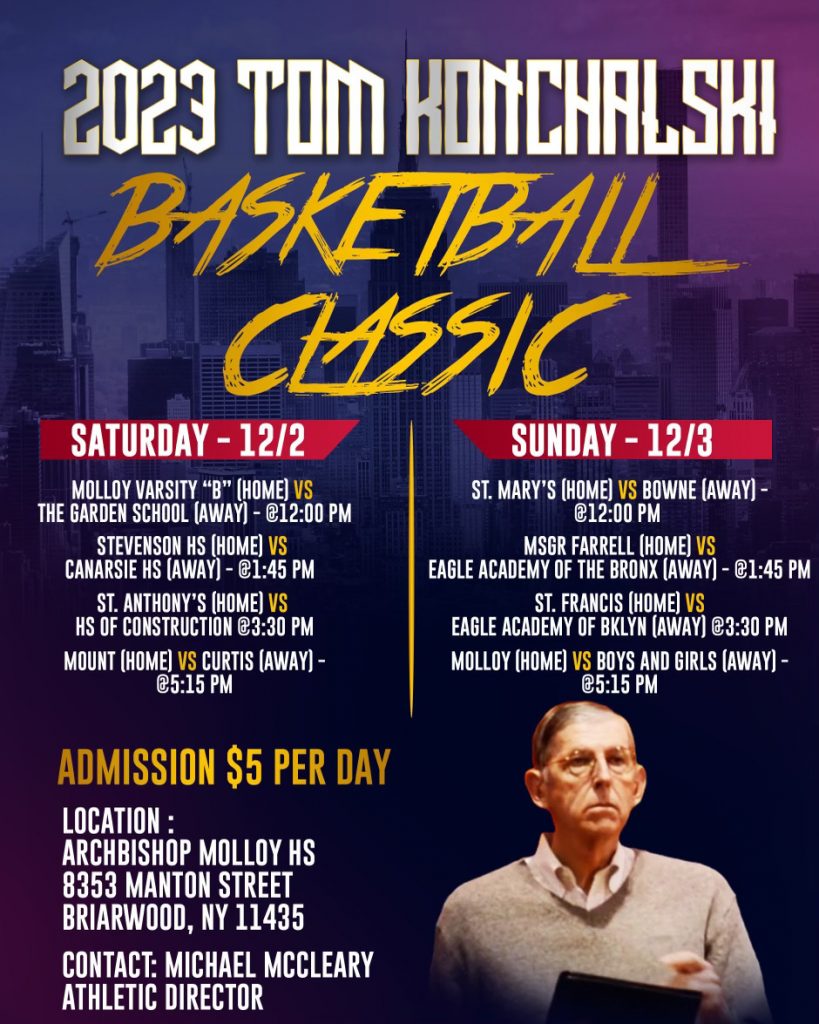 ---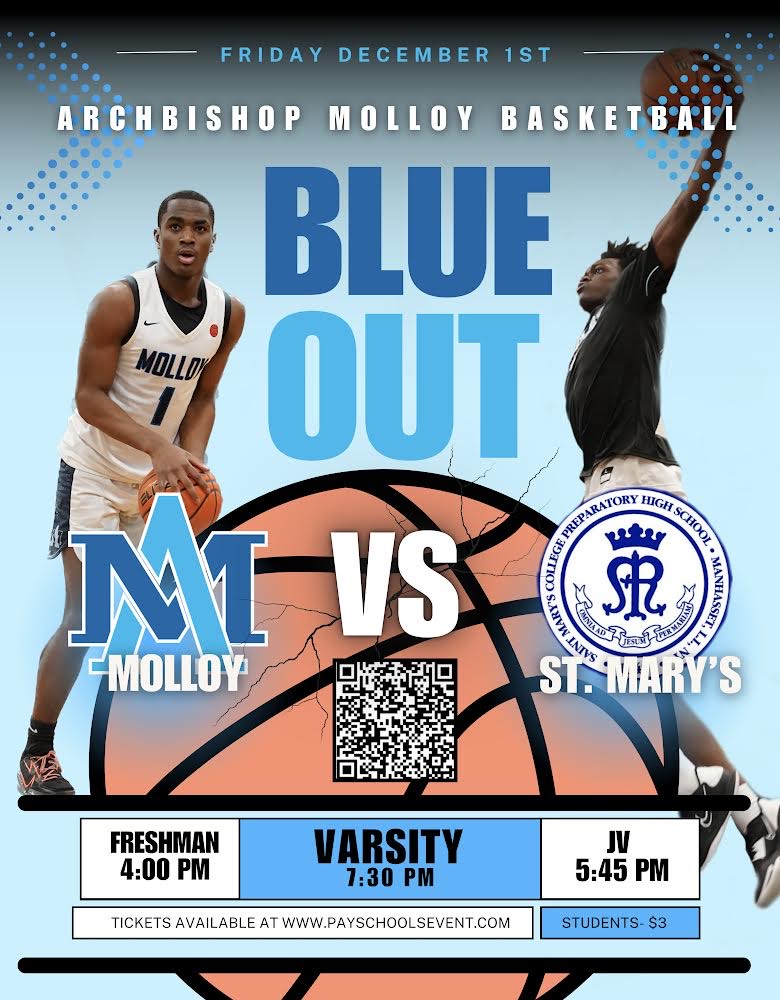 ---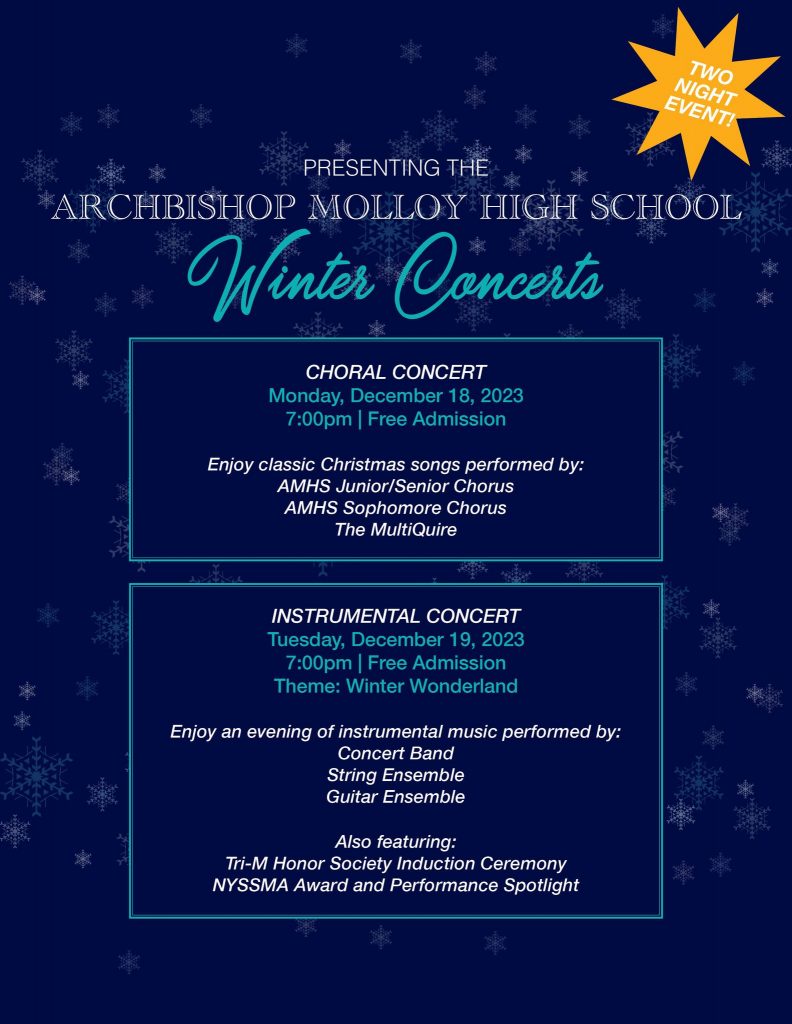 ---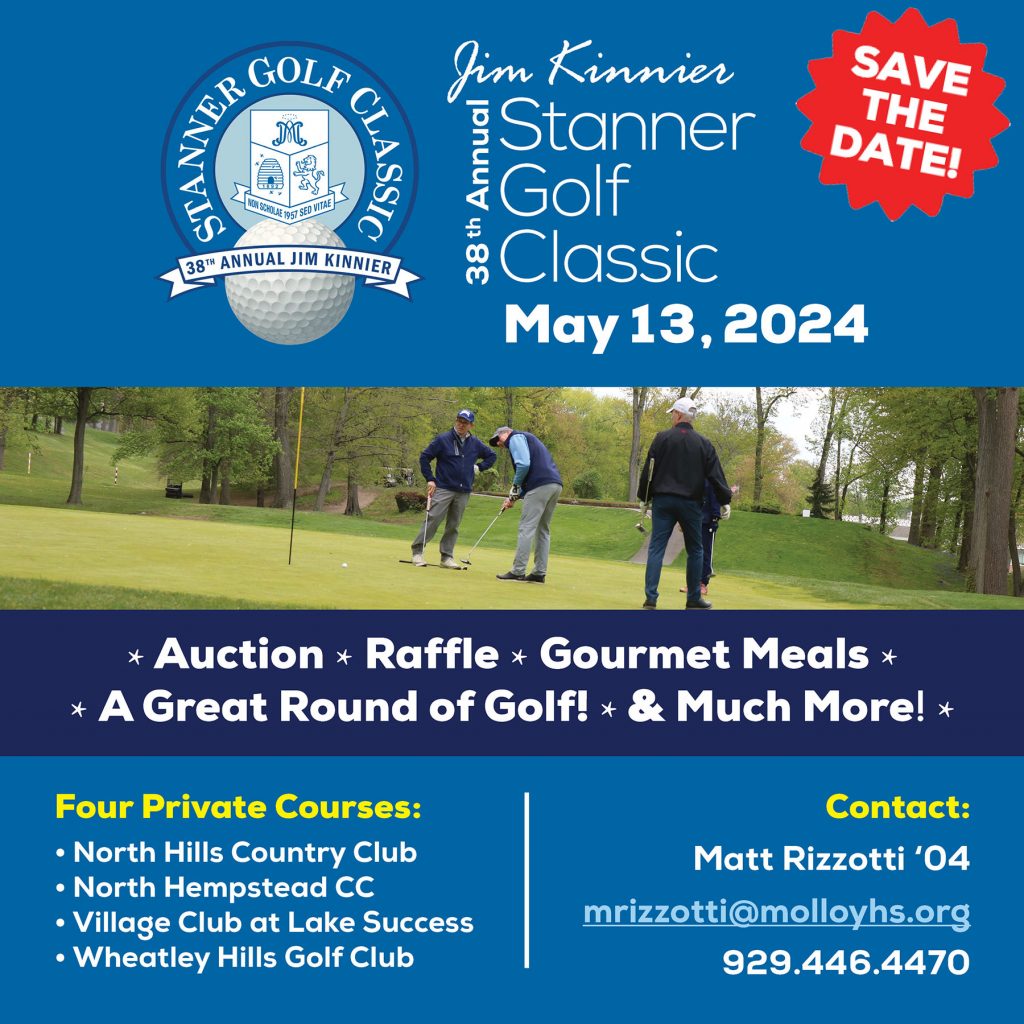 Checkmate! Molloy's Chess Reunion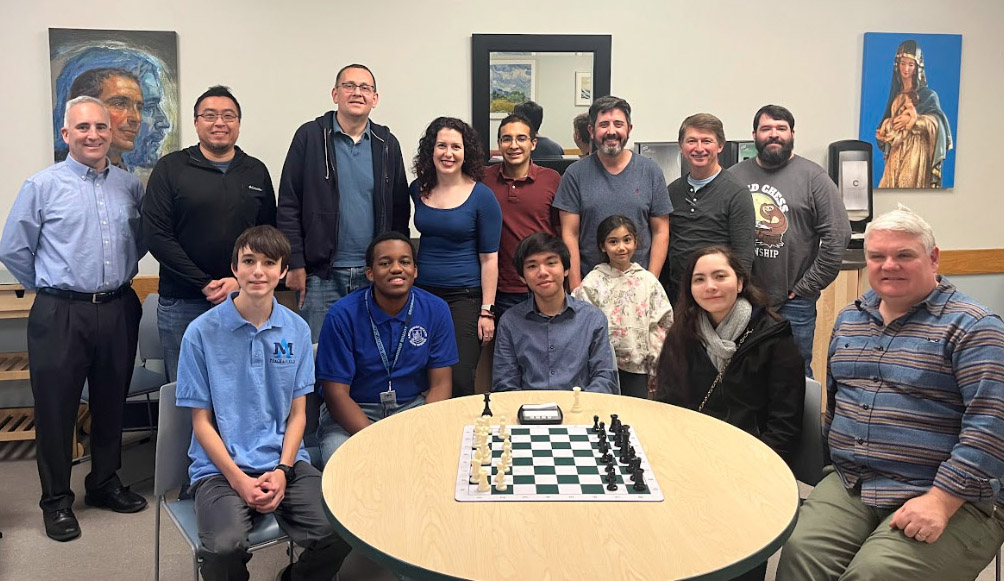 On November 18th, the Stanner Alumni Center had the pleasure of welcoming alumni, family members, and current students for a special Chess Reunion! Attendees reminisced about Molloy and their time with our Chess Club/Team, as well as participated in a friendly yet competitive tournament. Many expressed interest in connecting with each other for outside tournaments as well as attending future chess reunions at Molloy. It was a great day and we are so grateful for everyone who spent part of their Saturday with us. Special thanks to Chess Club moderator Dcn. Mike McCarthy and current club members for joining us.
---
Boeing Engineer Nirmala Ariel Narine Inspires Future Engineers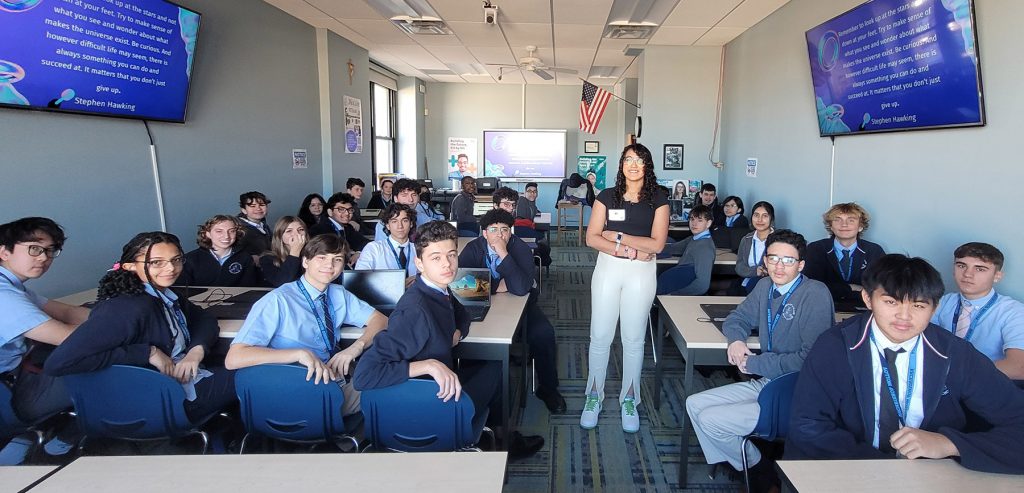 Molloy recently welcomed back distinguished alumna Nirmala Ariel Narine '19, a Boeing engineer, to share her journey and insights with students. Ariel's talk covered her experiences at Rensselaer Polytechnic Institute (RPI) and at Boeing, emphasizing the importance of work-life balance and the role of curiosity in engineering.
Ariel began her presentation with a quote from Stephen Hawking, "Remember to look up at the stars and not down at your feet," encouraging students not to shy away from the challenges of computer science and engineering. She passionately advocated for pursuing one's interests reassuring students that an inquiring mind is a vital aspect of success in these demanding fields.
Detailing her current role at Boeing, Ariel explained her unique position working on long-term projects to enhance aircraft performance. She discussed the data-driven nature of her work and her upcoming transition to a stress analyst role, providing students with a glimpse into the dynamic world of engineering.
During the Q&A session, Ariel addressed student queries about coding, her experiences at Boeing, and the importance of diversifying skills. She emphasized the need for taking courses in sciences, public speech and writing, skills that she first learned at Molloy and later during her college years.
Ariel's visit left an impression on Molloy students, inspiring them to consider careers in engineering and related fields. Molloy is grateful to Ariel and alumni like her who continue to return and share their experience and career insights with our students.
---
More Stanner Updates from the NYC Marathon!
After the publication of our last Beehive, we received several more updates from Stanners who ran the NYC Marathon! We also received info from Stanners who ran the marathon in years past, but who previously weren't on our "master list." In turn, we have updated our alumni list accessible via the button below. Congratulations to:
*New 2023 Times:
Fred Fischl '75 | Ran the 2023 NYC Marathon in a time of 4:10:32 (pictured left).
Kara Gallagher '19 | Ran the 2023 NYC Marathon in a time of 4:26:23 (pictured center).
Jim Mahony '74 | Ran his 41st consecutive NYC Marathon in 2023 in 5:35:48 (pictured right).
*Past Times Added to List:
Robert Wu (Chung) '72 | Ran the 1981 NYC Marathon in a time of 3:44:44.
Donald Chung '74 | Ran the 1989 NYC Marathon in a time of 3:05:08.
Michael Chung '78 | Ran the 1989 NYC Marathon in a time of 3:10:04.
Patrick O'Sullivan '92 | Ran the 2011 NYC Marathon in a time of 2:59:51.
Daniel J. Tuohy '69 | Ran the 1976 NYC Marathon in a time of 3:32:15.
---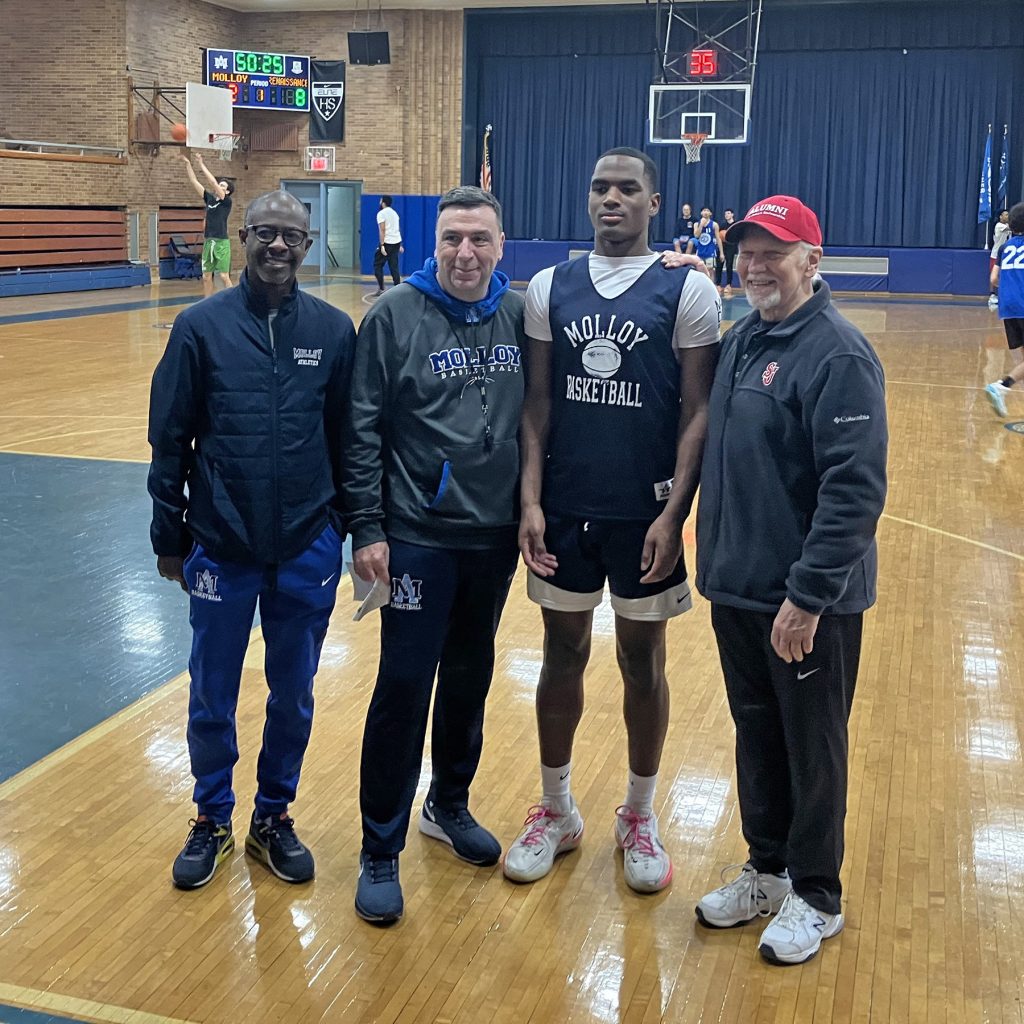 Alumnus John Kvocka '64 visited Molloy on November 26th to reminisce, walk the halls, and visit with Head Coach Mike McCleary and members of the basketball team. Thank you for visiting, John!

Please pray for the repose of the soul of Rev. Eugene Grohe, longtime pastor of Sacred Heart Church in Esopus, who recently passed away at the age of 99. Fr. Gene was a good friend to many Marist Brothers and lay people in the Marist community.
---
Please pray for the repose of the soul of Mrs. Mary Pujia (November 18, 2023), mother of Br. Dominick Pujia.

---