Thank You!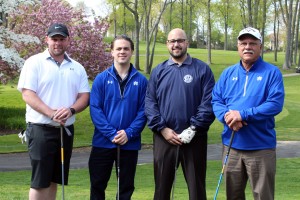 Archbishop Molloy High School, the Golf Board, and 2016 Golf Chairman Joe Papavero '04 would like to extend our sincerest thanks to all alumni, parents, corporate sponsors, and friends who generously supported our milestone 30th Annual Jim Kinnier Stanner Golf Classic. Your journal ads, sponsorship, raffle purchases, and overall presence at the outing fostered a unique opportunity for our school to impact not only two incoming freshman students in fall 2016, but many other future Stanners in need. Thank you for sharing the gift of education. (Pictured: Robert O'Connor '04, Chairman Joe Papavero '04, Armen Torossian '04, and Raymond Del Maestro)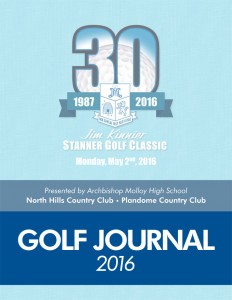 We're happy to report that the weather held out on Monday, May 2nd, allowing all of our golfers the opportunity to play a full 18 holes. There were many competitive swings, but also many laughs to be had. In all it was a wonderful day spent with many amazing people in our community. We will publish a full recap of the Jim Kinnier Stanner Golf Classic in the next issue of The Beehive – complete with a photo gallery, prize winners, and more. In the meantime, if you have any questions, please contact Alumni Development Officer Matt Rizzotti '04 at mrizzotti@molloyhs.org or (718) 943-3186, or visit www.molloyhs.org/golf.
Reminder: This year's golf journal is available for DOWNLOAD online all year long. The journal includes ads from many Stanner owned and Stanner friendly businesses all around New York City. You can download it via the link or image above and any time on Molloy's website.
Be Included in Stanner Life Magazine

With work on the next installment of Stanner Life magazine underway, we are still looking for more updates to include in our "Class Updates" article. We know that many of you are working toward degrees, starting new business ventures, getting married, traveling, and bumping into other Stanners along the way, but we won't know the whole story unless you fill us in! If interested please submit a one paragraph update along with a relevant, high resolution photo. If applicable, please try to name as many Stanners as possible who may play a part in your update, or provide a photo caption if possible. Our goal is to represent each decade of alumni with plenty of stories, so whether you're 60 years out or just graduated in 2014, we want to hear from you. All submissions or any questions about the magazine should be sent to Alumni Communications Director Joe Sommo '03 at jsommo@molloyhs.org. Please also remember to email Joe if you need to share a new mailing address with Molloy.
Tom Hackimer '12 Continues Remarkable Season
Just a few months after Tom Hackimer '12 was drafted in the 15th round by the New York Mets, and humbly declined, he has continued to impress coaches and teammates as well as scouts across the nation with his amazing level of play. Tom, a physics major and pitcher at St. John's University, has appeared in 22 games this season (43.1 innings pitched) while posting a 5-0 record, a miniscule 0.21 ERA and .088 opponent's batting average, 8 saves, and 59 strikeouts. He has only allowed 1 run and 12 total hits on the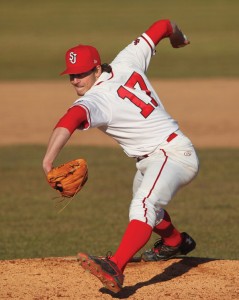 season. The reliever, who sports number 17 and unconventional pitching delivery, knows how to shut the door on opposing batters. The Mets sure could have used him!
As a result of his success, Tom has been honored as 2015-16 BIG EAST Male Scholar-Athlete of the Year and with the BIG EAST Institutional Male Scholar-Athlete Award. He has earned Academic All-District accolades from the College Sports Information Directors of America and was named First Team. Tom is a top 10 finalist for the SJU Senior CLASS Award (Celebrating Loyalty and Achievement for Staying in School), which recognizes total student-athletes who make a positive impact as leaders in the community. Tom is also on the watch list for both the NCBWA Stopper of the Year Award and the USA Baseball Golden Spikes Award, and is in the running for National Pitcher of the Year. In addition, he has been added to the ballot for Academic All-America consideration.
You can help Tom along to the SJU Senior CLASS Award by visiting their website and voting through June 7th. In the meantime, Tom will aim to keep his elite senior season intact. | Tom Hackimer Athlete Bio (Photo and stats courtesy of St. John's University Athletics)
Upcoming Events
St. Ann's Communion Breakfast
When: Sunday, June 5th, 2016 | 10:00am
Where: Archbishop Molloy High School
Who: St. Ann's Alumni + Guest
Admission: Complimentary
RSVP to Mrs. Merl Doyle at mdoyle@molloyhs.org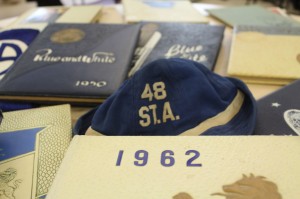 On behalf of Archbishop Molloy High School and the Stanner Alumni Center, we extend an invitation to our St. Ann's Alumni to attend the St. Ann's Communion Breakfast on Sunday, June 5th here at Molloy. Those planning to attend are encouraged to arrive at Molloy at 10:00am. Mass will begin at 10:30am in our beautifully renovated first floor chapel. A buffet breakfast will be served following Mass. In gratitude for your leadership, admission to this year's St. Ann's Communion Breakfast is complimentary of President Karsten '81 and the Stanner Alumni Center. Please RSVP by Monday, May 30th to Mrs. Merl Doyle at (718) 441-9210 or via email at mdoyle@molloyhs.org.
Around the School
Spirit Week 2016

Students and faculty had a great time during this year's "Spirit Week", which is a week full of games, contests, dress down days, and events that promote the celebration of school pride. Games like Kahoot, and The Amazing Stanner Race tested students' knowledge and puzzle solving skills, while Minute To Win It and Stanner Games offered physical challenges for each grade level. A Lip Sync Battle after school filled the Jack Curran Gym with tunes ranging from Dream On by Aerosmith to (I've Had) The Team of My Life by Bill Medley and Jennifer Warnes. Don't worry, Drake, Cyndi Lauper, and Fergi were represented too. Molloy even held a Spelling Bee, which helped promote The Stanner Players and their spring performances of The 25th Annual Putnam County Spelling Bee. The "Two Truths One Lie" contest tested students' knowledge of Molloy history (some of it quirky), while guessing the number of jelly beans in the Candy Count jar was more of a perplexing conundrum. Dress down days throughout the week encouraged unity within each grade level.
It is important to note that Spirit Week also had an overarching theme or "Spirit Cause", which saw students and faculty work together to raise money in the fight against homelessness. Similar to years past, establishing a theme for Spirit Week helps rally the Stanner family toward a common goal that does well for the community at large. While school pride is important, it is even more critical to remember that that spirit stems from a tradition of kindness and service to our neighbors. In all, it was a successful campaign and a fun-filled week that reminded students and faculty how special our school can be.
Molloy Hosts First College Admissions Discussion Panel
On Thursday, May 12th, Molloy hosted its first ever College Admissions Officer Discussion Panel. The event was open to all present and committed Molloy students and their parents. The panel presented a unique opportunity for attendees to directly ask professionals in the field of college admissions about any and all aspects of the college application process. Featured were representatives from CUNY and SUNY schools, a private Catholic university, and a private Ivy League university. The discussion panel format allowed for responses to a diverse array of participant questions throughout the evening. As the college admission process becomes more involved and more competitive with each passing year, Molloy is proud to provide its community with the opportunity to engage college representatives one on one. The panel was a huge success, and students and parents alike heard straight from the source about how different universities conduct their admissions process and what aspects of their application are most important to them.
Sports Updates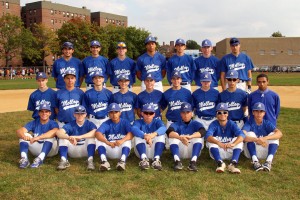 The boys Varsity baseball team stopped a two game losing streak earlier this week with a 4-2 win over rival Holy Cross. Dan Early '16 pitched 3.1 shutout innings in relief to secure the victory and take pressure off the squad. His effort included navigating through a bases loaded jam thanks to a huge strikeout. Jack Turner '17 was the offensive standout in the game with two hits and an RBI. The next day, Molloy beat Christ the King 16-5 with Kevin Linitz '16 going 4-4 with 5 RBI to lead the offense. On Thursday, Molloy beat St. Francis Prep 3-1. Frank Cerillo '16 went the distance on the mound while striking out 8 and only allowing 4 hits. Kevin Linitz continued his hot streak with a solo homer, while John Herring '17 provided the go ahead 2 run double. To date Molloy is 18-6 overall and 11-5 in league play. (Info courtesy of Coach Brad Lyons)
In Track & Field, Molloy claimed the 2016 Outdoor Championship this spring. The sophomore girls took third place at the freshman/sophomore Intersectional Championships on May 1st, while the freshman boys team won the B/Q Championship on May 9th. Sophomore boys placed 2nd in the B/Q Championship. Track season continues through the end of May with a number of races yet to be decided, including girls NY/BQ City Championships on May 18th, the boys NY/BQ City Championships on May 21st, and the boys and girls CHSAA Intersectional State Championships on May 28th. (Info courtesy of Coach AJ Power '84)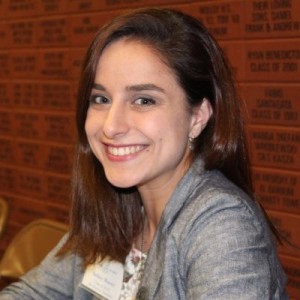 Congratulations to Ashley Mayer '12, who has accepted a full-time position with the Muscular Dystrophy Association. She also graduates from Queens College later this month. Since Summer 2014, Ashley has worked with the Stanner Alumni Center in a part-time role, fulfilling many important duties while also juggling her busy college schedule. She has meant a great deal to our staff, and while we are sad to see her go, we are very proud of all of her achievements. Thank you for your hard work, Ashley, and best wishes for continued success personally and professionally!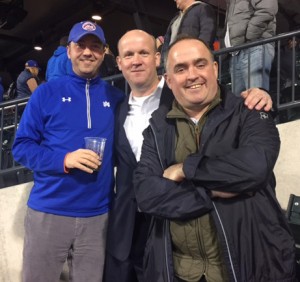 With tons more fans headed to Citi Field this year, one could postulate that the chances for an impromptu Molloy reunion at the ballpark could be much higher. In the case of Don Erickson '90, Mike Gillespie '90 and Joe Grimpel '90, the odds were extremely good! The classmates bumped into each other at a Mets game in late April, making for an even better evening than originally planned. Their meeting proves once again that you just never know when you'll bump into a Stanner.
Tom Collins '61 and his wife Pat (Class of 1961 at Sacred Heart Academy), both SJU graduates in 1965, recently celebrated their 50th wedding anniversary.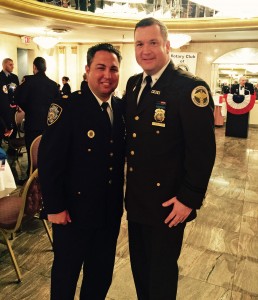 Claudia Fernandes '12 has been named the Saint Joseph's College Class of 2016 Valedictorian. She was nominated, interviewed, and chosen from a group of the top 20 graduating students in the college. Claudia is double majoring in Childhood Education and Speech and plans to continue her education at SJC this fall as she pursues her Master's degree. Thank you to Claudia's friend Megan Wenzler '12 for sharing this great info! Megan is doing well herself, as she is working on completing a Child Study Major with a Speech Concentration.
NYPD Deputy Inspector Brian Hennessy '94 and DSNY Deputy Chief James Leavy '96 were honored for their service to the communities they serve at the Queens Flag Committee's Annual Awards Ceremony.


Please pray for the repose of the soul of Brian W. Clarke '90. Brian, of Glendale, Queens, passed away on May 1st at the age of 43. He was the beloved husband of Geraldine, loving son of Michael and Carol, and brother of Shawn, Daniel, Caren, and the late Michael. Please keep Brian and his family in your prayers. | More Information

We are saddened to share the passing of Thomas Patrick McCloskey '63, brother of Edward McCloskey '61, on April 28th at the age of 70. Tom was a graduate of Fairfield University and New York Law School. He was also the starting catcher and cleanup hitter for the first baseball team under Coach Jack Curran to win the city championship. We ask that you pray for Tom and the McCloskey family. | More Information | NY Daily News Remembrance

We are saddened to share news of the passing of Mary Pittelli, mother of teacher Adele Solari. We ask that you please keep Mary and her family in your prayers.

We were recently informed of the passing of several members of our St. Ann's Community. Please pray for the repose of the souls of Emile Derocle '40 (5/15/10), Robert Morrissey '60 (3/2/16), and William Schmidt '57 (12/15).