Artwork by student Michael Spedalle.

Upcoming Events
Molloy has some great events coming up after Christmas break! Please read below or visit www.molloyhs.org/events for more information. We look forward to seeing you in the New Year!
Badges Alumni Network Event / Molloy vs. Christ the King HS
When: Friday, January 8th, 2016 | 6:30pm
Where: Archbishop Molloy High School
Who: Badges Alumni + All Members of the Molloy Community
Admission: Adults $30 | Kids $15
Contact: Joe Sommo '03 or Ed Shannon '84
Calling all law enforcement, fire department personnel, and all in public service (active & retired)! On Friday, January 8th, Molloy will host a casual event for its Badges Alumni. The evening will include food and beverages as well as a Molloy's Boys Varsity basketball team taking on rival Christ the King High School. The event will kick off at 6:30pm with a pregame reception. Tipoff in the Varsity game is scheduled for 7:30pm. Reserved seating for event guests will be available on the stage in the Jack Curran Gym. The reception will continue after the game as well. While this event is sponsored by our Badges Network, we would also like to invite ALL members of the Molloy community to attend! Please join us for our first event of the New Year to reconnect, socialize, and network with your fellow Stanners. (Pictured above: photos from our last Badges event, January 2015)
Br. Ron Marcellin Scholarship Dinner
Archbishop Molloy High School is pleased to invite you to the Br. Ron Marcellin Scholarship Dinner on Sunday, January 17th, 2016. This dinner, which is hosted by our friends at Trinity Bar & Restaurant in Floral Park, pays tribute to the memory of Br. Ron Marcellin, one of the most caring and influential figures in Molloy's history. Br. Ron's faith, passion for education and music, and care of each individual student inspired many generations of Stanners. In fact, those who knew him continue to be inspired by him. The Br. Ronald Marcellin committee has hosted this event annually to raise money to help future Stanners in Br. Ron's name. Funds raised by this event directly benefit students and families in need. We are humbled that the Br. Ron Marcellin Scholarship is currently awarded to two wonderful Freshmen, and we are excited that it will help two more outstanding young students next school year.
A 50/50 raffle and live auction will be among the festivities while dinner, beverages, and great company are also included. 50/50 raffle tickets will be available for purchase during the event or in advance by emailing ckatinas@molloyhs.org. Please spread the word to your classmates! We hope to have another full house on January 17th as we celebrate Br. Ron and introduce a whole new generation of Stanners to his wonderful legacy. (Pictured: Our last Br. Ron Scholarship Dinner, January 2015)
Around the School
Advent Reflection – "It Was a Night Like No Other Night" (Part 2)
by Br. Pat Hogan, FMS | Alumni Spiritual Director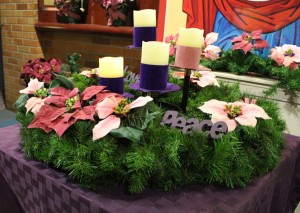 The Birth of Jesus was quite ordinary and unexpected – as far as the births of Saviors, Kings, Redeemers, and Messiahs go. One would have expected much more fanfare, but a stable, a manger, and animals all over made it such a "poor" place to be born. No splendor, no glory, just a humble manger. Mary and Joseph, however, were rich. They had something more precious than material wealth. They had a strong faith in God and in His Word. There were some extraordinary things that would support their faith such as the virginal conception, the arrival of the shepherds, and the wise men from the east. Their faith sustained them during the dark time of their lives.
We all go through difficult periods, but right off the bat Mary was told of the pain she would have to carry ("…She keeps all these thing in her heart…"). The Jews at the time were expecting the exuberance of Handel's Messiah; they called him "King of Kings" and "Lord of Lords" and proclaimed that he shall reign forever and ever. His name shall be called Wonderful, Counselor, The Mighty God, The Everlasting Father, The Prince of Peace. How wonderful this Prince of Peace must have been. How wonderful Mary must have been. I wish we knew more about her. She stayed with Jesus until the bitter end. Motherhood and peace – isn't this what Christmas is all about?
In recent times we have had to deal with a lot of stress and sadness. This season is supposed to be a time of joy, so let's switch to a simple, happy, joyous account of the birth of Jesus. I just love its simple beauty. Please read the following prayer by John Shea. Remember, Christmas is about a baby.
Sharon's Christmas Prayer
by John Shea

She was five, sure of the facts, and recited them with slow solemnity, convinced every word was revelation. She said they were poor, they had only peanut butter and jelly sandwiches to eat. And they went a long way from home without getting lost. The lady rode on a donkey, the man walked, and the baby was inside the lady. They had to stay in a stable with an ox and an ass, but Three Rich Men found them because a star lighted the roof. Shepherds came and you could pet the sheep, but not feed them. Then the baby was born.

And do you know who he was?

Her quarter eyes inflated to silver dollars. The baby was God. And she jumped in the air, whirled round, dove into the sofa and buried her head under the cushion, which is the only proper response to the Good News of the Incarnation.
I wish all alumni, families, and friends a Merry Christmas and a wonderful New Year ahead. Remember, this is a time when we should all work toward peace and reach out to the less fortunate in our world.
— Br. Pat Hogan | phogan@molloyhs.org
Students Collect Toys for Annual Drive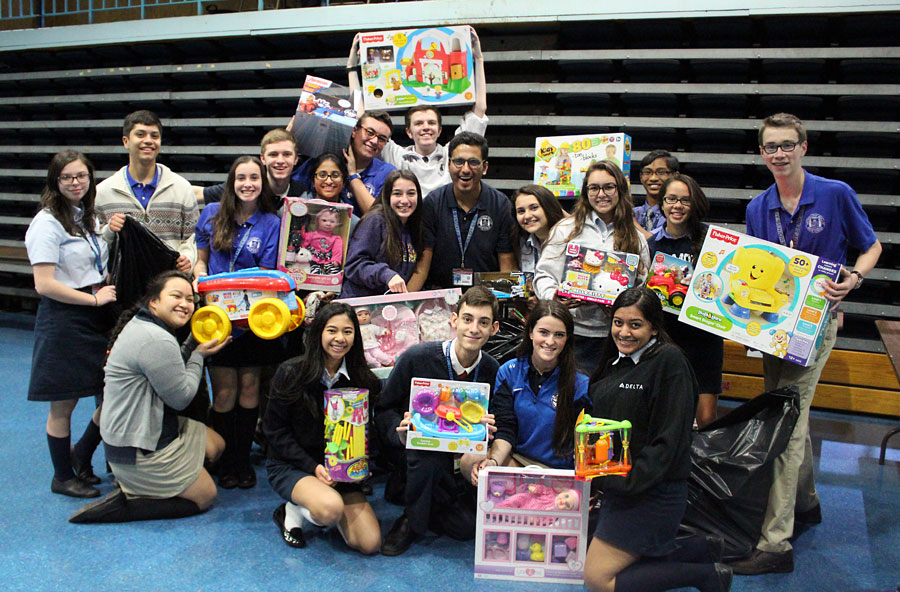 Molloy students showed their Marist spirit this month by participating in our school's annual Toy Drive, coordinated by Campus Ministry Director Mr. Mike Germano '93. Mr. Germano announced that Stanners collected 1,026 new toys as well as $2,500 in monetary donations through a mission collection. These toys and donations will benefit children and families through Make a Difference Christmas, HeartShare, Catholic Charities, and at the local Briarwood Shelter.
Solidarity Sleep Out Offers Perspective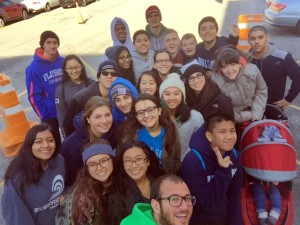 Stanners recently took part in Molloy's latest Solidarity Sleep Out. This event encourages students to "sleep out" at Molloy for one night, thereby actively engaging them in a national movement to raise money to end youth homelessness. "The Solidarity Sleep Out is an opportunity for our students to stand in solidarity with 2 million young people who will experience homelessness this year," said event moderator Mrs. Daniela Jelcic. "I was very pleased with the turnout and the level of participation, and I feel that the students gained important new perspectives about youth homelessness through this experience." Students also raised $650 for Covenant House, one of the largest privately funded childcare agencies in the US.
Sports Updates
Winter sports at Molloy are off to a great start overall! Here's a look at the current records of our talented teams.
Boys Varsity Basketball: 2-0
Boys JV Basketball: 4-1
Boys Freshman Basketball: 2-3
Girls Varsity Basketball: 8-1
Girls JV Basketball: 5-2
Varsity Volleyball: 10-0
Girls Varsity Swimming: 6-0
Boys Varsity Swimming: 3-2
In Boys Varsity Swimming, senior Harry Ortof '16 is a State Qualifier for the "500 Free" event. Track & Field results are covered in the story below. We would like to congratulate Harry and all of our athletes and coaches on their outstanding work so far. Here's to more success in 2016!
Track & Field Athletes Impress at CHSAA Relay Carnival
Molloy's Track & Field athletes have continued their great success this year as we transition from fall to the winter sports season. Senior Sarah Kowpak '16 (pictured above) is the returning New York State Champion in the high jump as well as the Molloy record holder. Sarah's record is an unreal 5'9", which she achieved earlier this year at the outdoor NYS Championships. She opened up her senior season with a win at the CHSAA Relay Carnival at Icahn Stadium on December 12th, jumping a solid 5'4″. On the heels of her outstanding high school career in both academics and athletics, Sarah recently signed to study and jump at Northeastern University. Family members joined Coach Kawan Lovelace '94, Coach AJ Power '84, Athletic Director Mike McCleary, and President Richard Karsten '81 at the signing to show their support and congratulate Sarah on this outstanding achievement.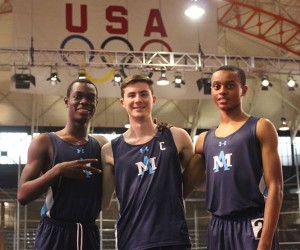 The Boys Varsity Shuttle Hurdle Relay Team, which includes senior Liam Rock '16, junior Oluwatomide Alao '17, and sophomore Joshua Titus '18, won their CHSAA Relay Carnival event in impressive fashion. The team set both a meet and a school record with a time of 24.18 and are aiming to qualify for Nationals at the upcoming Stanner Games in 2016. Senior Urbi Tucker '16 won the triple jump event with a jump of 33'9″. The boys Track & Field team also won the Distance Medley Relay event with a fantastic team time of 11:03.30. (Pictured: Oluwatomide, Liam, and Joshua)
Molloy's Track & Field athletes now look ahead to Stanner Games, which will take place Saturday, January 16th, 2016 at The Armory in Manhattan. One of the largest meets of the year, Stanner Games invites hundreds of students representing over 170 high schools around the tri-state area. If you are interested in attending the meet, or would like info on future opportunities to volunteer, contact ajpower@molloyhs.org.
218 Students, Faculty & Alumni Enjoy Private Screening of "Star Wars"
"Star Wars: The Force Awakens" is arguably one of the most hyped films in the history of modern cinema. Drawing on the success of six previous installments, including three prequels released between 1999 and 2005, the seventh film in the beloved Sci-Fi series was teased for months in 2015 with promises of inspiring Star Wars fans of old and captivating a new, younger audience. In anticipation of this monumental release, members of the Sci-Fi Club at Molloy planned a private screening at UA Midway Theater in Forest Hills on Friday, December 18th to ensure their participation in a surefire record-breaking opening weekend.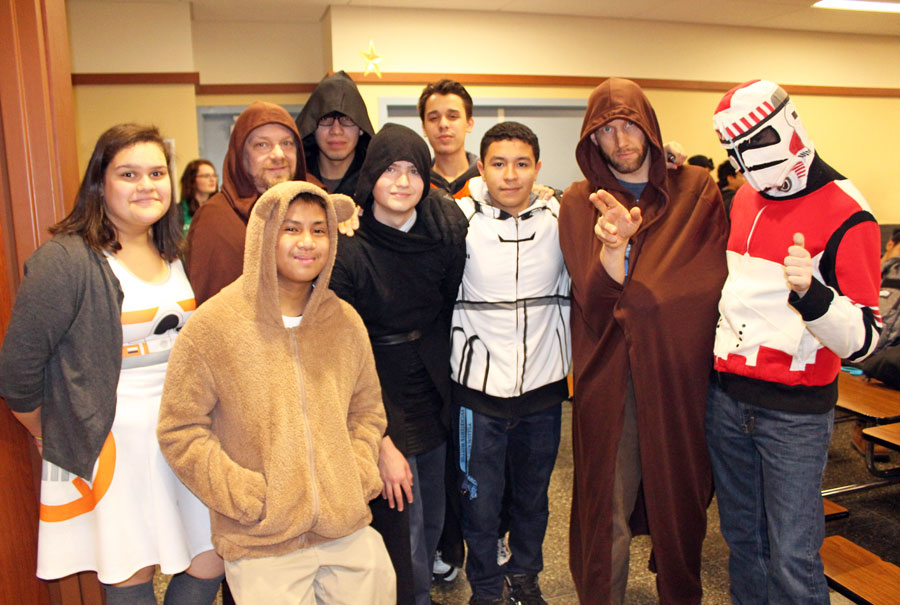 "At 218 people, this was the largest after school field trip in Molloy's history," said Mr. Glenn DaGrossa, an art teacher, co-moderator of the school's Sci-Fi Club, and avid Star Wars fan. "Molloy's Sci-Fi club usually plans for 25 to 40 activities throughout the year, but this was a home run. It's been 10 years since the last Star Wars film was released, and while some students have gone back and watched the original films, there are many students who are completely new to the Star Wars universe. They all came together with great enthusiasm and were absolutely thrilled with the new movie."
The outing also attracted a record number of faculty chaperones, as well as alumni representing several generations. "The diversity of the turnout demonstrates not only the bond we in the Star Wars community share, but the Molloy community as well," said Mr. Chris Dougherty '91, co-moderator of the Sci-Fi Club, while reflecting on the screening. He went on to describe Star Wars as "a part of our culture as a society" and that the films "have the power to bring many different people together in celebration." The Sci-Fi Club is currently planning a second field trip to see the movie as a group again in January, as well as a meeting to discuss the movie together in greater depth. "We educate our students based on the curriculum, but we also embrace opportunities to teach our culture," said Mr. DaGrossa. "Exposing our students to the Star Wars saga is similar to reading books or plays in English or Drama. The films are fun, but there are many layers to them. It's definitely an educational experience."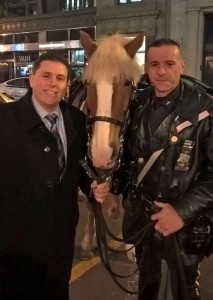 Andrew Savino '85, now retired, recently paid a visit to his brother Joe Savino '86 at the Rockefeller Center tree lighting. Joe, a member of the NYPD, was working the evening shift with his trusty equine colleague "Thor" when Andrew stopped by to share in ringing in the Christmas Season. Thanks for the photo, Andrew! (Pictured: Andrew [left] with Joe and Thor)
Rimas Vebeliunas '70 retired from ExxonMobil in 2014 after 40 years with the company. He celebrated his retirement by backpacking across the Grand Canyon with his daughter and several friends. Rimas is doing fine in the days since, living in Houston, Texas, and starting his retirement years by traveling with his wife Anne.
Ivan Pereira '03, a staff reporter for amNew York, was featured in his own article on December 15th in anticipation of the release of the new Star Wars movie. Ivan, a Star Wars fan, joined a group of Jedis in training at a "Jedi School" in Manhattan. Ivan was photographed taking part in the class, and in the article provided his review of the class as well as a list of the dueling skills he picked up along the way. You could say that the feature made Ivan's day. | Read the full article (Photos courtesy of amNew York)


We are saddened to share the passing of Joe Franki '66 following a brief yet courageous battle with cancer. Joe is survived by his wife Madeline, their three children,their seven grandchildren, and brother-in-law Greg Farrell '74. Please keep Joe and the Franki family in your prayers.

We are saddened to share the December 15th passing of Jennette Markey, mother of James Markey '77, grandmother of Gerard McAdams '89, Matthew McAdams '90, Daniel McAdams '96, Terrence McAdams '01, and Mark Gorman '93, and mother-in-law of Pat Gorman '69. "She was a kind, quiet lady whose primary concern in life was the well being of her large family," said Pat. Jennette was 95 years old. Please keep Jennette and her family in your prayers.

We are deeply saddened to share the passing of John (Jay) Kennedy on December 7, 2015, father of John (Jack) Kennedy '74 and Terrence Kennedy '87, Grandfather of Jack Mangin '16, and Thomas Mangin '18, also the father-in-law to John Mangin '83.  Mr. Kennedy was a resident of Richmond Hill for most of his life and was a big part of the sports association of Holy Child Jesus. He was a great man with a big heart, who loved all dearly; especially his family. The Kennedy family requests that you keep John Kennedy in your prayers.

Please pray for the repose of the soul of Richard Reddington '72.