Molloy Inducts Six into Stanner Hall of Fame

Earlier this spring, Archbishop Molloy High School inducted six distinguished individuals into its prestigious Stanner Hall of Fame. These are the first nominees to be inducted since November 2014. The Beehive congratulates our Class of 2017: Brother Zephiriny (posthumously), Brother Aquinas Richard '48, Mr. Lou Santos, Mr. Richard Reilly '63, Mr. Michael O'Neill '71, and Capt. Liam Flaherty, FDNY, '83.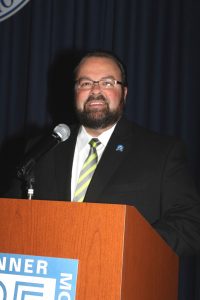 Inductees and their families, as well as alumni, faculty, and friends gathered at Molloy for a special dinner in recognition of our new Hall of Famers. The evening began with a welcome from Alumni Development Officer Matt Rizzotti '04, a prayer by Br. Patrick Hogan, and opening remarks by President Richard Karsten '81. "As we stand here today in the Jack Curran Gymnasium, a quote that Coach Curran used to say comes to mind," Mr. Karsten remarked. "He said, 'show me a man's friends and I will show you who they are.' In other words, you are the company you keep. When you are inducted into the Stanner Hall of Fame, you become part of a small, remarkable group of only 100 people who have set themselves apart by making a difference in the community and demonstrating unwavering loyalty to Molloy." (Pictured: President Richard Karsten)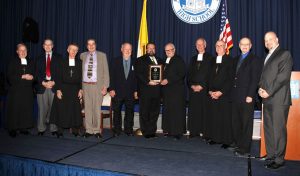 Br. Zephiriny, the first to be inducted, holds a distinct place in our school's history: he was the founder of St. Ann's Academy. After completing his Marist novitiate training in 1881 and teaching for 10 years, Br. Zephiriny was asked to found the first Marist school in New York in 1891. Just one year later, he went on to establish the community at St. Jean Baptiste School and then St. Ann's Academy at Lexington Avenue and 76th Street. He directed the Academy for 12 years before he was appointed as the Marist Provincial for North America in 1905. He passed away in 1927. Br. Zephiriny's efforts to found St. Ann's have since paid dividends for generations of Stanners, and Molloy would not be standing today without his contributions. A large group of Marist Brothers accepted the late Br. Zephiriny's nomination on his behalf (Pictured: Br. Roy George '62, Br. Eugene Birmingham, Br. James Adams, Br. Bob Andrews, Br. Aquinas Richard, President Karsten, Br. Pat Hogan, Br. Mike Sheerin, Br. James Norton '63, Br. James Maher, and Principal Penikas)
The next inductee was Captain Liam Flaherty, FDNY, '83. After joining the FDNY in 1990, Capt. Flaherty was recruited to the Special Operations Command and assigned to Rescue Company 4 in Queens. He later became a member of the NYC Fire Department Emerald Society Pipes and Drums, where he was eventually appointed Band Chairman. "The Band" played for dignitaries and countless parades and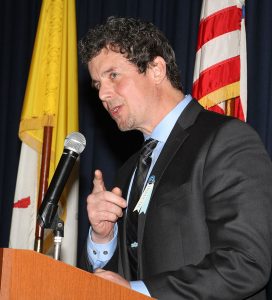 ceremonies internationally. Perhaps most notably, in the wake of the events of September 11, 2001, Capt. Flaherty coordinated and or performed in over 500 funerals and memorial services for fallen heroes. He describes it as a very trying time for the department, which he helped to restore by teaching at the FDNY Fire Academy to train new firefighters. Currently, Capt. Flaherty is the Commander and assigned as Lieutenant of the "Elite" Rescue Company 2 in Brooklyn. Upon accepting his nomination, Capt. Flaherty thanked his teachers, fellow firefighters, and the Emerald Society for their support. "The most important thing we learned as students at Molloy…we learned what 'right' is," he said. "All that I am is because of my parents and my Catholic school upbringing. There is nothing that compares to a Catholic education. It puts out the most decent, caring, and the greatest people in the world." Capt. Flaherty also shared a story about his interaction with Firefighter Michael Cawley '87 on September 10, 2001. Sadly, Michael was killed the following morning in the attack on the World Trade Center. Capt. Flaherty praised Michael's selfless actions that day and thanked the Cawley family for honoring Michael's legacy through one of Molloy's largest scholarship funds (see video at bottom of this article).
The evening's third inductee was Br. Aquinas Richard '48, who many alumni will remember as a dedicated science teacher and enthusiastic track and field coach. Br. Aquinas professed his final Marist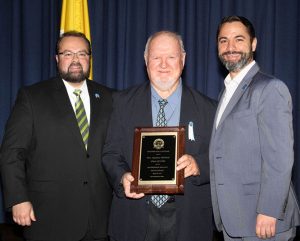 vows in Esopus in 1954 and earned his MA in Biology from Fordham University in 1959. Br. Aquinas began his long and distinguished career at Molloy in the early 1960's. Student-athletes thrived under the leadership of Br. Aquinas as the Track & Field team won numerous city championships during his tenure. He was inducted into the CHSAA Hall of Fame for his coaching achievements. In the classroom, Br. Aquinas displayed a passion for education and science that continues today during his retirement, as he routinely maintains the biology lab and assists students with lab projects. As a special surprise for Br. Aquinas during his induction, President Karsten arranged for Brother's favorite hot dog truck to park outside Molloy and serve up his favorite franks. "Brother Aq, I know that you are known to drive many miles for Walter's Hot Dogs. Well, tonight, Rye New York's best has come to you," said President Karsten. Students then filed into the Curran Gym with hot dogs in hand, serving them up to family and friends. It was a memorable moment that Br. Aquinas later said he greatly enjoyed and appreciated. (Pictured: President Karsten, Br. Aquinas, and Craig Katinas '93)
After a brief recess, the inductions continued with Mr. Richard Reilly '63, a Newton, Massachusetts-based trainer and mediator. During his career, Mr. Reilly was an integral part of the American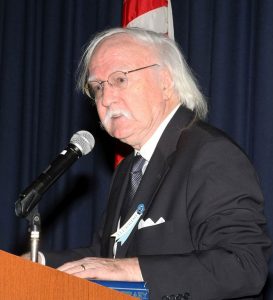 Arbitration Association of New England and nationally as a Senior Vice President of Labor and Insurance for 30 years. He was also a AAA liaison with the National Academy of Arbitrators, the Federal Mediation and Conciliation Service, and the Association of Labor Relations Agencies. He has served as the President of the Society of Professionals in Dispute Resolution (1985) and in New England as President of the Industrial Relations Research Association (IRRA) (1984-85), and the Fordham University Alumni Association. In addition to his extensive professional resumé, Mr. Reilly also holds the distinction of Army Veteran (cook) and as a professional Santa Claus. Mr. Reilly praised Molloy's faculty in his acceptance speech. "Tonight you are putting me and my fellow honorees on Molloy's Mount Rushmore, but the real people who did it are the faculty. None of us would be here without them." Of note, Mr. Reilly now resides on the Stanner Hall of Fame wall next to his siblings, James Reilly '61 and Robert Reilly '68.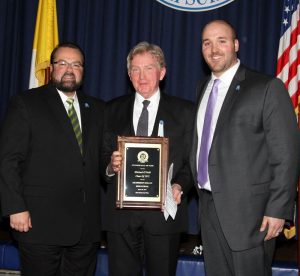 Our fifth inductee was Mr. Michael O'Neill '71, Executive Vice President of Corporate Affairs & Communications for American Express. He is a member of the company's Operating Committee, with responsibility for Public Policy, Employee and Shareholder Communications, International Government Affairs, and Corporate Social Responsibility. Mr. O'Neill is also Chairman of the American Express Foundation, which makes charitable contributions to efforts ranging from Disaster Relief to historic and environmental conservation. Currently, Mr. O'Neill is a member of the Board of Directors of The International Rescue Committee, which responds to the world's worst humanitarian crises and helps people whose lives are endangered by conflict and natural disasters. In addition to his professional resumé, Mr. O'Neill's loyalty to Molloy through his philanthropic endeavors has improved the educational opportunities and quality of life of many of our students. (Pictured: President Karsten, Mr. O'Neill, and Matt Rizzotti '04)
The last inductee of the evening was none other than Mr. Lou Santos, a distinguished teacher, coach, avid volunteer for over 40 years. Mr. Santos' story is quite a long one, from his days attending Power Memorial High School, to teaching at numerous high schools (St. Raymond HS for Boys, St. Michael's HS for Girls, St. Helena's, Molloy), to coaching at the CYO, high school, and college levels, Mr. Santos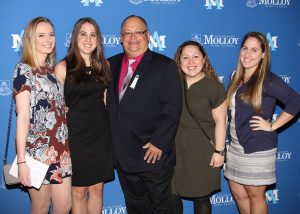 has made a positive impact on the lives of literally thousands of young men and women. He is a dedicated and accomplished teacher, but moreover he is a caring and nurturing mentor for students and athletes alike. "Coach Lou", as he is known by many, has amassed a coaching resumé that is hard to match. He has coached Molloy's JV softball team to two city titles, 10 division titles, and playoff appearances in every season he has been at the helm. He is also the winningest baseball coach in the history of Queensborough Community College. His work with the Greater New York Sandlot Athletic Alliance has enriched many lives, while his volunteer and philanthropic efforts reach beyond the diamond. As a founding member of the Br. Ronald Marcellin Committee, he has worked with Molloy alumni to raise over $450,000 in scholarship support for one of our most critical need-based scholarships: the Br. Ron Marcellin Memorial Scholarship. This scholarship has made attending Molloy possible for intelligent, inspiring young men and women who are sure to make a positive impact on our world. (Pictured: Mr. Santos with some of his former softball players)
As part of the Hall of Fame ceremony, two of Coach Lou's notable friends shared messages of support. The first was Omar Minaya, former General Manager of the New York Mets. A letter from Mr. Minaya was read aloud, which expressed much thanks and congratulations to Mr. Santos for his years of dedication to New York's baseball youths. The second was from NBA Hall of Famer Kareem Abdul Jabbar, who sent in a congratulatory video (watch below). Mr. Santos and Mr. Jabbar attended Power Memorial High School together. Considering all that Mr. Santos has done for students and athletes all across New York, and especially at Molloy, there are few more deserving of the Stanner Hall of Fame than Mr. Santos.
Once again, we would like to congratulate all of our Stanner Hall of Fame inductees. We would also like to thank all the friends and family who came out to support them, as well as the Selection Committee for giving the nod to these six outstanding men. The next Stanner Hall of Fame induction will take place in 2019. If you would like to nominate a deserving candidate, please send your nomination in writing to President Richard Karsten '81 at president@molloyhs.org.
Full Bios: Br. Zephiriny | Br. Aquinas | Mr. Santos | Mr. Reilly | Mr. O'Neill | Capt. Flaherty

---
Molloy Announces The Lou Santos Scholarship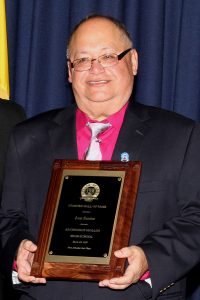 During our Stanner Hall of Fame Induction ceremony earlier this spring, Alumni Development Director Craig Katinas '93 proudly announced the establishment of The Lou Santos Scholarship. In honor of a respected teacher, coach, and mentor of over 40 years, this scholarship will benefit deserving Catholic students with economic hardships in New York City. Mr. Santos has always been a champion of providing the gift of education, and we hope you can continue his legacy for education by providing a gift to support this wonderful scholarship in his name. If you read our preceding article, you are no doubt aware that Mr. Santos has been a remarkable presence at Molloy for decades. From his leadership in the classroom, to his dedication on the field of play, to his tireless philanthropic efforts, Mr. Santos truly embodies Molloy's motto "Not for school but for life" and is a prime example of St. Marcellin Champagnat's mission in action. For more information about this scholarship, please contact the Stanner Alumni Center at 718.441.9210 or alumni@molloyhs.org.

---
Send Your "Alumni Update" for Stanner Life Magazine

It's that time again! The Alumni Center is currently working on its new issue of Stanner Life Magazine, our annual printed newsletter serving the St. Ann's / Molloy community. We are excited to share your Stanner stories in our Alumni Updates article. Have you recently gotten engaged? Married? Graduated from college? Have you earned a new degree, reconnected with old friends, gotten a new job, or traveled to a distant land? Has your family gotten larger? We'd love to hear about it. In addition, we are looking for volunteer writers and other story contributions. Your work could be prominently featured in our publication.
If you would like to be included in Alumni Updates in the next Stanner Life Magazine, please submit a one paragraph update along with a relevant, high resolution photo to alumni@molloyhs.org. DEADLINE FOR SUBMISSIONS IS FRIDAY JUNE 16.
---
Download Molloy's 2015/16 Annual Report
The Stanner Alumni Center, on behalf of Archbishop Molloy High School and St. Ann's Academy, is pleased to share our Annual Report for the 2015/16 fiscal year (September 1, 2015 – August 31, 2016). Each year, your charity allows Molloy to fund scholarships, technology enhancements, facility upgrades and renovations, and a variety of other campus priorities. When you give to Molloy, you enhance our Catholic Marist mission of faith and excellence in education. You create opportunities for students who work hard to achieve their goals and make the most of their education. By giving to Molloy, you join a group of individuals who are gratified by being part of the Stanner family of supporters. It is your example that encourages others to give and helps countless students realize their goals. Depending on the amount or designation of your gifts, we are very pleased to induct our generous benefactors into the giving societies within our 2015-16 Annual Report.

---
Download the Stanner Golf Classic Digital Journal
In our last Beehive, we noted that this year's Stanner Golf Classic was a great success. We would like to once again thank all of our golfers and sponsors for their tremendous work in supporting AMHS scholarships. As we continue to tally up all the numbers for money raised, we encourage you to download a digital copy of this year's Golf Journal. The journal contains information about the history of our outing, this year's honorees, and many ads from Stanner-owned and Stanner-friendly businesses. Click the button below to download the PDF today.

---
Around the School
All-Time ACC Home Run Leader Visits JV Softball Team

Earlier this spring, Molloy's JV softball team enjoyed a visit from an athlete at the top of her game. Kristen Brown, daughter of Bobby Brown '83, is the all-time home run leader in the ACC and at the University of North Carolina. In four seasons, Kristen hit 66 home runs, including 24 in her junior year alone. She is a 3-time Academic All-American and a 2-time Softball All-American. She played on the USA National Softball Team and currently plays professionally for the Chicago Bandits. "She is a great role model for our players, and we were honored to have her spend time with our team," said Coach Lou Santos.
---
Spring Sports Update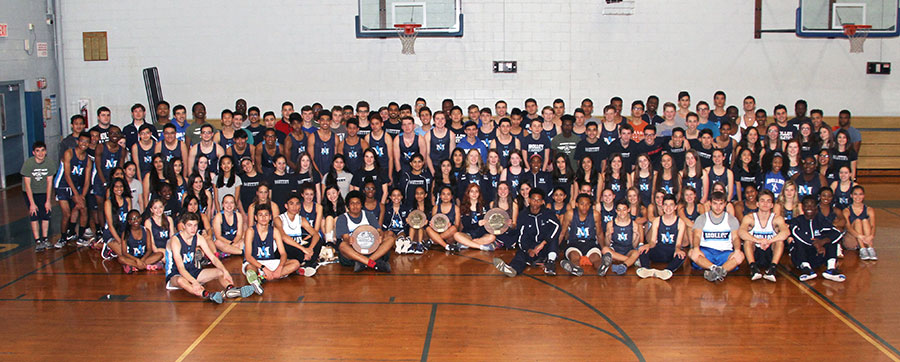 In Track & Field, the freshman and sophomore boys have both won Brooklyn/Queens Sectional Championships. In addition, the girls varsity Track & Field team captured the B/Q Sectional Championship on May 17th. The girls finished with a top score of 77.5 points, while TMLA and St. Francis Prep tied for second place with 66 points. B/Q Individual Champions include: Shauna D'arcy (Shot Put & Discus), Nicoletta Ziozis (Javelin), Kristen Mardenborough (Pole Vault), Meesha Samuels (1500 Meter Run), and Paige McDade (3000 Meter Run). Looking ahead, the boys varsity Track & Field will compete in the NY/BQ City Championships (old sectionals) on May 20th, while Molloy will compete in the CHSAA Intersectional State Championships (old "cities") on May 27th.
In softball, the JV squad defeated Xaverian HS 4-2 on May 17th to advance to the B/Q Championship game on May 22nd versus St. Francis Prep. Molloy's Nicole Werner threw a 2 hit, 13 strikeout complete game, while Mary Kate Meade and Riley O'Connor provided timely hitting for the victory.
Congratulations are also in order for Mr. Bill Niklaus '80 and Molloy's golf team, who recorded the program's 300th victory on May 10th. Mr. Niklaus has coached the team since its inception and boasts a 300-45 career record. This season they earned a record of 7-2 with playoffs upcoming.
---
Upcoming Events
Walk/Run Relay & Vigil in Memory of Karina Vetrano '04
When: Friday, June 23rd & Saturday, June 24th| Times: See Flyer
Where: Archbishop Molloy High School
Who: All members of the community
REGISTRATION NOW CLOSED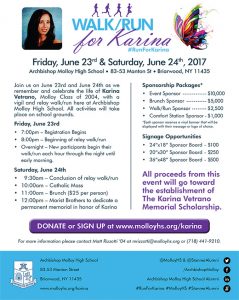 Please join us on June 23rd and June 24th, 2017 as we celebrate the life of Karina Vetrano '04 a member of the school's first coed graduating class who was tragically killed in August 2016 while on a routine jog in Howard Beach, Queens. Molloy, with the support of the Vetrano family and friends of Karina, will remember her with a vigil and relay walk/run event. Those in attendance can participate in the walk/run vigil Friday evening, overnight, or early Saturday morning. Catholic Mass will be held at 10:00am Saturday with brunch ($25 per person) to follow at 11:00am. After brunch, the Marist Brothers will dedicate a permanent memorial for Karina. All activities will take place on school grounds. We are also raising money to establish a scholarship in Karina's memory. Download the flyer to the right for signage and sponsorship opportunities.
Please share and read the flyer above for full details, or visit www.molloyhs.org/karina to sign up for the event or donate to the Karina Vetrano Memorial Scholarship. If you'd like to volunteer, or if you have any questions, please contact Molloy's Stanner Alumni Center at (718) 441-9210 or alumni@molloyhs.org.
---
St. Ann's Communion Breakfast
When: Sunday, June 4th, 2017
Where: Archbishop Molloy High School
Who: Graduates of St. Ann's Academy, Classes of '63, '64, '65
REGISTRATION NOW CLOSED
Molloy invites St. Ann's graduates and members of the Classes of 1963, 1964, and 1965 to join us on Sunday, June 4th, for our St. Ann's Communion Breakfast. The celebration of the 125th anniversary of our founding provides us an opportunity to share our gratitude with you – Stanners whom have laid the groundwork for our traditions of faith, service, and excellence in academics and athletics.
We will celebrate Mass together, then enjoy a delicious breakfast buffet, all here at Molloy. Those planning to attend are encouraged to arrive by 10:00am. Mass will begin promptly at 10:30am with breakfast to follow. In gratitude for your leadership and serving as an example for succeeding generations of Stanners, admission to this year's St. Ann's Communion Breakfast is once again complimentary of President Karsten '81 and the Stanner Alumni Center. Please RSVP to Mrs. Merl Doyle at 718-441-9210 or mdoyle@molloyhs.org by May 30th.
---
Fundraiser for Sean Harrison '11
When: Saturday, June 10, 2017 @ 12PM
Where: Woodhaven House (63-98 Woodhaven Blvd, Queens, NY 11374)
Program: Live Music, Raffles, Food, 50/50, Cash Bar
More information: Facebook Event Page
Please join alumni and friends on Saturday, June 10th as we come together to help a Stanner in need. Sean Harrison '11 was seriously injured in a car accident in July 2016. As a result of the accident, Sean remains paralyzed and in need of continued rehabilitation. The event at Woodhaven House will help raise funds for the Harrison family's ongoing medical expenses as they help Sean through this challenge. As a young alum, Sean had been a frequent volunteer at Esopus and in the Stanner Alumni Center. He selflessly gave up his time on many occasions to help his alma mater, and is considered to be a wonderful and caring friend by many in our community. Please join us in giving back to Sean now. Visit the Facebook Event Page (link above) for more information or download and share the flyer to the right.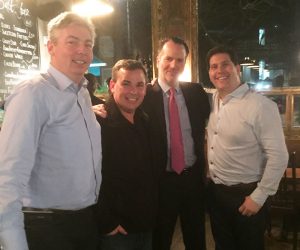 Ryan Steege '89 is currently teaching at the American School in London (ASL), where both of his children are enrolled. Ryan has also continued his Track & Field coaching career at the school, and last year his combined boys and girls team won the International Schools Championship (ISST Title). One of the members of the team was Ryan's daughter, while another happened to be the son of a fellow Stanner. Pictured right is Ryan with three other parents of students at ASL who are all Molloy graduates. In Ryan's words, "It's always great to get together and share stories from our days at Molloy." Pictured left to right: Kevin Nealis '79, Ryan, Richard Nevins '78, and Mike Ferragamo '86.
---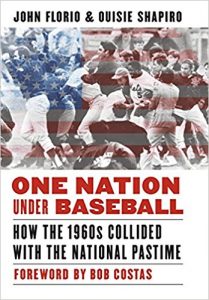 John Florio '78 has released his latest book, One Nation Under Baseball. The book covers "the intersection of race, politics, social issues, and sports during the 1960s and includes comments from Jim Bouton, Bill White, and Andrew Young as well as a foreword by sports anchor and analyst Bob Costas. Kirkus Reviews notes, "Careful, pointed writing shows us that professional sports should not be viewed in isolation from the society in which they function." Learn more about this and other works at https://www.florioshapiro.com/
---
Paul Galbraith '74, an actor based in the Hudson Valley, will appear in the movie Megan Leavey, due out June 9th. Paul is credited as "MLB Umpire" in the film, which shot scenes at Yankee Stadium. "Hopefully the film editors were kind," Paul shared with The Beehive. | Learn More about Paul at IMDB.com
---
Peter McCrave '69 submitted a brief update to The Beehive. He'd like to share with his classmates that he has been married for almost 40 years, has a son named Brendan, and is retired in the Village of Southampton. His hobbies these days include collecting music, reading, walking his dog, and cheering on the Giants, Rangers, and Yankees.


We are saddened to share the passing of Anthony C. Giambra Jr. '91 on May 9th, 2017. Anthony was a longtime member of the NYPD. He enjoyed many years serving and protecting his city, most notably when he selflessly rose to the call of duty in the wake of the events of September 11, 2001. Sadly, in recent years Anthony had battled 9/11-related health complications that have now tragically taken his life too soon. Anthony is survived by his parents, two brothers, and nephews. His nephew, Frank Giambra, is currently a senior at Molloy. Please keep Anthony and the Giambra family in your thoughts and prayers during this very difficult time.

We are saddened to share the passing of Raymond M. Schulz '83 on May 8th. Please keep Raymond, his family, friends, and classmates in your prayers.

Please pray for the repose of the soul of Mary Quigley, grandmother of Kevin Garlan '06 and Rosie Garlan '10. Wake arrangements will take place Sunday, May 21st from 2-5pm and 7-9pm at Conway's Funeral Home, 82-19 Northern Blvd., Jackson Heights, NY 11372. A Funeral Mass will be held on Monday, May 22nd at St. Joan of Arc Church at 9:45am.

We were recently informed of the passing of Lewis G. Rocco '65 on September 29, 2016. Please pray for the repose of the soul of Lewis and keep his family in your prayers.

We were recently informed of the passing of William Parchen '60, who passed away in 2011. Please keep William in your prayers.

We were recently informed of the passing of Thomas Walsh '43, who passed away on April 27, 2016. Please keep Thomas in your prayers.