Former NYC Police Commissioner Hon. Raymond Kelly '59 Headlines Spring Networking Event, Kicks off Celebration of 125th Anniversary of St. Ann's / Molloy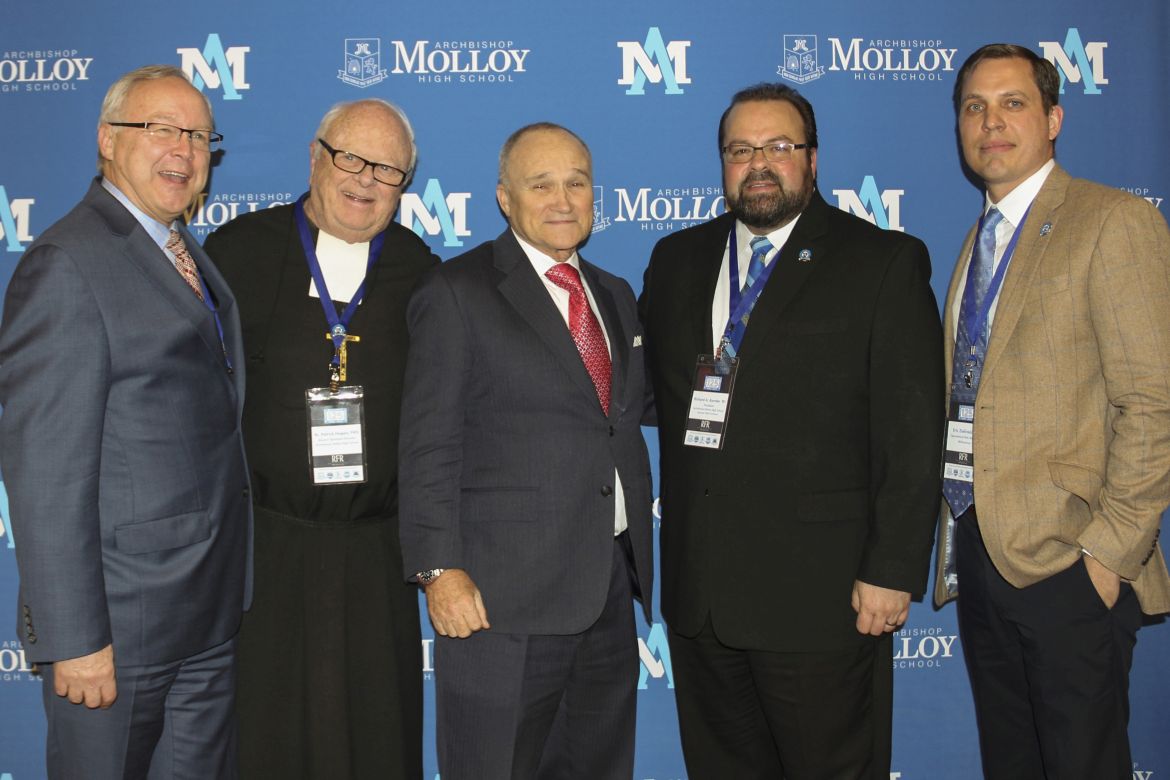 Earlier this spring, a very special networking event, hosted by RFR Realty LLC (www.rfr.com), kicked off our celebration of the 125th Anniversary of the founding of St. Ann's Academy / Archbishop Molloy High School. Over the span of our school's history, there have been countless distinguished alumni who have made a positive impact on our world and who have lived out our motto, Not for school but for life. One such alumnus, who has dedicated many years to public service and has built an impressive resumé of leadership, is the Honorable Raymond W. Kelly '59. Molloy's President Richard Karsten '81 and the Stanner Alumni Center were very humbled to welcome Mr. Kelly, former NYC Police Commissioner and currently Vice Chairman of K2 Intelligence, to serve as the evening's keynote speaker. Joining him at the event was his son Greg Kelly, co-anchor with the Fox 5 news program Good Day New York. (Pictured above: L-R: Bill Farrell '72, Br. Pat Hogan, Hon. Ray Kelly '59, President Richard Karsten '81, & Eric Zielinski '90)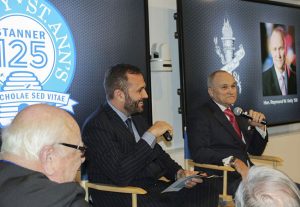 After brief introductions by Alumni Development Director Craig Katinas '93 and Jerry Schumm '68 (Executive Vice President, RFR Realty, LLC), and an opening prayer by US Provincial Br. Patrick McNamara, the Kellys took center stage. Greg prompted his father to talk a bit about his life and career, including his days at St. Ann's and Molloy (Mr. Kelly attended both before and after our school's relocation and renaming). Mr. Kelly recalled the influence of Marist Brothers like Br. Wilfred, Br. Victor, and Br. Eugene, as well as the revered Mr. Lou Carnesecca '43 and the highly touted St. Ann's basketball program. Ultimately, he highlighted the school's values during his retrospective reflection. "When I think back…I received a tremendous education – a foundation both academically and in terms of Catholic teaching and morality. I always appreciated that, and what I see going on at the school now, with all the new facilities and upgrades, makes me proud. In my mind, it's one of the top 100 high schools in the country," said Mr. Kelly. Greg Kelly later facilitated a Q&A session, which featured questions about his father's career as well as the current political and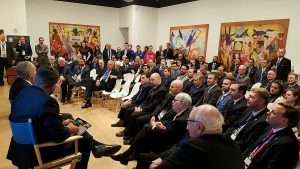 security landscape of New York City.
Later in the evening, Molloy President Richard Karsten '81 provided a thought-provoking presentation encompassing three key eras in Molloy's history and a look into the future. "I believe history will recognize Molloy in three main chapters: The St. Ann's Days, Molloy in the 20th Century, and Molloy in the Information Age," Mr. Karsten began. "For 125 years, the Marist mission of teaching young people has thrived because our school has evolved with 'the signs of the times.' Marist Brothers, lay teachers, guidance counselors, coaches, administrators and students have contributed so much to the successes at Molloy, and this will continue for generations if we can move with the demands of the times."
Despite the ever-changing world around us, Mr. Karsten believes there is one central theme in St. Ann's / Molloy history. "Our school's focus, no matter what era, has always been on What Matters: building character th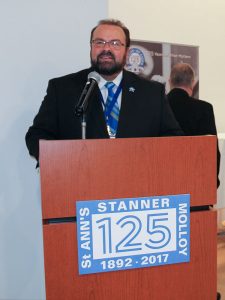 rough discipline and compassion, and the formation of young people of faith." Mr. Karsten referenced the heavy influence of the Marist Brothers throughout our history, the creation of programs like Peer Group Counseling and SMILE in the 1960's, and the transition to co-education in the early 2000's among many other changes that represent the school's continuous efforts to stay ahead of the ever-changing needs of our students. The implementation of one-to-one computing is the latest step in Molloy's mission to focus on What Matters in a time when technology is vastly important to the growth of our world. "What hasn't changed is the lived experience at Molloy. Every day, our faculty use the Marist facet of presence to work with our students, to challenge them, and to nurture them. Molloy is still a place where parents sacrifice so their children can have more opportunities and a better life for the next generation. Many people have come and gone, but the school's academic standards and focus on mission – the pillars of hard work, service, humility, and love of Mary – are here to stay. Every day at Molloy, we focus on What Matters," President Karsten said proudly.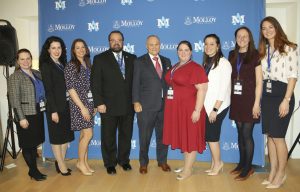 Following President Karsten's remarks, the celebration continued as alumni chatted and networked. Mr. Kelly was also gracious to take photos with alumni and speak directly with our student volunteers. Alumni in attendance represented leaders from each of Molloy's active professional networks (law, finance, alumnae, real estate, badges). In all, it was a wonderful evening and an exceptional beginning to our celebration of "125 Years of What Matters". More events throughout the year will continue the celebration and pay homage to our school's history while looking ahead to the next 125 years of excellence. For more information on how you can get involved, please contact Alumni Communications Director Joe Sommo '03 at jsommo@molloyhs.org. You can also check out our photo gallery from this special evening below or on Facebook. (Pictured above: Representatives of Molloy's Alumnae Network pose with President Karsten and Hon. Ray Kelly)

---
Download the Stanner Golf Classic Digital Journal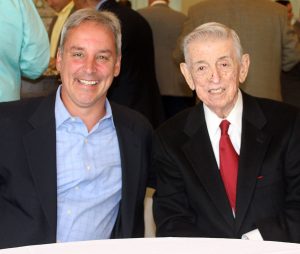 We are happy to share that the 31st Annual Jim Kinnier Stanner Golf Classic, which was held on Monday, May 1st, was a great success! Everything from the hard work of our staff, volunteers, and Golf Board, to the enthusiasm shown by our alumni, parent, and corporate golfers, to the presence and leadership of our honorees, Paul Krische '81 and Coach Lou Carnesecca '43 (pictured together), created what was an incredible and memorable event. The rounds went off without a hitch at North Hills and Plandome Country Clubs, as a cool, overcast morning quickly gave way to a warm, sunny afternoon. We also saw great participation in our prize holes contests, raffle, and live and silent auctions. Over the next few weeks, the Stanner Alumni Center will be hard at work tallying up all the numbers. A full recap is upcoming as well. In the meantime, we encourage you to download a digital PDF copy of this year's Golf Journal, which contains information about the outing as well as many advertisements from Stanner owned and supported businesses. Click the button below to download. Special thanks and congratulations to Alumni Development Officer Matt Rizzotti '04 for his hard work as the main coordinator of this wonderful event.

---
Alumnae Paint & Sip Honors Karina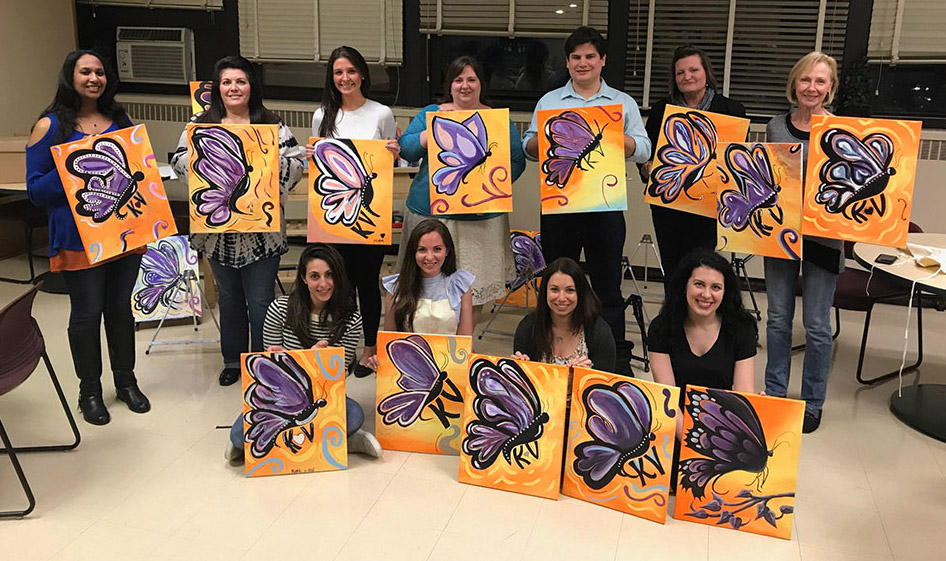 On Saturday, April 22nd, alumnae and friends gathered here at Molloy for our first ever Paint & Sip event. Led by professional artist Melissa Goscinski, participants enjoyed a few glasses of their favorite wine as they were instructed on how to paint unique interpretations of a butterfly. The butterfly was inspired by the memory of Karina Vetrano '04, who held a special affinity for them. Several of Karina's classmates from the Class of 2004 participated in the Paint & Sip, which saw proceeds go toward the establishment of the Karina Vetrano Memorial Scholarship. Each participant also donated their finished artwork to be displayed during an event honoring Karina that will take place in June (see upcoming events). The Stanner Alumni Center extends its sincerest thanks to everyone who came out to help support the event and scholarship. | Donate to Karina Vetrano Memorial Scholarship
---
Mr. Sheehan Leads Tasting of Bordeaux Wines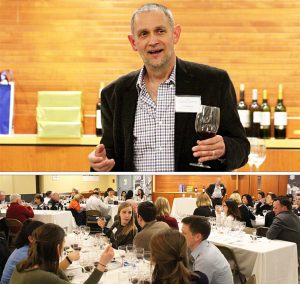 We had a great time on April 6th as Mr. Jim Sheehan '75, Molloy's in house wine expert, led a "spirited" tasting of Bordeaux Wines for a group of alumni, parents, faculty, and friends. Mr. Sheehan has a vast and impressive knowledge of wines from all over the world. Whether bargain hunting, shopping for a special occasion, or looking to branch out, Mr. Sheehan's insightful tips will help you in your quest for the perfect bottle. A bit about Bordeaux from Jim: "Bordeaux is among the oldest and most elite wine regions in history. It's likely the Romans first produced wine there in the mid First Century. A number of the most sought after–and expensive–wines in the world are blended in Bordeaux, priced prohibitively for all but a few. But what many people don't know is that the region produces hundreds of excellent wines which lack the name recognition of Rothschild and Latour, but are widely available for reasonable prices."
Participants inspected each of six wines (see photo gallery for bottles) in terms of aroma, color, transparency, taste, and other characteristics. Those who were astute during the tasting and answered questions correctly during a Q&A were rewarded with bottles of the evening's featured wines. Thank you to Mr. Sheehan, all of our participants, and Culinart for the delicious food they prepared. Be sure to read future Beehives for information about next year's Wine Tasting!

---
Upcoming Events
St. Ann's Communion Breakfast
When: Sunday, June 4th, 2017
Where: Archbishop Molloy High School
Who: Graduates of St. Ann's Academy, Classes of '63, '64, '65
RSVP to: Ms. Merl Doyle | mdoyle@molloyhs.org | 718-441-9210
REGISTRATION NOW CLOSED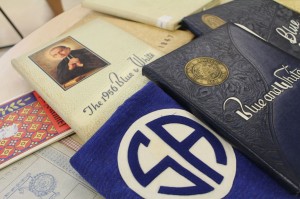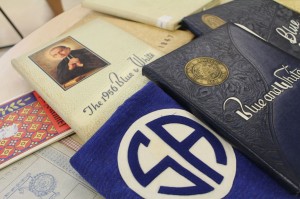 Molloy invites St. Ann's graduates and members of the Classes of 1963, 1964, and 1965 to join us on Sunday, June 4th, for our St. Ann's Communion Breakfast. The celebration of the 125th anniversary of our founding provides us an opportunity to share our gratitude with you – Stanners whom have laid the groundwork for our traditions of faith, service, and excellence in academics and athletics.
We will celebrate Mass together, then enjoy a delicious breakfast buffet, all here at Molloy. Those planning to attend are encouraged to arrive by 10:00am. Mass will begin promptly at 10:30am with breakfast to follow. In gratitude for your leadership and serving as an example for succeeding generations of Stanners, admission to this year's St. Ann's Communion Breakfast is once again complimentary of President Karsten '81 and the Stanner Alumni Center.
---
Run/Walk Relay & Vigil in Memory of Karina Vetrano '04
When: Friday, June 23rd & Saturday, June 24th| Times: See Schedule
Where: Archbishop Molloy High School
Who: All members of the community
REGISTRATION NOW CLOSED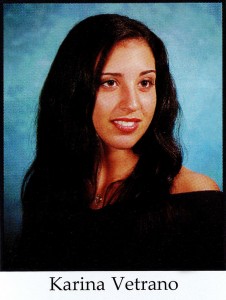 Archbishop Molloy High School has announced a memorial event that will celebrate the life Karina Vetrano '04, a member of the school's first coed graduating who was tragically killed in August 2016 while on her routine jog in Howard Beach, Queens. Molloy, with the support of the Vetrano family and friends of Karina, will remember her with a vigil and relay walk/run event beginning June 23rd and concluding June 24th, 2017. Molloy alumni, friends, and members of the school and greater Queens communities are invited to participate in this celebration, which will highlight Karina's vibrancy and passion for life.
The vigil and relay will begin on Friday night at 8:00pm and continue through to the next morning. A Catholic mass at 10:00am and brunch will follow. At the conclusion of the event, the Marist Brothers will dedicate a permanent memorial at the school to celebrate and remember Karina's life. All planned activities will take place on school grounds. Money will also be raised to help Molloy establish the Karina Vetrano Memorial Scholarship, which will provide scholarships for deserving young women who are entering Molloy in her memory.
Individuals interested in signing up for the memorial event or donating to the Karina Vetrano Memorial Scholarship are encouraged to visit www.molloyhs.org/karina or call Molloy's Stanner Alumni Center at (718) 441-9210. All other inquiries can be forwarded to alumni@molloyhs.org.
---
Around the School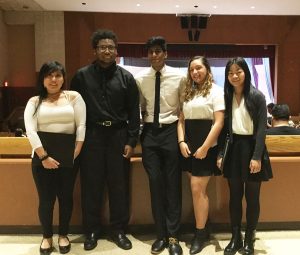 Students Perform in Citywide Music Honors Festival
In April, five Molloy students performed in the Honors Music Festival for high school students, presented by the Music Educators Association of NYC and the Office of Arts & Special Projects. Over 30 schools participated in the festival, which was held at Brooklyn's Grand Street Educational Campus. Our students performed the following: Guarev Srivastava '17, Timpani, Concert Band | Tyler Pearce '18, Saxophone, Jazz Ensemble | Odalis Guaman '17, Mixed Chorus | Juliana Giacone '19, Mixed Chorus | Juliana Mayor '20, Mixed Chorus
In addition, Freshman/Sophomore Chorus Director Ms. Ya-Ting Yang conducted a sectional rehearsal for the chorus, while Junior/Senior Chorus Director Mr. Jim Sheehan '75 also participated in the day. "It was truly an honor for Molloy to be represented in this Festival," said Ms. Yang.
---
Siblings Awarded for Engineering Research Project
We are proud to share that Esmeralda Montas '17 and her brother Enrique Montas '18 have been recognized for the presentation they submitted at this year's NYC Science & Engineering Fair (NYCSEF). Esmeralda and Enrique's research project titled The Effect of an External Wind Diverter on a Wind Turbine impressed judges and landed them the Sarah and Morris Wiesenthal Science Award. This award is "given to projects that promote the objectives and mission of Environmental Quest; to bring awareness to the man-made and natural environment." Thanks to Esmeralda and Enrique, Molloy was one of four engineering projects to receive this award. Nearly 600 students participated in this year's NYCSEF. Congratulations Esmeralda and Enrique, and thanks to Ms. Mary Mallia for working with the students on this year's fair.
---
Sports Update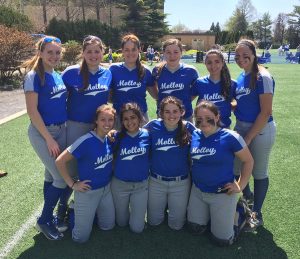 After earning the Brooklyn/Queens championship and advancing to the city title game this past season, the boys varsity basketball team recently enjoyed a few more noteworthy honors. Sophomore guard Cole Anthony '19 and 7-foot junior Moses Brown '18 were both named First Team All-Stars by the Times Ledger after leading Molloy to one of its most memorable seasons of the past 30 years. Junior Khalid Moore '18 was named Second Team, while senior John Herring '17 received an Honorable Mention. In addition, the publication honored Coach Mike McCleary with their Coach of the Year award. Ask anyone around the CHSAA and we believe they'll tell you that this honor is well-deserved. Congratulations to Coach McCleary and our First Team, Second Team, and Honorable Mention athletes!
Elsewhere in Stanner Sports, early results for the varsity softball team have been excellent. They have started out a perfect 10-0, good for first place in the league. The Varsity squad is also currently ranked 19th in New York State. They will play in the Mudville Tournament in Utica this weekend against some of the other best teams in the state. The team was also featured in a complimentary article in last week's Times/Bayside Ledger. | Read about Varsity Softball in the Times/Bayside Ledger
---
Well Wishes to Marist Bayonne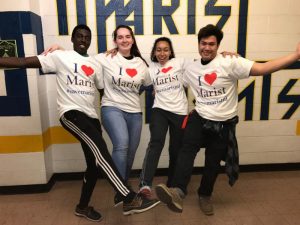 Several weeks ago, the Marist Brothers of the US Province announced that Marist High School in Bayonne, NJ, would close after 63 years in operation following the conclusion of the current school year. As is the case with many Catholic schools in the New York metropolitan area, the challenge of balancing the needs of a modern education with meeting the rising costs to educate each student played a heavy role in the initial decision. The Brothers and administrators at Marist Bayonne announced that $1.5 Million would need to be raised to keep the school open for the 2017-18 school year. This announcement sparked an outpouring of support from students and alumni of Marist Bayonne, as well as students from other Marist schools. Several schools, including Molloy, went on to hold modest student fundraisers to help our fellow Marist school. The results of the campaign are in, and we are happy to share that, although falling just short of the goal, Marist Bayonne received enough donations to continue operating through next school year. A statement from the US Provincial Council reads:
"The Provincial Council recognizes the tremendous hard work and effort the school put forth in its recent Save Marist NJ campaign. Marist High school will continue to serve the amazing and well motivated students it educates. The school offers a dynamic academic program, a nurturing Catholic community, and the unique spirit and heritage of the Marist Brothers. Marist assists students in forming their consciences by emphasizing the dignity of the individual and Christ's call to serve others. The faculty of Marist High School is committed to the charism of the founder of the Marist Brothers, Saint Marcellin Champagnat: "To make Jesus known and loved through the Christian education of youth."
Sound familiar? Everyone at Molloy is thrilled for the faculty and students of Marist Bayonne, and we wish them well as they head into next school year.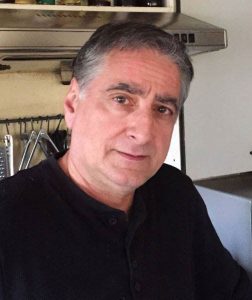 Artwork created by Robert Chirico '70 was recently featured in The Hosmer Gallery at Forbes Library. The exhibit is called Landscapes of the Mind. Robert is a freelance writer and artist based in western Massachusetts. According to the Forbes Library website, Rob "marries traditional methods of glazing in oil with present-day polymers to give his paintings their characteristic luminosity." The former art history professor at FIT holds a master's degree from NYU's Institute of Fine Arts and has advanced knowledge in Renaissance and Baroque art. For more information, visit www.forbeslibrary.org/gallery. In addition, Rob's latest book, Poor Robert's Almanac, was featured in The Beehive on March 3rd. Rob describes the book as "a type of calendar that features facts, trivia, and humorous tidbits for every day of the year. There is something for everyone." | Learn more about "Poor Robert's Almanac" | Learn more about Rob Chirico
---
Alexandra Klesin '15 has been named as a Mount Saint Mary College Ralph Scholar for 2016-17. This honor is given to selected members of Saint Mary's sophomore class through a faculty vote. Ralph Scholars are recognized for their intellectual involvement in the life of the College and their overall excellence in academic areas. She is set to receive the award at an upcoming event in May.
---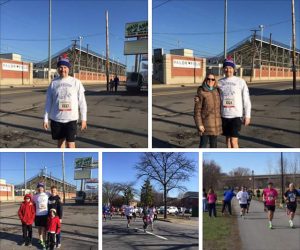 Congratulations to Chris Kane '91, who completed the Scranton Half Marathon earlier this month. Chris finished the race in 2 hours 43 seconds. He also represented his alma mater proudly by wearing Molloy gear during the race. Great job, Chris!


We are deeply saddened by the passing of Anna Mae Smith, mother of Kenny Smith '83. We offer our sincerest condolences to Kenny and the Smith family, and pray for the repose of the soul of Mrs. Smith. Please keep Mrs. Smith and her family in your prayers.

Please pray for the repose of the soul of Mrs. Mary L. Dantini McNamara, mother of Br. Patrick McNamara, FMS. | Click Here for More Information

It is with great sadness that we share the passing of Randolph C. Baird, father of current senior Megan Baird '17. Please keep the Baird family in your prayers during this difficult time.