Badges Alumni Gather, Remember FF Michael Davidson '99
Pictured above: Chris Murphy '87, Robert Werdann '88, President Richard Karsten '81, Br. Pat Hogan, and Matt Morscher '16.
Molloy welcomed over 80 alumni and friends to its Badges Network Night on February 8th. Guests enjoyed a spirited reception featuring food and refreshments, as well as VIP seating in the Jack Curran Gymnasium for the varsity basketball game of the night (Molloy vs. Christ the King High School).
During the event, Mr. Ed Shannon '84, Molloy's Director of Safety and Security and a former sergeant with the NYPD, led a presentation and remembrance of Firefighter Michael Davidson '99. Firefighter Davidson tragically passed away on March 23, 2018 while battling a five alarm fire in Harlem. He had been assigned to Engine Company 69 of the same neighborhood. Mr. Shannon solemnly read a firefighter's prayer, which you can read HERE, and asked all in attendance to observe a moment of silence.
Several special guests were in attendance at our Badges event, including the recently retired Mr. John Diorio, Molloy basketball great and retired NBA Pro Robert Werdann '88, and the Honorable Judge Gregory Lasak and his children Daniel '03, Gregory '05, and Kristen '09. Judge Lasak and his family spent time with Mr. Diorio and also gathered for a quick photo. Good luck to Judge Lasak as he runs for Queens District Attorney this spring.
The Stanner Alumni Center extends its thanks to the Badges Network and Mr. Shannon for continuing our great tradition of connecting Stanners in public service.

---
Molloy Wine Tasting Welcomes Alumni, Parents Guild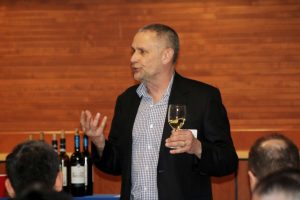 On February 7th, Molloy welcomed alumni, parents, family members and friends for its latest Wine Tasting event. This year's tasting was our largest to date with over 70 participants! The tasting was led by our in-house wine expert, English Department Chair Mr. Jim Sheehan '75. Jim showcased six Italian wines (1. Cascina I Carpini Timorasso Rugiada Del Mattino Colli Tortonesi 2015, 2. Ca Brusca Dolcetto D'Alba 2016, 3. Ellena Giuseppe Barbera D'Alba 2015, 4. Ca Brusca Nebbiolo Della Langhe 2017, 5. Giovanni Sordo Barolo 2013, and 6. Ellena Giuseppe Barolo Riserva – Ascheri 2009) and guided participants through how to enjoy these selections in unique ways. Jim demonstrated how to observe the characteristics of each wine and how they affect the senses, providing an interesting and educational experience. These observations can be applied to any wine on the market.
This year's Wine Tasting was also special in that Molloy welcomed many members of its newly established Parents Guild (pictured below). The Guild is made up of parents of current students. Each member has committed to volunteer and show their support at various school functions throughout the year. Helping to coordinate the Parents Guild's involvement in the Wine Tasting was Ms. Heather Green-Wresch, one of Molloy's new Admissions Directors. Heather has already established many great relationships with the members of the Guild and has helped to coordinate many other opportunities for them to get involved in the months to come.

"The Wine Tasting was a remarkable success," said President Richard Karsten '81. "Jim Sheehan did a wonderful job leading us on an exploration of wines from the Piedmont region of Italy. Thank you to Jim, who's knowledge and passion as a wine enthusiast and teacher always shines through. Special thanks also to the Stanner Alumni Center, Admissions team, Mike Garvey '84 and Mike Celic '09 for their support, our Parents Guild, and everyone who helped create such a special evening."
If you have any questions about our next Wine Tasting, the Parents Guild, or the wines most recently featured, please contact alumni@molloyhs.org.

---
Molloy Blood Drive
When: Tuesday, March 5, 2019 | 8am-2pm
Where: Archbishop Molloy High School
Who: Students, Alumni & Parents
Molloy's annual Blood Drive, sponsored by the New York Blood Center (NYBC), is scheduled for Tuesday, March 5th from 8:00am – 2:00pm. The Blood Drive will take place in Molloy's Jack Curran Gymnasium. Alumni and parents are invited to join our students and faculty in giving the gift of life. According to the New York Blood Center, one in three people will need a blood donation sometime during their lives, and with blood lasting only 42 days, donations remain critically important throughout the year. No advanced signup is required. Click on the flyer to the right or the following link for more information on eligibility criteria or for contact information. | Download NYBC Brochure
IMPORTANT: The NY Blood Center recently declared a blood emergency. All blood types are needed! Download the following PDF file to read more about the blood emergency: Blood Emergency Notice
---
Alumna Shares Presentation on Marketing, Experience Working at NFL
Thank you to Monica Ferreira Gimlett '06, who served as a guest speaker after school on February 13th. Monica is the Director of Sponsorship Strategy and Business Development at the National Football League (NFL), a role she has served in since 2018. Monica's presentation was open to all interested students and faculty and included how the NFL establishes and maintains relationships with dozens of sponsors, how constantly evolving technology plays a role in marketing, the importance of social media as a brand awareness tool, and more. Monica also answered many thoughtful questions during a Q&A and shared advice on how to build a versatile skillset in college and how to work your way up in the professional world. Monica's visit was sponsored by the G.E.R.L.L. Club (Girls Empowerment for Real Life Leadership), which was founded earlier this year by a group of enthusiastic seniors. Thank you to the GERLL Club and Ms. MaryAnn Safrey for coordinating Monica's visit.
---
Sports Updates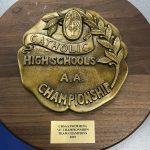 Congratulations to the Girls Varsity Swim Team, who captured the first place title in the "A" Division Championships at Eisenhower Park Aquatics Center on February 2nd and 3rd. Molloy accumulated 690 points. The GCHSAA named Bridget Montgomery '19 to the first ever All-League Swim Team in the "A" Division. | Source: The Tablet


Meet the Authors: Bill Mitaritonna '90 & Rich O'Malley '93

When: Thursday, March 7, 2019 | 6:30PM
Where: Archbishop Molloy High School
Who: Molloy Community
Admission: Free
Contact: Craig Katinas '93 | ckatinas@molloyhs.org
REGISTRATION NOW CLOSED
The authors have asked in lieu of an entry fee, donations can be made to Molloy's Donald Sweeney Guidance Department Fund.
Join us on Thursday, March 7th at 6:30PM for "Meet the Authors" night sponsored by Showcase Kitchens. The evening will feature an intimate conversation with two alumni authors, a Q&A, and a light reception. The theme of the evening is sports and how following your dreams requires patience and perseverance. About the authors:
Bill Mitaritonna '90 is the author of Last of the Redmen, which chronicles his relationship with his father, Angelo, and his love for and career in basketball. Once the manager for Coach Jack Curran, Bill went on to play ball at Westbrook College. In his senior year, Bill transferred to St. John's University, where he walked-on in the Big East during the '93-'94 season. "This memoir is a labor of love to pay tribute to my father, who never let me quit and helped me achieve my goal," said Billy. | Last of the Redmen Product Page | News Coverage

Richard O'Malley '93 is the author of One Lucky Fan, the story of his own successful lifelong quest to see at least one home game of all 123 teams in the NFL, NHL, NBA, and MLB. "It's been a labor of love for 25 years, and I undertook a massive 41-games-in-53-days trip in fall 2017 to complete my mission," said Rich. "That travel narrative is a huge part of the story. The book also talks about my foundations as a fan and relates the teams I root for to different facets of that. Rooting for the Yankees and Jets means two very different outlooks on life!" Click the following link to learn more about Rich's book. | One Lucky Fan Product Page
---
Stanner Hall of Fame Induction Dinner –

*UPDATED

When: Saturday, March 23, 2019
Where: Archbishop Molloy High School
Who: Molloy Community
Admission: $100 per person
Contact: Matt Rizzotti '04 | mrizzotti@molloyhs.org | 718.441.9210
REGISTRATION NOW CLOSED
Archbishop Molloy High School welcomes our community to attend the Stanner Hall of Fame Induction Dinner. Our induction Class of 2019 have exhibited strong moral character, outstanding professional achievement, service to their community, and loyalty to alma mater. The Stanner Hall of Fame Selection Committee has agreed that these individuals embody the values reflected in our motto, Not for school but for life: Br. Patrick Hogan, FMS; Chief Peter Hayden '64 (FDNY); Lt. John "Jack" Gremse '68 (FDNY); Major General Patrick Gallagher '64 (USAF); and Whitey Rigsby '74. | CLICK HERE to read more about our Class of 2019 Inductees
Also on March 23rd, Molloy will dedicate classroom 318 in Ms. Mary Pat Gannon's honor. Former students of Ms. Gannon are invited to come out and support our beloved Ms. Gannon as we recognize her 44 years of service to Molloy.
*UPDATE: We previously promoted that Mr. John Diorio would be in attendance for the dedication of his classroom. Due to unforeseen circumstances, Mr. Diorio is unable to attend. Molloy plans to dedicate classroom 312 to Mr. Diorio during another upcoming event. More details are coming soon. We apologize for any inconvenience.
---
33rd Jim Kinnier Stanner Golf Classic
When: Monday, May 6, 2019
Where: North Hills, Plandome, North Hempstead Country Clubs
Who: Alumni, Parents, Friends
Contact: Matt Rizzotti '04 | mrizzotti@molloyhs.org | 718.441.9210
More Info: www.molloyhs.org/golf/
REGISTRATION NOW CLOSED
Download your printable invitation/reservation form by visiting www.molloyhs.org/golf/ or clicking the image to the right.
Archbishop Molloy High School is proud to present the 33rd Annual Jim Kinnier Stanner Golf Classic on Monday, May 6, 2019. Since 1987, the Stanner Golf Classic has raised over $2 million in support of Molloy's scholarship program, which impacts academically gifted students as well as those in need of critical financial support. Your participation makes a meaningful difference in the lives of our students. Find out how you can reserve a spot for your foursome, sponsor a journal ad, purchase raffle tickets, make a gift, or donate auction prizes! Contact Alumni Development Officer Matt Rizzotti '04 for all the details (see information above).
---
Molloy's First Annual Fashion Show
When: Sunday, March 24, 2019 | 12:00 PM
Where: The Inn at New Hyde Park (214 Jericho Turnpike)
Who: Alumnae, Molloy Families, Friends
Admission: See Registration Form for Ticket Info
Contact: alumni@molloyhs.org
REGISTRATION NOW CLOSED
Archbishop Molloy High School is proud to announce its first annual Fashion Show. This event will be the initial fundraiser for Molloy's Girls' Leadership Scholarships. The Girls' Leadership Scholarships will enrich the school community by helping attract the best and brightest young women to our Molloy family. Recipients will benefit from Molloy's mission to provide its students with Christian values in the Marist tradition, critical and analytical thinking, and leadership skills that serve all our students "Not for school, but for life." (Pictured: Principal Penikas and seniors wear shirts promoting Molloy's first Fashion Show.)
The program includes a DJ, dancing, full brunch, and unlimited champagne and red and white wine for guests 21 and over. Valet parking and coat check are complimentary. There will also be a Silent Auction, Gift Basket Raffles, and a 50/50 drawing. See our registration form (click button above) for tickets.
---
St. Ann's Communion Breakfast
When: Sunday, June 2, 2019 | 10:30AM
Where: Archbishop Molloy High School
Who: St. Ann's & Molloy Alumni, Family & Friends
Contact: Joe Sommo '03 | jsommo@molloyhs.org | 718.441.9210
REGISTRATION NOW CLOSED
The Stanner Alumni Center welcomes St. Ann's Academy alumni, Molloy Grads from the Classes of 1960-1968, family and friends to join us on Sunday, June 2nd for our St. Ann's Communion Breakfast. This event is an annual celebration of our roots at St. Ann's, which opened its doors at Lexington Avenue and 76th Street in 1892. Our program includes Mass celebrated here at Molloy, followed by a buffet breakfast. Save the date! Contact Joe Sommo '03 for more information.
*NEW DATE: The date of our St. Ann's Communion Breakfast has been updated to Sunday, June 2, 2019. Please disregard previously published dates. We apologize for any inconvenience.


Liam Coen '17 (pictured top row far left) visited Molloy as part of an a cappella group from Binghamton University called Note to Self. The group led a singing workshop for Molloy's chorus members and performed a set of tunes after school for our students. Away from the stage, Liam is studying in the Watson School of Engineering and Applied Science at Binghamton. Learn more about Note to Self via their Facebook page.
---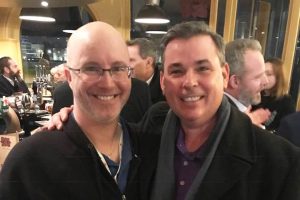 Bill Strauser '89 recently met up with Ryan Steege '89 while on a recent trip to London. Bill was in town on business, while Ryan and his family live in the UK. "I hadn't seen Ryan since the day we graduated," said Bill. "Even more interesting is Ryan was technically the first guy I met as a student at Molloy. He was my seatmate on the bus to Freshman Camp at Esopus. He's doing well and we hope to meet up again the next time either of us are visiting London or New York."
---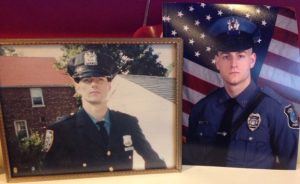 Chuck Niebling '80 shares that his youngest son, Matthew, has been hired full-time by the Howell Police Department in Howell, NJ after graduating from Monmouth County Police Academy. Matthew ranked in the top 10 out of 70 cadets and excelled in academics, self-defense, and firearms. Matthew is currently enrolled in Fairleigh Dickerson University's Master's Program. Pictured are Matthew and Chuck, who was once also in public service as a member of the NYPD. Chuck is now a Senior Account Manager in the North Atlantic District at UPS.



Archbishop Molloy High School is saddened to share the passing of Frances Vagan, mother of Brother James Vagan, FMS. Please keep Frances and the Vagan family in your prayers.
---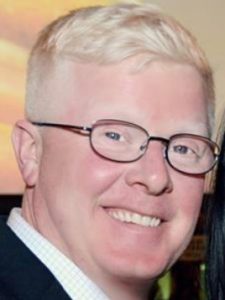 We are saddened to share the passing of Joseph O'Sullivan '91 on February 1, 2019. Beloved son of Michael and Mary (McCarthy). Beloved husband of Natalie (Villacreses). Cherished father of Norah, Joseph, Maggie and Kate. Dear brother of Jeanne Martin (Sean), Mary McKnight (Thomas), Michael (Robyn) O'Sullivan, John (Jill) O'Sullivan, Theresa Rohan (Patrick), Kathy Parra (William) and Diane Carney (Thomas). Son-in-law to Noris and Mauro Villacreses and brother-in-law to Michael Villacreses. Also survived by many loving aunts, uncles, nieces, nephews, cousins and friends in America and Ireland. Please keep Joseph and his family in your prayers. | Visit Remembrance Page
---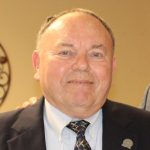 We are saddened by the passing of William Albergo '60 on January 29, 2019. Loving husband to Esther, father to Bill, Karen, Linda and Joanne and grandfather to 8 grandchildren (John, Bridget, Daniel, Ryan, Flynn, Atticus, Sasha and Zoe). He attended St. Ann's Academy and graduated from Archbishop Molloy High School. He served 2 years in the U.S. Army in Seattle and later attended Fairfield University. William received his Bachelor's and Master's degrees from CCNY. William was a NYC Firefighter for 28 years and drove the Hook and Ladder truck at Ladder 137, Engine 268 in Rockaway Beach, Queens NY. He retired from the FDNY in 1992 and ran his own home video editing service until 2018. William maintained a strong bond with the St. Ann's Academy / Molloy community, attending our St. Ann's Communion Breakfast annually as well as other reunions. We extend our deepest condolences to William's family and ask our community to please keep William in their prayers. | Visit Remembrance Page | LI Herald
---

We are saddened to share the passing of John P. Tedeschi, who attended Molloy in 1983-84. John is the beloved brother of Frank Tedeschi '83 and Matthew Tedeschi '89. He passed away on February 4, 2019 in Orlando, Florida after a courageous battle with cancer. Please pray for the repose of John's soul and for the Tedeschi family.