Wine Tasting with Jim Sheehan – NEXT WEEK!
When: Thursday, February 7, 2019 | 6:30 PM
Where: Archbishop Molloy High School
Who: Alumni, Parents, Family & Friends (21+)
Contact: Joe Sommo '03 | jsommo@molloyhs.org
Limited Availability Remaining! Join us on February 7th for a unique wine tasting experience led by Molloy's in-house wine expert Mr. Jim Sheehan '75. Participants will enjoy small bites and sample five to six different wines Italian wines chosen by Jim. You will learn how to evaluate each wine based on appearance, taste, smell, and other defining characteristics. We welcome alumni, current parents, family members and friends (ages 21+) to this special evening. Contact Joe Sommo '03 with any questions.
---
Badges Night / AMHS vs. CTK – NEXT WEEK!
When: Friday, February 8, 2019 | 6:00 PM
Where: Archbishop Molloy High School
Who: Badges Alumni & Friends
Admission: $40 Adults | $10 Kids 12 & Under
Contact: Joe Sommo '03 | jsommo@molloyhs.org
Members of our Molloy Badges Alumni Network and friends are invited to an evening reception beginning at 6:00 PM on February 8th. Cost of admission includes food, soft drinks or adult beverages as well as admission to the Game of the Night in the Jack Curran Gymnasium. Catch the opening tip-off at 7:00PM from VIP seats as Molloy's boys varsity basketball team faces off against rival Christ the King High School. Register online or contact Joe Sommo '03 for more information.
---
Stanner Hall of Fame Induction Dinner –

REGISTER ONLINE!

When: Saturday, March 23, 2019
Where: Archbishop Molloy High School
Who: Molloy Community
Admission: $100 per person
Contact: Matt Rizzotti '04 | mrizzotti@molloyhs.org
Archbishop Molloy High School is proud to invite you to attend our Stanner Hall of Fame Induction Dinner. Our induction Class of 2019 have exhibited strong moral character, outstanding professional achievement, service to their community, and loyalty to alma mater. The Stanner Hall of Fame Selection Committee has agreed that these individuals embody the values reflected in our motto, "Not for school but for life".
Introducing our Induction Class of 2019: Br. Patrick Hogan, FMS; Chief Peter Hayden '64 (FDNY); Lt. John "Jack" Gremse '68 (FDNY); Major General Patrick Gallagher '64 (USAF); and Whitey Rigsby '74.
CLICK HERE to read more about our Class of 2019 Inductees
In addition to our Hall of Fame inductions, Molloy will dedicate classroom 318 to a legacy teacher who retired in 2018: Ms. Mary Pat Gannon. Former students of Ms. Gannon are invited to come out and support our beloved Ms. Gannon as we honor her 44 years of service to Molloy. (*We previously promoted that Mr. John Diorio would be in attendance for the dedication of his classroom. Due to unforeseen circumstances, Mr. Diorio is unable to attend the event. Molloy plans to dedicate classroom 312 to Mr. Diorio during another upcoming event. More details coming soon. We apologize for any inconvenience.)
Support our newest Stanner Hall of Fame Class by attending our induction dinner on Saturday, March 23rd. Click the link above to register online. When registering, please note which Hall of Famer you are supporting with your attendance. Program notes are listed on our registration page. Contact Alumni Development Officer Matt Rizzotti '04 at mrizzotti@molloyhs.org or 718.441.9210 for more information.
---
Molloy's First Annual Fashion Show
When: Sunday, March 24, 2019 | 12:00 PM
Where: The Inn at New Hyde Park (214 Jericho Turnpike)
Who: Alumnae, Molloy Families, Friends
Admission: See Registration Form for Ticket Info
Contact: alumni@molloyhs.org
Archbishop Molloy High School is proud to announce its first annual Fashion Show. This event will be the initial fundraiser for Molloy's Girls' Leadership Scholarships. The Girls' Leadership Scholarships will enrich the school community by helping attract the best and brightest female students to our Molloy family. Recipients will benefit from Molloy's mission to provide its students with Christian values based in the Marist tradition, critical and analytical thinking, and leadership skills that serve all our students "Not for school, but for life".
The Fashion Show will include a DJ, dancing, a full brunch, unlimited champagne, red and white wine for guests 21 and over. Valet parking and coat check are included at no extra cost. There will also be a Silent Auction, Gift Basket Raffles, and a 50/50 drawing. See our registration form (click button above) for ticket prices.
---
33rd Jim Kinnier Stanner Golf Classic – SIGN UP NOW!

When: Monday, May 6, 2019
Where: North Hills, Plandome, North Hempstead Country Clubs
Who: Alumni, Parents, Friends
Contact: Matt Rizzotti '04 | mrizzotti@molloyhs.org | 718.441.9210
More Info: www.molloyhs.org/golf/
Download your printable invitation/reservation form by visiting www.molloyhs.org/golf/ or clicking the image to the right.
Archbishop Molloy High School is proud to present the 33rd Annual Jim Kinnier Stanner Golf Classic on Monday, May 6, 2019. Since 1987, the Stanner Golf Classic has raised over $2 million in support of Molloy's scholarship program, which impacts academically gifted students as well as those in need of critical financial support. Your participation makes a meaningful difference in the lives of our students. Find out how you can reserve a spot for your foursome, sponsor a journal ad, purchase raffle tickets, make a gift, or donate auction prizes! Contact Alumni Development Officer Matt Rizzotti '04 for all the details (see information above).


Alumnae Enjoy Unique Yoga & Meditation Class
Molloy extends its sincerest thanks to our alumnae and friends who joined us on Saturday, January 26th for our second Alumnae Yoga & Meditation event. Thank you to Jennifer Kelleher '04, who transformed the Ralph DeChiaro Theater into a soothing sanctuary for her full-length yoga and meditation class. We also thank Jessica McEntee '05 and Adele Warren '05 for assisting with promotion and set up.
This event was suitable for both yoga newcomers as well as more experienced yoga enthusiasts. Following the class, all participants were invited to network and enjoy light refreshments in our faculty café.
Please help us expand our event offerings for alumnae! Email alumni@molloyhs.org with your feedback. To learn more about Jennifer Kelleher and Body Love by Jen, visit www.bodylovebyjen.com.
---
Open House for Accepted Students Welcomes Future Stanners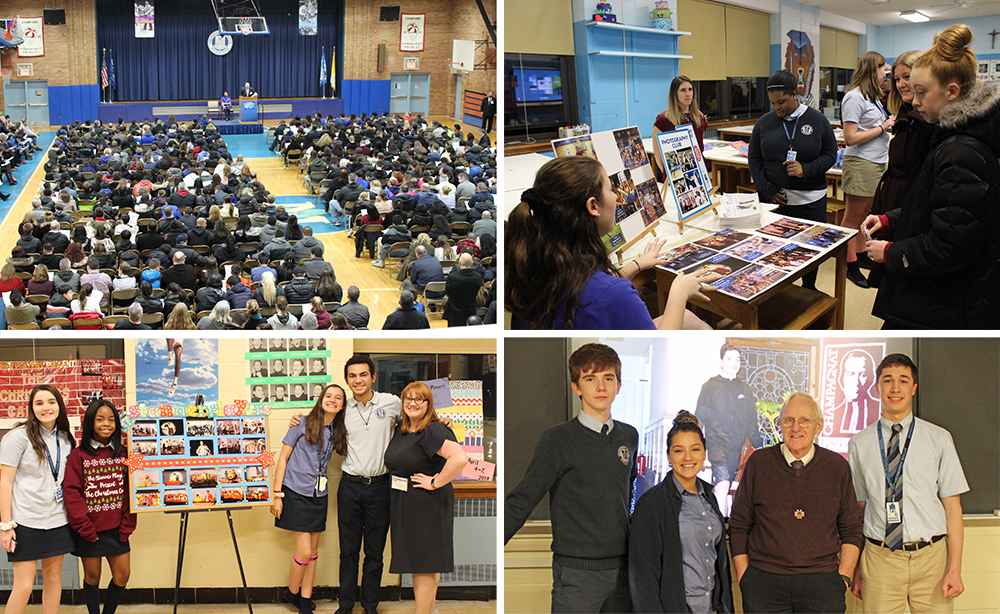 On January 24th, Molloy hosted its annual Winter Open House for accepted students. Over 1,000 prospective Stanner families attended the event, which featured student presentations and a showcasing of the many academic, athletic, faith, and extracurricular programs that make Molloy one of New York City's top college-prep choices. The Winter Open House provides accepted eighth graders a critical opportunity to meet our students, faculty, and staff and to ask questions before making their important high school decision. (Photos above by Daniel Ramirez '20)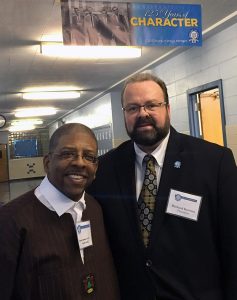 During the Open House, Principal Darius Penikas welcomed a capacity crowd and unveiled some exciting news about our curriculum, including Molloy's budding partnership with Amazon. This partnership will allow our students to access Amazon Web Service Educate, a program that invites students to take self-paced courses of study that culminate with Amazon certificates in the areas of Cloud Computing, Cybersecurity, and Machine Learning. These certificates are considered when Amazon makes decisions on internships and hiring. Click the following link to read more about these latest developments.
Read Principal Penikas' Remarks
Molloy was fortunate to be represented by many student, faculty, and parent volunteers, including members of the newly established Parents Guild. One member of the Guild forwarded the following message to our Admissions staff: "I just wanted to relay how happy I was to participate in the Open House. My job was easy because most seemed sold on Molloy upon entry. Tonight's attendees were obviously pleased with the prospect of becoming part of the family." The parent went on to say they believed the presence and perspectives of the Parents Guild members made an additional impact on visiting parents. (Pictured: President Richard Karsten '81 with a new member of the Molloy Parents Guild)
---
Molloy Deploys New Personalized Acceptance Video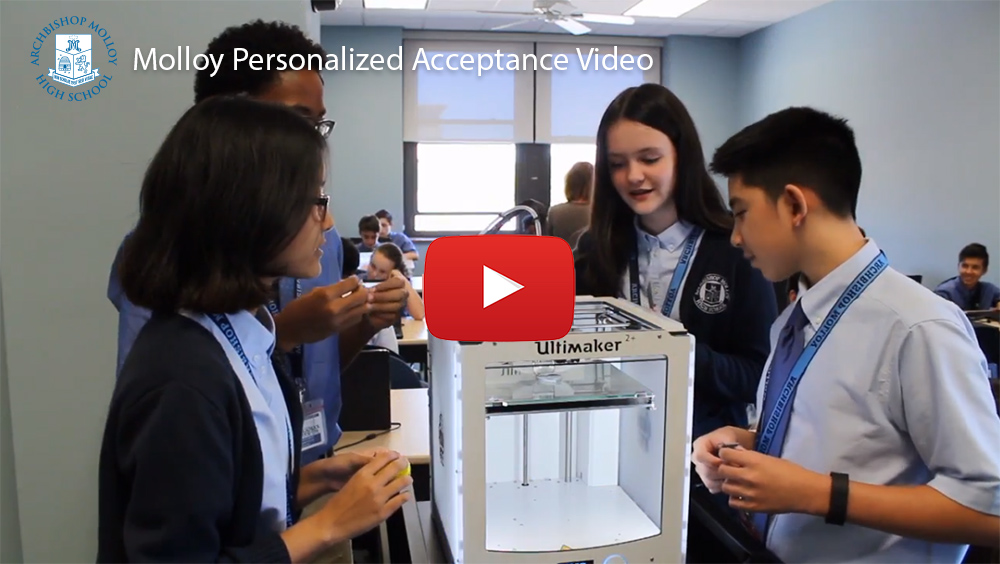 A week prior to the Winter Open House, Molloy deployed an innovative personalized acceptance video via email to all accepted eighth graders. Each video is unique, featuring the name of the student to personally congratulate them on their acceptance. The 1 minute 37 second piece is not only an awesome way to welcome new Stanners into the Molloy family, but it can also be shared across numerous social media platforms – helping to create a major buzz about Molloy in New York City. "No other school in our area is using this unique personalized video concept; we are first to market," said President Richard Karsten '81.
See it for yourself! Click the video link above to experience how eighth graders recently found out they were accepted to Molloy. (*Note: This version of the video includes the name "Richard" as an example)
---
Update on Br. Bob Andrews
We recently asked the Stanner family to pray for Br. Bob Andrews, who has been recovering after suffering a stroke in late December. While he continues to improve each day, we ask that you continue to keep Br. Bob in your prayers. For those wishing to visit or send a card, Br. Bob now continues his recovery at St. Cabrini Nursing Home located at 115 Broadway, Dobbs Ferry, NY 10522.
---
Annual Blood Drive –

Save the Date!
When: Tuesday, March 5, 2019 | 8am-2pm
Where: Archbishop Molloy High School
Who: Students, Alumni & Parents
Molloy's annual Blood Drive, sponsored by the New York Blood Center (NYBC), is scheduled for Tuesday, March 5th from 8:00am – 2:00pm. The Blood Drive will take place in Molloy's Jack Curran Gymnasium. Alumni and parents are invited to join our students and faculty in giving the gift of life. According to the New York Blood Center, one in three people will need a blood donation sometime during their lives, and with blood lasting only 42 days, donations remain critically important throughout the year. No advanced signup is required. Click on the flyer to the right for more information on eligibility criteria or for contact information. | Download NYBC Brochure
---
Molloy to Offer Free Youth Heart Screening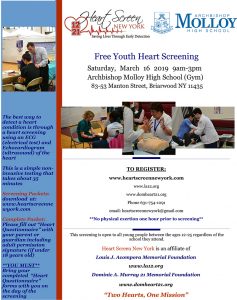 The best way to detect a heart condition is through a heart screening using an ECG (electrical test) and echocardiogram (ultrasound) of the heart. These are simple, non-invasive tests that take approximately only 35 minutes. Molloy students, family members, and friends ages 12 to 25 are invited to undergo a free youth heart screening on Saturday, March 16, 2019 from 9:00am-3:00pm. The screening will be conducted in Molloy's Jack Curran Gym. Download the event flyer (click image thumbnail or link below) for important information. Visit www.heartscreennewyork.com to register your child. Note that all who wish to undergo a heart screening MUST download and complete the screening packet (questionnaire) available on Heart Screen New York's website. | Download Flyer
---
Molloy Announces "The Murphy Grants"
In January, Molloy announced the establishment of a new summer program for Molloy students – The Murphy Grants. This program is named in honor of Dr. Patrick Murphy, our beloved late teacher and counselor. These grants will be awarded to one female and one male student annually. Each recipient will be awarded a $1,000 grant to study at a summer program at a college of their choosing. Awards are contingent upon the students' acceptance to an approved summer program and completion of a brief survey. The Murphy Grants represents one more way that Molloy's College Guidance Department aims to create opportunities for Stanners to gain invaluable experience while building exceptional resumés for their college applications. | Links: Top Summer Programs for HS Students; Pre-College Summer Programs
---
Sports Updates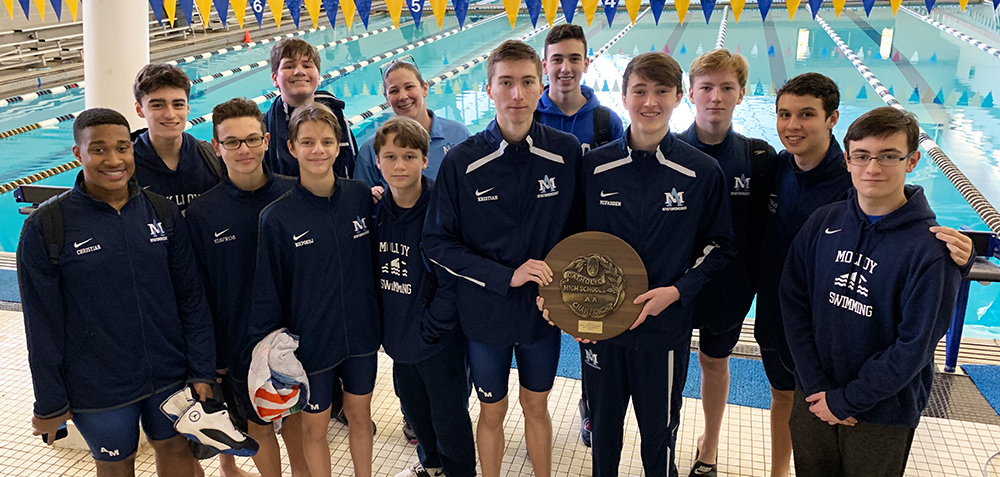 Congratulations to our Boys Swim Team, who finished in first place overall and were crowned CHSAA Boys Novice Swimming Division I Champions!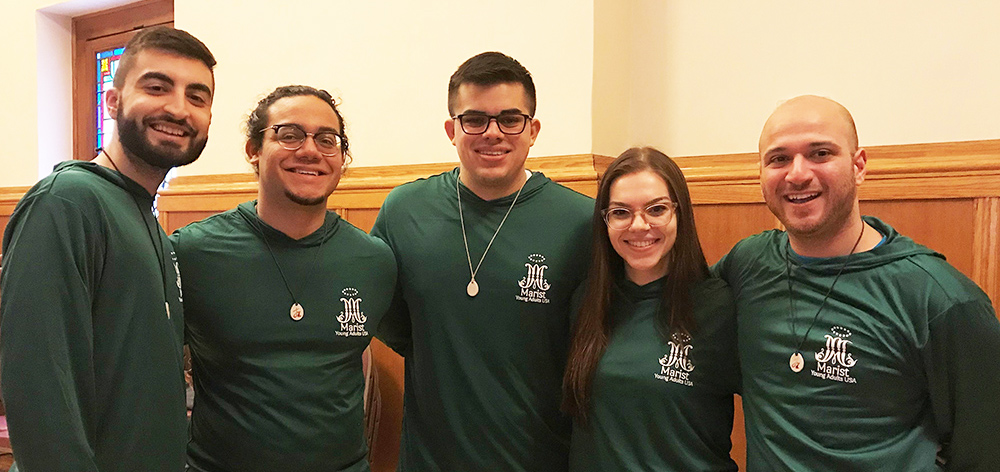 Nicholas Landecho '18 shared this photo from a recent Marist Encounter at Esopus. Pictured are Stanners Salvatore DiPaola '16, Danny Jimenez '16, Nicholas Landecho '18, Allison Terranova '14, and Joseph LoGiudice '06.
---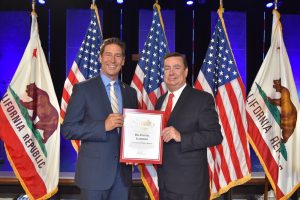 Dr. Danny Gambino '81 received the "California Hero Award" from Senator Joel Anderson in October 2018. This award is given to unsung heroes who "rise above the norm and do outstanding work for the community." Dr. Gambino is the current President of the California Chiropractic Association, the largest non-profit of its kind in the US, representing more than 13,000 Doctors of Chiropractic. His relentless pursuit of healthcare excellence in California includes being a keynote at chiropractic colleges, founding the largest network of Pre-Chiropractic Clubs in San Diego, and running practices in both San Diego and West Virginia. Said Gambino, "I can directly tie my achievements to the cultivation and education I received at Molloy and the motto 'Non scholae sed vitae". Dr. Gambino has received accolades including back to back California Doctor of the Year awards and the Life University (Marietta, GA) Distinguished Alumni Award.
---
Kevin Browne '83 (DNP, RN, CCRN) has successfully defended his Doctor of Nursing Practice degree from St. Peter's University. Kevin's doctoral focus was on a phenomenon known as "practice drift" among registered nurses. Kevin is a Deputy Chief Nursing Officer at Memorial Sloan Kettering Cancer Center.
---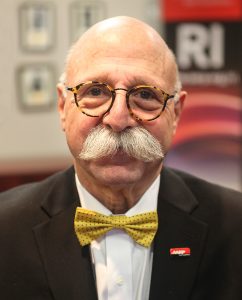 AARP Rhode Island has appointed Vincent Marzullo '65, a West Warwick resident, as its new State President. In a press release, AARP Rhode Island State Director Kathleen Connell expressed the organizations excitement. "We are delighted that Vin has stepped into this key volunteer leadership position. His professional experience, his distinguished history as a community organizer and administrator, and his passion for our mission make him an outstanding choice." According to the press release, Vincent retired as the Federal National Service Director for Rhode Island, where he worked with diverse communities to "identify common ground and bring people together to address community challenges and create new opportunities." He also chaired the Combined Federal Campaign (CFC) for Rhode Island and Southern Massachusetts, which raised millions of dollars from federal workers to support local, regional and national charitable organizations. Click the following link for more information. Congrats, Vincent! | Read Full Press Release | Photo courtesy of Vincent Marzullo
---
PO Joe Savino '86 reports more Stanner Sightings while on the beat in midtown. Joe recently bumped into John McGahan '76 and Robert Diorio '75. Robert is uncle to one of Joe's fellow mounted unit officers, Lauren Howard (Diffendale) '04. A few days later, Joe crossed paths with one of his former colleagues on the force, Lt. Greg Chupa '84.


Remembering The Honorable Charles J. Hynes '52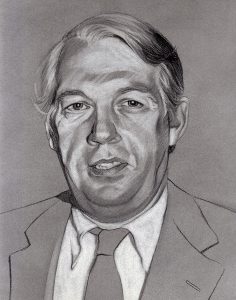 Archbishop Molloy High School is saddened to share the passing of Stanner Hall of Famer and former Brooklyn D.A. of 24 years Charles J. Hynes, St. Ann's Academy Class of 1952. He was 83 years old.
Hon. Hynes began his career in public service in 1963 as an associate attorney for the Legal Aid Society. In 1969, he joined the Kings County District Attorney's Office as an Assistant District Attorney. In 1971, he was named Chief of the Rackets Bureau and in 1973, he was promoted to First Assistant District Attorney. In 1975, Governor Hugh Carey and Attorney General Louis Lefkowitz appointed Hon. Hynes as Special State Prosecutor to investigate nursing home fraud. His State Medicaid Fraud Control Unit became a national model and his Medicaid Fraud Control legislation – which provided federal funding for any state interested in starting a unit – became law in 1978. That same year, District Attorney Hynes was elected the first president of the National Association of Medicaid Fraud Control Units.
In 1980, Mayor Edward I. Koch appointed Hon. Hynes as Fire Commissioner of New York City. In 1982, after two years in that post as Fire Commissioner, he left public service for private practice. He returned to public service in 1985 when he was appointed as a Special State Prosecutor for the NYC Criminal Justice System. In 1986, Hon. Hynes was called on to investigate a high-profile murder case in Howard Beach, Queens. Hon. Hynes led the investigation and prosecution, which resulted in three homicide convictions. This case gained him national recognition.
After being elected Brooklyn District Attorney in 1989, Hon. Hynes pioneered innovative criminal justice strategies. He founded one of the first specialized domestic violence bureaus in the country, one of the first Drug Treatment Alternative-to-Prison programs, and created a Crimes Against Children Bureau to bring expertise to child abuse cases. In 1999, Hon. Hynes created ComALERT, a public safety program that supports individuals on parole as they re-enter their Brooklyn communities.
Hon. Hynes was also known to demonstrate his commitment to public service and education by serving as an Adjunct Professor of Trial Advocacy at three New York City Law Schools: St. John's, Fordham University and Brooklyn Law School.
On November 7, 2005, Charles J. Hynes was re-elected to his fifth term as the District Attorney of Kings County (Brooklyn), New York; he was sworn into office on January 10, 2006. This appointment would carry him until 2013, when he lost his bid for a sixth term.
Hon. Hynes co-authored Incident at Howard Beach: The Case for Murder and contributed to The Regulation of Nursing Homes: A Case Study. In spring 2007, St. Martin's Press published Mr. Hynes' first solo novel, Triple Homicide.
Hon. Hynes is survived by his wife, Patricia; their children, Kevin, Patrick, Jeanne Cook and Lisa Kellachan; and 17 grandchildren. Please keep Hon. Hynes and his family in your prayers.
Links: New York Times | Washington Post | Wall Street Journal | NY1 | Newsday | NY Daily News
---

We are saddened to share the passing of Joseph P. Walsh Jr. '51, brother of Jerome (Jerry) Walsh '56, uncle of Daniel Walsh '83, and extended family to David Morris '84 and James Pustelniak '86. Joseph passed away January 17, 2019 in Land O'Lakes, Florida at the age of 85. Please pray for Joseph and the Walsh family. | More on the life of Joseph P. Walsh Jr.

Please pray for the repose of the soul of Chris Lynn, mother of Keiran Lynn '84 and Raymond Lynn '86, and cousin of Br. John Dunning.