Follow The New @MolloyHSAlum on Instagram!
Stanners and friends are invited to follow Molloy's new alumni Instagram account! Follow @MolloyHSAlum for photos and updates from around our alumni community. The account's first major event coverage will be during our upcoming Stanner Golf Classic on Monday, May 6th. Use #StannerGolfClassic to tag your photos or search for content from the day. Alumni updates that appear in The Beehive may also appear on our new alumni Instagram account! Submit your updates any time to alumni@molloyhs.org.
---
Molloy Honors Five New Stanner Hall of Famers

Above: Stanner Hall of Fame sketches by artist Paul Gatto.
On Saturday, March 23rd, Archbishop Molloy High School inducted five outstanding individuals into its Stanner Hall of Fame. Congratulations to (sketched above left to right): Br. Pat Hogan, Chief Peter Hayden '64 (FDNY), Whitey Rigsby '74 (Voice of Wildcats Basketball), Major General Patrick Gallagher '64 (USAF), and Lt. John "Jack" Gremse '68 (FDNY, posthumously).
The evening began with a prayer service led by Fr. Mike Whalen of St. John's University. The prayer service also included a presentation about St. Marcellin Champagnat read by students in Molloy's Catholic Culture Club. Following the prayer service, Ms. Mary Pat Gannon was originally scheduled to receive a plaque dedicating classroom 318 in her honor. Unfortunately, due to a family emergency, Ms. Gannon was unable to attend the event. We look forward to rescheduling Ms. Gannon's classroom dedication on a later date. Guests later enjoyed a spirited cocktail hour before finding their seats for dinner.
President Richard Karsten '81 began the induction program by welcoming the capacity crowd and referencing the caliber of this year's honorees. "Tonight's inductees followed their dreams to excel in their professions and to make the world a better place. They have carried themselves with integrity, leadership, and honor."

Inducted first was Molloy's own Br. Patrick Hogan. Among the many Marist educators that have inspired Stanners since 1892, Brother Patrick Hogan, known by many as Brother Pat, is one of the most beloved and widely recognized here at Molloy and beyond. Brother Pat authored an over 55-year career at Molloy while serving in many roles including teacher, guidance counselor, track and field coach, alumni director, alumni spiritual director, camp director, and camp volunteer. He made a tremendous impact as a track coach for over 50 years, co-founded the St. Marcellin Champagnat Service Society in 2004, and celebrated 60 years as a Marist Brother in 2017… Read Full Bio

Our second inductee was Chief Peter Hayden '64. A New York City firefighter for 37 years, Peter Hayden's devotion, character, and determination not only kept New York City residents safe; these qualities earned him the rank of Chief of Department in 2004 – the highest uniformed officer in the Fire Department of New York. In this role, Chief Hayden managed the entire 11,500 member uniformed force as well as major bureaus including Operations, Fire Prevention, Training, EMS, and Communications… Read Full Bio | Read Acceptance Speech

Our third inductee was Whitey Rigsby '74. Whitey began his storied career as a standout basketball star at AMHS. Under the tutelage of Coach Jack Curran, Whitey helped Molloy on its way to back-to-back city championships in 1973 and 1974. Whitey's success continued as a four-year starter at Villanova, where he and the Wildcats advanced to the NCAA Elite Eight in 1978. Whitey established a second legacy at Villanova years later as a broadcaster. He is known as "The Voice of Wildcats Basketball" and has worked over 1,100 college games. This includes three NCAA Championships (1985, 2016, and 2018)… Read Full Bio | Read Acceptance Speech

Our fourth inductee was Major General Patrick Gallagher '64. Patrick Gallagher entered the United States Air Force as a Reserve Officer Training Corps graduate in 1968. He completed his pilot training in 1969 and served as a command pilot with more than 5,000 flying hours. After serving the Air Force for 30 years, Patrick Gallagher was promoted to Major General on March 30, 2001. Major General Gallagher committed 39 years in all to the Air Force. His final assignment saw him serve as Senior Mobilization Assistant to the Deputy Chief of Staff for Plans and Programs in Washington, D.C. This directorate, responsible to the Secretary of the Air Force and the Chief of Staff, develops, integrates, evaluates, and analyzes the United States Air Force Future Years Defense Program that exceeds $682 billion, and the Air Force Long Range Plan to support national security objectives and military strategy… Read Full Bio | On his induction, Maj. Gen. Gallagher shared the following with The Beehive: "I was flattered when I was selected, but humbled when I was told that I was being inducted alongside a true hero, my classmate FDNY Chief Pete Hayden. Non scholae sed vitae is more than a motto. After the education in values I received at St Ann's and Molloy, I never needed an ethics class to learn how to determine right from wrong. Althea Gibson once said, 'No matter what accomplishments you make, somebody helped you.' I got a lot of help throughout my career. I didn't get there by myself. A vision without funding is an illusion."

The honor of our closing inductee was given to the late Lt. John "Jack" Gremse '68. John Kevin Gremse, known to many as Jack, was beloved in many circles. He was a family man – the oldest son of Jack and Eileen, husband to Kathy, brother of eight, and brother-in-law and Godfather to many. At Molloy, Jack formed many lifelong friendships. In his adult years, he organized many reunions at his Long Beach home to keep his Stanner family connected. Jack was also a respected member of the FDNY, where he dedicated many years of his life to selflessly serving the people of New York City. After 20 years with the FDNY, Jack took the lieutenant's test. While waiting for the results, the events of September 11th, 2001 would unfold. Jack joined many other first responders that day, working tirelessly into the night and in the days and weeks that followed. Jack was promoted to lieutenant during a ceremony on September 16th – just five days after the attacks. While attending funerals and memorials for the many firefighters who were lost, Lt. Gremse vowed to himself to honor them by serving his city with pride and courage… Read Full Bio
Lt. Gremse's Hall of Fame plaque was accepted by his wife, Kathy Gremse. Kathy also offered remarks, sharing how proud her family is of Jack, and how deserving he is of this honor. Kathy also thanked the many members of the Class of 1968 who supported Jack with their attendance. Kathy closed by making a special announcement that we will feature in our next Beehive. Stay tuned.
The Stanner Hall of Fame Selection Committee considers new candidates for induction every two years. To nominate someone for the Stanner Hall of Fame, please send a nomination letter with the individual's resumé or CV to Molloy's President, Richard Karsten '81, at president@molloyhs.org. For information regarding criteria for induction please visit our website.

---
First Annual Fashion Show a Great Success!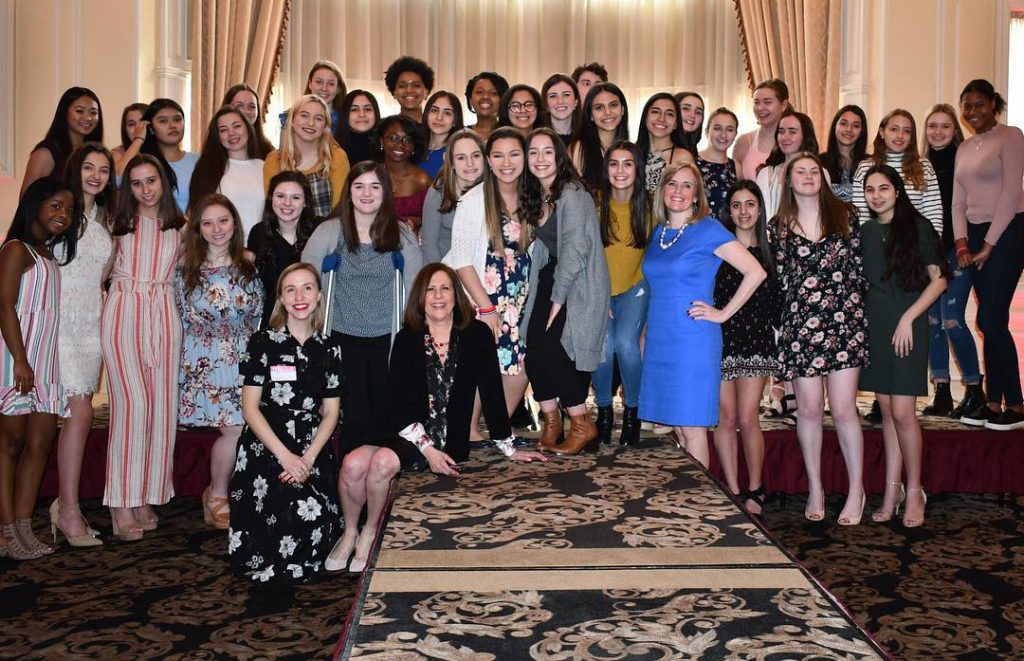 Pictured: Co-Chairs Sabina Kobinski '04, MaryAnn Safrey, and Kerry Henning with Molloy students.
Molloy held its first ever annual Fashion Show at The Inn at New Hyde Park on Sunday, March 24th. Over 230 students, parents and family members, faculty and staff, and alumni were in attendance for this historic occasion. Proceeds from the event supported the newly established Girls Leadership Scholarships Fund, which will benefit future young women entering Molloy.
The theme of the Fashion Show was Dress for Success. Featured designers loaned or donated clothing and accessories that promote dressing with confidence and an eye toward success. Many items were samples right off the runway. Students and faculty, male and female, participated in the runway portion of the show. Featured designers for women's wear included Abbey Glass, Curete Collection, Donna Degnan, Everly, F.H. Clothing Co., Habitat Clothes, Heydari, Minan Wong, Niche, and Kate Spade. Student clothing was provided by Kelsey at K Hunter Boutique (Floral Park), while menswear suits were provided by alumni-owned SRG Fashion in Astoria. | Click here to read more about these designers
The program also included DJ Tim Henning '98, over 70 raffle baskets, a wide array of silent auction items, a 50/50 raffle, and hospitality bags for all attendees. Administration and staff delivered speeches that encouraged current students to be confident and seize their fut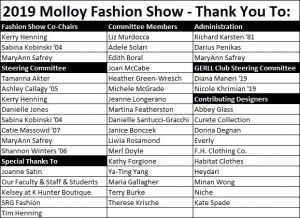 ures, while members of Molloy's G.E.R.L.L. Club (Girls Empowerment for Real Life Leadership) collected and displayed inspirational quotes relating to women's empowerment.
"The event was a huge success and was run by Stanner Women for Stanner Women," said Ms. Kerry Henning, a guidance counselor and one of the event co-chairs. "We highlighted all of the amazing accomplishments of our female students – past and present. MaryAnn Safrey, Sabina Kobinski '04, and I were the Chairwomen, and we also saw contributions from many parents, alumni, and volunteers on the Fashion Show Steering Committee."
Initial reviews of the event have been very positive. In addition, we're excited to announce that over $23,000 was raised for the Girls Leadership Scholarships Fund!
Click the image to the right for a list of the many individuals who helped make Molloy's first Fashion Show a success. A word of special thanks is due to Ms. Joanne Satin, a Molloy parent who solicited all of the women's wear designers. "She was critical to this event and has our deepest thanks," said Ms. Safrey.
---
Hundreds Take Advantage of Free Heart Screening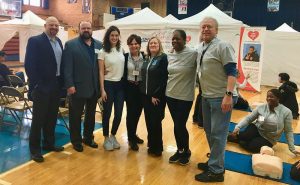 On Saturday, March 16th, Heart Screen New York held their 18th heart screening event at Molloy. 270 young people including students, student-athletes, and other community members received free heart screenings and CPR-AED training.
The best way to detect a heart condition is through a heart screening using an ECG (electrical test) and echocardiogram (ultrasound) of the heart. These are simple, non-invasive tests that take just minutes. Visit www.heartscreennewyork.com for more information about future heart screening opportunities. Thanks to Heart Screen NY founder Melinda Murry, Molloy's administration and facilities staff, Culinart Food Services, the event volunteers, and Ms. Maria Gallagher, RN, for their hard work in making this day a success. (Pictured: Principal Penikas, President Karsten, heart disease survivor Leah Olverd, Melinda Murry, and Ms. Gallagher with volunteers)
---
Cayla Kumar '20 Receives Prudential Service Award
Congratulations to junior Cayla Kumar '20, who was named as a Distinguished Finalist for New York in the 2019 Prudential Spirit of Community Awards! Mr. Kenneth Marable of Prudential visited Molloy to award Cayla with a medal during a special presentation after school. The Prudential Spirit of Community Awards program is the largest such program recognizing youth volunteers in the United States. Cayla was selected for this prestigious honor based on her excellent track record of service. Cayla has logged thousands of volunteer hours over the past several years, including her Gold Ribbon Project that saw her raise $25,000 for pediatric cancer research.
Cayla previously made headlines in 2018 when she was crowned Miss New York's Outstanding Teen, a victory that earned her a special resolution on the New York Senate floor and full-scholarship offers from several colleges. | QNS.com Coverage | Past Beehive Coverage
---
Stanner Players Present: Once Upon A Mattress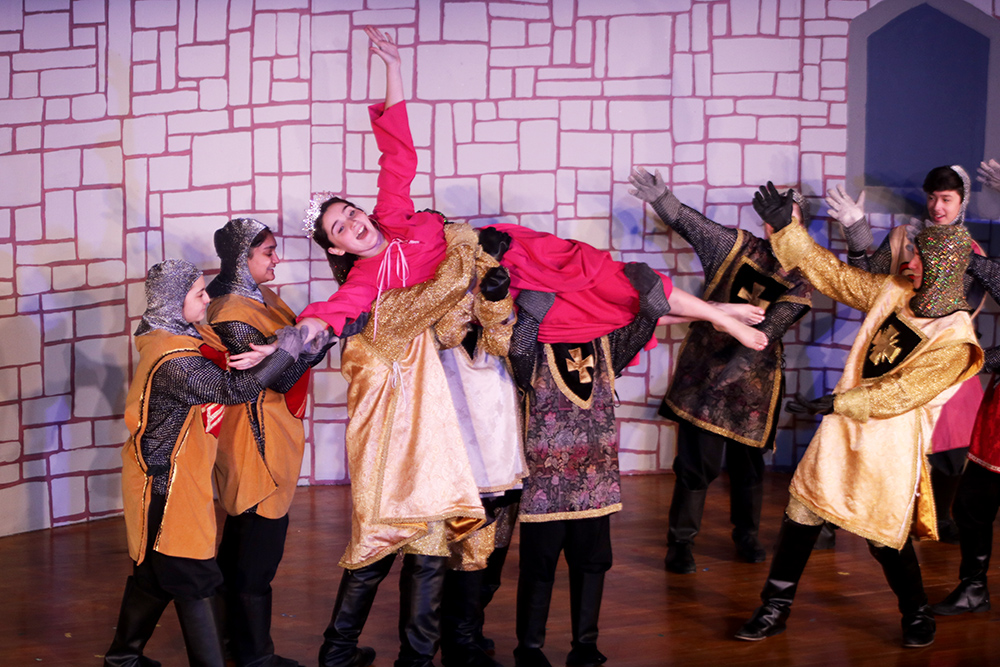 Congratulations to the Stanner Players, who recently wrapped up four outstanding performances of Once Upon A Mattress. This musical comedy, written by Jay Thompson, Dean Fuller, and Marshall Barer with music by Mary Rodgers and lyrics by Marshall Barer, is based on the well-known fairy tale The Princess and the Pea. "This take on the classic fairy tale is not just a retelling of the original story. It takes on a more humorous tone," said Shannon Winters '06 in her director's notes.
Among her many acknowledgments, Ms. Winters extended special congratulations and thanks to the graduating seniors who have performed in their last Stanner Players production. "Che Negron '19 and Anthony Autera '19 have been a part of nine productions since their freshman year. Both have challenged themselves and proven to be versatile young men. Sarah Quispe '19 and William Kanellopoulos '19 have been a part of shows since their freshman year and have been consistent and central members of our Stanner Players family. Matthew Ingrao has been a member of Theater Arts and Improv since freshman year before joining the Stanner Players in sophomore year. He has truly grown as a performer. Taylor Garcia-Lawson, who transitioned from stage crew, to cast member, and now to stage manager, has been absolutely incredible and her determination is boundless. And last, but not least, Alex Celedon, who has been my rock this year – words cannot express how grateful and thankful I am to you and for you." Ms. Winters also noted that senior Stanner Players will be attending three Ivy League universities this fall.
Download our Once Upon A Mattress playbill for full cast bios, information about our sponsors, and more. Follow the Stanner Players on Instagram and Twitter (@StannerPlayers), or email stannerplayers@gmail.com for information about Molloy theater or sponsorship opportunities.
---
Molloy Celebrates Spirit Week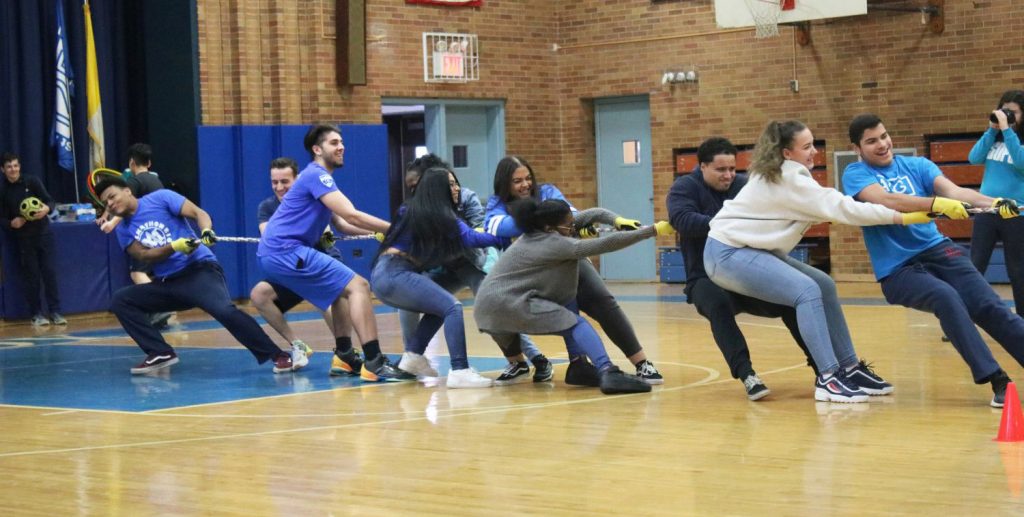 During the week of March 11th, students and teachers celebrated Spirit Week! Daily themed dress down days (Athletes vs. Mathletes, Color Day, Character/Meme/Decades Day, Health/Fitness Day, Pajama Day), contests (Candy Count, 2 Truths 1 Lie), and after school activities (Amazing Race, Spirit Games, Zumba) inspired our students and faculty to show their school spirit in a variety of ways. Check out some of the creative costumes worn by our students and faculty in the gallery below or on our Instagram feed (@molloyhs). In addition, each class raised money for a different charitable cause including Autism Awareness, Cardiovascular Health Research, Animal Cruelty Awareness, and Chrohn's Disease Research. (Photos by Molloy's Photography Club)
---
Thank You To Yale's A Capella Group "Something Extra"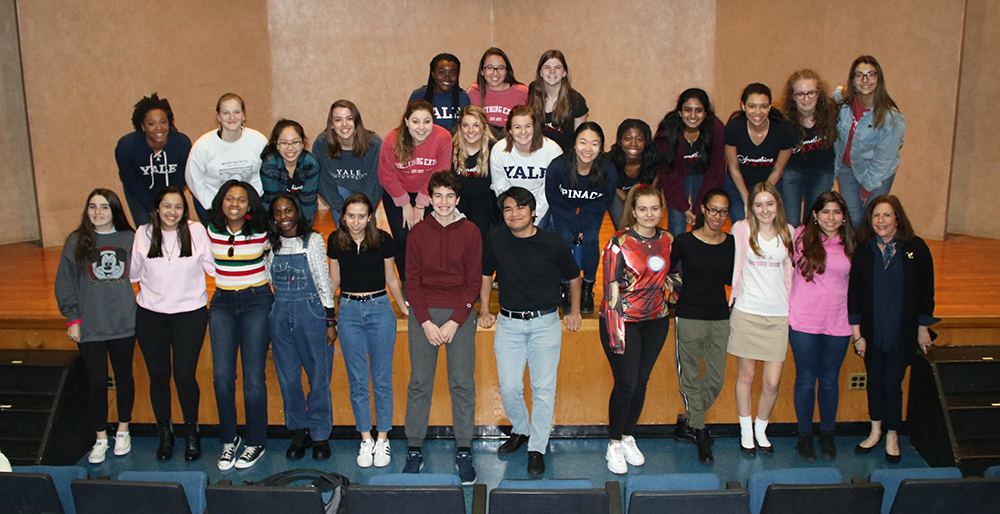 We would like to extend our thanks to the Yale Women's Chorus / A Capella Group Something Extra for visiting Molloy and performing after school during Spirit Week. Before their afternoon performance, the group members were a great resource for our students as they shared their college experiences and advice in a discussion session. Founded in 1977, Something Extra has performed on US television and live throughout the US and Europe. Learn more or see live performance videos at somethingextrayale.com.
---
Seniors Win in Basketball Showdown Vs. Faculty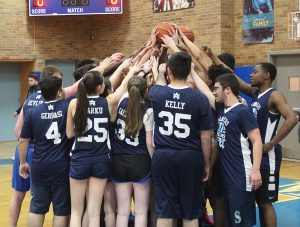 On Friday, March 22nd, the Jack Curran Gym hosted a capacity crowd for Molloy's annual Seniors Vs. Faculty Basketball Game. Bragging rights are on the line in this annual event on Molloy's hallowed hardwood features a spirited group of seniors taking on the faculty All-Stars. Last year, the faculty bested the Class of 2018 by a healthy margin, 71-63. This year, however, the Class of 2019 proclaimed they were ready to take the title back. They backed that sentiment up by leading throughout the game, including 13-6 after the first quarter and 27-22 at the half. The seniors ultimately came out on top 65-60, prompting an epic celebration on the court. Arielle Ceniza '19 was named MVP of the game. Better luck next time, faculty! (Photo courtesy of Molloy's Photography Club)


33rd Annual Jim Kinnier Stanner Golf Classic – 3 Weeks Away!
When: Monday, May 6, 2019
Where: North Hills, Plandome, North Hempstead Country Clubs
Who: Alumni, Parents, Friends
Contact: Matt Rizzotti '04 | mrizzotti@molloyhs.org | 718.441.9210
More Info: www.molloyhs.org/golf/
REGISTRATION NOW CLOSED
Download your printable invitation/reservation form here or clicking the image to the right.
Molloy is proud to present the 33rd Annual Jim Kinnier Stanner Golf Classic on Monday, May 6, 2019. Since 1987, the Stanner Golf Classic has raised over $2 million in support of our scholarship program, which impacts academically gifted students as well as those in need of critical financial support. Your participation makes a meaningful difference in the lives of our students. Find out how you can reserve a spot for your foursome, sponsor a journal ad, purchase raffle tickets, make a gift, or donate auction prizes. The event is just 3 weeks away! Contact Alumni Development Officer Matt Rizzotti '04 soon for more information.
Follow @molloyhsalum on Instagram to share your photos from the #StannerGolfClassic or search for content from the day!
---
St. Ann's Communion Breakfast – RSVP Now!
When: Sunday, June 2, 2019 | 10:30AM
Where: Archbishop Molloy High School
Who: St. Ann's & Molloy Alumni, Family & Friends
RSVP to: Merl Doyle | mdoyle@molloyhs.org | 718.441.9210
REGISTRATION NOW CLOSED
The Stanner Alumni Center welcomes St. Ann's Academy alumni, Molloy Grads from the Classes of 1960-1968, family and friends to join us on Sunday, June 2nd for our St. Ann's Communion Breakfast. This event is an annual celebration of our roots at St. Ann's, which opened its doors at Lexington Avenue and 76th Street in 1892. Our program includes Mass celebrated here at Molloy, followed by a buffet breakfast. RSVP via phone or email to Merl Doyle (see information above) or online at www.molloyhs.org/events/.
---
Walk/Run For Karina – Save the Date!
When: Saturday, June 22, 2019
Where: Archbishop Molloy High School
Who: Everyone!
Admission: $25 donation per person | Kids 12 & Under Free
Contact: Matt Rizzotti '04 | mrizzotti@molloyhs.org | 718.441.9210
REGISTRATION NOW CLOSED
We invite the Molloy community to join us on Saturday, June 22nd for our third annual Walk/Run for Karina. Together we will honor the memory of Karina Vetrano '04 with a spirited Walk/Run and 5K Race. The event schedule is as follows:
9:00am – Mass | 10:00am – Light Breakfast | 10:30am – 5K Race (pizza to follow) | 11-11:15am – Kids Race | 11:30am – Yoga Session
Save the Date! Online registration will open soon. Family and friends are welcome. If you have any questions please contact Matt Rizzotti '04 (info above). We look forward to sharing this special day with our community.
---
STEM & Science Research Symposium
When: Wednesday, May 1, 2019 | 5:00pm – 7:00pm
Where: Archbishop Molloy High School
Who: Everyone!
All members of our community are invited to come out and experience our 2019 STEM and Science Research Symposium on Wednesday, May 1st at 5:00pm. Our students will present and answer questions about their research and STEM projects. All are welcome.
---
Spring Concert
When: Thursday, May 2 & Friday, May 3, 2019 | 7:00pm
Where: Archbishop Molloy High School
Who: Everyone!
Our Junior-Senior Chorus will perform their Spring Concert on May 2nd at 7:00pm in Molloy's Ralph DeChiaro Theater. The Freshman-Sophomore Chorus, Concert Band and Honors Wind Ensemble will perform on May 3rd at 7:00pm in the Jack Curran Gymnasium. All are welcome.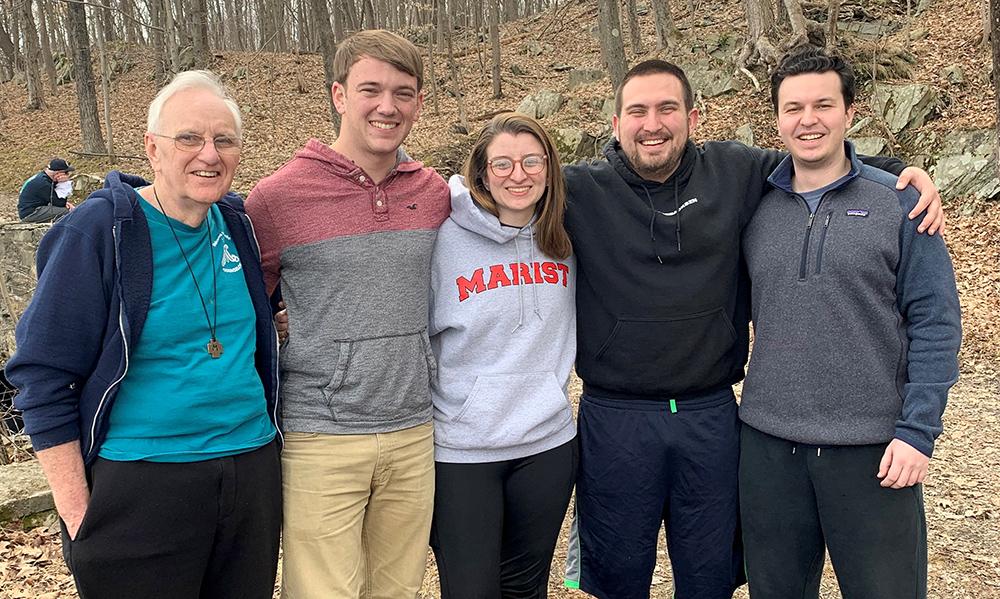 Br. John Raeihle '61 shared the above photo from a recent underclassmen retreat. Pictured with Br. John are four alumni who came up to Esopus to volunteer. Left to right: Br. John, J.P. Meyer '12, Rosemarie Mulligan '12, Billy Rabold '13, and Lukasz Kunicki '12.
---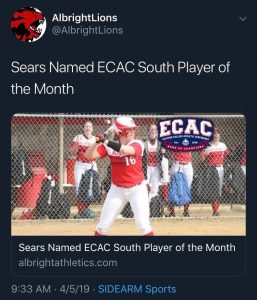 Camille Sears '16 has been named the Eastern College Athletic Conference (ECAC) Division III South Player of the Month for March. Camille hit .533 with 24 hits, 2 home runs, and 19 RBI in 15 games for Albright College. (Source) Camille also tossed a no-hitter against Lycoming College on April 7th, helping her team earn a double-header split. She walked 3 and struck out 2 over 7 innings. Camille retired the final 9 batters she faced. Albright won the game 5-0. (Source)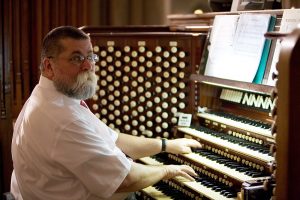 Archbishop Molloy High School is saddened to share the passing of Mr. Gregory Leonardo on April 10, 2019. Mr. Leonardo shared his passion with Stanners for over a decade, teaching music appreciation and music theory at Molloy from 1998 to 2011. Please keep Mr. Leonardo and his family in your prayers.
In lieu of flowers, the Leonardo family has asked that donations be made to Molloy's music program. Donations can be made to The Fund For Molloy with the memo or comment box noting the memory of Mr. Leonardo or mentioning our Music Department. Make your gift online at www.molloyhs.org/donate/
Services for Mr. Leonardo are as follows:
Wake
Friday, April 12, 2019
2-5pm and 7-9pm
Frederick Funeral Home
192-15 Northern Blvd
Flushing, NY 11358
Funeral Mass
Saturday, April 13, 2019
9:45am
Holy Trinity R.C. Church
14-51 143 Street
Whitestone, NY 11357
Photo taken by Tom Harrison '00 at the organ at St. Patrick's Cathedral during Molloy's 50th Anniversary Mass (2008).
---

Please pray for the repose of the soul of Frank Dehler, father of Kevin Dehler '82.

We are saddened to share the passing of John D. Kenneally on March 14th. John is the father of Desmond Kenneally '87, Thomas Kenneally '89, and Brian Kenneally '98. Please keep John and the Kenneally family in your prayers.

We are saddened to share the passing of John Regan on March 11th. John is the father of Chris Regan '80 and Cortney Regan '85. "My father was a big believer in Catholic education and thanks to him, my brother and I were able to attend Molloy," said Chris. Please keep John and the Regan family in your prayers.

We are saddened to share the passing of Rose Elizabeth Sheekey on March 10th. Rose is the mother of Brian Sheekey '79 and Steven Sheekey '77. Please keep Rose and the Skeekey family in your prayers.