Walk/Run for Karina – THIS WEEKEND!
When: Saturday, June 23, 2018
Mass: 9:30AM
Start of Walk/Run: 11:00AM
Children's Race: 2:00PM
5K (Optional): 3:00PM
Event Conclusion: 10:00PM
Where: Archbishop Molloy High School
Contact: mrizzotti@molloyhs.org | 718.943.3186
Join us at Molloy on Saturday, June 23rd as we remember Karina Vetrano '04, a beloved member of our Stanner family. This year, our Walk/Run event will be 11 hours long (11 was Karina's favorite number). Scheduled activities and start times are listed above. All proceeds will support The Karina Vetrano Memorial Scholarship, benefiting future young women entering Molloy.
Please click the link below to download the event flyer, make a donation, or sign up online. Pledge forms are available. Walk ups are welcome the day of the event, and we encourage you to bring family and friends! If you are unable to attend, please consider making a donation to Karina's scholarship. Contact Matt Rizzotti '04 at mrizzotti@molloyhs.org for more info.

---
Track & Field Alumni Gathering – Tony Perrone Is In!
When: Friday, June 22, 2018 | 7:00 PM
Where: Trinity Restaurant & Bar (Map)
RSVP to: Craig Katinas '93| ckatinas@molloyhs.org
ATTENTION: TRACK AND FIELD ATHLETES OF THE '70s — Phil Vetrano '74 and I thought it may be a good time to have an informal track get-together of the guys from the 70s. Something low-key, at a pub of course, a place where we could exaggerate some memories and catch up with old friends.

So the date is Friday, June 22nd, the place is Trinity's Restaurant & Bar in Floral Park, the time is 7:30PM. Options are open; hanging out at the bar, food at the bar or at tables, whatever individuals prefer. We are not collecting any money beforehand, no formalities, just good drink and good company. We would like to get an idea of how many people are interested in attending so we could notify the barkeep beforehand. So please let us know if you plan on showing up by emailing us at ckatinas@molloyhs.org. We will also invite faculty and hopefully will be able to get some of our 70s coaches to attend. I have talked to Coach Tony Perrone and he will be in attendance.

We are planning this get together on the evening before the Karina Vetrano Memorial Walk/Run at Molloy on Saturday, June 23rd, in case some of you are coming in from out of town and would also like to be there on Saturday. We look forward to seeing you.

— Frank Gambino '74 / Molloy Faculty, Track Coach
---
Stanner Alumni Reunion for 3's & 8's – SAVE THE DATE
When: Saturday, November 3rd, 2018
Where: Archbishop Molloy High School
Class Years: 1948, 1953, 1958, 1963, 1968, 1973, 1978, 1983, 1988, 1993, 1998, 2003, 2008 & 2013
Contact: mrizzotti@molloyhs.org | 718.943.3186
SAVE THE DATE! Online registration will open in late June.
Alumni from class years ending in 3 and 8 are invited to join us here at Molloy on Saturday, November 3rd for the Stanner Alumni Reunion! This is a great opportunity to reconnect with classmates and your favorite teachers, and walk the halls of Stanner High once again. See more info below:
BASIC INFORMATION:

4:30PM – Check In Begins.
5:00PM – Mass of Remembrance (Ralph DeChiaro Theater).
6:15PM – Cocktail Reception.
7:15PM – Brief Presentation, Class Photos, Dancing, Dinner & Dessert.
Valet parking available, but spots limited. Public transit or car service is encouraged.
Discounted hotel rates will be available.

VOLUNTEERS NEEDED: If you would like to serve as a class officer, tasked with finding and recruiting classmates, please let us know!

CONTACT: If you have any questions about this year's Reunion, please contact Alumni Development Officer Matt Rizzotti '04 (see info above).


Over 330 Golfers Fill 3 Courses, Raise over $170,000 in Support of Jim Kinnier Stanner Golf Classic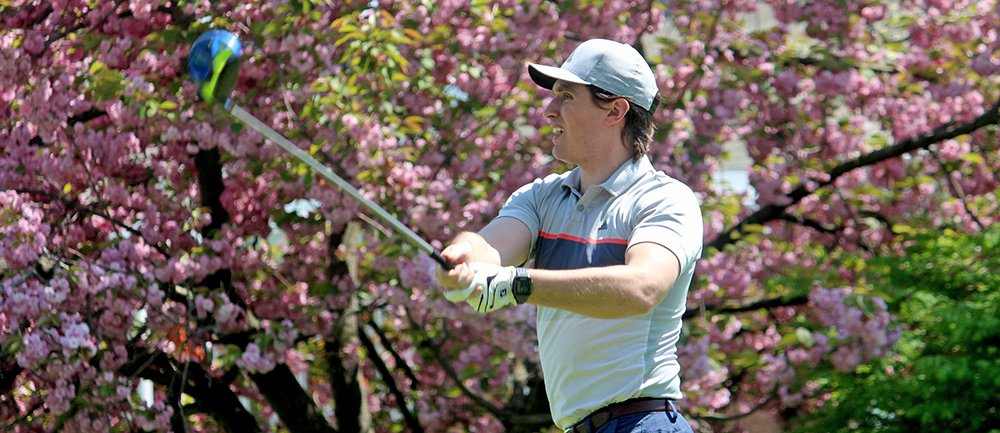 The Stanner Alumni Center is excited to announce that over $170,000 was raised in support of this year's 32nd Annual Jim Kinnier Stanner Golf Classic! Over 330 golfers participated in the event on May 7th, while many alumni, Stanner families, and Molloy-friendly businesses donated sponsorships and journal ads. This year also marked one of our most successful raffles to date. We are truly humbled by the generosity of our community. Proceeds from this event strengthen the scholarship program at Molloy, which in turn directly benefits future students in need.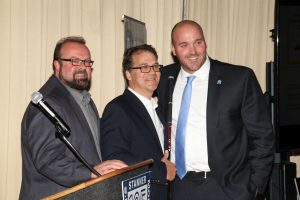 This year's Stanner Golf Classic was a success on other fronts as well. 2018 marked the first year the event expanded from two to three golf courses. This was no easy task, and required more planning, resources, and volunteers than previous years. The addition of North Hempstead Country Club was executed flawlessly, and it helped us achieve our goal of improving the quality of play across all courses. Congratulations are due to event organizer Matt Rizzotti '04, Chairman Rob Rossi '81, and our Golf Board for pulling off this impressive feat. We also saw success at the end of the evening, as all of our auction prizes went to their highest bidders. This includes Dinner by President, which will see President Richard Karsten '81 prepare a five-star meal for the winning bidder (Gino Fazio '81 & Family) later this summer. (Pictured: President Karsten '81, Chairman Rob Rossi '81, and Matt Rizzotti '04)
We hope that you will SAVE THE DATE for next year's Jim Kinnier Stanner Golf Classic on Monday, May 6th, 2019. In the meantime, please take a few moments to view our photo galleries from this year's event. Click the button for each course below. Dinner photos are included in the North Hills gallery. Photos are courtesy of Joe Sommo '03 (North Hills), Frank Bailey '75 & Delmar Studios (Plandome, North Hills), and Katie Giustiniani '12 (North Hempstead).



---
Prayers for Jim Kinnier
We recently received a prayer request from the Kinnier family. They have asked our community to please keep Jim Kinnier in their prayers while he recovers from a recent illness. Jim was part of Molloy's faculty for over 30 years, after which he joined the Alumni Association staff. In retirement, Jim has continued to be involved in the planning and scholarships associated with the Jim Kinnier Stanner Golf Classic, which he was integral in founding over 32 years ago.
---
Molloy's Class of 2018 is Ready to Change the World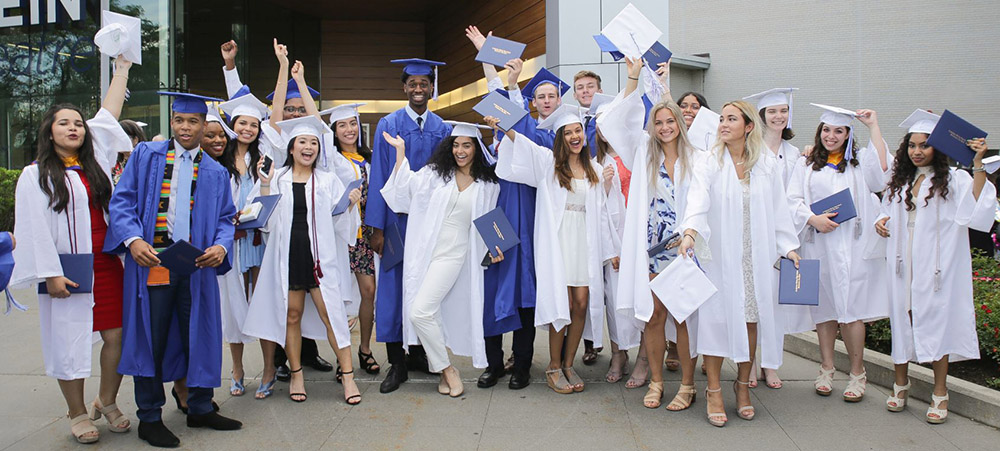 Photos by Sal Graffeo '01
On June 2nd, at the Colden Auditorium at Queens College, 345 members of the Class of 2018 moved their tassels from right to left, signifying their completion of the academic program of Archbishop Molloy High School. They did so with pride, confidence, and boundless hope for the future. The Class of 2018 is a diverse group of young men and women who represent the future of our world. They also hold the distinction of being the first class in St. Ann's / Molloy history to utilize iPads throughout all four academic years. We know their talents and spirit will take them far.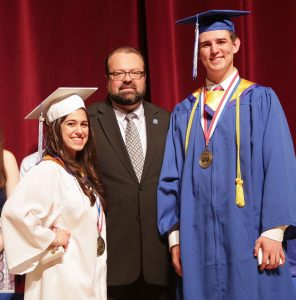 Congratulations to Salutatorian Vassilia Plakas '18 and Valedictorian Andrew Soltesz '18, who shared remarks during Commencement Exercises. Vassilia spoke of making sound, conscious decisions in the age of social media, and urged her classmates to let their knowledge, passions, and service to others define them. "Always remember our core values, and hold onto the lessons learned at home and at school. Trust in these values, as they will guide and serve us well in the future," said Vassilia. Andrew reflected on their collective four year journey. He noted that on their first day as freshmen, their only common thread was the uniforms they wore, but now they no longer need a uniform to tie them together forever. "What links us now are the Marist values which forever distinguish us as faith-filled disciples, empowered witnesses, agents of service and justice, servant leaders, and spirit-filled members of our families and communities," said Andrew. He later encouraged his classmates to go forth and use the values they've been instilled with to make the world a better place. (Pictured: Vassilia Plakas, President Karsten, and Andrew Soltesz)
In addition to our graduates, our three retirees were also honored during the ceremony. Principal Darius Penikas acknowledged Mr. John Diorio, Ms. Mary Pat Gannon, and Nurse Kathy Forgione for their many years of service to Molloy. He also announced the establishment of two new academic awards: The Mary Pat Gannon Award for Excellence in Writing, and the John V. Diorio Award for Excellence in Government and Politics.
Congratulations, Class of 2018, and know that you will always be Stanners, and you will always be part of our Molloy family. Come back to visit us often, and keep us up to date on your many successes in life. Non scholae sed vitae!
We invite you to view our Graduation photo gallery below, and to watch a video created by Chris Picon '18 in tribute to his classmates.

---
Video & Photos From Ms. Gannon's Last Class Ever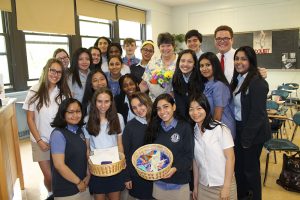 On Friday, June 8th, at 8:55AM, Ms. Mary Pat Gannon began her last ever class (AP Literature) after 44 years of service to Molloy. While Ms. Gannon expected it to be a bittersweet event, what she didn't expect was the series of surprises that unfolded throughout the period. First, longtime colleagues and friends Ms. Adele Solari and Ms. Jeanne Longerano brought in cupcakes and treats for Ms. Gannon and her students. Then, the AP Lit students presented Ms. Gannon with personalized letters. Lastly, at around 9:30AM, President Richard Karsten '81 (her former student), joined by teachers and administrators, presented Ms. Gannon with several items, including well wishes culled from social media, and gifts, letters, and origami cranes sent in by alumni.
As many will recall, Ms. Gannon would make a paper crane for each of her students as they moved on from her class; the crane serving as a reflection of her students' personal journeys. Upon hearing of Ms. Gannon's impending retirement, alumni organized a campaign via social media, using #CranesForMPG, to mail homemade cranes to Molloy in honor of Ms. Gannon. Special thanks to Megan Joyce Fisher '05 and Gina Moriarty '04 for their efforts to facilitate this kind gesture.
Ms. Gannon closed out the class by reading a prayer that she has read to her students every year. You can watch the presentation of gifts and Ms. Gannon's prayer in the video below. Thank you to everyone who has helped us to honor this extraordinary educator, and thank you, Ms. Gannon, for making such an impact on our Stanner family!
---
Stanner Life Commemorative Issue: SPONSOR A JOURNAL AD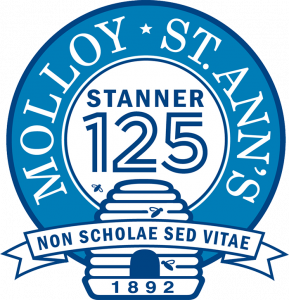 Production on our annual summer magazine, Stanner Life, is underway. This August, we are releasing a special commemorative edition of our magazine, which will serve as the culmination of our 125th anniversary celebration. This issue features an opportunity for alumni, family members, and friends to sponsor personalized journal ads. Journal ads are a unique way to congratulate and show your support for our alma mater.
Journal ads for this year's Stanner Life are available at the following giving levels:

Platinum Page: $2,500 (4 Available)
Blue Page: $1,250 (4 Available)
Half Page: $750 (6 Available)

DEADLINE FOR ALL ADS: JUNE 22, 2018

Click the button below to reserve your ad online, or download our order form and mail to: Archbishop Molloy High School, ATTN: Stanner 125 Journal, 83-53 Manton Street, Briarwood, NY 11435
Quantities are limited, so we encourage you to secure your ad as soon as possible. Thank you for joining us in our celebration of 125 Years of What Matters.

---
Around the School
Juniors Participate in Columbia Workshop Founded by AMHS Alumna
Earlier this spring, juniors Diana Maneri '19 and Billy Kanellopoulos '19 were selected to participate in a college workshop hosted at Columbia University. The workshop was created by alumna Samantha Morgan '15, who was featured in the Beehive back in 2015 when she embarked on a study abroad program in Japan. That experience inspired Samantha to help other students learn about the opportunities available to them in college, and the ways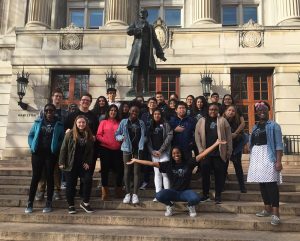 they can take full advantage. Samantha received a grant and support from Columbia to make her workshop a reality. (Pictured: Diana front row second from left, Billy back row second from left, Samantha crouched in front)
The workshop began on a Friday night with a class of each participant's choosing. "The options for the first night were an engineering class using a 3D printer and a Makerspace Lab, a theater class, and a philosophy class," explained Diana. "Billy and I chose the philosophy class. All of the options were meant to give you the feel of a real college class." Later in the evening, the participants were each paired with a Columbia student and roomed in their dorms overnight. "We really got the experience of what it's like to sleep overnight on campus," said Diana. Day two featured a tour of the campus, an in-depth session about the admissions process and financial aid, how to research colleges effectively, and a lecture led by Samantha herself about the pros and cons of studying abroad. "It was awesome to see another Stanner trying to help other students understand what it's like to be on a college campus," said Billy.
---
Cayla Kumar '20 Named Miss New York Outstanding Teen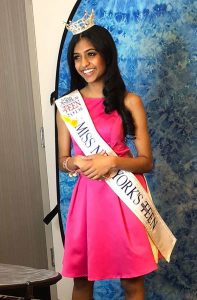 In March, we shared the story of sophomore Cayla Kumar '20, who was preparing for the Miss New York Outstanding Teen competition on April 7th. Miss America's Outstanding Teen is a scholarship-based program in conjunction with the Miss America Organization. Cayla, an avid volunteer, entered the competition with over 4,100 hours of volunteer service to her credit, including raising $25,000 in cancer research for St. Jude's Children's Hospital as a youth ambassador. (Photo courtesy of Cayla Kumar)
Would you believe that Cayla won? Cayla was indeed named Miss New York Outstanding Teen, which guaranteed her a full college scholarship to a sponsoring college (last year was the University of Alabama) as well as a spot in the national Miss America Teen competition in Orlando, Florida in July. Shortly after the competition, Cayla traveled to Albany with her mom, where a resolution recognizing Cayla was read on the Senate floor. "I'm still surprised that I won, but I'm so happy I achieved my goal. Hard work and dedication does pay off," said Cayla. She is now brushing up on politics and the news, and continuing to volunteer in advance of the national competition. "The judges really want to know what type of person you are. I hope they will see that I'm doing this for all the right reasons. I love giving back to my community."


Christy Dey '16 is Making Moves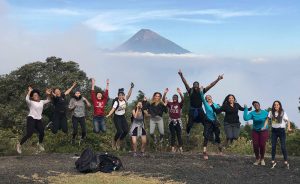 During spring break, Christy Dey '16 (pictured second from left), a student at Barnard College of Columbia University, traveled to Antigua, Guatemala, with Career X, a program designed to educate and involve students in social innovation and entrepreneurship in NYC and Guatemala. Prior to the trip, the 10 selected college students participated in workshops focusing on "Design Thinking." "We learned about empathy, leadership, and business consulting for small family-run businesses in Guatemala," explained Christy.
Upon their arrival in Guatemala, Christy and her group visited many homes and communities to talk with residents about their living conditions and social challenges. "We visited families that didn't have basic needs like a stove or ventilation," said Christy. "We spoke in a community called La Pista about their trash disposal system, and we were tasked to plan out a sustainable trash disposal system for them. By the end of the trip, we proposed the plan to the community's chair."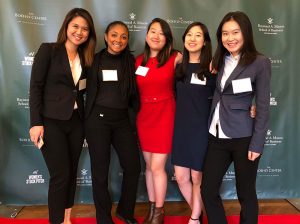 After returning to the US, Christy was invited to represent the Columbia chapter of Smart Women's Securities (SWS) at the annual William and Mary College Stock Pitch competition in Williamsburg, Virginia. SWS is a club that aims to empower undergraduate women of all academic backgrounds and all career interests with investment and financial world knowledge. "It was a stock competition that challenged us to be able to present efficiently and accurately, and it pushed us to answer under pressure and made us knowledgeable of the company we were presenting for," said Christy. "This works with my career because I want to work with investment banking teams within the financial world." (Christy pictured second from left)
Christy plans to continue to seek out opportunities such as these to increase her exposure. "There's nothing more valuable than experience. I'm looking to make connections and meet new people. I want to learn as much as I can while broadening my network. This will help my career and at the same time help me play a bigger role in the world. I've had much influence on community service because of Molloy. 'Not for school but for life' continues to be a part of me."
---
Class Updates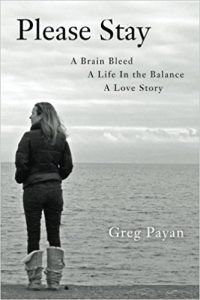 Greg Payan '89 recently self-published a novel titled Please Stay. The subject matter is of a personal nature to Greg, and he believes sharing his family's experience may inspire others. The book tells the story of a healthy 39 year old college professor, Holly, who suffers a sudden traumatic brain aneurysm. The narrative is then told through letters and texts to Holly from her friends and family, who are sharing their words of love, support, and hope. We learn about Holly through these messages, and about "how much we mean to other people and how much other people mean to us." The story is based on Greg's real-life then girlfriend, now wife, who suffered through and ultimately overcame a very similar medical emergency. The book has received very positive initial reviews from readers. When not writing novels, Greg works for the Associated Press. | Learn more about Please Stay
---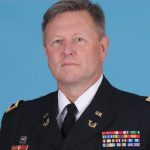 Col. Frank V. Kelly '79 is Commander of the US Army 4th Legal Operation Detachment with headquarters in Ft. Totten, New York. The Detachment has many Queens-based soldiers, as well as teams around the world providing services to soldiers, government agencies, families, and international partners. Col Kelly took over command from fellow Stanner and classmate, Col. Nick Satriano '79. Also of note, Col. Kelly's two brothers also went to Molloy: Joseph Kelly '81 and John Kelly '85. Joe recently made headlines after being honored by the Greenwich Old Timers Athletic Association, receiving their Lifetime Achievement Award. Joe is a rugby coach at Greenwich High School and has coached his team to 11 consecutive state championships including this year.
---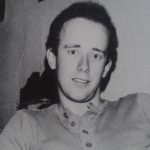 Paul Galbraith '74 attended his 40th college reunion at St. Michael's College in Burlington, Vermont. "After spending four years at a great high school, I wanted a small New England school experience," said Paul. "My parents sent me to Camp Marist, and for years during the summer that's where I fell in love with the area, and yes the Red Sox; sorry Yankees fans. I had the best college years one could have. I highly recommend St. Michael's to any Molloy student who wants to experience a small, loving college community." (Pictured: Paul's 1978 college yearbook photo)
---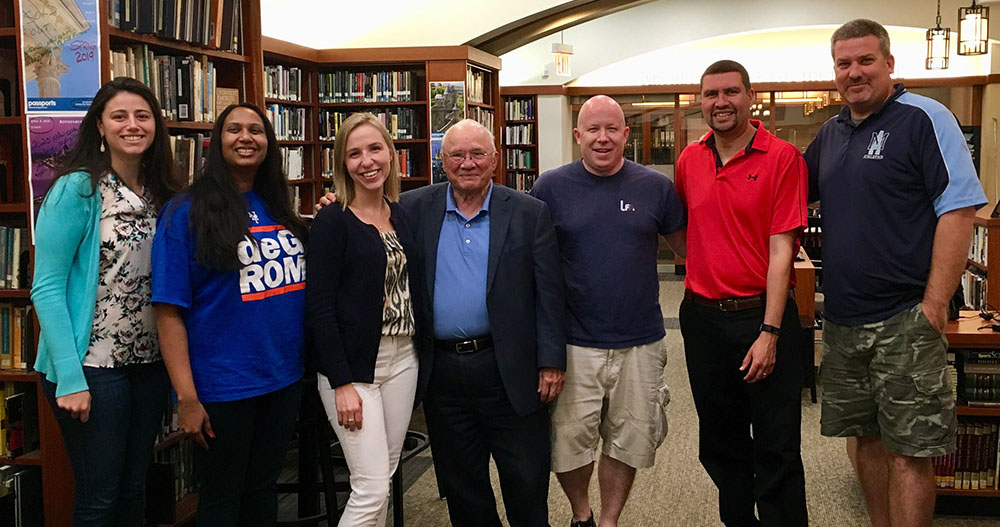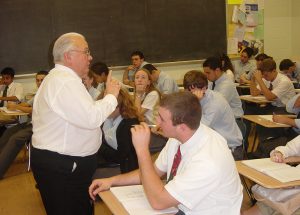 Ms. Sabina Kobinski '04 shared a great photo with us this week. While taking a break from grading Regents exams, several of Molloy's social studies teachers got together for a photo. The theme? They were all once taught by Mr. John Diorio. Pictured left to right are Ms. Catie Massowd '07, Ms. Diana Rayappa '04, Ms. Sabina Kobinski '04, Mr. Diorio, Mr. Jeff Gallagher '88, Mr. Bill Flemen '94, and Mr. Patrick Flynn '94.
What Ms. Kobinski doesn't know is that we recently happened upon a photo of her (center) in Mr. Diorio's class back in the early 2000's. Mr. Matt Rizzotti '04 sits in the foreground among others from Molloy's first coed class.



We are saddened to share the passing of Herbert "Whitey" Eckstein on June 5, 2018. Herbert, the father of former pro baseball player David Eckstein, attended St. Ann's Academy and later graduated from Molloy as an 8th grader. In doing so, he was one of the last grammar school students to graduate from St. Ann's / Molloy before it became a high school only. Herbert also maintained a close connection with Coach Jack Curran for decades, having played basketball for Curran as a Molloy 8th grader. He also remained a friend to our community and was very proud of his St. Ann's roots. Please keep Herbert and the Eckstein family in your prayers. | Read More about Herbert Eckstein | Pictured below left to right: Herbert with St. Ann statue, Herbert with Coach Curran, and Herbert's St. Ann's / Molloy grammar school graduation portrait.

We'd like to apologize for the irregular Beehive schedule as of late. The Stanner Alumni Center has been concentrating on several big projects recently, including our annual summer magazine Stanner Life. These projects have pushed the Beehive back a few days here and there. Thank you for your understanding.
The school bookstore is closed for summer, which means our Looking Back contest will be on hiatus until September. Thank you to everyone who has participated throughout the year, and congratulations to all of our t-shirt winners.
Winners in the Pride for 125 contest will be announced soon. Please stay tuned for more information.
The Beehive is best viewed in Google Chrome or Mozilla Firefox web browsers. Readers who use Internet Explorer will experience issues, as that browser is no longer supported. Please consider switching to Microsoft Edge or one of the aforementioned browsers for best results.
The Beehive will be on a reduced schedule during the summer months. Please be on the lookout for one more issue in June, followed by one in July and one in August. We hope everyone has a happy and restful summer!

Joe Sommo '03 / Alumni Communications Director