Featured
Please take the time to read about our annual Fund For Molloy, a campaign which benefits generations of Stanners. Click here to read it in PDF format.
Around The School
"Culture of Life" Week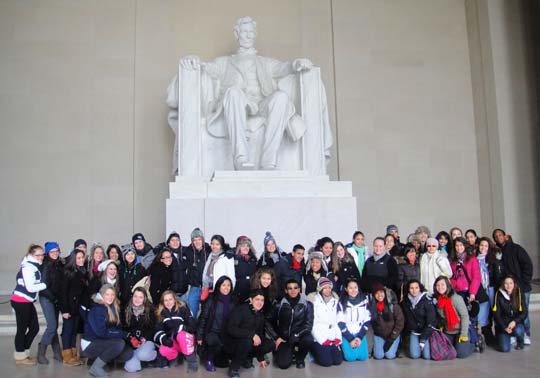 Members of the Right to Life club participated in Culture of Life Week, a series of topics and activities meant to give students perspective and raise awareness for relevant and pressing pro-life issues. The week started with an "End to War" discussion and saw students gather after school to write letters for soldiers overseas. Soldiers receive many letters around Christmas, but during the rest of the year that number decreases. The students' letters work to keep soldiers' spirits high throughout the year. The next day students discussed the impact of poverty around the world. In an effort to make a difference, club members sponsored a child in Columbia named Emanuel who has been in need of school supplies and other life essentials. The third topic focused on domestic abuse, and students expressed themselves by participating in the White Ribbon Campaign. The campaign, established in Canada, is the largest in the world organized by men to end violence against women. The following day, students discussed how people with disabilities live and are treated in our society. A prayer service was then held after school, which incorporated thoughts on all of the issues of the week to that point. Each topic and activity helped set up a trip to the Right For Life March in our nation's capital. 51 Students were accompanied to the march by club moderator Ms. Elizabeth Reichert and Activities Director Mr. Ed Cameron. The Right For Life March, which begins at the National Mall and ends up at the Supreme Court, has been organized annually since 1974 in support of every human being's right to exist and to speak out in opposition of abortion. Over 400,000 people participated in this year's march, which Ms. Reichert pointed out was a big deal for Stanners in attendance. "Getting the chance to see 400,000 other people speaking out against one cause gives the students more energy to go back to school and get involved, particularly in their own communities. I've been to the Right For Life March before, but I've never seen a more spirited group of students than those from Molloy." According to Mr. Mike Germano, Molloy has been attending the March since 2005.
Canned Food Drive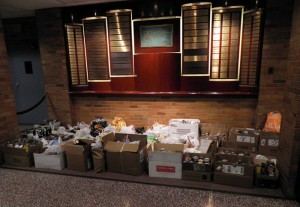 Molloy students participated in a canned food drive to help people in need get through the winter a little easier.  It started as a way to encourage the students to earn a casual dress-down day. Principal Brother Thomas Schady and Mr. Ken Auer decided it would be a nice idea to have the students collect cans for donation and encouraged everyone to bring at least 1 can of food each. Luckily there was a sale at a local grocery store, which prompted students to bring in more than the required amount. The student council and yearbook staff helped collect the cans, which totaled 2,600 by the end of the day. Mr. Mike Germano '93 drove the cans to the St. Vincent De Paul parish in Queens Village. Special thanks to Ms. Kathy Loughran for helping to organize the collection and Molloy's students for contributing to this great cause.
CSI: Molloy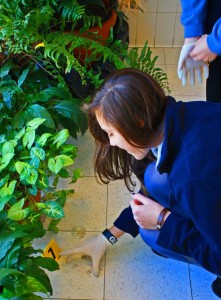 Mr. Sheldon's forensics class was challenged with a final exam like no other at Molloy. A mock crime scene was set up outside the 2nd floor Biology lab, which included a victim, scattered evidence, fake blood, and crime scene caution tape. Students were tasked with using all of they've learned to this point to figure out "who murdered the mayor." According to Mr. Sheldon, "The kids liked doing it. There were false leads that needed to be hashed out. The final answer could only be gotten after all the 5 pieces of evidence were collected and processed." The scene took 5 hours to prepare, but it took just 45 minutes to crack the case.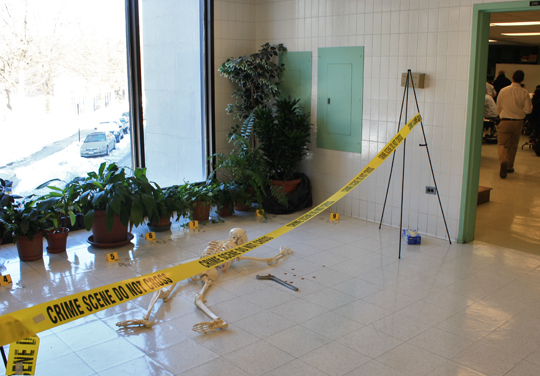 Upcoming Events
Badges Alumni Association Event – TONIGHT!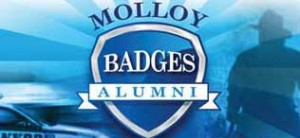 Attention NYPD, FDNY, EMS and all Federal, State, and City Law Enforcement or Fire Safety personnel! The Inaugural kick off of the Archbishop Molloy High School "Badges" alumni association will take place TONIGHT, February 4, 2011. The event will take place on the school campus from 6:00PM to 10:00PM. A $20 donation for your admission, which will be accepted at the door, will cover food and soda and a ticket to the evening's basketball games featuring a triple header including Molloy's men's Varsity team taking on St. Raymond's at 7:30PM. A cash bar will be available prior to the games. Although it is too late to register online for this event, you may pay your admission at the door. For more information please contact Ed Shannon'84 at eshannon@molloyhs.org or Jim Sheldon '88 at jsheldon@molloyhs.org.
Tommy Ashton Basketball Tournament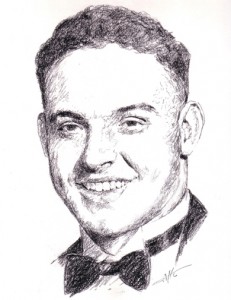 The Tommy Ashton 3-On-3 Basketball Tournament is scheduled for Friday, April 8, and Saturday April 9, 2011. At the St. Sebastian Parish Center in Woodside, Queens. Tommy Ashton, class of 1997, was a lifelong resident of Woodside who lost his life on September 11, 2011 while working as an electrical apprentice for Local 3 IBEW. A proud graduate of Archbishop Molloy HS, Tommy was a Peer Group Leader. He also swam on the Varsity Swim team for 4 years and was captain of the team in his Senior Year. A basketball tournament was established to collect donations for those in need in Tommy's memory. This year's proceeds will be donated to St Jude Children's Research Hospital and a project at St. Sebastian School. For more information on this event, please click here.
The Townwide Fund St. Patrick's Day Run
Ray Farrell '81 and friend Bea Hartigan visited the Stanner Alumni Center to talk about the fundraiser they promote in Huntington, New York. For 40 years, The Townwide Fund of Huntington has held events and raised money to benefit the people of Huntington and help provide better vital health and human services. As Ray explained, "Generations of families reunite to participate in our local charity events. We hope to have a large turnout for our upcoming St. Patrick's Day Run." The day includes The Hartigan High School Challenge, which has featured participants from Archbishop Molloy High School for several years thanks to Huntington resident Mr. Frank Gambino '74, and a general Fun Run open to everyone. For more information on this event or to register yourself or a high school team, visit http://townwidefund.org/special-events/st-patricks-day-run.

The Stanner Alumni Center was sent a story that recently appeared in the New York Post involving New York Police Commissioner Ray Kelly '59 and some very passionate police officers. Officer Conor McDonald, set to be sworn into the police force, requested Kelly's badge number, 15978, as a tribute to his father Steven McDonald. Steven, a police officer for over 20 years, was paralyzed in 1986 after being shot by a young assailant during a routine patrol in Central Park. He remained an active member of the police force after being promoted to detective and raised a son that chose to follow in his footsteps. Police Commissioner Kelly granted the request as he expressed his appreciation and respect for the unwavering dedication shown by the McDonalds.

Non scholae sed vitae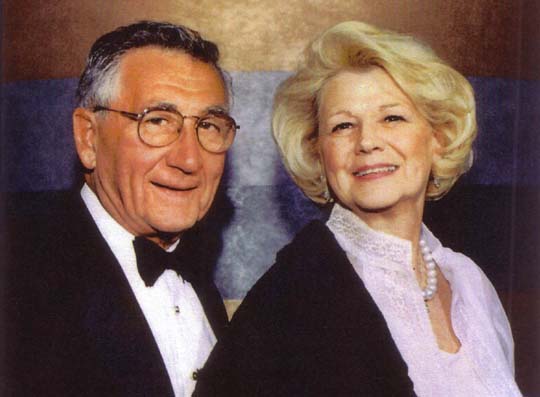 Over the holidays I received very cheerful Christmas wishes from Cesar Taormina, a Stanner I had heard much about, but hadn't had the chance to meet or speak to thus far. During our conversation he spoke about his love for St. Ann's and Molloy, his place in the Stanner Hall of Fame, and his career. While saddened to hear that he was recuperating from a serious illness, I was very happy to speak with Cesar and decided to learn more about him over the break.
Cesar graduated from St. Ann's Academy in 1947. Shortly after graduation he founded Taormina Contracting. Over the next decade he would become heavily involved in different parts of his community including being on the Board of Directors of the New York Boy Scouts, serving as Chairman of the Board of the American Society of the Italian Legions of Merit, being an active member of the New York Athletic Club and a Fourth Degree Knight of Columbus. Cesar later served in the U.S. Marine Corps before continuing his contracting company. He also became involved in the real estate business, which allowed him to become even better known around his community.
Subsequently he has always been involved in our alumni community. Despite not feeling well, Cesar took the time to reach out to me and the Stanner Community at large. His enthusiasm and passion came through with each word as he reminisced about his days as a student at St. Ann's and visiting Molloy numerous times to attend the St. Ann's Communion Breakfast. I hope to meet Cesar at this year's St. Ann's Communion Breakfast on Sunday, April 10th so we can discuss in person the bond that we share with the Stanner community.
I felt it important to take the time to ask the Stanner community to pray for Cesar while he continues his recuperation, and to contemplate that despite his illness, he excitedly took the time to reconnect. Cesar is a wonderful example of what it means to pay tribute to and honor one's past so that we may be encouraged to cherish the present and future just the same.
Richard Karsten '81  
President
Class Updates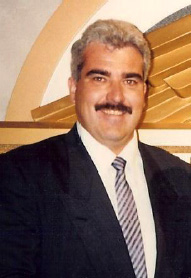 Tom Corrigan '76 is in need of help. The retired FBI-NYPD detective, who was integral as part of the Joint Terrorism Task Force in the investigation of the World Trade Center bombing and similar plots, has been battling cancer and is in need of a bone marrow transplant. Tom is high respected and well known in his community; he opened a Tom McBrien's Pub in Hampton Bays, New York after his retirement. There are two events scheduled, one in Manhattan and one on Long Island, to help get people involved in support of saving Tom's life. For more information on helping Tom or attending these events, visit www.GotMarrowNY.org.
a
Glen Duffy '94 and wife Julia were recently blessed with the birth of their first child. Gavin Thomas James was born on January 20th. Congratulations to the Duffy family.
Mark Torossian '01 let us know that he and Stephanie Rollo were recently engaged on December 3, 2010 and are in the final stages of wedding planning. Their wedding is scheduled for November 13, 2011 in Bergen County, NJ. Congratulations Mark and Stephanie!
Rohan Narine '02 is currently working as a journalist and in real estate in Queens after being involved with a hedge fund. He has done a lot of writing for The West Indian, a local paper that distributes up to 40,000 copies in South Ozone Park, Richmond Hill, and Jamaica. His writing tends to focus on real estate or cultural events and topics including concerts, performances, and other activities in New York City. In addition to writing as a journalist, Rohan has also taken to script writing and has worked on an original mystery story. In addition, Rohan enjoys acting, as he recently participated in a "coming of age" stage performance at his local church. Rohan hopes to network with fellow Stanners as he continues his professional endeavors.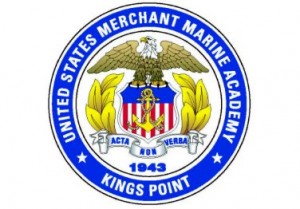 Shawn Harmon '08 recently paid a visit to Molloy to say hello before his departure overseas. Shawn is a junior at the United States Merchant Marine Academy. As per his program, Shawn will spend time oversees around Europe on a Merchant Vessel. His goal is to maintain active duty in the military, navy or marines. His older brothers were both in the military and now they are home while he is be gone, which Shawn said is the opposite of how it's been for his family in recent years. Shawn said he wanted to be a part of the Merchant Marines for himself and to be recognizable as a person who has served his country. On his time at Molloy, Shawn reflected on his time as a swimmer, a peer group leader, and volunteer at Esopus. He said the atmosphere gave him a break from the world and helped him focus, which is a very important skill to him now. Shawn wasn't sure if he would end up in the Navy or in flight training immediately after graduation, but he would readily accept those challenges; particularly flying, which he has always dreamed of doing. Based on his swimming experience he thinks it may be possible to pursue a career as a Navy diver. Shawn was looking forward to his commitment oversees, but also looking forward to seeing his family again once his senior year at the academy begins.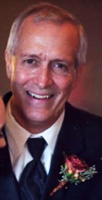 We received a message from Michael Gaertner '69 that his classmate Ted DiBlasi '69 passed away on January 24th, 2011. Michael described Ted as "a stalwart of the school's cross country and track teams from 1965 to 1969." Michael went on to say "Ted and I spent many hours together on the track under the great coaching staff led by Frank Rienzo. Ted helped lead us to a number of consecutive Indoor Track City Championships as well as the Outdoor Track title in 1969. I was also fortunate to attend Manhattan College with Ted as well." There's no doubt that Ted was a great track star at Molloy and represented Stanner high with pride. Ted DiBlasi is survived by his wife of 32 years, Kathleen, his sons Jonathan and Theodore, daughter Giselle Pugh and her husband Anthony, grandson Hudson, and parents Theodore and Catherine. Please pray for Ted and his family during this difficult time.

We received news from Carl Czurda '70 that his friend and fellow classmate Dennis Corkery '70 passed away on Monday, January 24th after a brief battle with melanoma. Carl said he met Dennis in 1966 as a freshman at Molloy and they were close friends ever since. While there will be no wake for Dennis, funeral arrangements are set for the Notre Dame Church in New Hyde Park on Saturday, February 5th at 11:00 AM. Dennis was beloved father to Christopher James, loving brother to James, Kevin and Mary Beth Jones. Please keep Dennis in your prayers.

Joseph Gallo '70 informed us that Michael Sparacino, father of Michael Sparacino '70 (former school directory member), passed away on January 26th. Please pray for the Sparacino family.