Molloy to Remember Br. Ron at Annual Dinner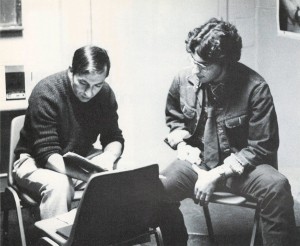 On January 17th alumni and friends will celebrate the life and legacy of the late Br. Ronald Marcellin '52. A graduate of St. Ann's Academy and a lifelong student of the Marist tradition, Br. Ron believed in bringing the best out in each and every student. No matter how confident or how timid they might have been, Br. Ron had an amazing ability to relate to and mentor young people. As a teacher at Christ the King High School, Holy Trinity, St. Helena's in the Bronx, and finally Molloy, he made an impact in the classroom with his inspiring lessons and after school as a guidance counselor. Br. Ron also assisted Br. Leo Richard for over 25 years as a counselor in the SMILE program. SMILE, or Something More in Life's Experience, invites students to speak freely with each other, helping them to navigate the trials and tribulations of teenage life. Who better to moderate such sessions than Br. Ron, one of the most caring and understanding individuals to ever serve the Stanner community?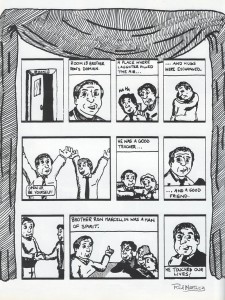 You can imagine how many friendships Br. Ron nurtured after so many years. Those friendships continue today, as many of the Stanners who benefited from his guidance remain close with each other. In fact, they are the main driving force of the Br. Ron Marcellin Committee, which plans an annual gathering every January at Trinity Restaurant & Bar in Floral Park to honor Br. Ron's legacy. Just as he endeavored to help every student he could, so too do our alumni work toward the same goal. Funds raised through the Br. Ron Marcellin Scholarship Dinner directly benefit students and families in need. Due to their extraordinary situations, these students would not be able to attend Molloy. Your gift to the Ron Fund does and can make a powerful difference in the lives of these wonderful and deserving children. Thanks to your generosity, two outstanding freshmen are current recipients, both whom have both experienced extenuating circumstances in their personal lives. (Pictured: A cartoon honoring Br. Ron by Rich Martinez '96 that was featured in the 1994 yearbook. Click to enlarge.)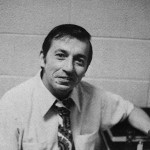 Funds raised through this year's event will afford Molloy greater to provide the gift of a Stanner education to deserving students in the future. The event will include a 50/50 raffle drawing, a live auction with many fantastic prizes, dinner and beverages, and an enthusiastic group of alumni ready to help young Stanners in need. This is a great opportunity to join a wonderful tradition, and we hope to have a full house on January 17th. Additional details are provided below.
When: Sunday, January 17th, 2016 | 8:00pm
Admission: $40 donation per person
50/50 Raffle: $100 Donation (for sale at event or contact ckatinas@molloyhs.org for advance purchase)
Remembering Mr. Raymond Egan

It is with heavy hearts that we share with our Molloy family the passing of Mr. Raymond Egan on December 25th, 2015 at the age of 79. He was most recently a resident of Valley Stream, New York.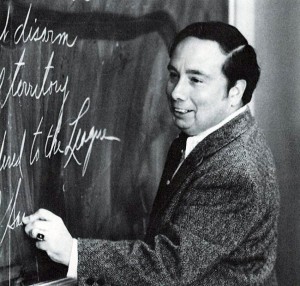 Mr. Egan began teaching at Molloy in the early 1960's. Over the years he taught classes including Contemporary/Modern America, 20th Century Topics, Economics, World History, US Government, and even Elementary Algebra. Mr. Egan would eventually be appointed the very first Chairman of the history department in the early 1970's. He remained in that role for many years. "Ray loved Molloy. I was lucky to be a student and a student-teacher under him, and to be his friend," said Mr. Bill Niklaus '80. "He was a gentleman in all aspects. He cared for his students, his family, and the Marist Brothers. I never heard him say a bad word about anybody." Regarding his class demeanor, Bill shared that Mr. Egan, "worked hard to make sure all of his students learned the material correctly." Bill continued, "He was my Economics teacher, and I can honestly say after I graduated I knew how to navigate a tax form because of his class." Mr. Egan was also a passionate baseball fan and a huge New York Mets fan with an enviable autograph collection.
After school, Mr. Egan made an impact on students through the Marist Mission League club and as moderator of The Stanner newspaper. "As moderator of The Stanner, and because he was a history teacher, Mr. Egan would always encourage us to link news from around Molloy with current events," said President Richard Karsten '81, who served as Editor-In-Chief of the paper under Mr. Egan. "His guidance helped the whole editorial staff understand how to communicate rel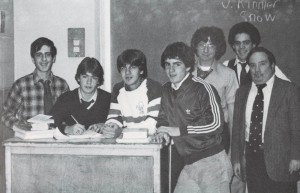 event stories in every issue. Beyond the paper, he was a passionate teacher who always kept a sense of humor." (Pictured: Richard Karsten '81 second from left, Mr. Egan far right)
1994 marked Mr. Egan's last year of teaching at Molloy. Over the course of his career he made his mark as an exceptional educator, mentor, and friend to all. As moderator of "The Stanner" for over 20 years, Mr. Egan helped students define the way the stories of the times – now the history of Molloy – were told and how they continue to be told today. Please join us in prayer as we remember Mr. Egan for the great man and great friend that he was.
We welcome our alumni to share their memories of and stories about Mr. Egan with The Beehive by forwarding them to alumni@molloyhs.org.
Prayers for Our Alumni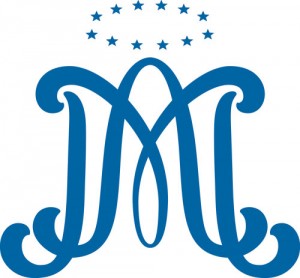 Over the past week, the Stanner Alumni Center has been made aware of two alumni and families in need of prayers from our community.
Branden Warders '14, a former track and field athlete at Molloy and currently a college sophomore, was involved in a serious automobile accident in Arizona late on New Year's Day. Other members of the Warders family were also involved in the accident. All survived, but left the scene with injuries. Branden has since undergone surgery and will remain in hospital care for several weeks while recuperating. We ask that you please keep Branden and the Warders family in your thoughts and prayers as they work toward a full recovery.
We have also learned that Brian Foley '75, father of Melissa Foley '13 and Jennifer Foley '13, is in intensive care at North Shore LIJ Hospital as the result of a long-term illness. The Foleys are a wonderful Stanner family, and our thoughts and prayers are with them at this time. Please join us in prayer for Brian and the Foley family.
"God Bless All Stanners." – Br. Terence Jones '36
Marist Brothers Celebrate Fourvière Year in Anticipation of Bicentenary Anniversary
On July 23, 2016 the Marist Brothers will celebrate the 200th anniversary of the Pledge that was made by twelve young men, some of them newly ordained priests, others still seminarians, in the chapel of Fourvière in Lyon, to consecrate themselves to founding the first congregation of Marists. Leading up to this historic date, the Marist Brothers announced that they would recognize a different theme each year beginning in summer 2014 that would recall essential aspects of our "lives and missions as Marists." Consider how many people in over 75 countries around the world have benefited from nearly 200 years of Marist education, service, and faith, and you begin to realize just how big of a celebration this is and should be.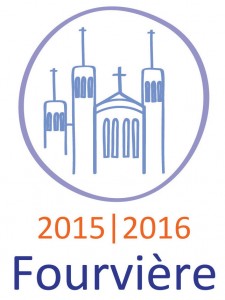 The multi-year celebration began in July 2014 with "Montagne Year", during which all Marists were called to remember and reflect on the young Jean-Baptist Montagne. A young dying boy who had no faith or religious instruction, Montagne's dilemma and inevitable passing influenced Marcellin Champagnat to found the Marist Brothers in order to share faith and education with disadvantaged youths. July 23, 2015 marked the current celebration of "Fourvière Year", whose theme is: "The Society of Mary – fraternity: associates for the mission (Brothers and Laity)". On July 23, 1816, the day after their ordination, a group of young priests traveled to the shrine of Fourvière in Lyon, France. At the feet of our Lady in the small chapel there, they promised to establish the Society of Mary. Fourvière Year is a celebration of the Pledge made in that chapel. Marists conceived the Society of Mary as a large tree with different branches: priests, brothers, sisters, and lay people. Today, the Marist Brothers acknowledge that the Holy Spirit has made lay Marist vocations flourish. Thousands of lay men and women around the world feel called to live the Gospel like Mary.
In a statement, the four Marist Family Congregational Leaders, Br. Emili Turu, Sr. Georgeanne Donovan, Sr. Grace Ellul, and Fr. John Hannan, shared their hopes for Fourvière Year. "We would like to provoke a sense of curiosity and awe at the significance of the Fourvière Pledge among today's Marists. We would also like to foster an enhanced sense of Marist identity as one 'Marist Family' and to boost a renewal of energy and motivation to the 'work of Mary.'" The Marist leaders encourage all lay Marists to participate in this year of prayerful reflection, and to "ponder its meaning to the founding congregation of Marists who took the Pledge in 1816 and its relevance in our own lives today." They concluded their statement with their belief that "we are all called to be a little of Mary's presence in the world." For more information about Fourvière Year and the Marist Bicentenary please visit http://www.maristbr.com/.
Other Upcoming Events
Badges Event / Molloy Vs. Christ the King HS – TONIGHT!
When: Friday, January 8th, 2016 | 6:30pm
Where: Archbishop Molloy High School
Who: Badges Alumni + All Members of the Molloy Community
Admission: Adults $30 | Kids $15
Contact: Joe Sommo '03 or Ed Shannon '84
Online registration is now closed, but you may pay at the door
Molloy will host a casual event TONIGHT sponsored by its Badges Alumni Network and open to ALL alumni and friends. The evening will include food and beverages as well as a big game between Molloy's Boys Varsity basketball team and rival Christ the King High School. The pregame reception will begin at 6:30pm with tipoff at 7:30pm. Admission is a $30 donation for adults and $15 for kids. Please join us for our first event of the New Year to socialize and connect with other Stanners and cheer on the home team!
2016 Stanner Games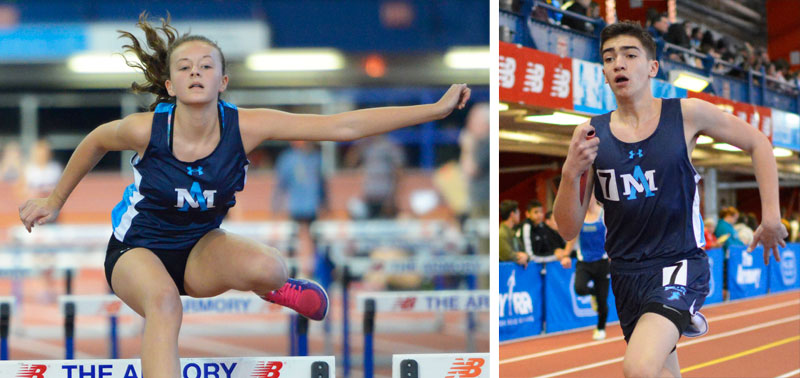 When: Saturday, January 16th, 2016
Where: The Armory (216 Fort Washington Ave)
Molloy's Track & Field athletes are getting their last reps in before the 2016 Stanner Games, which will take place Saturday, January 16th at The Armory Track & Field Center in Manhattan. One of the largest meets of the year, Stanner Games invites hundreds of students representing over 170 high schools around the tri-state area to participate. We welcome alumni, parents and friends to come out to the Armory to cheer on Stanner High. Volunteers have already been booked for this year's event, however if you wish to volunteer in 2017 and beyond please express your interest to Coach AJ Power '84 at apower@molloyhs.org. Good luck to all competitors! (Pictured: Photos from last year's Stanner Games)
Wine Tasting at Molloy
When: Thursday, February 11th, 2016 | 6:30pm
Where: Archbishop Molloy High School
Who: Alumni, Parents & Friends (Limited seating available)
Admission: $50 per person
Contact: Joe Sommo '03 | jsommo@molloyhs.org
Molloy invites alumni, parents and friends to attend our next wine tasting hosted by in house wine expert Jim Sheehan '75. Participants will experience a professional wine tasting class in a casual and friendly setting. This year's event will feature mostly Spanish wines. Food and other refreshments will be offered as well. Please spread the word and bring a friend out to Molloy on February 11th!

Marine Vet Reflects on Career, Faith
by Ashley Mayer '12, Development Assistant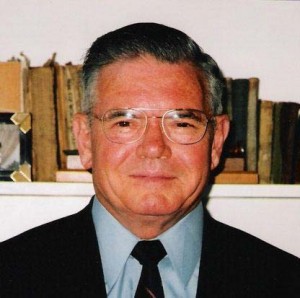 Colonel Richard H. Esau Jr. '52 is an inspiring, accomplished member of the US Military, as well as an "Original Stanner" having graduated from St. Ann's Academy. Col. Esau was kind enough to speak with me recently about his life as a Marine and the impact St. Ann's has had on his life. (Pictured left: Richard Esau's senior portrait, 1952)
An NYC native and Manhattan College graduate, Col. Esau completed basic training in 1957 and was assigned to the 2d Marine Division. He went on to serve as Platoon Commander, an S –3 Liaison Officer, and a Motor Transport Officer with the 2d Marines. He would also fulfill the role of Executive Officer of Company L, 3d Battalion, 6th Marines.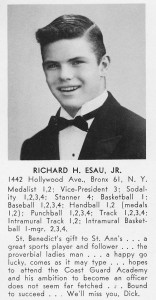 "St. Ann's played a big part in my life. I was the captain of our baseball team, which was coached by Lou Carnesecca back then," Col. Esau recalls. He continued playing baseball while enlisted in the Marines, utilizing the lessons and skills he learned at St. Ann's as the right fielder for the All Marine Baseball Team. Beyond baseball, Col. Esau lived and breathed the Marist tradition, and he continues to emphasize the importance of his faith then and now. "I am the product of sixteen years of formal Catholic education. My parents were very religious, and I grew up believing in the idea of looking after people. That followed me into the Marines, where I looked after many people."
While in active duty, Col. Esau had many "interesting assignments" as he calls them. "I commanded a couple of platoons, rifle companies, and regiments. I participated in searches for US servicemen missing in Vietnam, Cambodia, and Laos. Back home, I was an officer recruiter and had at least fifty college campuses I had to visit." Col. Esau experienced two tours in Vietnam in total, and as a result of his courage and bravery became a decorated Marine. He was awarded two Purple Hearts, five a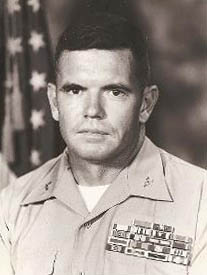 wards for Valor, two Legion of Merit medals, three Bronze Star medals with Combat "V", the Defense Meritorious Service medal, the Joint Service Commendation medal, the Navy Commendation medal with Combat "V", the Republic of Vietnam Cross of Gallantry with Gold Star, and numerous other accolades. In 1985, Col. Esau retired to the Fleet Marine Corps Reserve.
"An awful lot of people were enlisted with me in the Vietnam War," said Col. Esau. "We all fought to guarantee the American way of life. I was wounded a couple of times, and at the time I wasn't sure if I'd be here speaking today. There must be a reason for me to still be here." Col. Esau currently resides in Virginia Beach, VA. He is happily married, a father to six, and a grandfather to nine. (Photo courtesy of the Marine Corps League and Col. Esau)
Class Updates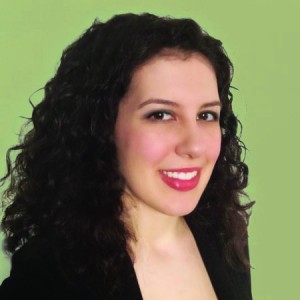 Research by Ashley Regazzi '04 has been published by the National Center for Biotechnology Information, US National Library of Medicine. During the past year, Ashley co-authored three research papers exploring oncology treatments, side effects, and clinical trial design. The most recent paper was published in Cancer (an official journal of the American Cancer Society) and discusses the incidence of blood clots during treatment with the type of chemotherapy most commonly given for bladder cancer. "We looked at patients treated with three different chemo regimens — the standard combination, a combination considered less toxic to patients with certain health issues, and an experimental combination that some researchers have linked to cardiac disorders — and found higher rates of blood clots in the 'less toxic' group than in the other two," explained Ashley. "Seeing it published means a lot to me because it was the first project I helped design when I was first hired at Memorial Sloan Kettering 7 years ago." | See Ashley's Research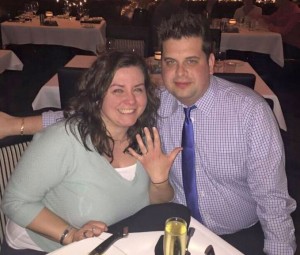 Danny Grzesik '03 and Amanda Fabrizio got engaged on December 23, 2015 in Manhattan. Amanda and Danny met while they both worked at Lehigh University. Danny currently is Associate Dean of Students at the University of Tennessee at Chattanooga and Amanda is Director of Development for the College of Engineering at Tennessee Tech University. They live in Chattanooga, Tennessee with their dog Sonic and are planning a wedding for 2017. Congrats to the lovely couple!
Rob Chirico '70 is an artist and the author of the Field Guide to Cocktails (Quirk Books/Random House October 2005), which is in its third printing and has sold over 25,000 copies. It has also been translated into Polish. Rob has also written two books on martinis and cigars (Martini Madness and Up in Smoke), and has published articles in the food journal Gastronomica. His novel, Onward Kitchen Soldiers, which is a humorous take on food media, publishing, and public relations, was published in April 2014 as an e-book with Untreed Reads. His non-fiction book, Damn! A Cultural History of Swearing in America was published by Pitchstone Press in 2005. Rob's cookbook/m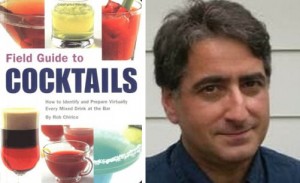 emoir Escape from an Italian-American Kitchen: How I Learned How Not To Cook Like My Mother will be published in February 2016. In a curious aside, his interest in food prompted him to enter the Sutter Home Build a Better Burger Contest in 1991, where he was flown to the Napa Valley, and competed for and won the grand prize of $10,000. | More on Rob's work


It is with great sorrow that we share the December 25th, 2015 passing of John A. Bailo '78. John is survived by his son Gio, mother Rose, siblings Marie, Carole, Paul '83, brothers-in-law Bill Schroeder '79, Charles Iervolino '80 and his sister-in-law Kathy. John will fondly be remembered for his brilliant mind and generous spirit.  Please keep John and the Bailo family in your prayers.

It is with deep regret that we share the passing of James Rhatigan '70. Jim will be remembered among his family and friends for his determination, public service, and good will. Please remember Jim and his family in your prayers.

As published above, please keep Mr. Raymond Egan in your thoughts and prayers.

Please pray for the repose of the soul of the mother of Melanie Duran '09.

Please pray for the repose of the soul of Lawrence Wafrock '66.