Upcoming Events
Stanner Golf Classic – Introduction to the Chairman
The Jim Kinnier Stanner Golf Classic boasts nearly three decades of success thanks in large part to Molloy's community of alumni, faculty, parents, corporate sponsors, and friends. Since 1993, one outstanding individual from our community has been honored annually as Golf Chairman. Joe Gordon '64, Molloy's inaugural Chairman, established the role as a leader who would recruit new golfers and sponsors while acting as a spokesperson for Molloy and its mission. Since then, Chairmen have followed Gordon's example by displaying leadership and selflessness.
In anticipation of this year's Stanner Golf Classic, Molloy is proud to introduce its 2016 Golf Chairman, Joe Papavero '04 (pictured). The Papaveros, including sister and fellow alum Graceann Papavero '06, are a great Stanner family. Joe has been a leading figure in the family business, Papavero Funeral Home, for over 10 years. The business was founded five generations ago in Brooklyn during the 1930's and has called Maspeth its home since 1959.
After graduating from Molloy, Joe remained engaged with the his alma mater by attending events. "I can attribute the person I am now to my years at Molloy," said Joe. "The entire faculty and staff have always been concerned with the development of the whole person. They prepare you for college and the rest of your life. It's important that Molloy continues to offer those opportunities, so I try to do my part to help." Joe enjoyed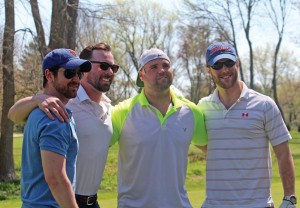 attending events, but was looking for another way to get involved. "I didn't know where to start. Then I met James Jordan '01 at an event and he encouraged me to join the school's Golf Board, which helps plan the Stanner Golf Classic every year. Since joining the Board I have enjoyed it – particularly because we raise money for scholarships that directly benefit kids in need. It's a perfect fit for me." As Chairman, Joe hopes to encourage new and younger golfers to participate now and in the future. He is also representing Molloy to new sponsors with the hope of establishing new, lasting relationships. "I am honored to be the 2016 Chairman, and it's been fun so far. I have definitely embraced the challenge." (Pictured: The Stanner Golf Classic has seen many younger golfers join the outing in recent years)
We encourage our community to congratulate Joe Papavero '04 as the 2016 Chairman in this year's Golf Journal! Sponsorship levels for journal ads are: Gold Page $1000 | Silver Page $750 | Blue Page $500 | White Page $400 | Half Page $200 | Quarter Page $100
Reservations are now being taken for the Stanner Golf Classic! We are also looking for volunteers to fill a number of roles on the day of the outing. For more information on registering to play golf, registering a foursome, purchasing a sponsorship package, sponsoring a journal ad (deadline for journal ads is April 4th), purchasing raffle tickets, making a donation, or volunteering, please contact Matt Rizzotti '04 at mrizzotti@molloyhs.org or (718) 943-3186.
Men's Soccer 40th Anniversary 
When: Saturday, April 16th, 2016 | Alumni Games 2:00pm | Cocktail Reception 6:00pm | Formal Dinner 7:00pm
Where: Archbishop Molloy High School
Who: Men's Soccer Alumni
Contact: Matt Rizzotti '04 | mrizzotti@molloyhs.org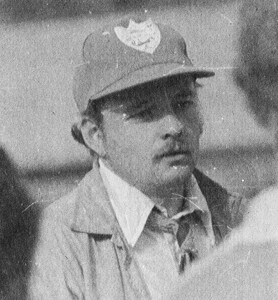 Attention men's soccer alumni! You're invited to join us on Saturday, April 16th as Molloy celebrates 40 years of its historic men's soccer program. Coach Andy Kostel and other members of the coaching staff through the years will be in attendance, and they hope to see you there. We would also like to have alumni representatives from our many championship teams as well! The event will include alumni games (weather permitting, flat shoes only), a cocktail reception, and a formal dinner – all here at Molloy. Reserve your spot today and be a part of this memorable night! Search "Archbishop Molloy Men's Soccer Alumni" on Facebook for more information.
Stanner Players Alumni & Parent Reception 
When: Friday, April 15th | 5:00pm
Where: Archbishop Molloy High School (Library)
Who: Stanner Players Alumni & Parents
Contact: Joe Sommo '03 | jsommo@molloyhs.org
Admission: $25 per person (Includes Food, Beverages & VIP Show Ticket)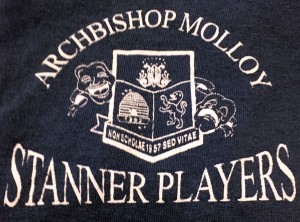 Molloy invites its Stanner Players alumni and parents to a casual reception prior to the start of this year's spring performance of The 25th Annual Putnam County Spelling Bee on Friday, April 15th. Guests will enjoy a reception with food, beverages, and other refreshments as well as the opportunity to catch up and reminisce. Stanner Players Director Ms. Shannon Winters '06 will be in attendance to meet and greet our alumni. The cost of each admission will include a VIP ticket to that evening's performance beginning at 7:00pm. A limited number of reception tickets will be available so don't wait to register!
International Day 
When: Sunday, April 10th | 10:00am – 1:00pm
Where: Archbishop Molloy High School
Who: All members of the Molloy community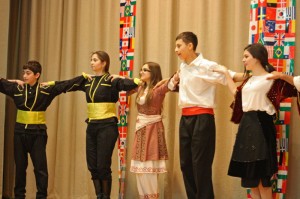 We invite the Molloy community to participate in the return of International Day on Sunday, April 10th. International Day is an opportunity for our students to celebrate their diverse cultural backgrounds through song, dance, and homemade ethnic foods. Performances are scheduled to begin at 10:30am. Food will be served beginning at 11:45am. Tickets are sold at the door and are $10 for adults and $5 for students. Children under age five are free. International Day is a wonderful family event as well as a great occasion to reconnect with your alma mater. We hope to see you!
Larrañaga Named ACC Coach of the Year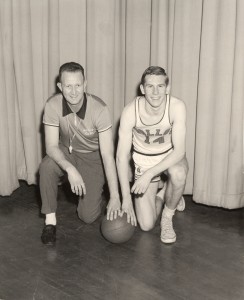 As we enter the "March Madness" season we see a familiar face front and center. Coach Jim Larrañaga '67 (pictured as a Molloy senior with Coach Jack Curran) and his Miami Hurricanes are already in the thick of the NCAA tournament. The number three seed 'Canes beat fourteen seed Buffalo on Thursday, March 17th by a score of 79-72 in the first round of the South Bracket. This after another successful season in the ACC where seventh ranked Miami finished with a record of 24-6 including a 9-0 home record in conference play. In a year that featured huge wins over Louisville, Duke, and Virginia, Larrañaga was rewarded by being named ACC Coach of the Year. It is his second time earning this honor in the past four seasons. Honors aside, Larrañaga and the 'Canes are focused on winning and advancing as far as possible in the tournament. Larrañaga is no stranger to success. The veteran coached underdog George Mason to the Final Four in 2006, which made national headlines at the time. 10 years later, Larrañaga is still making an impact having significantly raised the profile of the Miami Hurricanes basketball program during his tenure as head coach. Best of luck to Coach Larrañaga and Miami as they prepare for their next opponent. More: Larrañga Speaks with CBS Sports
Varsity Basketball Alumnae Making Headlines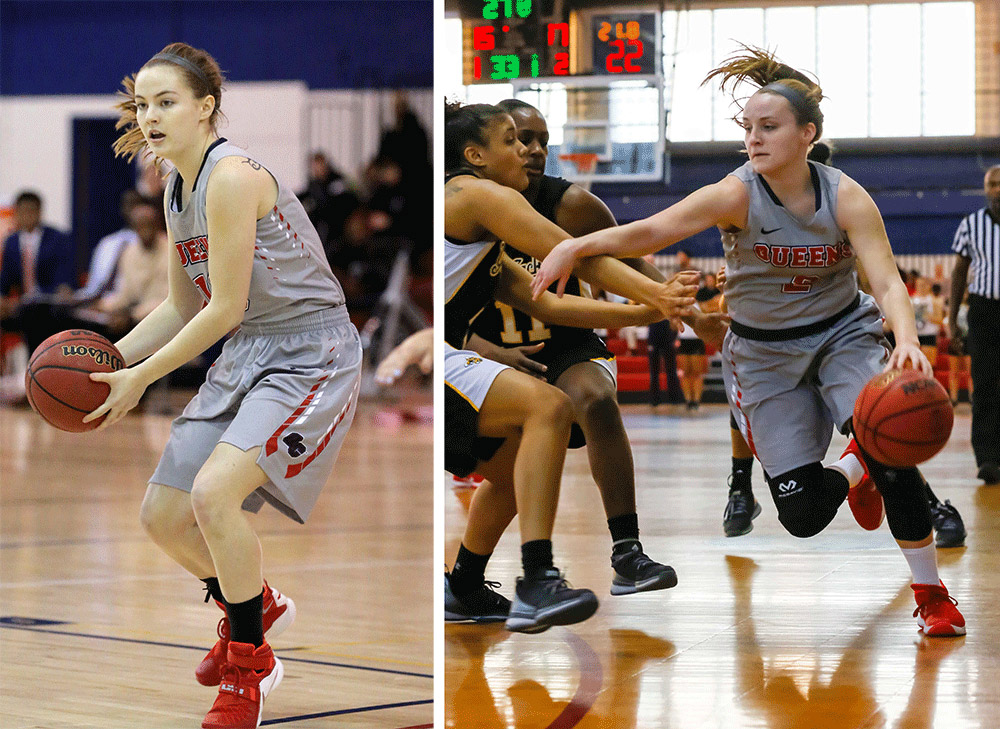 In continuing with our "March Madness" theme, we're proud to report that several of our Varsity basketball alumnae have been establishing themselves as major players this season. College rookies Emer Moloney '15 (pictured left) and Kaitlyn Mahon '15 helped lead the Queens College Knights to the school's second straight East Coast Conference (ECC) Championship. Earning a regular season record of 20-8 (15-5 in the ECC), the second seed Knights topped fourth seed Roberts Wesleyan College 60-54 while staving off a near comeback in a tight fourth quarter. Moloney and Mahon, teammates at Molloy for several years, each posted fine seasons leading up to the ECC title. In 28 games, Moloney logged 43 total rebounds, 35 assists, 20 steals and 87 points. Mahon, named Rookie of the Week on December 14th, also appeared in 28 games and compiled 1,011 minutes, 71 rebounds, 93 assists, 39 steals, and 126 points. In the ECC title game it was Mahon who completed three of four free throws to secure the victory in the final 16 seconds. Both helped cut the net after the big win. The team advanced to the semifinals of the NCAA Division II East Regional. (Photos courtesy of Queens College Athletics)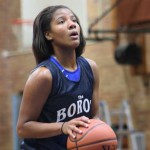 Amani Tatum '13, a sophomore at Manhattan College, was named the Metro Atlantic Athletic Conference (MAAC) Defensive Player of the Year. Tatum was a top Varsity player for Molloy with over 1,000 points on her Stanner resume. Since then, the second year college athlete has supplemented her game with the skills of an elite defender. She ranked ninth in the MAAC with 11.9 points per game and 3.2 assists per game. She had 97 steals, averaging 3.3 per game – good for best in the league. Tatum also had a stellar 74.2 field goal percentage and a 0.9 assist to turnover ratio. She was named the MAAC Player of the Week on January 25th. In addition, Amani earned a spot on the All-MAAC Second Team. (Pictured: Amani taking a free throw while on the Boros All-Star Team during her Molloy days)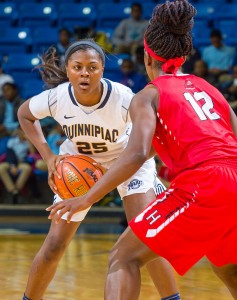 You may have noticed the name Aryn McClure '15 popping up quite a bit this year in our "Stanners in the News" feature. That's because the 5'11" rookie guard/forward has been nothing short of a sensation for the Quinnipiac Bobcats. In October she was named by College Sports Madness as the MAAC Women's Basketball Preseason Freshman of the Year. This was due in part to her standing as the highest ranked overall prospect Quinnipiac has ever recruited. It wouldn't take long for her to live up to the hype. On February 15th she was named MAAC Rookie of the Week – her fourth time receiving this honor and the most for any player in the league during the 2015-16 season. A day later, McClure was honored as the Women's National Freshman of the Week by the U.S. Basketball Writers Association. This marks the first time in Quinnipiac history that a Bobcat has taken home four MAAC Rookie of the Week honors in addition to any national Rookie of the Week honor, and the first time a player from a mid-major conference has earned a national weekly honor.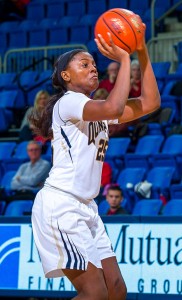 McClure wasn't done at national honors. She was among several players to receive MAAC All-Conference Recognition and a spot on both the MAAC Third Team and the All-Rookie Team. McClure was later named MAAC Rookie of the Year for her outstanding play. She is just the second player in Quinnipiac history to earn conference Rookie of the Year honors. In 32 regular season games, McClure amassed 25.3 minutes per game, 8.4 points per game, a .460 field goal percentage, a .571 free throw percentage, 6.8 rebounds per game, 1.9 assists per game, 1.2 steals per game, and 1.5 blocks per game. In several articles published by Quinnipiac, McClure credited her senior teammates with helping her to prepare for games and play with more confidence each time out. It's clear that their guidance paid off, as together they earned the #1 seed in the conference and the opportunity to defend the MAAC title. Quinnipiac faces Maine in the first round of the Women's National Invitation Tournament (WNIT) tonight, March 18th. (Photos courtesy of Quinnipiac Athletics)
We extend our congratulations to Emer, Kaitlyn, Amani, and Aryn on their outstanding play this year and best wishes for continued success.
Press Sources: All Conference Recognition | Fourth Rookie of the Week | No. 1 Seed | ECC Champs | Defensive Player of the Year | MAAC Rookie of the Year | Quinnipiac Teamwork
Prayers for Mr. Smith
We ask that the Molloy community please pray for Mr. Joe Smith. The retired teacher, who taught at Molloy for nearly 40 years, has been dealing with an extended period of health complications. On behalf of the administration, faculty, staff, and students at Molloy we send our best to Mr. Smith.
Around the School
Student Spotlight: Juliana Giacone Performs with Carnegie Hall

A Molloy freshman recently answered the timeless question "How do you get to Carnegie Hall?" Juliana Giacone '19 performed among a group of over 150 talented choral vocalists from over 26 high schools in a Carnegie Hall production of West Side Story. The show was hosted by The Knockdown Center. "Ever since elementary school I've always been very involved in chorus singing. I've also had some opportunities to perform solos," explained Juliana. "My elementary chorus teacher inspired me to seek out new music opportunities outside of school, so I enrolled in the Summer Arts Institute to learn and get more performing experience."
It was Juliana's elementary chorus teacher, her instructors at the Institute, and Molloy's freshman chorus teacher Ms. Ya Ting Yang who shared news of the opportunity with Carnegie Hall. Since it was a Carnegie Hall production, many of the performers were chosen directly from Carnegie's own Weill Music Institute. "I had to audition as someone with no connection to Carnegie Hall," said Juliana. "The audition process was stressful because there were a lot of good singers and I knew a lot of spots would already be filled. I chose to sing Somewhere Over the Rainbow, which is a typical audition song, but it shows off your vocal range. I also chose On My Own from Les Misérables because you can show your emotion and make it your own." Juliana's audition went well and she was selected to join the chorus for the three planned performances March 4th-6th. The show included leads Skyler Astin of Pitch Perfect fame and Mexican theatre and television actress Bianca Marroquín.
"I was very proud to get picked and happy that I had the opportunity to work with so many amazing singers and directors. The experience inspired me to seek out similar opportunities in the future. It was hard at first to balance the demands of the show with school work because of the hours involved, but it was definitely worth it in the end." It is Ms. Yang's hope that that Juliana's participation in the production of West Side Story will open the door for other Stanners to enjoy opportunities with Carnegie Hall in the future. (Photos courtesy of Juliana Giacone '19)
Marist News

Mount St. Michael Dinner
Our friends at fellow Marist school Mount St. Michael Academy in the Bronx have planned a fundraising dinner event on Saturday, April 30th. The event will feature music, a cocktail hour, dinner, door prizes, and a 50/50 raffle. The Mount, like Molloy, assists many families through its scholarship program, and in turn funds raised through this event will impact more Marist families. More details are available via the links above.

Over 30 from Class of 1993 Reunite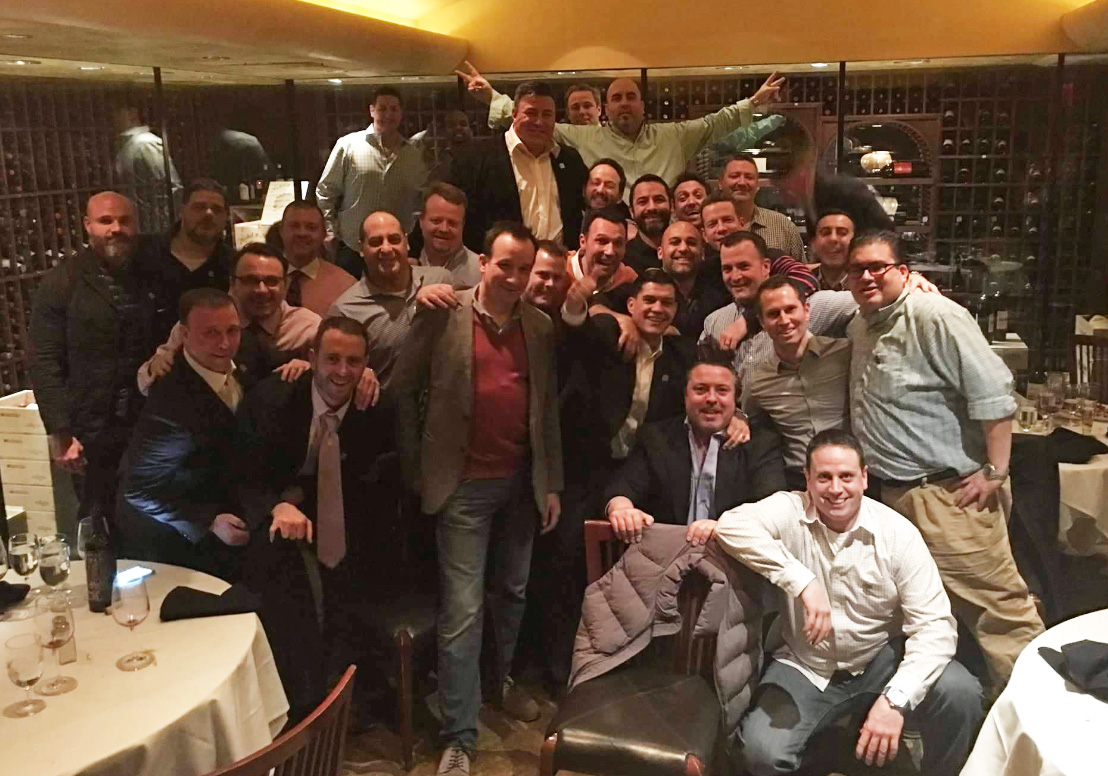 The Stanner Alumni Center was very excited last week to see a large contingent of Molloy's Class of 1993 come together for a reunion. After weeks of coordinating schedules, over 30 alumni gathered at Del Frisco's Steakhouse in Manhattan on March 1st. They came from all points of the tri-state area and as far as Washington DC for the occasion. "It was a special night celebrating the decades of friendship that the 'boys of '93' have built here on Manton Street," said Craig Katinas '93, Molloy's Development Director. "Awesome night fellas. So great to see everyone," shared Daniel DeSpigna '93 the following day. Jim Henning '93 agreed, adding "Let's not make it so long between reunions!" The group plans to continue this gathering as an annual tradition, and they hope to have other classmates join them at their next dinner in 2017 as well as their 25th anniversary reunion in November 2018. Special thanks to Sean Kane '93 for coordinating this reunion. If you'd like information about future gatherings please contact Craig at ckatinas@molloyhs.org.
Here's a shout out to everyone in the photos above: Adam Lipsky, Alex Mejia, Billy Killackey, Brendan Sheil, Brian Karpinski, Carl Gandolfo, Cesar Trelles, Chris Monteleone, Craig Katinas, Dan DiSpigna, Frank Rubino, James Benson, Jim Henning, Jim McLoughlin, Joe Reznick, Joe Vaughn, John Flynn, Joseph Manzi, JP Zaptin, Kevin Clark, Mathew McEnteggart, Mike Egan, Peter Morabito, Sean Guinan, Sean Kane, Shandue McNeil, Steve Lubomski, Tim Gorton, Tony Sardinas, and Will Kunkel.
Class Updates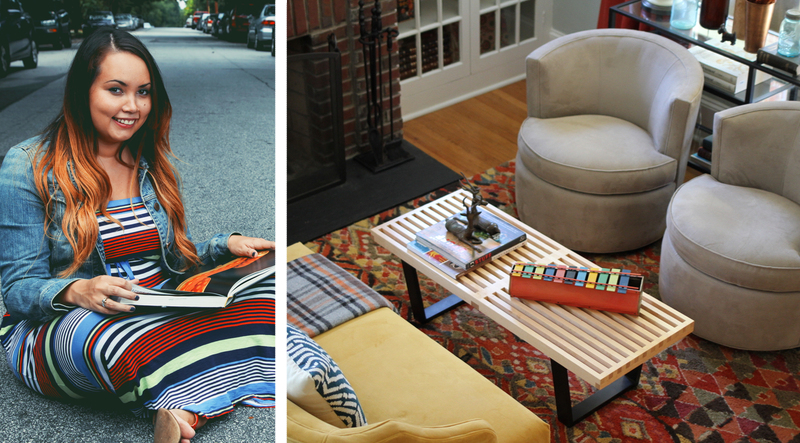 Jo Torrijos '04 is a designer, stylist, painter, event planner, and foodie based in Atlanta, Georgia. With a creative eye and good taste in mind, Jo knows just how to turn an empty space into a stunning, attention grabbing, and functional room. "Design is more than just about filling a space with furniture and objects. I relate to spaces in the same way I see music. Musicians and designers are storytellers: each piece in a room behaves like a note; separate and unique – or sometimes a bit funky – in their own right, but when grouped together begin to have a conversation with one another that makes something beautiful," says Jo via her website, www.asimplerdesign.com. Jo works with all types of clients to create memorable spaces that are more than just "one note". Her work has garnered plenty of attention in the greater Atlanta area, including a January feature in the Atlanta Journal-Constitution that highlighted her talents. The AJC toured Jo's Virginia-Highland Craftsman home, which she has since used as her own personal canvas while designing and styling every inch from top to bottom. Check out Jo's website for samples of her work, information about services, and her blog that features loads of helpful information and beautiful photography. (Photos courtesy of Jo Torrijos '04)
Philip Adesso '90 recently joined E*TRADE Financial Corp as Managing Director, Head of Market Data Services and Content Strategy. In this role he is responsible for the analysis and ultimate procurement of the content that is used within E*TRADE's downstream client facing platforms.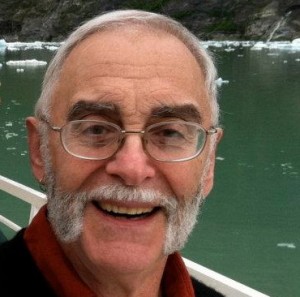 William Fregosi '62 retired from MIT in June of 2007 after 32 years as Technical Coordinator for the Institute's Department of Music and Theater Arts. He continued to design theater and opera productions until 2014 when he closed his 52 year freelance practice that had also included TV sets, exhibits, and special events including the 1979 visit of Pope John Paul II to Boston, and the opening of the John F. Kennedy Presidential Library. He now lectures on topics in opera and has been elected President of the Board of Trustees of Monadnock Music and its summer Festival in Peterborough, NH. He returned to Molloy several years ago, taking part in a Career Day event as a resource for students considering entering the performing arts and was delighted to find the school had added a theater, film courses, and had welcomed female students.


It is with sadness we share the March 13th passing of Matthew Tedeschi '89, brother of Frank Tedeschi '83. The wake for Matthew is being held tonight from 7:00pm-9:30pm at Frederick J. Chapey & Sons Funeral Home (20 Hicksville Road, Bethpage, NY 11714, 516.731.5600). We ask that our Stanner family please pray for Matthew and the Tedeschi family during this difficult time.

We are saddened to share the passing of Marcella Henriquez, mother of Jorge Lazarus '74. Marcella passed away on February 20th after battling long illnesses and other recent health complications. She was 88 years old. Jorge asks for prayers from the Stanner community during his family's time of mourning.