Stanner Reunion Welcomes Over 500 Alumni & Guests Back to Molloy for Memorable Night
by Joe Sommo '03
Molloy was truly blessed on Saturday, November 5th to welcome 500 alumni and guests to the Stanner Alumni Reunion. This year's reunion served the Classes of 1961, 1966, 1971, 1976, 1979 (special invite), 1981, 1986, 1991, 1996, 2001, 2006, and 2011! Six decades of Stanners were represented that night, including some who had not been back to their alma mater in 50 years. Alumni also traveled great distances to attend, including from Massachusetts, Pennsylvania, Virginia, North Carolina, Texas, Utah, California, Florida, Washington, London, and even Poland!
The Stanner Alumni Center congratulates the Class of 1966 on their Golden 50th Anniversary as well as the Class of 1991 on their Silver 25th Anniversary. We also thank Manny Velez '79 for organizing the Class of 1979 on an off year in order to celebrate their 55th birthday's together here at Molloy. The Classes of 1981 and 1986 were very well represented, while the Classes of 2006 and 2011 enjoyed perhaps the largest turnouts.
Special congratulatio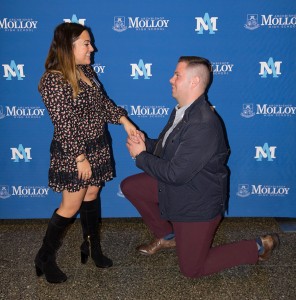 ns also go out to Robert Browne '06 and Nicole Savva '06. The Stanner couple were engaged the previous night on November 4th, and decided to reenact their engagement for their classmates during their reunion.
We also thank those who joined us for our Mass of Remembrance, during which we remembered classmates, teachers, and friends who have recently passed. It is fitting to remember them on this night, as gathering together and renewing our bonds is a great tribute to their Stanner Spirit.
Next year's reunion is already in the planning phases, as class years ending in 2 and 7 will be invited back to Molloy to celebrate.  The tentative date is Saturday, November 4th, 2017, so mark your calendars now! In the meantime, take a look at class photos below, or click the button below for the full photo gallery on Facebook. (Photos by Katie Giustiniani '12, Frank Bailey '75, and Joe Sommo '03).

DC Alumni Reception / Gonzaga Classic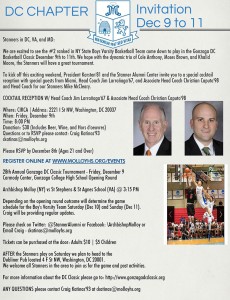 Attention Stanners in DC, Virginia, and Maryland! Join us for a special alumni reception at CIRCA on Friday, December 9th, as well as for the 28th Annual Gonzaga DC Classic Tournament featuring Molloy's on Boys Varsity Basketball Team! A full weekend of basketball and alumni activities is in the works, and we'd love to have you in attendance. Molloy is also one of the early favorites to win the tournament this year behind stars Moses Brown '18, Cole Anthony '19, and Khalid Moore '18. Reception tickets can be purchased via the link above. For tickets to the tournament, please contact Alumni Development Director Craig Katinas '93 for more info. Additional details can be found be clicking the flyer to the right.
One other special note: we expect Miami Hurricanes Head Coach Jim Larrañaga '67 and Associate Head Coach Christian Caputo '98 to attend the reception at CIRCA. So come on out, reconnect, and hang out with some Molloy All-Stars!
Stanners Work to Strengthen Alumnae Community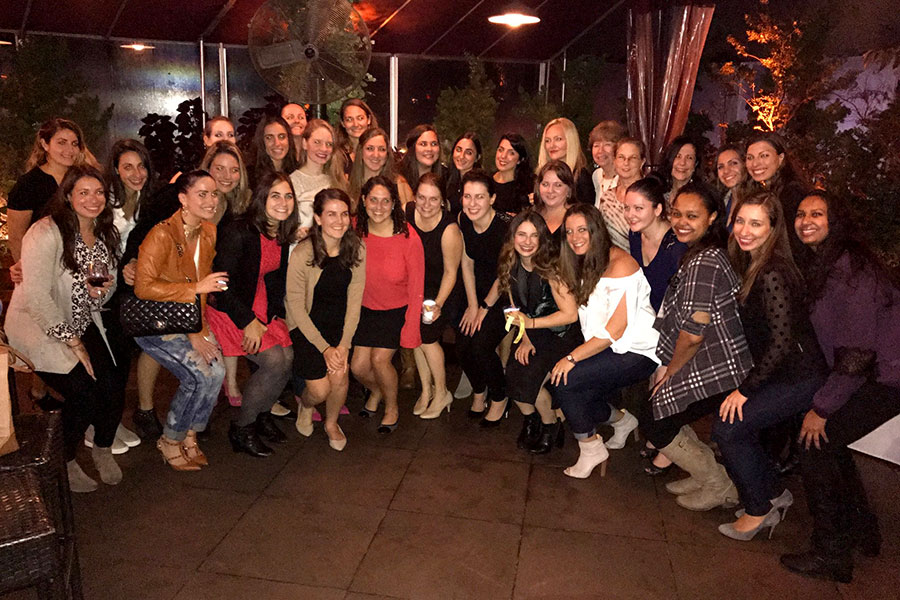 Earlier this fall, alumnae and faculty gathered for what was one of the largest and most successful events serving the women of Molloy in recent memory. The event took place at Il Bacco of Little Neck; a private rooftop celebration for the trailblazing Stanners who represent over a decade of coeducation. Everyone knows, of course, that St. Ann's/Molloy only educated young men for 108 years. This fact, however, makes the academic, athletic, and professional successes of our students and alumnae all the more important. Since 2004, 19 of Molloy's 26 total valedictorians and salutatorians have been women. Out of 13 valedictorians since 2004, 10 have been women. Combined with dozens of championships and numerous undefeated seasons across a variety of sports, it's easy to see that the standard of excellence set by our first few coed classes has not only been met, but has been elevated by every class since. After graduation, our alumnae have gone on to represent Molloy at top universities and in positions of leadership in businesses across the globe. Indeed, our alumnae community has much to celebrate.
The event at Il Bacco was planned and realized thanks to the efforts of four motivated Stanners: Keri Jetter '04, Carissa (Peluso) Jordan '04, Jessica McEntee '05, and Christina (Del Maestro) Rizzotti '04. All have wonderful track records as alumnae volunteers, which makes the success of their fall event come as no surprise. "We had a very solid turnout," said Jessica. "It was great to see so many alumnae together in one place, sharing memories and reconnecting. It only reinforced how special Molloy is to all of us. We are looking forward to building on this event and inviting more alumnae to be a part of this community." Carissa echoed Jessica's comments. "The event was a huge success. Everyone was talking and laughing as if no time had passed since we walked the halls of Molloy. It was such a great way for us to catch up and network in a very fun atmosphere."
When asked for comment, Christina was quick to thank other individuals who had a hand in the event's success. "We were honored to have our teachers and coaches, like Maureen Rosenbaum, MaryAnn Safrey, and Kathy Forgione, and alumnae from several class years in attendance. We would also like to acknowledge the immense generosity of Nicole Xouris '04 (of Nicole Rose Salon) and John Naccarelli '03 (of Andrea's 25) who contributed to the success of the evening by donating raffle prizes."
Asked why this effort was important to her, Keri spoke sincerely. "Molloy always has been and always will be a tradition; a second home. We've seen how tight the alumni community is for the years prior to the arrival of women. Now we want to make sure that tradition continues for all of the women that attend our great school. It is important for all of us to come together to help and build a foundation now for the future."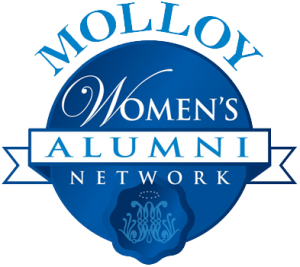 "On behalf of the Stanner Alumni Center, I would like to extend my sincerest thanks to Keri, Carissa, Jessica, and Christina for their hard work, and to all of the alumnae and faculty who attended the event," said President Richard Karsten '81. It is important to remember, however, that anyone can get involved. There is currently a Facebook group open to all of the women of Molloy. Please consider searching for and joining this growing community. You'll be able to share your thoughts and ideas for future events, as well as your memories of Stanner High. Our Women's Alumnae Professional Network is also available to join on LinkedIn (click buttons above). We encourage you to also keep reading The Beehive to stay informed about future events serving our alumnae and greater alumni community.
Alumni Finish Strong at Van Cortlandt Park Race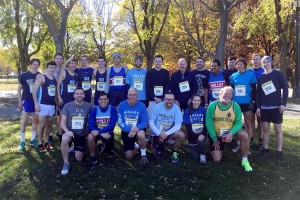 SEE FULL RACE RESULTS | Congratulations to our alumni and faculty who competed in this year's alumni race, held at the Varsity City Championships at Van Cortlandt Park on November 12th. Molloy alumni finished 2nd out of 11 represented schools with an average time of 14:32.51 and a score of 32. This result tops last year's third place finish. Tyler Bay '11 was Molloy's top performer, finishing 5th overall (out of 86 runners) with a time of 13:51.7. Rounding out Molloy's top five runners on the day were Michael Reddy '16 (10th Place, 14:25.6), Patrick Goldberg '13 (20th Place, 15:20.4), Alex Goldberg '16 (22nd Place, 16:09:0), and Andrew Garabito '16 (23rd Place, 16:14.1). In all Molloy was represented by 23 runners, including teachers/coaches Mr. Frank Gambino '74 and Mr. Joe Dombrowski (Holy Cross, Class of 1974). With such a great turnout this year (eight more runners than in 2015!) we have high hopes for next year's race! We encourage more alumni to consider being a part of future races, so be sure to look out for announcements in the Beehive next fall, or contact Mr. Gambino to express interest.
Around the School
The Stanner Players Present: Pygmalion
The Stanner Players are ready to perform for you once again, this time in Pygmalion, also known in other iterations as My Fair Lady. In this play by George Bernard Shaw, Professor Henry Higgins has made a bet that he can turn flower girl Eliza Doolittle into a Duchess that will attend an upscale garden party. Will he win his bet, or will Eliza stand in his way? Attend any one of three performances here at Molloy this weekend to find out. Tickets can be purchased via the above link. More information is available by emailing stannerplayers@gmail.com.
Molloy Celebrates 23rd Annual Walkathon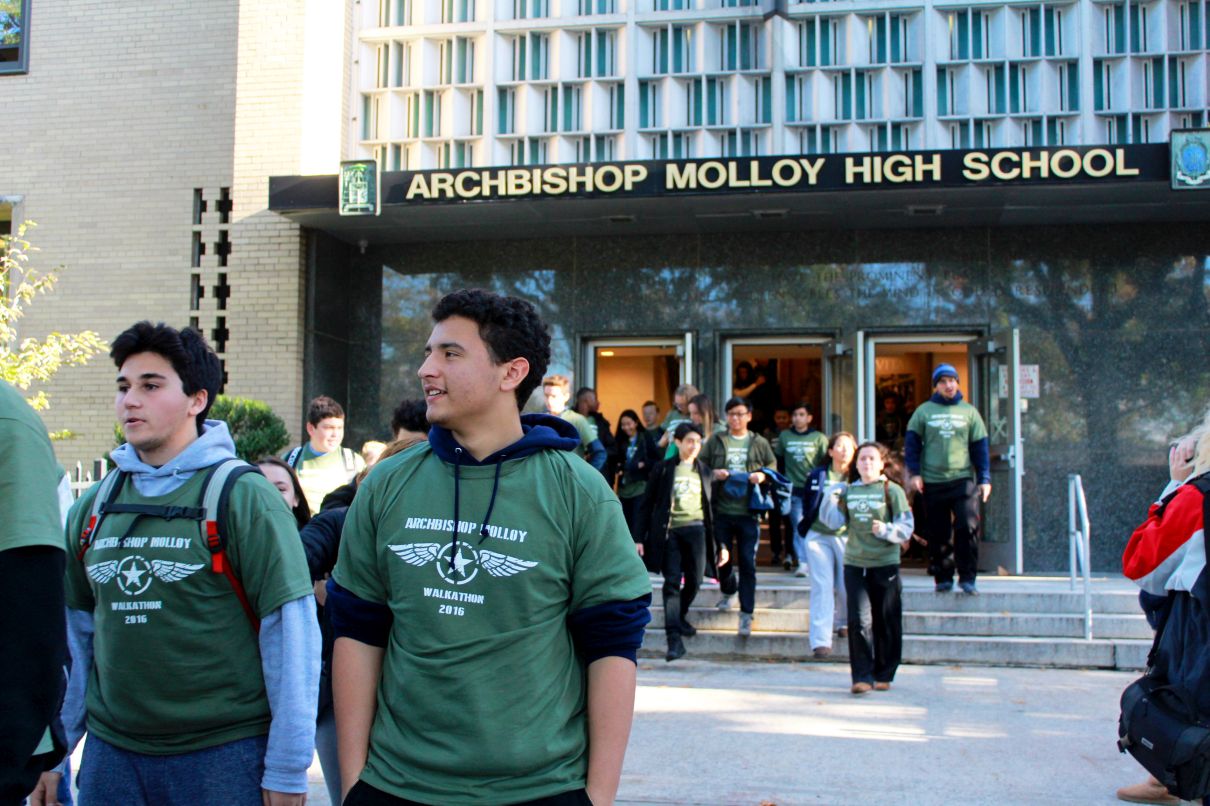 On October 28th, Stanners took to the streets of Briarwood on a perfect fall day to celebrate Molloy's 23rd Annual Walkathon. This year's modified two lap route started on Manton Street, proceeded across a new nearby footbridge, paced northwest toward the Grand Central Parkway, and zigzagged up local streets before winding up back at Molloy. Seniors could choose between the Walkathon, Zumba, the Tournathon, or the walk to the World Trade Center (in honor of Br. Leo Richard's famous walks).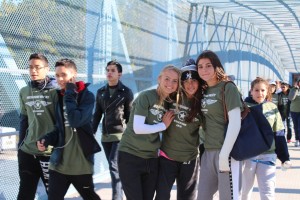 Each year, this student-driven fundraiser helps address important needs around our school. Recent past Walkathons have funded renovations or upgrades to our theater equipment, cafeteria, chapel, Jack Curran Gymnasium, lockers, main entrance and lobby, and exterior doors. We are pleased to announce that funds raised by students and parents in support of this year's Walkathon will be used to replace all of the tables in the cafeteria as well as to establish Molloy's first broadcast studio. The studio will be designed to give students the tools they need to create more film and multimedia projects. "The great thing about the Walkathon is students and their parents really see the impact of their donations," said President Richard Karsten '81. "When students came back in September they saw a beautiful new main entrance with many updated security features. Supporting the Walkathon is crucial for Molloy to continue to thrive, and with that in mind we are very grateful for the charity of our students and their parents."
Special thanks to Ms. Liz Murdocca, our faculty and staff, Mr. Glenn DaGrossa for designing this year's shirts, and to the local 107 police precinct for directing traffic. Check out our photo gallery below or our full gallery on Facebook (featuring photos from our Photography Club).

Fall Sports: Season in Review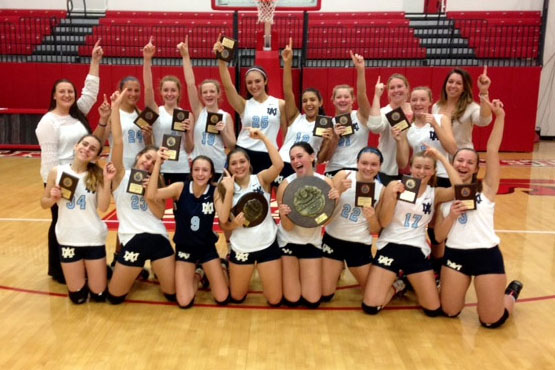 Stanner athletes turned out a fantastic fall season, capped off by no less than 6 championship teams! We start with girls JV volleyball (pictured above), who captured the Brooklyn/Queens and City Championships during an incredible undefeated season! They also claimed the Minisink (NY) Tournament Championship. It's safe to say they produced one of the finest seasons in Molloy sports history. In Soccer, our boys JV team were crowned both Brooklyn/Queens and City Champions, while our girls JV team played their way all the way to the NSCHSAA "A" Division Championship (and secured it with a 4-0 victory over SFP). In Cross Country, three teams paced their way to titles, including the freshman boys and sophomore girls teams who were both crowned Brooklyn/Queens Champions. The sophomore girls XC team added one more rather notable achievement to their season: NYC Champions! Congratulations to our coaches and these incredible teams for their competitiveness, drive, and championship play. (Below clockwise: Boys JV Soccer, Girls JV Soccer, Varsity Tennis, Sophomore XC)
There were many other excellent results in Stanner sports this fall. Boys Varsity soccer reached the semifinals of the City Playoffs, while girls Varsity soccer placed 5th in the NSCHSAA "A" Division. Our Varsity volleyball team reached the semifinals of the B/Q Diocesan Playoffs. In Tennis, our girls Varsity squad reached the finals of the B/Q playoffs.
In swimming, our girls Varsity team has picked up right where it has left off for several years now: undefeated. All freshmen team members medaled in the Freshmen Invitational, and at 5-0 overall they are in the heat of another strong season and looking toward adding even more hardware to an already highly decorated program. While the boys freshman swimming team is looking to rebound at 1-5, the boys Varsity team has just begun their season and have high hopes for success.
Other notable performances: James Loeffel '19 is a B/Q Varsity Champ (4th in Sophomore Intersectionals). Matisse Barreira '20 is a B/Q Freshman Champ (4th in Freshman Intersectionals). In track: Boys sophomore track finished 3rd in B/Q and 5th in Intersectionals. Freshman Girls finished 3rd in B/Q and 9th in Intersectionals. Varsity boys finished 2nd in B/Q, while Varsity girls also finished 2nd in B/Q.
Congratulations to all of our athletes and coaches on your outstanding performances!
Other Upcoming Events
Thanksgiving Liturgy & Alumni Reception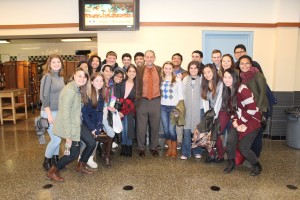 Alumni, family members, and friends are once again invited to join us for a great tradition at Molloy as we celebrate our annual Thanksgiving Liturgy. This is a wonderful opportunity to pause, reflect, and be thankful as we prepare to enter the Christmas season, and we are excited to share it with our community. Alumni and guests are encouraged to arrive by 10:00am (but no earlier please) to allow enough time to get acclimated and be seated. Please enter through the cafeteria doors. Mass will begin promptly at 10:45am. Following Mass, an alumni reception featuring hot cocoa and chocolate chip cookies will be held in the student cafeteria. For more information please email the Stanner Alumni Center. (Pictured: Mr. Sheehan with alumni at our 2015 Alumni Reception)
Br. Ron Marcellin Scholarship Dinner – REGISTER NOW!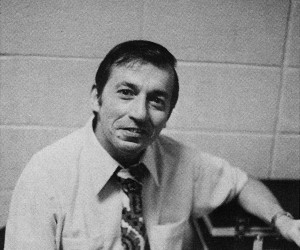 Archbishop Molloy High School is pleased to invite you to the Br. Ron Marcellin Scholarship Dinner on Sunday, January 15th, 2017. This dinner, which is hosted by our friends at Trinity Bar & Restaurant in Floral Park, pays tribute to the memory of Br. Ron Marcellin, one of the most caring and influential figures in Molloy's history. The Br. Ronald Marcellin committee has hosted this event annually to raise money to help future Stanners in Br. Ron's name. Funds raised by this event directly benefit students and families in need.
A 50/50 raffle and live auction will be among the festivities while dinner, beverages, and great company are also included. The 50/50 raffle tickets will be available for purchase during the event or in advance by emailing ckatinas@molloyhs.org. Please spread the word to your classmates!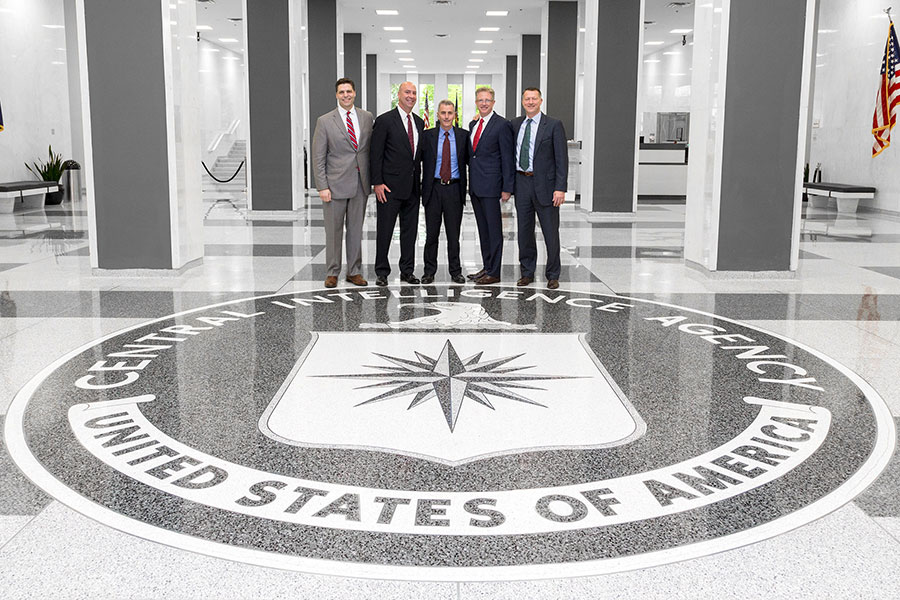 Kevin Dehler '82 shared the following news from earlier this year. Back in April, he joined classmates Paul Foschi '82, Brian O'Connor '82, JC Coffey '82, and John Mangan '82 in Langley, Virginia for a very special occasion. Brian was honored with the Career Intelligence Medal from the CIA! "We were so privileged to be there, and were given a tour of the CIA Museum. What an incredible experience," recalled Kevin. The Stanner Alumni Center extends our sincerest congratulations to Brian O'Connor on this amazing achievement.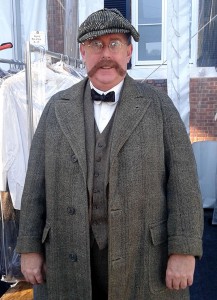 Paul Galbraith '74 is back in the spotlight. The Hudson Valley-based actor recently appeared in Before Mars, a Nat Geo prequel to Ron Howard's Mars series. Filming took place in Ellenville, New York. Paul played the role of a school teacher who, as he put it, "is monitoring everywhere" in the background of the scene. You'll see what he means in this video from the 6 to 7 minute mark. Paul also wrapped up filming for a new show, Time After Time, coming to ABC in 2017. Paul will appear in the series' fifth episode. He portrays a 1918 War Patron (pictured) in scenes that filmed at the historic Bartow-Pell Mansion and Carriage House in the Bronx.
We all know that service and putting the needs of others before our own are pillars of the Marist mission. In this way, Christopher Morse '80 and family are certainly following in the footsteps of Champagnat. Since the summer, the Morse family has been working with New Horizons for Children, a non-profit Christian Orphan Hosting Agency, which serves orphan children ages 6-16 from Latvia and Ukraine. The Morses hosted one child in need, Danny, over the summer. "He is such a great kid and fit in so well with our family and friends," said Chris. "He was even the unofficial team coach of our youngest daughter's championship softball team." The Morse family has since been approved to host another child for the Christmas season.
Vincent "Red" Clausen '70 sent us a quick note to let us know that he recently bumped into a fellow Stanner, LTC. Frank Novak '62, while on vacation. Most notable about the encounter: they were off the coast of Portugal at the time!


We are saddened by the sudden passing of George Cunningham '89 on November 16th. Please keep George and his family in your prayers.

Please pray for the repose of the soul of Ann McKnight, mother of Br. James McKnight '60, Thomas McKnight '64, Daniel McKnight '70, and Francis McKnight '75.

We are saddened to share the passing of Kathleen Knerr McFarland, wife of Thomas McFarland '64. Please keep Kathleen and the McFarland family in your prayers.

Please pray for the repose of the soul of Maria Dilluvio, mother of freshman Jack Dilluvio '20.

We remember Deirdre Voccola, wife of John Voccola '83. Please keep Deirdre and the Voccola family in your prayers.