On behalf of the students, faculty and staff at Molloy, we would like to take a moment to sincerely thank the Stanner community for the love and support you showed our alma mater during #GivingTuesday on November 29th. When we announced that an anonymous benefactor had agreed to match every gift made to The Fund For Molloy that day by half, you immediately answered the call. As a result of your charity, we are excited to announce that you raised over $43,000 in just one day! This sum includes gifts made to The Fund For Molloy and several of our Named Scholarships, as well as the gift match by our anonymous benefactor. What an incredible act of kindness by our community! Great work, Stanners!
If you missed your opportunity to make a gift on Giving Tuesday, you can still do so for tax purposes by December 31st. And of course, you are always welcome to support the wonderful learning environment Molloy provides. Your philanthropy directly enhances the programs and opportunities available to our students, as well as helps Molloy to continually shape its campus to reflect the demands of a modern education. On Giving Tuesday, and everyday, the impact you make is incredible.
Once again, from the bottom of our hearts, thank you for your generosity. We look forward to seeing you here at Molloy in the coming weeks and months for any one of our great events, and if you can't make it here, we promise to continue delivering Molloy to you every two weeks through The Beehive.
One more note. On Giving Tuesday we published several videos featuring members of our Class of 2016. Laksumi Silvanandan, Brendan Woods, and Emily Peckham were gracious enough to share their Stanner Stories before they graduated last June. Hear them now if you haven't yet!
Non scholae sed vitae,
Joe Sommo '03 | Alumni Communications Director


Upcoming Events
DC Alumni Reception / Gonzaga Classic – NEXT WEEK!
When: December 9th – 11th
Where: Gonzaga HS / American Univ. / Reception at CIRCA
Reception Tickets: $30 per person (Ages 21+)
Tournament Tickets: Contact Craig Katinas '93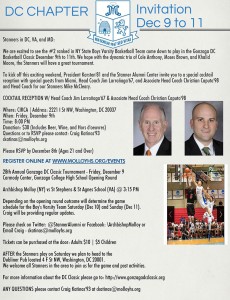 Attention Stanners in DC, Virginia, and Maryland! Join us for a special alumni reception at CIRCA next week on Friday, December 9th, as well as for the 28th Annual Gonzaga DC Classic Tournament featuring Molloy's own Boys Varsity Basketball Team! A full weekend of basketball and alumni activities is planned. Molloy is also one of the early favorites to win the tournament this year behind budding stars Moses Brown '18, Cole Anthony '19, and Khalid Moore '18. We would love to have a big alumni cheering section!
Reception tickets can be purchased using the link above. For tickets to the tournament, please contact Alumni Development Director Craig Katinas '93 (see above). Additional details can be found be clicking the flyer to the right.
One other special note: we expect Miami Hurricanes Head Coach Jim Larrañaga '67 and Associate Head Coach Christian Caputo '98 to attend the reception at CIRCA. So come out, reconnect, and hang out with some Molloy All-Stars!
Br. Ron Marcellin Scholarship Dinner
When: Sunday, January 15th, 8:00pm – 10:00pm
Raffle: 50/50 raffles available for purchase during event
Admission: $40 donation per person (online or at the door)
Contact: Craig Katinas '93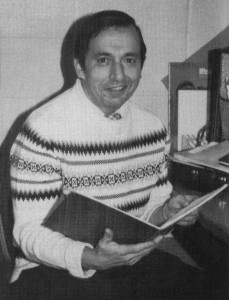 Molloy is pleased to invite you to the first event of the new year, our annual Br. Ron Marcellin Scholarship Dinner on Sunday, January 15th, 2017. This dinner, which is hosted by Mike McGuire '81 and our friends at Trinity Bar & Restaurant in Floral Park, pays tribute to the memory of Br. Ron Marcellin '52, a beloved Marist Brother remembered for his affection for music, his passion for teaching, and the way he counseled each student with the same selflessness and care. The Br. Ronald Marcellin Committee, which includes many dedicated alumni, has organized this event annually for many years with the goal of raising money to help future Stanners in Br. Ron's name. Funds raised by this event directly and significantly benefit students and families in need.
A 50/50 raffle and live auction will be among the festivities while dinner, beverages, and great company are also included. The 50/50 raffle tickets will be available for purchase during the event or in advance by emailing ckatinas@molloyhs.org. Please spread the word to your classmates and join us on January 15th.
Stanners Give Thanks at Annual Liturgy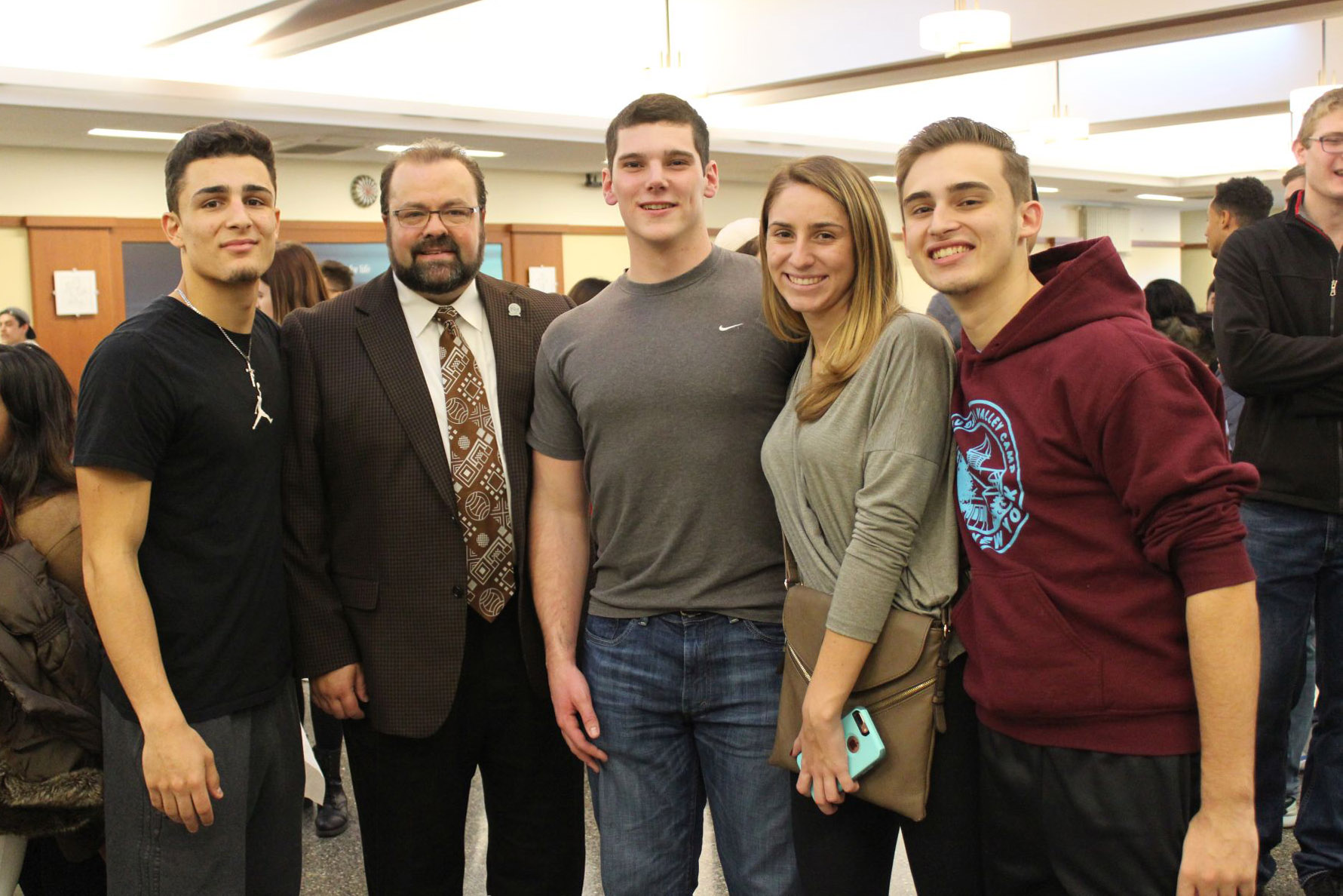 We celebrated a wonderful Thanksgiving Liturgy on November 23rd with our students and faculty, an event made even more special by the presence of over 100 alumni. The Molloy community came together to give thanks, to reflect, and to pray for one another. A unique moment toward the end of the Liturgy saw the faculty and staff of Molloy gather around the altar to sing the Salve Regina in unison. It was a heartwarming moment that served as a beautiful lead in to our alumni reception afterward, where teachers and our graduates spent time catching up. Speaking of giving thanks, we would like to thank Campus Ministry, Mr. Mike Germano '93 and the Eucharistic Ministers, for organizing the Liturgy. We would also like to thank CulinArt food services for providing the delicious cookies and hot cocoa for our reception. Thank you to our faculty for accommodating our alumni, and thank you to our alumni for spending part of your homecoming weekend with us. Remember, you are always welcome home. Non scholae sed vitae! (Photos by Ms. Sawyer, Mr. Sommo, & Photography Club members John Guaman '20, Guitry Germain '18, & Daniel Ramirez-Mendez '20)

Come See Our Christmas Concert!
Junior/Senior Chorus: Dec. 12th, 7:00pm
Freshman/Soph Chorus & Band: Dec. 13th, 7:00pm
Where: Jack Curran Gymnasium
Tickets: Students $5 | Parents $7
Tickets for sale in advance in our General Office or at the door the night of
Alumni, family members, and friends are invited to join us on Monday, December 12th and Tuesday, December 13th at 7:00pm for our 2016 Christmas Concert series. Hear a diverse mix of contemporary and classic, famous and lesser known Christmas songs as performed by our very own Junior/Senior Chorus, Freshman/Sophomore Chorus, and School Band. Our singers and musicians have been practicing hard, and they are ready to put their talents on display for our community! Want to hear a sample? Check out the video below, produced by photographer/videographer and friend of Molloy Michelle Kawka. The video features sights and sounds from our Junior/Senior Christmas Concert in December 2015.
Around the School
Download Molloy's Winter Sports Schedule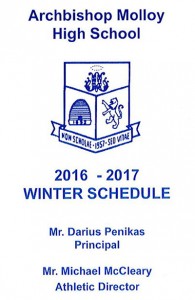 Looking to visit Molloy in the coming winter months? Attending a sporting event is a great opportunity to come out to Briarwood and cheer on our teams! Our girls and boys basketball teams at all levels have either just begun or are about to begin their seasons. Indoor Track season begins tomorrow, December 3rd, while the boys and girls Varsity swimming teams have been underway since October. Though the swimming and track meets are held off site, our PDF schedule will help you follow our swimmers and runners on the road through January. Home and road dates for our basketball teams are all listed by team, including Freshman, JV, Varsity "B", and Varsity.
Of note, Molloy will host a special Alumni Night on February 3rd as our boys Varsity basketball team takes on St. Francis Prep. More information about this event will be published soon. In the meantime, please circle February 3rd on your calendar. The game is expected to be a sellout so signing up early will be key! We wish all of our athletes a safe, competitive, and successful winter season. Go Molloy!
Students Travel to Vermont for College Tour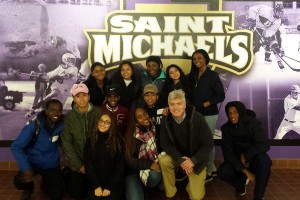 12 students recently set out on an informative trip up to St. Michael's College in Colchester, Vermont. They learned all about life at St. Michael's by touring the campus and speaking with school representatives. They also met up with alumna Keyana Smith '16, a scholarship recipient, who was kind enough to share her early impressions of the school. Keyana noted that her experience has been great during her first semester, and that she is doing well in her classes. She is doing particularly well in physics and English, and credits her teachers at Molloy, Mr. Chong and Mr. Sheehan, for preparing her for the challenge. "It was nice to see Keyana doing so well and to hear the positive effect our faculty had on her. That is important as our Stanners go out and take on the world," said counselor Mr. Ted McGuinness '81. Other alumni currently attending St. Michael's include Kathleen Gribbons '14, Alison Vergara '15, and Robert Dittus '16.
Molloy College Pays a Visit to Stanner High
Our seniors recently enjoyed a special visit by representatives from Molloy College. Mr. Stephen Bier, Associate Dean, Division of Business, and Ms. Andrea Barone, Assistant to the Dean, shared an informative presentation with a lens on Molloy College's well-rounded Business Program. Mr. Bier and Ms. Barone noted that Molloy's program is big on internships, emphasizing how important it is to earn credits while getting a "foot in the door." The program also teaches students about current job markets, starting salaries, and what major will lead them on their most desired path. Also included in the presentation was a discussion focusing on the most important factors in choosing a college, the requirements for earning scholarships, and what kind of students colleges are looking to recruit. Thanks to Mr. Bier and Ms. Barone for visiting Molloy! (Pictured L-R: Ms. Barone, Mr. Mike Harrison, Mr. Darius Penikas, and Mr. Bier)
The Stanner Players Delight Audiences with "Pygmalion"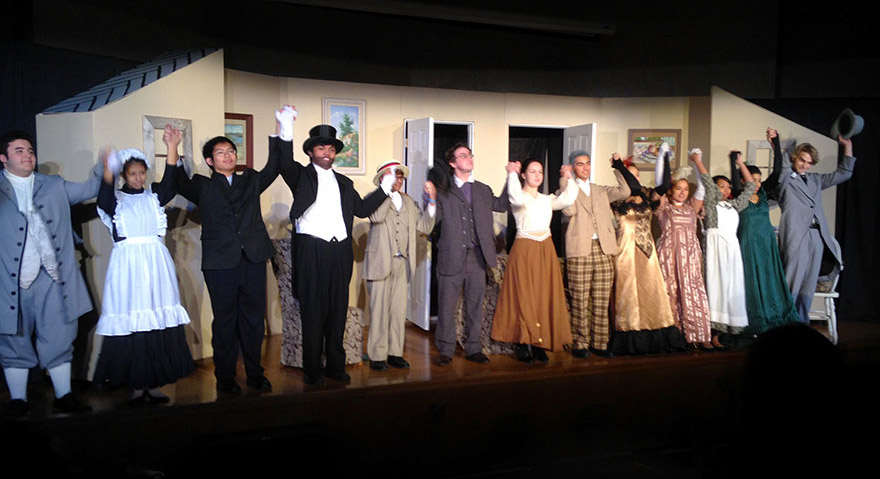 Congratulations to The Stanner Players cast, stage crew, and director Ms. Shannon Winters '06 on another highly successful fall show. In Pygmalion, the Players tackled a complex show that, though without music, manages to challenge actors with a verbose script and British accents. "Our cast jumped into this endeavor wholeheartedly and impressed me tremendously," said Ms. Winters. "In truth, this production would not have been possible without several of our veteran Stanner Players and knowing the dedication they would bring to the table."
Veterans like Katie Van Riper '17, who last year starred as the title character in Alice in Wonderland, and David Kemp '17, who co-starred in Alice as the Mad Hatter, were steady during the rehearsals and throughout the run of performances last weekend. Both drew on four years of experience with the Stanner Players as well as from their studies in arts programs outside Molloy. Paul Tibo '17, Jenelle DeCosta '17, and Gabrielle Hollant '17 rounded out a group of seniors who have appeared in multiple productions including Alice, Seussical the Musical, and The 25th Annual Putnam County Spelling Bee. A diverse cast as a whole, many of the sophomores and juniors in the show must be ready to step up and be the next batch of veteran performers in the near future.
Looking ahead, The Stanner Players will soon begin auditioning for their Spring Musical, The Pajama Game, written by George Abbott and Richard Pike Bissell and first premiered in 1954. Performances will run Thursday, April 6th through Sunday, April 9th. Check future issues of The Beehive or www.molloyhs.org for more updates. Thank you to everyone who came out to support our Stanner Players!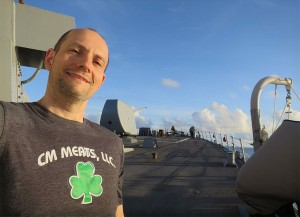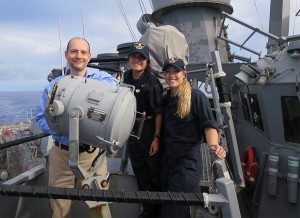 Marc Garlasco '88 recently returned from a deployment aboard the guided missile destroyer USS Barry (DDG-52) during operations in the Pacific. He works for the Center for Naval Analyses and was onboard to observe missle tests and support 7th Fleet.
Paul Alexander '63 sent us the following note: "I recently came across an old newspaper article from The Stanner newspaper from around 1964. It referred to our class returning the year after graduating to play the faculty in a basketball game, which was played before the Varsity home opener. It was the first time returning graduates defeated the faculty in that game. As a matter of fact, the class of '63 was the first class to defeat the faculty in both basketball and football during our senior year. Truly memorable achievements for myself and fellow classmates!" Thanks for sharing, Paul!
Ed McShea '86 sent The Beehive the above photos from his 30th Anniversary Reunion on November 5th. "The Reunion was awesome. We all had a great time." Thanks, Ed!


We are saddened to share the sudden passing of Frank Pignataro, father of six sons including five Stanners. Frank is survived by wife Dorothy, and sons Daniel '91, Frank '92 (St. Mary's), Anthony '95, Matthew '98, Dominic '03, and Andrew '08. Please join us in praying for the Pignataro family during this difficult time.

We ask the Stanner community to pray for the repose of the soul of Maureen Corcoran, mother of Maureen Rosenbaum.

Please pray for the repose of the soul of Robert Amendola '65. In the words of his friend and classmate Rich Calo '65, "Robert will always be remembered by his many friends from Molloy and St. John's University."