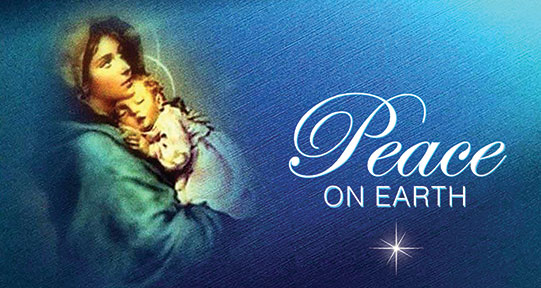 We would like to take this opportunity to wish everyone a very Merry Christmas and a Happy New Year to come. We would also like to thank all of our Beehive readers for your continued support of and interest in Archbishop Molloy High School. It is our pleasure to share all the good news from around Stanner High with you every two weeks. Please note that The Beehive will take a short break coming up, but will return on January 6th, 2017. Remember, we're always looking for new alumni updates to share, so if you'd like to see yourself or your friends in The Beehive, please email your content to alumni@molloyhs.org any time. We'll see you in 2017!

Alumni Gather in Washington DC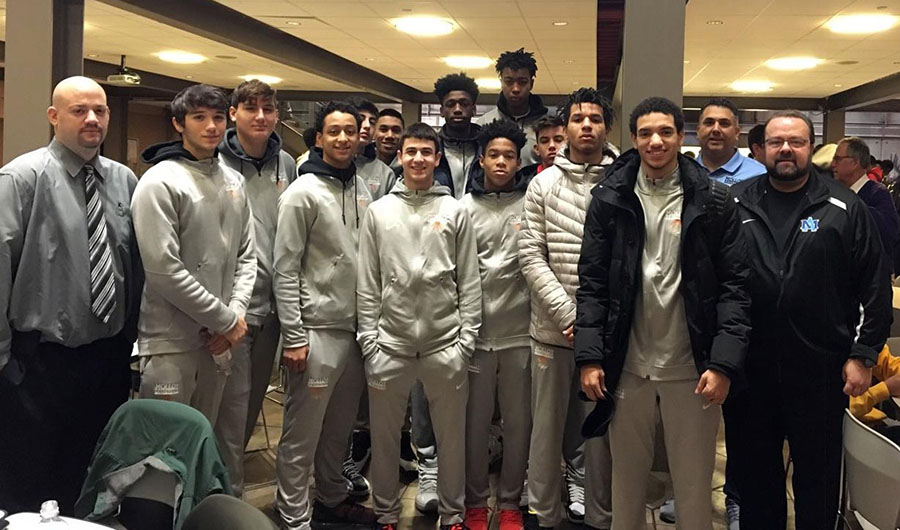 Last weekend, the Stanner Alumni Center went on the road down to Washington DC, whose metro area including Virginia and greater Maryland is home to many Stanners. Alumni gathered several times over the course of the weekend to share meals, catch up, and also to support Molloy in the Gonzaga DC Classic Tournament. Molloy's boys Varsity basketball team, which features several nationally ranked players, was one of eight outstanding teams featured in the tournament. In addition, Molloy's girls Varsity squad traveled down to DC the same weekend for a tournament of their own in the metro area. They made Molloy and our alumni proud as they went 2 for 2 in their exhibition games and returned home undefeated. (Pictured: Mr. Karsten and coaches stand with the boys Varsity basketball team)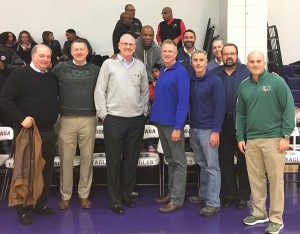 On Friday, December 9th, alumni caught the first round of the Gonzaga Classic, which saw Molloy face off against St. Stephens & St. Agnes School (Virginia). Cole Anthony '19 (Guard) led the charge with 15 points, while Khalid Moore '18 (Forward) put up 12 in what was a decisive 78-44 victory for Molloy. Following the game, President Richard Karsten '81 and Development Director Craig Katinas '93 gathered with a group of alumni at nearby restaurant Circa for a special DC Chapter reception. Joining in the festivities were Stanner Hall of Famer and Miami Hurricanes Head Coach Jim Larrañaga '67 as well as the 'Canes Assistant Head Coach Christian Caputo '98. Jim and Chris shared stories about their season currently underway (Miami is 7-2 as of this publication), and also recanted stories about their playing days under the guidance of beloved Coach Jack Curran.
A big topic among our alumni, as referenced earlier, was of course Molloy's 2016-17 boys Varsity squad, which features some truly generational talents. Cole Anthony, the Stanners' 6"1' star point guard, is ranked 12th nationally, 1st at his position, and 1st in New York State among Class of 2019 recruits. His teammate, the 6"6' Khalid Moore, is ranked 127th nationally, 33rd at the small forward position, and 4th in New York State among Class of 2018 recruits. Then there's Moses Brown, Molloy's 7"1' center who has been making headlines for months. Moses is ranked 20th nationally, 1st at center, and 1st in New York State among Class of 2018 recruits. Cole, Khalid, and Moses are part of an overall extremely talented group that are looking to make a significant impact this year and beyond.
Cole Anthony Ranking | Khalid Moore Ranking | Moses Brown Ranking
Alumni gathered again to watch Molloy take on Gonzaga High School (DC) in the Semi-Final round of the tournament on Saturday, December 10th. It was a hard fought game, but Gonzaga went on a 3 point run that few teams could defend. Molloy fell short 84-58. Anthony impressed with 23 points in the game, while Moore and Brown combined for 26. Molloy ultimately finished fourth in the tournament following an 81-76 defeat on Sunday versus Whitney Young High School (IL) (Watch). Cole Anthony was recognized for his outstanding weekend by earning a spot on the Gonzaga Classic All-Tournament Team.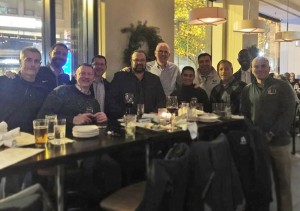 "It was a great weekend that highlighted Molloy's boys and girls Varsity teams among some of the nation's best talent," said President Karsten. "It was also a wonderful opportunity for our alumni in the DC Metro area to reconnect with us and each other. There is a great group of Stanners down in DC, and we encourage them to stay connected between Molloy's visits as well. Like other areas of the country, just because you aren't located in New York doesn't mean there's a lack of Stanner Spirit. You just have to know where to look." (Pictured: Alumni at Circa in Washington DC)
For more information on Molloy's Alumni DC Chapter, or other Chapters across the US, please contact alumni@molloyhs.org. Results and more photos from the Gonzaga DC Classic are available at http://www.gonzagadcclassic.org/.
Above photo gallery courtesy of Gonzaga Classic.
Tweet #MillionMarists on January 2nd!
Dear Fellow Marists,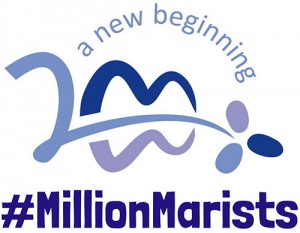 As we quickly approach the Bicentennial Anniversary of the founding of the Marist Brothers on January 2nd, 2017, I am writing to humbly ask if you can join us in celebrating this important date in our history.
We are asking the entire Marist World (i.e. students, faculty, alumni, parents, our brothers and sisters in consecrated life, etc.) to utilize the hashtag #MillionMarists across all social media platforms on January 2nd in order to help make our Bicentennial Celebration a worldwide trending event.
We invite and encourage you to take a picture with a fellow Marist, find an old picture of your favorite Marist moment, or reflect on your memories at Molloy, and share them on your Facebook, Instagram, and/or Twitter pages. Be sure to include the hashtag #MillionMarists to help us in showing the world how St. Marcellin Champagnat's dream is alive 200 years later! (Below: Photos from St. Marcellin Champagnat Society Trips or Esopus Retreats would be great to tweet with #MillionMarists on January 2nd)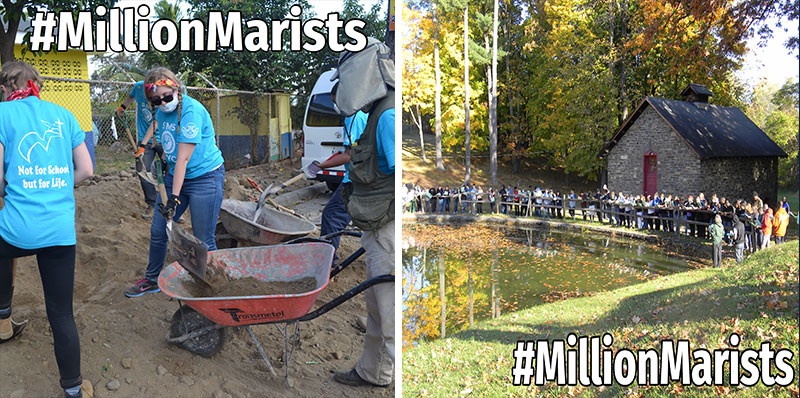 In addition, find more information about the Marist Brothers on our new website or our new Facebook page: http://www.maristbr.com/ | https://www.facebook.com/MaristsUSA/
With gratitude for all you continue to do to help build our Marist mission.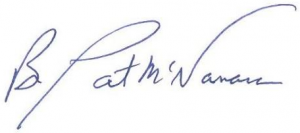 Br. Pat McNamara, F.M.S. | US Provincial
Gifts Aplenty in Molloy's Online Store!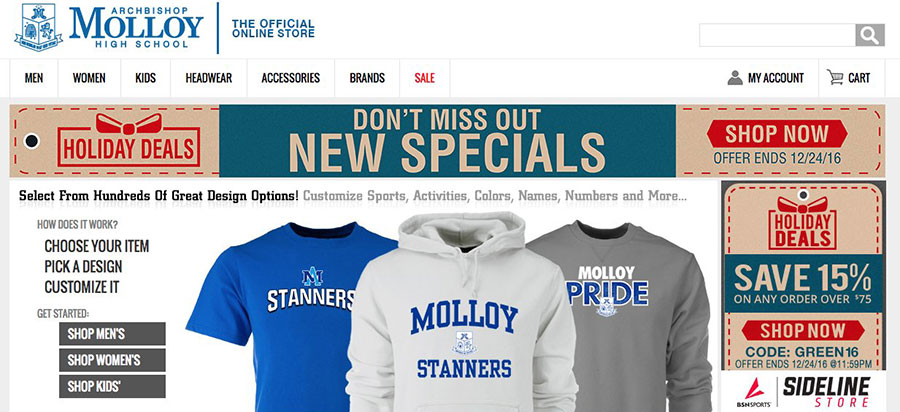 Still looking for gift ideas? Molloy's online store is just the place to find the perfect gifts for family and friends. Our revamped store offers a variety of items with dozens of customizable colors and logos that are sure to satisfy all tastes. Now through December 24th (11:59PM), spend over $75 on any one order and receive 15% off by using discount code GREEN16 at checkout. Order soon to ensure your items arrive by Christmas!

Employment Opportunities with Northwell Health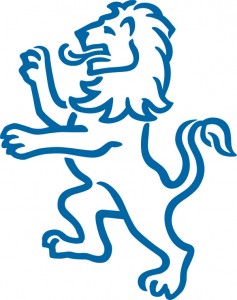 Tom Dreyer '12 has been kind enough to share two employment opportunities on behalf of Northwell Health that are open to qualified Stanners. Both are financial / accounting positions, however please note that each has a different set of qualifications. Click the links below to read more about these positions. Additional questions should be forwarded to tdreyer@lions.molloy.edu. Northwell Health, founded in 1997 as North Shore-LIJ Health System, is a healthcare network that includes 21 hospitals, The Feinstein Institute for Medical Research, rehab, nursing, home care, hospice, and other outpatient services. It is the largest integrated health system in New York State and employs over 61,000 professionals.
Northwell Health Position #1 | Northwell Health Position #2
Around the School
Seniors Continue to Benefit from On-Site College Visits
A group of seniors recently met with Ms. Holly Cowman, Director of International Office at Mary Immaculate College (MIC), which is located in Limerick, Ireland. Ms. Cowman shared general information about MIC, a Roman Catholic Liberal Arts school founded in 1898 that enrolls approximately 3,500 students and employs about 300 staff. Their motto, Briathar Dé Mo Lóchrann, translates to "The Word of God as my Light". Also discussed were the educational, cultural, and personal benefits of studying abroad. As with all visits by college representatives, it is important for students to meet one on one with professionals like Ms. Cowman to get direct information and a deeper sense of the opportunities available to them outside their typical comfort zone.
Earlier this week, seniors also met with Assistant Directors of Admissions Ms. Jill Steier and Ms. Jenna McAteer of Seton Hall University for one on one interviews. Seniors shared information about themselves with Ms. Steier and Ms. McAteer and later learned if they gained early admission to Seton Hall. Special thanks to Ms. Cowman, Ms. Steier, and Ms. McAteer for visiting Molloy, and to our College Guidance Department for setting up these meetings.

Upcoming Events
Christmas Liturgy
When: Wednesday, December 21st, 2016 | 10:45am
Where: Archbishop Molloy High School
Arrival: Please enter through Manton Street doors
On Wednesday, December 21st, we will gather to celebrate Advent/Christmas with a liturgy at 10:45am. We invite all members of the school community to attend. Parents and alumni are always welcome. This special time for prayer is an opportunity to celebrate as a community and express our thanks for God's gift of Jesus in our lives.
Br. Ron Marcellin Scholarship Dinner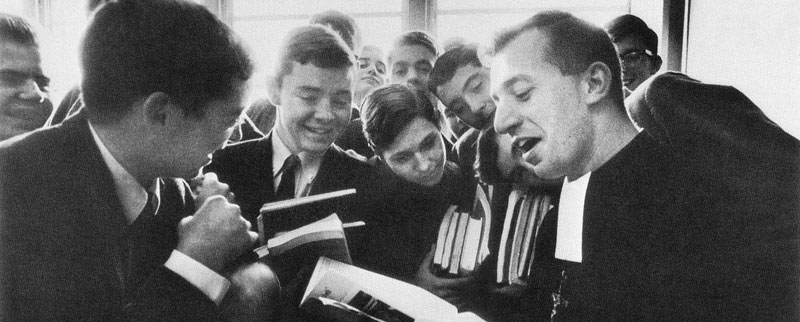 When: Sunday, January 15th, 2017 | 8:00pm – 10:00pm
Raffle: 50/50 raffles available for purchase during event
Admission: $40 donation per person (online or at the door)
Contact: Craig Katinas '93
Molloy is pleased to invite you to the first event of the new year, our annual Br. Ron Marcellin Scholarship Dinner on Sunday, January 15th, 2017. Hosted by Mike McGuire '81 and our friends at Trinity Bar & Restaurant in Floral Park, this dinner pays tribute to the memory of Br. Ron Marcellin '52, a beloved Marist Brother remembered for his affection for music, his passion for teaching, and the way he counseled each student with the same selflessness and care. Thanks to the Br. Ronald Marcellin Committee, which includes many dedicated alumni, Funds raised by this event directly and significantly benefit students and families in need.
A 50/50 raffle and live auction will be among the festivities while dinner, beverages, and great company are also included. The 50/50 raffle tickets will be available for purchase during the event or in advance by emailing ckatinas@molloyhs.org. Spread the word to your classmates and join us on January 15th!
Alumni Night / Molloy Vs. St. Francis Prep – SAVE THE DATE!
When: Friday, February 3rd, 2017
Where: Archbishop Molloy High School
Contact: Joe Sommo '03
Online Registration & more details to be shared soon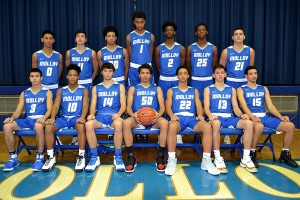 Alumni and parents are invited to join us on Friday, February 3rd, 2017 for a special reception featuring food, beverages, and other refreshments. The event will also feature VIP access to reserved seating on the stage in the Jack Curran Gymnasium as our boys Varsity basketball team takes on St. Francis Prep. This is expected to be a sellout game, so if you're looking for an opportunity to catch the action, our alumni reception is the perfect way to secure your seat and root on our Stanners. Online registration and more information will be shared soon so please save the date! Special thanks to our Alumni Badges Network for sponsoring this event.
2017 Stanner Games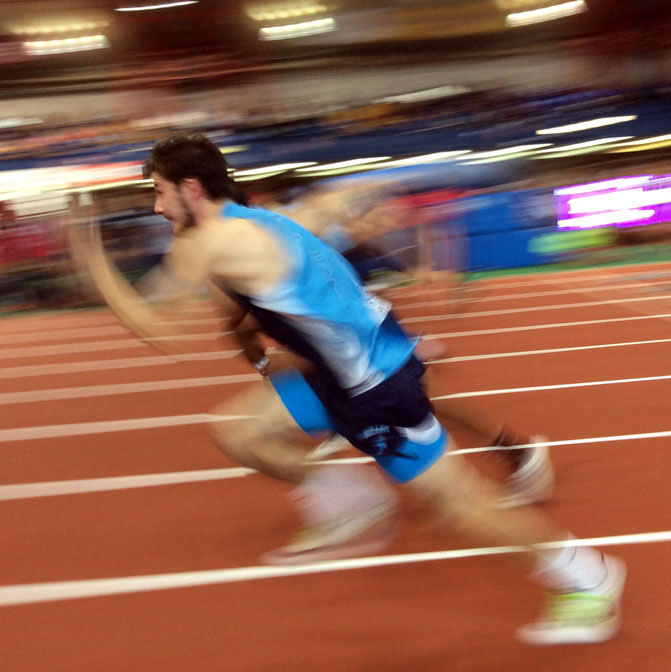 Alumni are invited to root for our track & field athletes at the upcoming Stanner Games on Saturday, January 14th. This nationally recognized meet, which has featured over 165 teams in the past, includes a diverse program such as long distances races, sprints, high jump, long jump, triple jump, hurdles, pole vault, shot put, and more. As with all large meets, volunteers are essential to making the day run smoothly. Molloy currently has many alumni volunteers booked to assist throughout the day, but we are always looking to build new relationships. If you are interested in attending Stanner Games, or would like more information about volunteering in the future, please contact Coach AJ Power or visit Stanner Games online (see links above).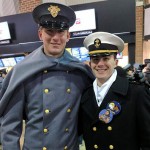 Recent Molloy grads Liam Rock '16 (USNA) and Zach Kurre '15 (USMA) (pictured right) both attended the 117th annual Army-Navy football game on Saturday, December 10th. The game was held at M&T Bank Stadium in Baltimore, Maryland. Liam, representing Navy, and Zach, representing Army, witnessed the Black Knights defeat the Midshipmen 21-17 in what was the first victory for Army in over a decade. Thanks for the update, Zach and Liam, and we know you'll continue to make Molloy proud!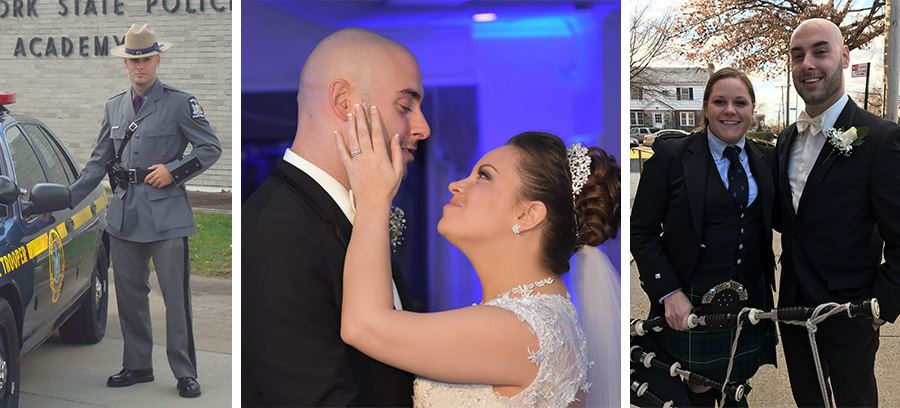 Joseph Coppola '05 is a graduate of Iona College. A criminal justice major, Joe always wanted to work in law enforcement. He worked with the TSA and trained at FLEC Georgia for Border Patrol before finally settling in with the New York State Police (NYSP). After graduating from the NYSP Academy, he was stationed in Troop C – Sidney, NY. He later transferred to Westchester, but he currently works in Troop L – Brentwood. On December, 2nd, 2016, Joe was married to Jennifer Meinke at St. Kevin's Church. They celebrated their reception at Flowerfield in St. James. Two of Joe's groomsmen were also Stanners: Joseph Donaggio '05 and Marino Donaggio '08. One more Stanner contributed to the celebration, as Kathleen Madden '08 was booked to play bagpipes. Kathleen is an active member of Molloy's alumni Pipe & Drums band. Congratulations, Joe and Jennifer! (Pictured above left: Joseph Coppola '05 (NYSP) | Middle: Joseph & wife Jennifer | Right: Joseph with bagpiper Kathleen Madden '08)
As mentioned in the update about Joseph Coppola, Molloy's Alumni Pipes & Drums Band is looking to recruit new members. Candidates should have prior Pipes & Drums experience, while having previously played in Molloy's band is a big plus. If you are interested in learning more about this opportunity please contact alumni@molloyhs.org.
Laurie Ann Conklin (Wick) '07 and husband Frank welcomed their son, Frank Raymond (pictured above left), into the world on October 6th, 2016. Baby Frank was born 6 lbs 7.5 oz and 19.5 inches. All are happy and healthy in the days since. Congratulations to the Conklin family!
George Byrne '70 (pictured above middle) was featured in the December 12th edition of his hometown newspaper, The Venice Gondolier Sun (Venice, Florida). George performs guitar and vocals at a variety of venues in Venice, and he often donates his tips to local charities and organizations including food pantries and schools. George notes that the author incorrectly spelled his last name as well as "took some liberty with Molloy's motto", but he was excited to be recognized for helping his community. "I've been giving back in the best way I know possible, keeping with the values I learned at Molloy," said George. | Read the article about George (Photo by Audrey Blackwell)
Jim Mahony '74 (pictured above right) recently completed his 35th consecutive NYC Marathon. Pictured are Jim with his wife Ginny and daughter Meghan.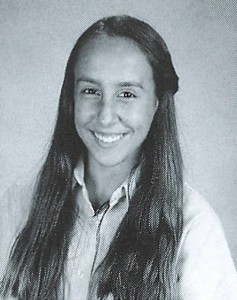 Molloy extends its sincerest condolences to the family and friends of Stefani Lineva, who passed away suddenly earlier this month. Stefani attended Molloy for her freshman year in 2010-11 before transferring to another school. In her brief time at Molloy she managed to make many friends within our Stanner family. She will be deeply missed. Please join us in keeping Stefani in your thoughts and prayers.

We were recently informed of the sudden passing of Michael E. Abbatiello '59 earlier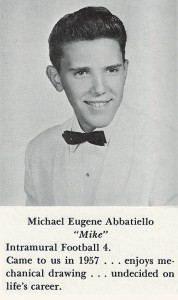 this month. Mike, as many knew him, was a graduate of St. John's University. He served in the Marines in the early 1960's and later worked as a teacher in Rocky Point, NY for over 30 years. He was also a well regarded football, baseball, and softball umpire and had worked games during his retirement down in his most recent home state of Delaware. He is survived by his wife, Donna; daughter Suki Volk and her husband, Kurt, of Wellesley, Massachusetts; son Don Abbatiello and his wife, Christine; daughter Jennifer Nein and her husband, Matt; and six grandchildren. More about Mike is featured at Delaware Online. Please keep Mike and the Abbatiello family in your prayers.

We are saddened by the passing of Mr. Adalberto Rivera, father of Br. Albert Rivera. Please keep Adalberto and the Rivera family in your prayers.

Please pray for the repose of the soul of William G. Farrell (honorary AMHS Graduate '89), husband of Madeline (honorary '89), father of William '72, Gregory '74, Dennis '75, Philip '76, Kevin '78, Raymond '81, Donald '89, Madeline, and Regina, and grandfather of twenty-seven grandchildren. We extend our deepest sympathies to the Farrell family and will continue to remember William in our thoughts and prayers.

We are saddened by the passing of William "Bill" Beitz '58. He is survived by his children Laura, Bobby, and William, and five grandchildren. A graduate of St. John's University, Bill was a proud Navy veteran. He served in the Vietnam War, where he was stationed in Guam. He was an aviation officer and served his country with pride. According to his daughter Laura, "He was quite proud of his Archbishop Molloy education." Please keep William and the Beitz family in your prayers.

Please pray for the repose of the soul of Mary Millus, sister of William Millus '13.

We were recently informed of the passing of Thomas McGinnity '54 of Tarrytown, NY. Please keep Thomas in your prayers.

We are saddened by the passing of Valerie A. Weintraub, mother of Sharon Weintraub '04 and Anna Weintraub '08. Please keep Valerie and the Weintraub family in your prayers.