Upcoming Events
Br. Ron Marcellin Scholarship Dinner – NEXT WEEKEND!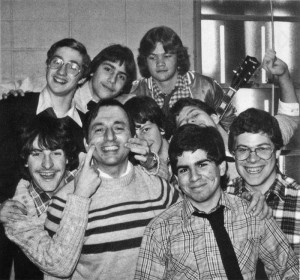 (Note: the time start time of this event was previously published incorrectly. The correct start and end times are 8:30pm–10:30pm) Molloy is pleased to invite you to the first event of 2017, our annual Br. Ron Marcellin Scholarship Dinner on Sunday, January 15th. Hosted by Mike McGuire '81 and our friends at Trinity Restaurant & Bar in Floral Park, this dinner pays tribute to the memory of Br. Ron Marcellin '52, a beloved Marist Brother remembered for his love of music, passion for teaching, and ability to counsel each student with selflessness and care. Thanks to the Br. Ronald Marcellin Committee, a group of dedicated alumni which has steered this event for 20 years, all funds raised by this event directly and significantly benefit students and families in need.
Attendees can take advantage of a 50/50 raffle and a live auction during the evening program, which also includes dinner and open bar. 50/50 raffles will be sold during the event, but can be purchased in advance by emailing ckatinas@molloyhs.org. Bring a friend and join us on January 15th!
Women's Basketball Alumnae Night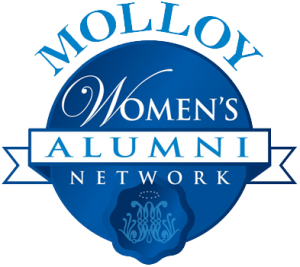 Our women's basketball alumnae are invited to a special reception on Wednesday, February 1st at 6:00pm here at Molloy. Alumnae players at all levels (JV, Varsity) are invited to attend. Come out and reconnect with your former classmates and teammates and enjoy food and beverages compliments of President Richard Karsten '81 and the Stanner Alumni Center. In addition, attendees can catch Molloy's girls Varsity basketball team as they take on St. Francis Prep. Register online to ensure your attendance or contact Matt Rizzotti for more information using the links above. Spread the word and come on out on the 1st. We look forward to seeing you!
Alumni Night / Molloy Vs. St. Francis Prep – REGISTER NOW!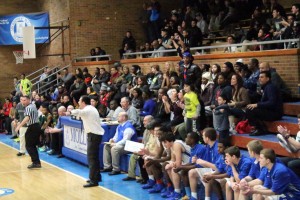 Alumni and parents are invited to join us on Friday, February 3rd, 2017 for a special reception featuring food, beverages, and other refreshments. Your admission will also grant VIP access to reserved seating in the Jack Curran Gymnasium as our boys Varsity basketball team takes on St. Francis Prep. This is expected to be a sellout game, so if you're looking for a guaranteed way to catch the action, our alumni reception is the perfect way to secure your seat and root on our Stanners. Seating will be extremely limited, so please register early to ensure your attendance! Special thanks to our Alumni Badges Network for sponsoring this event.
2017 Stanner Games
Alumni are invited to come out and root for our track & field athletes at Stanner Games on Saturday, January 14th. This nationally recognized meet, which has featured over 165 teams in years past, includes a diverse set of events such as long distances races, sprints, high jump, long jump, triple jump, hurdles, pole vault, shot put, and more. As with all large meets, volunteers are essential to making the day run smoothly. Molloy currently has many alumni volunteers booked to assist throughout the day, but we are always looking to build new relationships. If you are interested in attending Stanner Games, or would like more information about volunteering in the future, please contact Coach AJ Power or visit Stanner Games online (see links above).
Esopus 75th Anniversary Gala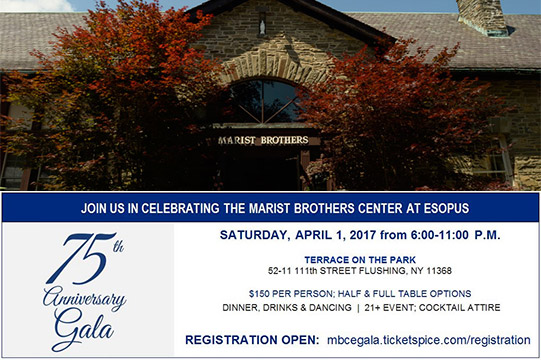 Marist Bicentennial Day is a Hit with #MillionMarists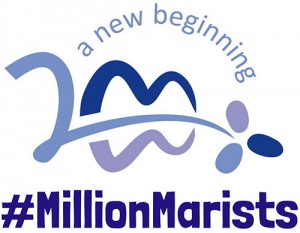 We would like to thank everyone that joined in the Marist Bicentennial celebration on January 2nd by using #MillionMarists. January 2nd marks 200 years since the birth of the Marist Institute, when Jean-Marie Granjon and Jean-Baptiste Audras joined Marcellin Champagnat in La Valla as the first Marist Brothers. Thanks to your participation, and that of Marist Brothers and laity around the world, your photos and reflections shared on Facebook, Twitter, and Instagram with #MillionMarists reached over 2.5 million people worldwide with over 5.5 million "Impressions" or views across all social media platforms. These numbers have far exceeded the original goal of reaching 1 million people worldwide. What a great show of love and support as we enter the third century of Marist life!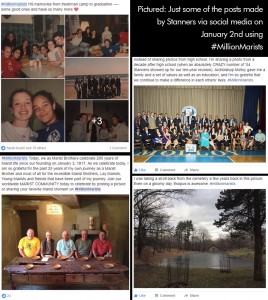 The Marist Brothers have been building up to this Bicentennial year since 2014, when they first announced "Montagne Year", a recognition of the importance of the Marist Mission then and now. 2015-16 was "Fourvière Year", which acknowledged the emergence of Marist laity on a global scale. Finally, 2016-17 is "La Valla Year", a recollection of the humble beginnings of the Brothers while looking ahead to the next 100 years and beyond. The #MillionMarists social media campaign on January 2nd was just one of a number of events that will take place over the next several months. These include a Gala celebrating the 75th Anniversary of Esopus, La Valla Weekend at Esopus (3/24 to 3/26), a global day of service on March 29th, and a National Assembly Celebration (6/13 to 6/17) in Poughkeepsie. Follow Marist Brothers USA on Facebook to stay up to date on upcoming events.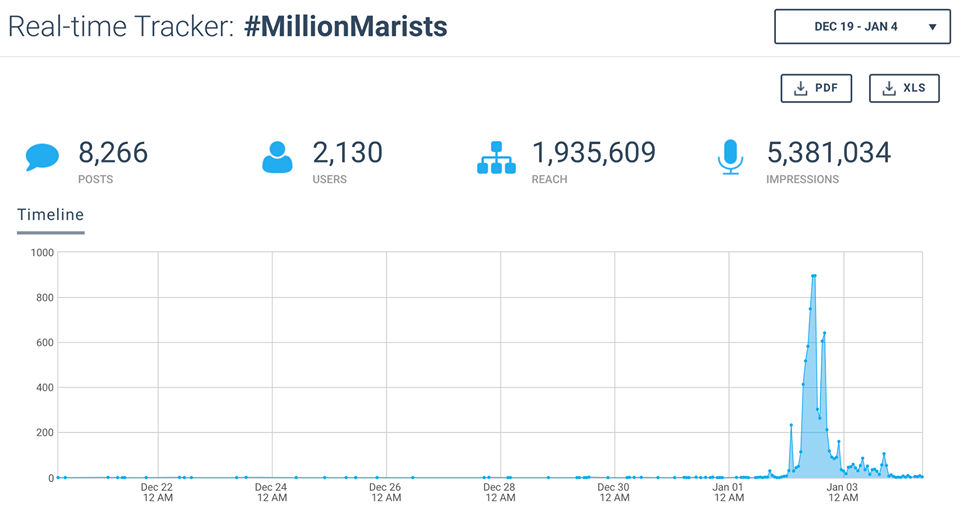 Though January 2nd has come and gone, we encourage you to continue sharing your Marist pride (photos, reflections, stories, etc.) on social media using #MillionMarists. Also, please take a moment to view the video below, courtesy of the Marist Brothers, which has captured a portion of the posts that have been made to date. Representation for the United States can be seen from 2:58 through 3:10 in the video.
Around the School
Molloy Committed to Recycling Program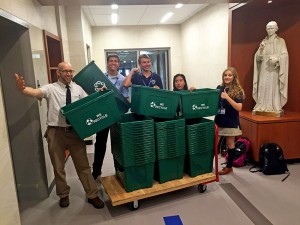 Fall 2016 saw plenty of changes ushered in at Molloy, including a new lobby and main entrance, new security features, and many new teachers and staff. One more important change is the addition of green recycling bins around our campus. Mr. Chris Dougherty '91, moderator of the I A.M. Green Club, worked with students to get the idea off the ground. "There is no reason cardboard boxes, magazines, books, and other paper products should be thrown away or wasted, because that doesn't help the environment," said Mr. Dougherty. Principal Penikas and his fellow administrators agree, and now the new green bins live in each classroom and throughout the halls. The bins are for paper products only, while plastic, aluminum, and other recyclables can be discarded in their own bins in the student cafeteria. (Pictured: Mr. Dougherty and I A.M. Green club with Molloy's new recycling bins.)
Schools traditionally use a large quantity of paper, and historically Molloy has been no different. In recent years, however, Molloy has made a more concerted effort to go green. Several years ago, when Molloy was seeking Middle States accreditation, one of the objectives that faculty and staff agreed on has been to make our school more environmentally friendly by reducing waste. This has been achieved initially with the introduction of iPads, which has reduced the use of paper significantly, as well as with the addition of the green bins and other recycling units. Moving forward, expect to hear more about Molloy's efforts to go green, as our faculty, staff, and students are committed long-term to protecting our environment.
Campus Ministry Holds Successful Toy Drive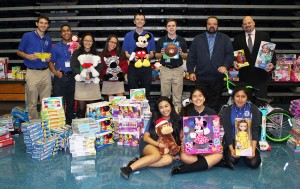 This Christmas, Molloy students donated 851 new toys to help brighten the season for those in need. Toys were donated to nearby Briarwood Shelter, Heartshare, and Make A Difference. Pictured are President Karsten, Principal Penikas and our Campus Ministry students with just some of the toys that were donated. Special thanks to Mr. Mike Germano '93, Campus Ministry, and all students and families who gave so generously this Christmas.
Coaches, JV Softball Team Volunteer, Donate
Shortly before Christmas break, Molloy's girls JV softball team volunteered with D3 Sports & Recreation Inc. D3 is a non-profit organization that is dedicated to "providing a safe and encouraging environment for individuals on the Autism Spectrum with opportunities to participate in sports & recreational activities regardless of their gender, cognitive, physical and/or emotional abilities." They also endeavor to "help individuals with Autism with Sensory Integration and Social Engagement." Our Stanners, accompanied by Coach Lou Santos, spent time with the children enrolled in the program. Together they made holiday decorations, took pictures, chatted, and played games. Founder/CEO Lizette Hernandez shared kind words after the visit. "Thank you so much for having the Molloy softball team and your staff donate their time. They did an amazing job! Our organization is run solely by volunteers like your softball team. Because of their assistance, the children truly enjoyed themselves," said Lizette. There is mutual interest in future volunteer opportunities. Great job, Stanners! (Photos courtesy of D3 Sports & Recreation Inc.)
In another act of kindness in late spring of 2016, the Athletic Director Mike McCleary, Coach Santos and the JV softball team had collected and sorted used and excess Molloy athletic jerseys to be donated to underprivileged students in the Dominican Republic. In December, photos were forwarded to Coach Santos showing the jerseys being put to good use. The jerseys were distributed by the HHS Foundation, which has accepted donations from Molloy for many years. The late Jack Curran is said to have routinely donated to HHS before Coach Santos became an instrumental part of the donation process. The student recipients are high school age and located in the southern DR. They are awarded the jerseys as an incentive for studying hard and earning good grades. "The kids are off the streets and staying in school," said Coach Santos. Thanks to Coach Santos, Mr. Mike McCleary, our softball team, and the local charities in the DR who made this possible.
Boys Varsity B-Ball Team Secures Tournament Win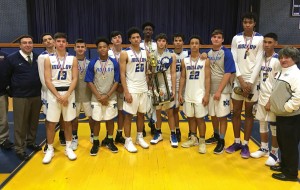 Congratulations to our boys Varsity basketball team, who became champions of the Marist Invitational Tournament over Christmas break. Molloy competed against Curtis High School, Rutgers Preparatory School, and Marist High School (Bayonne, NJ) for the trophy. Moses Brown '18 was named Outstanding Player, while Cole Anthony '19 was named to the All-Tournament team.
We would also like to share video content from earlier this season courtesy of Mars Reel (www.marsreel.com). Highlights are from a convincing 97-67 Molloy victory over Xaverian. Among the players prominently featured are Brown, Anthony, and John Herring '17.
Students, Faculty, Alumni Catch "Rogue One"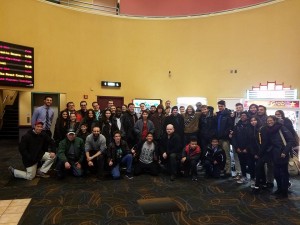 (This story is spoiler free!) The Beehive would like to thank our Sci-Fi Club moderators, Mr. Chris Dougherty '91 and Mr. Glenn DaGrossa, for organizing last month's after school field trip to see "Rogue One: A Star Wars Story". Over 160 students, faculty, and alumni attended the screening, which took place at UA Midway Theater in Forest Hills. Mr. Dougherty and Mr. DaGrossa secured all the tickets as well as a private theater just for Molloy. Our group laughed, cheered, gasped, and saw their jaws drop in the final minutes. It was also great to see our alumni come back to spend time with their Molloy family! Overall it was a wonderful outing, and we look forward to seeing next year's film together.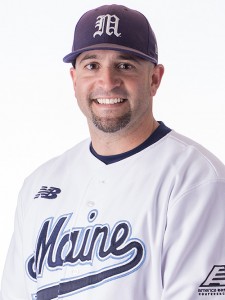 (Photo courtesy of UMaine Athletics) Former pro Nick Derba '03 has been named the University of Maine's Interim Head Coach for men's baseball. Director of Athletics Karlton Creech made the announcement in December. "I'm excited for the opportunity to be the head coach at Maine for the spring of 2017," Derba said in a press release. "From here on out, it's business as usual. Our goals do not change as we will continue to work and build a victorious path towards the America East Championship. I appreciate the opportunity Karlton Creech has granted me." Derba is a former 30th round pick of the 2007 Major League Baseball draft. He spent six seasons in the St. Louis Cardinals minor league system and played primarily as a catcher at all three levels (Single A through AAA). He played a total of 368 professional games in cities including Batavia (NY), Quad Cities (IA), Palm Beach (FL), Springfield (MO), and Memphis (TN). He was also a member of the 2012 Texas League champion Springfield Cardinals, after which he retired to pursue coaching. Now he will look to make his mark on the Maine baseball program in the upcoming season. Everyone at Molloy wishes Coach Derba the best as he takes on this new challenge! | Read more about Nick Derba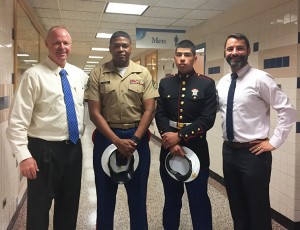 David Vizhnay '16 (pictured third from left) has completed his basic training at the Marine Corps Training Depot at Parris Island, South Carolina. He is currently in combat training in North Carolina, after which he will move on to California where he will get more hands-on experience toward his Military Occupational Specialty (MOS). His MOS is electronics and radio maintenance. "I joined the Marines because I wanted to challenge myself," said David. "I knew the Marine Core was the hardest branch to join, but the discipline at Molloy helped prepare me. The little things like the lanyards, the uniforms, and the schedule all instill discipline, and that helped me in boot camp." David is the first member of his family to join the military, a decision he called "easy." He credits Mr. Shannon and Mr. Diorio for helping him along his journey. "They said that the Marines wouldn't be easy, but they knew that I could handle it. I thank them, and everyone at Molloy, for their support."
During the fall semester, Lynn-Saskya Toussaint '16 won 1st place during her first Mock Trial tournament at Cornell University. Lynn acted as a defense attorney in her first season of College Mock Trial. "It feels great to have a trophy," said Lynn. "It was a case about age discrimination. We went up against Yale, Brown, Fordham, Rutgers, and Princeton, while other schools we did not face also participated." Lynn took the time to thank reach out to her former teachers at Molloy, including Mr. Barbera, Mr. KilKelly, and Mr. Sheehan, to thank them for preparing her for this challenge. "If it weren't for experiencing Mock Trial at Molloy, I probably wouldn't be as successful as I was during this tournament."
Albert Wetherell '61 was promoted to Knight Grand Cross in the Equestrian Order of the Knights of the Holy Sepulchre of Jerusalem. A Roman Catholic order of knighthood under the protection of the Holy See, roughly 23,000 people around the world currently hold membership. The primary mission of the Order is to "support the Christian presence in the Holy Land and beyond." Mr. Wetherell took part in a ceremony at St. Patrick's Cathedral on November 18th where he and others were promoted to various ranks within the order. Ranks of knighthood are bestowed on men and women as well as clergy and laity. Mr. Wetherell's new rank is second only to Knight of the Collar. | Coverage in The Tablet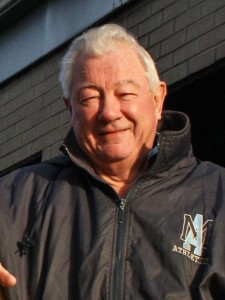 It is with great sadness that we share the passing of Brother Patrick Lally, FMS, on December 22nd. He was 81 years old.
Read the eulogy offered by Br. Dan O'Riordan '85
Br. Pat (also known as Br. Patrick Maura) was born in Bronx, NY, in 1935. He lived in Galway, Ireland for a number of years during his childhood before entering the Marist Juniorate as a young man in 1952 in Esopus, NY. He became a postulant with the Marist Brothers in 1954 and entered the Marist Brothers Novitiate at Tyngsboro, MA in 1955. He professed his vows in 1956, followed by his final vows in 1961. He earned a Master's degree in Spanish from Fordham University in 1963.
After completing his religious and academic studies at Marist College, Poughkeepsie, NY, he began his ministry serving as a cook in Esopus in 1959. He began his teaching career at St. Helena High School in 1961 and served for many years as a teacher and coach at schools including Christ the King High School (1962–63), Instituto Mexico (1963-64), Marist High School in Bayonne, NJ (1965-66), and St. Mary's High School in M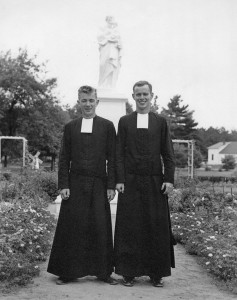 anhasset (1982-95). He also served in Administration at St. Joseph Academy in Brownsville, TX (1977–82) and later as President of Guadalupe Middle School, also in Brownsville.
Br. Pat was an important part of life at Molloy for many years. He first made an impact at Stanner High during the 1960's. He taught religion, math, and Spanish, moderated the Marist Mission League, and served as a popular track and field coach. Br. Pat, alongside a tight-knit coaching crew, contributed to a storied and particularly prosperous era for Stanner track and field that saw Molloy hoist many trophies and earn a string of consecutive championships. (Pictured left: Brother Patrick Lally (left), age 21, with Brother Kevin Reynolds in Tyngsboro, MA, 1956. Marist Brothers Novitiate.)
Later in his tenure at Molloy, after returning from work at other schools, Br. Pat was appointed Plant Manager in 1995. In this role, Br. Pat oversaw all matters regarding buildings and grounds including general maintenance and repairs, campus beautification, event setup and breakdown, and many other important aspects of daily operations at the school. He served as Plant Manager until his retirement in 2013.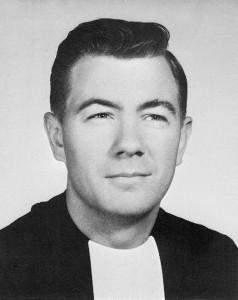 In 2015, Br. Pat celebrated his 60th anniversary as a Marist Brother during a Jubilee celebration at the Immaculate Conception Center in Douglaston, NY. In retirement, Br. Pat was still strong in faith and deeply connected to the Molloy community. He frequently visited the faculty and staff in Briarwood, each time greeting friends with the same smile and jovial personality he always had.
Brother Patrick was the son of William and Mary (Quirke) Lally. He is survived by his many cousins, many friends, as well as by his Marist Brothers of the Province of the United States. He is predeceased by his brother, Tom. He will be sorely missed. (Note: an announcement regarding Br. Patrick's passing was made via Molloy social media last week. While services have already taken place, we ask the Molloy community to please continue to keep Brother Patrick Lally in their thoughts and prayers.)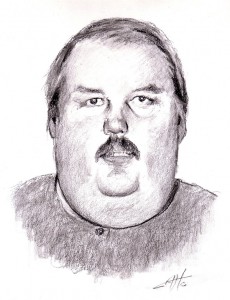 We are saddened to share the passing of Thomas Bradley '74, husband of Regina, brother of William '77 and Richard '79, and father of Mark '03, Stephen '11, and Mary Grace (TMLA). Mr. Bradley passed away on Christmas Day. (Pictured: Stanner Hall of Fame sketch of Mr. Bradley)
Mr. Bradley was one of Molloy's most active alumni and dedicated benefactors for over 40 years. He was a founding member of Molloy's School Board as well as a founding member of the Stanner Golf Classic Board. After completing his tenure on both the School and Golf Boards, Mr. Bradley remained a friend to many in our community and a visible presence at Molloy events. Mr. Bradley also continued to support his alma mater's mission of excellence in education by contributing to a broad range of Molloy's scholarship funds. His generosity has benefited many deserving students and will continue to help students and their families for years to come.
In addition to his work with Molloy, Mr. Bradley also served on the Boards of The Mary Louis Academy, where his daughter Mary Grace attended, as well as the Church of St. Thomas the Apostle in Woodhaven.
Mr. Bradley was honored for his selflessness, hard work, and charity in 2004 with induction into the Stanner Hall of Fame. We pray that Mr. Bradley's legacy of kindness will continue to inspire future generations of Stanners.
(Note: An announcement regarding Mr. Bradley's passing was made via email last week. While services have already taken place, we ask the Molloy community to please continue to keep Thomas and the Bradley family in their thoughts and prayers.)

We are saddened to share the passing of Vincent J. Boller '70 after a brief illness. Vincent passed away peacefully on New Year's Eve surrounded by his family and friends. According to his family, Vincent "lived his 64 years with dignity, courage, and quite a bit of humor." A native of Woodside, the Bethpage resident was known as "a friendly neighbor, a dedicated Local 3 IBEW electrician, and an unapologetically non-cutthroat little league coach, but he will be remembered most fondly as a terrific husband, father and grandfather." Please keep Vincent and the Boller family in your prayers.

Please pray for the repose of the soul of Mr. Brendan Dugan, President of St. Francis College. Mr. Dugan was a friend to Molloy and an inspirational mentor for many throughout his career. Mr. Dugan had served as president at St. Francis for the past four years, and previously worked in commercial banking for 40 years. Mr. Dugan is survived by his wife, Barbara, his sons Joseph, Michael, and Patrick, and his six grandchildren. He is also survived by his sister Patricia Curtin and brother Brian. Please keep Mr. Brendan Dugan and his family in your prayers. | Read more about Mr. Brendan Dugan