Upcoming Events
Women's Basketball Alumnae Night 
When: Wednesday, February 1st | 6:00pm
Where: Archbishop Molloy High School
Admission: Free
Contact: Matt Rizzotti '04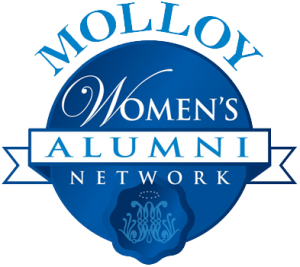 Our women's basketball alumnae are invited to reunite on Wednesday, February 1st at 6:00pm here at Molloy. Alumnae players at all levels (JV, Varsity) are invited to attend. Come out and reconnect with your former classmates and teammates and enjoy food and beverages compliments of President Richard Karsten '81 and the Stanner Alumni Center. Attendees will also gain access to see Molloy's girls Varsity basketball team take on St. Francis Prep. Click above to register online or contact Matt Rizzotti for more information. Spread the word! We look forward to seeing you!
Alumni Night / Molloy Vs. SFP – 

SOLD OUT!
When: Friday, February 3rd | 6:00pm–9:00pm
Where: Archbishop Molloy High School
Admission: Adults $30 | Kids $15
Seating is extremely limited due to maximum capacity of gym.
Contact: Joe Sommo '03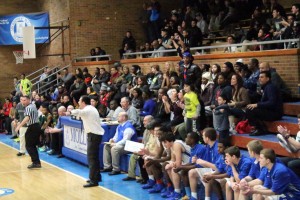 SOLD OUT! Alumni and parents are set to gather on Friday, February 3rd for a reception featuring food, beverages, and other refreshments. Admission also grants VIP access to reserved seating in the Jack Curran Gymnasium as our boys Varsity basketball team takes on St. Francis Prep. While access to our reception is now sold out, standard tickets to the game can still be purchased at the door (though that is expected to sell out as well). We suggest arriving early if you still want to catch the game in the bleachers. Special thanks to our Alumni Badges Network for sponsoring this event.
Stanner Hall of Fame Induction – Save the Date! 

When: Saturday, March 25th, 2017 | Time: TBD
Where: Archbishop Molloy High School
Contact: Matt Rizzotti '04
Online Registration will open soon
We invite all members of our community to join us on Saturday, March 25th to celebrate our Stanner Hall of Fame Class of 2017. This year, Molloy will induct the following distinguished individuals:
Bro. Zephiriny (Founder of St. Ann's Academy)
Bro. Aquinas Richard '48
Mr. Lou Santos
Mr. Richard Reilly '63
Mr. Michael O'Neill '71
Mr. Liam Flaherty, FDNY, '83
More information will be shared soon. Please contact Matt Rizzotti '04 with any questions prior to the event. We look forward to celebrating this historic occasion with you on March 25th!
Esopus 75th Anniversary Gala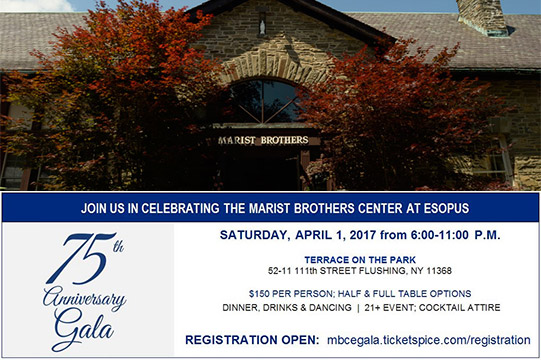 The 2017 Stanner Games Were As Big As Ever!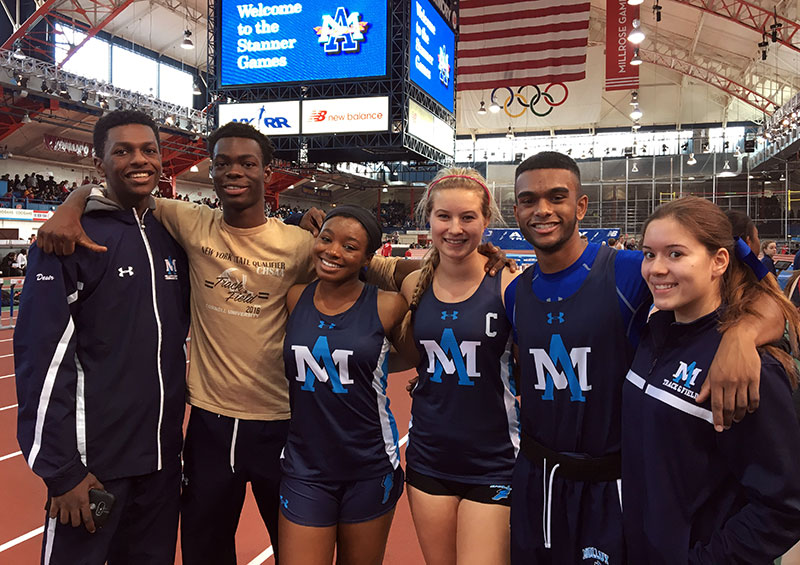 Each January, Stanner Games invites schools and athletes near and far to participate in one of the biggest and most respected Track & Field meets in the nation. The 2017 edition of the Games, hosted once again at The Armory NYC, proved to be as successful as ever, as over 150 schools and over 4,000 athletes (over 200 from Molloy) competed in 3,494 individual events and 1,943 relays. One notable participant in the girls 300m was Sydney McLaughlin, a senior at Union Catholic High School (NJ). McLaughlin qualified to represent the United States in track and field at the 2016 Summer Olympics in Rio de Janeiro, the youngest athlete to do so since Carol Lewis and Denean Howard in 1980.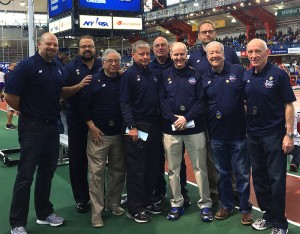 Stanner Games is a full-day affair, with the first events beginning at 9am and the last wrapping up before 7pm. It takes astute coordination and organization to pull it all off, and that's where our coaches and over 65 alumni, faculty, and parent volunteers come in. Without their commitment and assistance, Stanner Games would not have the professional reputation it has established over many years. "This is the most athlete and coach-friendly meet in the country. That doesn't happen without our tremendous alumni and friends," said Coach AJ Power '84, one of the key organizers of the event. (Pictured: Stanner Games officials & volunteers)
A touching moment came early in the meet, as Molloy's coaching staff announced a moment of silence to honor the memories of George Arcarola '74, Karina Vetrano '04, and Br. Patrick Lally, FMS. George, Karina, and Br. Pat all made a profound impact on the Molloy/Track & Field community in their own unique ways. They inspired us, motivated us, and brought us closer together. George, Karina, and Br. Pat will always remain in our hearts.
The Beehive would like to thank and congratulate Molloy's entire coaching staff, our volunteers, and the over 200 Stanners who gave their all on the oval. You all represented Molloy with great passion and we couldn't be more proud! (Photos below by Jermy Singh '20 & Daniel Ramirez-Mendez '20)

Around the School
Winter Open House to Welcome Accepted 8th Graders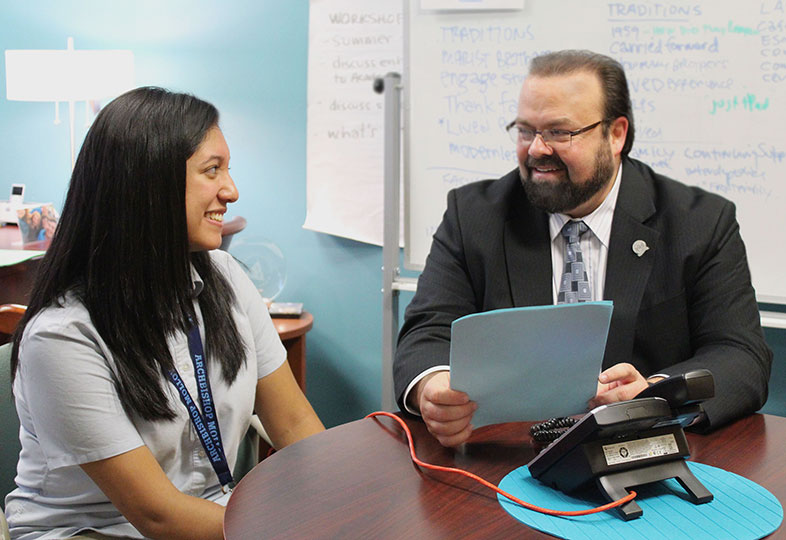 Last week, eighth grade candidates were notified if they have been admitted to attend Molloy next fall as part of its Class of 2021. Candidates were also informed if they have earned a Named or Academic Scholarship or have qualified for honors level classes. "Over 2,000 applications were processed over the past several weeks. Of those, over 250 candidates have qualified for honors courses, while 115 scholarships have been awarded, totaling $1,218,000," said President Richard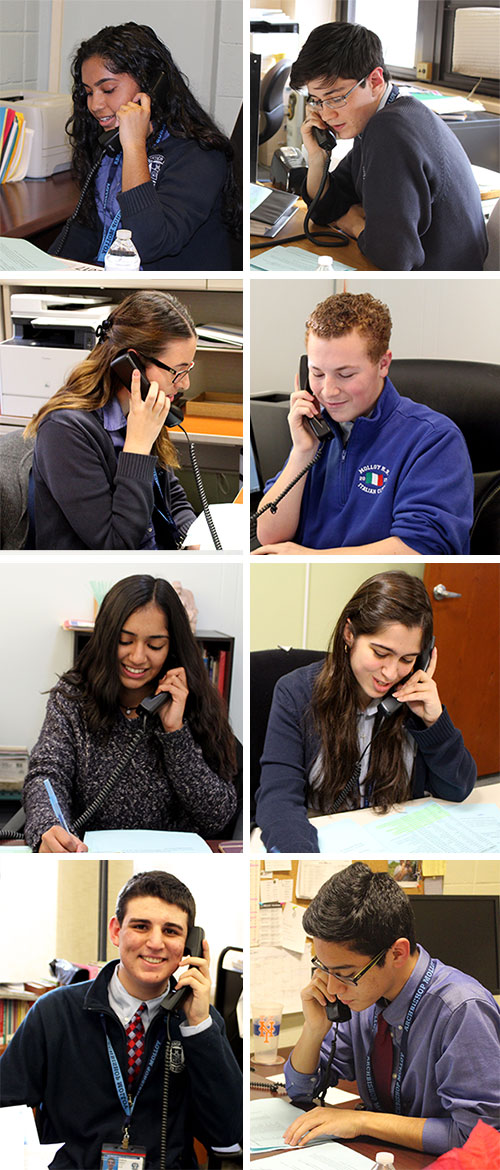 Karsten '81. "I would like to thank our admissions director and coordinator, Leslie Poole-Petit, Ed.D, and Keith Hahn '02, and all who will continue to assist in the admissions process as we bring the Class of 2021 together." Accepted students received a confirmation packet in the mail as well as a congratulatory phone call from student volunteers who were excited to welcome our future Stanners. (Pictured top: President Richard Karsten '81 prepares for the Phone-A-Thon with a student volunteer. Bottom: Student volunteers during a congratulatory Phone-A-Thon)
Molloy will host its Winter Open House for accepted eighth grade candidates on Tuesday, January 24th beginning at 6:15pm. This will give the eighth graders and their families another unique look at life at Molloy and hopefully encourage them to become part of the Stanner Family. For more information on the Winter Open House, please contact admissions@molloyhs.org.
We would also like to thank Mike O'Dwyer '12, who volunteered as an admissions intern over the past several weeks. Mike helped coordinate the student Phone-A-Thon and was an invaluable resource during the acceptance process. He will be missed as he returns to grad school, but we wish him much success!
Molloy Shares SMILE Model with Long Island School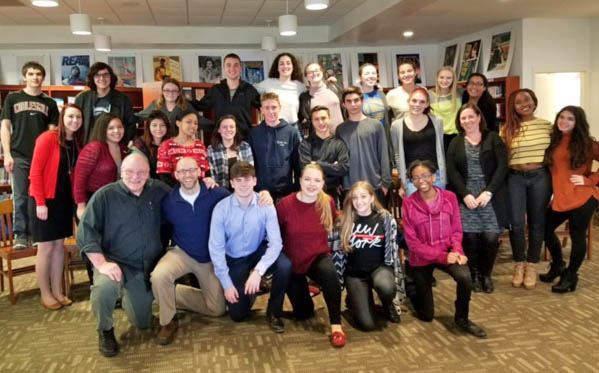 Guidance Department Chair Mr. Chris Dougherty '91 and several students recently collaborated with counselors and students at Center Moriches High School (CMHS) in regards to how the Long Island school can emulate Molloy's half-century old SMILE program. SMILE, as many in our community are well aware, is a renowned peer to peer counseling program that employs student volunteers to counsel their classmates and help them navigate the personal and social difficulties of high school. Often these volunteers previously benefited from the SMILE as underclassmen, and in turn continue the tradition of peer to peer counseling from the other end of the spectrum – a sign of their own growth and maturation through the program. (Pictured: Training sessions during the visit to CMHS)
One of the counselors at CMHS is Bob Lopez '65, who once benefited from the guidance of Br. Leo Richard and SMILE. It was those experiences at Molloy that inspired Bob to carry on Br. Leo's work in his own way throughout his life, including at CMHS. After several exchanges, Mr. Dougherty met with Bob and other counselors to discuss the SMILE/Peer Group model. They simulated training for both counselors and students, a process Mr. Dougherty later praised. "I thought the day went incredibly well. It looks like Center Moriches is well on its way to starting a SMILE/Peer Group type of counseling program in 2017," he said. "Their students were great and seemed to take to the sharing and training day well. Also, the presence of CMHS administration, members of the school counseling department, and the assistant superintendent speaks volumes about the interest and commitment to getting this off the ground." Mr. Doughtery also expressed thanks for the kind words Bob and his colleagues shared about Molloy's SMILE program. "Their words warmed our hearts and made us proud. I look forward to future collaborations." Students who represented Molloy during the training day included Peer Group Leaders Andria Padilla, Stephanie Lechki, Jonathan O'Mahoney, Kiah Moe and Regina Kasper, and SMILE Leader Kristen Allen.
French Class Visits The Met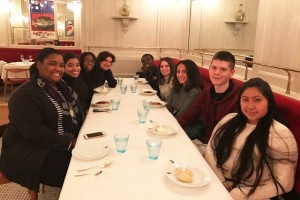 Earlier this month, Ms. Madelyn Dupre's French 4 class enjoyed a French food and culture field trip to Manhattan. The class first gathered for lunch at French restaurant Benoit on 55th Street. Afterward, the class visited The Metropolitan Museum of Art where they browsed and studied the French Impressionist exhibit. Thanks to Ms. Dupre for sharing photos from the afternoon and for coordinating this cultural expedition!
Sports Update
We've had a great winter/indoor season of Stanner Sports so far! Congratulations to all athletes, coaches, and teams on your outstanding efforts. Here are the results as The Beehive went to press:
Congratulations to Varsity and JV Bowling, who both won the Brooklyn/Queens Championship in December. The Varsity carried their success into the City Championship Playoffs, where they were victorious over Salesian High School and La Salle Academy in the playoffs to capture the coveted City Championship trophy! Of note, this is the 20th city title for Coach Vinny Leonardo between both the Varsity and JV teams. This year's JV Bowling team finished second in the city!

The Girls Swimming team dominated once again in 2016-17, finishing 8-1 on the season. The league championships are set for February 4th and 5th. Bridget Montgomery broke her own record in the 200 free, besting 2:00.98 with a new record of 2:00.37. The Boys Swimming team is looking to rebound from a 3-4 start. Championships are scheduled for February 11th and 12th.

The Girls Varsity Basketball team is an impressive 9-5 on the season. They are ranked in the top 100 in the country (USA Today), top 20 in New York State (MSG Varsity, NYC Hoops, NYS Sports Writers), and top 10 in NYC (MSG Varsity, NYC Hoops). Our Girls JV Basketball team is a convincing 12-2 overall with a 4-2 league record.

The Boys Varsity Basketball team, including several nationally ranked players, is 9-5 on the season with a little less than a month left to play. They were also champions of the Marist Invitational Tournament in December. News 12 Varsity currently ranks the Stanners at 4th in NYC. Top players include Cole Anthony (Class of 2019 Ranks: 1 NY State, 1 Point Guards, 11 National), Moses Brown (Class of 2018 Ranks: 1 NY State, 1 Centers, 17 National), and Khalid Moore (Class of 2018 Ranks: 4 NY State, 35 Small Forwards, 134 National). The Varsity team also recently visited the Naismith Basketball Hall of Fame as part of another tournament (pictured). "Molloy was well represented as part of the NYC Basketball display," said Coach Mike McCleary. Our Boys JV Basketball team is a solid 9-3 to date. The Boys Freshman Basketball team is also impressing this season with an 8-4 record.

In Track & Field, the Boys Freshman and Sophomore teams both won the Brooklyn/Queens Championship. Freshman Peter Meehan '20, who turned heads at Freshman Field Day in October by setting a new high jump record at 6ft, set the Molloy record for competitive high jump with an incredible 6'2" jump. Peter is ranked #1 in Brooklyn/Queens in High Jump and Pole Vault and #3 in Long Jump (Athletic.net). At Stanner Games, Molloy won the Shuttle Hurdle Relay, qualifying for Nationals. Also at Stanner Games, Oluwatomide Alao '17 won the 55 meter hurdles.

JIM HAAG '69 APPOINTED MANAGING DIRECTOR, VERDURA & BELPERRON
PRESS RELEASE — New York, NY (December 2, 2016) – It was announced that James F. Haag, Molloy Class of 1969, has been appointed to the newly created position of Managing Director of Verdura and Belperron, the American fine jeweler headquartered in New York. Jim will be responsible for marketing and communications as well as sales and product development.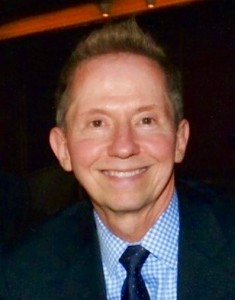 With over 25 years in luxury retail experience, Jim joined Verdura in 2006 as Vice President of Sales and Business Development. He has played a major role in growing Verdura's business in New York and across the US through its retail partnerships. Jim also played a pivotal role in creating Verdura's 75th anniversary exhibition in 2014 and in launching the Belperron brand the following year. The announcement was made by Nico Landrigan, President of both legendary jewelry brands. "We are thrilled to have Jim's exceptional experience and passion for jewelry in this leadership role at our organization. He has a proven track record of success. We look forward to continued growth with Jim in this key role," said Landrigan.
Prior to joining Verdura and Belperron, Jim headed the US Marketing activities for The Diamond Trading Company/DeBeers Group from 1990-1998 and led Harry Winston's Sales and Marketing worldwide from 1998-2006. During Jim's time at Harry Winston he was responsible for several high profile sales that triggered a dramatic increase in interest in colored diamonds. A native New Yorker, he was drawn back to his home town and the world of post "Mad Men" advertising in 1978 after graduating from The American Graduate School of International Management in Arizona. | Read the Full Press Release
Class Updates
We're excited to report good news for two Stanner couples! Dean Sadik '11 and Anna Cedrowski '11 have announced their engagement, while Armen Torossian '04 and Christina Vergara '04 have announced an engagement of their own! No doubt wedding prep is well underway. Congratulations and best of luck on the way toward happy lives together!


We are saddened to share the passing of Donald Halmy, beloved husband of Carol, loving father of Donald C. Halmy '82, Christopher Halmy '86, and Marie Mignoli-Lombardi. Devoted grandfather of Sasha, Dylan, Elizabeth, Luke, Sophia, Dayton, and the late Sam. Beloved brother of Louise Parrish and Magda Kristoff. Please join us in praying for the Halmy family during this difficult time.

We are saddened to share the passing of Ed Averill, father of Frank Averill '76 and Dennis Averill '76. Mr. Averill passed away at the age of 96. He was a long-time fan of Molloy and CHSAA track and field and closely followed Stanner sports over the years. In the words of his son Dennis, "he provided a great example of faith and Christian living." Please keep Ed and the Averill family in your prayers.