Over $35,000 Raised at 2017 Br. Ron Marcellin Scholarship Dinner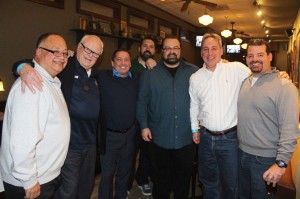 On January 15th, the Stanner community gathered for our annual Br. Ron Marcellin Scholarship Dinner. This tradition, now over 20 years running, is an incredibly impactful event that directly benefits students experiencing extraordinary circumstances. Thanks to the efforts of event participants and, in particular, the dedication and tireless work of the alumni on the Br. Ron Marcellin Committee, this event has raised over $435,000 for the scholarship in Br. Ron's name since its inception. This year, the Stanner community stepped up once again, as over $35,000 was raised at our dinner. That sum came in the form of event admissions, raffle ticket sales, auction prizes, and donations. Of note, this year's winner of the 50/50 raffle chose to donate his cash prize of over $2,300 back to the Br. Ron Marcellin Memorial Scholarship. This was a wonderful gesture that speaks to the character of every person involved in this event over the past nearly three decades.
The event included a delicious buffet dinner and open bar courtesy of Mike McGuire '81 and our friends at Trinity Restaurant & Bar in Floral Park. Mike and the Trinity partne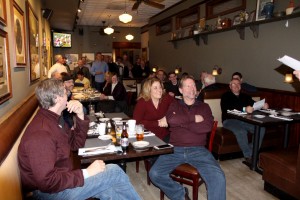 rs have graciously hosted this event for as long as anyone can remember, and for that everyone at Molloy is extremely grateful. As a sign of gratitude, Alumni Development Director Craig Katinas '93 and Mr. Lou Santos, both longtime members of the Br. Ron Committee, presented Mike with a commemorative plaque for his and the staff's years of his kindness and service to the Molloy community.
Craig later spoke prior to the auction and shared words of thanks. "We are grateful to everyone who makes this event special and this scholarship a reality. Your generosity helps students in need every year and that can't be understated," said Craig. He continued saying, "I would like to extend special thanks to Mike McGuire and his partners, Martin Whelan, Kevin Farrell, and the wonderful staff at Trinity's for hosting and providing such terrific food, drink, and merriment." Thanks to all who came out on the 15th. Please know that your support will help change students' lives, and that is the greatest gift of all.

'77 & '89 Stanners Gather for Mini Reunions
The Stanner Alumni Center was excited to see two class years gather recently for mini-reunions! The Classes of 1977 and 1989 organized events in Queens (Dee's of Forest Hills) and Manhattan (Red 58) respectively that welcomed any and all members of their classes to reconnect. Both events enjoyed strong turnouts! We encourage all Stanners to join together for similar events (and we're always happy to help coordinate them!) The following is a piece submitted by John Doyle '77 recapping his class' mini-reunion:
"In what has become an annual tradition, members of Molloy's Class of 1977 gathered on January 13th at Dee's restaurant in Forest Hills to share memories, laughs, and a good meal. A little over 20 Stanners, many former track team members, managed to squeeze a few hours into their busy schedules to celebrate the lasting bonds of friendship formed close to 40 years ago.

Each year we have been fortunate to have some new friends join the gathering as personal schedules made attending a possibility – this year Bob Kennelly came from as far away as New Hampshire and Frank Rainer traveled from Florida – and we were lucky once again to catch pilot Greg Sanchez on a stopover. Others in attendance included Aris Haigian, Dan Burke, John Corrigan, Joe Arrigo, Don Kearns, John O'Keefe, Mike Skomsky, John Murray, Tom McEnerney, Andy Tansey, Mike Flynn, Mike Fox, Tom Pappas, Peter Hillenbrand, Robert Pasqual, Steve O'Keefe, Werner Sbaschnik, and Tom Pasculli.

Over the last four years we have managed to reconnect with close to 50 different Stanners from our class and together we are committed to seeing one another on November 4th, 2017 (Save the Date!) to celebrate our 40th anniversary reunion. We are honored to be celebrating our 40th in the same year that the Stanner Community celebrates the 200th anniversary of the Marist Institute and 125 years since the doors of St. Ann's Academy opened at East 76th Street and Lexington Avenue.

It is amazing to experience how the simple gathering of old friends feels like a journey back in time, as faces and voices connect with cherished memories – as well as a few we would rather forget – like room 123! One of our favorite collective memories was how Br. James Maher could command the attention and respect of the entire student body by simply walking into a crowded Jack Curran Gym, or how Mr. Smith, may he rest in peace, could spot a tie-less student from over fifty yards away.

May God continue to bless all Stanners and may we see over 100 Class of '77 members turn out on November 4th, 2017!" — John Doyle '77
Around the School
There's Still Time to Catch Stanner Basketball This Season!

Molloy basketball has been buzzing throughout the winter, and we would like to invite you to come support our home teams if you haven't yet this season! Our boys and girls teams are making a statement in the city rankings (Varsity Boys Ranked 1st at 14-5, Varsity Girls Ranked 5th at 11-7), but they need your support! Please take a moment to download our Winter Athletic Schedule by clicking the button to the right. There are still a few home games left before playoffs begin, including tonight's triple header, so don't miss out on any opportunities to root for the Stanners! (Photos courtesy of Damion Reid / News 12 Varsity)
Student Volunteers Continue to Inspire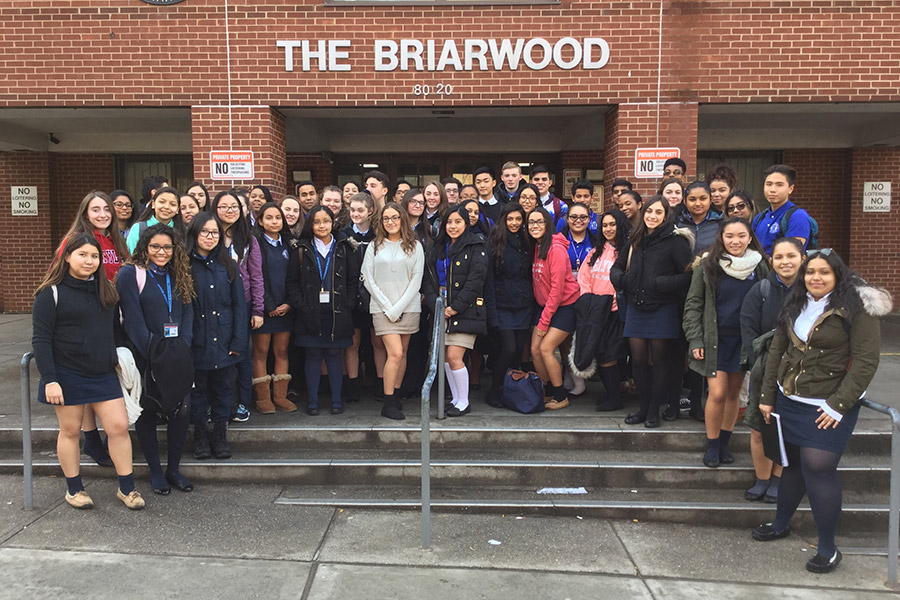 The Beehive recently received a great group photo of our Briarwood Shelter volunteers. The photo was taken outside the Shelter, which is just down the road from Molloy. These volunteers meet one day per week to tutor and spend time with children at the Shelter, which is owned and operated by The Salvation Army. Molloy's relationship with the Briarwood Shelter has been strong for many years, and with no signs of slowing down, we look forward to seeing our students continue to make a difference in the lives of others. We commend them on a job well done, and we thank you to Director of Campus Ministry Mr. Mike Germano '93 for sharing the photo!
Upcoming Events
Stanner Hall of Fame Induction

When: Saturday, March 25th, 2017 | Time: 5:30 PM
Where: Archbishop Molloy High School
Contact: Matt Rizzotti '04
Tickets: $100 per person (includes hors d'oeuvres, beverages, dinner & dessert)
We invite all members of our community to join us on Saturday, March 25th to celebrate the induction of our Stanner Hall of Fame Class of 2017. Molloy will induct the following distinguished individuals:
Bro. Zephiriny (Founder of St. Ann's Academy)
Bro. Aquinas Richard '48
Mr. Lou Santos
Mr. Richard Reilly '63
Mr. Michael O'Neill '71
Capt. Liam Flaherty, FDNY, '83
The evening program will include hors d'oeuvres, beverages, dinner & dessert as well as presentations by each of our distinguished inductees. In particular we invite Stanners from the Classes of 1963, 1971, and 1983 to come out and support their classmates, as well as former track & field athletes and students to come out and support our faculty inductees. Please contact Matt Rizzotti '04 with any questions about the event. We look forward to celebrating this historic occasion with you on March 25th!
Jim Kinnier Stanner Golf Classic – Save the Date!
When: Monday, May 1st, 2017
Where: North Hills & Plandome Country Clubs
Contact: Matt Rizzotti '04
We're already thinking about spring as we begin gearing up for our 31st Annual Jim Kinnier Stanner Golf Classic! Save the date for May 1st, 2017! Find out more information online by clicking the link above, or contact Alumni Development Officer Matt Rizzotti '04 for more information. Invitations and raffle tickets will be mailed soon. We hope to see you this spring!
Esopus 75th Anniversary Gala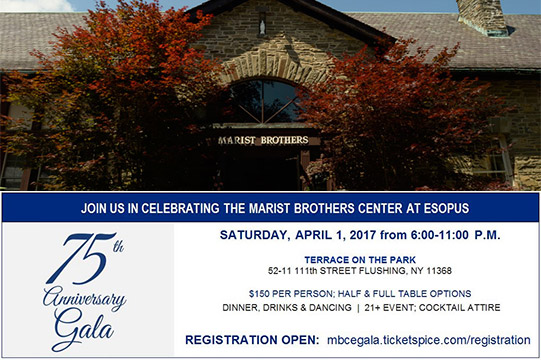 Dr. Rocco Marotta, MD, PhD, '66 Honored at Silver Hill Hospital Giving Hope Gala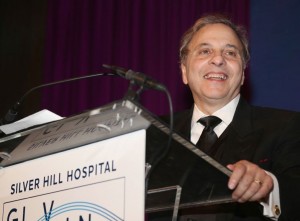 PRESS RELEASE — On Monday, November 14, 2016, Silver Hill Hospital (New Canaan, CT) held its seventh annual fall Gala at Cipriani 42nd Street in New York City. Rocco Marotta, MD, PhD, Archbishop Molloy Class of 1966 and Weill Cornell Medicine Alumnus, received the 2016 Visionary Award for his outstanding work as a psychiatrist in Silver Hill Hospital's Transitional Living Program. MSNBC's Morning Joe co-anchors Joe Scarborough and Mika Brzezinski hosted the evening. Former NBA player Chris Herren attended as a special guest speaker.
More than 500 guests attended the 2016 Giving Hope Gala, which raised more than $1.15 million for hospital initiatives serving individuals who would benefit from long-term residential treatment programs but are without adequate resources to cover the costs.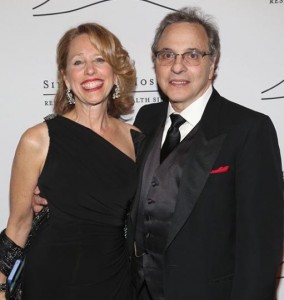 "Our driving force is the needs of our patients and their families who are dealing with dangerous and painful conditions," said Dr. Marotta when he accepted the award. "We are dealing with people in crisis, living in a world in conflict. Our staff must sacrifice much to be able to do this and I am so lucky to work with them at Silver Hill in this task. At Silver Hill Hospital, the social workers, counselors, nurses and aids, administrative and support staff, and the doctors never give up. I feel that this award is for the entire clinical staff of our hospital. I am nothing without them." (Photos courtesy of Sylvain Gaboury / Patrick McMullan) (Dr. Marotta pictured left with wife Lisa)
Maurice Stucke '83 Co-Authors Tech Critique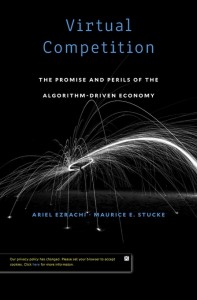 Maurice Stucke '83 is of counsel at The KonKurrenz Group, which advises small businesses, Fortune 500 firms, consumer advocacy groups, and governments on issues of petition, privacy, and consumer protection law. A Georgetown grad, Maurice is also a professor of law at The University of Tennessee Knoxville specializing in Antitrust Law, Behavioral Economics, Evidence, and Privacy Law. Recently, Maurice co-authored a new book with Ariel Ezrachi titled Virtual Competition: The Promise and Perils of the Algorithm-Driven Economy, a study of security and trust in the digital "app-assisted" age. "While consumers reap many benefits from online purchasing, the sophisticated algorithms and data-crunching that make browsing so convenient are also changing the nature of market competition, and not always for the better," a promo for the book notes. Virtual Competition received a positive review from Times Higher Education World University Rankings (THEWUR). In a profile of the authors published alongside the review, Maurice discusses his days at Molloy in Sister Eileen Gannon's class, who he describes as an encouraging teacher who "opened the doors" to formative supplemental reading. When speaking to The Beehive, Maurice also said he is "indebted to all the great faculty at Molloy including Brothers Anselm, Bob, McCauley, Van Houten, Aquinas, and Ronald David." Virtual Competition is available now at major book retailers. | Read the THEWUR Review & Author Profile | Virtual Competition | Big Data and Competition Policy
Class Updates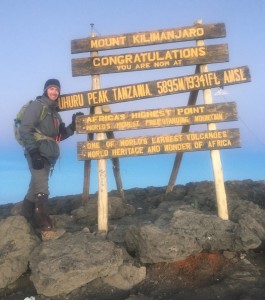 Congratulations to Robert DeLay '00 (pictured), who climbed Mount Kilimanjaro in Tanzania with friends last fall. Mt. Kilimanjaro is the highest mountain in Africa, rising up to 16,000 feet above sea level. Bobby and his group embarked on a seven day trek using the Lemosho Route, a remote, less-traveled western route that offers arguably the most scenic views. At midnight on the fifth night of their journey, they began their six hour summit hike. They arrived at the peak just as the sun arose. "We were standing on the roof of Africa. It was the most beautiful sunrise I have ever seen," Bobby recalled. Thanks for sharing this amazing photo, Bobby!
Kevin Dunn '78, Gary
Colter '76, Larry Vedilago '76 and friend John Laguzzi are set to perform an assortment of rhythms and grooves "for the mind, body, and soul" on Saturday, February 4th during a rockin' evening in Flushing. Come out and catch the band known as After Dark at BB's Pub and Grill (171-57 46th Avenue, Flushing, NY 11358) from 9:00pm-1:00am. | More Information


We ask you to pray for the repose of the soul of Helena Kobiński, mother of Sabina (Kobiński) Sullivan '04 and mother-in-law of Tim Sullivan '00. Please also keep the Kobiński and Sullivan families in your prayers.

We are saddened to share the passing of Robert J. Orthmann '64, brother of James Orthmann '67. Robert was the older son of Joseph and Marie Puciarelli Orthmann, born on October 9, 1946 in Jamaica, New York. He attended Immaculate Conception Elementary School, Molloy, NYU (BA in Psychology), and the New School for Social Research. Robert was a kind, caring person. He volunteered at Silvercrest, a nursing home in Briarwood, three days a week and earned an outstanding volunteer award for his services. According to his brother James, "When I would visit him (Robert) in New York and we'd go for a walk or go shopping, he'd introduce me to each homeless person we met on the way. He knew each face and each name, each story…He'd give them his spare change. He saw the human being there. He saw a person, like himself, if different, needing to be listened to, worth the time and the trouble and a little kindness." Robert was buried on the grounds of Holy Cross Abbey in Berryville, Virginia. Please keep Robert and the Orthmann family in your prayers.

We were recently informed of the passing of Thomas Reddy '54 on July 21st, 2016. Please keep Thomas and his family in your prayers.

We were recently informed of the passing of James P. O'Shea '56 on May 3rd, 2016. Please keep James and his family in your prayers.