PFC Louis Willett '63: Fifty Years Since Heroic Acts in Vietnam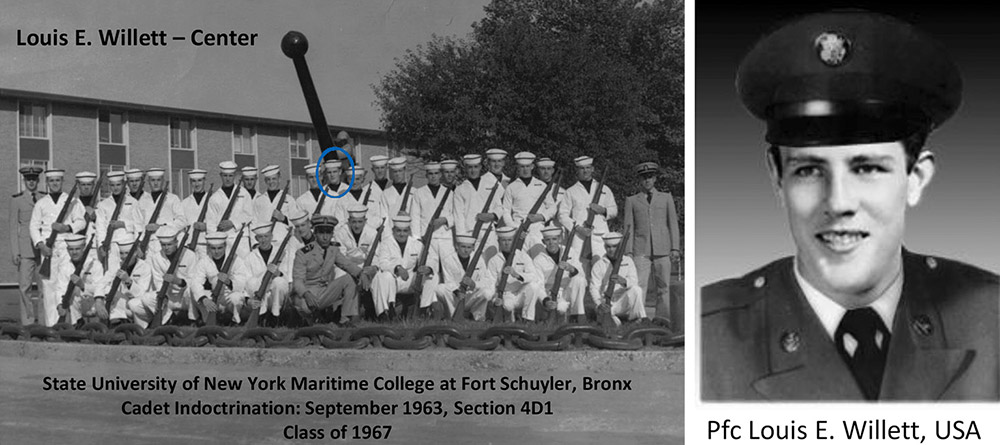 On February 15, 2017, Molloy recognized the 50th anniversary of the passing of PFC Louis Willett, Class of 1963, who displayed heroism and bravery beyond measure while in battle in South Vietnam. 50 years ago, on February 15, 1967, PFC Willett was mortally wounded while protecting the other members of his platoon from heavy enemy fire. PFC Willett was later posthumously awarded the Medal of Honor. He remains the only Stanner to receive this highest of distinctions. The excerpt below is from a piece written by retired US Navy Capt. Larry Seible '63, a classmate of PFC Willett's and a man who, along with other members of the Class of 1963, is dedicated to keeping the Stanner community mindful of PFC Willett's legacy of sacrifice.
by Ret. US Navy Capt. Larry Seible '63

It's hard to believe that our friend, fellow classmate, and Stanner was killed 50 years ago, 15 February 1967, in Vietnam. PFC Louis Willett, a most distinguished Molloy graduate of 1963, was posthumously awarded the Medal of Honor in 1968. Here is the story of Louis' heroic actions in that battle.

As with all major traumatic events in a person's life, every soldier who was present in Landing Zone (LZ) 501N in the republic of South Vietnam on the morning of February 15, 1967 can tell you exactly what he was doing when the first shots rang out and exactly how they reacted. Experiences like this are forever seared into a person's mind. For the men of Charlie Company, 1st Battalion, 12th Infantry Regiment, their day of reckoning had begun. (1)

Early in the morning, PFC Louis Willett was on a security patrol when his squad encountered a large North Vietnamese enemy force. They were immediately pinned down by overwhelming fire power from the heavily camouflaged, prepared forces. The intensity of the enemy fire would not allow the squad to return fire or commence retreating. PFC Willett, with complete disregard for his own life, rose to his feet and by expert use of fire and movement gained a position affording him a clear field of fire on enemy positions. Placing highly effective fire upon the enemy, PFC Willett suppressed the enemy sufficiently to allow his company to reorganize and begin movement toward the perimeter. (Pictured: Memorial wreath donated by the Class of 1963 next to PFC Willett's Stanner Hall of Fame sketch)

The squad leader directed PFC Willett to return to the squad's position. PFC Willett, realizing that his position was vital to the safe withdrawal of his squad, chose to remain in his position. The enemy, realizing that their position was untenable as long as PFC Willett remained in that location, directed their attention on his position. PFC Willett fell with multiple wounds and the full force of enemy weapons was brought to bear on the squad once again.

Struggling to regain his footing, PFC Willett, although in great pain, once more employed his weapon with consummate aim and suppressed enemy fire a second time, enabling his squad to withdraw to the eventual relative safety of the perimeter. Although directed to return to his squad again, PFC Willett, from his position, motioned the squad to the rear. PFC Willett knew full well that his refusal to return to the squad would deny him an avenue of escape. Placing the lives of his comrades above his own, PFC Willett, when last seen, was moving painfully from position to position, engaging the enemy at close quarters, and continuing to provide cover fire. He was mortally wounded in his efforts. The initial contact by PFC Willett and his squad denied the enemy the element of surprise and their delaying action enabled the perimeter defenses to delay and be prepared for the infantry assault that followed. (2)

---
Jim Kinnier Stanner Golf Classic – RAFFLE
Archbishop Molloy High School is proud to present the 31st Annual Jim Kinnier Stanner Golf Classic this spring. Since 1987, the Stanner Golf Classic has raised over $2 million in support of Molloy's scholarship program, which impacts academically gifted students as well as those in need of critical financial support. Your participation makes a tremendous difference in the lives of these students.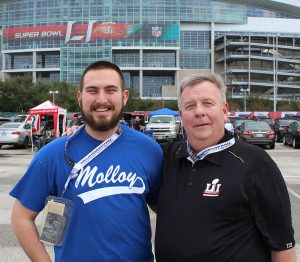 Invitations may have already arrived in your home mail. If you received yours, you will find five raffle tickets tucked inside the folded invitation. Raffle tickets can be purchased for $25 each or five for $100. Purchasing a raffle ticket makes you eligible to win any of three great prizes including a 55" HDTV, 4 days and 3 nights for two guests in Las Vegas (airfare and hotel included), and the grand prize – a trip for two to see Super Bowl 52 (Minneapolis, airfare and hotel included) in 2018!
How awesome is the grand prize? Just ask Billy Rabold '13 and his dad Bob Rabold. They were our grand prize raffle winners in 2016, and there really couldn't be a better winning combo. They absolutely love football and have always dreamed of attending a Super Bowl. Their small investment in our raffle ended up paying big dividends, as they spent the 2017 Super Bowl weekend in Houston, Texas. According to Billy: "That weekend was something that we will never forget. We met many former players, and got behind-the-scenes looks of the pre-game shows that my dad and I had watched every year for as long as I can remember. The Super Bowl itself was such an incredible game. Even tough we're Jets fans, being able to witness history is something that I will tell my kids and grand kids about! We are so grateful to Molloy for putting this trip together and for creating a lasting memory for us. And I know one thing: my raffle tickets for the 2017 Stanner Golf Classic are already in the mail. Are yours?"
Be sure to read the Beehive in the coming weeks for more Stanner Golf Classic coverage!
---
Over 120 Alumni Gather to Cheer on Molloy Vs. SFP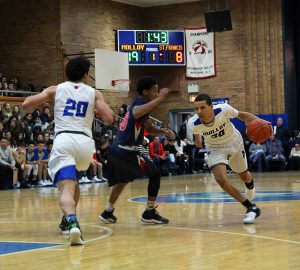 Our Alumni Night on February 3rd was a huge success, as over 120 alumni, including members of our Badges community, reunited on Manton Street to share a meal and cheer on Molloy. Alumni representing at least six decades of grads enjoyed a special reception in our cafeteria and VIP seating on the stage in the Jack Curran Gymnasium during Molloy's Varsity game against St. Francis Prep. This was the first opportunity for many alumni to catch the #1 ranked Stanners in action, and the team did not disappoint. Coach McCleary's squad, driven by the starting five of Cole Anthony '19, Moses Brown '18, Khalid Moore '18, John Herring '17, and Jackson Vertucci '17, led handily 48-21 at the half behind consistent offense. The second half was not close, as Molloy pulled away 92-41. (Pictured: Cole Anthony '19 drives to the net)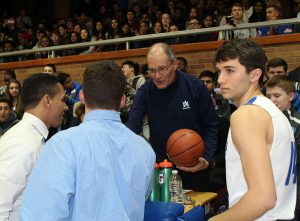 Also of note, before the Varsity game, public address announcer Mr. Jim Sheldon '88 signaled the crowd to attention to pay tribute to Br. James Vagan, who has called Stanner basketball games for 30 years. "30 years ago, our own Coach Jack Curran looked for someone to assist in guiding our athletes to become better students, athletes, and Christian people. For 30 years, Br. James Vagan has fulfilled the Marist calling by helping generations of Stanner athletes succeed in the classroom, on the field, and on the court," said Mr. Sheldon. He continued, "Members of this year's senior basketball and baseball class would like to present Br. James with a small token of their, and our, gratitude for h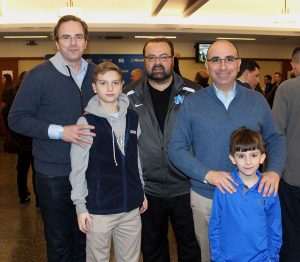 is continuing service to the Molloy community." The players then handed Br. James a signed ball (pictured) as he humbly stood behind the announcer's table and nodded his head to the crowd.
Alumni stuck around after the game to meet some of the players as well as to continue their celebration of all things Molloy. Thank you to all who attended our event and be sure to look for upcoming announcements about potential playoff gatherings as the Stanners look toward the ultimate prize: the City Championship!

---
Molloy Celebrates Alumnae Basketball Night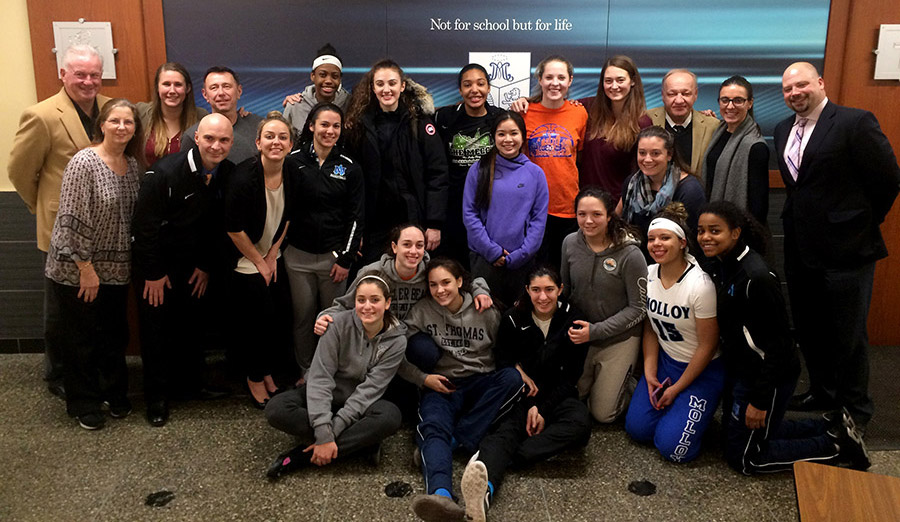 We would like to thank our alumnae who coordinated and attended a special event earlier in February in celebration of our girls' basketball program. Alumnae who played JV and Varsity basketball gathered for a light reception as well as to cheer on our current girls Varsity team as they faced off against St. Francis Prep. After the game, the Varsity team, faculty, coaches, and staff members visited our alumnae and joined in the celebration of the program. Our alumnae are excited to use this event as a springboard toward even larger events in the future. If you are a Molloy alumna and are interested in this or other efforts to bring our alumnae community together, please contact alumni@molloyhs.org.
---
Around the School
Alumni & Parents Invited to Donate Blood
When: Tuesday, March 14th, 2017 | 8:00am-2:00pm
Where: Capt. Marsloe Gymnasium (Molloy HS)
Molloy's annual Blood Drive, sponsored by the New York Blood Center (NYBC), is scheduled for Tuesday, March 14th from 8:00am – 2:00pm here in our Capt. Anthony Marsloe Gymnasium. According to the NYBC, your donation will help save up to three lives. Community hospitals are always in need of help, and this is the perfect opportunity to share a lifesaving gift. In cooperation with NYBC, we are happy to announce that alumni and parents are invited to join our students in participating in the drive. Click on the flyer to the right for more information on eligibility criteria or for contact information.
---
Varsity Softball Players Awarded Greater NY Sandlot Grant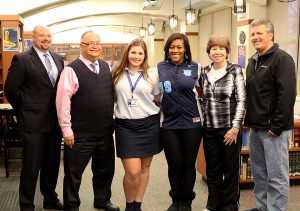 The Greater New York Sandlot Athletic Alliance (GNYSAA) has recognized two Stanners for their outstanding academic and athletic prowess. Varsity softball players Cierra Word '17 (center right) and Gianna Petragalia '17 were each awarded a $1,000 grant toward their college education during a special event in January. The GNYSAA has existed for over 70 years as the umbrella organization for all of Sandlot Baseball in the five boroughs and outer counties. The organization represents over 25,000 children playing baseball in New York. Its affiliates are of elite stature including Major League Baseball, the Baseball Tomorrow's Fund, and RBI Baseball (Rebuilding Baseball in Inner Cities). GNYSAA's annual awards dinner celebrates its hard-working players with recognition for excellence in academics and athletics as well as positive involvement in the community. Congratulations, Cierra and Gianna!
---
Science Olympiad Team Impresses at Regionals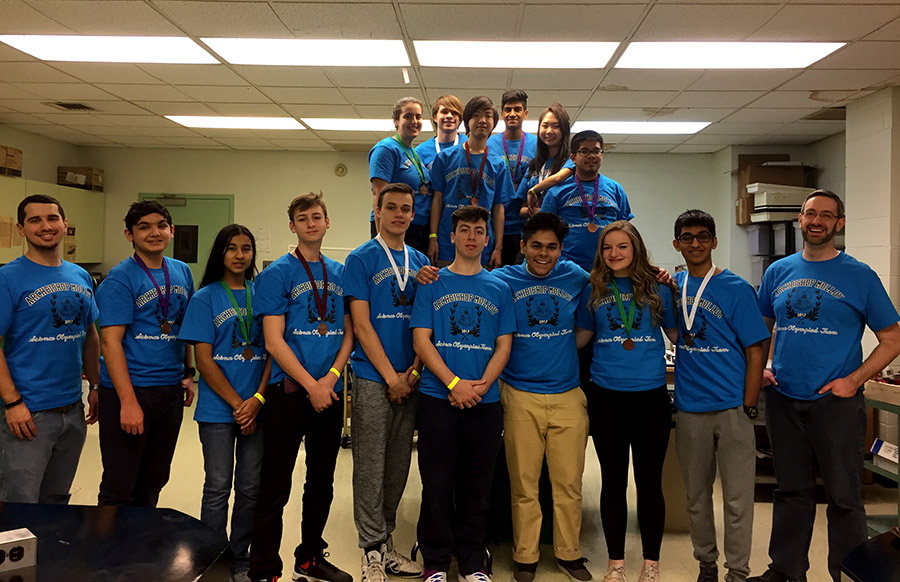 Congratulations to Molloy's Science Olympiad team, who placed 10th out of 40 schools in New York City during the Metro NYC Division Regional Competition held at Grover Cleveland High School on February 4th. Molloy was also the second highest ranked Catholic school in NYC. The following individual and team event results represent placement out of 66 total teams. Congratulations to all competitors!
Astronomy – 6th Place – Stephanie Lechki and Greg Sharma

Experimental Design – 5th Place – Francesca LaPinta, Julie Moran, and Gaurav Srivastava

Herpetology – 3rd Place – Vivian Chen and Ankit Agrawal

Invasive Species – 5th Place – Stephanie Lechki and Diana Munoz

Optics – 6th Place – Hobie Legaspi and Guarav Srivastava

Robot Arm – 3rd Place – Andrew Christophorou and Alex Rief

Write It / Do It – 10th Place – Eric Mun and Alex Rezhets

Helicopter / Rafter – 11th Place – Alex Rezhets
---
Upcoming Events
Stanner Hall of Fame Induction

When: Saturday, March 25th, 2017 | Time: 5:30 PM
Where: Archbishop Molloy High School
Contact: Matt Rizzotti '04
Tickets: $100 per person (includes hors d'oeuvres, beverages, dinner & dessert)
REGISTRATION NOW CLOSED
We invite all members of our community to join us on Saturday, March 25th to celebrate the induction of our Stanner Hall of Fame Class of 2017. Molloy will induct the following distinguished individuals:
Bro. Zephiriny (Founder of St. Ann's Academy)
Bro. Aquinas Richard '48
Mr. Lou Santos
Mr. Richard Reilly '63
Mr. Michael O'Neill '71
Capt. Liam Flaherty, FDNY, '83
The evening program will include hors d'oeuvres, beverages, dinner, and dessert as well as brief presentations by each of our distinguished inductees. We encourage Stanners from the Classes of 1963, 1971, and 1983 to come out and support their classmates, as well as former track & field and softball student-athletes to come out and support our faculty inductees. Please contact Matt Rizzotti with any questions.
---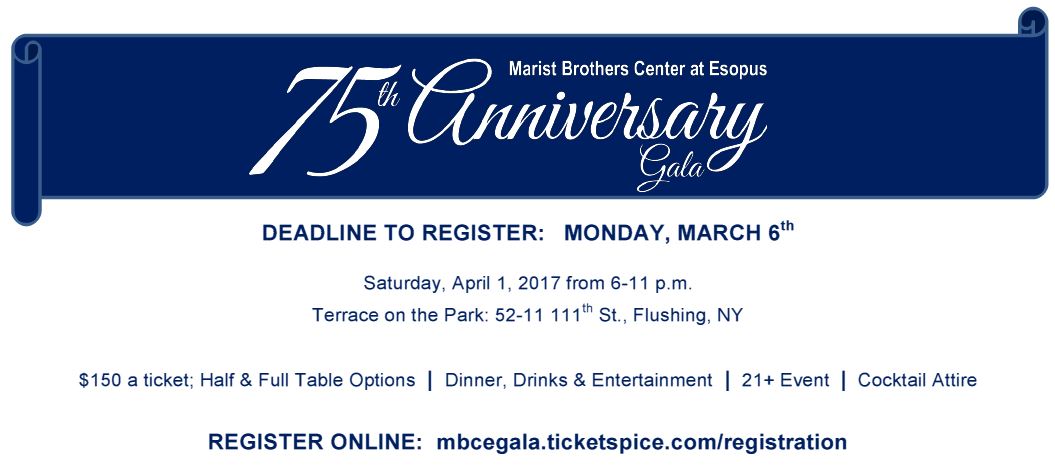 Melissa Gangi '07 "Dresses the Part" as Costumer for TV, Film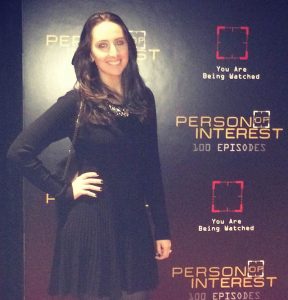 Melissa Gangi '07 is a Costumer and Costume Coordinator who is currently working on a spinoff of the hit NBC series The Blacklist titled The Blacklist: Redemption. Melissa holds a degree in Film & Screen Studies from Pace University. Melissa always knew she wanted to work in Film and TV, though originally she was interested in acting. After appearing in several productions as an extra (Law & Order: Criminal Intent, Gossip Girl, White Collar), Melissa pivoted. She eventually connected with a TV producer from another long-running series: The Jerry Spring Show. "Yes, that show," Melissa said with a laugh. "Among other things, my main responsibilities were consulting with producers, shopping outfits, and dressing the guests. It was demanding, but it sparked my interest in Wardrobe." (Pictured: Melissa on the red carpet for "Person of Interest")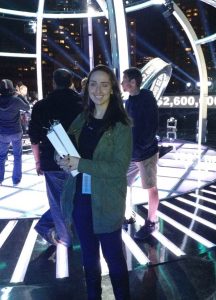 Melissa's next worked as the assistant to the executive producers of The Million Second Quiz starring Ryan Seacrest. It was her first experience with live TV. "Think 6 days, 100 hours a week," Melissa said. After that project wrapped, Melissa worked on the Victoria's Secret Fashion Show and Kelly Clarkson's Christmas Special before experiencing a period of inactivity. "I took a catering job temporarily. Then one day my Spanish teacher from Molloy, Mr. Santos, reached out to me just to check in. When he heard my situation he connected me with his old friend who works in the Film & TV business. It was perfect timing. I am so grateful for his kind gesture." Through Lou's contact, Melissa joined the Locations Department of Person of Interest. "After that, I knew I wanted to get back into Wardrobe, so I introduced myself to that department. For the next season I worked in Costumes as their production assistant, and within a few months I was promoted to Costume Coordinator." Other Costume credits include Braindead and The Good Wife. (Pictured left: Melissa on the set of "Million Second Quiz")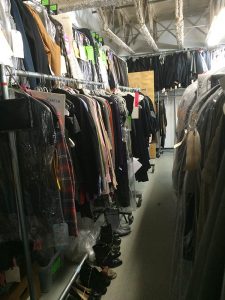 Melissa explained the difference between Costumes and Wardrobe. "Costumes is more of the design side and includes shopping for clothes, budgeting, assisting the designers, setting up fittings with the actors, and making sure everything is where it should be at the right time. Wardrobe is the execution, dressing the actors and being on set to make sure all goes well. Both require directly working with the actors and attention to detail. Continuity is also important. If a background actor has a purse in one scene, it's our responsibility to make sure they match that look for multiple takes or the mistakes will be visible in the final cut." (Pictured: Wardrobe room for "Person of Interest")
Though the industry is demanding, Melissa knows she has found her niche. "I'm excited about exploring Wardrobe more, but down the line I would love to own a production company and produce, direct, write, and maybe even act more. It's been a dream of mine to see one of my screenplays come to life, and I hope I'll have that chance one day!" | Melissa Gangi on IMDB.com
---
Class Updates

Molloy basketball greats including Kenny Smith '83, Kenny Anderson '89, and Coach Jack Curran, are featured in a new book, The Beach Ball Classic, Premier High School Hoops on the Grand Strand, which explores the rich history of the Beach Ball Classic Basketball Tournament. Founded in 1981, the tournament saw Molloy and other Catholic high schools from New York City travel to Myrtle Beach, South Carolina, in pursuit of what quickly became considered one of the most coveted trophies on the east coast. Molloy established itself as a competitive presence in the tournament throughout the 1980s, highlighted by four tournament championships in 1983, 1987, 1988, and 1989 (source). Smith and Anderson, of course, were active players during those runs. The book, written by author Ian Guerin, paints a vibrant picture of the tournament's history and references Molloy prominently throughout. High school basketball fans take note! | Learn More
Matt Genova '86 is the President and Owner of NEXT ACT Franchise Advisors, a recently launched consultancy catering to people who want to explore the world of business ownership through franchising. Learn more about Matt's new venture at http://www.nextactfranchiseadvisors.com/.

Remembering Mr. Salmon & Br. Francis Thomas, FMS

Archbishop Molloy High School is saddened to share the passing of two former faculty members last week: Mr. Richard Salmon on February 8th and Br. Francis Thomas, F.M.S. on February 9th.
We encourage alumni to share their memories of Mr. Salmon and Br. Francis at alumni@molloyhs.org.
Mr. Salmon, who in retirement had been living in San Diego, was a member of Molloy's Social Studies department from 1962-1995. Always wearing his signature cardigan, and ever the storyteller, he was a well-respected and dedicated teacher who inspired students and colleagues alike. Upon learning of his passing, faculty members described him as "a great friend," "a perfect gentleman," "a caring Christian," "a true intellectual," and even "a saint." Please keep Mr. Salmon and his family in your prayers.
Br. Francis Thomas, F.M.S., who taught for over 55 years in NY Marist Schools, died on February 9th at DeLaSalle Home in Lincroft, NJ. He was 86 years old. Br. Francis taught at St. Helena's High School from 1951–1960, Archbishop Molloy High School from 1960–1963 and again from 1990–2006, Christ the King High School from 1963–1970 and St. Mary's Manhasset from 1970–1990.
Born in the Bronx, Br. Francis entered the Marist Brothers in 1948 and made final vows in 1956. He is best known at Molloy for his many years as a religion teacher, but he also served in various capacities at Camp Marist in Ossipee, NH for over 55 years. Please keep Br. Francis and the Marist Brothers in your prayers.

We are saddened to share the passing of Brian Delaney '77, brother of Tim Delaney '84 and cousin of Rudy Leidl '67 and Richard Leidl '69. Brian was a retired NYPD officer and maintained many friendships with his fellow Stanners from the Class of 1977. He will be sorely missed. Please keep Brian and the Delaney family in your prayers.

We are saddened to share the passing of Felix J. McCoy '57 on February 7th at the age of 77. According to his family, he enjoyed a happy and wonderful life with his wife of 53 years, Lorraine, in Henderson, Nevada. Please keep Felix and his family in your prayers.

We ask you to pray for the repose of the soul of Lawrence Abbatangelo '70. Lawrence, or Larry as friends knew him, worked in the Nassau County Family Court before recently transferring to the Nassau County Supreme Court toward the end of 2016. According to a friend, Larry valued his years spent at Molloy and his friends in the community. We pray for Larry and his family today.

We were recently informed of the passing of Walter J. Roach '63 on April 25th, 2016. Please keep Walter and his family in your prayers.
---
---