#MaristDayofService – March 29th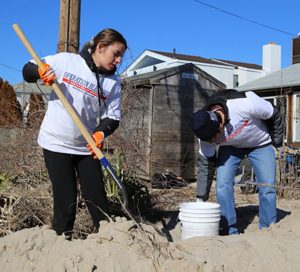 Service to others is at the heart of what each Marist school does. During any given school year, students at Molloy are actively involved with service programs around the school, in New York City, and on several service trips across the globe. As part of this year's celebration of the founding of the Marist Institute, Molloy will actively participate in the Marist National Day of Service on Wednesday, March 29th through a variety of planned service projects, fundraisers, and prayer services. Molloy's plans for the #MaristDayOfService include the following (with the addition of more plans possible):
Between 100 and 200 students will assemble and donate hundreds of peanut butter and jelly sandwiches to local shelters and pantries.
20 students and 3 chaperones will participate in a park clean-up in collaboration with fellow Marist school Mount St. Michael Academy in the Bronx. The park will be equidistant from both schools.
12 students and 1 faculty member will provide ESL and math tutoring at ComUnidad Juan Diego in East Harlem.
90 students accompanied by 5 faculty members will visit Briarwood Shelter to engage in a service project with our local community.
12 students and 1 faculty member will volunteer as part of Lifespire and spend time with special needs adults.
100 students and 4 faculty members will represent the St. Marcellin Champagnat Society and travel to the Rockaways to help with beach clean-up and other residual effects of Superstorm Sandy dating back to 2012.
150 students will make care packages to be donated to Midnight Run and other organizations who benefit those in need.
In addition, students and faculty with the St. Marcellin Champagnat Society returned from Winter Break in late February having just completed a week-long service project helping migrant families in southern Arizona (more on this story in the March 17th issue of The Beehive).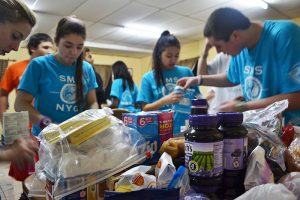 Molloy alumni should take pride and comfort in knowing that today's generation of students are being encouraged to actively experience the world beyond their high school. Through service initiatives such as the SMCS trip to Arizona and those planned on March 29th, Stanners will hopefully gain a broader understanding of the immediate challenges facing those less fortunate. The Marist Brothers and faculty of Molloy hope that students, with open eyes and ears, will develop an added sense purpose in their lives and embrace future opportunities to do good for others in need. As the Brothers are saying this month, "Doing Good is Good to Do."
More information about the Marist National Day of Service can be found by clicking the banner below. Please also take a minute to watch the Marist Brothers' kickoff video for #MaristDayOfService.

Around the School
Boys Varsity B-Ball Are B/Q Champs, To Play All Hallows Sunday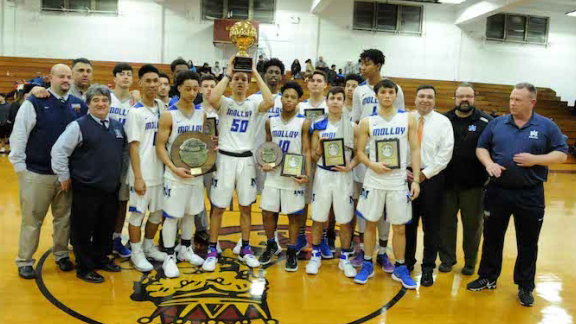 (Photo by Damion Reid, News 12 Varsity)
Molloy's boys Varsity basketball team has made all kinds of headlines this season, but to this point none have been bigger than the win that brought home the coveted CHSAA Brooklyn/Queens Class "AA" Diocesan Championship. Molloy defeated Bishop Loughlin on February 24th 80-67 to bring the trophy home. Sophomore Cole Anthony '19 dazzled with 32 points, while juniors Moses Brown '18 and Khalid Moore '18 racked up 16 and 15 points respectively. In all, it was a total team effort that paved the way to victory. To add icing to the cake, Brown and Anthony have both been named First Team All-CHSAA.
News 12 Varsity: Molloy Wins CHSAA B/Q Diocesan Title
It's up for debate whether Molloy is ranked #1 or #2 right now (State, City, and CHSAA rankings vary across news outlets), but regardless Molloy has continued to knock on the door in their quest for a City Championship. Coach Mike McCleary's team has advanced to the Quarterfinals of the "AA" Division City Playoffs, where they will face All Hallows (#4 NYS) this Sunday, March 5th at Fordham University Rose Hill at 1:00pm (*Note: tickets available only at the door). Starters Anthony, Brown, Moore, John Herring '17, and Jackson Vertucci '17 are a must see right now, so if you can, be sure to head up to Fordham to help cheer the Stanners to victory!
News 12 Varsity Rankings | NYCHoops.net Rankings | Quarterfinal Info
Girls Varsity B-Ball Celebrates Senior Day, Beats SI Academy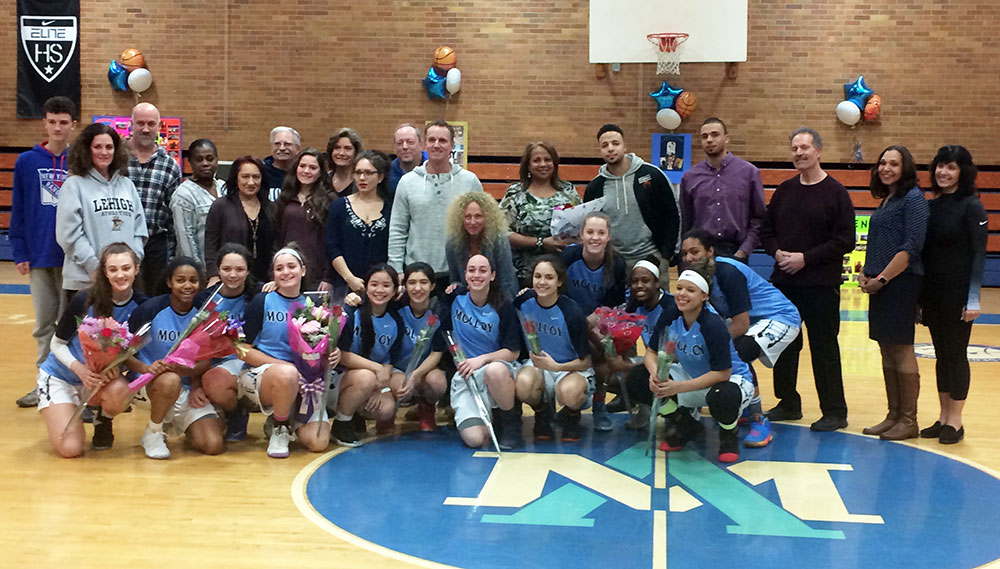 Our girls Varsity basketball team celebrated their Senior Day on February 21st, an annual tradition that sees coaches and players thank and recognize the efforts of our upperclassmen before they wrap up their season and graduate in just a few short months. Later that evening, the team suited up for their last regular season game against Staten Island Academy, who rank third in the city. Molloy came out on top with a big win in a close contest 51-44. With the victory they finished the season with a 13-7 record! Read more on the girls Varsity squad in our Winter Sports Recap.
Winter Sports Recap
by Michael LaBella '17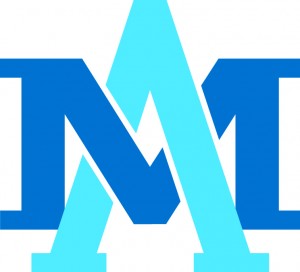 The Stanners carried their strong sports success from the fall into the winter, recording an 80-28 overall record in basketball and racking up multiple championships across track, bowling, and swimming. The boys Varsity "A" team finished as the B/Q regular season champions with a 17-7 record. The boys Freshman team finished 17-5 overall and tied for 1st place while the JV team claimed the number three seed with a 16-6 record. The girls Varsity basketball team is currently 13-7, ranked in the top 100 nationally by USA Today, and the top 10 in the city by MSG Varsity, while the girls JV team holds a 17-3 record. Varsity bowling finished as B/Q and City Champions while JV bowling finished as B/Q champs and 2nd in the city.
The girls swimming team were 2nd place champs, and Bridget Montgomery '19 broke her own record in the 200 free this season. In track and field, the boys Freshman and Sophomore teams both won the BQ Championship, while Peter Meehan '20 set the Molloy high jump record at an amazing 6'2". Eight Stanners qualified for the New York State Federation Championship, the highest number of Molloy athletes ever to qualify for the meet. Aaliyah Josey '18 (Triple Jump), Kristen Mardenborough '18 (Long Jump), Meesha Samuels '18 (1000 Meter), Elvir Hot '17 (Shot Put), Peter Meehan (High Jump), and Oluwatomide "Tommy" Alao '17, Joshua Titus '18, and Chinemerem Ononiwu '18 (55 Meter High Hurdles) will all compete in the meet Saturday, March 4th.
Reminder: Alumni & Parents Invited to Donate Blood
When: Tuesday, March 14th, 2017 | 8am-2pm
Where: Capt. Marsloe Gymnasium (Molloy HS)
Molloy's annual Blood Drive, sponsored by the New York Blood Center (NYBC), is scheduled for Tuesday, March 14th from 8:00am – 2:00pm here in our Capt. Anthony Marsloe Gymnasium. Click on the flyer to the right for more information on eligibility criteria or for contact information.
Upcoming Events
Molloy to Induct Six into Stanner Hall of Fame – Deadline March 17th
When: Saturday, March 25th, 2017 | Time: 5:30 PM
Where: Archbishop Molloy High School
Contact: Matt Rizzotti '04 | (718) 943-3186
Tickets: $100 per person (includes hors d'oeuvres, beverages, dinner & dessert)
We invite all members of our community to join us on Saturday, March 25th to celebrate the induction of our Stanner Hall of Fame Class of 2017. The evening program will include hors d'oeuvres, spirits, dinner, and dessert as well as brief presentations by each of our distinguished inductees. We encourage Stanners from the Classes of 1963, 1971, and 1983 to come out and support their classmates, as well as former track & field and softball student-athletes to come out and support our faculty inductees. Please contact Matt Rizzotti (info above) with any questions.
Learn more about our distinguished honorees below.
Bro. Zephiriny (Founder of St. Ann's Academy) — Brother Zephiriny was born in Lyon, France in 1861 and completed his Marist novitiate training in 1881. In 1891, he was chosen to found the first Marist school in New York City. St. Ann's Academy would open one year later. In subsequent years, Br. Zephiriny would serve as the head of the Marist Brothers in North America, overseeing expansion and growth where possible. The New York region remained of particular interest to him, and in turn he focused many of his resources on supporting not only the St. Ann's community, but fledgling ones in Poughkeepsie and further north in Vermont. Poughkeepsie would later be the home of Marist College. As founder of St. Ann's, the "Beehive", and our motto "Non scholae sed vitae", Br. Zephiriny is a big reason why Archbishop Molloy High School is here today.
Br. Aquinas Richard, FMS, '48 — Br. Aquinas coached track and field at Molloy, on the books, from 1960-1986. After that point, Br. Aquinas continued to provide instruction, lending his time and talents without hesitation for the benefit of Molloy's student-athletes. He instilled a "never give up" attitude in each member of the track and field team, and became famous for his "Jog 5, Run 5, Jog 5" workouts. In academics, Br. Aquinas is a gifted teacher. He taught biology at Stanner High for 30 years, in turn sharing his love and knowledge of science with generations of students. Though retired from teaching, Br. Aquinas still volunteers his time each morning to set up and organize the biology lab and helps students one on one during lab assignments as needed. Br. Aquinas continues to inspire and add to his lasting legacy at Molloy.

Mr. Lou Santos — Lou Santos began his teaching tenure at Molloy in 1978 and became known as a "Jack of All Trades". Mr. Santos has made his mark over the past nearly forty years as a mentor, coach, volunteer, and one of Molloy's greatest advocates. He initiated International Day over 30 years ago, and he is one of the founding members of the Br. Ronald Marcellin Committee, which works with alumni and friends each year to raise scholarship funds for students in need. Mr. Santos has coached Molloy's JV Softball team since its inception and has led the team to numerous championships– including a city title in 2016. He is the President of the LI Baseball Association, Diamond Pros Inc., and VP of the Greater NY Sandlot Athletic Alliance. His lessons have inspired thousands of students and athletes. In 2017, we honor "Coach Lou".

Mr. Richard Reilly '63 — Richard Reilly is the Senior Vice President of the American Arbitration Association, which supervises all labor arbitration within the United States. Mr. Reilly has served in a number of other impressive leadership roles during his career. He was appointed Chairman of the Commonwealth of Massachusetts Joint Labor Management Committee of Police and Fire, and elected President of the Society of Professionals in Dispute Resolution. He was honored by the Cardinal Archbishop of Boston with the Cushing-Gavin Award for outstanding service in Labor Relations. Mr. Reilly is also active as a teacher, coach, and volunteer in his local parish. Also of note, Mr. Reilly was honorably discharged as an Army Reserve and once represented the USA in the Goodwill Games in the former Soviet Union by running a marathon.

Mr. Michael O'Neill '71 — Michael O'Neill is the Executive Vice President of Corporate Affairs & Communications for American Express. He is also the Chairman of the American Express Foundation, which oversees the company's charitable giving. He has been with the company for over 25 years. Mr. O'Neill is a lifelong Stanner. He describes his experience at Molloy as "terrific due to the quality of the faculty and the care of the Marist Brothers." He feels that Molloy nurtured his intellectual curiousity and prepared him well for the future. As a way to give back, Mr. O'Neill has been an active alumnus in the Molloy community for over 45 years. His generosity and commitment to Catholic education has made it possible for countless students to receive an enriching Stanner experience. Mr. O'Neill is a cornerstone in our community.
Capt. Liam Flaherty, FDNY, '83 — Liam Flaherty is a tenured and well respected Captain in the New York City Fire Department. His company was instrumental in the rescue and recovery efforts in the days after September 11th, 2001. As President of the FDNY Pipes and Drums band, Captain Flaherty made sure that the band attended and performed at the funeral services of all 343 firefighters lost in the World Trade Center. The veteran firefighter further displayed his selflessness and willingness to help others as part of a team deployed to New Orleans after Hurricane Katrina in 2005, and again as part of a team deployed to Haiti after the devastating earthquake in 2010. Captain Flaherty assisted in the rescue and recovery efforts at each location, helping to locate and tend to survivors and distribute food and other items to those in need.
Alumni Wine Tasting – REGISTER NOW!
When: Thursday, April 6th, 2017 | Time: 6:30pm
Where: Archbishop Molloy High School
Contact: Joe Sommo '03
Who: Alumni, Parents & Friends (Ages 21+)
Admission: $50 per person | Young Alum Discount $30 (Classes 2010 – 2014)
Alumni, parents, and friends (ages 21+) are invited to join us on Thursday, April 6th as Mr. Jim Sheehan '75 leads his latest wine tasting class.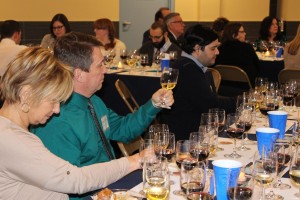 In Jim's words: "Bordeaux is certainly among the oldest and most elite wine regions in history. It's likely the Romans first produced wine there in the mid First Century.  A number of the most sought after–and wallet-breaking–wines in the world are blended in Bordeaux, priced prohibitively for all but a few. But what many people don't know is that the region produces hundreds of excellent wines which lack the name recognition of Rothschild and Latour but are widely available for reasonable prices. Join us for a tasting of six of these wines, 3 white and 3 red, complemented by light food and conversation about the history, wine-making and allure of the region."
Limited seating is available so we recommend signing up early. Please also note there is a discount for young alumni, Classes 2010 – 2014, of $30 per person (please email jsommo@molloyhs.org about the discount).
Jim Kinnier Stanner Golf Classic – AUCTION PRIZES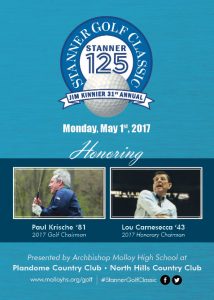 The 31st Annual Jim Kinnier Stanner Golf Classic is just 2 months away! Molloy is proud present our annual alumni golf outing this spring. Since 1987, the Stanner Golf Classic has raised over $2 million in support of Molloy's scholarship program, which impacts academically gifted students as well as those in need of critical financial support. Your participation makes a tremendous difference in the lives of these students.
We are now accepting all reservations, journal ads, and corporate sponsorships! In addition, we also humbly accept items from alumni who wish to contribute to our live and silent auctions. Each year the Stanner Golf Classic aims to offer premium auction prizes including high end spirits, vacation packages, sports and concert tickets, signed memorabilia, gourmet dinners, and much more. This is all thanks to our alumni, including our Golf Board, who consistently display loyalty to their alma mater through such acts of kindness. If you are interested in donating an item for auction or have any questions about the Stanner Golf Classic, please contact Alumni Development Officer Matt Rizzotti '04 (see links above).
Esopus 75th Anniversary Gala – Deadline March 6th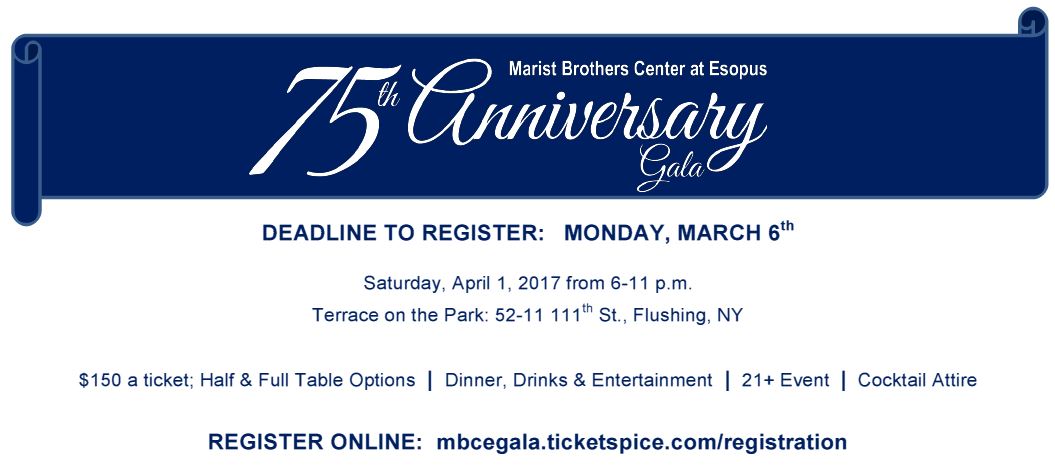 Desmond Flynn, Ph.D., '97 has been named the Irish Administrator of the Year by the NYC Department of Education's Emerald Society. He will be honored at a dinner-dance at Terrace on the Park on Friday, March 10th. For more information, visit emeraldsocietynycdoe.com.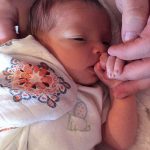 Congratulations to science teacher Mr. Eric Stolze '86 and wife Melissa on the birth of their daughter Jordan Scarlett. Jordan was born February 15th and entered the world 7lbs 7oz. Mom, dad, and baby are all doing well in the days since. Congratulations are also in order for Charlie Stolze, who is excited to have a new little sister!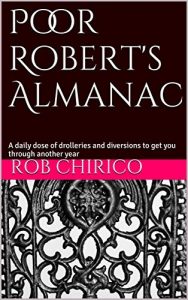 Rob Chirico '70 has authored a brand new book titled Poor Robert's Almanac: A daily dose of drolleries and diversions to get you through another year. The book, published by Manqué Enterprises and released on January 8th, is "a type of calendar that features facts, trivia, and humorous tidbits for every day of the year," says Rob. "My subjects have been culled from my many years of study and writing, and they range through the gamut of music, food and drink, history, art, politics, and practically something from all of this crazy life, the universe, and everything. The topics I include are so diverse as to appeal to anyone who is curious about the facts and foibles of our species—while hoping to garner a smile in the bargain. There is something for everyone." Rob's new book is available now at major retailers. | Learn more about "Poor Robert's Almanac"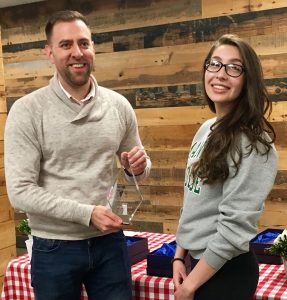 Erica Jarosch '14, a junior at Manhattan College, is a founding member of the College's Lasallian Outreach Collaborative (LOCo). Erica has received the Jack Usry Award, which POTS (Part of the Solution), an organization in the Bronx, gives annually to an exemplary high school or college student volunteer. Erica was recognized for her dedication to the POTS Family Club Program, where she has volunteered for the past two years. According to their website, POTS reaches out to members of the community in need by providing meals, mail services, a barbershop, shower facilities, workforce development, seasonal distributions, and many other important services. Congratulations, Erica!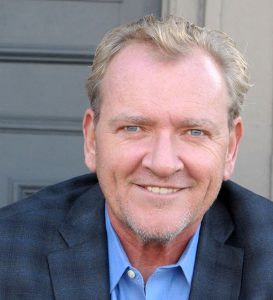 Veteran real estate agent Michael Daly '76 recently returned to Douglas Elliman, where he first started his career in 1998. The associate broker, who has built a career on his commitment to providing sound, straightforward and honest advice to his clients, is an expert on the local market and thought leader in the world of real estate. Michael is also deeply involved in his community. Notable commitments include the Peconic Land Trust Outreach Committee, North Haven Village Zoning Board of Appeals. Southampton Town Anti-Bias Task Force Co-Chair, Unitarian Universalist of the South Fork Membership Committee, and Sag Harbor American Music Festival Volunteer Coordinator. Formerly an associate broker at Sotheby's, the North Haven resident is based in the Sag Harbor Douglas Elliman office. "I am so pleased to be back at Douglas Elliman, where I developed so many personal and professional relationships that have served me well during my career," said Michael. Contact alumni@molloyhs.org to get in touch with Michael.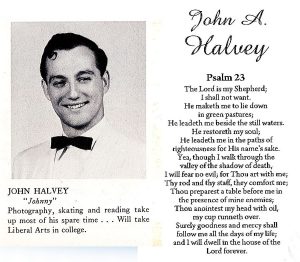 We are saddened to share the passing of John A. Halvey '57 on February 16th at the age of 79. John was born to John and Rose Halvey on February 4, 1938 in Manhattan, NY. He taught English at John F. Kennedy High School in the Bronx. John was the beloved husband of Margaret, devoted and proud father to John, and the loving grandfather to Colin, Grace and Meghan. He is also survived by several nieces and nephews. He was an avid reader and had wisdom beyond his years. He will be deeply missed by all.

 Please pray for the repose of the soul of Michael Mirabella, husband of Nicole Mirabella (Milberry) '07.
Remembering Brother Charles Marcellin, FMS
Archbishop Molloy High School is saddened to share the passing of Brother Charles Marcellin, FMS, a member of the Marist Brothers of the Schools for 63 years and former treasurer of Molloy as recently as 2012. He was 81 years old.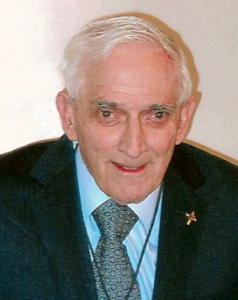 Brother Charles was born in Bronx, NY, before entering the Marist Juniorate in Esopus, NY in 1952. He became a postulant with the Marist Brothers in 1953 and entered the Marist Brothers Novitiate at Tyngsboro, MA in 1954. He professed first vows in 1955 after completing his religious and academic studies at Marist College, Poughkeepsie, New York. He professed his final vows in 1960. He earned a Master's degrees in History from St. John's University in 1964. He began his teaching career at St. Helena High School from 1958-1960 and served for many years as a teacher and administrator at the following schools: St. Mary's HS in Manhasset from 1960-62 (teacher), Christ the King HS in NY from 1962 – 66 (teacher), St. Helena High School 1966-69 (Assistant Principal), Msgr. Scanlon High School 1969-75 (Principal),Marist High School in Bayonne, NJ from 1975-77 (Assistant Principal) and 1977 – 82 (Principal), and Archbishop Molloy HS from 1982-2012 as school Treasurer.
Brother Charles was the son of Charles and Mary Elizabeth (Murphy) Kamarad. He is survived by his niece, grand nephews, many friends as well as by his Marist Brothers of the Province of the United States. More information is available at http://www.champagnat.org/430.php?a=6&id=1418
April 22

nd

 Memorial Service to Honor Mr. Salmon

Archbishop Molloy High School was deeply saddened by the passing of Mr. Richard Salmon on February 8th. After sharing news of his passing, we saw a beautiful outpouring of love and support for Mr. Salmon from our alumni community. We would like to share some of their words below, but first inform the Molloy community that Mr. Salmon's family has planned a memorial service in his honor to take place on Saturday, April 22nd at 11:00am at St. Kilian's RC Church (485 Conklin St, Farmingdale, NY 11735, 516.249.0127). Please contact alumni@molloyhs.org with any questions.
"Outside of my parents and siblings, [Mr. Salmon] has been the most influential person in my life. I have tried to live my own life, my life as a priest and as an educator, in some small way with his guidance in my ear and in my heart. He was truly "a man for all seasons." – Fr. John Serio '71
"Mr. Salmon's twentieth century course for seniors was like a grad course and conveyed the skills and appreciation of history that I needed when I went to grad school years later. Farewell to one of Molloy's greatest." – Robert Cuervo '66
"It often felt as if the material Mr. Salmon had to teach got in the way of what he really wanted to teach. I know that he loved history and that he needed to teach us about certain dates and events, but what seemed to excite him and make his classes so enjoyable was how he humanized history, how he brought it to life and related information that we didn't find in our textbooks. Mr. Salmon was indeed a master storyteller, his caring, gentle, peaceful soul was there on full display. That has what has stayed with me for almost 40 years. He impressed me and inspired me by just being who he was." – Rob Sancilio '80
"What a phenomenal teacher. I still recall some of his stories 26 years later. The world lost a brilliant teacher and wonderful inspiration." – Tomas Gedminas '91
"Mr. Salmon was a fantastic storyteller who brought history to life! I still think of him when reading history books. He was a great inspiration." – Rich Miller '92
"Mr. Salmon was a great teacher. He was responsible for me ultimately choosing NYU as my college. I will forever be thankful for his support and guidance during my high school years. He was a true leader in his own quiet way." – John Dibs '81
"For me, Mr. Salmon's signature line was 'Ok now, put down your pens and let me tell you a story,' at which time you knew you were about to hear some interesting anecdotes, learn about history with a twist, or take in a humorous tale about his family. To this day, I can remember so many of them. [He] always kept it entertaining and made us laugh. He was an all-time great at Molloy!" – Klaus Staab '84
"Mr. Salmon taught a world history course for the honors track students. It was very different in that we didn't have a single textbook, but we were asked to buy relatively inexpensive paperback books for specific topics. Two of our required reading books that I still own and enjoy are Phillip Hughes, 'A Popular History of the Reformation,' and Richard Storry, 'A History of Modern Japan.' The choice of these well-written books by authorities in their field, along with the carefully chosen scope of our topics, were the first tip-off that Mr. Salmon was not your typical high school teacher. He clearly had a love of scholarship and learning, and I suspected had a rich academic history himself.  When I later went to university in England, I recognized Mr. Salmon's intellectual heritage and style as being straight out of the Oxbridge-Trinity College tutorial style. To think that I had the privilege of being exposed to this in my sophomore year of high school really filled me with gratitude and appreciation. When I was applying to Ivy league schools my senior year, there were some issues with their being non-Catholic schools, but Mr. Salmon was extremely helpful in coordinating efforts so that I could assemble my recommendations in a timely manner. I can see and hear Mr. Salmon today, as if he were standing above me right now, brushing chalk dust off his sleeve. On behalf of my classmate Jim Hassett and myself, I express my sorrow at his passing to his family. We were all so richly blessed to have been indelibly formed by such a caring man of great faith and love of learning." – Eapen Chacko '65