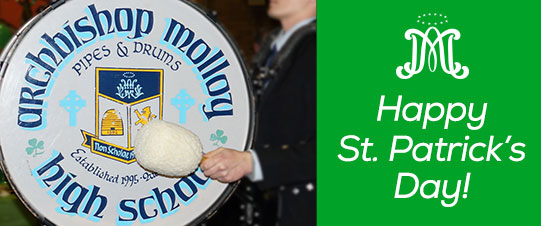 Upcoming Events
Alumni Wine Tasting – REGISTER NOW!
Alumni, parents, and friends (ages 21+) are invited to join us on Thursday, April 6th for Mr. Jim Sheehan's latest wine tasting class.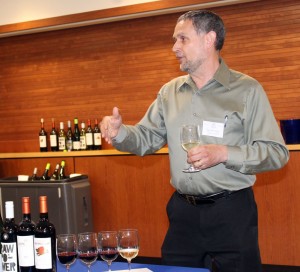 In Jim's words: "Bordeaux is among the oldest and most elite wine regions in history. It's likely the Romans first produced wine there in the mid First Century.  A number of the most sought after–and wallet-breaking–wines in the world are blended in Bordeaux, priced prohibitively for all but a few. But what many people don't know is that the region produces hundreds of excellent wines which lack the name recognition of Rothschild and Latour but are widely available for reasonable prices. Join us for a tasting of six of these wines, 3 white and 3 red, complemented by light food and conversation about the history, wine-making and allure of the region."
Limited seating is available so sign up early! Please also note there is a discount for young alumni, Classes 2010 – 2014, of $30 per person (please email jsommo@molloyhs.org about the discount).
---
Stanner Hall of Fame Induction – New Deadline March 20th

We invite all members of our community to join us on Saturday, March 25th to celebrate the induction of our Stanner Hall of Fame Class of 2017. The evening will include hors d'oeuvres, spirits, dinner, and dessert as well as brief presentations by our distinguished inductees. We encourage Stanners from the Classes of 1963, 1971, and 1983 to come out and support their classmates, as well as former track & field and softball student-athletes to come out and support our faculty inductees. Please contact Matt Rizzotti (info above) with any questions.
---
Jim Kinnier Stanner Golf Classic – Volunteers Needed

–

Special Offer for Alumni from the Class of 2012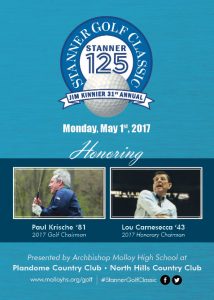 The 31st Annual Jim Kinnier Stanner Golf Classic is just six weeks away! Molloy is proud to present our annual alumni golf outing this spring. Since 1987, the Stanner Golf Classic has raised over $2 million in support of Molloy's scholarship program, which impacts academically gifted students as well as those in need of critical financial support. Your participation makes a difference in the lives of our students.
We are now accepting all single golfer and foursome reservations, journal ads, auction item donations, and corporate sponsorships! In addition, we are always in need of many volunteers to fulfill different roles throughout the day. The Stanner Golf Classic is a well-oiled machine each year because of the hard work of so many – particularly selfless alumni and parent volunteers who help out with check-in, prize and item distribution, and tasks out on the course and during dinner.
This year we have a special offer for the Class of 2012: volunteer at the Jim Kinnier Stanner Golf Classic on May 1st and attend your 5th anniversary reunion in November for free!
If you are interested in this offer or simply getting started with the Stanner Golf Classic, please contact Alumni Development Officer Matt Rizzotti '04 (info above).
---
Students Embrace Service Trip to Southern Arizona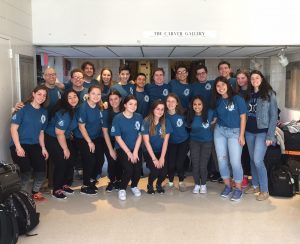 The St. Marcellin Champagnat Society (SMCS) is a service program made up of a committed group of students, faculty, and alumni who are active volunteers in the Molloy, Esopus, and New York metro-area communities. One of the main goals of SMCS is to help bring the vision and mission of Champagnat even further; to other areas of the United States and even across the globe. Past trips include Jamaica, Costa Rica, Nicaragua, Peru, and Lourdes (France) among others. With an ever changing roster of participants, many Stanners have been inspired by SMCS service trips in its history. (Pictured: SMCS shortly before departure from Molloy.)
This past winter break, SMCS traveled to a destination the program had never visited: southern Arizona. Moderator Mr. Chris Dougherty '91 and faculty chaperones Mr. Brian Klimas '98, Ms. Tamanna Akt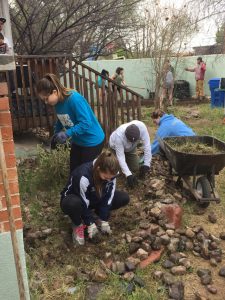 er, and Ms. Catie Massowd '07 accompanied a group of about 20 students to Tuscon, where they met up with the non-profit organization BorderLinks. According to their website, BorderLinks, "coordinates educational delegations and leads workshops in the U.S.-Mexico borderlands and in southern Mexico, giving groups a variety of experiences to deepen their understanding of borders, immigration, and social issues."
Representatives from BorderLinks helped Mr. Dougherty coordinate a number of activities for SMCS, including volunteer opportunities in a soup kitchen and a clothing pantry where our students and chaperones served breakfast and distributed clothing to Tuscon's homeless and the local immigrant population. SMCS also participated in more physical service projects, namely landscaping duties and replanting community gardens. (Pictured: Landscaping duty.)
Mr. Dougherty noted that this trip was different from many in the past. "It was a bit of an adjustment.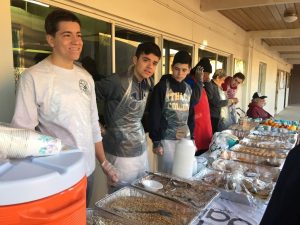 Many of the most recent service trips have involved days full of physical activities followed by interacting with special needs adults in the evening," he explained. "In Arizona, we had a lot more educational components such as seminars, training, and various group discussions. I was happy to see that our students were excited to participate in these discussions and equally interested to learn about border issues and the challenges facing many people in the region. Even though it was a different kind of trip, we were able to bring our own SMCS inflection as we always do." Part of that process included asking students from each grade year (sophomores, juniors, and seniors), as well as chaperones, to lead their own night of reflection for the group. A guided desert hike on the last day of the trip also provided a beautiful sunset reflection in a serene, quiet setting. (Pictured: SMCS serving breakfast.)
Mr. Dougherty said he believes after their experience in Arizona that future trips with a focus on discussion/seminars can work just as effectively as those based on physical service. "We all gelled so incredibly well as a group. I even heard some of the students say it was one of the greatest weeks of their lives. That was a powerful takeaway for me and in a way validated what we set out to do."
---
Around the School
Boys Varsity B-Ball Falls Just Short in Season Finale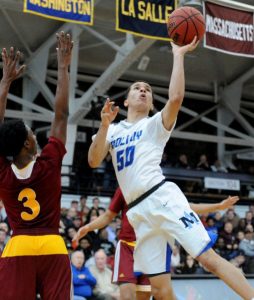 After what could only be described as an incredible season, Molloy's boys Varsity basketball team and Coach Mike McCleary entered the CHSAA "AA" Division Championship game on Sunday, March 12th, with all the confidence in the world. They were ready to end a 30 year title drought and bring the trophy home to Briarwood. After three quarters of nail-biting action, the Stanners managed to take a 56-54 lead with 3:11 left in the fourth. However, this story would not have the ending we had hoped for. Cardinal Hayes sank multiple big shots while precious seconds ticked away in the final minutes. After several turnovers by the Stanners, and with mere seconds left on the clock, sophomore point guard Cole Anthony '19 made a desperation drive down the court and arrived under the net just in time. His last-second layup, however, missed the mark, and Cardinal Hayes were ultimately crowned champions. Congratulations to Cardinal Hayes and to our Stanners. The sportsmanship displayed by both teams is to be commended.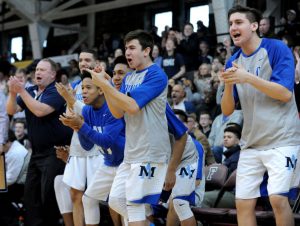 It was a tough defeat for Molloy, who were a top-ranked team all year. In addition, outstanding starting seniors John Herring '17 and Jackson Vertucci '17 will move on to college next year. Their contributions will be missed. Still, there is much room for optimism in the Jack Curran Gymnasium. The tremendous core of Anthony (Class of 2019 Ranks), Moses Brown '18 (Class of 2018 Ranks), and Khalid Moore '18 (Class of 2018 Ranks) will return for the 2017-18 campaign – and they will be more motivated than ever to write a different ending to their story. Exhibit A: Anthony's quote in the Queens Chronicle: "This team has a lot of heart. We have a will to win."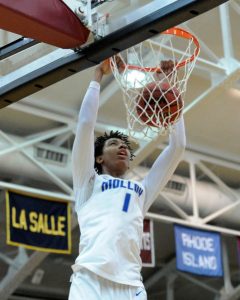 Of note after the game: Moses Brown and Cole Anthony were both named First Team All-CHSAA.
Molloy would like to acknowledge the wonderful support from our community during the Varsity team's run. Students, faculty, and many alumni came out to cheer on the team throughout the season and the playoffs (including NBA Champion Kenny Smith '83!). The final game, in particular, created quite a buzz at Stanner High. Alumni traveled from all over the tri-state area, and some even flew in from as far as Florida, to witness the game in person. Win or lose, we all take tremendous pride in our school, and that was on full display this year. 2016-17 was definitely a year to remember.
(Photos by Damion Reid / News 12 varsity – More Photos)
---
Molloy Dazzles at National HS Indoor Track & Field Championship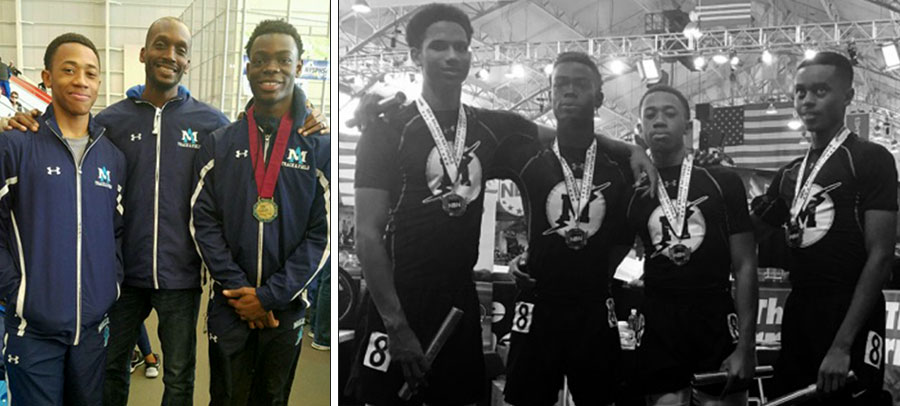 On March 11th, Oluwatomide Alao '17, Chineme Ononiwu '18, Joshua Titus '18, and Justin Crawford '17 placed third in the 4×55 Meter Shuttle Hurdle 5 Flights Championship event at Nationals. Their time of 29.82 set a new Molloy record and NY State record! According to Coach Kawan Lovelace '94, "The only two teams to beat Molloy broke the National Record and are ranked 1 and 2 all-time. Can't be mad at that. But to sum up, the boys ran great!" Congratulations to our athletes and Coach Lovelace on this outstanding feat! | Read more results from the March 11th Meet
---
Stanners Participate in Broadway Student Summit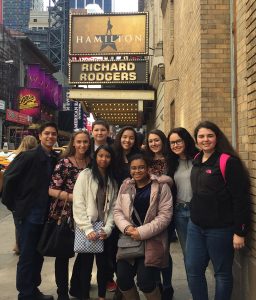 A group of nine theater students, accompanied by Stanner Players Director Ms. Shannon Winters' 06, participated in the Broadway Student Summit in Manhattan. Included were tickets to a performance of the hit Broadway musical Hamilton! The Broadway Student Summit holds four workshops a year. Each spans two days and engages students in various master classes with Broadway professionals. Classes include acting technique, choreography, improvisation, vocal lessons, and a "fake audition" for a casting director. At the conclusion of the second day, students see a Broadway show together, and the professionals in that show work in conjunction with the workshop. "Several original cast members of Hamilton led a Q&A session for our students, and one of the musical directors from the show even taught them one of the songs, which included freestyle rap," explained Ms. Winters. The Summit is international, as students from all over the globe participate. "Our students worked right alongside students from as far as Japan," said Ms. Winters. | Read more about the Broadway Student Summit
---
Blood Drive – Rescheduled
Molloy's annual Blood Drive, sponsored by the New York Blood Center (NYBC), has been rescheduled for Tuesday, April 11th from 8:00am – 2:00pm in our Capt. Anthony Marsloe Gymnasium. Alumni and parents are invited to join our students and faculty in giving the gift of life. Click on the flyer to the right for more information on eligibility criteria or for contact information.
---

Class of 2014 Alumna is Marist for Life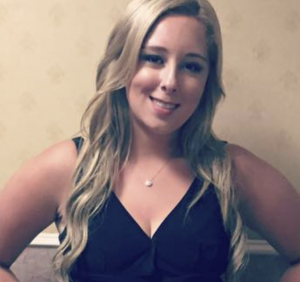 During her four years at Molloy, Sarah Stiglianese '14 was active in Campus Ministry, the retreat program, and other faith-based activities. At Esopus, Sarah made an instant connection with her Marist identity. Fast forward to 2017 and you'll find Sarah as a member of the Marist Young Adult Committee and Chair for the New York Region, which includes Molloy, Mount St. Michael, and St. Mary's. "After attending a Marist Youth Encounter while at Molloy I knew I wanted to be a leader once I graduated," said Sarah. "After leading a few more Encounters, I became more interested and involved in the Marist Young Adult (MYA) community." (Photos provided by MYA)
The MYA Committee meets twice a year and consists of one representative from each Marist school in the United States. Together they brainstorm and create activities and events for Marist alumni with a focus on service, faith, and social aspects. One such event Sarah has contributed to, the summer Welcome Event, invites young adults from New York and New Jersey to Bryant Park to learn more about the program and to socialize. "It's a great way to immerse them in the Marist culture after high school," explained Sarah. The committee also works to increase their social media outreach, utilizing Facebook, Twitter, and Instagram to interact with young Marists across the country. (Pictured below: Sarah (second from left) with MYA Committee)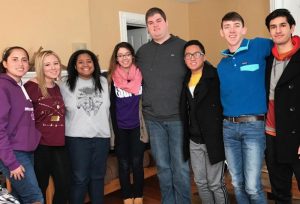 According to Sarah, the 200th anniversary of the Marist Brothers has played a big rule in the committee's work in 2017. "We held a large celebration event in Esopus where alumni from Marist schools gathered, attended Mass, and even played laser tag! It is incredible to think that a union of men formed 200 years ago has impacted so many lives internationally," said Sarah. When they next meet, the MYA Committee will likely discuss more upcoming events and activities to continue spreading awareness for the bicentennial celebration. | Learn more about the Marist Young Adult Program
Sarah is a communications major with a counseling minor at Villanova University. She is interested in public relations and media design, and recently interned in marketing at the Villanova Office of Health Promotion.
---
Class Updates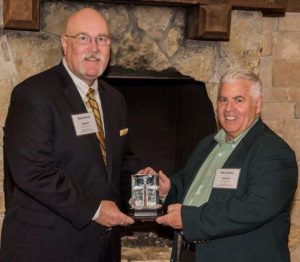 Upon the 30 year anniversary of American Beacon Advisors (ABA), Michael Fields '72 retired alongside his fellow ABA co-founder, Bill Quinn. Bill graduated from Holy Cross in 1965 and Fordham in 1969. Mike is a graduate of Manhattan College in 1976. A reception was held at the Four Seasons Resort in Las Colinas, Texas, late last year to celebrate and honor these milestones. Congratulations, Mike and Bill!
---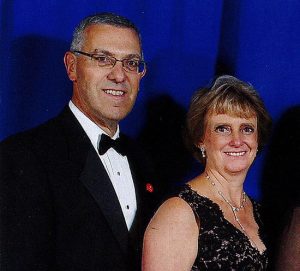 Joseph Tarantino '76, ('80CBA) and wife Eileen ('80CBA) recently attended the 19th annual President's Dinner at their alma mater, St. John's University. Joseph (President and CEO, Protiviti Inc.) and Eileen, who met during their freshman year at St. John's, were both recognized among other honorees with the university's Spirit of Service Award. In a recent St. John's publication, Joseph and Eileen expressed their appreciation for the award and noted how much they value the education they received at St. John's – in addition to the school bringing them together!
---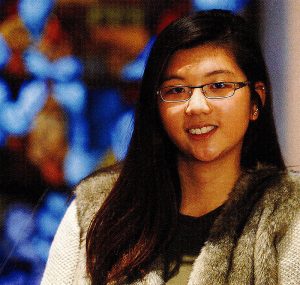 Mirtelle Mendoza '16 represented St. John's University as a speaker at the Catholic High School Principals and Presidents Dinner in Queens in December. Mirtelle is one of several members of St. John's Catholic Scholars Program who shared their educational experience during the event. The program offers Catholic high school grads $5,000 in scholarship funds annually. As part of the program, Mirtelle is an active presence around campus as part of a "multidisciplinary community of future leaders who participate in monthly meetings, lectures, courses, and prayer experiences that integrate faith, reason, and service."
---
Jim Chase '59 asks our Stanner family to keep his daughter, Catherine, in their prayers.
---


We are saddened to share the passing of the father of junior Matthew Araujo. Please keep Mr. Araujo in your prayers during this difficult time.

Please pray for the repose of the soul of Christianne Peterson, sister of John Peterson '71. Please also keep the Peterson family in your prayers.

Please pray for the repose of the soul of Christina Stanick, daughter of Gerald Stanick '71. Please also keep the Stanick family in your prayers.
Reminder: April 22nd Memorial Service to Honor Mr. Salmon

Archbishop Molloy High School was deeply saddened by the passing of Mr. Richard Salmon on February 8th. We would like to inform the Molloy community that Mr. Salmon's family has planned a memorial service in his honor to take place on Saturday, April 22nd at 11:00am at St. Kilian's RC Church (485 Conklin St, Farmingdale, NY 11735, 516.249.0127). Please contact alumni@molloyhs.org with any questions.