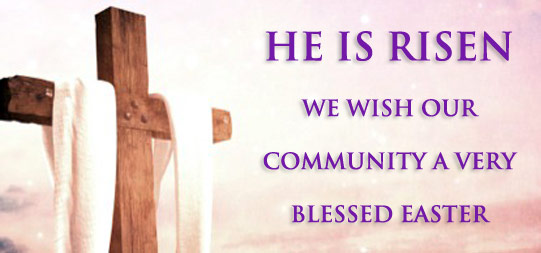 (Pictured: Students and faculty celebrate Easter Liturgy on 4/12)

Upcoming Events:
Archbishop Molloy High School to Remember Karina Vetrano '04 with Memorial Event and Scholarship

PRESS RELEASE – Queens, NY – Archbishop Molloy High School has announced a memorial event that will celebrate the life of one of its beloved late alumnae. Karina Vetrano, a member of the school's first coed graduating class in 2004, was tragically killed in August 2016 while on her routine jog in Howard Beach, Queens. Molloy, with the support of the Vetrano family and friends of Karina, will remember her with a vigil and relay walk/run event beginning June 23rd and concluding June 24th, 2017.
Molloy alumni, friends, and members of the school and greater Queens communities are invited to participate in this celebration, which will highlight Karina's vibrancy and passion for life.
The vigil and relay will begin on Friday night at 8:00pm and continue through to the next morning. A Catholic mass at 10:00am and brunch will follow. At the conclusion of the event, the Marist Brothers will dedicate a permanent memorial at the school to celebrate and remember Karina's life. All planned activities will take place on school grounds.
Money will also be raised to help Molloy establish the Karina Vetrano Memorial Scholarship, which will provide scholarships for deserving young women who are entering Molloy in her memory. Donations can be made before, during, and after the event. "On behalf of our family, I want to thank everyone that has supported us since the beginning," said Phil Vetrano, Karina's father and a Molloy alumnus from the class of 1974. "With this June event and the potential for Karina's scholarship, finally some good can come out of this tragedy."
"Karina's family and friends instilled in her a love for creative writing, poetry, running, and physical fitness," said President Richard Karsten, who is also a member of the school's class of 1981. "During her days spent at Archbishop Molloy High School, Karina's interests continued to grow and flourish with the support of her classmates, teachers, and teammates, many of whom became lifelong friends. She is part of the fabric of our school and will forever be remembered as a member of our Molloy family."
Individuals interested in signing up for the memorial event or donating to the Karina Vetrano Memorial Scholarship are encouraged to visit www.molloyhs.org/karina or call Molloy's Stanner Alumni Center at (718) 441-9210. All other inquiries can be forwarded to alumni@molloyhs.org. Press are asked to contact Communications Director Joe Sommo '03 at jsommo@molloyhs.org.
---
Alumnae Paint & Sip – Supporting the Karina Vetrano Scholarship
When: Saturday, April 22nd, 2017 | Time: 4:00pm-7:00pm
Where: Archbishop Molloy High School
Who: Alumnae (Ages 21+)
Admission: $50 per person
Contact: Matt Rizzotti '04
Alumnae (ages 21+) are invited to join us on Saturday, April 22nd for Molloy's first Paint & Sip Night. Led by a professional artist, participants will paint their interpretation of a selected piece, which has been inspired by Karina Vetrano '04. Her creativity and love of butterflies will be honored as we come together to design a canvas painting. Admission includes all supplies, drinks, and light appetizers. Please see flyer or click registration link for additional details.
Proceeds from the event will go toward the establishment of the Karina Vetrano Memorial Scholarship. Click the flyer above for more details.
---
31st Annual Jim Kinnier Stanner Golf Classic – SOLD OUT!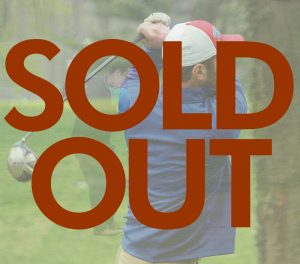 We are excited to announce that this year's Stanner Golf Classic is sold out! Thank you to our 2017 Golf Chairman Paul Krische '81, our Honorary Chairman Lou Carnesecca '43, all of our golfers and corporate sponsors, all who have purchased raffle tickets or journal ads, and everyone who has supported the outing in any way. Your enthusiasm has gotten us off to an amazing start before we even tee up. Reminder, raffle tickets can still be purchased now through the day of the outing. Prizes include a 55" HDTV, 4 days / 3 nights in Las Vegas for two (airfare & hotel included), and two tickets to Super Bowl 52 in Minnesota (airfare & hotel included).
We are still seeking volunteers to fill a variety of roles throughout the event on May 1st. Of note, a special offer has been made to the Class of 2012. Any alum from the Class of 2012 that volunteers at this year's golf outing will earn free admission to their 5 year reunion later this year on November 4th!
Please contact Matt Rizzotti (link above) for more information on raffles or volunteer opportunities. Once again, thank you to everyone who has supported this year's Jim Kinnier Stanner Golf Classic.
---
Kulig '05 Talks Helping Others, Molloy Engineering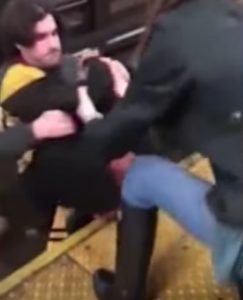 If you watched or read any news last week, chances are you came across a headline touting a certain Con Ed engineer as a hero. Jonathan Kulig '05 was the engineer who was in the right place at the right time when he sprung to action to help a person in distress in a Manhattan subway station on April 1st. Jonathan, utilizing his engineering skills and knowledge of electrical currents, risked his own safety when entering the track bed and lifting the person back to the safety of the platform. He then stayed with the individual and spoke with him until medical assistance arrived. A bystander's cell phone video capturing these moments quickly went viral, and Jonathan soon found himself at the center of much attention overnight. He went on to be featured in a series of printed and online news articles, and even made TV appearances. In each instance he was called a hero.
When reflecting on these events with The Beehive, Jonathan noted that he wasn't supposed to be there. "I was only traveling that day because something else that was supposed to happen didn't end up happening. Then all of my choices on that commute, from the end of the train I got on, to where I chose to stand on the platform, all played a role. If I had decided to stand somewhere else I wouldn't have had enough time to do what I did." Jonathan felt, however, that people should focus on a different aspect of this story. "Everybody keeps going with the whole hero thing. I think I saw one article that went with "Good Samaritan," and I think that's a more accurate description. Growing up as a kid in Catholic school, I always heard the 4,000 year old story about the Good Samaritan. This was the same situation. Someone needed help and people nearby weren't helping. The whole point of the parable is if you see someone who needs help, you help them regardless of anything else. That's what I want to get across in all this." Jonathan also expressed his ongoing concern for the individual and his hopes for his recovery.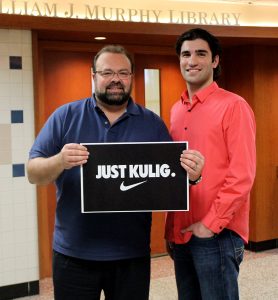 Now, nearly two week later, the story has begun to reach international news agencies. A simple Google search will reveal stories about Jonathan in foreign languages, and offshoot videos still getting new viewers. But the moment is over. Jonathan has returned to living his everyday life – which includes moderating Molloy's Engineering Club. "When I was a senior in college at Poly Tech, I used to come back to Molloy a lot. I stayed friends with teachers like Ms. Longerano. In conversations with her, I expressed my desire to come back and work with students in some way." Later on, a full-time job at Con Ed initially made that desire seem unlikely to come to fruition. Recently, however, Jonathan's schedule changed and the possibility seemed more reasonable. As soon as he caught wind of the opening for an Engineering Club moderator earlier this year, he applied for and was accepted to fill the position. Again, he was in the right place at the right time. (Pictured: President Richard Karsten '81 surprises Jon Kulig '05 with a light-hearted sign that was posted outside the faculty cafeteria last week courtesy of the Alumni Center's Joe Sommo '03).
As moderator of the Engineering Club, Jonathan has created a curriculum based around AutoCAD, a computer-aided design program used by architects, engineers, graphic designers, and many other professionals. The club teaches practical engineering concepts and offers challenging activities and creative projects. The club is still in its infancy, but the initial response from students has been good. "Next semester we're looking to get more into general engineering, then electrical, and from there who knows. The challenges now are scheduling and funding, but we're optimistic. Someday I'd love to see this become a full-blown course in Molloy's curriculum," said Jonathan.
Whether a hero, a "Good Samaritan," or just a guy who was in the right place at the right time, everyone at Molloy is certainly proud of Jonathan and wishes him continued success personally and professionally. Non scholae sed vitae!
Kulig's Live Interview: Good Day New York (Fox 5)
Kulig in the News: ABC | CBS | NBC | WPIX | Daily News | Gothamist | The Sun | Mirror
---
Around the School
Spring Athletic Schedule Released
Spring is here! We're excited to see that baseball, softball, lacrosse, tennis, golf, and handball are all underway once again. Alumni and friends are invited to come out this season and support our student-athletes here at home or on the road. Download the spring athletic schedule using the link below or by clicking the image to the right. Go Stanners!
Download the 2017 Spring Athletic Schedule
---
School Pride on Full Display for Spirit Week 2017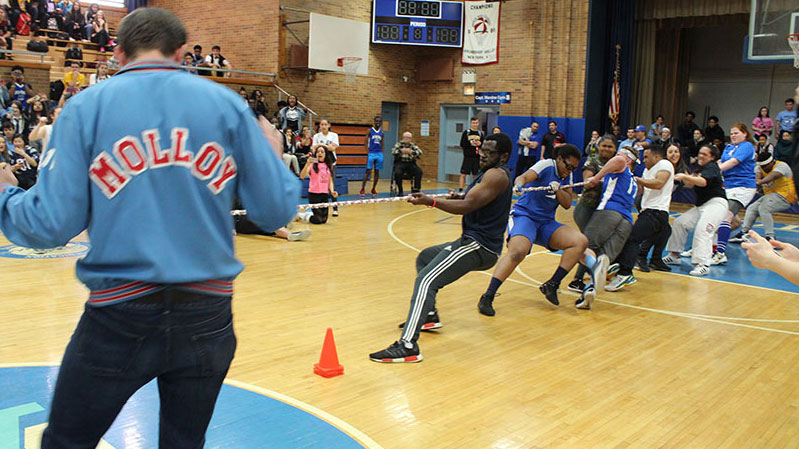 Students and faculty showed their school pride during Spirit Week April 3-7. Themed dress down days (Mismatch Monday, Decades Day, Character/Celebrity Day, Pajama Day, and Mathletes Vs. Athletes Day) and after school activities and games (Amazing Stanner Race, Lip Sync Battle, Kahoots!, Spirit Games, Candy Count) provided many different and fun ways to get involved. Additional incentive to participate in each activity was awarded via a points system. The grade tallying the most points by the end of the week would win their own exclusive dress down day later in the year. In the end, the seniors showed the most spirit with over 2,000 points earned. Overall Spirit Week was a wonderful showing of school pride, and a reminder that Molloy is one big family at the end of the day. Special thanks to Ms. Murdocca and our faculty for coordinating the events, and to all students and faculty for their enthusiasm!

---
Stanner Players Delight Audiences with "The Pajama Game"
Congratulations to The Stanner Players, who provided a wonderful weekend of performances. This year's spring musical was The Pajama Game based on the novel 7 ½ Cents by Richard Bissell, with music and lyrics by Richard Adler and Jerry Ross. Set in the cozy confines of a pajama factory, workers demand a 7 ½ cent raise from their boss. What unfolds is a series of catchy songs and fine-tuned dance numbers – all performed by Molloy's top talents! Director Ms. Shannon Winters '06 called out two seniors in particular in her program remarks. "Katie Van Riper '17 (pictured above center) has been a woman of all trades; from working on stage crew, to being a member of the ensemble, to being a leading lady, she has impressed me with her poise, confidence, and dedication. David Kemp '17 (pictured above left) has been in every single production with The Stanner Players (8) since I took over as director in 2013. David has blossomed on this stage and I could not be more proud of the performer he has become." Also deserving of praise is Sarah Quispe '19 (pictured above right), who took on the challenging lead female role of Catherine "Babe" Williams. She seamlessly filled Babe's shoes and gave an incredible singing and acting performance that is sure to be remembered. Download the show program and read more cast bios and see the full credits for lighting, sound, painting, hair, make-up, costumes, and every job in between. (Photos by Laura Sawyer '07 & Isabella Fazio '19) | Download "The Pajama Game" Program
---
Marist National Day of Service Results
In our last Beehive we featured a quick recap of Molloy's involvement in the Marist National Day of Service. The Marist Brothers planned this day as the cornerstone experience for young people in the USA Province as a memorable way for them to engage in the Marist Bi-centennial celebration. The main goal was to show students that Marist life is centered on "Love of Service," in particular to the least favored. This was accomplished through a variety of service projects and activities that saw our Stanners get involved for the betterment of others. Check out the stats from Molloy's participation in the National Day of Service below. | More Information on Marist National Day of Service
Over 1,250 Peanut Butter & Jelly sandwiches were prepared and donated by over 100 students. Several large boxes of sandwiches were donated to City Harvest, Interfaith Nutrition Network (Hempstead), Trinity Rescue, and Briarwood Shelter. Over 80 additional jars of peanut butter and jelly were also donated. Of note, 250 pounds of sandwiches was sent to City Harvest.

40 students volunteered at Briarwood Shelter. They provided tutoring for local youth, cleaned up the learning and play room, and fixed equipment.

20 students provided tutoring at Comunidad Juan Diego in East Harlem.

Over 100 students volunteered for a clean-up at Rockaway Beach.

Over 20 students volunteered for a clean-up at Van Cortlandt Park (in collaboration with students from Mount St. Michael Academy in the Bronx).

Over 40 students volunteered for a clean-up at Alley Pond Park.

The Salvation Army Briarwood Family Residence received over a dozen boxes of clothing and toiletries.

Sisters of Life (Sacred Heart of Jesus Convent) received 10 large boxes of baby items and adult clothing.

Over 350 Molloy students directly participated in service on Marist National Day of Service. Over 1,400 students donated at least one item to the charity drives held for each grade level. All items donated to charity drives were new.
---
Students Participate in "Women in Engineering" Event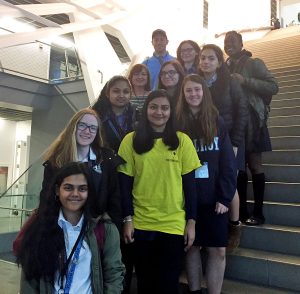 Earlier this spring, a group of eight students and two chaperones attended Cooper Union's annual Women in Engineering Event. Molloy's group took a tour of the engineering building, interacted with School of Engineering faculty and female high school students from around New York City, and sat in on an admissions information session and panel discussion with female engineering students. These activities were interactive and focused on STEM and career development among other aspects of engineering. Angela Martinez '18 enjoyed the field trip. "During the event I was surrounded by tons of young, bright women with futures in STEM, and it made me feel excited to embark on the journey with countless others to increase the number of women in STEM." Kristen Mardenborough '18 also felt enriched by the experience. "Seeing how many students and faculty are passionate about their work in engineering made me want to explore this career path and see if it could be the right fit for me too." Thanks to Mr. Esgro and Ms. Boral for making this trip possible.
---
Molloy Gives the "Gift of Life"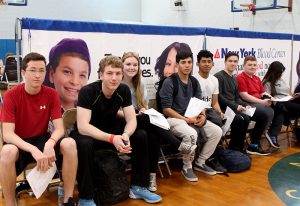 We would like to thank everyone, including students, faculty, parents, and alumni, who gave the "gift of life" on April 11th during our rescheduled Blood Drive. We are excited to announce that 127 units of blood were donated by 102 donors to the New York Blood Center. According to NYBC, close to 2,000 men, women, and children in our local communities, including cancer, transplant and surgery patients, trauma victims, newborn babies and many others need blood transfusions each day. In addition, one in three people will benefit from a blood donation during their lives. We encourage Beehive readers who are curious about donating in the future to visit http://www.nybloodcenter.org/ for more information or look out for Molloy's next Blood Drive in 2018.

Surgical Physician Assistant Sees Art in Anatomy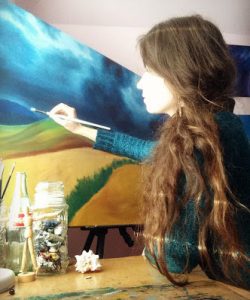 Found out more about Nicole's work at www.nicoolers.com.
Nicole Marino '12 is a board certified and licensed surgical Physician Assistant (PA-C) with a Bachelors of Science degree from St. John's University. She is also a certified Emergency Medical Technician (EMT-B). At her core, however, she is an artist who has found a natural and invigorating way to combine both of her passions. Nicole has created a vast portfolio of original artwork, much of it inspired by her medical profession. "There's art and beauty in surgery and the human body," says Nicole. "I render body parts in my illustrations and paintings. I wouldn't have one without the other. The human body, inside and out, is one of the most fascinating things in the world."
Nicole's participation in the operating room has exposed her to many types of surgeries. These experiences inspire her creativity. She personifies internal organs and structures in a way she says "keeps them alive with more than just blood flow." For instance, she describes the concept of contemplation in her illustration depicting a brain hovering next to a telephone (pictured).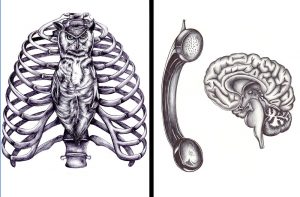 Nicole's artistic ability developed early. "As soon as I was able to hold a crayon, I was busy scribbling away," she recalls. Her passion grew in Ms. Burke's art classes at Molloy, where she painted on canvas for the first time and explored portraits. When she started her PA program at St. John's, the inspiration was endless. "From drawing anatomy as a memorization technique, to painting a laceration that I sutured in the Emergency Room, medicine became my favorite part about art." Nicole employs surrealism and embraces experimental methods. She has even studied ambidextrous painting and painting using her feet. She also routinely goes beyond the canvas, creating art out of items such as Swedish Fish, old vinyl records, and light bulbs. "I use oil paint, acrylic paint, and ball point pen most often."
Six of Nicole's paintings were featured in a group show at Montserrat Contemporary Art Gallery in Chelsea in January 2017. Her art has also been displayed at Fantasy in Color "We Dream in Color" and at Teen Art Gallery's (T.A.G.) Green Light Exhibition. During her participation in the MoMA Teens program, her art was displayed in the Cullman Education and Research Building. She has been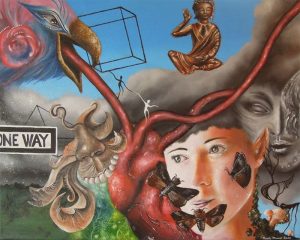 published in Excavate: Unearthing Artistic Skeletal Remains and Black & White Book: Volume One by Jinxi Caddel, and her illustrations have been published weekly in the St. John's University newspaper The Torch and in St. John's literary and arts magazine Sequoya. Nicole also teaches paint night classes at schools, fundraisers, and private events.
Nicole's long-term goals involve continuous self-improvement in art and medicine. "I want to learn as much as I can everyday and to earn Continuing Medical Education (CME) credits while traveling and attending conferences." Her remarkable portfolio, and links to original works for sale and social media accounts, can be found on her website, www.nicoolers.com. (All artwork Copyright Nicole Marino)
---
Class Updates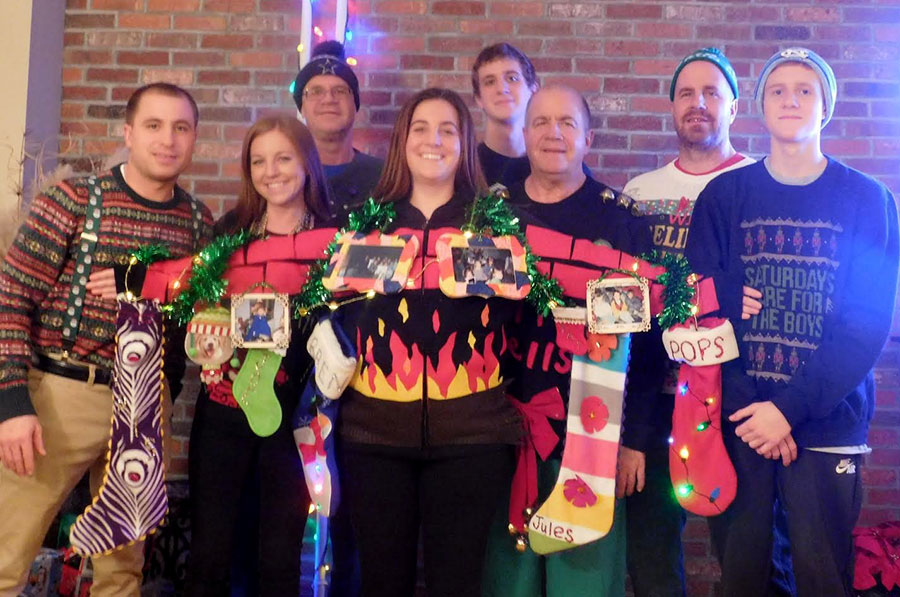 Kristine Tracy '05 recently connected with the Alumni Center and sent in this photo from back in December. They are a proud Stanner family! In Kristine's words: "The Tracy name started at Molloy in 1970 and is still alive there today. All of the Tracy Molloy members (10 in total) wanted to share this picture with the Beehive from our family ugly Christmas sweater party." Back Row: Gary Tracy '77, Brian Tracy '15, Gregg Tracy '86. Front Row: Brendan Tracy '06, Kristine Tracy '05, Julianne Tracy '12, Glenn Tracy '75, Christopher Tracy '19. Not Pictured: William Tracy.
---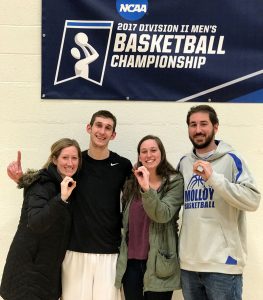 Congratulations to Chris Dorgler '11, who scored his 1,000th point during his senior year as a member of the College of St. Rose Division II Golden Knights. He is just the 34th player in the history of their men's basketball program to score 1,000 points. Overall, Chris put together a nice career at St. Rose, including being named to the Northeast-10 Conference Commissioner's Honor Roll several times, and being named to the NE-10 Academic All-Conference Team. Check out more stats from Dorgler's impressive college career: Chris Dorgler Bio Page
---
Tim Gorton '93 shared the following with The Beehive: "During senior year at Molloy, I volunteered at St. John's Hospital (now closed). I loved that healthcare volunteer experience so much that I wound up majoring in Healthcare Management in college, with a Master's degree in healthcare management as well. Anyway, the news is that I was recently elected to be President-elect of the New York metropolitan local chapter of the American College of Healthcare Executives, Healthcare Leaders of New York www.hlny.org. I credit my entire calling into healthcare management as a career to that early volunteer hospital work facilitated by Molloy." Thanks for sharing, Tim!
---
Bill Byrne, formerly known as Br. William Martin, taught at Molloy for seven years from 1957-1964. After a recent visit to Molloy, Mr. Byrne was filled with memories and nostalgia. He has since written down his thoughts and reflections some 60 years after he first joined Molloy's faculty. Alumni from his era will remember some of his stories, or find his behind the scenes anecdotes about the Brothers to be interesting. | Read Mr. Byrne's Reflections on Molloy and the Brothers


We are saddened to share the passing of Rose Gallagher, mother of James Gallagher '63 and Patrick Gallagher '64. Mrs. Gallagher passed away on St. Patrick's Day, March 17th, at the age of 105. Please keep Mrs. Gallagher and her family in your prayers.
REMINDER: April 22nd Memorial Service to Honor Mr. Salmon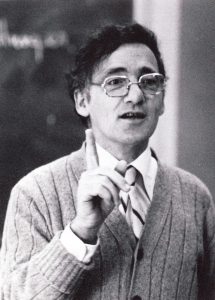 Archbishop Molloy High School was deeply saddened by the passing of Mr. Richard Salmon on February 8th. We would like to remind the Molloy community that Mr. Salmon's family has planned an east coast memorial service in his honor to take place on Saturday, April 22nd at 11:00am at St. Kilian's RC Church (485 Conklin St, Farmingdale, NY 11735, 516.249.0127). The Salmon family has asked that those planning to attend should email ortfish6@gmail.com with the number of people in their party. The Salmon family also encourages former students to continue visiting a memorial page dedicated to Mr. Salmon, where new pictures have recently been added and many stories have been shared.