Karina Vetrano '04 Remembered with Scholarship and Dignified Celebration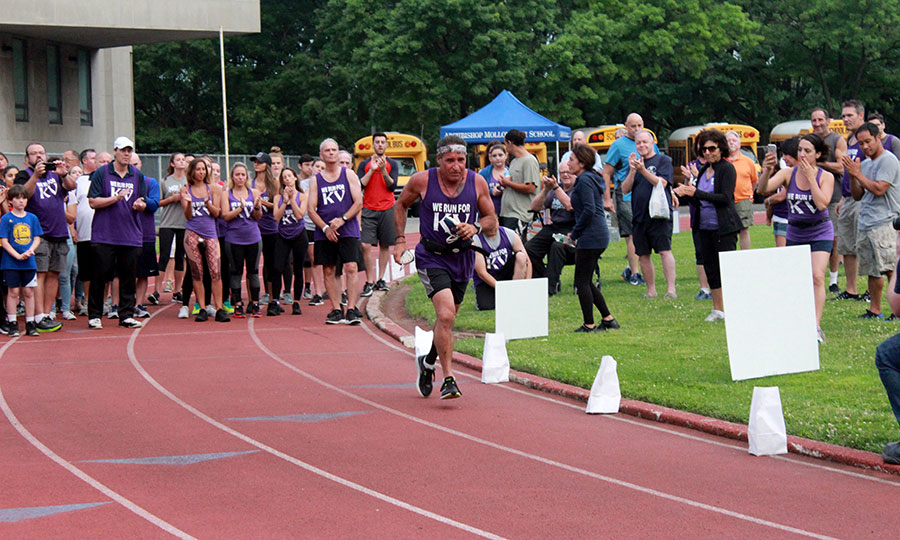 Story & photos by Joe Sommo '03
It has been just about one month since Molloy held an unprecedented event in memory of the beloved late Karina Vetrano '04. As many are aware, Karina, a member of Molloy's first coed class and an avid runner, lost her life on August 2, 2016 after she was senselessly attacked while on an eve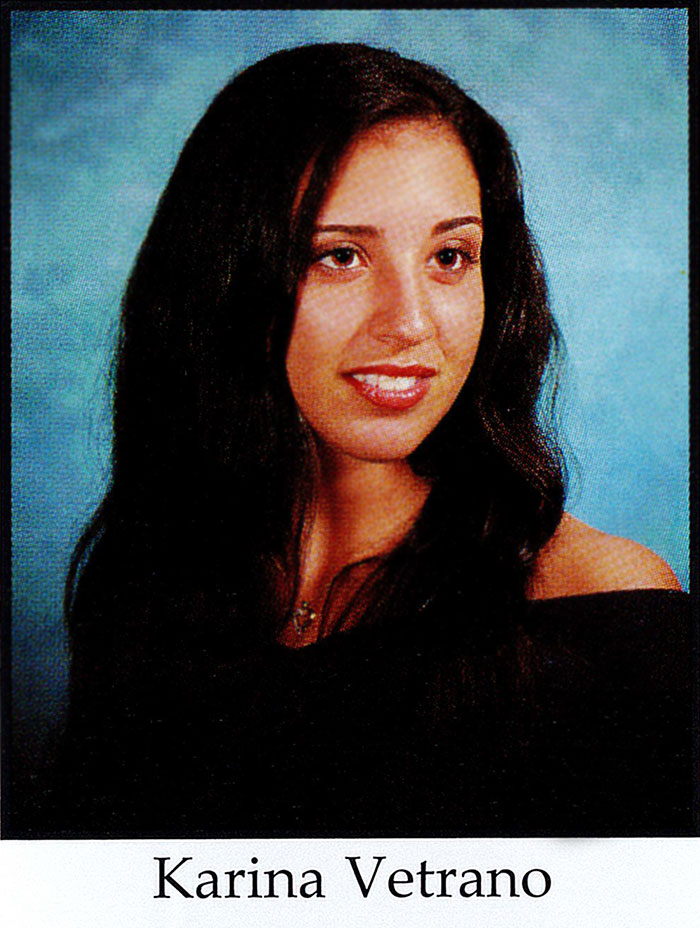 ning run near her home in Howard Beach, Queens.
Karina's tragic passing touched the hearts of countless people both in and out of the Molloy community, and many reached out to our school to ask what they could do to help. After months of planning by an event committee, which included members of the Stanner Alumni Center and Karina and Phil Vetrano's classmates, Molloy hosted an overnight walk/run vigil in Karina's memory. The event also served as a fundraiser in support of the establishment of a scholarship in Karina's name. The Karina Vetrano Memorial Scholarship will benefit future young women entering Molloy.
The event was dramatic in many ways. The overnight nature of the walk/run, and the heavy rains that fell at times, were symbolic. In participating all night, even through the heavy rain at times, our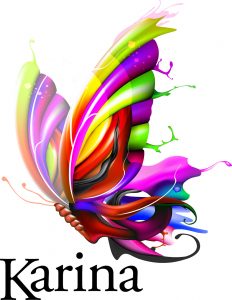 community showed that we will never forget Karina. There were family members, classmates, teachers, coaches, friends, neighbors, even individuals who had no connection to Molloy or the Vetranos, out on the track making their presence felt. That simple action was an incredible statement that we all stand together with Karina and the Vetrano family. The beginning of the race also provided a touching moment, as Phil Vetrano '74, Karina's father, ran the first lap alone while holding his daughter's running shoes (pictured above).
Mass, celebrated by Fr. Patrick Flanagan, and brunch followed the walk/run on Saturday morning. Photos of Karina and samples of her poetry lined the hallways. Paintings of butterflies, created by classmates and friends at a Paint & Sip in April, were auctioned off in support of the scholarship. These were small touches all meant to honor Karina's passions. She loved to run. She loved butterflies. She loved the number 11. She loved to write. She loved life. All of these aspects of Karina were acknowledged during Molloy's event. A colorful butterfly logo was featured on large signage and printed materials. The Class of 20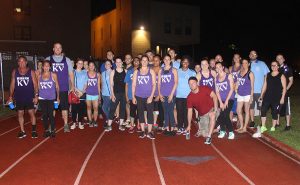 04 (pictured) began their walk at 11:00pm on Friday night. Her poetry, her words, were on display for all to see.
The love and support showed by the Molloy community resonated with the Vetranos. Phil Vetrano shared words at the conclusion of Mass Saturday. "Today I'm going to give myself the privilege to say good morning. Good days have been few and far between for my family recently, but today is a good day. This whole event is magical, and we're going to help other children enter these doors and leave with something special that I don't think they could get anywhere else. I'm very proud that Karina and I are alumni."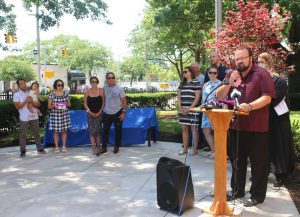 In the weeks leading up to the event, the school's Main Street entrance had undergone renovations to add a wider concrete path and landscaping. An additional concrete landing was poured near the St. Marcellin Champagnat statue in order to house a memorial bench bearing Karina's name. It was here that President Richard Karsten '81 (pictured) spoke in front of family, friends, and the media. "The weather conditions were terrible, but clearly we stand strong for Karina," said President Karsten. "After months of hard work, we were able to experience this dignified celebration of Karina's life." President Karsten then announced that thanks to the generosity of the Molloy and greater Queens communities, over $60,000 has been raised in support of The Karina Vetrano Memorial Scholarship.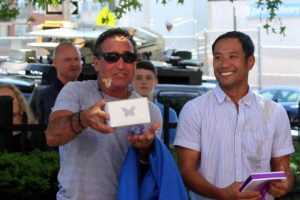 The event concluded with the Vetrano family unveiling the new bench and releasing two dozen butterflies. Some landed on the new butterfly bushes, which will live alongside the bench. Karina was known to love many things. She loved her family, her friends, running, poetry, traveling, and life. Now, with a permanent memorial and scholarship bearing her name, and the potential for an annual event to be held, Karina's creative spark and loving spirit can continue to inspire future students at Archbishop Molloy High School for many years to come.
More coverage of this event will be featured in the upcoming Stanner Life magazine later this summer. In the meantime, view our photo gallery from the event below, and click the media links in case you missed the initial coverage. For more information about Karina's scholarship, visit www.molloyhs.org/karina/ or call 718.441.9210.
Media Links: NY1 Coverage | NBC Coverage | QNS.com Coverage


---
Around the School
Summer Renovations
It has been a busy month of July here at Molloy, with plenty of renovations and maintenance taking place. First and foremost, Molloy's basement level is receiving several upgrades. The track & field office, previously located next to the weight room, has been relocated. A new enclosed room (pictured top right) is being built in its place and will house a brand new broadcast studio. The studio will help make creative video projects more prominent in student life, and perhaps one day facilitate curriculum-based programs. In addition, the weight room, soon to be known as our Strength & Conditioning Center, is receiving a massive upgrade that will see all equipment replaced and an updated look. A high wall will also replace the preexisting fencing (pictured top left). The new weights and exercise machines will help promote a safe fitness environment and allow our student-athletes to make the most of their workouts. Finally, the Information Technology office, which is located where the senior lounge once was, is undergoing aesthetic renovations to make it a more welcoming and inviting space. As Molloy moves toward a fully integrated iPad curriculum this fall, having a comfortable and inviting space for staff, students, and faculty to seek tech help will benefit everyone moving forward. Expect a new stop on the tour during this year's Open House on October 15th!
Elsewhere, more classrooms are receiving ceiling and lighting upgrades. Interior ceilings and walls are receiving fresh coats of paint, flooring is being updated on Molloy's upper levels and locker rooms, and Manton Street itself is being repaved as well. Our main elevator, located in the center of the building, is also undergoing maintenance to improve its functionality and assure it is up to city code. You can expect photos of all the finished products later this summer.
These renovations, as with many of the wonderful things going on here at Molloy, are due in large part to the generosity of our school community. Alumni, students and their families, and friends of Molloy have made it possible for Molloy to continually upgrade its campus and provide a modern and constantly evolving educational environment. On behalf of everyone here at Molloy, the Stanner Alumni Center thanks you for doing your part to keep us at the top of our game.
---
Summer Camps in Full Swing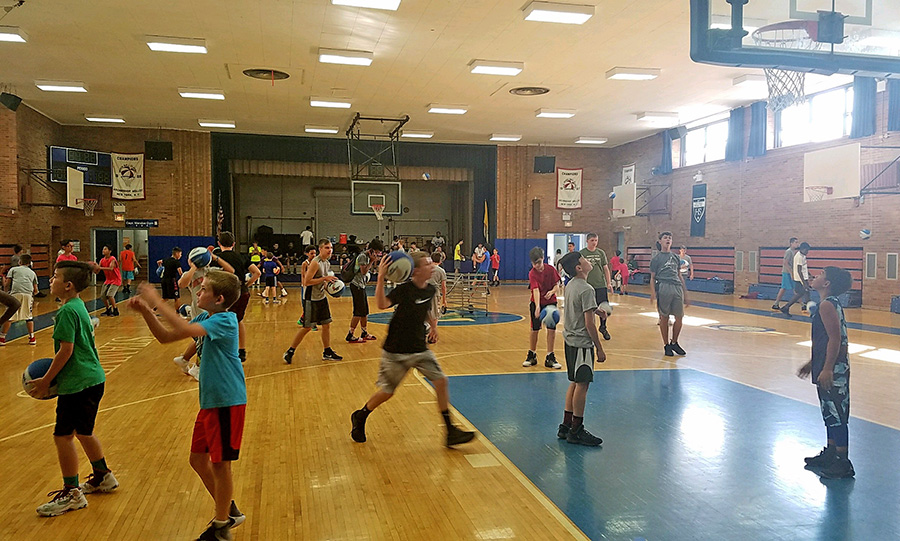 In addition to several renovation projects, Molloy has been buzzing with activity elsewhere this summer too. First, the Memorial 5 Camps, formerly known as the Jack Curran Camps, are once again underway. The baseball camp offers an "Elite Week" for the serious player who wants to focus on intense training in the major skills of baseball. All players get a video analysis of their swing and throwing motion. The basketball camp serves many age groups and skill levels and provides an inclusive, safe environment where players can develop and have fun while competing in games and contests. For more information visit http://memorial5.com/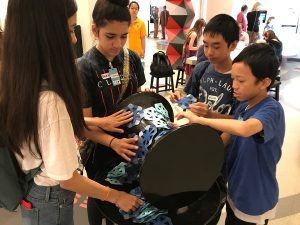 In addition, two new camps were introduced earlier this July. STEM Summer Camp offers innovative, fun, hands-on learning opportunities in computer science, engineering, technology, and math. During camp, students have been developing a soundboard app for android devices, designing and printing 3D artifacts, learning about circuits, and turning everyday objects into musical instruments with a MakeyMakey console. Campers also took a trip to the National Museum of Mathematics (pictured) as part of the week's activities.
In addition, Molloy is also hosting Theater Camp, which is a week-long workshop which focuses on acting technique, story-telling, acting and improvisational activities, and monologue/scene work. Campers explore their creative side in a safe and encouraging environment led by current Molloy students as well as recent Molloy alumni. On July 19th, campers enjoyed a field trip to Pearl Studios (pictured below right) as part of the Camp Broadway program. A professional Broadway actress spent time with our campers and demonstrated her own acting techniques. She then took questions during an informative Q&A session.
The initial success of these camps is wonderful to see, and we hope to build on that success next summer. If you have any questions about future summer camps please call 718.441.2100. Thank you to Mr. Mike McCleary, our coaching staff, Ms. Edit Boral, and Ms. Shannon Winters '06 for their work on these outstanding camps.
---
Stanner Softball: All-State, All-Star, Coaching Honors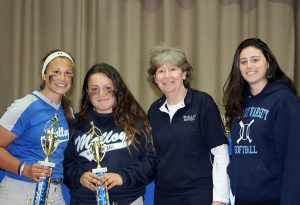 Molloy's varsity softball coach, Maureen Rosenbaum, and several of her players were recently recognized for their outstanding 2017 season. The New York State Sportswriters and Coaches Organizations for Girls Sports (NYSSCOGS) announced their All-State Softball Team in late June. Among the many outstanding players to make the cut is Kelsey Carr '20, a freshman who pitched and hit her way onto 2nd Team All-State. In her very first year at Molloy, and also her first year on varsity, Kelsey did more than hold her own; she emerged as a leader and top contributor on both sides of the ball. Look no further than her performance in the city championship game: 17 strikeouts and 3 RBI in a 4-0 win over Moore Catholic. If you do look further, however, you'll discover her eye-popping overall pitching and hitting stats from this past season: 15-4 record, 236 strikeouts, .478 AVG, and 33 RBI. She was also named the team's MVP. She worked well with catcher Jessica Hickey '17, the team's co-captain who has since signed to play softball at Queens College this fall. (Pictured L-R on Athletics Award Night: Kelsey Carr '20, Jessica Hickey '17, and coaches Maureen Rosenbaum and Catie Massowd '07. Photo by Isabella Fazio '19.)
Several of Kelsey's teammates were also honored as All-Stars by local news publications The Tablet and the Times Ledger. Congratulations to Coach Rosenbaum, our All-State and All-Star student-athletes, and to the entire coaching staff and varsity team on their championship season!
Tablet Tier 1 First Team — Gianna Petraglia '17 (infielder, co-captain, .339 AVG, selected to Mayor's Cup Game), Chloe Giustiniani '19 (outfielder, .421 AVG, 14 RBI), Jessica Hickey '17 (catcher, co-captain, Coaches' Award, Mayor's Cup Game), Kelsey Carr '20 (see stats above).
Tablet Tier 1 Second Team — Regan Goger '19 (infielder, .310 AVG, 2 HR, 11 RBI, 13 RS, Mayor's Cup Game), Margaret Mogielnicki '18.
Times Ledger Coach of the Year — Maureen Rosenbaum
Times Ledger First Team — Kelsey Carr, Jessica Hickey
Times Ledger Honorable Mention — Gianna Petraglia
---
Ms. Boral Selected to Participate in AP Program Reading
PRESS RELEASE — NEW YORK – Ms. Edit Boral was selected to participate in the College Board's Annual AP Reading in AP Computer Science Principles. Each summer, AP teachers and college faculty members from around the world gather in the United States to evaluate and score the free-response sections of the AP Exams. AP Readers are high school and college educators who represent many of the world's leading academic institutions. The AP Reading is a unique forum in which an academic dialogue between educators is both fostered and encouraged. "The Reading draws upon the talents of some of the finest teachers and professors that the world has to offer," said Trevor Packer, Senior Vice President, AP and Instruction at the College Board. "It fosters professionalism, allows for the exchange of ideas, and strengthens the commitment to students and to teaching. We are very grateful for the contributions of talented educators like Edit Boral."
The Advanced Placement Program® (AP®) enables willing and academically prepared students to pursue college-level studies – with the opportunity to earn college credit, advanced placement or both – while still in high school. Research indicates that students who score a 3 or higher on an AP Exam typically experience greater academic success in college and are more likely to earn a college degree than non-AP students.
---
Upcoming Events – SAVE THE DATE!
Stanner Alumni Reunion
When: Saturday, November 4, 2017
Where: Archbishop Molloy High School
Classes: 1947, 1952, 1957, 1962, 1967, 1972, 1977, 1982, 1987, 1992, 1997, 2002, 2007 & 2012
Contact: Matt Rizzotti '04
Online registration will open later this summer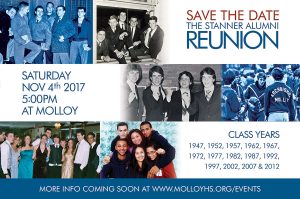 Attention class years ending in 2 and 7! Join us for the Stanner Alumni Reunion on Saturday, November 4, 2017, here at Molloy. Your reunion will include a Mass of Remembrance (5:00pm), Cocktail Reception (6:15pm), class photos, dancing, dinner, and dessert (7:15pm-11:00pm). Many of your favorite teachers are expected to be in attendance to celebrate. Save the date and look for online registration to open and invitations to be mailed later this summer. In addition, we are looking for representatives from each class year to serve as "class officers" who will help spread the word and update contact information. If you are interested in being a class officer or have any questions please forward them to Alumni Development Officer Matt Rizzotti '04 (email above) or call 718.441.9210.
---
Final

Andrew Harvey Memorial 5K Fun Run
When: Sunday, October 1, 2017
Where: Archbishop Molloy High School
Who: All members of our community
Contact: Frank Gambino '74
Online registration will open later this summer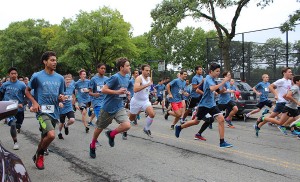 Members of the Stanner community are invited to join us on Sunday, October 1st, for the 30th and final Andrew Harvey Memorial 5K Fun Run. Organized by Mr. Frank Gambino '74 and his fellow track & field coaches for the past 29 years, this year will mark the final celebration of this beloved event. The Fun Run was renamed in 1998 in honor of the late Andrew Harvey '98, who was killed in a tragic train accident during his junior year at Molloy. The Harvey family has remembered Andrew during every Fun Run since alongside our students, faculty, and alumni. Your participation this October will show our continued love and support for the Harveys, while also giving the Fun Run a deserving sendoff. Online registration will open later this summer. Please read The Beehive in August or visit www.molloyhs.org in the coming weeks for more information on signing up. Thank you to everyone who has supported this event for the past 29 years. If you've ever run the race before, we'd love to have you back for this momentous occasion. Here's to hoping that the 30th and final Fun Run will be the most memorable of all.
---
Baseball Reunion
When: Saturday, September 30, 2017
Where: Archbishop Molloy High School
Who: Baseball Alumni
Contact: Matt Rizzotti '04
Online registration will open later this summer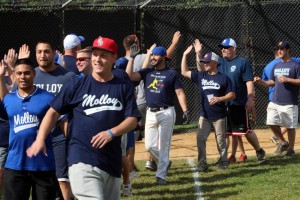 Join us on Saturday, September 30th, for our next Baseball Reunion. Molloy's former baseball players are invited to watch the varsity team play a game that morning (time and team TBD) and then enjoy a tailgate BBQ. We will also play a pickup softball game (weather permitting) on Stanner field (no cleats!). Online registration will open later this summer. If you have any questions, please contact Matt Rizzotti (email above) or call 718.441.9210.

Update Your Current Address & Contact Info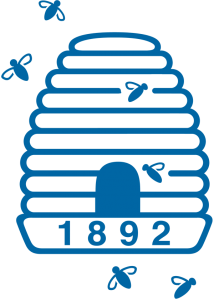 The Stanner Alumni Center would like to remind you that now would be a great time to update us with your current mailing address and contact information (email and phone). As we move toward releasing the next issue of our alumni magazine, Stanner Life, later this summer, we want to make sure that each issue arrives in the right mailbox.
In addition, many parents and their children share the same address in our database, which at times adds up to five or six names living at one address. We would like to limit waste and avoid overstuffing mailboxes, so if you are part of a large Stanner family and would like to clarify how many copies you would like to receive, please let us know. You can also inform us if your child or children have recently moved. All updates and information can be sent to Communications Director Joe Sommo '03 at jsommo@molloyhs.org, or our staff is available to chat during our summer hours, Monday – Thursday, 8am-12pm, at 718.441.9210.
---
Class Updates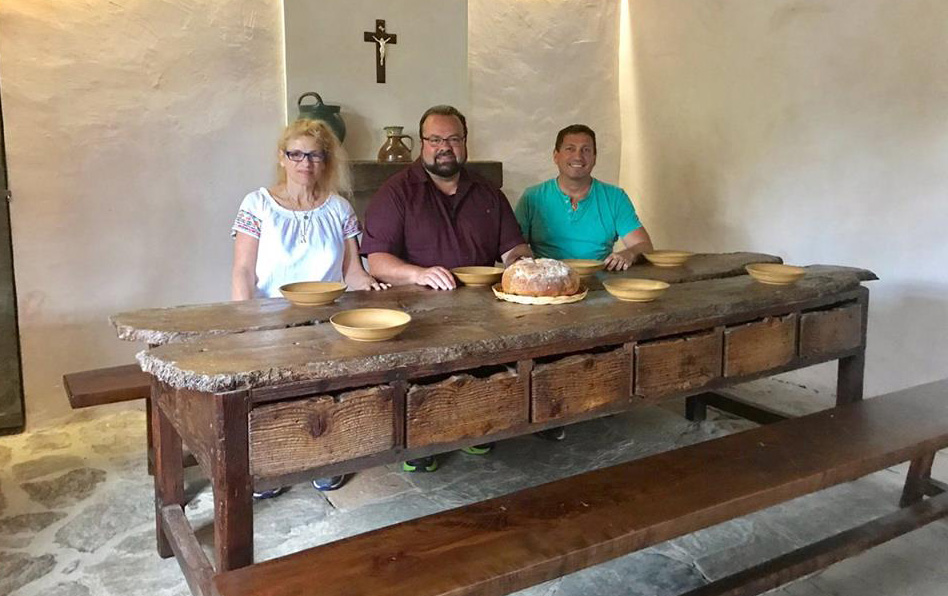 Pictured above are President Richard Karsten '81 with faculty members Dorothy DeNoto and John Kramer during their summer Marist Pilgrimage to LaValla, Fourviere, Le Rosey, Le Chaperie, Le Puy and L'Hermitage in the hill country of rural France. In the photo they are sitting at St. Marcellin Champagnat's 200 year old table in LaValla, located in the very first house of the Marist Institute.
---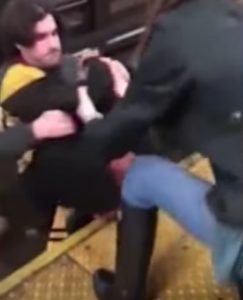 Jon Kulig '05, who made headlines in April when he rescued a man who had fallen onto the track bed of a Manhattan subway station, was honored on June 22nd with the Juniper Civic Association Hero Award. Jon, a Con Ed Supervising Engineer and moderator of Molloy's Engineering Club, sprung to action when a man fell onto subway tracks near where he was standing. Jon utilized his engineering experience to avoid electrical currents from the rails and ultimately saved the man's life by lifting him back onto the platform. The JCA Hero Award is bestowed on honorable individuals in the community who perform extraordinary deeds under extraordinary circumstances. The award was presented to Jon by Lt. John Russo '93, a fellow Stanner who months prior received the same award after providing the crucial tip that led to an arrest in the case involving the late Karina Vetrano '04.
---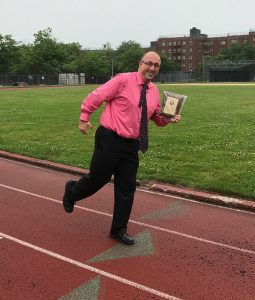 Mike Germano '93, Molloy's Director of Campus Ministry, received a blast from the past in June. During his Molloy days, Mike was a member of the track & field team. Mike's performance on the team eventually earned him an award, which was to be given to him right away. Unfortunately that award was never given to Mike, and it was seemingly lost to father time, or wherever lost awards wind up. Recently, however, Molloy began renovations on its basement floor. This necessitated the relocation and demolition of the former track & field office, which had been adjacent to the weight room. As the track coaches cleared out the office, they discovered tons of old paperwork, a few dinged up trophies, and a nearly 25 year old plaque still in plastic wrap. The plaque was none other than Mike Germano's track & field award. The track coaches, realizing what they had, immediately presented Mike with the award.


The Stanner Alumni Center is saddened to share the sudden passing of Michael Kane '89. Michael ran track at Molloy and was an active alumnus, attending school functions as recently as this past spring. He was very proud to be a Stanner. Michael is survived by his wife Dana, his young daughters, his brother Chris (Class of 1991), and many other family members and friends. Please keep Michael and the Kane family in your prayers during this difficult time.
Please refer to wake and funeral arrangements listed below.
Visitation – Friday, Jul 21, 2017 – 4:00 pm To 8:00 pm
Bradley, Brough & Dangler Funeral Home
299 Morris Avenue
Summit, New Jersey 07901
908-273-2323
Funeral – Saturday, Jul 22, 2017 – 12:00 pm
St. Teresa of Avila Church
306 Morris Avenue
Summit, New Jersey 07901
908-277-3700
Committal – Saturday, Jul 22, 2017 – 1:15 pm
St. Teresa's Cemetery
136 Passaic Avenue
Summit, New Jersey 07901
908-598-9426
---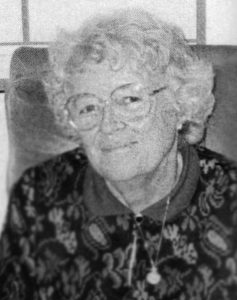 Archbishop Molloy High School is saddened to share the passing of Mary M. Michels, one of the co-founders of and longtime counselors with our SMILE program. Mrs. Michels passed away on July 3rd at the age of 91. Mrs. Michels always held Molloy dear to her heart. She treasured her time volunteering with SMILE, and she was also the mother of six Stanners. She brought her own unique approach to counseling, and in the process made a positive impact on many students and alumni. Mrs. Michels will forever be a part of Molloy history, and she will be greatly missed. The Michels family has asked that in lieu of flowers, donations be made to support Molloy's SMILE program. To do this, visit www.molloyhs.org/donate/, select Fund For Molloy, and in the comments box note Mrs. Michels or SMILE. Checks can be made out to Archbishop Molloy High School, 83-53 Manton St, Briarwood, NY 11435, with the memo reading "SMILE". (Please note that an announcement regarding Mrs. Michels' passing was made on Molloy's Facebook and Twitter feeds on July 4th. Services have already taken place.)

Please pray for the repose of the soul of John Hickey, father of Jessica Hickey '17.

Please pray for the repose of the soul of Les Umland, father of John '79 and Steven '85.

We are saddened to share the passing of Jan Tabor, father of Bogdan '00, John '05, and Robert '07. Please keep Jan and the Tabor family in your prayers.

It is with sadness that we announce the passing of Dorothy Murawski, wife of Edwin and grandmother of Thomas '12 and Matthew '17. Dorothy was an alumna of Bishop McDonald Memorial High School in Brooklyn, Class of 1949. She and her husband, Edwin, had celebrated their 60th wedding anniversary on Ascension Thursday this past May. Dorothy is survived by her husband, 5 sons, and 8 grandchildren. Please keep the Murawski family in your prayers.

Please pray for the repose of the soul of Elizabeth Klein, mother of Br. John Klein.