Celebrating 125 Years of What Matters
When: Wednesday, November 22, 2017 | 11:00am
Where: Archbishop Molloy High School
Who: All members of the Stanner family
Contact: alumni@molloyhs.org | 718.441.9210
Archbishop Molloy High School is set to celebrate the 125th Anniversary of St. Ann's Academy / Molloy on with a special Mass on Wednesday, November 22, 2017. The Mass will take place here at Molloy and coincide with our annual Thanksgiving Liturgy, serving as a symbolic homecoming for our community. All alumni, students, family members, and friends of St. Ann's / Molloy are invited to attend this historic occasion as we celebrate 125 Years of What Matters. Come show your Stanner pride and reflect on the lessons you've learned in the Marist Tradition.

Upcoming Events
Stanner Alumni Reunion – 4 WEEKS AWAY!
When: Saturday, November 4, 2017
Where: Archbishop Molloy High School
Class Years: '47, '52, '57, '62, '67, '72, '77, '82, '87, '92, '97, '02, '07 & '12
Contact: Matt Rizzotti '04 | 718.441.9210
Ticket Prices: See registration link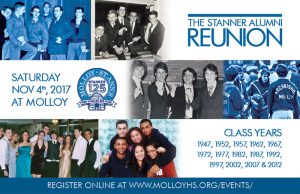 The Stanner Alumni Reunion is quickly approaching! If you graduated from Molloy in a year ending in 2 or 7 (not including 2017), you are invited to join us on Saturday, November 4th for a night of cocktails, dinner, dancing, nostalgia, and more. We are honored to welcome you back to high school. Here are few important notes:
4:30pm – Early check-in begins
5:00pm – Mass of Remembrance (celebrated in the Ralph DeChiaro Theater)
6:15pm – Cocktail receptions for each class (see staff upon arrival)
7:15pm – Dinner, Dessert, Class Photos, Dancing, and more!
Valet parking will be available. Discounted hotel rates are available upon request.
Please help us spread the word to your classmates!
We are expecting a large crowd, so please reserve your spot as soon as possible. Click the button above to register online. If you did not receive your invitation in the mail, contact us to update your address. For more information contact event organizer Matt Rizzotti '04 at mrizzotti@molloyhs.org or 718.441.9210.
---
Alumni New England Chapter Event – REGISTER ONLINE
When: Wednesday, November 15, 2017
Where: Two Roads Brewery (Stratford, CT)
Who: Our New England Alumni (Ages 21+)
Admission: $25 per person
Contact: Matt Rizzotti '04 | 718.441.9210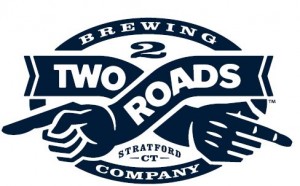 Alumni living in and around New England are invited to join members of the Stanner Alumni Center at Two Roads Brewery in Stratford, Connecticut, for our second New England/Connecticut Alumni Chapter event on Wednesday, November 15th. Your ticket price includes dinner and drinks for the evening. Join us for the fun as we catch up with our many friends north of NYC. Register online using the button above or contact Matt Rizzotti '04 for more information.
---
A Note on Molloy Oktoberfest
Alumni have reached out in recent days to ask about the status of this year's Molloy Oktoberfest. At this time we wish to inform you that this year's Oktoberfest will NOT be held. The event is slated to return next year as part of our 2018-19 event calendar. We apologize for any inconvenience.
---
Summer Renovations & Upgrades Realized – Part Two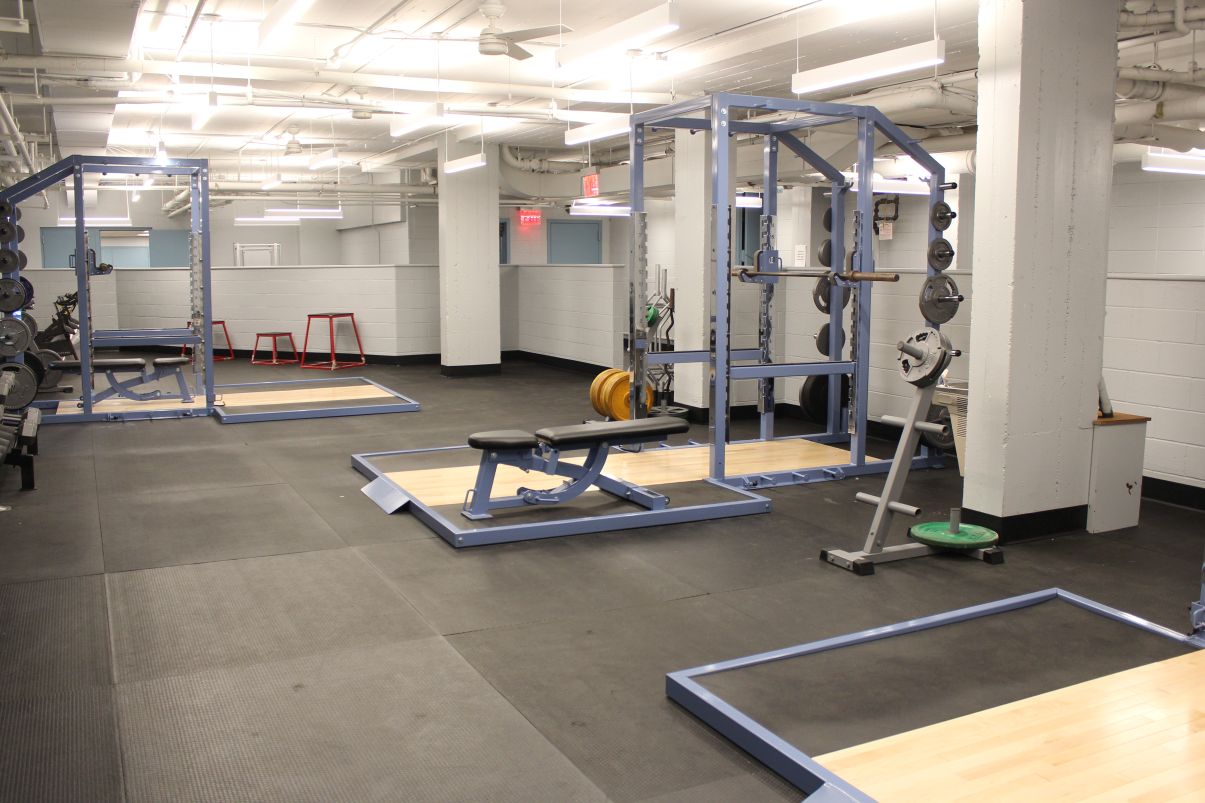 In part one of our coverage of summer renovations and upgrades, we highlighted work done in our Capt. Anthony Marsloe Gymnasium and Locker Rooms, the installation of a brand new passenger elevator, the addition of the "Main Street Mews" and Memorial Garden on Main Street, a new walk-in freezer in our kitchen, and the addition of 38 new student lunch tables. Today, in part two, we feature upgrades in technology and construction completed on Molloy's sub-floor.
First, Molloy has completely renovated its weight room, which is now known as our Strength & Fitness Center. The space was expanded by removing the previously existing fencing and the track and field office. A high cinderblock wall now separates the area from the hallway and provides an added level of privacy. New rubber-ended weights, racks, benches, exercise bikes, medicine balls, rubber floor mats, ceiling fans, and energy-efficient motion-sensor lighting are among the many additions to the space – and more equipment is said to be on the way. As an added bonus, the old scoreboard, which was used in the Jack Curran Gymnasium for many years, now hangs on the wall of the Strength & Fitness Center. The inclusion of the scoreboard is a great tribute to past eras of athletic success. "The improvements to the Strength & Fitness Center should benefit all of our student athletes," said President Richard Karsten '81. "Molloy now features a quality workout experience that caters to athletes in all sports. We are very excited to see how the new equipment translates into greater success on the field of play."
Down the hall, Molloy's Information Technology Center has received a major upgrade with fresh paint, new flooring and energy-efficient lighting, and improvements to its storage facilities. The space has housed Molloy's IT staff for several years after previously serving as the home for the senior lounge. The need for a dedicated IT center comes in light of Molloy's shift to an iPad-focused curriculum. 2017-18 in particular marks a significant moment in the program as the school is now fully integrated with iPads. That means over 1,500 students and over 100 faculty members utilize iPads and their many apps. IT Director Mr. CJ Mallia believes the process has been a success thus far. "Considering that full integration of iPad technology in a school this large is still relatively rare, I would say that our implementation of the program has been a great success." That success is also due in part to Molloy's IT staff, which continues to grow and provide excellent work. The team features alumni Mr. Matt Morgado '07 and Mr. Dan Charvet '02, Ms. Janice Bonczek, who joined the staff two years ago, and newcomer Ms. Victoria Higuera, who joins the team next week. The improved IT Center provides students and faculty a dedicated place to seek out support and engage with the IT staff in a more professional and comfortable setting.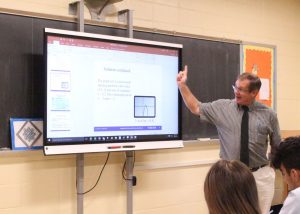 On Molloy's upper floors, four more classrooms have received new electrical, energy-efficient lighting, and acoustic tiling. To date, 30% of all classrooms have undergone this treatment as part of a long-range plan. In addition, 55 new SMART Board™ models have been installed throughout the building. The new SMART Boards improve on the previous generation of devices by featuring 4K Resolution LCD touch screens. This means that they no longer require the use of projectors to operate. The screens are also brighter, clearer, and easier to operate. The new SMART Boards also utilize kapp iQ®, which is a built-in PC that improves performance and offers many apps for teachers to download and use in class.
These improvements to Molloy's campus are thanks to the generosity of the Stanner community. Your ongoing commitment to providing an excellent Catholic Marist education directly impacts Molloy's ability to renovate and modernize its 6 acre campus on an annual basis. As educational standards and technology continues to advance and evolve, so too does Molloy because of your giving spirit.
Look out for part three of our renovation coverage in two weeks!
---
Molloy Bids Farewell to Harvey Memorial Fun Run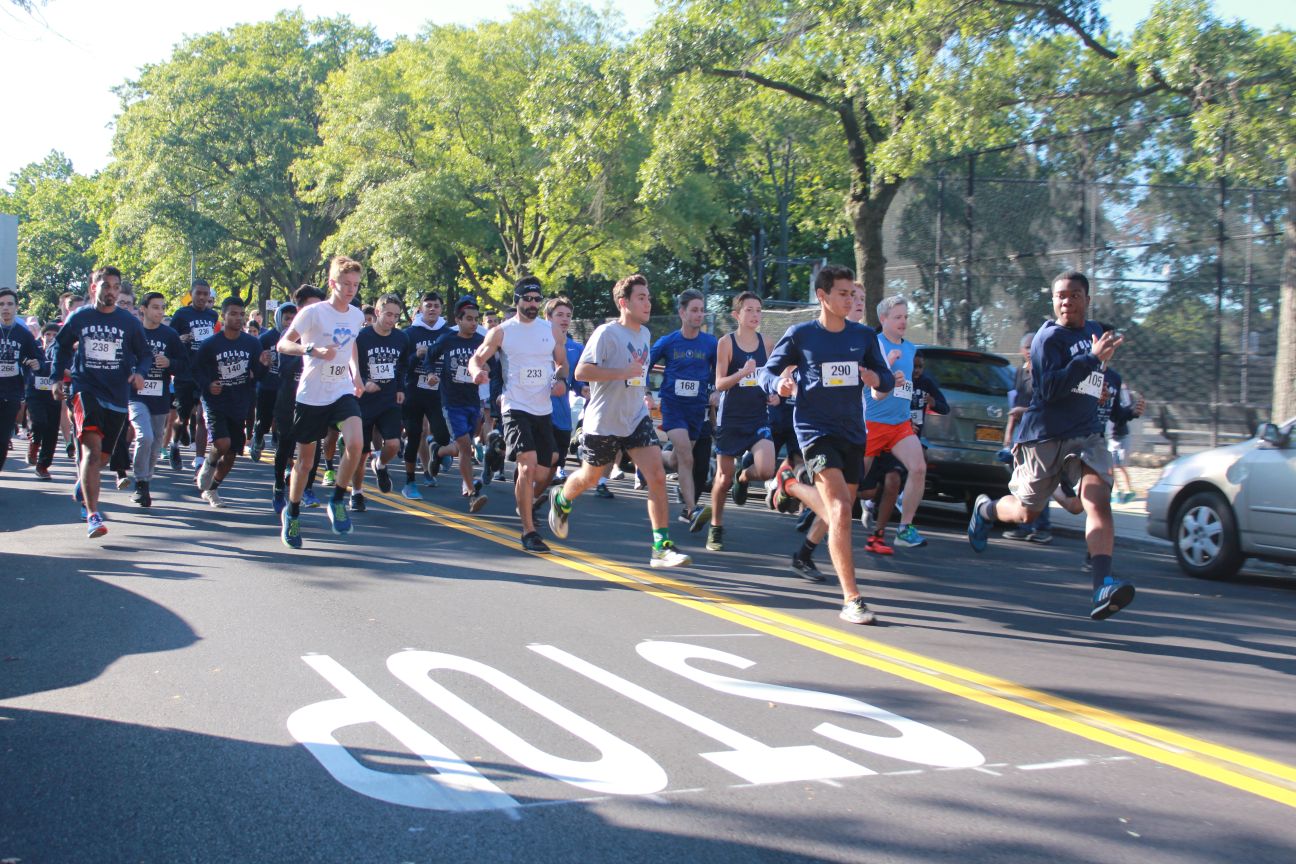 On October 1st, Molloy hosted its 30th and farewell Andrew Harvey Memorial 5K Fun Run. First established in the late 1980s as part of a school-wide celebration, the Fun Run endured through the years as a standalone event and steadily-growing tradition. It was a great way to get the track team an extra workout, but more importantly to get the alumni community and students' families involved. The race has always been about bringing people together.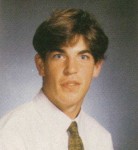 In the late 1990s, the Fun Run was renamed in memory of the late Andrew Harvey '98, a student and member of the track and field team who tragically passed away during his junior year. Andrew's family and friends have been dedicated supporters of the Fun Run every year since. Their presence made a great impact on the success of the Fun Run, and in particular the effort to raise money for the scholarship in Andrew's name.
The morning of the final race was beautiful. Recent years have seen overcast weather or even some raindrops, but this year's outing was perfectly clear and cool. Nearly 200 runners set out on the 5K route around Briarwood. For some, it was their very first Molloy Fun Run. For others, it was their 15th at least (group photo in our gallery below). Some bookended the lifespan of the event, running it nearly 30 years ago and in its final year. Whatever the case, their presence was felt and greatly appreciated. As always, the day also included a One Mile option as well as the Little One's Dash for children of all ages.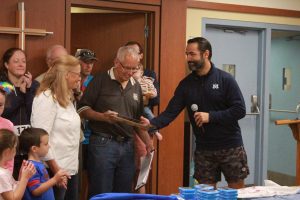 Upon the conclusion of the Fun Run, participants and their families entered the student cafeteria for coffee, cake, bagels and rolls. They were met by footage of vintage Fun Runs from early 1990s on the television monitors; a tribute to the longevity of the event. Frank Gambino '74, who has organized the race for its entire 30 year run, thanked everyone for their support, and later aided in awarding medals to the top finishers. In addition, Alumni Development Director Craig Katinas '93 presented Frank and the Harvey family with plaques (pictured left) commemorating their commitment to the Fun Run and place in Molloy history. It was a touching and well-deserved moment.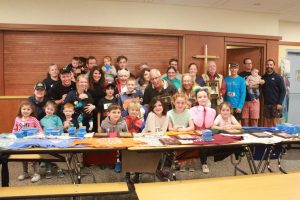 Though the Fun Run has taken its final bow, we encourage our alumni and friends to keep an eye on Molloy's event calendar for future events. We hope you will join us for whatever we have in store next. (Pictured right: The Harvey and Gambino families with Mr. Katinas)
Finally, we would like to thank everyone who has supported this race throughout the years, including students, families, alumni, faculty and staff, coaches, volunteers, the local police precinct, and especially the Harvey family. We would also like to thank Coach Gambino and his wife Karen, as without their leadership the Fun Run would not have endured for 30 years. Congratulations and thank you to all who have supported the Fun Run for the past 30 years.


---
Around the School
Class Liturgies & Freshman Field Day Instill Sense of Community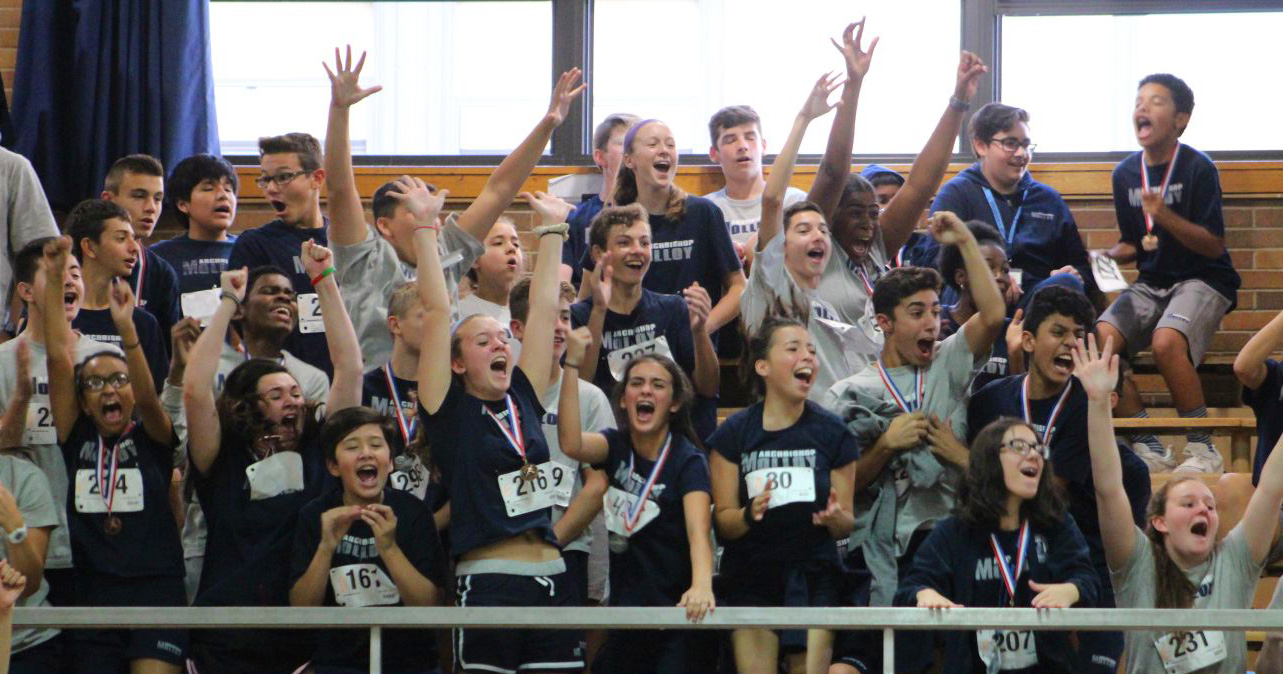 During our celebration of the 125th anniversary of St. Ann's Academy / Archbishop Molloy High School, we are reflecting on the lessons and values that define what being a Stanner is all about. In other words, we are celebrating 125 years of What Matters. One of the most important aspects of life at St. Ann's / Molloy has always been that family spirit, that sense of community that brings us together. Lifelong friends are made here: in the classroom, after school, on the field of play, and at Esopus too.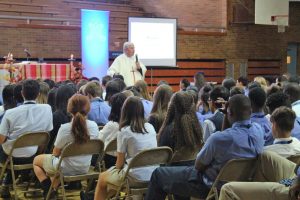 The beginning of each new school year brings opportunities for personal growth as well as new friendships, and remained true this September as students came together in a variety of ways. Last week, the Classes of 2018, 2019, 2020, and 2021 celebrated their class liturgies. The liturgies offer a moment of reflection for each class to center themselves and prepare to move forward together, as a community, into the school year. Seniors recognized that they are the leaders among the student body, while juniors and sophomores must continue to work to become leaders themselves. The freshmen class is still getting acclimated to high school, but that's where another tradition comes in. After the Class of 2021's liturgy, the gym hosted yet another Freshman Field Day. This annual event is designed to help instill that sense of family spirit, to encourage all freshmen to get involved in whatever activity they feel comfortable with, and to cheer each other on.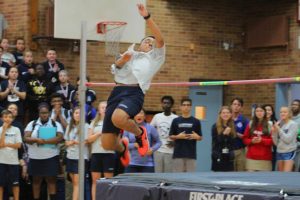 Freshman Field Day activities include the potato sack race, spoon race, basketball and soccer challenges, relay races, and even history and chess competitions. The final and arguably most exciting event remains the high jump. Last year, Peter Meehan '20 sent the Jack Curran Gym into a frenzy when he broke the decades old Freshman Field Day high jump record of 5'4" by clearing an incredible 6'0". Peter has since gone on to establish himself as one of the top high school high jumpers in the country. Peter's performance is a tough act to follow, but each challenger gave it their all. By the end, one freshman remained. Ike Anaege '21 (pictured) was able to clear 5'3", though he came up just short of the previous record of 5'4". Still, all of his classmates were standing and applauding, cheering him on for every attempt. It was another great Field Day moment, and it appeared as though that family spirit is starting to shine through.
---
National Merit Scholarship Commended Students Announced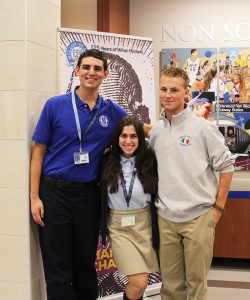 Over 1.5 million students in the nation took the 2016 Preliminary SAT/National Merit Scholarship Qualifying Test (PSAT/NMSQT). Just 50,000 of those test takers, demonstrating outstanding academic potential, met the requirements to enter the 2018 National Merit Scholarship Program. In April 2017, The National Merit Scholarship Corporation announced that current Archbishop Molloy High School seniors Carl Ferreri, Vassilia Plakas and Andrew Sotesz were recognized among the country's 50,000 highest-scoring participants on the 2016 PSAT/NMSQT. (Pictured L-R: Andrew, Vassilia, and Carl)
Most recently, in September 2017, the names of approximately 16,000 Semi-Finalists were announced for the 63rd annual National Merit Scholarship Program. After fulfilling several requirements, Semi-Finalists have an opportunity to compete for 7,500 National Merit Scholarships worth more than $32 million. Molloy senior Carl Ferreri was named a National Merit Scholarship Semi-Finalist and will advance in competition for the prestigious scholarship awards.
Vassilia Plakas and Andrew Soltesz have since been named Commended Students in the 2018 National Merit Scholarship Program. About 34,000 Commended Students throughout the nation are recognized for their exceptional academic promise. They were selected from among the top 50,000 scorers of more than 1.6 million students who entered the 2018 competition by taking the 2016 Preliminary SAT/NMSQT. Molloy's administration and faculty extend their sincerest congratulations to Carl, Vassillia, and Andrew.
---
Molloy Hosts Annual College Fair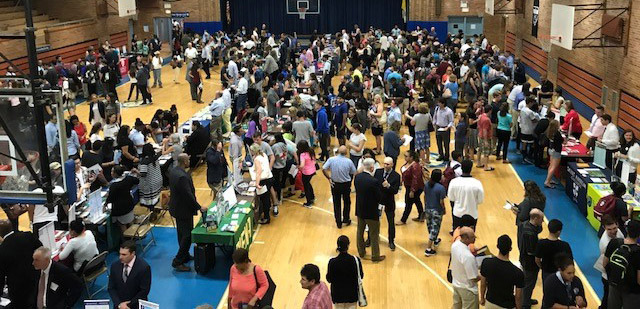 Representatives from over 105 colleges visited Molloy on September 20th for our annual College Fair. The Fair offered Stanners and their parents the opportunity to pick-up information and speak one-on-one with representatives from some of the most selective schools in the country, including Vanderbilt University, University of Virginia, Villanova University, College of the Holy Cross, and The Cooper Union among many others. There were even representatives from international schools (Ireland and Canada). Mr. Gus Esgro, a college guidance counselor at Molloy, was pleased with the evening. "Having the ability to put on a college fair of this scale exclusively for Molloy students is really amazing. Not only do students get to speak with the popular, local schools that are established household names, but they also gain exposure to schools they may have never heard of before the fair.  An event like this wouldn't be possible without support from many departments within the school, and Mr. McGuinness and myself would like to thank all those involved for making this night possible for our students and their families."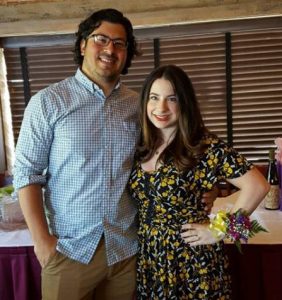 Congratulations to Nicole Turso '04 and Mike Nola '03 (pictured right), who announced their engagement in March 2017! Nicole and Mike are following a growing trend of alumni who are committing to their lives together. The wedding has been set for October 7, 2018 in Smithtown, Long Island.
---
After working together at the Federal Reserve Bank of New York, Stanners Thomas O'Keeffe '93 and Ashish Kumbhat '11 are once again colleagues, but now at the Bank for International Settlements (BIS) in Basel, Switzerland. Tom is working as a Senior Economist in the Monetary and Economic Department while Ashish is with the Financial Stability Board (FSB).
---
After 14 years with the NYC Department of Environmental Protection, David Nadler '88 has been selected to be the Chair and Assistant Professor of the Environmental Technology and Sustainability program at New York Institute of Technology for its Old Westbury and Manhattan campuses.
---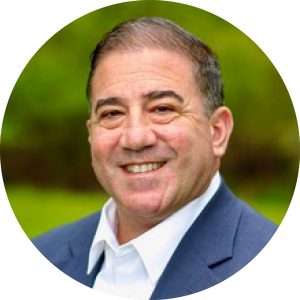 Attention college students in the Rochester area! Mike Namorato '81 has been appointed as President of ChartFill, a healthcare IT company based in Rochester, NY. Mike would like to extend an opportunity to connect with any alumni attending college in the area, as his company is always looking for interns and CO-OPs to join their diverse team. If you would like to get in touch with Mike, please contact alumni@molloyhs.org. Mr. Namorato brings 20 years of industry experience from the pharmaceutical, bio-pharmaceutical, and biotech industry to ChartFill, including significant time spent in the US military, which he retired from in 1997 as an Army Major. Mike brings a wealth of knowledge and experience in the healthcare field to his leadership role. He is a seasoned sales leader with widespread exposure to new product launches, healthcare economics, reimbursement schematics and other, related operational and financial matters.
---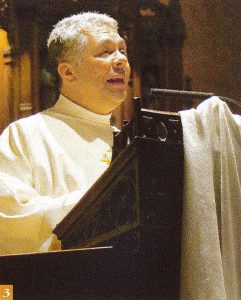 Thomas Jorge '73 was ordained as a Deacon alongside twelve other men by Bishop Nicholas DiMarzio during an Ordination Mass on May 27, 2017. The celebration took place at the Co-Cathedral of St. Joseph in Brooklyn. A Deacon is an ordained minister of an order ranking below a priest. Deacon Jorge is now assigned to St. Nicholas of Tolentine in Jamaica, Queens, where the parish will take advantage of his bilingual skills to serve the local community there. Deacon Jorge is a longtime member of the Our Lady Queen of Martyrs parish in Forest Hills. He is also a public high school teacher in New York City and active in his church community as an Extraordinary Minister. (Photo courtesy of Thomas Jorge)
---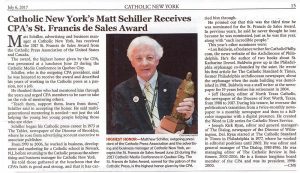 Matthew Schiller '69, an advertising and business manager at Catholic New York (newspaper), received the 2017 St. Francis de Sales Award from the Catholic Press Association of the US and Canada. The award honors outstanding individuals who understand and serve the mission and vision of the Catholic Press. Mr. Schiller received the award at a luncheon in June at the Catholic Media Conference in Quebec City. Mr. Schiller has worked with Catholic newspapers for many years, starting in 1973 at The Tablet, the newspaper of the Diocese of Brooklyn. He spent 20 years at The Tablet, dabbling in business, operations, and advertising. He was eventually named associate publisher of that publication. After a brief hiatus working with schools in New Jersey, Mr. Schiller returned to work for the Catholic press in 2006. For more information about Mr. Schiller, visit the Catholic Press.


Please pray for the repose of the soul of Bob Fortunato '74.

Please pray for the repose of the soul of Raymond Scheer '64.

We are saddened to share the passing of Hugh J. Donohue Sr. '57 on July 10, 2017 in Jacksonville, Florida. Hugh was born and raised in the Bronx, NY. After graduating from St. Ann's Academy where he played basketball for Lou Carnesecca '43, Hugh attended the University of North Carolina at Chapel Hill and was a member of the Men's Basketball Team from 1958-1962. He is a member of Dean Smith's first graduating class and his 3rd letterman. Following college, Hugh became a New York City Police Officer, rising to the rank of Detective 2nd Grade until 1972, when he fulfilled a lifelong dream working as the Assistant Basketball Coach at the University of Georgia under Ken Rosemond until 1975. After returning to New York, Hugh worked for International Telephone & Telegraph in the security detail of the CEO and continued being involved in basketball as a High School and College Division I official. In 1984, Hugh and his family purchased the Four Corners Restaurant on Franklin Street in Chapel Hill, NC, which they owned and operated until 1989. This special time was most fulfilling for Hugh, and his influence was felt by many. Following the sale of the restaurant, Hugh settled in Bronxville, NY and was semi-retired until 2006, when he permanently retired to Jacksonville. He was an avid supporter of the University of North Florida Osprey's athletics programs. Hugh is survived by his wife of 56 years Mary; children Doreen, Hugh II, Christopher, Catherine; and his brother Kevin. He is also survived by seven grandchildren and eight nieces and nephews. Please remember Hugh and his family in your prayers.

It is with saddness we share the passing of Eugene McEnerney, father of Tom McEnerney '77 and Pat McEnerney '78. Eugene served as a US Marine and went on to enjoy a 30 year career with the NYPD, retiring as a Sergeant in the 23rd Precinct. Please keep Eugene and his family in your prayers.