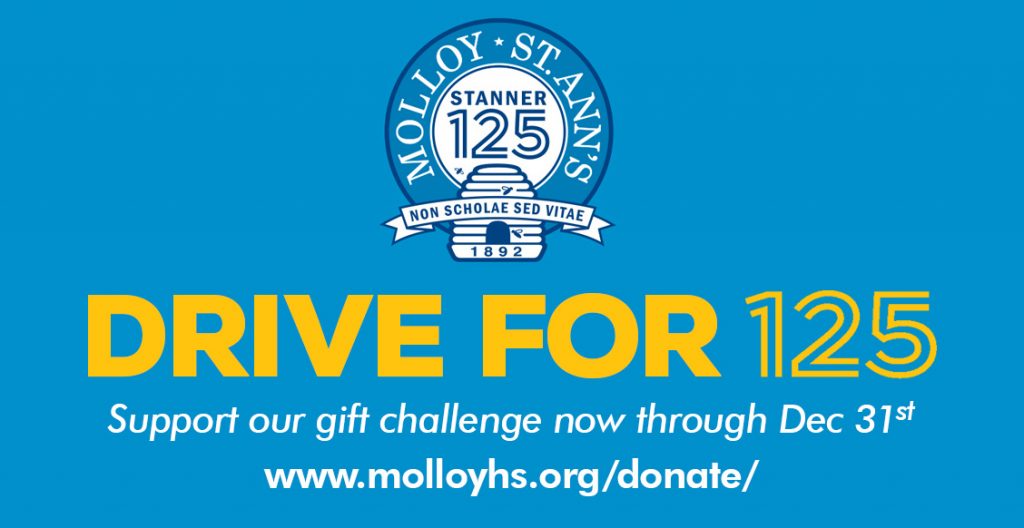 St. Ann's / Molloy Celebrates 125 Years… "Drive for 125" Gift Match Challenge Announced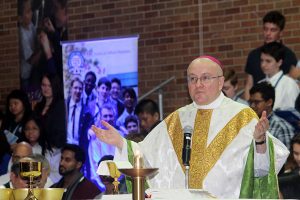 In 1892, Brother Zephiriny founded a boarding school for young men at Lexington Avenue and 76th Street in Manhattan. St. Ann's Academy was built on the pillars of the Marist spirit and fostered academic and athletic excellence. It also encouraged personal and spiritual growth, resulting in the development of well-rounded and good citizens. That tradition was upheld in 1957, when St. Ann's Academy moved to Queens and became Archbishop Molloy High School. It is still our foundation today, as Molloy stands as one of the leading coeducational institutions in the United States. For 125 years, Marist Brothers, teachers, staff, parents, students, and alumni have taken care of our mission to provide present and future generations of Stanners quality lessons in mind, body, and spirit. (Pictured: Bishop James Massa celebrates Mass at Molloy on November 22nd)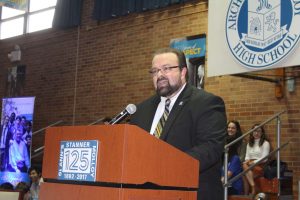 On November 22nd, Molloy announced its "Drive for 125" gift challenge. In honor of our 125th anniversary, an anonymous group of generous alumni have pledged $125,000 to the Fund For Molloy, and will match your donations 2:1 per dollar until December 31st. The match means that your gift of $50 become $75, $100 becomes $150, 1,000 becomes $1,500, and so on. (Pictured left: President Richard Karsten '81 welcomes everyone)
The "Drive for 125" announcement was made as part of a larger anniversary celebration, which took place during our traditional Thanksgiving Liturgy. The Jack Curran Gymnasium was decked out with banners sporting our anniversary theme: 125 Years of What Matters. The banners featured iconic photos paired with words/ideas that define what it means to be a Stanner. Faith, Service, Family, Guidance, Sportsmanship, Friendship, Confidence, Integrity, and Spirit are among the many things that have shaped us.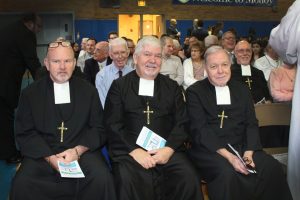 Mass on this special occasion was celebrated by The Most Reverend Bishop James Massa, who shared an inspirational homily outlining the history of St. Ann's and Molloy. Bishop Massa was highly-complimentary of the quality individuals St. Ann's / Molloy has consistently produced, and congratulated our school on 125 years of excellence. In addition, Br. Roy George '62 and Br. Dan O'Riordan '85, both Stanner Hall of Famers, each spoke during Mass and shared their thoughts on what this anniversary means to them. (Pictured front right: Br. Dan O'Riordan '85 /Vice Provincial, Br. Patrick McNamara / US Provincial, & Br. Roy George '62. Back row: Br. Richard Shea & Br. James Norton '63)
Read Br. Dan's Remarks | Read Br. Roy's Remarks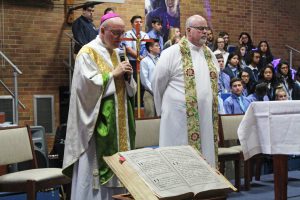 Following Mass, alumni, family members, and friends were invited to a reception in the student cafeteria, where everyone was greeted with delicious sliders and other small bites, chocolate chip cookies, and hot chocolate. As is tradition the day before every Thanksgiving, it was wonderful to see old friends reconnect, including many from the most recent graduating Class of 2017. It was also great to see our faculty visiting and chatting with alumni. We were left with a good feeling knowing that so many alumni and friends were present for this historic day. We hope everyone felt right at home. (Pictured: Bishop James Massa and Father Patrick Flanagan stand behind the actual missal used by St. Marcellin Champagnat 200 years ago)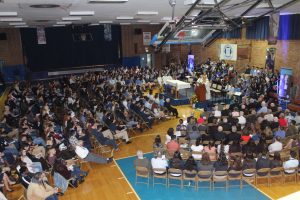 As we move forward and celebrate throughout this giving season, and as we give thanks for all the blessings that we have, we ask our Stanner family to consider making a gift to the Drive for 125 challenge. We have come a long way from our humble beginnings, but we remain humble today in asking for your support. The traditions we have held dear for so many years are alive today because of the giving spirit of generations who have come before us. We can carry on those traditions today and in the years to come if we all stay connected and do our part toward giving our students the best opportunities possible. And beyond the Drive for 125, we look forward to seeing you here at Molloy throughout this school year as we continue our celebration of 125 Years of What Matters.

Before you move on with The Beehive, we hope you will take a few moments to watch the inspirational video below, which was shared during our reception on November 22nd and again on Giving Tuesday. The video features a brief history of St. Ann's Academy and Archbishop Molloy High School as told by our faculty. (Special thanks to Communications Director Joe Sommo '03 and Communications Coordinator Laura Sawyer '07 for producing this piece. All photos also by Joe & Laura)


Over 470 Alumni & Guests Celebrate at Annual Reunion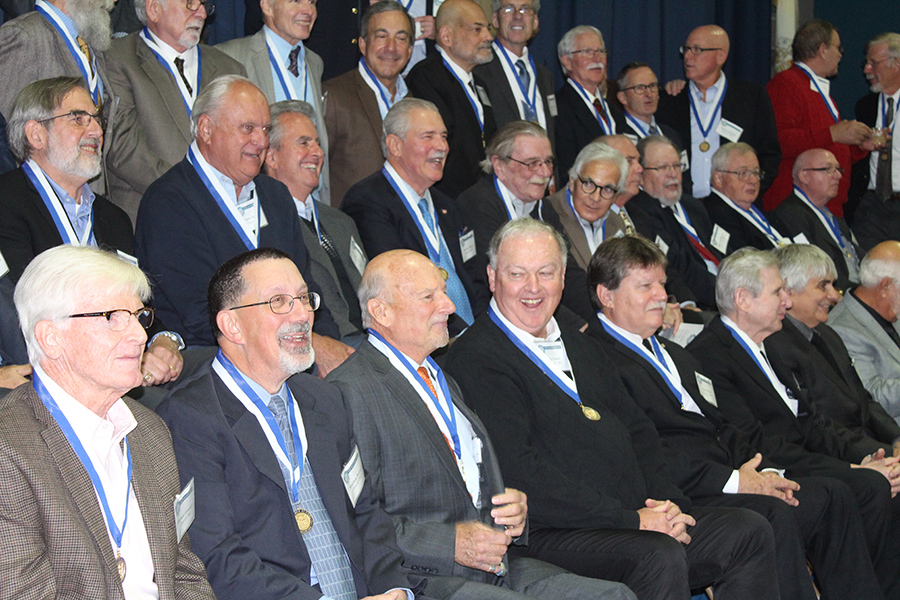 On November 4th, Molloy celebrated the Stanner Alumni Reunion with over 470 alumni and guests representing eight decades of graduates. The Classes of 1952, 1957, 1962, 1967, 1972, 1977, 1982, 1987, 1992, 1997, 2002, 2007, and 2012 all showed their amazing school spirit. Some traveled great distances to attend, including from across the United States – even as far as Peru.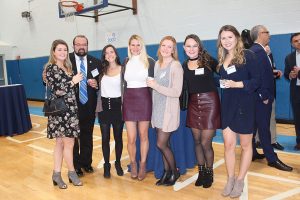 Congratulations to the Classes of 1967 and 1992, who celebrated their golden 50th and silver 25th anniversaries respectively. Congratulations also to the Classes of 1977 and 2012, whose 40th and 5th anniversaries were among the largest gatherings that night. Special commendation is due to Rory Guma '67, Bill McKenna '67, Brian Sullivan '67, and Pat McGovern '67, as well as John Doyle '77, for their tireless work to find and recruit many classmates who have not been in contact with our community for years. (Pictured: President Karsten with daughter Kayla Karsten '12 and Class of 2012)
Our Mass of Remembrance, celebrated by Fr. Frank Shannon '76, was the most fitting way to begin the Reunion. In doing so we remembered and prayed for our classmates who have sadly passed away too soon. Although they cannot physically join us for our reunions, they will forever be with us in spirit.
We were blessed to have eight "Original Stanners" from St. Ann's Academy join u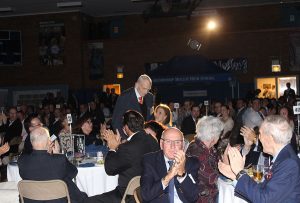 s that evening, representing the classes of 1948, 1952, and 1957. A special moment occurred during President Richard Karsten's ('81) presentation, when he asked John Howley' 48 to stand and receive applause as the eldest alum in attendance (pictured right). President Karsten congratulated our alumni on celebrating their reunions during St. Ann's / Molloy's milestone 125th anniversary year, and he invited all to continue to remain in touch with their alma mater. "Please know that you are always welcome back home to Molloy. Stop by the Stanner Alumni Center at any time to give us an update on your lives." Next year's Reunion is tentatively scheduled for Saturday, November 3, 2018 and it will welcome class years ending in 3 and 8. Save the date!
Click the blue button to view our full Reunion photo gallery (tag yourselves on Facebook!). Photos of note featured below: President Karsten and Joyce Callada '07 recreate a photo from her Reunion five years ago, John Doyle '77 with classmates, Class of 2007 with Br. James Norton '63 & St. Marcellin Champagnat, group photos, and more.

---
Molloy Wins Alumni Race, 5 Qualify for NYS XC Championships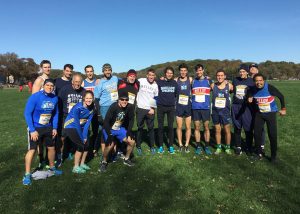 We are proud to share that Molloy's alumni team defeated Fordham Prep, Xavier, Chaminade, Regis, and other competitors to become Alumni Mixed 4000 Meter Champions! The race took place on November 11th at Van Cortlandt Park during the CHSAA Intersectionals. The following comes from Pat Goldberg '13, current head Cross Country coach at St. Joseph's College:
"According to the results we had 17 runners; the oldest being Frank Gambino '74, all the way to the youngest, Freddy Murgida '16. We won the race by three points over Fordham Prep. We were led by Tyler Bay '11 and closely followed by myself and George Arcarola '07. The three of us were all within eight seconds of each other. It was a really fun day with a lot of the younger alumni going to Tortoise & the Hare afterward to celebrate. Molloy had the most runners in the race, and I think that displays how close knit we are as a track community. It also shows the impact Brother Bob Andrews, Frank Gambino, AJ Power, and the rest of the coaches have on their athletes. Before this year, our last win came in 2014. We intend to defend our crown next year." View Full Alumni Race Results
Also of note that day, five of our student-athletes qualified for the Cross Country NY State Federation Championships on November 18th at Bowdoin Park in Wappingers Falls. Each one of the five went on to set personal bests in the 5000 Meter Run. Congratulations to Meesha Samuels (23.58.1), Paige McDade (23.34.6), Ilona Karamizas (23.34.7), James Loeffel (17.26.0) and Demir Degirmenci (17.41.6). | Full CHSAA Results For November 11th | NY Federation Championship Results
---
Around the School
Campus Ministry Initiates Mission Collection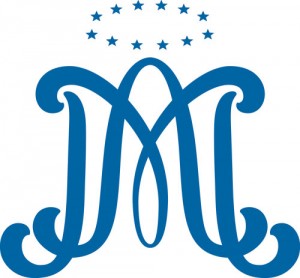 Molloy students and faculty recently donated to an important cause. Mr. Mike Germano '93, Director of Campus Ministry, organized a mission collection during homeroom in November. Over $4,000 was raised by our students and faculty, and the funds have since been donated to Marist schools and mission in Mexico and Puerto Rico. "After so many natural disasters at the start of this school year, we wanted to help where needed. We received word from the Marist Brothers in the US Province where the greatest needs were and we quickly acted," said Mr. Germano. He went on to say he was thankful for everyone's charity, and he extends his thanks to Principal Penikas and President Karsten for their support of the charity drive.
---
Stanner Players Present: The Diary of Anne Frank
When: 12/7 @ 2:30pm (students & faculty only) | 12/8 & 12/9 @ 7pm | 12/10 @ 2pm
Where: AMHS | Ralph DeChiaro Theater
Who: Molloy Community
Tickets: Adults $10 | Students & Children $5
It's time for Molloy's fall play! This year, the Stanner Players present The Diary of Anne Frank, written by Frances Goodrich and Albert Hackett. Premeiring in 1955, this adaptation of The Diary of a Young Girl by Anne Frank tells the story of the young Jewish girl and her family as they hide alongside their neighbors from the Nazis during World War II. Anne's diary reveals their struggles as well as her own self-discovery. Tickets are on sale now. Click the Event Brite link above or email the Stanner Players for more information.
---
2017 Christmas Concert
When: Tuesday, Dec 19th | 7:00 PM
Where: AMHS | Jack Curran Gymnasium
Who: All in our Molloy family
Tickets: Adults $10 | Students & Children $5
Tickets are available for purchase at the door
Join us on Tuesday, December 19th for an evening of festive music and vibrant student art. Come hear our freshman/sophomore chorus, junior/senior chorus, guitar & string ensemble, and school band perform Christmas standards and a few lesser known yet equally inspiring pieces. It's sure to be a magical night you won't soon forget. Tickets will be sold at the door. For more information please call our General Office line at 718.441.2100.

Badges/Alumni Night + AMHS Basketball – LIMITED TICKETS


When: Thursday, December 7, 2017 @ 6:00 PM
Where: Archbishop Molloy High School
Who: Badges Alumni + All Members of Molloy Community
Contact: Craig Katinas '93 | Ed Shannon '84
All alumni and friends are invited to join us on Thursday, December 7th for Molloy's Badges Alumni event. Tickets include VIP admission to the game of the night featuring the boys varsity basketball team versus St. Anthony's High School in the Jack Curran Gym. The Badges Network will also honor "Man of the Year" Lt. John Russo '93 for his accomplishments on the police force and in his community.
The evening will begin at 6:00 PM with a reception featuring food and beverages, which will also be available throughout and after the game (the reception will take place in the main Cafeteria). At 6:30 PM, Molloy will present Lt. Russo with the "Man of the Year" award. All are invited to join at this Badges-sponsored event as we honor an outstanding alumnus. (Pictured above: Our last Badges / Alumni Night in January 2017)
---
Basketball Alumni Reunion | AMHS vs St. Francis Prep
When: January 12th, 2018 | 6:00 PM
Where: Archbishop Molloy High School
Who: Basketball Alumni
Tickets: $40 per person
Contact: Matt Rizzotti '04 | 718.943.3186
All alumni who played basketball at Molloy at any level are invited to a special reunion event on Friday, January 12, 2018. The event will take place here at Molloy and includes a reception with food, beverages, and other refreshments. Admission also includes VIP seats in the Jack Curran Gym for the game of the night, as our boys varsity basketball team takes on St. Francis Prep. Our varsity team is fresh off a City Championship appearance last season, and they are more motivated than ever to bring home Molloy's first title in nearly 30 years. Come reunite with old friends and cheer on our Stanners!
---
Boys Varsity Basketball –

SAVE THE DATES!
SNY Invitational Tournament – Jan 26 & Jan 27, 2018 at City College of NY
Feb 2 on ESPNU 5:30pm – ESPN HS Basketball Showcase – AMHS @ CTK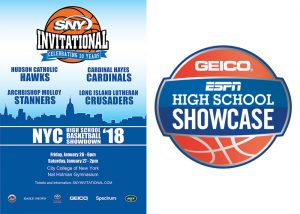 Alumni are invited to support our boys varsity basketball team this season. On Friday, January 26th and Saturday, January 27th, Molloy will compete in the SNY Invitational Tournament as one of four teams. Also featured will be Hudson Catholic, Cardinal Hayes (reigning city champs), and Long Island Lutheran. Ticket information will be announced via The Beehive and Molloy's website soon, but be sure to save the dates. SNY has indicated they would like a large Molloy cheering section, so we want to see our alumni out there! This is a great opportunity to see some of the best teams in the state competing for tournament bragging rights.
Molloy will also be featured as part of the GEICO ESPN High School Basketball Showcase on Friday, February 2nd. Molloy will play at Christ the King, and the game will air at 5:30pm on ESPNU. Check local listings for channel information. While we are not selling tickets for this game, we invite our community to tune in and cheer on Molloy!
For regular season CHSAA action please check Molloy's website for schedule information.

Alumna Joins Peace Corps, Assigned to Lesotho, Africa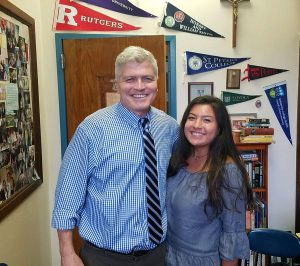 Karla Hernandez '12 is a graduate of Adelphi University where she studied English and psychology. While at Adelphi she participated in the Levermore Global Scholars Program, which represents the school's "most innovative academic community dedicated to preparing students to become global thinkers and leaders in a changing world." The program, which included visits to the UN and working with a leadership council, supplemented lessons Karla learned at Molloy as a St. Marcellin Champagnat Society international service volunteer. These experiences inspired Karla to intern at the Peace Corps during her senior year at Adelphi, which further sparked her interest in international volunteerism. Several months after graduating, Karla decided that her next move would take her halfway across the globe. She flew to Johannesburg, South Africa on September 24th to begin her Peace Corps training. She has since traveled to her final destination of Maseru, which is the capital and largest city of Lesotho. The country is landlocked within the borders of South Africa and will be Karla's home for the next two years. After three months of training, Karla will be placed with a host family in Lesotho for the remainder of her assignment. (Pictured: Karla visited with College Guidance Counselor Mr. Ted McGuinness '81 at Molloy days before departing for South Africa)
The Peace Corps promotes three core values: to serve the community in which you are placed to the best of your ability, to gain a better understanding of the community you are serving, and to have the community you're serving gain a better understanding of Americans and the United States. "Our overall goal is to build peace and global community through friendship and communication," said Karla. Though the application process can typically take years, Karla was fast-tracked thanks to her impressive application.
"Working with kids is something I've always felt connected to. When you're a kid it's important you have good people caring for and mentoring you, so I try to do that." But is Karla nervous at all? "Most people have a period of time where they're freaking out after moving to a place they've never been. Or they might ask 'why am I doing this?' That's all normal because it's a big life decision. I have to say I'm so excited because any time I've done work like this, like when I went to India earlier this year to work in a school with special needs kids, I've enjoyed it. This feels like what I'm supposed to be doing," said Karla.
After her Peace Corps assignment ends, Karla would like to return to the US and pursue grad school. "I may be able to take advantage of some of the Peace Corps' fellowship programs, and if so will consider looking into business or public administration."
---
Class Updates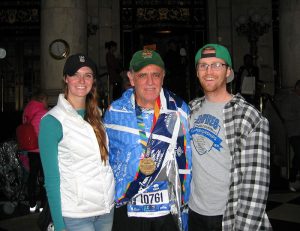 Congratulations to Jim Mahony '74, who completed his 36th consecutive NYC Marathon in November! Pictured is Jim post-race with his daughter, Meghan, and son, Tim. We're looking for photos and stories from other Stanners who ran in this year's NYC Marathon. If you or someone you know participated, please contact us at alumni@molloyhs.org.
---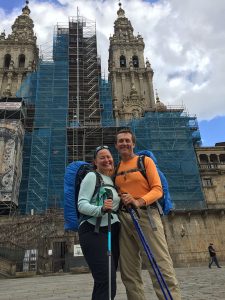 John Matulaitis '78 and wife Siga recently completed their "Camino", or personal pilgrimage, to Santiago de Compostela in Spain. Pictured are John and Siga in front of the Cathedral of Santiago de Compostela, which is currently under renovation. Due to its origin history and connection to St. James the Great, the cathedral is considered a popular ending destination for Catholic pilgrimages.
---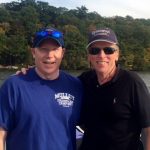 Mr. Jeff Gallagher '88 (pictured left) shared a recent Stanner sighting. While on a recent Hudson River Cruise, aboard the Rip Van Winkle out of Kingston, NY, Mr. Gallagher bumped into fellow Stanner Kevin Clarke '75. The connection was made after Mr. Gallagher was spotted wearing a Freshman Camp Esopus t-shirt on the cruise. As always seems to be the case, Stanners are everywhere!
---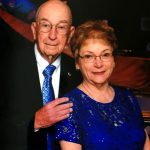 Joe Corello '52 submitted this photo of himself and wife Lillian from their 60th wedding anniversary celebration. The two were married in New York and later moved to Phoenix, Arizona. Joe retired from TWA in 1996. They now live in Sherwood, Oregon. Their anniversary celebration included an Alaskan cruise with their family.
---
Intentions
We ask that our community keep in their prayers Brendan Maguire, 16 year old son of Rory Maguire '78. Brendan is undergoing treatment at Memorial Sloan Kettering. We pray that Brendan responds well to his treatment and that the Maguire family finds strength and guidance in the kindness and support of loved ones.

Remembering Ms. Anne Lonergan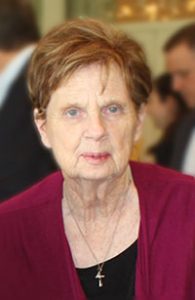 It was with great sadness that Archbishop Molloy High School shared news of the passing of longtime faculty member Ms. Anne Lonergan on Friday, November 17th. Ms. Lonergan was a passionate teacher and coach who inspired countless students and alumni through her work ethic, generosity, and dedication to service. Her Stanner pride was equally inspiring, and she deeply cared for her students and colleagues.
Ms. Lonergan famously moderated and nurtured Molloy's boys step team for many years, helping to mold them into exceptional young men and one of the best and most decorated teams in the country. Notably, she accompanied the team to Las Vegas in 2013 where they performed as contestants during season eight of the NBC reality competition show America's Got Talent.
Ms. Lonergan's school spirit was always on display. She was a regular at school functions and sporting events, and she arguably led the loudest cheering sections. She was also an active and avid volunteer. She annually attended alumni events such as the Br. Ron Marcellin Scholarship Dinner and the Jim Kinnier Stanner Golf Classic not just to connect, but to serve. She always sought ways to give of her time and energy because she knew that it was all for the benefit of our students.
After decades of service to the Molloy community, Ms. Lonergan retired from teaching in June 2017. We will always fondly remember Ms. Lonergan's caring actions, inspiring leadership, selflessness, and unwavering spirit. We pray for the repose of soul of Anne Lonergan, and we pray that her husband, Bob, and their family will find strength and comfort during this difficult time. Ms. Lonergan, you will forever be in our hearts.