Dear Stanners,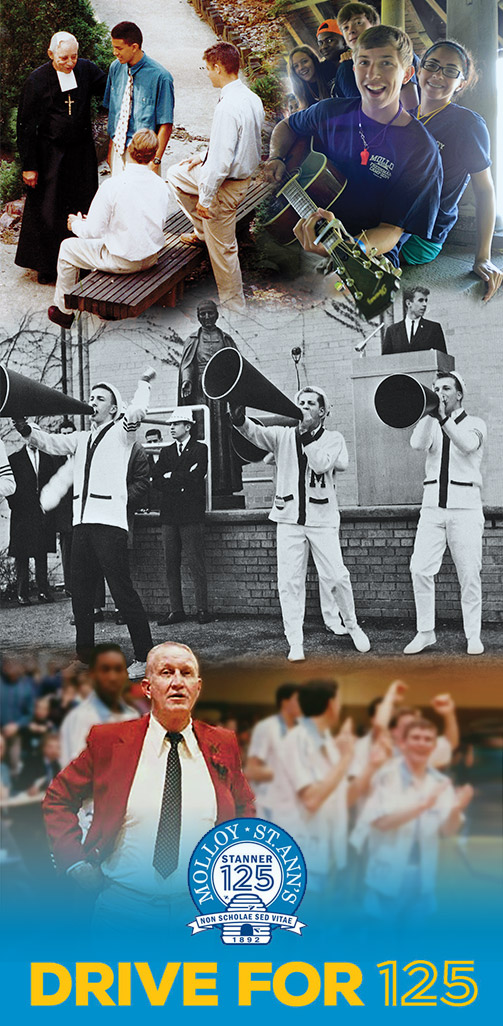 On behalf of the Marist Brothers, President Karsten '81, Principal Penikas, our administrators, faculty, staff, and the students we serve, THANK YOU for choosing to support Archbishop Molloy High School. We are excited to announce that your generosity and giving spirit from November 22 – December 31 helped us achieve our "Drive for 125" gift challenge goal of $250,000 raised for the Fund for Molloy.
We know you have unlimited choices when it comes to supporting so many wonderful organizations and causes, and we want to thank you for choosing Molloy. It's support from Stanners like you that enables us to keep doing what we love—teaching the next generation of Stanners in the Marist traditions.
It's all we do, it's how we live, and it's what we believe in. That's why every gift you make continues to impact the mission, values, and purpose of Archbishop Molloy High School.
We wish you and your loved ones a peaceful, happy, and joyous New Year and … "God Bless All Stanners"

New Plans for Br. Ron Marcellin Scholarship Event

For well over 20 years, alumni and friends have gathered each January to celebrate the life and legacy of Br. Ronald Marcellin '52, a beloved Marist Brother who passed away much too soon. An event hosted at Trinity Restaurant & Bar in Floral Park helped usher in each new year with the goal of remembering Br. Ron while raising money for the scholarship in his name. The Br. Ron Marcellin Memorial Scholarship is one of Molloy's largest needs based scholarships, awarding full tuition to students experiencing extraordinary circumstances. To date, over $435,000 has been raised in support of Br. Ron's scholarship.
We wish to inform our community that the Br. Ron Marcellin Scholarship Dinner will NOT take place on January 14th as it has for many years the evening before Martin Luther King Jr. Day. Instead, we invite supporters of Br. Ron's scholarship to attend Molloy Oktoberfest in Fall 2018. Oktoberfest, which was not held in 2017, will return this October with the goal of bringing our community together for a casual evening while also raising money for this most important scholarship. A formal date will be announced later this year. We encourage all to continue to support the Brother Ron Marcellin Memorial Scholarship by making your gifts here: www.molloyhs.org/donate/ … Alumni Director Craig Katinas '93 expressed the school's excitement in bringing the Br. Ron event to Molloy. "This is where Br. Ron taught, mentored, and made such a positive impact on the lives of so many Stanners," said Craig. "We are excited to be working alongside the Br. Ron Committee in an effort to bring our community back to Molloy to celebrate the life of Br. Ron and continue to help students in need. Molloy Oktoberfest will provide a fun, spirited atmosphere through which we hope Br. Ron's scholarship will continue to flourish." (Pictured below left: Oktoberfest 2016 | Right: Br. Ron Dinner 2017)


The Stanner Alumni Center would like to thank all scholarship supporters, the Br. Ron Marcellin Committee, including Mike McGuire '81 and Trinity Restaurant & Bar for hosting this event for over two decades. Your support of Br. Ron's scholarship has made a difference in the lives of amazing young men and women and will continue to do so for years to come. If you have any questions about the Br. Ron Marcellin Memorial Scholarship, the Br. Ron Committee, or Molloy Oktoberfest, please contact Craig Katinas at ckatinas@molloyhs.org.
---
Br. Bob Andrews Inducted into Armory Hall of Fame
Congratulations to Br. Bob Andrews, who was inducted into the prestigious Armory Hall of Fame on December 16th. Br. Bob was recognized for his outstanding coaching career and influence at one of NYC's most historic sports venues. The following notes were provided by Mr. Joe Dombrowski:
2017 marked Br. Robert's 48th year coaching Cross Country and Track and Field. He began his career at St. Helen's in 1969 and later took his talents to Archbishop Molloy High School in 1975. Since then, Br. Robert has coached sprinters, hurdlers, middle-distance and cross country runners in Briarwood. He has been a shepherd to Molloy's boys and now girls for over 40 years. During his tenure, Stanner teams have won a NY State Cross Country Championship and 17 New York City Catholic Indoor and Outdoor Titles, as well as over 75 Brooklyn/Queens Catholic Sectional Championships. Under Br. Robert, Molloy athletes have won 3 Catholic Individual Cross Country Races and 11 New York State individual titles.

Br. Robert has coached "Stanners Stars" including but not limited to:

Phil Hemery '89 | 12:38.2 VCP | 4:13.0 Mile
Billy Vespe '92 | 12:55 VCP | 9:19.91 3000 Stpl | 14:45.9 5K
Dan McGrath '01 | 12:46 VCP | 9:46.2 Stpl

Br. Robert attended St. Peter's High School for Boys and ran for Coach John Tobin. He was Cross Country Captain at Marist College where he graduated with a degree in History in 1969. Br. Robert completed his Master's degree in Religious Studies while enrolled in summer semesters at Webster College.

Br. Robert was previously inducted into the CHSAA Hall of Fame and onto the Archbishop Molloy High School Track and Field Wall of Honor. Br Robert has served as a history teacher, assistant principal, athletic director, and counselor at Molloy. He was also at one time the Chairman of CHSAA Cross Country and Track and Field.
Br. Bob is currently gearing up to volunteer at the latest installment of our annual Stanner Games at the Armory this Saturday, January 13th (216 Fort Washington Ave, New York, NY 10032). Over 1,500 athletes from over 150 schools typically participate in this nationally-recognized meet. For more information on this year's Stanner Games CLICK HERE or email apower@molloyhs.org.
---
Around the School
Student Musicians Perform For Seniors in Great Neck, Bayside
In December, school band and freshman/sophomore chorus director Ms. Ya-Ting Yang accompanied a group of students to the Brandywine Senior Living Center in Great Neck and the Bayside Senior Center. The students performed for the residents at each location to help spread Christmas cheer. Visits such as these emphasize Molloy's commitment to community outreach and creating service opportunities through its art programs.
---
Senior Receives Surprise Acceptance to Sacred Heart University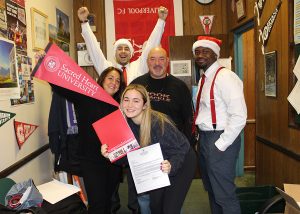 Last month, senior Siena Pizzo '18 received an unexpected surprise during a routine school day. Siena was called into the office of her college guidance counselor, Mr. Esgro, for what she thought would be a typical meeting. When she entered, however, she was greeted by her parents as well as two college representatives wearing Santa hats. They handed Siena important documents, which she then read aloud. She stopped several words in as she got a bit emotional. Siena had just received a surprise in-person acceptance from Sacred Heart University! The university had sent a welcome wagon to Molloy and other high schools to brighten the spirits of prospective students just before Christmas. Sacred Heart had been Siena's top choice, and she now knows for certain she will attend the school to study nursing next fall. The surprise visit was filmed and included in a video package produced by Sacred Heart, which you can watch via the following link. Siena's acceptance appears at 21 seconds. | You're Officially A Pioneer!
---
Cole Anthony, Moses Brown Featured by SLAM Online
As the varsity basketball season continues, so too does extensive media coverage. Prior to the start of the City of Palms Tournament in Florida, Cole Anthony '19 and Moses Brown '18 were featured in an article and video piece by SLAM Online. The publication named Cole and Moses "The Best Duo in HS Basketball" and compared them to past Molloy greats like Kenny Smith '83, Kenny Anderson '89, and Russ Smith '09. Read more via the following link, or watch the video below. | SLAM Online
---
Principal Penikas Shares Immigration Story in Lit Class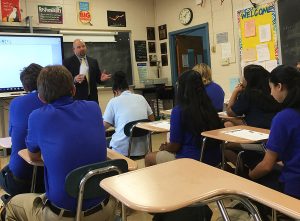 September 2017 marked the first time that Molloy seniors could take the elective course Literature of the Immigrant Experience. It was selected during a year-end review conducted by administrators and teachers. The goal of these reviews is to keep Molloy's curriculum interesting and relevant. The course, taught by Ms. MaryAnn Safrey, features lessons on primary historical documents, poetry, and novels by authors that shine a light on the history of immigration through their own struggles to assimilate. Students also write personal reflections to draw comparisons between class material and their own stories or those of their family members.
Principal Darius Penikas helped approve the addition of the course knowing full-well the potential of its impact. "I was enrolled in a similar class in college. I wrote a paper that detailed my parents' journey from Lithuania to the US after World War II, as well as my experience being raised by immigrant parents," he recalled. Mr. Penikas read the paper, which he saved, to Ms. Safrey's class (pictured above). "It echoed their class material. One anecdote I shared was about my father playing baseball in America for the first time. He caught a ball in the outfield with his bare hand despite having a glove on his other hand. There is great importance in studying that kind of event when trying to understand how people adjust to new cultures,' said Mr. Penikas.
Mr. Penikas also noted that of the roughly 25 students in Ms. Safrey's class, at least 24 different ethnicities and blends of nationalities are represented. "The students in this literature class are a reflection of the diversity of Molloy's student body, and our student body is a reflection of and tribute to the even greater diversity of Queens. We certainly hope that the lessons the seniors are taking away are resonating with them."
---
Classroom Windows Serviced
During Christmas vacation, Molloy's facilities staff was hard at work beginning the process of servicing all of the building's classroom windows. Each window on the third floor was removed and received adjustments and new parts as needed. The windows were then refitted to make them easier to open and close. With the third floor now completed, the project is slated to resume on the second floor during winter break in February.

Basketball Alumni Reunion | Molloy Vs. St. Francis Prep
When: January 12th, 2018 | 6:00 PM
Where: Archbishop Molloy High School
Who: Basketball Alumni
Tickets: $40 per person
REGISTER BY 1/11/18.
Contact: Matt Rizzotti '04 | 718.943.3186
All alumni who played basketball at Molloy at any level are invited to a special reunion event on Friday, January 12th. The event at Molloy includes a reception with food, beverages, and other refreshments. Your admission will also include VIP seating in the Jack Curran Gymnasium for the game of the night, as our boys varsity basketball team takes on St. Francis Prep to cap an exciting triple header. Come reunite with old friends and cheer on our Stanners! Contact Matt Rizzotti '04 with any questions.
---
Alumnae Network Yoga & Brunch
When: Sunday, February 4th, 2018 | 10:30 AM
Where: Archbishop Molloy High School
Who: Alumnae & Friends
Admission: Free!
Contact: Matt Rizzotti '04 | 718.943.3186
Join us on Sunday, February 4th at Molloy for a Yoga + Meditation session led by professional instructor Jenn Kelleher '04. The yoga session will be followed by a light brunch. This is a great opportunity to connect with other alumnae, detox after the busy holiday season, and set your intentions for the new year.
The event will begin at 11:00 AM (doors open at 10:30 AM. Admission is free. Participants are asked to bring their own yoga mats for the session. Bring a friend! Register each guest on this page or contact Matt Rizzotti (info above) for more information.
---
Follow Boys Varsity Basketball This Season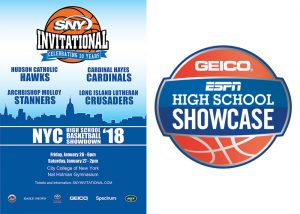 SNY Invitational Tournament – Jan 26 & Jan 27, 2018 at City College of NY — REQUEST TICKETS
Feb 2 on ESPNU 5:30pm – ESPN HS Basketball Showcase – AMHS @ CTK
Alumni are invited to support our boys varsity basketball team this season. On Friday, 1/26 and Saturday, 1/27, Molloy will compete in the SNY Invitational Tournament as one of four teams. Also featured will be Hudson Catholic, Cardinal Hayes (reigning city champs), and Long Island Lutheran. | Click Here to Request Tickets
Molloy will also be featured as part of the GEICO ESPN High School Basketball Showcase on Friday, February 2nd. Molloy will play at Christ the King, and the game will air at 5:30pm on ESPNU. Check local listings for channel information.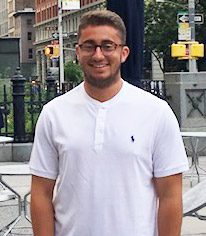 John Fenner '15 is a junior business management student in the 5-year M.B.A. program in the Tobin College of Business at St. John's University. "Dorming has made discovering new things easier, and meeting people with different backgrounds has introduced me to many possible career choices," says Fenner. He also enjoys meeting new classmates from different years and discovering that they are Stanners as well.  "It happens more often than you'd think." After working in retail management for two years and on Jack Martin's campaign for Nassau County Executive, he recently began focusing more on campus life. A member of Greek Life on campus, Fenner was recently appointed Secretary of the NY Lambda chapter of The Phi Delta Theta Fraternity for the 2018 calendar year. As for upcoming months, he will continue to enjoy college and he looks forward to traveling in the summer with family and friends.
---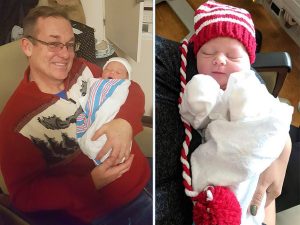 Congratulations to Rebecca Power-Hassard '08, who welcomed her daughter Aayla Grace into the world on Christmas Eve at 11:41pm. Aayla was born 8 lbs, 13 ounces, 22 inches. Congratulations also to Aayla's proud grandfather, Molloy's own Mr. AJ Power '84. All are happy and healthy in the days since. (Pictured: Mr. Power with grandaughter Aayla)
---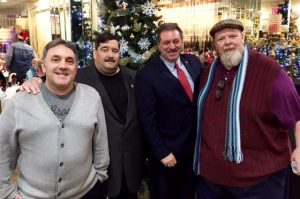 In December, two fellow Stanners shared in the festivities at a Christmas party hosted by Assemblyman Mike Miller '79 and Senator Joseph Addabbo Jr. '82. Pictured left to right: Thomas Dellanno '84, Assemblyman Miller, Sen. Addabbo, and Ed Wendell '82.
---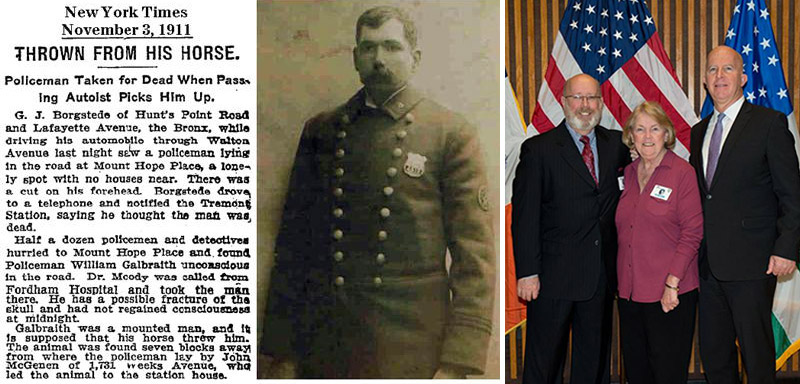 Paul Galbraith '74 shared that his late great uncle, Officer William Galbraith, was finally added to the NYPD's memorial wall after over 100 years. Officer Galbraith died in the line of duty in November 1911 after it is believed he fell from his horse and struck his head while on a rural road. Paul and his family worked for over 14 years in William's honor to encourage the NYPD to honor him. Their efforts were rewarded on November 29th at a ceremony where William Galbraith and the names of 17 other officers, most of whom passed away decades ago, were finally unveiled on the NYPD's memorial wall. Pictured with Paul are his cousin, Susan Gibbs, and NYPD Commissioner James O'Neill. Also pictured is a news clipping from 1911 reporting the fall suffered by Officer Galbraith. | NY Daily News Covers Additions to NYPD Memorial Wall | (Photo courtesy of the NYPD)


Please pray for the repose of the soul of Kathleen Napolitano, mother of Joseph Napolitano '91.

We are saddened to share the passing of Eamonn J. Vize '76 on December 28th, 2017. A graduate of Manhattan College, Eamonn worked as a chemical engineer in the pharmaceutical industry, specializing in quality control. He taught Sunday school, mentored youths and advised co-workers. He was an avid traveler along with his wife, Betty, and he loved studying history. Eamonn is survived by his wife, his children, Sean, Colin, Brendan, Shannon, Nicholas, and Jessica, and his brother, Michael. Please keep Eamonn and his family in your prayers.

The Stanner Alumni Center was recently informed of the passing of Paul Pohlman II, '64 on November 21st, 2017 after battling cancer. Paul's wife, Lorraine, shared that "Paul faced it bravely and with deep faith, no doubt instilled by his years as a Stanner." Paul attended Rensselaer Polytechnic Institute in Troy, NY, and enjoyed a career in Real Estate / Construction Management. "He left a legacy of high rise buildings in New York, Columbus, and Los Angeles. However, he was most proud of the work he did helping to found our parish, St. Maximilian Kolbe in Westlake Village, California," said Lorraine. More recently, Paul had been involved with Habitat for Humanity in Ventura County. He and Lorraine were married for 45 years, and they have one daughter, Alison. He is also said to have proudly kept his Molloy class ring ever since graduation. Please keep Paul and his family in your prayers.

We are saddened to share the passing of Danny Young, cousin of AMHS staff member Michele McGrade. Please keep Danny and his family in your prayers.