24th Annual Stanner Games a Huge Success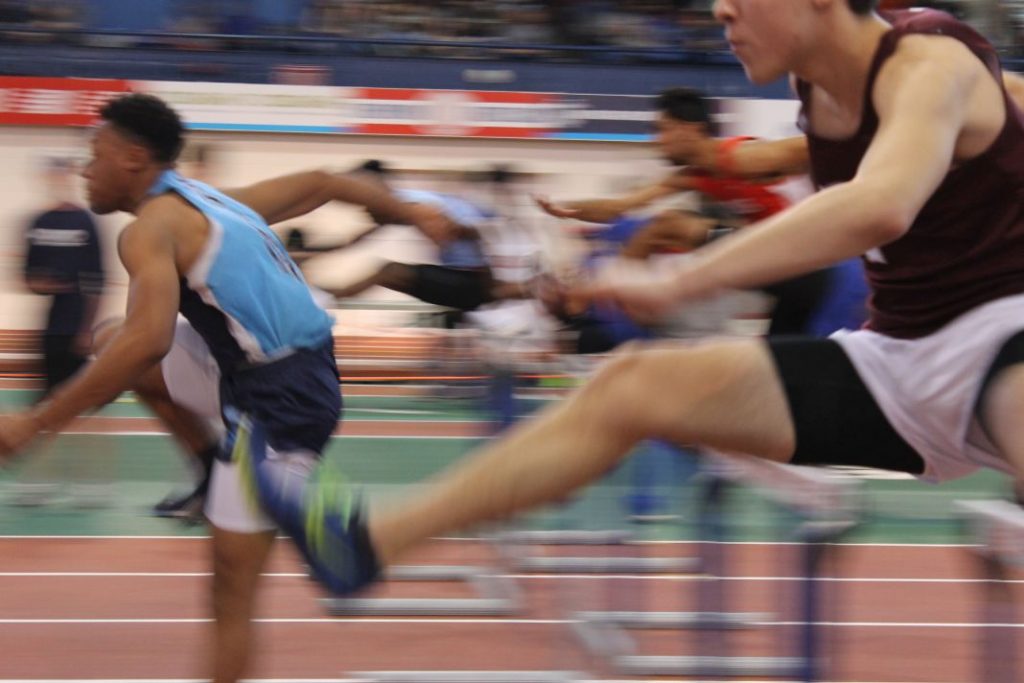 Photo by Andie Ratilla '20
On January 13th, Manhattan's famous Armory hosted another remarkable Stanner Games track and field meet. 3,178 athletes competed in 3,506 events, including 2,604 individual events and 1,679 relay events. The meet featured 137 teams in total. Running the show and keeping tabs on thousands of numbers were 61 Molloy officials, including 20 student volunteers and 41 alumni volunteers. (Alumni officials by decade: 60's: 10 | 70's: 5 | 80's: 10 | 90's: 8 | 2000's: 11)

The Stanner Games Most Outstanding Athletes were Emily Philippides from Greenwich High School in Connecticut, and CJ Licata from Gill St. Bernard's School in Chester Township, New Jersey. Emily won the varsity girls 1000M in 2:55.11, placing #4 in the nation. CJ won the invitational boys shot put with a throw of 64' 5.5", placing #1 in the nation. These events/awards were both renamed as of this year's Stanner Games in memory of two late alumni gone too soon: Karina Vetrano '04 and Andrew Harvey '98. Establishing these awards keeps Karina and Andrew in the hearts and minds of our Molloy community as well as the track and field community at large. Engraved plaques were presented to each outstanding athlete by members of the Harvey family and Phil Vetrano '74 (pictured above).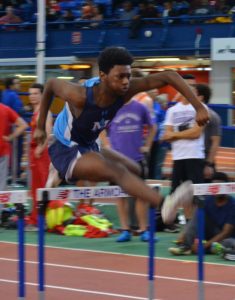 "Another stellar performance by the best crew in the nation. Your spirit, dedication, flexibility, and kindness continue to shine," said Coach AJ Power '84 in a thank you letter to volunteers. "You were referred to, and I quote Coach Marty Brown of Kellenberg, as 'the best high school track alumni in the country!' Stanners from the Class of 1962 all the way to the Class of 2021 worked in concert to run a first-class event. I am honored to work with all of you."
The Stanner Alumni Center and track & field coaching staff would also like to take this opportunity to thank all of the generous sponsors that selflessly donated to the 2018 Stanner Games. Your contributions make it possible for Molloy to continue to offer an exceptional track & field experience to its talented student-athletes. Thank you to:

Photos by Andie Ratilla '20, Jonathan Joseph '21, and Paola Tobar '18.
---
Moses Brown Presented with All-American Games Jersey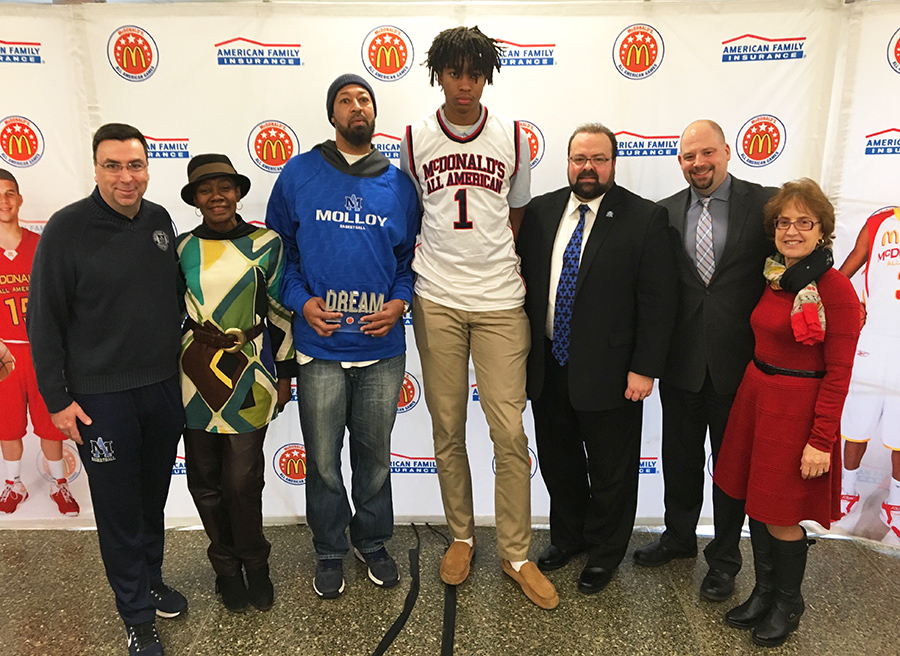 (Pictured L-R: Coach Mike McCleary, Josephine Ross, Malcolm Brown, Moses Brown '18, President Karsten '81, Principal Penikas, and a McDonald's All-American Games Committee Representative)
Representatives from the McDonald's All-American Games hosted a ceremony at Molloy on Thursday, February 1st, in honor of 7'2" center Moses Brown '18. The nationally ranked five-star recruit, who recently made headlines when he committed to play ball at UCLA in the fall, received his All-American Games jersey during the ceremony. Moses is Molloy's first All-American jersey recipient in basketball since former NBA All-Star Kenny Anderson '89 made the roster in his senior year. Moses' father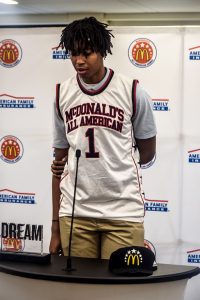 Malcolm, aunt Josephine Ross, teammates, and classmates were in attendance to offer their support. Malcolm was also honored by American Family Insurance, a sponsor of the AAG, with the AFI Dreams Champion award for supporting Moses as he continues to live his dream.
Coach Mike McCleary shared a few words at the podium acknowledging how difficult it is to earn a spot on the All-American Games roster. "This is no small feat. Although Moses first came in [to Molloy] and wasn't highly sought after, it turns out he grew a lot, and he was such a determined worker that he became a great player. He went from someone who wasn't thought of, to one of the top 24 players in the country." McCleary continued. "That doesn't just come with being 7 feet tall. It comes with persistence and the determination to make sure you're going to do the work necessary to become a great player. That's what Moses has done."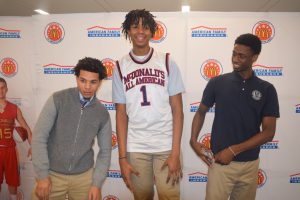 Moses also approached the podium to address his supporters. "I would first like to thank God, because I wouldn't be in the position I am today without Him. I would like to thank the McDonald's committee for recognizing my accomplishments so far. And without my friends, family, and teachers, and coaches, it wouldn't have been the same these past four years. It's been an amazing opportunity to play for Archbishop Molloy, and I just want to thank everyone that's helped me and that has been a part of my life so far. Thank you." (Pictured right: Cole Anthony '19, Moses Brown '18, and Khalid Moore '18)
The McDonald's All-American Games will be played on March 28, 2018 at Philips Arena in Atlanta. Tickets go on sale online on February 5th. More information is provided on the McDonald's All-American Games website. (Photos by senior Guitry Germain '18)
---
Over 1,200 Attend Winter Open House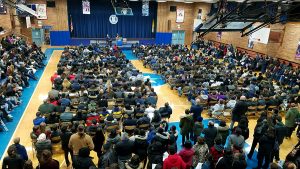 After processing 2,000 applications, including over 800 first choice applicants, Molloy's Winter Open House for accepted students was an overwhelming success. Over 1,200 visitors, including the future Class of 2022 and their families, were in attendance on January 25th. The evening started promptly at 6:30pm with an introduction by Principal Darius Penikas. Opening remarks continued with keynote student speaker Diana Alvarado '18, who recently won a full scholarship to Dartmouth College. "Diana was engaging and encouraging to our incoming students. Hopefully her words helped these 8th graders understand that attending Molloy can provide so many opportunities for success," said Admissions Director Dr. Leslie Poole-Petit Ed.D. After the introductory presentation, accepted students and their families toured Molloy and spoke with representatives from all academic departments, sports teams and after school clubs. "There was something for everyone, which reflects all that is offered to our students throughout the school year. Our faculty, student, and parent volunteers were available to answer any remaining questions." Accepted students must now make their final high school decisions. Molloy anticipates another fully enrolled freshman class this fall, made up of the very best students in New York City! Learn more about Molloy's admissions process at www.molloyhs.org.
---
Molloy Competes in SNY Invitational Tournament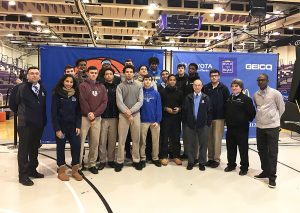 We would like to thank our community for coming out and supporting our boys varsity basketball team at City College, or tuning in on TV at home, during this year's SNY Invitational Tournament. Molloy was featured as one of four elite teams from New York and New Jersey. The other featured teams were Long Island Lutheran, Cardinal Hayes, and Hudson Catholic. Molloy faced off against LI Lutheran in the opening round on Friday, January 26th. Over 120 Molloy students and faculty members traveled to City College to lend their vocal support. Cole Anthony performed exceptionally well, scoring 34 points in total and putting a ton of pressure on the opposition in the fourth quarter. Unfortunately, LI Lutheran held the upper hand through most of the contest, and their three-point conversion rate was off the charts. Lutheran ultimately earned an impressive win over our Stanners 77-67. Molloy would then fall in the consolation round the following day against Hudson Catholic by a score of 83-64. During the tournament, Principal Darius Penikas accepted a very generous $5,000 SNY Play Ball Grant (oversized check and all!) benefiting Archbishop Molloy High School.
While the tournament wasn't the team's best showing, Molloy continues to hold its head high because it's clear that there are still many more opportunities for glory. They compete tonight on ESPNU vs. Christ the King in a nationally televised game, while the CHSAA playoffs are right around the corner. We encourage our community to continue to come out to games or tune in on TV (when available) throughout the rest of this season! | FULL TOURNAMENT RESULTS | COACH MCCLEARY INTERVIEW
---
Around the School
Varsity Bowling Wins City Championship
Congratulations to our varsity bowling team, who captured the City Championship on Friday, January 19th. It was a great match that ended with Molloy winning by one lonely pin! This is Molloy's 11th City Championship in bowling to go along with 12 Brooklyn/Queens Championships.
---
Track & Field Update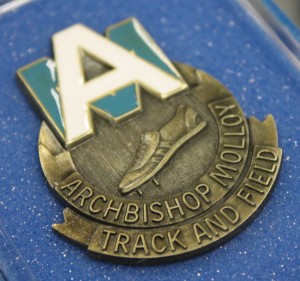 Congratulations to the boys 4 X 200 relay team for winning the CHSAA Ocean Breeze Grand Prix on January 20th. The team of Chinemerem Onaniwu, Emmanuel Adeleye, Justin Hidalgo, and Joshua Titus ran a time of 1:33.6 to win the Grand Prix and become the #1 qualifier for the Milrose Games. This team already broke the Molloy 4 X 200 record earlier this season. This year's Milrose Games are set for Saturday, February 3rd. | MILROSE GAMES INFORMATION
2017-18 Track & Field Achievements:
Boys and Girls teams won the Brooklyn Queens Diocesan Championships.
Girls placed 2nd in the City Championships, Boys placed 4th.
Individual Brooklyn Queens Champions:

Kristen Mardenborough '18 (Pole Vault)
Aaliyah Josey '18 (Triple Jump)
Nina Figetakis '21 (High Jump)
Chinemerem Ononiwu '18 (55 meter high hurdles)
Peter Meehan '20 (High jump)
James Loeffel '19 (3200 meter run)
Frank Tullo '18 (Shot Put)
Angelo Mastrogiacomo '18 (Pole Vault)
---
Other Sports Updates
Boys Varsity "B" Basketball – 15-3 overall | 12-2 in league play | Chris Escobar '18 was MVP of the Matthew Gianuzzi Classic.

Boys Freshman Basketball – 6-4 in league play | Tied for 1st place

Boys JV Basketball – 7-2 in league play

Boys Varsity Basketball – 10-8 Overall | 7-2 in league play | Moses Brown Named McDonald's All- American (Molloy's first in basketball since Kenny Anderson '89). Moses scored his 1,000th point on January 6th vs. Amityville. Khalid Moore '18 committed to Georgia Tech. Moses committed to UCLA.

Girls JV basketball –  7-6 in league play

Boys Varsity Swimming – Heading to Championships (February 10th-11th)

Girls Varsity Swimming – Heading to Championships (February 2nd-4th)
---
Sophomore Recognized for Volunteer Work
Molloy's administration recently received a letter of commendation from the head of a Queens neighborhood association recognizing the volunteer work of sophomore Michael Maye '20. Mr. David Rosasco, of the Woodside Neighborhood Association, spoke very highly of Michael, who he says contributed to weekly neighborhood project in Woodside every Saturday for six years without cancelling for any reason (weather, holidays, illness, etc.). Michael is said to have been part of a team of other dedicated youths that logged many hours cleaning up all instances of graffiti, repainting public fixtures, and beautifying other public spaces in Woodside, Elmhurst, and Maspeth. Out of all of the neighborhood association's volunteers, Michael stood out as someone who routinely went "above and beyond" by accumulating over 1,000 hours of community service. "Michael will be the quintessential example of what the public believes a leader should be. He is a young man with the potential, character, and presence to stand with individuals in need as equals in a shared struggle," said Rosasco. Rosasco said that it is important Michael's efforts be recognized in the Molloy community as well. "I can only tell the world about what Michael has done for Woodside."

Molloy Basketball on ESPNU TONIGHT (Feb 2)
When: Friday, February 2 | 5:30pm
Channel: ESPNU
Matchup: Molloy @ Christ the King HS
Check local listings for channel information
The Molloy community is invited to watch our boys varsity basketball team live on ESPNU tonight at 5:30pm! This nationally televised game will see Molloy go head to head with our longtime rivals at Christ the King High School. Molloy is looking to rebound following the results of the SNY Invitational last month. Feel free to attend the game at CTK if you can, but if not, we hope you'll be on the edge of your seat at home during the telecast!
---
Track & Field Reunion – REGISTER ONLINE!
When: Saturday, March 24, 2018 | Time 5:00-8:00PM
Where: Archbishop Molloy High School
Who: Track & Field Alumni, Family Members & Friends
Donation: $40 per person (Includes Reception)
Contact: Craig Katinas '93 | 718.441.3151
Wall of Honor Inductrees: Andrew O'Connor '03, Ian Cassidy '04, Coach Jerry Dunne, Jeff Gallagher '88, Christian Limberg '93, Girls Track & Field Class of 2004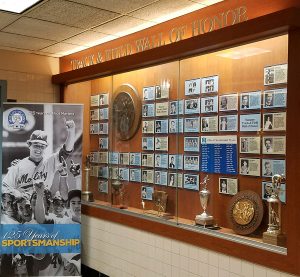 The Stanner Alumni Center invites all track and field alumni to Molloy on Saturday, March 24th for a special reunion event. Your donation includes food and beverages as part of an evening reception. Family members and friends are welcome. Call (or text, DM, snap, whatever!) your old classmates and teammates and get them together for a great night as we reminisce about our formative years and the track and field program that shaped us into exceptional people.
During the event we will also enshrine several individuals and one team onto our prestigious Track & Field Wall of Honor. This year's inductees include Andrew O'Connor '03, Ian Cassidy '04, Coach Jerry Dunne, Jeff Gallagher '88, Christian Limberg '93, Girls Track & Field Class of 2004. We encourage alumni and friends from these classes to come out and show support for your classmates during this once in a lifetime moment.
---
Jim Kinnier Stanner Golf Classic – DOWNLOAD DIGITAL INVITE!
When: Monday, May 7, 2018
Where: Plandome, North Hills, and North Hempstead Country Clubs (NEW!)
Who: Alumni, Parents, Friends, Sponsors
Contact: Matt Rizzotti '04 | 718.943.3186
More information at www.molloyhs.org/golf/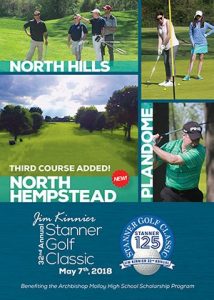 The 32nd Annual Jim Kinnier Stanner Golf Classic is set for Monday, May 7, 2018! Join us at Plandome Country Club, North Hills Country Club, or for the first time in the history of our outing, a third course: North Hempstead Country Club! By registering you can expect to enjoy a full day of golf, gourmet meals, refreshments, prizes, and much more. Your participation will support the scholarship program at Archbishop Molloy High School, which will directly benefit deserving young students in need. Invitations will arrive in mailboxes in early February 2018, but a digital invitation is available by clicking the image to the right. For information about sponsorship or volunteer opportunities, or to make a donation, please contact Matt Rizzotti '04 (email above). We look forward to seeing our community on the greens in May!

Considering Aviation as a Career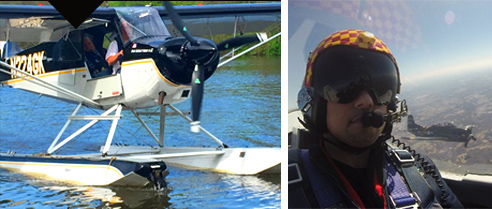 Have you ever considered a career in aviation? Alberto Alvarez '00 (pictured above) thinks you should. "Stemming from my career shift into aviation, I realized had I been introduced to this industry sooner I probably would have been involved in it directly after or during my time at Molloy," said Alberto. "My intention is to provide opportunities for Stanners through aviation events, which occur annually, and others that I can coordinate with established partnerships when possible."
An aviation and real estate professional, Alberto is based in West Palm Beach, Florida, as well as NYC. He is Assistant Chief Instructor for Global Aviation Center in Farmingdale, Long Island, which runs a flight school, hosts events, and even offers grants through a program in collaboration with American Airlines. In Florida, Alberto has experience with events such as the Sun 'n Fun International Fly-In Expo and others hosted by the Experimental Aircraft Association (EAA) and the Civil Air Patrol (CAP).
"I can facilitate Discovery Flights in the South Florida area personally as well as coordinate flights for the NYC area from multiple facilities for anyone interested," explained Alberto, who is offering to connect with any Stanner who has an interest in aviation. "Mechanics, pilots, flight attendants, OEM manufacturing, repair stations, private charter, charter brokers, etc…these are all parties I deal with on nearly a daily basis. More recently we have begun commercial drone training." If you would like to connect with Alberto regarding any of these opportunities, please email alumni@molloyhs.org | Check out the Global Aviation Center | News 12 Report on Scholarship Program
---
Class Updates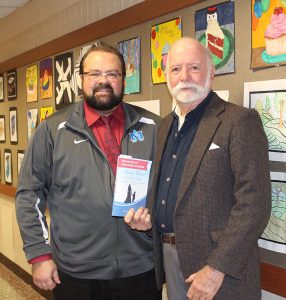 Author Robert White '59 (pictured with President Richard Karsten '81) has spent nearly 40 years of his life living on the island of Saint Croix, part of the U.S. Virgin Islands. Bob recently penned a new book, The Mother of Alexander Hamilton, Rachel's Whispers, detailing the life of former notable resident who he feels a unique connection to: Alexander Hamilton. The late American statesman once lived on Saint Croix as a child with his mother, Rachel. The move to the island from the American mainland came after Alexander's father, James, abandoned their family. Bob's book examines Alexander Hamilton's life from his time as the child of a single mother, to his military career and historical political contributions. The book also shows the ways in which Alexander's mother continued to play a role in his life even after her passing. In the book notes, Bob draws comparisons between himself and Hamilton, noting their similar upbringings and ventures into politics. This suggests Bob has a deep understanding of Hamilton's motivations, making for an interesting read. The book is available for purchase on Amazon.com. You can also check out Bob's previous book, The Trip: All the Way, in my Chevrolet, which catalogues his 25,000 mile road trip as a young men from Alaska to the Straits of Magellan.


The Stanner Alumni Center was recently informed of the tragic passing of Thomas Kelly '88. Thomas was struck and killed by a hit and run driver at the intersection of Woodhaven Blvd and Metropolitan Avenue at around 10:47pm on the evening of Thursday, December 21st. According to the NYPD, the suspected vehicle, a 2008-2011 Gray/Silver Nissan Altima, fled east on Metropolitan Avenue in the vicinity of the Jackie Robinson Parkway. A reward of up to $2,500 has been offered by NYPD Crime Stoopers for helpful information regarding this tragic incident. Please call 1-800-577-8477 (TIPS) if you have any information.

We are deeply saddened to share the sudden and tragic passings of William M. Dalton '90 and his young daughter Darcy Dalton. William and Darcy were involved in a multi-vehicle accident that ultimately took their lives far too soon. Please keep William and Darcy in your prayers. Please keep Kim Dalton, William's wife and Darcy's mother, in your prayers during her time of grief. | Information

Please pray for the repose of the soul of Alan Lancer '62. According to a family member, Alan "was always thankful to Archbishop Molloy High School for his education."

Please pray for the repose of the soul of Theresa Ryan Mansfield, mother of Michael Mansfield '73 and Thomas Mansfield '85, mother-in-law of Michael Moylan '66, grandmother of Terrence Donohue '12, Sister-In-Law of Thomas Mansfield '41, and aunt of William Ryan '80. Theresa passed away peacefully on January 21st, just a few weeks shy of her 91st birthday. She was predeceased by her husband, Dick Mansfield, St. Ann's Class of 1940. Theresa was raised in Sunnyside and Rockaway, and later became a daily communicant in St. Mel's parish in Flushing for over 60 years. Please keep Theresa and the Mansfield family in your prayers.

We are saddened to share the passing of Vivian Corrigan, grandmother of Robyn Corrigan '05 and grandmother by marriage to Jonathan DiDonato. She is survived by her three sons and one daughter, nine grandchildren, and one great-grandchild.