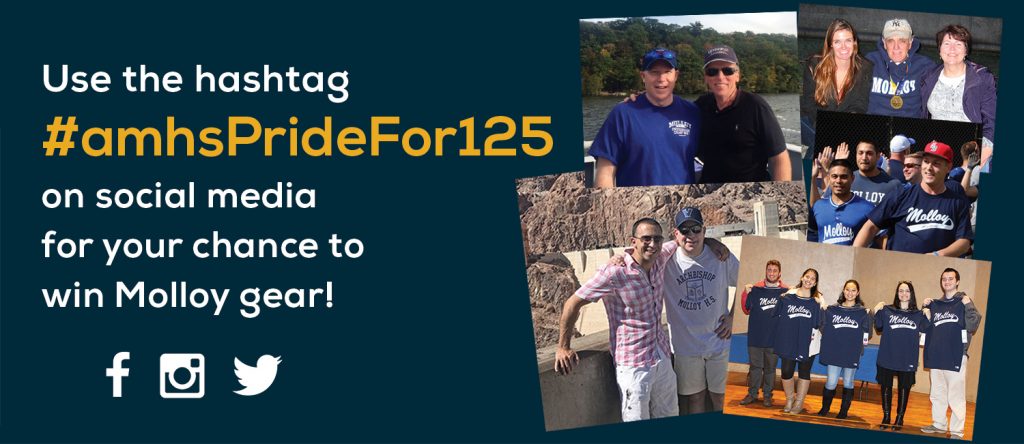 Announcing "Pride for 125" Contest: Post Photos of You & Your Stanner Gear to Win!
As we continue our celebration of the 125th anniversary of St. Ann's Academy / Molloy, the Stanner Alumni Center is excited to announce a fun way to show your "Stanner Spirit" on social media. Introducing our "Pride for 125" Contest, which will award a grand prize to the owner of the best photo in each of four categories.
Rules:

Photos must include at least one Stanner and at least one Molloy item (clothing, yearbook, vintage item, etc.).
Each entry on social media must include the hashtag #AMHSPrideFor125
Each entry should include a caption identifying any Stanners in the photo, as well as a description of the location and what is happening in the photo.
Winners will be selected by the Stanner Alumni Center team.

Photo Categories:

"Far & Wide" (Most Unique Location)
Best Group Photo (Friends & Family)
Most Creative Photo
Most "Liked" Photo (on Instagram, Facebook, or Twitter)

Grand Prize:

The owner of the best photo in each category will receive a $125 gift certificate to Molloy's online store in celebration of our anniversary theme, "125 Years of What Matters"
Submissions to the "Pride for 125" Contest will be judged from March 2nd through mid-April and may be shared in The Beehive as we check in on and promote the contest. Winners will be announced in The Beehive in late April. Please feel free to forward any questions or additional content to alumni@molloyhs.org. We look forward to seeing your photos!


Track & Field Reunion, Wall of Honor Induction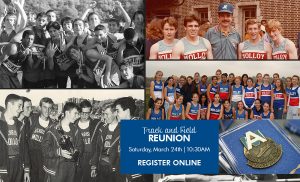 All track and field alumni, family members, and friends are invited to Molloy on Saturday, March 24th for a special reunion event. Your donation includes admission to an evening reception featuring food and refreshments. During the event we will enshrine several individuals and one team onto our prestigious Track & Field Wall of Honor. This year's inductees include Andrew O'Connor '03, Ian Cassidy '04, Coach Jerry Dunne, Jeff Gallagher '88, Christian Limberg '93, Girls Track & Field Class of 2004. We encourage alumni and friends from these classes and athletes coached by Mr. Dunne to come out and show your support during this once in a lifetime moment!
---
Jim Kinnier Stanner Golf Classic – REGISTER OR VOLUNTEER!
NEW THIRD COURSE: The 32nd Annual Jim Kinnier Stanner Golf Classic is set for Monday, May 7th at North Hills Country Club, Plandome Country Club, and for the first time North Hempstead Country Club. This all-day event includes an early morning brunch, mid-morning shotgun start, food and beverages throughout your round of golf, as well as an evening program featuring cocktails, a gourmet dinner, and dessert. Live and silent auctions will offer outstanding prizes, while we will draw our winning raffle tickets to conclude the day. This year's raffle prizes include: 1st Prize: 2 Tickets to the Super Bowl (airfare & hotel included); 2nd Prize: 4 Day/3 Night Trip for 2 to Las Vegas (airfare & hotel included); 3rd Prize: 55" HDTV.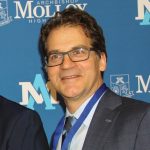 JOURNAL ADS: Sponsor a journal ad in support of this year's Stanner Golf Classic or in honor of our 2018 Golf Chairman, longtime benefactor and outing supporter Robert Rossi '81 (Partner, Windels Marx) (Pictured right). Journal ads should be standard page size (8.5"x11"). Choose from the following donation levels: Gold Page – $1000 | Silver Page – $750 | Blue Page – $500 | White Page – $400 | Half Page – $200 | Quarter Page – $100
VOLUNTEERS NEEDED: While we will have staff members working all three golf courses, it is essential that we have the support of many volunteers to run  the program smoothly throughout the day. Please consider volunteering at this year's outing! All meals are included, and as a special perk, members of the Class of 2013 who volunteer will attend their 5th anniversary reunion on November 3rd completely free of charge.
To find out more about volunteer opportunities, journal ads, or for general information about the Stanner Golf Classic, please contact event organizer Matt Rizzotti '04 at 718.943.3186 or mrizzotti@molloyhs.org.
---
2018 International Fair 
Molloy's International Day is now known as the International Fair! All members of our community are invited to join us on Sunday, March 11th for a cultural journey through India, Eastern Europe, Asia, Spain, Ireland, Greece, France, Italy, Caribbean Nations, the USA, and more. Festivities will include homemade ethnic cuisine, original and traditional cultural performances choreographed by our students, and historical anecdotes from around the world. Students who participate can earn spirit points for their class for Spirit Week (next week!), while alumni and family members can enjoy the best our students have to offer as they represent our international community!
---
Molloy's Annual Blood Drive
Molloy's annual Blood Drive, sponsored by the New York Blood Center (NYBC), is scheduled for Tuesday, March 13th from 8:00am – 2:00pm. According to the NYBC, your blood donation can help save up to three lives. Community hospitals are always in need of help, and this is a great way to share a lifesaving gift. Alumni, parents, and family members are invited to participate in the Blood Drive. Click on the flyer to the right for more information on eligibility criteria or for contact information.
---
Women at Work: Celebrating Women's History Month 
Join us on March 21st at 2:15pm in Molloy's Ralph DeChiaro Theater for a panel discussion led by our alumnae and Stanner family members. Conversation will be geared toward our students and focus on career pathways and women's experiences in the workplace. Open Q&A with panelists will follow. While the event is primarily for students, parents and alumni are also welcome to attend!


Prayer Request
We ask our Stanner community to please pray for Br. Aquinas Richard '48, who is in the medical care of the staff at De laSalle Hall in Lincroft, NJ.
---
Employment Opportunity w/Metropolitan Data Corp.
An employment opportunity announced in January is still available to recent Molloy grads and other young alumni:

Position Available: Scanning Assistant (Entry Level) —- "Metropolitan Data Corp. is a full service scanning and document management facility. As a firm, Metro Data Corp. is home to the largest privately owned building plans library. Its Electronic Document Management System allows for the unlimited storage of architectural, engineering and construction plans and supporting documentation. Metro Data Corp provides the ability for its clients to have a Digital Plans Room in the clouds."
Submit your resumé to Mr. Juan L. Hernandez at jhernandez@metrodatacorp.com. More info about this listing can be found in Molloy's alumni group on www.linkedin.com. Special thanks to our friends at Metro Data Corp. for sharing this opportunity.
---
A Note on the New Beehive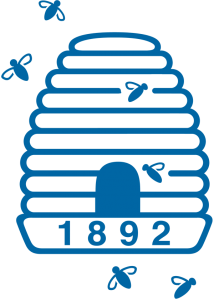 On February 16th, we introduced an updated version of The Beehive. The new Beehive features a different color palette, updated graphics, and is designed to match our new website while making each section more easily identifiable. When we introduced the new version, there were some web browser issues, so depending on what browser you use to surf the net (Internet Explorer, Google Chrome, Mozilla Firefox, etc.), you may have seen a few things look a bit squished or stretched. We are happy to report that these bugs have been fixed. We apologize for any inconvenience or confusion this may have caused. Once again, thank you for reading The Beehive! Submit your content to alumni@molloyhs.org.
---
Around the School
Cayla Kumar '20 to Compete for Miss New York Outstanding Teen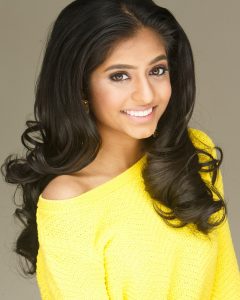 Cayla Kumar '20, a bright and ambitious Molloy sophomore, is making a positive impact in our Queens community and beyond. The Queens Village native was recently featured in an article published by TimesLedger which announced her participation in the Miss New York Outstanding Teen competition on April 7th. Miss America's Outstanding Teen is a scholarship-based program in conjunction with the Miss America Organization. Cayla brings impressive credentials to the competition, most notably a reported 4,100 hours of volunteer service. This includes having raised $25,000 in cancer research for St. Jude's Children's Research Hospital as a youth ambassador in 2012. Cayla is involved in many other volunteer efforts, which you can read more about in the article (link below). In addition, New York State Senator Leroy Comrie is expected to acknowledge Cayla's accomplishments in a written Resolution to support her leading up to and during the competition.
Cayla also shared some comments for this week's Beehive. "I just want to continue making a difference and working hard. I like giving back," she explained. Winning the competition would also net her college scholarship money to a yet-to-be-determined sponsoring university. "Judges will be looking for someone well-spoken, relatable, and a good representative of the Miss America organization. I've always wanted to be a part of that and I've been working really hard." Cayla also says she is excited and confident, but has been humbled by the challenge ahead. | READ TIMESLEDGER'S STORY ON CAYLA KUMAR
---
Read The Stanner Newspaper's Latest Winter Issue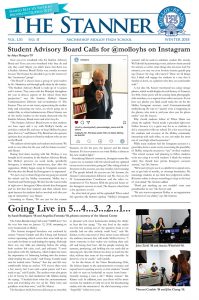 Molloy's Stanner newspaper staff is proud to present their latest Winter Issue! Top stories include the new @molloyhs Instagram account (written by Ariya Mangru '19), the inaugural broadcast of AMHS Live (written by Editor-In-Chief Sarah Rodriguez '18), the introduction of a new African American Experience elective next year (written by Lauren Klein '19, with comments by Taylor Garcia-Lawson '19), an in-depth look at Molloy's boys varsity basketball team (written by Peter Paolo '19), and a review of The Stanner Players' fall production of The Diary of Anne Frank (written by Marco Vittozzi '18). Also featured is a great piece on the possibility of adding a Mandarin Chinese elective to Molloy's course offerings sometime in the future (written by Juliana Giacone '19).
Visit www.molloyhs.org/stannernewspaper/ and click the thumbnail for the Winter Issue under 2017-18. Also available are volumes of The Stanner from the past decade, as well as select archival issues from the 1950s, 1970s, and 1980s. Any current or past issue featured on the page is downloadable in PDF format. If you would like to request archival content from a past Stanner Newspaper please contact alumni@molloyhs.org.
---
Sports Updates
Our boys varsity basketball team, who ranked as the #2 seed while advancing to and competing in the Brooklyn/Queens Championship Game last week, will now turn their attention to the City Championship tournament. Their next game will be on Sunday, March 4th at 4:30pm at Fordham University. They will face the winner of Iona Prep vs. All Hallows. In bowling, three student-athletes will compete this weekend in the State Bowling Championship: Jonathan Zaoutis '18, Spencer Szeto '18 and Harris Mirza '20. In swimming, Kevin Claiborne '19 is set to compete in the State Swim Meet. (Photos from varsity game vs. CTK on February 9th)


Laura Darcy '05 is Making a Difference in Louisiana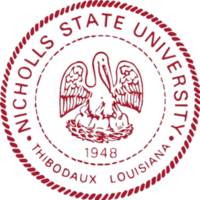 Laura Darcy '05 is an Assistant Professor at Nicholls State University in Louisiana where she teaches grad level psychology and education courses. She holds a BA in Human Development from Boston College, and an MA and Ph.D. in Applied Behavior Analysis from Teachers College, Columbia University. After college, Laura spent seven years teaching pre-school through 2nd grade, as both a special and general education teacher. She pursued her grad degree in ABA in order to become a better teacher, and to "provide the right kind of support for students with learning and behavior challenges." Laura now uses her skills as a behavior analyst to support kids with special needs through teacher training, program development, and clinical supervision.
As a Board Certified Behavior Analyst, Laura can provide behavior services to any clients. As mentioned, many of her clients are children with developmental disabilities or learning disorders. Most of her work as a BCBA has focused on language development and social skills training, while her graduate work involved preparing students with special needs for full-time inclusion in general education settings. Now, as a clinical supervisor, she not only teaches at Nicholls, but consults for various schools and clinics throughout Louisiana, overseeing client treatment and staff training. Laura is in the process of setting up a clinic at Nicholls, where services would be provided for children with Autism. The clinic would also serve as a training site for grad students to become licensed behavior analysts.
Laura continues to learn something new in her line of work every day, but the most important lesson so far has been how much she values the idea that "the student is always right." In her words, "if my student or client isn't being successful, that means I must change something in my behavior in order to help them succeed. I think this concept is applicable to so many aspects of life." Laura says she has also gained a greater appreciation for her own education experiences. "We Stanners are truly privileged in our experience at Molloy." Thank you for sharing your story, Laura!
---
Class Updates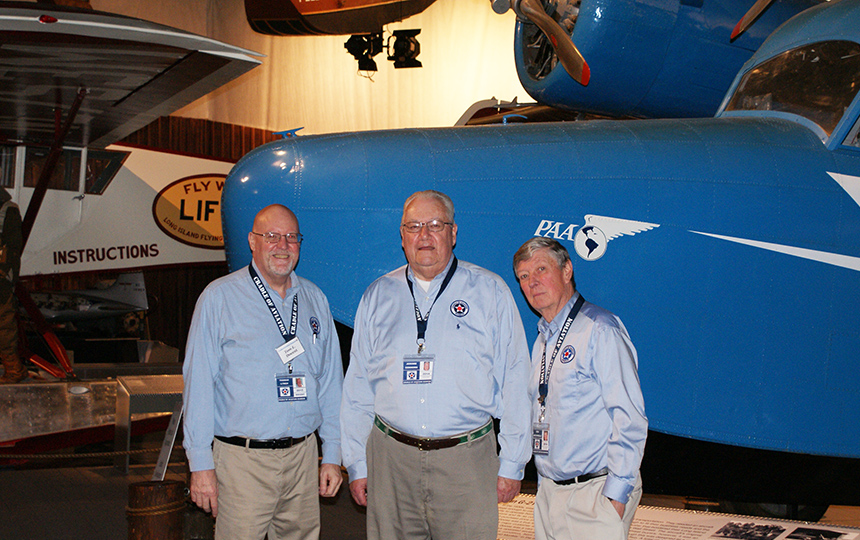 Since 2015, Tom Lynch '74 has been a volunteer docent at the Cradle of Aviation Museum (www.cradleofaviation.org) in Garden City, Long Island. Tom is happy to report that there are two other Stanners that are also volunteer docents at the museum. Pictured with Tom (left) are Jerry Connors '61 and Ken Ditchfield '64.



Please pray for the repose of the soul of Charlie Dixon '74, who passed away on December 18, 2017.

Please pray for the repose of the soul of Stephen Killorin '71, who passed away on November 21, 2017.