Download Stanner Alumni Center's 2016-17 Annual Report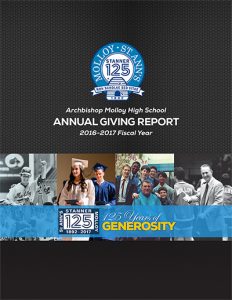 The Stanner Alumni Center, on behalf of Archbishop Molloy High School and St. Ann's Academy, is pleased to share our Annual Donor Report for the 2016-17 fiscal year. Molloy's fiscal year runs from September 1st through August 31st of the following year. Our school community supports a wide range of scholarships, technology enhancements, facility upgrades and renovations, and other campus priorities through their generous annual gifts. When you give to Molloy, you enhance our Catholic Marist mission and create opportunities for students to achieve their goals. By giving to Molloy, you join a group of individuals who are gratified by being part of the Stanner family of supporters. It is your example that encourages others to give. Depending on the amount or designation of your gifts, we are very pleased to induct our benefactors into the giving societies within this Annual Donor Report. Donor Reports from 2010 through 2016 are available on our website. For donor information prior to the 2010-11 fiscal year, please contact the Stanner Alumni Center at 718.441.9210.

---
Around the School
Students Hold "Walk With" Service to Join in National Movement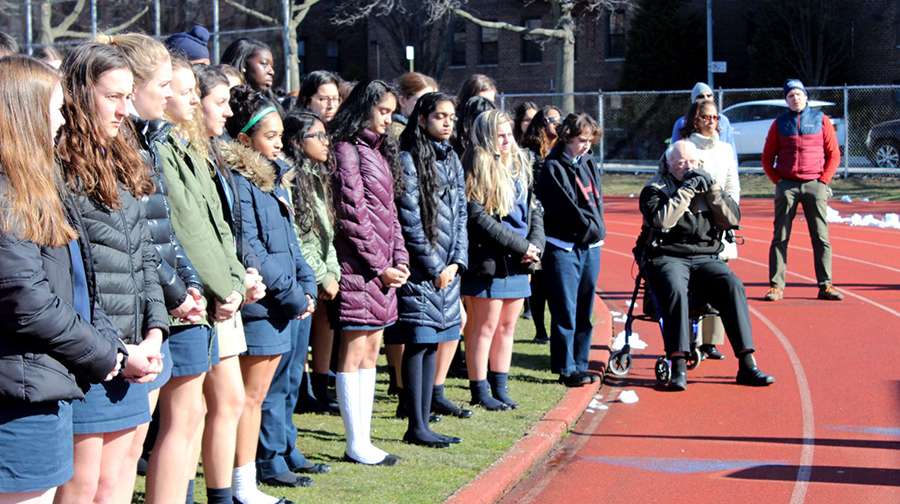 On March 14th, at 10:00am, over 500 Molloy students, with the support of many teachers and administrators, took part in the national movement to show solidarity in remembrance of lives lost to gun violence. This 17 minute "Walk With" prayer service included 14 students and three faculty members each reading the name of a victim of the Parkland, Florida tragedy. The service also included a reflection from senior Diana Alvarado '18, who spoke passionately about the power that Stanners and students everywhere have to make a difference. The service concluded with the singing of God Bless America, led by Molloy's junior/senior chorus. At the conclusion of the service, participating students returned to their scheduled classes. Students and faculty who chose not to participate remained in their scheduled classes.
Excerpts from reflection by Diana Alvarado '18: "Our presence this morning evokes all of what it means to be Marist. We are united under such Marist virtues as presence, simplicity, and family spirit. But this moment in history will not be remembered…unless we stand in compassionate solidarity with the least favored, unless we realize that there are many social justice issues that need to be addressed by us. We must use our God-given unique gifts and talents to inspire each other to contact our reps, get a sense of what truly is behind the reform movements, and light a fire in each other to take action. This moment in history will not be remembered unless we work toward solutions, unless we realize it is our responsibility to keep this conversation going."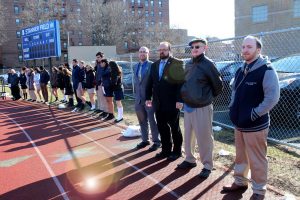 Administrators, guidance counselors and faculty members considered many factors when formulating a structure for this event. Acknowledging the desire of many students to join this movement, school leadership sought to create a safe, meaningful, and respectful platform for students to stand in solidarity with the victims of gun violence, to educate students about the impact of real world issues on their lives, and to help students to understand that participation in the political process can create positive change.
Molloy was not alone, as many local Catholic schools, as well as Marist schools around the US Province, also held events to acknowledge this national movement. The Marist Brothers website has published a recap of Province-wide events, including Molloy's: Visit Marist Brothers Recap
---
Annual "International Fair" Benefits from New Format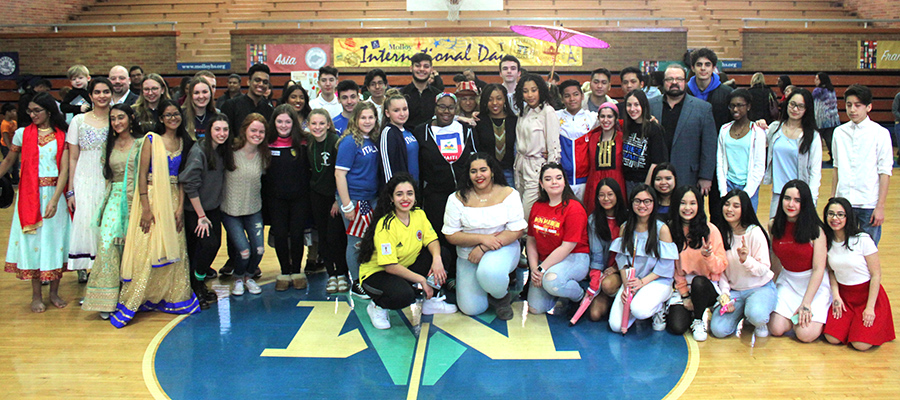 Photos by Elizabeth Duran '20, Ariya Mangru '19, Jennifer Marry '19, and Jake Temkin '20.
Molloy's annual International Day received a big makeover this month, boasting a brand new format and a new name. The 2018 International Fair was organized by Ms. Dorothy DeNoto and Ms. Jessica Pastore '04 and featured homemade ethnic cuisine, cultural performances, and opportunities for visitors to directly interact with our many cultural clubs. Dishes representing ethnic backgrounds from all over the world were prepared and donated by students and their families, as well as alumni. Students representing Indian Club, Spanish Club, Afro-Caribbean Club, and others also performed original choreography inspired by traditional dances.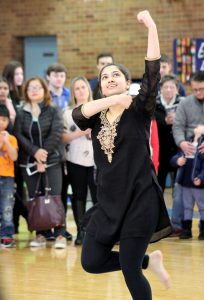 In past years, the event program was split in half: food was served during the first half, while performances took place on stage in the Jack Curran Gym in the second half. The new International Fair featured food throughout the event, while dance performances took place at the center of the gym floor intermittently, which allowed for a unique flow to the program. This also let visitors get closer to the performers, as opposed to watching them on stage from afar. Each cultural club also had representatives stationed at tables throughout the gym, who answered questions about their history and about any of the cultural items or clothing on display. Upon entering the Fair, visitors were given "passports" that they could have stamped by each club to record and track their progress.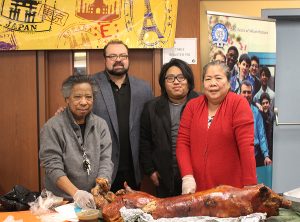 "The new format was innovative, entertaining, and exciting," said Ms. DeNoto. "The students were very enthusiastic, and many who performed also returned to the food stations or club tables to interact with visitors and share information about their heritage. We were very happy with the event overall." Alumni are reminded that they are always welcome to attend or participate in the International Fair!
Thank you to Ms. DeNoto, Ms. Pastore, President Karsten, Principal Penikas, Ms. Murdocca, and our facilities staff for their efforts to coordinate this event. Thank you to our students and their families and our alumni for contributing dishes and cultural items, and special thanks to Herbert Leona '11 and the Leona family (pictured with President Richard Karsten '81) for once again donating their roasted pig! (The Leona family has continued this tradition for nearing a decade!).
---
Students Present Research at 2018 NYC Science & Engineering Fair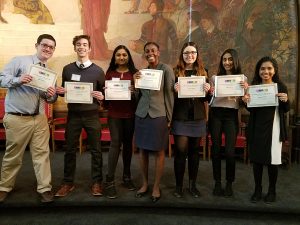 The NYC Department of Education hosts its annual Science & Engineering Fair to showcase the best scientific minds among city high school students. It is the largest high school research competition in New York City, featuring hundreds of students representing all five boroughs. Research projects are judged based on a variety of criteria, while awards are presented to the projects deemed most outstanding. A preliminary round was held on March 4th, which featured eight Molloy seniors and their research projects. These seniors were among the 590 approved students from an original applicant pool of more than 700.
Gabriella Ali '18 – "Music is Easier to Read When the Notes are Differently Colored to Alleviate Visual Crowding"
Daniel Babat '18 & Adam Reyes '18 – "Making the Optimal Cyanotype Image: A Photolithography Experiment"
Jessica Antal '18 & Sonalia Balli '18 – "Artistic or Analytical?"
Brittney Germain '18 – "Exploring the Power and Pressure when Harnessing Wind from Moving Frames"
Samantha Madray '18 – "Athletic or Not? Do My Fingerprints Show?"
Marco Vittozzi '18 – "Wat did u get on ur English tst" (*Note: Intentional typos!)
Of note, Marco Vittozzi conducted his research at Hofstra University. Bahey Abou Hussein researched at Columbia University, however because the lab he worked in is preparing to publish their results, he was unfortunately unable to compete at the NYCSeF. We are excited to share that Gabriella Ali, who conducted her research at NYU, was selected to compete in the Finals Round on March 20th at the Museum of Natural History. Her fellow researchers will be in attendance to show their support!
If you're intrigued by the titles of these projects and you'd like to know more about them, consider joining us at Molloy at this year's Science Symposium on May 2nd from 5:00PM – 7:00PM. This event gives all of our Science Research students (including Bahey!) an opportunity to fully present and explain their completed projects. All are welcome! | More Information about the "NYCSeF"
---
Stanner Community Supports Annual Blood Drive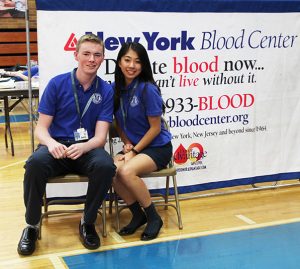 Thank you to everyone in our community who gave the "gift of life" on March 13th during our annual Blood Drive. We are excited to announce that 103 units of blood were donated to the New York Blood Center, which have the potential to help up to over 300 potential recipients. According to NYBC, close to 2,000 men, women, and children in our local communities, including cancer, transplant and surgery patients, trauma victims, newborn babies and many others need blood transfusions each day. In addition, one in three people will benefit from a blood donation during their lives. Beehive readers who are curious about donating blood in the future can visit http://www.nybloodcenter.org/ for more info.


Track & Field Reunion

 – 1 WEEK AWAY!
When & Where: March 24, 2018 | 5:00PM @ Molloy
Who: Track & Field Alumni, Family Members & Friends
Donation: $40 per person (Includes Reception)
Contact: Craig Katinas '93 | 718.441.3151
Wall of Honor Inductees: Andrew O'Connor '03, Ian Cassidy '04, Coach Jerry Dunne, Jeff Gallagher '88, Christian Limberg '93, Girls Track & Field Class of 2004
All track and field alumni, family members, and friends are invited to Molloy on Saturday, March 24th for a special reunion event. Your admission includes an evening reception featuring food and other refreshments. During the event we will enshrine several individuals and one team onto our prestigious Track & Field Wall of Honor. This year's inductees include Andrew O'Connor '03, Ian Cassidy '04, Coach Jerry Dunne, Jeff Gallagher '88, Christian Limberg '93, Girls Track & Field Class of 2004. We encourage alumni and friends from these classes and athletes coached by Mr. Dunne to come out and show your support!
---
Swimming Alumni Reunion 
When & Where: June 9th, 2018 | 5:00PM @ Molloy
Who: Alumni, family members, friends
Tickets: $80 per person; $40 for Classes of 2007-2017
Contact: Craig Katinas '93 | 718.943.3151
Attention all Stanner Swimmers! Join us on Saturday, June 9th for a reunion event, celebrating over 45 years of success! In recognition of this special occasion, we will be honoring all athletes, coaches and staff who have been a part of this amazing and decorated program for so many years. Your admission includes cocktail hour, a dinner reception, and open bar. Register online using the link above or contact Craig Katinas '93 for more information.
---
Women at Work: Celebrating Women's History Month 
When & Where: March 21, 2018 | 2:15PM @ Molloy
Who: Geared toward students | parents & alumni also welcome
Contact: alumni@molloyhs.org
Join us on March 21st at 2:15PM in Molloy's Ralph DeChiaro Theater for a panel discussion led by our alumnae and Stanner family members. Conversation will be geared toward our students and focus on career pathways and women's experiences in the workplace. Open Q&A with panelists will follow. While the panel is geared toward students, parents and alumni are also welcome to attend.
---
Jim Kinnier Stanner Golf Classic

– THIRD COURSE ADDED!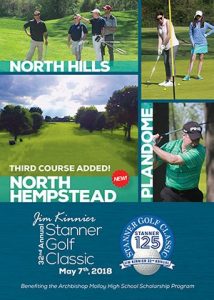 The 32nd Annual Jim Kinnier Stanner Golf Classic is set for Monday, May 7th, and this year will mark the first time Molloy's outing will expand to a third golf course. The event, which has been held at North Hills and Plandome Country Clubs for a number of consecutive years, will now also include North Hempstead Country Club. The decision to add a third course was made after considering ways to improve pace of play. We hope that our expansion to North Hempstead will enhance the quality of the game and overall experience of the day. This is an exciting change that we are very much looking forward to. As always, regardless of which course you choose, golfers will enjoy an early morning brunch, mid-morning shotgun start, food and beverages throughout your round of golf, as well as an evening program featuring cocktails, a gourmet dinner, and dessert. Live and silent auctions will offer outstanding prizes, while we will draw our winning raffle tickets to conclude the day. This year's raffle prizes include: 1st Prize: 2 Tickets to the Super Bowl (airfare & hotel included); 2nd Prize: 4 Day/3 Night Trip for 2 to Las Vegas (airfare & hotel included); 3rd Prize: 55" HDTV.
JOURNAL ADS: Sponsor a journal ad in support of this year's Stanner Golf Classic or in honor of our 2018 Golf Chairman, longtime benefactor and outing supporter Robert Rossi '81 (Partner, Windels Marx). Journal ads should be standard page size (8.5"x11"). Choose from the following donation levels: Gold Page – $1000 | Silver Page – $750 | Blue Page – $500 | White Page – $400 | Half Page – $200 | Quarter Page – $100


Chess Alumni Reunite for Amateur East Competition
by Mr. Mike Harrison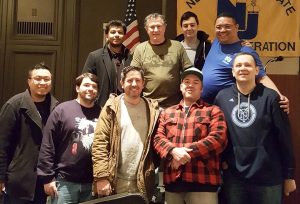 From the 17th to the 19th of February, seven alumni from Molloy's past Chess Teams, and one member from its past Chess Club, along with Mr. Harrison, participated in a team chess competition known as Amateur East, held at the Parsippany Hilton Hotel. To participate in the very competitive event, Mario Stefanidis '13 flew in from his job in San Francisco on the west coast. This was his second year attending the event, and he tied with Kamil Klimowicz '03 on his team for best results, scoring 3.5/6 points. The most successful player, returning from a 13 year hiatus from playing, was Matthew Grasso '00, who scored an impressive 4.5/6 points in the competition. (Pictured Bottom: Warren Chin '99, Philippe Bero '03, Matt Grasso '00, Cristopher Rodriguez '99, Kamil Klimowicz '03; Top: Ritaum Biswas '05, Mr. Harrison, Mario Stefanidis '10, Arwin Castillo '02)
The Molloy group broke up into two teams. The first team competing in the event consisted of Cristopher Rodriguez '99, Warren Chin '99, Kamil, and Mario. The second team included Philippe Bero '03, Mr. Harrison, Arwin Castillo '02, and Ritaum Biswas '05.  Matt Grasso played on a third team at the tournament. Between matches everyone caught up on life and recalled some experiences and events from their times playing for the Molloy Chess Team and Chess Club. A fun time was had by all over the three days, and all claimed they would put up better results next year! Arwin, who has taken point in organizing Stanners for the Amateur East and other Chess Tournaments over the past decade plus, is looking forward to putting together three teams for next year's competition. Anyone interested in participating next year or in other coming Chess Tournaments with fellow Stanners should contact Arwin at acasti01@outlook.com.
Some Trivia (Prizes to first persons getting answers in!):  1. Which Stanner above never played on the Molloy Chess Team? 2. In what year did the team first play in the Amateur East? Respond to mharrison@molloyhs.org. Winners have to come by on Tuesdays or Thursdays to collect their prize!
---
Class Updates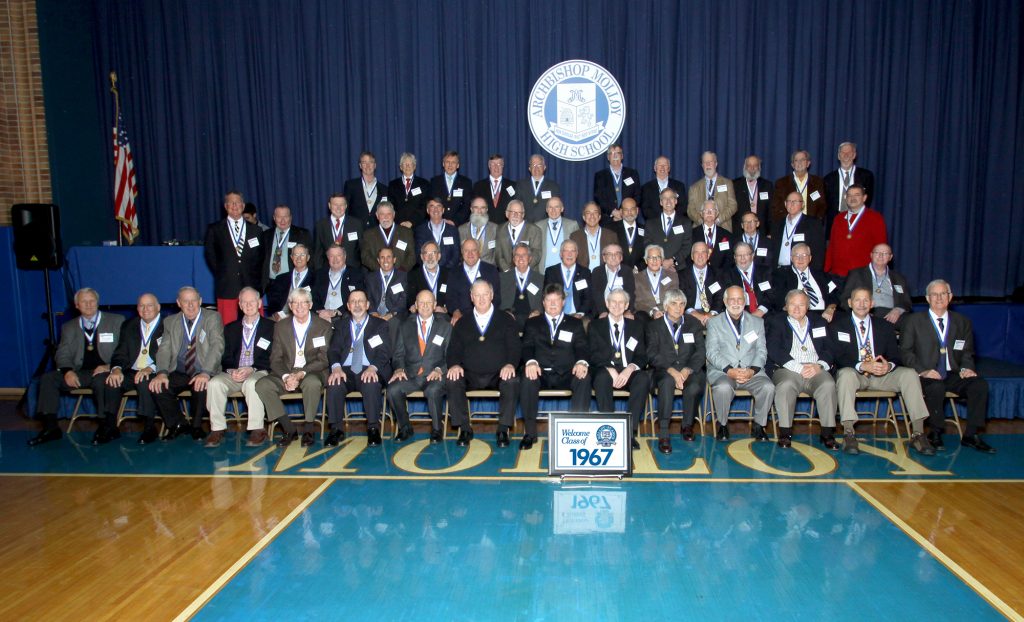 Members of the Class of 1967 are trying to identify everyone in the class photo that was taken last November at their 50th anniversary reunion (click to enlarge). John Linnehan '67, John Molloy '67, and Brian Sullivan '67 have been able to identify 47 of the 54 photo participants, however their list still has seven blank names. Even with a list of attendees provided by the Alumni Center, the trio has been unable to put the right names with the right faces. If you are in the photo to the right, please reach out to John at jlinnehan@outlook.com. In addition, download this PDF to see if you have been correctly or incorrectly listed, or if your name is missing.
---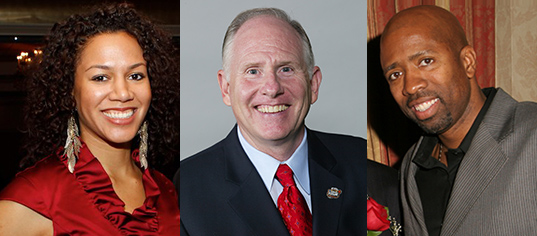 If you're watching this year's NCAA March Madness Tournament, see if you can spot each of the Stanner quartet in the Boise Regional pocket. Broadcaster Kenny Smith '83 will provide commentary in studio, Jim Larrañaga '67 and Chris Caputo '98 will be coaching the University of Miami, and Rosalyn Gold-Onwude '05 will be on the sidelines reporting for the CBS Network.
---
Cierra Word '17 created a buzz earlier this week when she earned her first win pitching for Central Florida's D1 softball team, the UCF Knights. Cierra pitched 4 innings while striking out 2, walking 1, and allowing 2 hits versus Quinnipiac. She kept her team in the game, and in turn her teammates picked her up by overcoming a one run deficit and turning it into a six run lead. The Knights won the game 7-1. Cierra's win is very impressive when considering she walked onto the team. That is, Cierra made UCF's D1 softball program without being scouted prior to enrolling. Her season stats to date are highlighted by a 1.05 ERA, 3 strikeouts, and a .255 batting average against in 13.1 innings. Check out the postgame video clip UCF Softball tweeted out below. Congratulations, Cierra! | Cierra Word Player Bio
Cierra gets the job done in the circle for her first W of the season! pic.twitter.com/ze3iPDrkZz

— UCF Softball (@UCF_Softball) March 11, 2018