Stanner Golf Classic – DOWNLOAD 2018 GOLF JOURNAL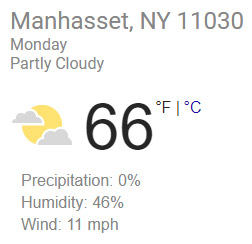 After many months of planning, we are very excited to host Molloy's 32nd annual Jim Kinnier Stanner Golf Classic this Monday, May 7th! Over 300 golfers are expected to play at North Hills, Plandome, and North Hempstead Country – and the weather looks good! We would also like to acknowledge our alumni and friends who are scheduled to volunteer at this year's outing. Without you, our volunteers, this annual event would not run as smoothly as our golfers have come to expect.
Before the day gets underway, we would like to invite our community to download our 2018 GOLF JOURNAL. This year's journal is filled with information about the Jim Kinnier Stanner Golf Classic, including everything you need to know about our 2018 Chairman Robert Rossi '81. In addition, many of the pages within feature ads donated by Stanner-friendly businesses from around the tri-state area. Please take a moment to browse the journal (in PDF format) to learn more about the Stanner Golf Classic and about the many businesses and individuals that have proudly supported this year's event.
If you are scheduled to golf on Monday and have any questions, please contact 718.441.9210 or email mrizzotti@molloyhs.org.

---
Fundamental Advisors LP Host Latest Stanner Networking Event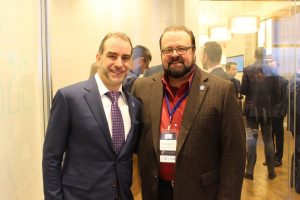 The Stanner Alumni Center extends its deepest thanks and appreciation to Mario Kilifarski '93 (Director of Asset Management), Laurence Gottlieb (Chairman & CEO, pictured in gallery below, top row far right) and Fundamental Advisors, LP, for hosting our latest professional networking event at their beautiful Manhattan offices on April 19th. The event was attended by over 45 Stanner professionals in finance, law, and real estate, and offered a unique opportunity for building connections and some business card swapping. In addition to networking, the program featured Mr. Gottlieb as keynote speaker, who shared his thoughts on employing simple, transparent business plans that focus on people above all else – sound advice that can be applied to countless industries. (Pictured: Mario Kilifarski '93 and President Richard Karsten '81)
"We are grateful to Mario, Laurence, and Fundamental Advisors, LP, as well as to our alumni who have been ardent supporters in building and sustaining our professional networking programs," said Alumni Development Director Craig Katinas '93, who coordinated the event. "This wonderful evening in particular was a perfect example of Stanners investing in What Matters. We hope that as our efforts in professional networking continue to evolve, we will be able to expand to other diverse venues and serve even more Stanners in the process."
For more information on Molloy's Professional Networks, or to find out how you can host our next event, please contact us at 718.441.9210 or email alumni@molloyhs.org.

---
Employment Opportunity (Tax/Accounting)
The Stanner Alumni Center recently received information regarding the following employment opportunity from a kind alumnus at NKSFB, LLC:
NKSFB, LLC is one of the premier accounting and business management firms respectively based in Los Angeles and New York. With over 300 employees and 30+ years in practice, NKSFB, LLC focuses on business management and tax while representing many of the world's top entertainers, musicians (recording and touring), producers, athletes, executives, high net worth individuals and entrepreneurs.

NKSFB, LLC are currently looking to expand their East Coast tax department and have various tax positions available in their Long Island location. Candidates who are qualified tax preparers or reviewers will be considered. Please contact Katie Twomey via email at Ktwomey@nksfb.com or telephone at 917-512-0879 if you are interested in scheduling an interview.
---
Around the School
Stanner Players' Production of "Charlie Brown" A Big Hit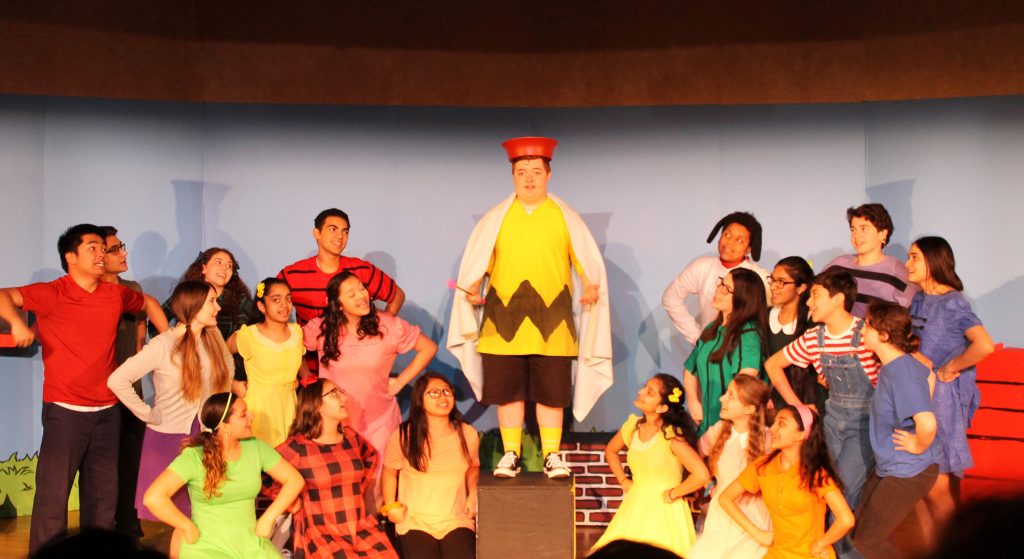 Photos by Photography Club Members: Jennifer Marry '19, Vassilia Plakas '18, Katelyn Ramowtar '21, & Stephanie Szpylka '19
Congratulations to Molloy's Stanner Players, who once again delighted audiences with their spring musical. This time, the Players presented You're A Good Man, Charlie Brown, written by Clark Gesner, featuring additional dialogue and original direction by Michael Mayer. The musical tells the story of a day in the life of the iconic Charlie Brown, played by Anthony Autera '19, and fellow "Peanuts" Lucy (Genesis Barreto '18), Linus (Che Negron '19), Schroeder (Matthew Ingrao '19), Snoopy (Taylor Garcia-Lawson '19), and the rest of the gang.
Director Ms. Shannon Winters '06 describes the show as relevant today despite the notion that the characters might seem dated to some. "Charlie Brown, teaches us that while things will go wrong, we have to keep pushing forward and find happiness in the things and people surrounding us. There's something very profound about a character who keeps getting beat down, but internally he can find his own strength and endure."
In her director's notes, Ms. Winters thanked all of her Stanner Players for their amazing work, with a special shout out to the seniors who will be graduating in June: Ariana Cardoza, Deirdre Ballesty, Sally Kremer, Sven Larsen, Mykah Absuelo, Genesis Barreto, Enrico Cecchi, Joanna Wong and Sub Yu.
Be sure to read future Beehive newsletters or visit www.molloyhs.org for information on the Stanner Players' fall 2018 production and spring 2019 musical!
---
Students Nominated, President Karsten to be Honored by Josephine Foundation at 16th Annual "Follow Your Dreams Gala"

Molloy is proud to announce that five individuals associated with The Stanner Players have been nominated for Josie Awards in anticipation of the upcoming "Follow Your Dreams Gala" hosted by The Josephine Foundation. The nominees are:
Erin Mardenborough '20 / Anne Frank, The Diary of Anne Frank (Best Performance by a Female, 13-19 years old)

David Kemp '17 / Sid Sorokin, The Pajama Game  (Best Performance by a Male, 13-19 years old)

Annette and Charlie Siguenza / The Pajama Game (Choreographer of the Year)

Shannon Winters '06 / The Diary of Anne Frank (Director of the Year)
Nominees from other schools and organizations join our Stanner Players in each of a variety of categories. Winners will be announced at the Gala on June 15th, which is to be held at Crest Hollow Country Club in Woodbury, NY. In addition, President Richard Karsten '81 has been announced as one of the Josephine Foundation Chairman's 2018 Honorees, in recognition of his support of high school theatre and the arts.
According to their literature, The Josephine Foundation "raises money and distributes 100% of these funds to help give individuals and approved programs an opportunity to achieve their goals in life. Through the disciplines of properly run music, arts and sports programs, young people and adults can reach for their dreams regardless of race, creed, nationality, gender, age, or financial status." In 2017, The Josephine Foundation awarded two generous grants to Archbishop Molloy High School: a $1,000 grant in support of our theater program, and a $500 grant in support of our music program.


Swimming Alumni Reunion – REGISTER NOW!
Attention all Stanner Swimmers! Join us on Saturday, June 9th for a reunion event celebrating the success of our over 45 year old swimming program. In recognition of this special occasion, we will be honoring all athletes, coaches and staff who have been a part of this amazing and decorated program for so many years. Your admission includes cocktail hour, a dinner reception, and open bar. Register online at www.molloyhs.org/events/ or contact Craig Katinas '93 for more information.
---
Walk/Run for Karina – VOLUNTEERS NEEDED!
Join us at Molloy on Saturday, June 23rd as we again remember a beloved member of our Stanner community, Karina Vetrano '04. Last year, Molloy held a two day, overnight walk/run vigil in remembrance of Karina. This year, our walk/run event will kickoff at 11:00AM and conclude at 11:00PM, all on June 23rd (11 being Karina's favorite number). More details and registration info will be released soon. All proceeds from this event will support the Karina Vetrano Memorial Scholarship, benefiting future young women entering Molloy. More information will be announced soon. Please save the date, or contact Matt Rizzotti with any questions.
VOLUNTEERS: We're looking for volunteers! Please let us know if you are available to volunteer during any portion of our event honoring Karina Vetrano. Contact Matt Rizzotti if interested (see info above).
---
Track & Field Alumni Gathering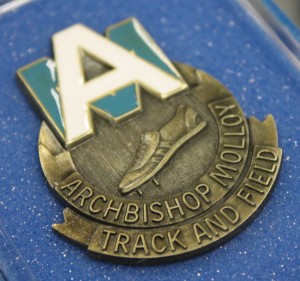 ATTENTION: TRACK AND FIELD ATHLETES OF THE '70s — On Friday evening, June 22nd, at 7:00 PM, we will gather at Trinity's Restaurant & Bar In Floral Park. This informal night is the brainchild of Phil Vetrano and myself, both of the Class of 1974.  It is envisioned as an opportunity to get together, hang out at the bar, have a few drinks, perhaps some food, tell a few stories, and exaggerate some past accomplishments. There will be no collection of money beforehand (just like the old days), just show up at the bar. On the other hand we would like to give some notice to the proprietor as to how many will probably be attending, so if you plan on being there please let Craig Katinas '93 know by emailing ckatinas@molloyhs.org. We are also hoping for a few of the old coaches and teachers to show up. This gathering takes place the evening before the Karina Vetrano Memorial Event at Molloy on Saturday June 23rd, so if anyone is coming from out of town you may be interested in attending that as well. Whether you're already in town or not, we hope you will consider coming out to one of these events to reminisce and support the Vetranos. (Depending upon how it goes at Trinity's, a few may go directly from the bar to the event…). I look forward to seeing you in June.


— Frank Gambino '74 / Molloy Faculty, Track Coach
---
St. Ann's Communion Breakfast – RSVP!
The Stanner Alumni Center is proud to announce our St. Ann's Communion breakfast for all graduates of St. Ann's Academy (Molloy was known as St. Ann's from 1892 – 1957) as well as graduates from the Classes of 1960-1967. If you have connections to St. Ann's or are a graduate from these years, please consider attending this free event on June 3rd. The program includes Catholic Mass celebrated at the school, followed by a delicious buffet breakfast. We will also display yearbooks and other items for a dose of nostalgia. Your RSVP is requested. Please contact Ms. Merl Doyle to RSVP or for more information.


Rebecca Power-Hassard '08 Inducted into GCHSAA Hall of Fame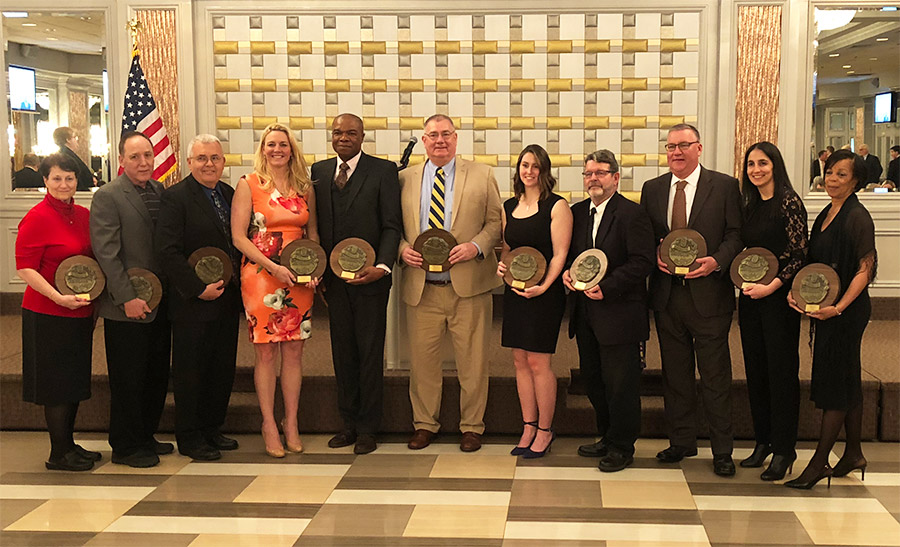 The Stanner Alumni Center, coaches, faculty and staff of Molloy congratulate Rebecca Power-Hassard '08, who was inducted into the prestigious GCHSAA Hall of Fame on April 19, 2018. Rebecca joins fellow alumnae Angelina Waterman-Reinecker '07, Rosalyn Gold-Onwude '05, and Jessica McEntee '05 in the GCHSAA Hall of Fame.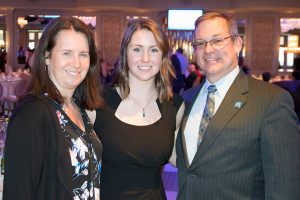 Rebecca was a talented two-sport athlete at Molloy, competing in Volleyball and Track and Field. In 2007, as co-captain for Molloy's Volleyball team, she was voted First Team All Queens. In Track and Field, Rebecca held the CHSAA League record for the Indoor and Outdoor Pole Vault. She was a five time National Championship Qualifier in Pole Vault and an 11 time NY State Qualifier in Shot Put and Pole Vault. Rebecca won 13 Brooklyn/Queens CHSAA Individual Championships and 11 CHSAA Intersectional Individual Titles. In 2007 and 2008, she was selected for the Daily News First Team All City for Track & Field. In 2008, she was voted Outstanding Field Athlete at the Indoor CHSAA Championships. She was not only an elite performer, she was a respected leader, serving as Molloy's field team captain. (Pictured right: Rebecca Power-Hassard '08 center with parents Pam Power & AJ Power '84)
After graduating from Molloy, Rebecca continued her athletic career at SUNY Albany, where she received a BA in Sociology. She continued her dominance in the America East Conference Championships in Pole Vault, Shot Put and Javelin. Her class records in Pole Vault and Javelin still stand at Albany. After college, Rebecca combined her love of athletics with her love of helping others, as she currently works with young adults with physical and developmental challenges. To further assist young adults with challenges, Rebecca started her own company, Fitness with Becca, which provides personal athletic training for this community. Her love of sports also helped spark her friendship and eventual marriage to Stephen Hassard, a teammate at Albany. The happy couple welcomed their daughter, Aayla, into the world in January 2018. Rebecca is the daughter of Molloy teacher and coach Mr. AJ Power '84 and the sister of Mary Grace Power '16. (Pictured below: Vintage Rebecca at Molloy performing Pole Vault & Shot Put, and in uniform for Volleyball)
---
Class Updates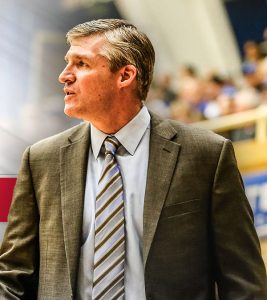 Last month, John Dunne '88 was named as the new Head Coach of Men's Basketball at Marist College. Prior to the move, Dunne had served as Head Coach at St. Peter's College from 2006-2018. While at the helm at St. Peter's, the Peacocks advanced to the second round of the NCAA tournament (2010-11) and were crowned CollegeInsider.com Postseason Tournament (CIT) Champions (2016-17). Dunne also became the first head coach in history to lead a #9 seed to the quarterfinals of the MAAC tournament thanks to the Peacocks' victory over #1 seed Rider University (65-55 final score on March 2, 2018). In a press release, Dunne was quoted as saying he is excited to join the Marist and Hudson River Valley communities. He has also been impressed with the Marist program having watched them in the MAAC for years, and he looks forward to the team's potential moving forward. Congratulations, Coach Dunne! | Marist Hires John Dunne as Men's Basketball Head Coach | (Photo courtesy of Marist College Athletics)
---
The following update was submitted by James Wilhelm '52:
"For the record, I am James J. Wilhelm – Class of 1952 of St. Ann's Vintage. Still alive and well, with Catherine, my bride of 60 years, three married daughters, with great spouses, and 11 grandkids. In summer 2018 we will have three grandkids married, and one of them, our oldest granddaughter, is expecting – our first great grandson.

My exposure to a Catholic education was at both elementary at St. Luke's In Whitestone, NY and my unforgettable experience at St. Ann's Academy, which set my course in life from within. In the early years it was Brothers Aquinas, Kiernan, Oswald (who was retired and was part of the frame work on the roof residency), and Brothers Laurence, Peter Louis, Damian, and Edward Conrad from my junior and senior days. There were many others in my life which developed who I am today, and I thank God for that! I did keep in touch with many of my classmates over the years, but as life would have it, it all moves in different directions, different places that one loses track, and too, I am still running my race at 83.5 years and counting with the help of my partner for life, Catherine!
---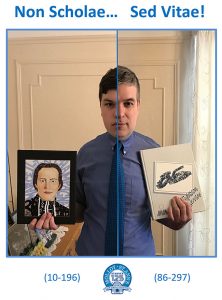 Richard Mezic '86 submitted the attached "mashup" photo for the "Pride for 125" contest we announced last month. The photo is split in two, with Richard to the right and his son, Lukas Mezic '20, on the left. Richard holds his senior yearbook, while Lukas holds his freshman yearbook. In Richard's words, "I like how 'Non scholae sed vitae' is a perfect caption for the photo. My son is in school now, and it's lifetime advice for me." Great job, Rich!
---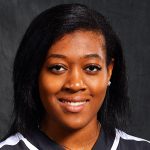 Cierra Word '17, who made news in March as a walk-on freshman on the University of Central Florida's Division I softball team, has continued her early season success. Cierra has a 4-2 record in 31.1 innings pitched. While her walk rate is high, her impressive 1.79 ERA suggests she plays her best when under pressure. (Photo courtesy of UCF Athletics)



We are saddened to share the passing of Frederick A. Edwards '64 on April 11, 2018. According to classmate John Murphy, "Frederick was a friend to all, a straight shooter, a Vietnam veteran, an attorney, and all around good guy. He will be sorely missed." Please keep Frederick and his family in your prayers.

Please pray for the repose of the soul of Kevin T. Rooney '85.

Please pray for the repose of the soul of Rachel Rafferty, daughter of Gary Rafferty '81.

We were recently informed of the passing of Noel Beuschel '63 on June 2, 2017. Please keep Noel and his family in your prayers.

We were recently informed of the passing of John C. Dugrew '63 in August 2017. According to a family member, John "was always very proud to be an alum of Molloy." Please keep John and his family in your prayers.