Stanner Life Commemorative Issue:

SPONSOR A JOURNAL AD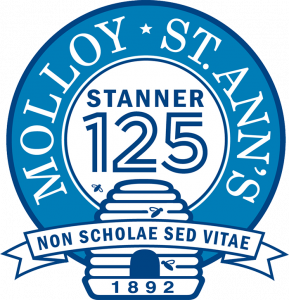 The Stanner Alumni Center has begun production of our annual summer magazine, Stanner Life. This August, we are releasing a special commemorative edition of our magazine, which will serve as the culmination of our 125th anniversary celebration. This issue will be larger than usual and features an opportunity for our alumni, family members and friends to sponsor personalized journal ads. Journal ads are a wonderful way to congratulate and show your support for our alma mater as we reflect on this once in a lifetime milestone.
Journal ads for this year's Stanner Life are available at the following giving levels:

Platinum Page: $2,500 (6 Available)
Blue Page: $1,250 (8 Available)
Half Page: $750 (12 Available)

DEADLINE FOR ALL ADS: JUNE 22, 2018
Click the button below to reserve your ad online, or download our order form and mail to: Archbishop Molloy High School, ATTN: Stanner 125 Journal, 83-53 Manton Street, Briarwood, NY 11435
Quantities are limited, so we encourage you to secure your journal ad as soon as possible. Thank you for joining us in our celebration of 125 Years of What Matters.


End of an Era: Mr. Diorio, Ms. Gannon to Retire in June
by Joe Sommo '03, with contributions by Sarah Rodriguez '18 & Fiona McCaul '18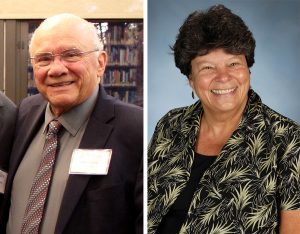 After decades of leadership and inspiration, two iconic figures in Molloy history have both announced their retirement as of June 2018: Mr. John Diorio and Ms. Mary Pat Gannon. When Stanners reflect on what makes Molloy a special place, they often recall the teachers that positively impacted their lives and helped define their high school experience. Mr. Diorio and Ms. Gannon have impacted literally generations of alumni, having taught young men who later saw their own sons or daughters draw the same renowned teachers in their schedules. It is fitting that these two longtime educators have announced their retirement this year, during our celebration of 125 Years of What Matters. Mr. Diorio, known for his vast knowledge of politics, government, and US Law, and Ms. Gannon, known for her love of reading, writing, and fostering intellectual curiosity, represent the very best of our faculty and Marist laity.
Mr. Diorio, a Manhattan native, began teaching at Molloy in the fall of 1960. Early in his career, he was instrumental in introducing the American Government course to the senior curriculum. He moderated the Political Science Club from 1968 – 1995, and even served as coach of the freshman basketball team from 1964 – 1966. It has been his lessons in Government, Economics, and Constitutional Law, however, that he is best known for. His influence in the classroom has guided the political formation of countless young people who have gone on to enjoy careers in public service. Many students have appreciated Mr. Diorio's propensity for inviting many of those successful individuals back into his classroom as guest speakers, each one sharing their own unique insight into the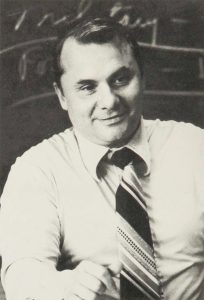 world beyond Manton Street. Mr. Diorio himself has been politically active, having supported the elections of Senator Joseph Addabbo Jr. '82, Governor Nelson Rockefeller and Nassau County Executive Ralph Caso, and the congressional and mayoral campaigns of John V. Lindsay. Mr. Diorio also served as the executive assistant to Mr. Vincent Albano Jr., the NY Republican County Chairman.
In an interview with The Stanner in 2017, Mr. Diorio said that the greatest reward in being a teacher at Molloy has been keeping students aware of current events, furthering his own understanding of government and the value of the system we have, and most of all, "imparting such important information to today's young adults." He went on to say that after all he has witnessed at Molloy, that it's "the best school, and the reason is the students. They make the school, and have overall been fabulous." (Pictured: Mr. Diorio in 1981)
Ms. Gannon began her tenure at Molloy in the fall of 1974. Then known as Ms. Maloney, she was one of only a handful of women on Molloy's faculty at the time. She credits some of her own teachers, especially the Sisters of Charity, for motivating her to become an educator herself. She credits these women with "inspiring her true idea of a teacher as being someone who is involved, enthusiastic, multi-talented, and always recognizing where her students are and what they need." Over her 44 year career, Ms. Gannon has invoked these philosophies in a wide variety of English courses at every level. She has taught many students that have gone on to become her colleagues, and she has inspired generations of writers and authors through her impassioned teaching style.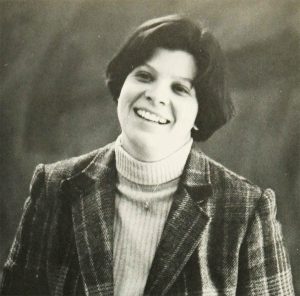 Part of what also makes Ms. Gannon unique is her ability to keep lessons contemporary. She recognized that "every class is different" and has consistently adapted her curriculum. Ms. Gannon has always embraced change, including Molloy's shift to coeducation in 2000, as well as the introduction of SMART Boards and iPad technology in recent years. In an interview with The Stanner in 2017, she noted that she believes going coed, "is one of the best changes that Molloy made," and that the new technology "are just more tools in our skillset to help kids learn." In 2008, Molloy inducted Ms. Gannon into the Stanner Hall of Fame. It should surprise no one that Ms. Gannon ultimately broke that glass ceiling as the first woman to be inducted. Her induction sparked her hope that she has helped to pave the way for Molloy's first alumna to eventually be inducted into the Stanner Hall of Fame. (Pictured: Ms. Gannon in 1981)
Ms. Gannon lives and has taught in the Marist spirit. "I'm interested in service, in educating young people, and in the recognition that the spirit moves in many different ways in the world." She believes that the teachers at Molloy "can change the world because we can send out educated and caring people."
On behalf of everyone in our community, THANK YOU Mr. Diorio and Ms. Gannon for leaving an incredible legacy here at Molloy. Share your notes of congratulations with Mr. Diorio and Ms. Gannon! Send your thanks, well wishes, and reflections to: alumni@molloyhs.org
---
Storm Uproots Decades-Old Trees on Manton Street
A strong storm on Tuesday, May 15th uprooted two of the large, beautiful trees that have adorned Manton Street for decades. Powerful winds forced portions of the sidewalk up and caused the trees to fall into Molloy's front lawn and walkway. The Manton Street entrance was forced into temporary closure due to branches blocking the entirety of the walkway. One of the trees also caused damage to the front awning and facade of the building (netting used to repel birds was torn, the letters spelling the school's name were knocked off). Thankfully, no one was hurt in this incident. The cleanup process began early the next morning, and most of the debris was cleared away by that evening. Repairs to the remaining damaged sidewalk and front entrance have not yet been made, however administrators and staff are carefully considering solutions that will prove to be long-term smart investments.
Molloy's response to the storm damage is another example of our school's ability to address unforeseen circumstances. We are in a position to address these types of emergencies quickly and efficiently thanks in large part to the support you provide through gifts to the annual fund – The Fund For Molloy. As was the case in December, when Molloy addressed an emergency sewer pipe burst, we are again able to effectively respond to an emergency while ensuring the safety of our students and faculty.
If you have any questions about emergency repairs or the impact of your donations, please reach out to the Stanner Alumni Center at 718.441.9210 or email alumni@molloyhs.org.

---
Stanner Golf Classic –

THANK YOU!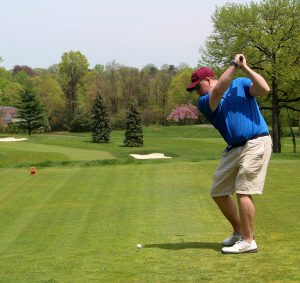 On behalf of the Stanner Alumni Center, our Golf Board, 2018 Chairman Robert Rossi '81, and everyone at Archbishop Molloy High School, THANK YOU for your generosity in support of our 32nd Annual Jim Kinnier Stanner Golf Classic. We experienced nothing short of perfect weather on May 7th, and our first attempt at hosting the event at three golf courses proved to be a great success! We were blessed to host over 325 golfers, all of whom were in good spirits throughout the day. We've received a lot of positive feedback, which has already motivated us to provide an even higher quality experience next year.
Before we already jump into planning 2019, we still have some numbers to crunch and photos to edit from this year's event. We will publish a full recap of the Stanner Golf Classic, complete with photos, in our next Beehive. In the meantime, if you haven't yet, please take a moment to download and read this year's Golf Journal, which features information about the outing as well as many ads from Stanner-owned and Stanner-friendly businesses. Once again, THANK YOU for your support and continued commitment to the students of Molloy.

---
Around the School
"The Stanner" Named Top Paper at Tablet HS Press Awards
(Pictured above L-R. Back Row: Co-Moderator Mr. Joe Sommo '03, Sebastian Germosen '20, Diana Diaz '18, Sarah Rodriguez '18, Linet Jacome '18, Sydney Bryant '19, Co-Moderator Ms. Laura Sawyer '07. Bottom row: Lauren Klein '19, Juliana Giacone '19)
Congratulations are in order for the reporters, editors, designers, and moderators of The Stanner, as Molloy's student newspaper took home 1st Place General Excellence and several other honors at this year's Tablet High School Press Awards. This is the second year in a row The Tablet, the Diocese of Brooklyn's weekly news publication, has named The Stanner best Catholic high school newspaper in Brooklyn/Queens. Molloy faced stiff competition from many other great student newspapers, including Cathedral Prep (The Current), Christ the King (The Royal Times), Msgr. McClancy (The Sentinel), St. Agnes (Veritas), St. Joseph (The Parmentier), St. Saviour (Skyline), and TMLA (Mariel).
Read The Tablet's Recap of HS Press Awards | Read This Year's Volume of The Stanner
Sarah Rodriguez '18, The Stanner's editor-in-chief since 2016, was proud of Molloy's second consecutive 1st place award. "The quality of our staff is amazing. They are so dedicated, and I've made so many friends working with everyone." She also reflected on her two-year tenure as editor-in-chief. "The kind of articles we've worked on, and taking facts and making the paper informational, are things I've really loved. I've also appreciated the staff being given the freedom to write what we want, whether it's about politics or our favorite teachers."
"The Stanner staff extends its sincerest thanks to everyone at The Tablet, especially youth editor Ms. Melissa Enaje, as well as the Press Awards' guest speaker, Mr. Paul Moses," said co-moderator Joe Sommo '03. "The advice and encouragement Ms. Enaje and Mr. Moses shared during the event inspired our reporters and editors, and reaffirmed our commitment to the truth and journalistic integrity."
And the winners are:
General Excellence: The Stanner (1st Place)

Best Front Page: The Stanner (1st Place)

Best News Story: "Student Activism On The Rise" by Sarah Rodriguez '18 & Diana Diaz '18 (1st Place)

Best Feature Story: "Could There Be Mandarin At Molloy?" by Juliana Giacone '19 (3rd Place)

Best Op-Ed (Opinion): "Enough is Enough" by Lauren Klein '19 (1st Place); "Fire and Fury: Armed Teachers?" by Sebastian Germosen '20 (3rd Place)

Best Column: "Senior Spotlight" by Sarah Rodriguez '18, Stephanie Nath '18 & Uma Mohan '18 (3rd Place)

Best Sports Story: "Stanners in the Hunt" by Peter Paolo '19 (2nd Place)

Best Personality Profile: "Teacher Spotlight: Mr. Kilkelly and Ms. Pizzo" by Linet Jacome '18, Sarah Rodriguez '18 & Stephanie Nath '18 (2nd Place)
---
Five Student-Athletes Sign National Letters of Intent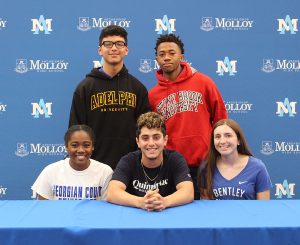 On Thursday, May 17th, five student-athletes created a buzz around Molloy as they signed their national letters of intent. Anthony Ambrosino '18 (Varsity Baseball) has signed with Quinnipiac University, Katelyn Helfer '18 (Girls Track & Field) has signed with Bentley University, Chinemerem Ononiwu '18 (Boys Track & Field) has signed with Stony Brook University, Meesha Samuels '18 (Girls Track & Field) has signed with Georgian Court University, and Rachid Sassine '18 (Boys Track & Field) has signed with Adelphi University. Each signee has made their mark at Molloy as an outstanding four-year student-athlete, and we wish them all continued success as they take the next step in their academic and athletic careers.
(Pictured Back Row: Rachid Sassine & Chinemerem Ononiwu. Front Row: Meesha Samuels, Anthony Ambrosino & Katelyn Helfer)
---
Molloy to Offer Theater & STEM Camps This Summer

This summer, Molloy will offer exciting opportunities for elementary students (grades 6-8) interested in Theater and STEM! Theater Camp is a week-long workshop which will focus on acting technique, story-telling, acting and improvisational activities, and monologue/scene work. Campers will explore their creative side in a safe and encouraging environment led by current Molloy students as well as recent Molloy alumni. Campers will also enjoy a field trip to a theater workshop led by theater professionals. The camp will end with a final performance for friends and family as a showcase of the new skills they will have developed over the course of the week.
STEM Camp offers innovative, fun, hands-on learning opportunities in computer science, engineering, technology, and math. There are two levels offered. STEM 1 – Introductory Level will help students develop a soundboard app for Android devices, design and print 3D artifacts, learn about circuits, and turn everyday objects into musical instruments with a MakeyMakey console. The week also includes a field trip to the Hall of Science. STEM 2 – Advanced Level offers campers who have graduated from the STEM 1 program an opportunity to develop video games for Android devices. They will also deepen their knowledge of CAD (Computer Assisted Design), learn about the Internet of Things, and program Arduino circuit boards.
Click Here to learn more about these wonderful camp opportunities!

Swimming Reunion – Comments from Keith Green '90
When & Where: June 9th, 2018 | 5:00PM @ Molloy
Who: Alumni, family members, friends
Tickets: $80 per person; $40 for Classes of 2007-2017
Contact: Craig Katinas '93 | 718.943.3151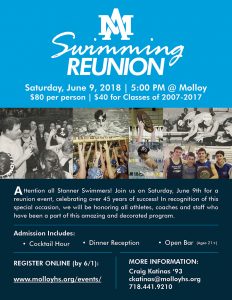 On June 9th, Molloy will celebrate its outstanding Swimming program with a special reunion event. The event will honor all athletes, coaches and staff who have been a part of 45 years of success.
"I think what makes AM Swimming so successful is the dedication that the swimmers, coaches and staff show, as well as the support of the Athletic Department," said Keith Green '90, a swimmer from '86 – '90 and assistant coach from '92 – '14. "Molloy swimmers have always felt a need to carry on the traditions of the previous years, which is a compliment to the coaches carrying on those traditions and values." Keith also noted that the addition of girls' teams in the 2000's is one of the program's most notable achievements. "The girls have added to our swimming tradition in a huge way, bursting onto the scene and taking over CHSAA swimming for many years." Keith believes this reunion is long overdue, and is excited to reconnect with other swimmers and divers. "On another note, we will be celebrating the retirement of my father, Donald Green. What he has done for the teams over the years is nothing short of amazing. He is a mentor to many of the swimmers not only in the pool, but in life. His work is a wonderful tribute to our school motto. His dedication to the program is what has led so many of its achievements over the last 30-plus years."
Register online at www.molloyhs.org/events/ or contact ckatinas@molloyhs.org for more information.
---
Walk/Run for Karina

–

REGISTER NOW!
When: Saturday, June 23, 2018 | 11:00AM – 10:00PM
Where: Archbishop Molloy High School
Contact: Matt Rizzotti '04 | 718.943.3186
Join us at Molloy on Saturday, June 23rd as we remember a beloved member of our Stanner community: Karina Vetrano '04. This year, our Walk/Run event will be 11 hours long (11 was Karina's favorite number). We will first celebrate Catholic Mass at 9:30AM, followed by the start of the Walk/Run at 11:00AM. We will hold a Kids' Race at 2:00PM, followed by an optional 5K Race at 3:00PM. The Walk/Run will continue until the event's conclusion at 10:00PM. All proceeds will support The Karina Vetrano Memorial Scholarship, benefiting future young women entering Molloy. Please click the flyer to the right for more information about sponsorship opportunities, or sign up online and choose your desired timeslots. If you are unable to attend, please consider making a donation to Karina's scholarship. For more information, contact Matt Rizzotti '04 at mrizzotti@molloyhs.org.
VOLUNTEERS: We're looking for volunteers! Please let us know if you are available to volunteer during any portion of our event honoring Karina Vetrano. Contact Matt Rizzotti if interested (see info above).
---
Track & Field Alumni Gathering
When: Friday, June 22, 2018 | 7:00 PM
Where: Trinity Restaurant & Bar (Map)
RSVP to: Craig Katinas '93| ckatinas@molloyhs.org
ATTENTION: TRACK AND FIELD ATHLETES OF THE '70s — On Friday evening, June 22nd, at 7:00 PM, we will gather at Trinity's Restaurant & Bar In Floral Park. This informal night is the brainchild of Phil Vetrano and myself, both of the Class of 1974. It is envisioned as an opportunity to get together, hang out at the bar, have a few drinks, perhaps some food, tell a few stories, and exaggerate some past accomplishments. There will be no collection of money beforehand (just like the old days), just show up at the bar. On the other hand we would like to give some notice to the proprietor as to how many will probably be attending, so if you plan on being there please let Craig Katinas '93 know by emailing ckatinas@molloyhs.org. We are also hoping for a few of the old coaches and teachers to show up. This gathering takes place the evening before the Karina Vetrano Memorial Event at Molloy on Saturday June 23rd, so if anyone is coming from out of town you may be interested in attending that as well. Whether you're already in town or not, we hope you will consider coming out to one of these events to reminisce and support the Vetranos. (Depending upon how it goes at Trinity's, a few may go directly from the bar to the event…). I look forward to seeing you in June.

— Frank Gambino '74 / Molloy Faculty, Track Coach
---
St. Ann's Communion Breakfast – RSVP!
When: Sunday, June 3, 2018 | 10:00AM
Where: Archbishop Molloy High School
RSVP to: Merl Doyle | mdoyle@molloyhs.org | 718.441.9210
The Stanner Alumni Center invites all who attended St. Ann's Academy or had a living connection to the school to attend our St. Ann's Communion Breakfast on Sunday, June 3rd. We also invite Molloy graduates from the Classes of 1960-1967, who have in recent years celebrated their 50th or 55th anniversaries. Your admission is complimentary of President Richard Karsten '81 and the Stanner Alumni Center. The program includes Catholic Mass celebrated here at the school, followed by a delicious buffet breakfast. We will also display yearbooks and other items for a dose of nostalgia. Your RSVP is requested. Please contact Ms. Merl Doyle to RSVP (info above) or for more information.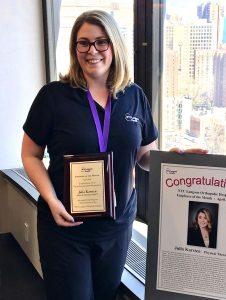 Congratulations to Julia Karsten '09, who was named as NYU Langone Rusk Rehabilitation's April Employee of the Month. Julia has been a physical therapist with Rusk since July 2016 and "consistently exudes joy and happiness to all patients she comes in contact with, and always makes an effort to provide an individualized plan of care," according to a press release. The release goes on to say that Julia "loves what she does" and "will develop creative treatment strategies for the more challenging patient population or work weekends when needed." Julia is also entrusted with training new staff members. | Read Full Press Release
---
Congratulations to Brittney Salvador '16, who was recently named a 2018 CUNY Athletic Conference (CUNYAC)/Modell's Softball All-Star! Brittney plays second base and third base for the Hunter College Hawks. This season, Brittney batted .330 with 19 runs scored, 30 RBI, 2 home runs, 14 doubles and 8 walks. | Brittney Salvador Career Stats | Photo courtesy of Hunter College Athletics
---
Attention Class of 1970: A family member of one of your classmates is looking to purchase one of your class rings. This is in an effort to replace a damaged or lost AMHS Class of 1970 ring for their family member. If you are interested in selling or donating your class ring, please contact alumni@molloyhs.org.
---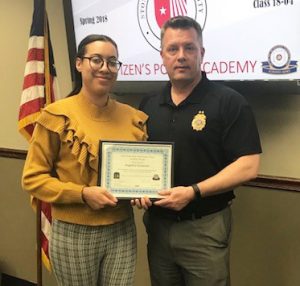 Eric Olsen '86 is a retired NYPD Captain who has been working at Stony Brook University as Assistant Chief of Police since 2011. After joining the Stony Brook staff, Capt. Olsen began a class called "Citizen's Police Academy" which puts students through a condensed version of Police Academy training. This gives students a better understanding of how police officer training informs real NYPD officers' actions in the public sphere. Capt. Olsen shares that the class has been very successful, and that recently he had the pleasure of teaching a fellow Stanner, Angelica Carpenter '15. "Angelica was a star of the class and is interested in a career in Forensics," said Capt. Olsen. If you are a Stony Brook student or alumnus, Capt. Olsen encourages you to reach out to him! Contact alumni@molloyhs.org for more information.
---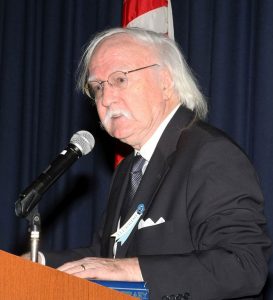 Richard M. Reilly '63 was honored by Boston College on April 17th with the Woods College of Advancing Studies Alumni Service Award. The award recognizes a Woods College graduate who "embodies the Jesuit ideals of men and women for others and demonstrates dedicated and exceptional service to the Woods College community and beyond." Reilly, who earned a Master's Degree from Woods College in 2003, received the service award at the college's celebratory dinner honoring their Class of 2018. "Boston College honored me nearly to the day of my induction into the Stanner Hall of Fame last year," said Reilly. Richard M. Reilly is a Newton, MA arbitrator and mediator. For 30 years, he worked with the American Arbitration Association, most recently as their Senior VP. He was appointed by Massachusetts Gov. Patrick in 2010 to be Chair of the Join Labor-Management Committee. He also serves on many boards, including Understanding Our Differences (disability awareness), and the National Association for Community Mediation. Reilly is also a recipient of the Pioneer Award for helping women and minorities enter the alternative dispute resolution field.
---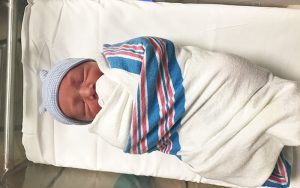 Congratulations to Matt and Christina Rizzotti (both Class of 2004), who welcomed Ryan Matthew Rizzotti into the world at 2:12pm on May 3, 2018! Ryan weighed in at 7 pounds 3 ounces and measured 20 inches. Mom, dad, and baby are all doing well in the days since.


We are saddened to share the passing of Clement R. Wingert '81 on May 5, 2018. Clement is the brother of James Wingert '82, Martin Wingert '85, and Matthew Wingert '89. He was a Brooklyn native who spent his career as a Court Officer, employed by the NYS Court in Poughkeepsie, NY. He is survived by his loving wife, Susan, his three brothers, as well as extended family, numerous colleaguees and friends. Please keep Clement and the Wingert family in your prayers.

We are saddened to share the passing of Albert Wetherell '61 on March 10, 2018. Albert was a friend to Molloy for many years, often showing his kindness through the donation of educational books and documentaries for use in our school library. He also had a love for reading, writing, and learning that inspired many of his students throughout his career as an educator. Please join us in prayer for Albert and his family.

Please pray for the repose of the soul of Richard Ragusa '63, who passed away May 3, 2018. Richard was a resident of New Windsor. He was born August 5, 1946 in Queens, and graduated from Cooper Union in 1967. He worked for Con Edison as a Senior Electrical Engineer for over 50 years. He loved trains, model railroading, and Westerns. He is survived by his wife, Jennifer, his sons, Jerel Johnson and his wife, Dacia, Sean Ragusa and his wife, Meredith, Anthony Ragusa, and Lorenzo Ragusa, as well as many extended family and friends. Please keep Richard and the Ragusa family in your prayers.

Please pray for the repose of the soul of Mary Westman, mother of Tom Westman '82 and Kathleen Karsten, and mother-in-law of Richard Karsten '81. She is survived by her husband of 63 years, Tom, their five children – Maureen Fallon (Malachy), Tom, Kathleen, Coleen Ventricelli (Michael), and Erin Mendez (Edwin) – and their 15 grandchildren. Mary was a graduate of Dominican Commercial High School and Queens College, and enjoyed working as a public school secretary for 20 years. Her laughter and keen sense of humor will be missed by all. Visitation will take place at Hillebrand Funeral Home in Rego Park, Saturday, May 19 from 7-9pm and Sunday, May 20 from 2-5pm and 7-9pm. A Funeral Mass will take place at St. Margaret Church in Middle Village on Monday, May 21 at 10:45am. Please keep Mary and her family in your prayers.