Stanner Life Commemorative Issue: SPONSOR A JOURNAL AD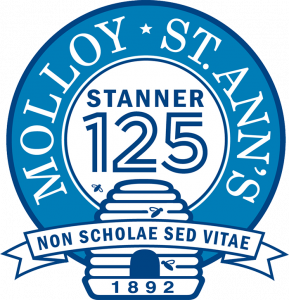 The Stanner Alumni Center has begun production of our annual summer magazine, Stanner Life. This August, we are releasing a special commemorative edition of our magazine, which will represent the culmination of our 125th anniversary celebration. This issue will be larger than usual and features an opportunity for our alumni, family members and friends to sponsor personalized journal ads. Journal ads are a wonderful way to promote your business or show your support for our alma mater as we reflect on this once in a lifetime milestone.
Journal ads for this year's Stanner Life are available at the following giving levels:

Platinum Page: $2,500 (6 Left)
Blue Page: $1,250 (7 Left)
Half Page: $750 (12 Left)

DEADLINE FOR ALL ADS: JUNE 22, 2018
Click the button below to reserve your ad online, or download our order form and mail to: Archbishop Molloy High School, ATTN: Stanner 125 Journal, 83-53 Manton Street, Briarwood, NY 11435
Quantities are limited, so we encourage you to secure your journal ad as soon as possible. Thank you for joining us in our celebration of 125 Years of What Matters.



Walk/Run for Karina – REGISTER NOW!
When: Saturday, June 23, 2018 | 11:00AM – 10:00PM
Where: Archbishop Molloy High School
Contact: Matt Rizzotti '04 | 718.943.3186
Join us at Molloy on Saturday, June 23rd as we remember a beloved member of our Stanner community: Karina Vetrano '04. This year, our Walk/Run event will be 11 hours long (11 was Karina's favorite number). We will first celebrate Catholic Mass at 9:30AM, followed by the start of the Walk/Run at 11:00AM. We will hold a Kids' Race at 2:00PM, followed by an optional 5K Race at 3:00PM. The Walk/Run will conclude at 10:00PM. All proceeds will support The Karina Vetrano Memorial Scholarship, benefiting future young women entering Molloy. Please click the flyer for more info about sponsorship opportunities, or sign up online and choose your desired timeslots. If you are unable to attend, please consider making a donation to Karina's scholarship. Volunteers are also needed! Contact Matt Rizzotti '04 at mrizzotti@molloyhs.org for more info.

---
Track & Field Alumni Gathering – Tony Perrone Is In!
When: Friday, June 22, 2018 | 7:00 PM
Where: Trinity Restaurant & Bar (Map)
RSVP to: Craig Katinas '93| ckatinas@molloyhs.org
ATTENTION: TRACK AND FIELD ATHLETES OF THE '70s — Phil Vetrano '74 and I thought it may be a good time to have an informal track get-together of the guys from the 70s. Something low-key, at a pub of course, a place where we could exaggerate some memories and catch up with old friends.
So the date is Friday, June 22nd, the place is Trinity's Restaurant & Bar in Floral Park, the time is 7:30PM. Options are open; hanging out at the bar, food at the bar or at tables, whatever individuals prefer. We are not collecting any money beforehand, there will not be any formalities, just good drink and good company. We would like to get an idea of how many people are interested in attending so we could notify the barkeep beforehand (just in case if our numbers are large). So please let us know if you plan on showing up by emailing us at ckatinas@molloyhs.org by June15th. We will also invite faculty and hopefully will be able to get some of our 70s coaches to attend. I have talked to Coach Tony Perrone and he will be in attendance.
We are planning this get together on the evening before the Karina Vetrano Memorial Walk/Run at Molloy on Saturday, June 23rd, in case some of you are coming in from out of town and would also like to be there on Saturday. We look forward to seeing you.

— Frank Gambino '74 / Molloy Faculty, Track Coach
---
Stanner Alumni Reunion –

SAVE THE DATE
When: Saturday, November 3rd, 2018
Where: Archbishop Molloy High School
Class Years: 1948, 1953, 1958, 1963, 1968, 1973, 1978, 1983, 1988, 1993, 1998, 2003, 2008 & 2013
Contact: Matt Rizzotti '04 | 718.943.3186
SAVE THE DATE! Online registration will open in late June.
Alumni from class years ending in 3 and 8 are invited to join us here at Molloy on Saturday, November 3rd for the Stanner Alumni Reunion! This is a great opportunity to reconnect with your classmates, see some of your favorite teachers, and walk the halls of Stanner High once again. Please see additional information below:
BASIC INFORMATION:

4:30PM – Check In Begins.
5:00PM – Mass of Remembrance (Ralph DeChiaro Theater).
6:15PM – Cocktail Reception.
7:15PM – Brief Presentation, Class Photos, Dancing, Dinner & Dessert.
Valet parking will be available, but we also encourage taking public transit or private car service. The Reunion typically serves upwards of 450 to 500 guests, so parking is limited.
Discounted hotel rates will be available.

VOLUNTEERS NEEDED: If you would like to serve as a class officer, tasked with finding and recruiting classmates, please let us know!

CONTACT: If you have any questions about this year's Reunion, including hotel rates, please contact Alumni Development Officer Matt Rizzotti '04 (see information above).
---
Swimming Reunion – POSTPONED
We regret to share that the Swimming Reunion planned for this Saturday, June 9th has been officially postponed. We will be exploring potential new dates later this year. We apologize for any inconvenience this may cause, and we hope that you will consider attending the event again once a new date is announced. Please let us know if you have any questions at alumni@molloyhs.org. Thank you for your understanding. – The Stanner Alumni Center Team


President Karsten Thanks Benefactors at Dinner Reception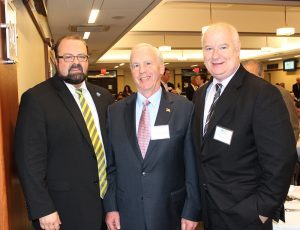 On April 25th, President Richard Karsten '81 and the Stanner Alumni Center welcomed benefactors and scholarship recipients to an evening reception at Molloy. The event served as a wonderful opportunity for our benefactors to catch up with the students who have directly benefited from their generosity. In some cases, students receive scholarships that reward excellence in academics. In many others instances, students are awarded need-based named scholarships, which take into consideration students' personal or financial challenges. Many families that generously endow named scholarships in honor of a family member or friend prefer that their scholarships are need-based. Molloy was blessed to have many of those families in attendance on this evening. (Pictured: President Karsten with benefactors Frank Wuertz '64 and Bob Kissane '74)
In his remarks, President Karsten thanked Molloy's benefactors for their continued support of our students. He also shared a story about one of our juniors: "At our last fall Open House, one of our juniors, Billy, gave a speech to prospective parents and their families. He spoke about how he has taken advantage of many of the things that Molloy has to offer. He spoke about his involvement in peer tutoring, about giving back to those less fortunate while on service trips and his volunteer work at Briarwood Shelter. He spoke about our wide variety of academic courses, as well as a myriad of electives, AP courses and honors classes. He spoke about how he has acquired critical skills and the confidence that will be required in college and beyond. And like many of us, at Molloy he has met his closest friends. In his conclusion, he said, 'I have become a better student, a better person, a better son and brother, a better Billy.' What a simple yet insightful thesis for a 15 year old."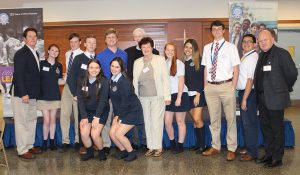 Mr. Karsten continued, "Over the years, I have often tried to describe what makes Molloy such a special place. For me, I like to think of Molloy as a place that takes young hearts and gives them a home. This is the gift that the Marist Brothers of Champagnat have given all of us. The Brothers provide a second home that is built on the Marist foundations of humility, hard work, presence, and the family spirit – all in the way of Mary. Our experience at Molloy is truly a gift that we all are very thankful for."
On behalf of the faculty, staff, and students of Molloy, we would like to express our deepest thanks to all who give so generously to Molloy each year. Your commitment to our mission helps students like Billy become "a better Billy." (Pictured above left: Members of the family of Firefighter Michael J. Cawley '87 with recipients of Michael's memorial scholarship)

---
Ms. Kathy Forgione, Molloy's Nurse, to Retire
by Joe Sommo '03 and Sarah Rodriguez '18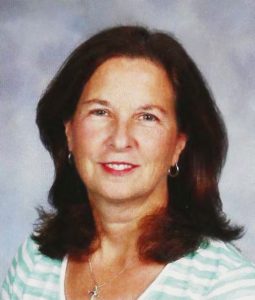 After dedicating 17 years to the students and staff of Archbishop Molloy High School, Ms. Kathy Forgione, RN, has announced her retirement. Ms. Forgione arrived as Molloy's nurse in the year 2000, which coincided with the arrival of young women when Molloy went coed. Now she says it's "time to move on" and start the next phase of her life with her husband, who is also retired. They both look forward to spending more time with their grandchildren.
Over the years, Ms. Forgione has treated her fair share of medical emergencies, broken bones, stapled fingers, bumps and bruises. Despite these various situations, she always remained calm. "Sometimes students would come in my office and say, 'I'm dying!' and I'd respond, 'Yes, we are all dying a little bit each day from the moment we're born," said Ms. Forgione with a smile.
Ms. Forgione has impacted Molloy in many other ways too, including starting our annual Blood Drive, working with guidance counselors, and becoming a major presence within the Esopus commun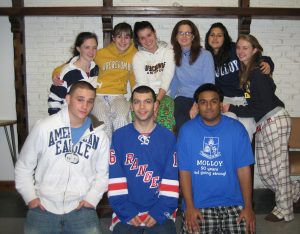 ity. In regards to the Blood Drive, which she has organized each year since 2001, she believes it will continue after her retirement. "Most nurses believe that giving blood is an extremely important lesson and needed in our community," she noted. Working with the Guidance Department, Ms. Forgione did her part to ensure the mental health of all students. She has been a crucial asset in detecting serious situations and through the emotional support she has provided all who have sought or needed it. "I don't know what we will do without her. She has essentially been our 'tenth' guidance counselor," said Guidance Chairperson Mr. Chris Dougherty '91. Ms. Forgione says the best part of her job has been being a mother figure to the students, especially through her work on retreats at Esopus, and in particular the senior and junior Encounters. This is where she earned the nickname "Mama Forge" from our Stanners. (Pictured left: Ms. Forgione at a retreat in Esopus, 2008)
"She's really going to be missed after retirement, but after all her hard work, she truly deserves it," said senior Shannon Tracy '18. We couldn't agree more, Shannon. Thank you, Mama Forge, for your dedication to Molloy for the past 17 years!
Send your notes of thanks and congratulations for Ms. Kathy Forgione to alumni@molloyhs.org.
---
Continued Coverage: Diorio & Gannon to Retire
We've received a wonderful outpouring of love and support for Mr. John Diorio and Ms. Mary Pat Gannon since their retirements were announced in our last Beehive. Our community has taken to social media to share their memories of these two outstanding educators. We encourage our alumni and friends to continue to share your stories on the web, as well as to email them to The Beehive at alumni@molloyhs.org. We'd also like to share the following video again, even though there's a chance you may have been one of the over 50,000 people to already see it on Facebook and Instagram! The below video, taken by Mr. Sheldon, shows an ovation for Mr. Diorio right after his last official class ever.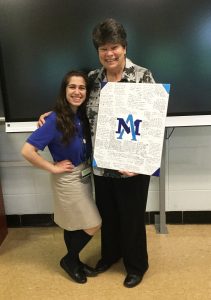 Ms. Gannon has also been receiving a ton of love and support, including from our students. Salutatorian Vassilia Plakas '18 recently went on a campaign to have Ms. Gannon's students sign a canvas letter with their well wishes. Vassilia presented the canvas to a very surprised and humbled Ms. Gannon late last week. It was a beautiful gesture by Vassilia and her classmates, and it reflects the way that many of us feel about Ms. Gannon. Thank you to everyone who signed the canvas!
Stay tuned for more as we continue to honor Mr. Diorio, Ms. Gannon, and Ms. Forgione in the coming weeks. Send your well wishes for our retirees to alumni@molloyhs.org
---
Around the School
Top Student-Athletes Honored During Athletic Awards Ceremony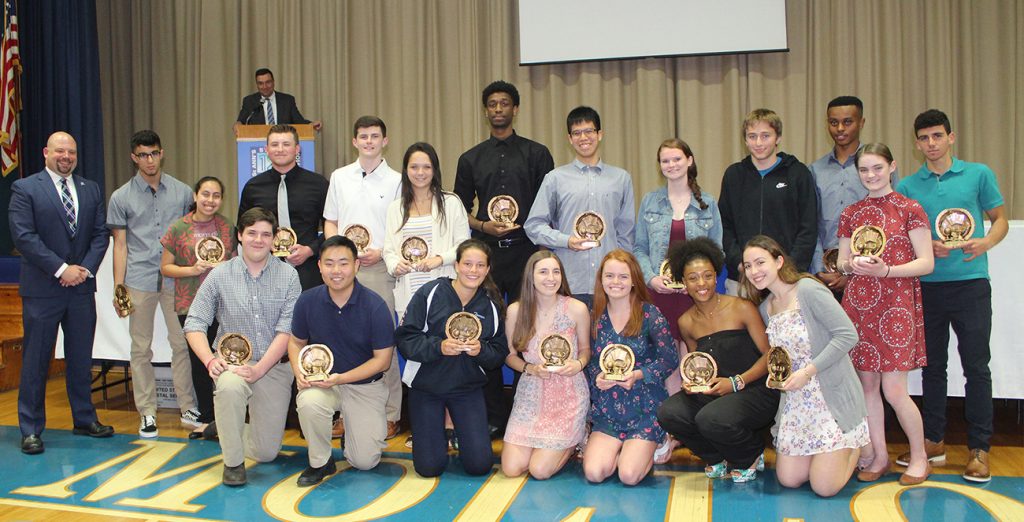 On May 22nd, Molloy's coaching staff and faculty celebrated Athletic Awards Night with students and their families. This annual event honors the outstanding achievements of Molloy's many talented student-athletes. Coach's Awards and MVP Awards were presented to the top athletes on each team, while Scholar Athletes were awarded for their balanced performance in the classroom and in competition. Click the button below for a full list of this year's award winners and team results.

The Jack Curran Outstanding Senior Athlete Award is presented to the best male and female athletes in the senior class. McDonald's All-American Moses Brown '18 and varsity soccer standout Kaitlyn Helfer '18 were the recipients of this year's Curran Awards.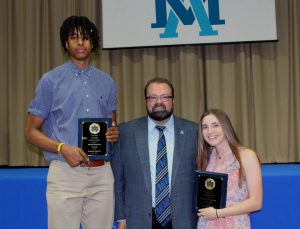 Moses is a 3 year varsity basketball player. He was captain as a senior and First Team All-CHSAA as a junior. He was First Team All Tablet and Times Ledger as a junior and a senior. He was All-MSG Varsity First Team as a junior and a senior. He was CHSAA Player of the Year as a senior and was selected to the NYS First Team. He was selected as only the second McDonald's All-American in Molloy history. Moses was also selected to the Allen Iverson and Ball is Life All-American Games where he was named MVP of both games. He scored 1,341 total points at Molloy, placing 10th on our all-time list. He recorded 889 total rebounds which places him first on our all-time list. Moses will be attending UCLA on a basketball scholarship in the fall.
Kaitlyn is a two sport athlete and a three year varsity player. She was the captain of the varsity soccer team and a Scholastic All-League Player. Additionally, she competed two years for Molloy's track program where she immediately went to the First Relay Team. She was a member of the second place Brooklyn/Queens 800 meter relay team. She will continue competing in college where she has received a scholarship to run track at Bentley College. (Pictured Right: Moses, President Karsten, and Kaitlyn)
In his remarks as MC, Athletic Director Mr. Mike McCleary referenced Molloy's storied athletic history. "We remember the championship years as our trophy cases are filled with plaques, pictures and signature balls. What most don't notice are the countless student-athletes and coaches behind these awards. We win many games and many championships, but this is because of the combination of talented student-athletes and an equally talented and dedicated coaching staff. I feel it is important to say that our student-athletes of today do not take anything for granted. Success will come with hard work and commitment."
---
Recent Student Successes in Science Research & AP Computer Science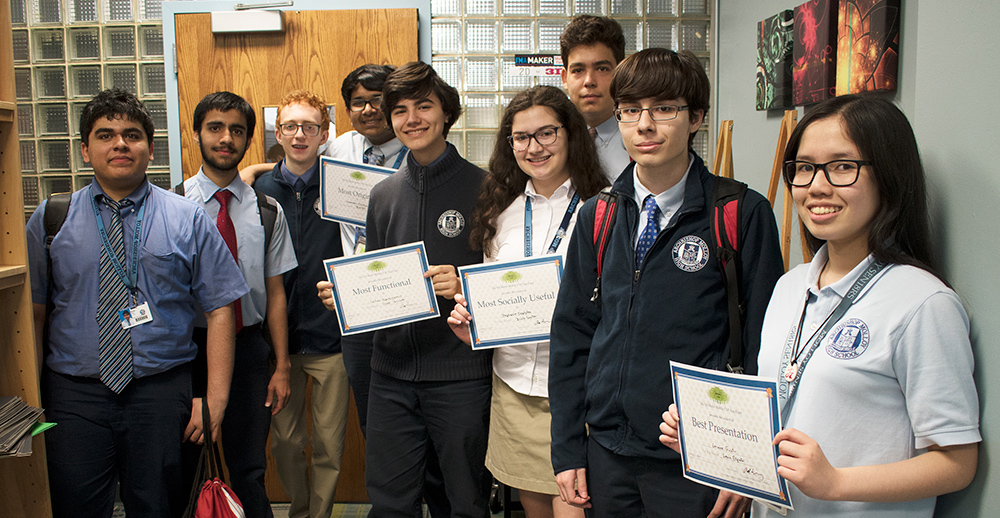 The Beehive would like to extend congratulations to Gabriella Ali '18, who won first place in Behavioral Science at the York College Science, Mathematics and Engineering Expo. Gabriella's first place project, "Music is Easier to Read When the Notes are Differently Colored to Alleviate Visual Crowding," was previously awarded second place when presented at the NYC Science & Engineering Fair back in March.
In Computer Science, several Stanners presented their original mobile phone apps at The Mobile App Expo organized by Trinity College. In this competition, students demon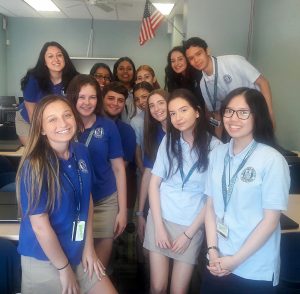 strate the mobile phone apps they have spent long hours developing in their AP Computer Science Principles class. The competition for the NYC region was hosted at North Shore Hebrew Academy on May 22nd. Molloy won a total of four awards and one honorable mention (winners and other participants pictured above):
Stevenson Chittumuri – Most Original App
Stephanie Szpylka – Most Socially Useful App
Nathan Papadogiannis – Most Functional App
Lorraine Guintu – Best Presentation
Thanu Kumar – Honorable Mention
Lastly, Computer Science teacher Ms. Edit Boral shared a photo of her AP Computer Science Principles seniors, the majority of whom are young women (pictured above right). Ms. Boral noted, "I am very proud of them. Girl power! Who says that we cannot close the gender gap in computer science?"
---
Coach Vinny Leonardo Inducted into CHSAA Hall of Fame
Congratulations to Coach Vinny Leonardo (pictured center), who was inducted into the CHSAA Hall of Fame at their 33rd Annual Induction. Vinny began coaching bowling at Molloy in the early 1990s, bringing years of experience with running youth bowling programs in Howard Beach throughout the 1980s. "In 1993, Michael DiRienzo '97, a freshman at the time, asked me if I was interested in coaching at his high school. I asked why, and he said Molloy didn't even have a bowling team. That September I was hired and started the program," Vinny explained. In 25 seasons, his bowling teams have won a combined 21 City Championships and 25 B/Q Championships at the varsity and JV levels. Most recently, Molloy's varsity bowling team won the City Championship this year. In 1996, Vinny was tabbed to serve as Molloy's handball coach. The team won championships in 1998, 1999, and 2002.
"The players are the ones that are working to improve, to put it all together to win championships," Vinny says. "It's a pleasure to coach here because the kids in general are respectful, smart, and work very hard at what they want to do. I've seen kids start off just learning my sport, and turning out to be 150% better in three years."
When not coaching at Molloy, Vinny is Vice President at GMG Transportation, Display Distribution Division. Congratulations, Vinny, and thank you for your dedication to our student-athletes for 25 years!
---
Varsity & JV Softball Both Capture Brooklyn/Queens Championships!

Congratulations to our Varsity and JV softball teams, as both captured Brooklyn/Queens Championships this season! After getting rained out at Queens College 10 minutes prior to the start of their title game on May 29th, the Varsity squad (pictured above left) took the field the next day and beat St. Francis Prep 5-0 to win the B/Q Championship. Pitcher and team MVP Kelsey Carr '20 recorded 14 strikeouts, while catcher Marissa Stephens '19 contributed 2 RBI. Seniors Taylor Matos '18 and Aine Stephens '18 also delivered key hits. The team ultimately advanced to the City Championship game against Staten Island champion Kellenberg High School. Though they did not enjoy the outcome they hoped for in that game, everyone at Molloy is very proud of their season!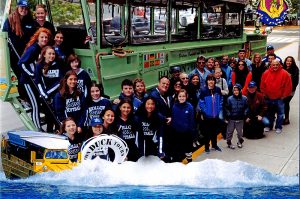 Our JV softball team bested previously undefeated Fontbonne Hall 7-6 in come-from-behind fashion to win the B/Q Championship. This is a wonderful accomplishment, especially when considering Fontbonne had handed Molloy three losses earlier this season. Molloy's record was 25-5. The team ultimately advanced to the City Championship game, where they fell to Notre Dame Academy. The JV softball team has been busy off the field this year as well, helping to raise $8,000 for Autism at a tournament earlier this spring. Molloy was one of 25 teams from all five boroughs to participate. In addition, the JV team held their own fundraiser, running bake sales and raising money for a team trip to Boston. The trip is a great team-building experience and a way for Coach Lou Santos to thank the players for their hard work. The trip included a Duck Tour along the Charles River (pictured left), a tour of Fenway Park, a visit down on the field during batting practice, seats on top of the Green Monster, and autographed baseballs. "This year the team really exceeded expectations in all facets," said Coach Santos. "They are a very hard-working, dedicated bunch of ladies, especially when you consider they show up to every practice on Saturday and Sunday at 7:00AM. The fact we won the B/Q title with only 10 players active (three were hurt) is also a great accomplishment."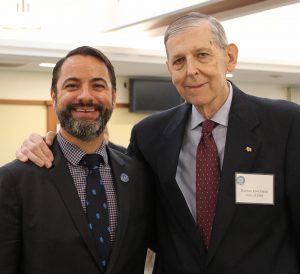 Stanner Hall of Famer Tom Konchalski '64 was honored by the Upstate New York Basketball Hall of Fame on May 20th, of which he is also a member, with the Barry Kramer Lifetime Achievement Award. Tom was honored for his contributions to the game of basketball in New York City and New York State as a talent scout for over four decades. In his self-produced HSBI Report, a pamphlet circulated to the city's basketball coaching community, Tom consistently rates and evaluates thousands of high school basketball players every year. Among those Tom has scouted include Molloy greats Kenny Smith '83 and Kenny Anderson '89, Sundiata Gaines '04, and Russ Smith '09, and recent stars Cole Anthony '19, Khalid Moore '18, and McDonald's All-American Moses Brown '18. The Lifetime Achievement Award is named for Barry Kramer, a legendary NY basketball player who played at Schenectady High School and NYU, and in the pros with the San Francisco Warriors, NY Knicks, New Haven Elms, and the NY Nets. Kramer currently sits on the NY Supreme Court bench in Schenectady County. (Konchalski pictured left with Alumni Development Director Craig Katinas '93)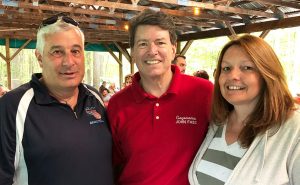 ---
Bill Niklaus '80 and Stacey Poulsen met State Congressman John Faso '70 last week at a picnic at Sunny Hill Resort in Freehold, NY. Congressman Faso represents District 19 in upstate New York, which includes several counties within the Hudson Valley and Catskills regions.
---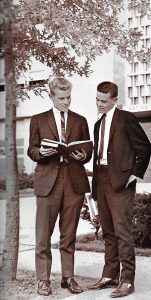 Bob Corrigan '63 recently sent a note to the Beehive expressing his sadness over the two Manton Street trees that were lost during a recent storm. Along with the note, Bob sent a bittersweet photo of one of the trees in its infancy, taken from our 1963 yearbook. Pictured are Tom McCloskey '63 (catcher on the varsity baseball team) and Damon Pouyat '63 (captain of the basketball team). Click the photo to enlarge.
---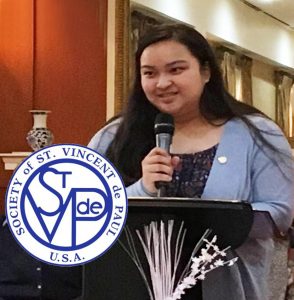 PRESS RELEASE — Rachel Burgos, AMHS Class of 2016 and current sophomore at St. John's University, was chosen to be one of three USA college students to serve as a delegate for the Society of St. Vincent DePaul USA at the 2nd SSVP Youth International Meeting, June 15-21, 2018 in Spain. Rachel will participate along with other young leaders ages 18-30 from around the world. The first part of the week will be held in Salamanca and includes formation, spirituality, and reflection, followed by two days of mission activities in Madrid. The general theme of the meeting is "Young Vincentians as leaders of the present and the future of the SSVP," reflecting on the bible passage "You did not choose me, but I chose you and appointed you so that you might go and bear fruit-fruit that will last." (John 15, 16.) After this experience, these young delegates from around the world will return to their countries motivated and inspired to strengthen the youth presence in the SSVP, acting as leaders of both the present and the future of the Society of St. Vincent de Paul.
Rachel is a St. John's University Catholic Scholar as well as newly appointed President of the VdP Society at St. John's. Congratulations, Rachel! Your family and your Marist education at Molloy and Esopus has prepared you well for this honor to participate in and advance the charism of St. Vincent De Paul!



We are saddened to share the passing of L. Daniel Maxim '57 on May 18, 2018. Born in New York, NY, Mr. Maxim resided in Princeton Junction for the past 43 years. He lived an extraordinary life, including playing a piano solo at Carnegie Hall at age 11, serving as a pilot and flight instructor, spoke fluent Spanish and was featured on television in Chile, and served for over 30 years in the US Coast Guard Auxiliary. He was an expert in coastal navigation and wrote navigation textbooks for US Coast Guard, the Auxiliary, and NOAA. He was the only Auxiliary volunteer to be nominated to attend the US Coast Guard Academy's Loran-C Engineering Course. Mr. Maxim also traveled the world, logging over three million miles on commercial planes. He is survived by his wife of 56 years, Karen, his daughters, Lauren Maxim Van Wazer and her husband Thomas, and Lysandra Danielle Maxim, and two grandchildren. Please keep Mr. Maxim and his family in your prayers. | Read More About L. Daniel Maxim's Extraordinary Life

Tom Polizzi '06 and family ask that you please pray for the repose of the soul of their son, Charles Peter Polizzi. Sadly, Charles was diagnosed with CDH prior to birth. He was born several weeks early and passed away just hours after his birth. Tom recalled the love and support he has always received from Molloy and our community, and in turn asks us to pray for Charles and their family during this difficult time.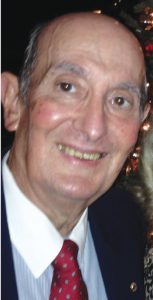 We are saddened to share the passing of Ralph V. Caputo '62 on March 7, 2018. Born in New York City, Ralph and his brother Enzo grew up in Forest Hills Gardens. After graduating from Molloy, he attended Georgetown University where he majored in history and graduated with a BA in arts in 1966. Concurrent with his college graduation, Ralph was commissioned as a 2nd Lieutenant in the US Army Reserve. He ultimately completed his Reserve duty as a Captain. Ralph later attended Law School at George Washington University, graduating as a Juris Doctor in 1970. He later served as an assistant in the Manhattan District Attorney's office, and as an assistant of the Grievance Committee of the Bar of NYC. Eventually, Ralph switched from criminal to entertainment law, moving to Los Angeles and working for several production companies including Ziv International and CBS Records International. Two of his major clients were Gloria and Emilio Estefan. Ralph later became co-owner and partner in several companies, all involving TV and film. He retired to Key Biscayne in 2009, but still served as a volunteer in the local Lion's Club, the Armed Forces Service Center, and the Key Biscayne K-8 Center Elementary School. He will be dearly missed. Please keep Ralph and his family in your prayers.

Please pray for the repose of the soul of Irena Harmity, mother of Borys Harmaty '76 and Andrey Harmaty '83.

Join us in prayer for the repose of the soul of James Villa, a junior at Christopher Columbus High School in Miami, who recently passed away.

We were recently informed of the passing of Theodore P. Jurasik '63 on December 7, 2014. Please keep Theodore in your prayers.