2nd Annual Walk/Run for Karina Raises Over $38,000 for Karina Vetrano Memorial Scholarship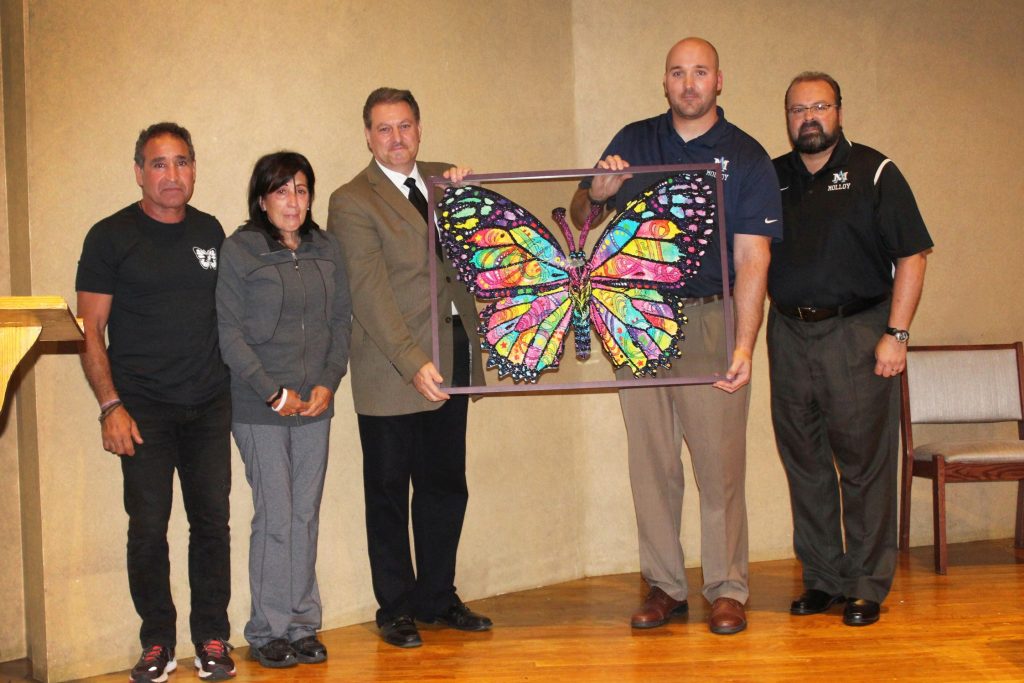 (Pictured above: The Vetrano family receives a butterfly puzzle assembled by Molloy students. Presented by Sen. Joe Addabbo '82, Matt Rizzotti '04 & President Karsten '81)
In June 2017, Molloy held its first Walk/Run for Karina in memory of Karina Vetrano '04, a beloved friend to many in our Stanner family. The event was an overnight vigil that began on a Friday night and carried into Saturday afternoon. Hundreds came out to show their support for Karina and the Vetrano family, and many did so through torrential rains. The event concluded with the dedication of a beautiful new memorial bench and garden on Main Street, as well as enough money raised to fully realize The Karina Vetrano Memorial Scholarship. Karina's scholarship will benefit future young women entering Molloy.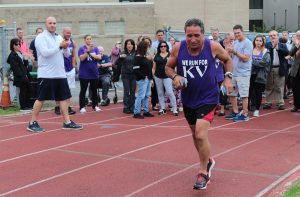 Flash forward to June 23, 2018, as Molloy's second annual Walk/Run for Karina was another great success – and it didn't rain despite the initial forecast. The format was a bit different; participants signed up to walk or run over the course of 11 hours on Saturday only. A children's race and 5K were also added to the program, both of which were well-received. The day began with Mass celebrated by Father Patrick Flanagan in the Ralph DeChiaro Theater. Following Mass, President Richard Karsten '81, Matt Rizzotti '04 (Karina's classmate) and Sen. Joe Addabbo Jr. '82 presented the Vetrano family with a special gift. Throughout the past school year, Molloy students worked on a large butterfly puzzle during free periods and after school. Honoring Karina's love of butterflies, our students completed the puzzle late in the school year after months of hard work. Even after one piece went missing, students picked out the missing piece from a second copy of the puzzle. Students who worked on the puzzle also signed their initials and class years on the back of each piece. The puzzle was later mounted in a transparent frame that will allow the Vetrano family to see the butterfly as well as see the initials on the back. (Pictured above: Phil Vetrano '74 begins the Walk/Run by running the first lap alone while carrying his daughter's running shoes)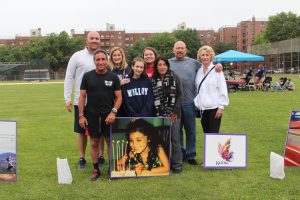 We are proud to announce that this year's Walk/Run for Karina raised over $38,000 in support of The Karina Vetrano Memorial Scholarship. The first recipient of the scholarship has been announced as Jenna Schonmann '22, who describes herself as a creative person who likes to draw and paint – just like Karina. It was wonderful to see Jenna and her family at the Walk/Run, where they were able to meet and spend time with the Vetrano family. Jenna will begin her Molloy journey this fall. (Pictured: The Vetrano & Schonmann families. Jenna front row center)
If you weren't able to attend the event, you can still make a gift to Karina's Scholarship! Click the button below to visit our donation page. Looking ahead, we have already begun discussing plans for our next Walk/Run. Keep reading The Beehive for future announcements.


---
Communion Breakfast Celebrates St. Ann's Roots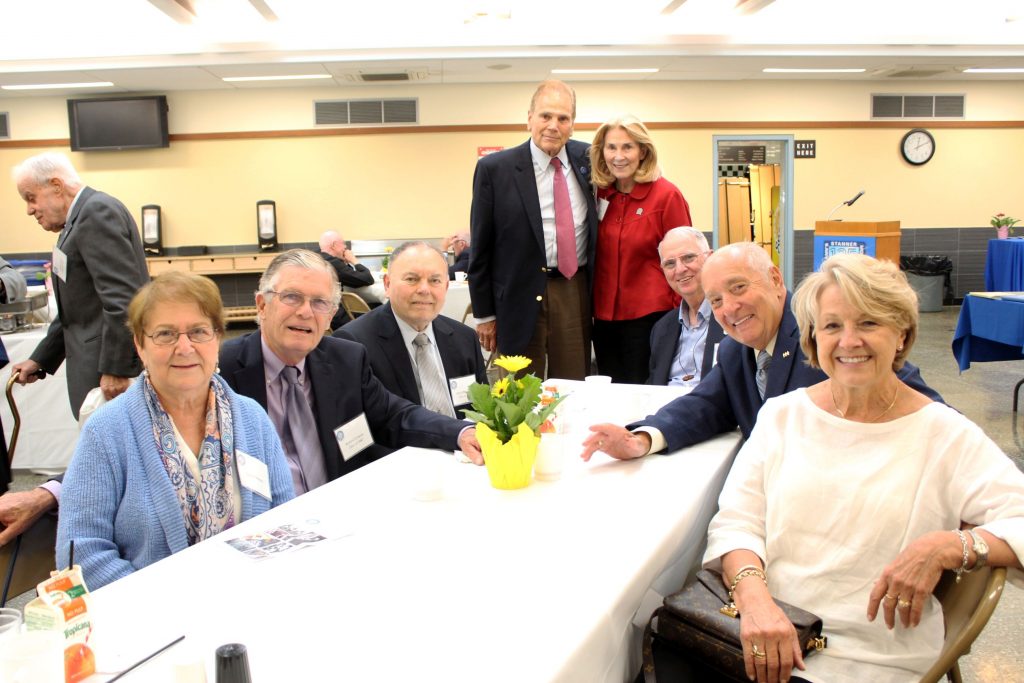 On Sunday, June 3rd, Molloy welcomed over 60 alumni and guests in celebration of our St. Ann's Communion Breakfast. Those in attendance hold a living connection to St. Ann's in some way, whether they graduated from the school, have a relative who attended, or carried on the traditions of St. Ann's here at Molloy.
The event included a spirited Mass celebrated by Father Chris Heanue of Holy Child Jesus parish in Richmond Hill. Mass was followed by a buffet breakfast prepared by our friends at Culinart food services. Alumni Development Director Craig Katinas '93 welcomed guests with some poignant remarks. "In trying to find the words to best encapsulate why we are here today, I looked to our past, and found an insight from Archibald Byrne, Class of 1934. He said, 'Its influence has made itself more enduringly helpful to those whose life it has shaped, and whose character it has molded.' Today we celebrate 125 years of the Marist Brothers' influence on the tens of thousands of individuals who are a part of the St. Ann's and Molloy family." Katinas went on to note that, including Molloy staff, several generations of Stanners were represented that morning; from the 1940s through the 2000s. "This broad range of alumni is a testament to the scope and impact of the purpose, mission, and values we all deeply cherish."
During breakfast, alumni flipped through yearbooks, reminisced, and even made new friendships. The program was also highlighted by Barry Mastellone '64, who sang an original song about Molloy. You can listen to Barry's song below and read the lyrics by clicking the button below. Overall it was a wonderful morning, and the Stanner Alumni Center thanks everyone who so graciously attended. Thank you for helping to keep the spirit of St. Ann's Academy alive at Molloy.


---
Congratulations to our Marist Jubilarians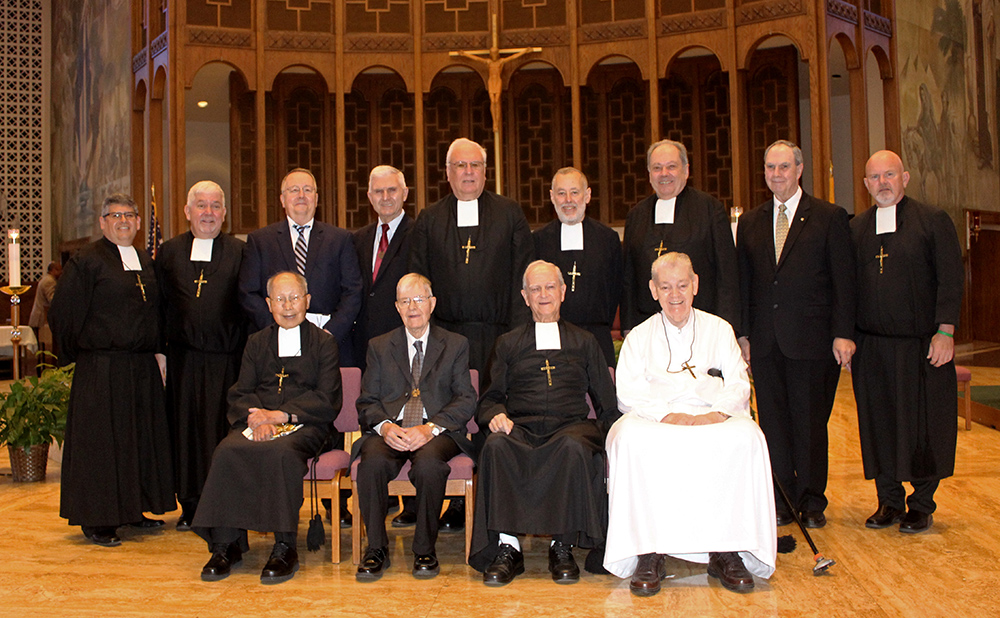 Archbishop Molloy High School would like to congratulate this year's Marist Jubilarians, especially five who have served the Molloy community. These Brothers are celebrating 75, 70, and 50 years since entering the Marist Institute. A Mass and reception was held on June 16th at the Immaculate Conception Center in Douglaston to mark the occasion.
Br. Gerard (Jogues) Cormier is celebrating his 75th anniversary as a Marist Brother this year. Br. Jogues entered the Marist Juniorate at Tyngsboro, MA in 1938. After completing his Novitiate training, he went on to teach at Cardinal Hayes High School, St. Ann's Academy and Archbishop Molloy High School, as well as in Lowell, MA, and Bellport, NY. Br. Jogues retired from teaching in 2010. He is best remembered by the St. Ann's / Molloy community as a talented artist, passionate art teacher, and dedicated track coach. Br. Jogues also famously built the wooden track used at Molloy, which was modeled after the old competition track at Madison Square Garden.

Br. Aquinas Richard is celebrating his 70th anniversary as a Marist Brother. Br. Aquinas graduated from St. Ann's Academy in 1948 and earned his BA in Biology from Marist College and MA from Fordham University. He went on to teach at Mount St. Michael Academy, St. Mary's High School in Manhasset, and of course Archbishop Molloy High School. At Molloy, Br. Aquinas has made his mark for over 50 years as a dedicated track coach, science teacher, and volunteer.

Br. Philip Robert is celebrating his 70th anniversary. After completing his Novitiate training in 1949, Br. Philip went on to teach at Central Catholic High School, St. Ann's Academy, Molloy, John A. Coleman HS, and St. Helena/Msgr. Scanlan. He has also served in a variety of administrative roles for the Marist Brothers, including as Provincial in the early 1980s and as Director of Formator's Program in the mid-1990s in Lyon, France.

Br. Stephen Bosco Wang is also celebrating his 70th anniversary. Br. Stephen, a resident on Molloy's 4th floor, completed his Novitiate training in 1949 and went on to teach at St. Francis College, Christ the King HS, Marist Bayonne, and Cathedral HS. From 2002-2005, Br. Stephen served Molloy students as a math tutor after school.

Br. Eugene Birmingham is celebrating his 50th anniversary as a Marist Brother. Br. Eugene has worked in a number of schools including Mt. St. Michael Academy, Marist College, Regina Coeli School, Marist Chicago, St. Agnes Boys' High School, and Molloy. He holds several Masters degrees, including a Master of Religious Education (Loyola University, 1984), a Master of Science (Manhattan College, 1986), a Master of Arts (Manhattan College, 1994,) and additional Master of Science degrees from Mercy College (2007) and Fordham University (2013). Br. Eugene has become a fixture at Molloy since 2008, serving Stanners in our guidance department. He is also known for his sense of humor, and can make anyone crack a smile with a well-timed joke.
---
Around the School
Molloy Shares SMILE Notes with Long Island School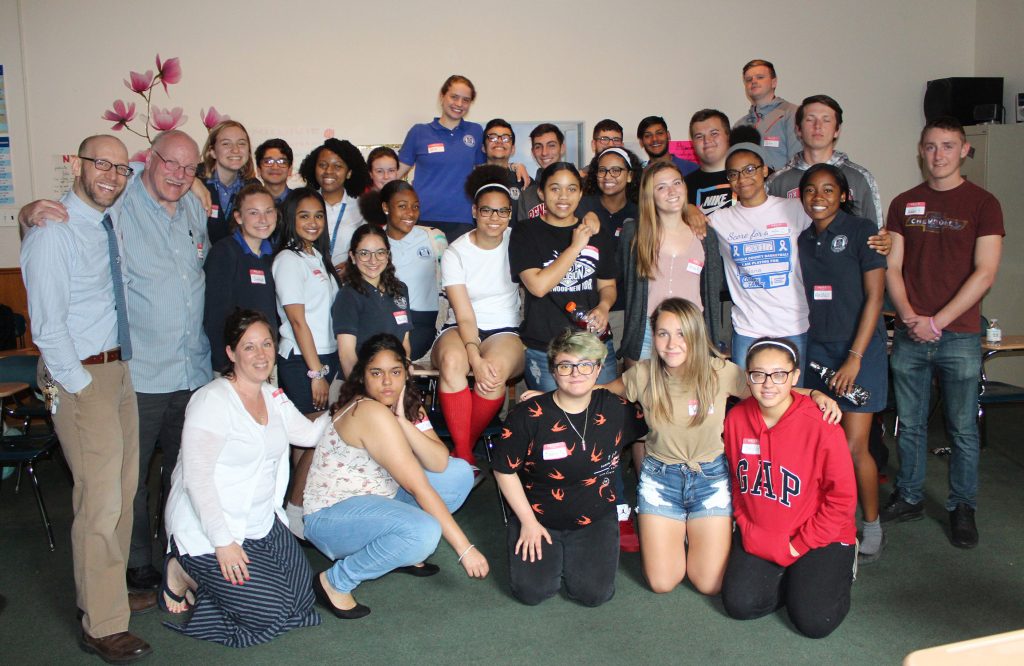 A few days before school let out for summer, Mr. Chris Dougherty '91 was still hard at work spreading the good news about Molloy's SMILE program – also known as Something More in Life's Experience. Back in January 2017, Mr. Dougherty and several students traveled to Center Moriches High School (CMHS) on Long Island to discuss the origin, impact, and legacy of Molloy's SMILE program. Counselors at CMHS, including Bob Lopez '65, were aware of SMILE and wanted a similar peer counseling program to be established there. Mr. Dougherty was gracious enough to bring Molloy students to CMHS to share stories and testimonials in support of this now over 50 year program.
Earlier this month, counselors and students from CMHS were welcomed to Molloy, to see the classrooms and offices where SMILE was born, and to meet more of the students that that the program has inspired. After their workshop last year, CMHS began to implement a counseling program similar to SMILE. This year's workshop was an additional opportunity to learn, collect feedback, and discover ways to enhance the program even further.
"It was always a dream of Br. Leo's to see SMILE make its way around the country," said Mr. Dougherty, who was once guided by Br. Leo himself. Collaborating with CMHS is one small step toward achieving that dream. Special thanks to Bob Lopez, Courtney Fabian, and the students of CMHS for visiting Molloy!
---
Efecan Balci '19 to Participate in ARISE Program at NYU
Soon to be senior Efecan Balci '19 is set to participate in one of the most prestigious STEM programs in New York City this summer. Efecan will begin the Applied Research Innovations in Science and Engineering (ARISE) program at NYU in July, where he will conduct research in the Visualization and Data Analytics Research Center with his mentor. Efecan is one of only about 75 participants selected out of an initial pool of 700 applicants. He was ultimately chosen based on his high academic standing and past real-world experience as an intern with a variety of engineering and computer science labs – including Vida Labs and Microsoft. The program is demanding at two months in length, but it can lead to amazing future internship opportunities.
"I'm excited to work with the professors and Ph.D. students at NYU," said Efecan. "Research, coding, computer science, it's all what I like to do. I would have already applied for Google's program, but it's only for seniors. I will next year." Outside the classroom, Efecan enjoys game scripting and programming. In the future, Efecan would like to see himself found a startup company in the programming field.


Chicago Alumni Event –

SAVE THE DATE
Stanners located in the Chicago metropolitan area are invited to join President Richard Karsten '81 and Development Officer Matt Rizzotti '04 for an upcoming Alumni Chicago Chapter event. The date is August 22nd, however time and location are to be determined. Keep reading The Beehive for future announcements, or contact us at alumni@molloyhs.org or 718.441.9210 for more information. Please help us spread the word to any Stanners who may be in the Chicago area. We look forward to seeing you in Chi Town!
---
Stanner Alumni Reunion for 3's & 8's – REGISTER ONLINE!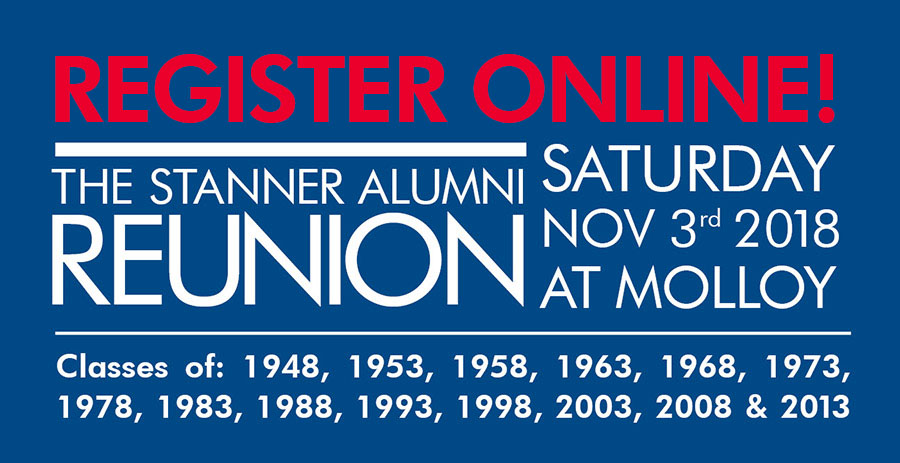 When: Saturday, November 3rd, 2018
Where: Archbishop Molloy High School
Class Years: 1948, 1953, 1958, 1963, 1968, 1973, 1978, 1983, 1988, 1993, 1998, 2003, 2008 & 2013
Contact: mrizzotti@molloyhs.org | 718.943.3186
Alumni from class years ending in 3 and 8 are invited to join us here at Molloy on Saturday, November 3rd for the Stanner Alumni Reunion! This is a great opportunity to reconnect with classmates and your favorite teachers, and walk the halls of Stanner High once again. See more info below:
BASIC INFORMATION:

4:30PM – Check In Begins.
5:00PM – Mass of Remembrance (Ralph DeChiaro Theater).
6:15PM – Cocktail Reception.
7:15PM – Brief Presentation, Class Photos, Dancing, Dinner & Dessert.
Valet parking available, but spots limited. Public transit or car service is encouraged.
Discounted hotel rates will be available.

VOLUNTEERS NEEDED: If you would like to serve as a class officer, tasked with finding and recruiting classmates, please let us know!

CONTACT: If you have any questions about this year's Reunion, please contact Alumni Development Officer Matt Rizzotti '04 (see info above).



Dhanesh Binda '14, Benedict Harvey '14, and Eric Alerte '14 (pictured left to right) graduated together from Cornell as Biology majors on the pre-medical track. Dhanesh said that "it was a blessing to start Cornell with my best friends from high school. The academics were stressful and competitive, but we stuck by each other. Our little support system helped us through the hardest days in Ithaca. For us to see each other grow and mature over four years and graduate with several honors was special." According to Eric, "coming into Cornell with an established support system definitely helped with my adjustment to college life. Our four years together at Cornell only strengthened the bond we created during our time at Molloy." Ben reflected on their experience as well, noting that "We Stanners entered Cornell University proudly and with ease knowing that we had each other to lean on in the event of any conflict. Together or apart, we pushed each other to strive for more, and I attribute much of our success to this bond that we first created at Molloy." Congrats, gentlemen!
---
Caleb Oliver '14 has accepted the position of Language and Culture Assistant with The Education Office at the Embassy of Spain. Congratulations, Caleb!
---
Tiana Salas-Ali '12 is a graduate of North Carolina State University with a BA in Science & Chemical Engineering. Tiana recently accepted a position as a Process Engineer at International Paper in Wilmington, NC. She previously interned for International Paper as well as Georgia-Pacific LLC, another well-known American pulp and paper company. Having lived in and loved Wilmington before, Tiana said she is very excited to get to living life, making new friends, and making some money too.
---
Dr. Bill Endy '68 was kind enough to share the following: "When I was attending AMHS from '64-'68 there was a group of about 12 of us, the South Shore Stanners, who lived out on the island from Valley Stream to Seaford. While we each have pursued our independent life courses over the years we remained in regular contact. Now of the original group only two remain out in Nassau County. We literally are now scattered from Oregon to North Carolina. We graduated on 6/22/68 at Queens College. This year marks our 50th Anniversary and we are all getting together in Long Beach on Saturday July 21st at the home of Lt. John Gremse FDNY '68 (deceased) to celebrate."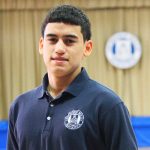 We are deeply saddened by the sudden passing of Giancarlo Mayor-Valencia '13, brother of Kirk Mayor '11 and Julianna Mayor '20. Please keep Giancarlo and his family in your prayers. A viewing will take place Monday July 2 at Martin Gleason Funeral Home from 2:00-5:00pm and 6:00-10:00pm (149-20 Northern Blvd, Flushing NY 11354). A Memorial Service is scheduled for Tuesday July 3 at Church of St. Mel at 10:30am (26-15 154th St, Flushing NY 11354).

Please pray for the repose of the soul of Patricia DeMaria, mother of Anthony DeMaria '04.

Please pray for the repose of the soul of Maria Romano, mother of Stephen Romano '08.

Please pray for the repose of the soul of Stephen Sivak, father of Kevin Sivak '01. Stephen is survived by his wife, Mary Ellen, their son Kevin and daughter-in-law Dana, and their two children Shannon and Maeve, as well as their daughter Mary Beth and son-in-law Jack.

We are saddened to share the passing of Vincenzo Gangone, father of Palmina Dionisi. Please keep Vincenzo and his family in your thoughts and prayers.