Chicago Alumni Event –

REGISTER ONLINE
Where: On Tour Brewing Co. | Address
Who: Stanners & Friends (Ages 21+)
Admission: $25 per person (Includes drinks & food)
Stanners and friends located in the Chicago metropolitan area are invited to join President Richard Karsten '81 on August 22nd (6:30PM) for an Alumni Chicago Chapter Event at On Tour Brewing Company! Drinks and food will be included in your $25 per person admission fee. Family and friends are welcome. Please help us spread the word to any Stanners who may be in the Chicago area. We look forward to seeing you in Chi Town! Contact alumni@molloyhs.org or 718.441.9210 for more information.
---
Stanner Alumni Reunion for 3's & 8's –

REGISTER ONLINE!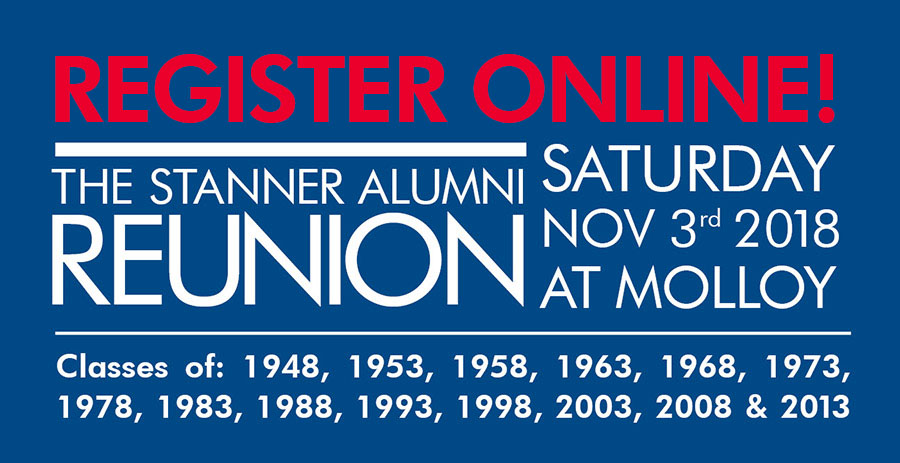 When: Saturday, November 3rd, 2018
Where: Archbishop Molloy High School
Class Years: 1948, 1953, 1958, 1963, 1968, 1973, 1978, 1983, 1988, 1993, 1998, 2003, 2008 & 2013
Contact: mrizzotti@molloyhs.org | 718.943.3186
Alumni from class years ending in 3 and 8 are invited to join us here at Molloy on Saturday, November 3rd for the Stanner Alumni Reunion! This is a great opportunity to reconnect with classmates and your favorite teachers, and walk the halls of Stanner High once again. See more info below:
BASIC INFORMATION:

4:30PM – Check In Begins
5:00PM – Mass of Remembrance (Ralph DeChiaro Theater)
6:15PM – Cocktail Reception
7:15PM – Welcome, Class Photos, Dancing, Dinner & Dessert
Valet parking available, but spots limited. Public transit or car service encouraged
Discounted hotel rates will be available

VOLUNTEERS NEEDED: If you would like to serve as a class officer, tasked with finding and recruiting classmates, please let us know!

CONTACT: If you have any questions about this year's Reunion, please contact Alumni Development Officer Matt Rizzotti '04 (see info above).
---
Molloy Oktoberfest – SAVE THE DATE!
When: Thursday, Oktober 4, 2018
Where: Archbishop Molloy High School
Who: All members of our community (Ages 21+)
Contact: Joe Sommo '03 | 718.943.3148
Registration will open later in August
We are excited to announce that Molloy Oktoberfest will return to our alumni event calendar this fall. All members of our community (ages 21+) are invited to join us on Thursday, October 4th, for Bavarian style dinner and music as we kick off our event season with this fun and relaxing evening.
We extend special invitations to members of our Badges Network as well as supporters of the Br. Ron Marcellin Memorial Scholarship. This year's Oktoberfest will be the first to honor Br. Ron in place of the annual dinner held previously every January.
Friends and family are welcome! Please spread the word and read our next Beehive for information on how to sign up.


Installation of Classroom Air Conditioning is Underway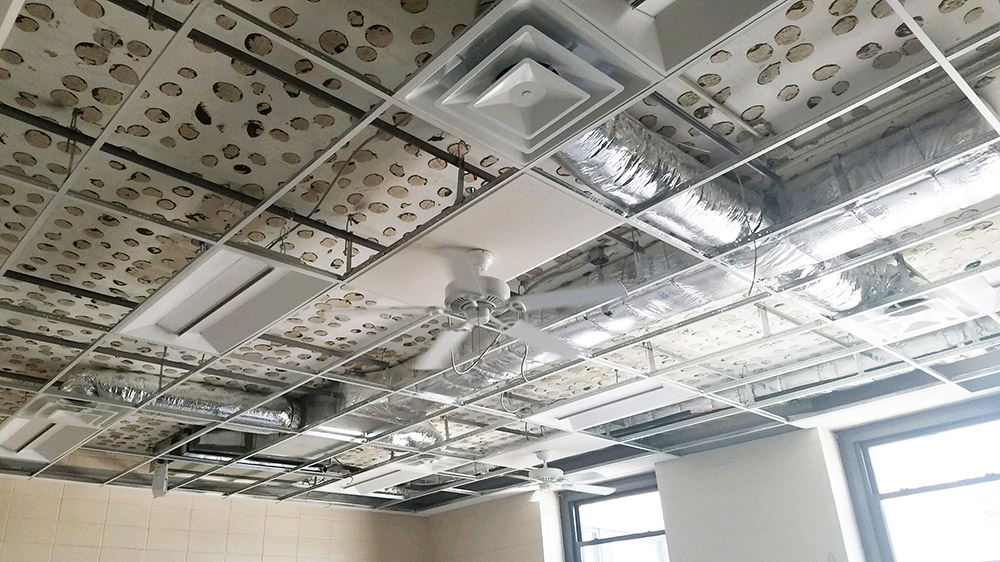 Earlier this summer, one of the most requested campus upgrades among students took its next step toward becoming a reality. In fall 2017, students raised money for classroom air conditioning through our annual Walkathon. Once classes finished up in June, work began to implement this massive upgrade.
As part of a master plan to install air conditioning in all 52 classrooms, Molloy began work on 11 classrooms located in the east wing along Main Street. The entire project will take the next several years to complete. As part of the effort to make our classrooms more comfortable, heat-controlled window film will be applied to further enhance the energy efficiency of the new units.
President Karsten, Molloy's Facilities staff, and members of the School Board's Buildings & Grounds Committee led an engineering study to determine the best and most energy efficient solution for air conditioning. The solution is a commercial split system with cooling condensers on the roof. Each classroom will have its own air handler and ductwork. The initial system will provide "20 tons" of output. Each classroom will be fitted with a new drop ceiling and energy efficient LED lighting. The ceiling fans will also be reinstalled for those days that need just a slight breeze to keep the fresh air flowing.
Elsewhere, work to repair the Manton Street entrance has also begun. Back in May, a strong storm caused two large trees to fall, damaging several parts of our front entrance. Work includes repairs to the front awning, netting used to repel birds, perimeter fencing, and the letters spelling our school's name.
---
Update Your Mailing Address
Attention Alumni! We are preparing to mail the newest issue of our alumni magazine "Stanner Life" … If you have moved recently, or your son or daughter has moved, please consider informing us of new address information so everyone is sure to receive their copy. Email alumni@molloyhs.org you're your updated contact information.
---
Employment Opportunity: Milrose Consultants, Inc.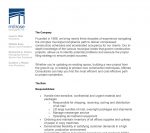 Stanners are invited to review the following information in regards to an employment opportunity with Milrose Consultants, Inc. The position is Mailroom Associate. Founded in 1988, Milrose brings nearly three decades of experience navigating the complex municipal compliance path to deliver compressed construction schedules and accelerated occupancy for their clients. Their in-depth knowledge of the various municipal codes that govern construction projects allows them to identify potential problems and execute the proper filing strategy to ensure project success. Click the thumbnail image to the right for more information. | Download Job Description as PDF
---
Molloy Hosts Summer Camps for STEM, Theater, College Guidance, Basketball & Baseball
We are excited to recap several well-attended camps hosted at Molloy this summer. These camps have benefited students in academics, athletics, computer science and engineering, theater, and college guidance:
STEM Camp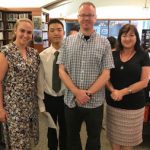 STEM Campis a week-long workshop serving 6th, 7th, and 8th graders. The focus is on innovative, fun, hands-on learning opportunities in computer science, engineering, technology, and math. Students engage in Computer Assisted Design, 3D design and printing, prototyping with embedded systems, and programming for Android devices. This year's field trip was to the Hall of Science, where our campers participated in two STEM workshops. A special treat came on the final day of this year's camp, as Dr. Adam Young visited Molloy to serve as guest speaker. Dr. Young, of Bloomberg, is a world-renowned authority in cryptology and the author of Malicious Cryptography. Dr. Young has graciously accepted our invitation to return to Molloy in the fall to serve as a guest speaker on Ransomware/Cybersecurity. Thank you to Ms. Edit Boral, Dr. Young, and counselors Justyna Jablonska '17 and Eric Mun '17 for a great camp! Contact eboral@molloyhs.org for more information.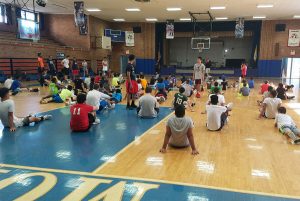 Memorial 5 Camps
The Memorial 5 Camps, honoring the late Jack Curran, provide an inclusive, safe environment where young players can develop their skills in baseball and basketball while competing in games and contests. The basketball camp runs daily for two weeks (10 days) and features morning stretches, instructional time, drills, games, and challenges. The Elite Camp for baseball is held for one week (4 days) and is for serious players who wants to focus on intense training in the major skills of the sport. Activities include morning stretches, conditioning, strength and agility training, drills, and hitting, fielding, and pitching exercises. Visit http://memorial5.com/ for more information.
College Guidance Workshop
College Counselor Mr. Gus Esgro has led a very successful inaugural Summer College Workshop, including three separate installments benefiting nearly 60 current Molloy students in total. The five-day program consists of a series of instructional sessions and application walk-throughs. Students also have the opportunity to visit universities in the metro area under the guidance of Mr. Esgro. These schools include Adelphi University, Fordham University, Hunter College, Pace, Queens College, St. John's University, and Stony Brook University. "By partaking in a workshop over the summer, these students should come into senior year with less stress and more confidence in the college application process," said Mr. Esgro. On more note, at Hunter College, our students were joined by tour guide Joelle Tirado '15 (pictured center in group photo below left). Thanks, Joelle!
Theater Camp
Theater Camp serves 6th, 7th, and 8th graders and offers a week-long workshop that covers storytelling, acting and improvisational activities, and monologue/scene work. Campers are encouraged to come out of their shells in a creative, judgment-free zone while making new friends. The week includes a field trip and concludes with a theater production featuring all of our campers. This year's field trip was to Camp Broadway at Pearl Studios in Manhattan, where our campers enjoyed a unique workshop led by Mr. Jeff Shade. Visit the Stanner Players on Instagram (@stannerplayers) or email stannerplayers@gmail.com for more information. Thank you to Director Ms. Shannon Winters '06 and counselors Rob Dittus '15, David Di Maggio '16, Katie Van Riper '17, and Chè Negron '19 for running a successful camp! (See Instagram below!)
---
Champagnat Society Fulfills Service Trip in Jamaica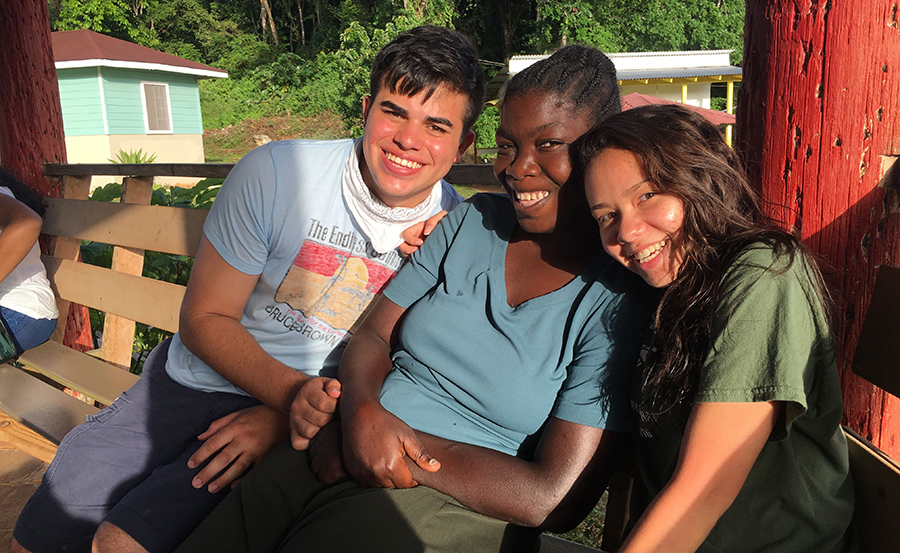 Earlier this summer, over 20 students, faculty, and alumni representing the St. Marcellin Champagnat Service Society (SMCS) traveled to Jamaica for a week-long service project. The trip was coordinated through Mustard Seed Communities, a non-profit organization dedicated to "caring for the most vulnerable populations in society." Mustard Seed provides services for children and adults with disabilities, teen mothers, those in need of proper nutrition and education, and many other individuals. SMCS assisted with landscaping and the construction of new lodging facilities, stocked pantries with food, clothing and toiletry donations they brought with them, and spent quality time with residents. (Photos courtesy of SMCS)
---
Alumni Track Reunion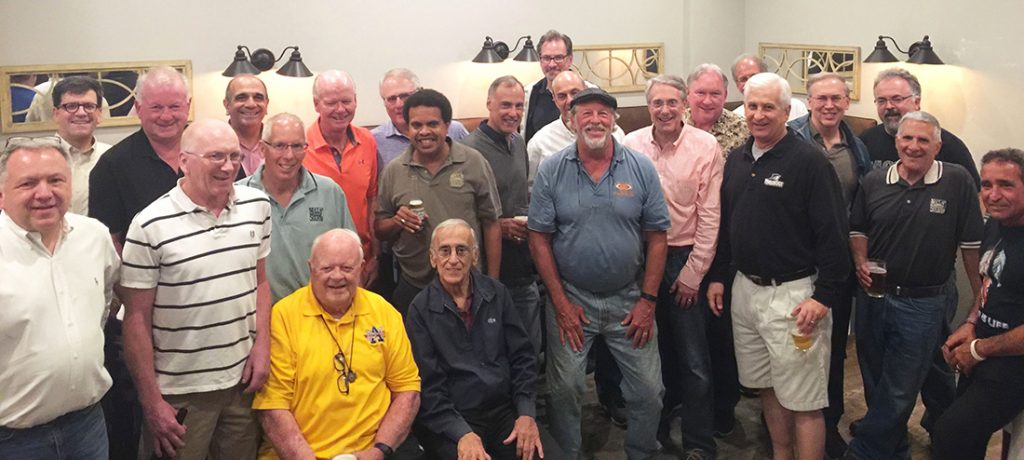 We would like to take this opportunity to correct an omission in our last newsletter. When recapping the Walk/Run for Karina event, we neglected to mention the alumni track reunion that took place the evening prior. On June 22nd, over 25 alumni and coaches gathered at Trinity Restaurant & Bar in Floral Park to reminisce and show their support for Phil Vetrano '74 and his family. The following day, several of the alumni and coaches who attended the gathering also participated in the Walk/Run for Karina. Our community's support of the event resulted in over $38,000 raised for the Karina Vetrano Memorial Scholarship, benefiting future young women at Molloy. If you haven't yet, please consider making a gift to Karina's scholarship today at www.molloyhs.org/donate/ … Special thanks to Frank Gambino '74 and Craig Katinas '93 for coordinating the track reunion.
---
Thank You, Dr. Poole-Petit!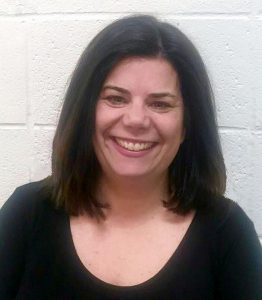 Archbishop Molloy High School sends thanks and congratulations to Dr. Leslie Poole-Petit, Ed.D, who has served as our Director of Admissions since 2013. Dr. Petit announced in spring that she would be leaving Molloy in pursuit of a new opportunity as Principal of Dominican Academy in Manhattan. She began fulfilling her new duties in mid-July. Dr. Petit is a graduate of The Mary Louis Academy and has worked in a variety of educational settings including Fordham University, Boston College, Columbia Business School, and Marymount Manhattan College. She also has extensive experience working with Regis High School's R.E.A.C.H. Program as well as the Westchester Italian Cultural Institute.
In a press release issued by Dominican Academy, Richard Karsten '81, President of Molloy, shared, "While Molloy will miss Dr. Petit and all she contributes to our institution, I have every confidence that her talent and dedication will be an invaluable asset to Dominican Academy." | Click Here for More Information
An announcement regarding Molloy's Director of Admissions position will be featured in our next Beehive.


Young Alum Honored for Volunteer Work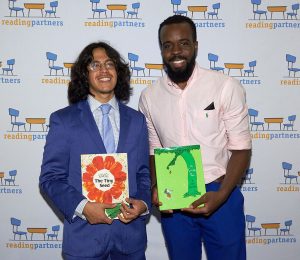 Bryant Quito '16 is a rising junior at Baruch College. In June, Bryant was honored by Reading Partners for his outstanding community work, volunteering as a Reading Partner tutor at PS.3 Bedford Village. Bryant also served as official speaker at the Reading Partners 5th Annual Benefit, where over 350 educators, tutors, and Reading Partners board members and sponsors (Scholastic, Barclays, etc.) raised over $340,000. Reading Partners is a non-profit organization that collaborates with NYC public schools and communities, placing trained and dedicated volunteers in low-income schools to provide one-on-one tutoring for students who struggle with reading.
"This opportunity to volunteer along with Ikpechukwu Obayi '16 and help out the community not only gave me a chance to become a role model, but also to help inspire students to break through barriers and obstacles that stand between them and their full potential," said Bryant. "Not only have I seen growth in their reading, but I have also seen their confidence and enthusiasm for reading skyrocket. I believe that through reading, one can have a better level of awareness and understanding of the world and one's self. Reading is not just a skill for school, but for life." (Pictured L-R: Bryant and Ikpechukwu)
Bryant encourages other Stanners interested in volunteering with Reading Partners to visit https://readingpartners.org/.
---
Stanner Architect Honored, Debuts New Work in Venice
More Information: PRESS RELEASE – Design After Darwin | http://www.knoops.us/
Architect Johannes Knoops '80 was recently honored by the Fashion Institute of Technology and the State University of New York (SUNY) with the SUNY Chancellor's Award for Excellence in Creative Scholarship and Creative Activities. The award was presented in Mat at FIT's Faculty Recognition Celebration. A citation from the event reads:
Johannes Knoops | Associate Professor, Interior Design, School of Art and Design, Classroom Faculty
For over three decades, Knoops's scholarship has earned him numerous prestigious research residencies and fellowships, including the Rome Prize in Architecture, the Catherine Boettcher Fellowship at the MacDowell Colony, the John Dinkeloo Traveling Fellowship, and the Emily Harvey Foundation residency in Venice, where he is conducting research on a pioneering 16th century printer. Called a "wellspring of information on design theory, historical precedent and culture," he has long been an important influence on design scholars. Noted for the elegance of his work, his list of exhibits, architectural commissions, and design competition prizes is extraordinary, and includes recognition from such prestigious venues as the Venice Biennale of Architecture, the Metropolitan Museum of Art, and the American Institute of Architects, from which he has won numerous awards. Consistently active at the departmental and college-wide level, he has developed innovative curricula that, according to peers, "challenge students as well as faculty," and has served with distinction on many departmental and college-wide committees. (Pictured: "Oculi" from two angles. Inset: SUNY Chancellor's Award Medal)
In addition to this honor, Knoops' new lighting concept "Oculi" was recently featured in the 2018 edition of "Design.VE" in their exhibit titled "Design After Darwin. Adapted to Adaptability." The theme of the exhibit "showcased the ability of design to be receptive to alternative uses as the function multiplies and stratifies, contrary to a notion of any singular predetermined use." Oculi resides in Palazzo Morosini-Gatterburg in Venice.



Please join us in prayer for the repose of the soul of Melissa Evelyn '11.

Please pray for the repose of the soul of Dr. Michael Barretti '62. The following is credited to an obituary published in the Green Valley News: "Born Dec. 28, 1944 in Brooklyn, New York to Anna Maria Palazzolo and Ralph Richard Barretti, Michael graduated from Archbishop Molloy High School in Jamaica, New York. Michael was honorably discharged from the Navy in 1966 and became a Trinitarian Catholic monk for 10 years in Maryland. He pursued a secular life and received a bachelor's degree, two master's degrees and a doctorate. Michael was a nationally certified school psychologist and worked many years for the Baltimore City school system. Later in his career, he was a college professor for psychology and professional counseling in Tucson and Green Valley. During his life, Michael was a church organist and an accomplished harpsichordist. Since the age of 8, Michael was in love with growing and learning about plants at Brooklyn Botanical Gardens. He had a special affinity for orchids and was president of the Maryland and Tucson Orchid Society. After the monastery, Michael continued his life of service by counseling young adults for little to no money. Michael always believed and said, 'I like working with youngsters, because the human race marches forward on tiny feet.'" | Link

We are saddened to share the passing of Mary Breed Connolly, mother of Gerard Connolly '76. Please keep Mary and the Connolly family in your prayers.

We are saddened to share the passing of George Brandin Sr., father of George Brandin '82. Mr. Brandin is survived by his wife, Marge, his son, George, and his three daughters, Cathy, Karen, and Mary. Please keep the Brandin family in your prayers.