Stanners Gather in Chicago for Regional Event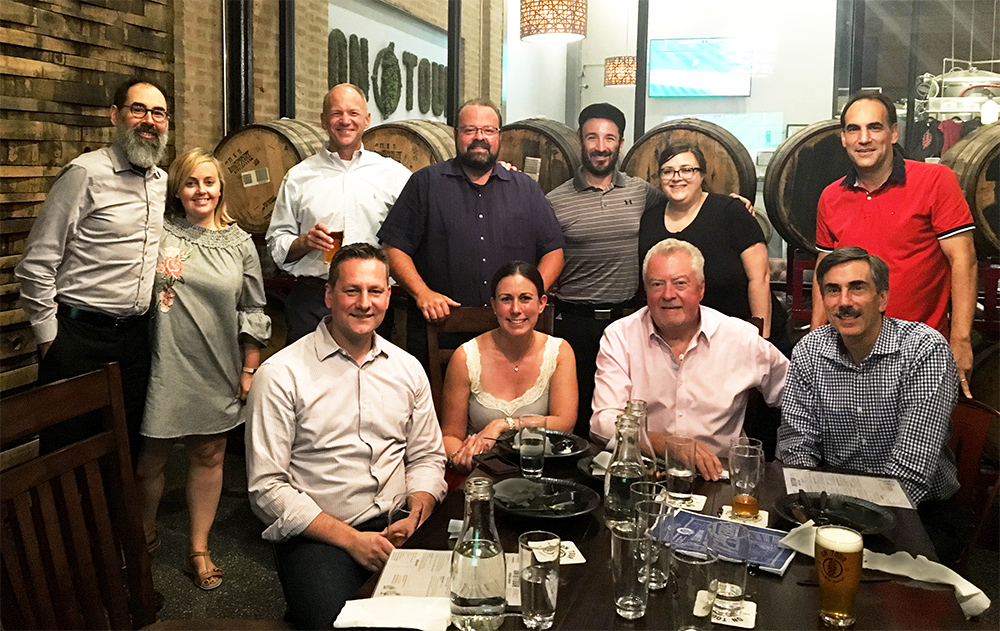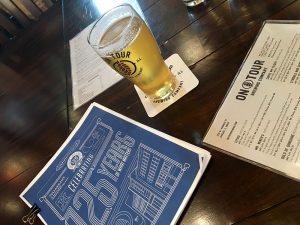 On August 22nd, President Richard Karsten '81 joined Stanners in the heartland at On Tour Brewing Company in Chicago. At least three decades of graduates were represented (60s, 80s, 90s). President Karsten updated the group, which included Charles Ahmes '60, Chris Barkidjija '85, Allen '93 and Sara Grgurovic, Roland Varriale II '02, and Matt Laurencelle '85, about exciting new programs and upgrades at Molloy, and also shared a preview of the upcoming Stanner Life commemorative magazine. While in Chicago, Mr. Karsten also visited Marist Chicago, where administrators and teachers were preparing to begin their school year. Several staffers from Marist Chicago also joined Mr. Karsten and our Stanners at the brewery, where all enjoyed great drinks and delicious BBQ. "We had a great time at On Tour Brewing Company," said Mr. Karsten. "We shared many stories, and there was a clear sense of camaraderie among us. In all, it was a fun way to catch up, to show a sneak peek of our upcoming magazine, and to connect with alumni outside of New York. I look forward to our next visit to the Windy City, and to continuing to grow our Chicago network." Special thanks to Allen Grgurovic for his assistance in coordinating this event.
---
Last Day to Complete Molloy's Strategic Plan Survey
September 7th is the last day to complete Molloy's Strategic Plan Survey. During the 2018-19 school year, Molloy will be conducting a formal Strategic Plan to assess our standing in the education marketplace in New York City. In order to effectively do so, we need the input of our key constituents: faculty, staff, students, alumni, benefactors, and our community at large. The Strategic Plan process is designed to gain insight from those who have the deepest stake in the future of Molloy. Key opportunities and challenges will be identified to ensure that the vibrancy of the mission at Molloy continues to thrive for generations. This is not an accreditation exercise; our goal is to create a collective roadmap for the future of Molloy. Click the button below to provide your answers. On behalf of everyone at Molloy, thank you for your valuable feedback!

---
Two Freshmen Receive Champagnat Award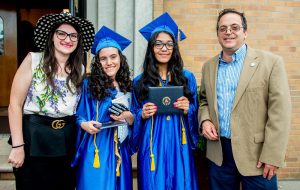 On commencement day at Queen of the Rosary Catholic Academy (June 15, 2018), The Dittus Family presented the St. Marcellin Champagnat Scholarship Award to two graduates who were planning to attend Archbishop Molloy High School in the fall. This year's recipients are Delilah Medina '22 and Emily Valle '22. "This award is especially meaningful to our family, as three family members went to Catholic grammar school in the Williamsburg area and later graduated from Molloy," said Robert Dittus '81. Sharon Dittus, AMHS Class of 2010, and Robert Dittus, AMHS class of 2015, also attended Q of R and Molloy, and Sharon is currently a teacher at Q of R. Previous recipients of the Champagnat Award include Luigi Albano '19, Neyde Estrada '21 and Anthony Montano '21.
Here's some more information about this year's recipients:

Delilah was an active member of the Q of R student body. She served as Student Council vice president in 7th grade and as president in 8th grade. Delilah was an honors student, a member of the Aquinas Society, and a lunch room monitor. Delilah likes to draw and participate in plays. She was also a member of the school's yearbook committee.

Emily is a well-rounded individual who participates in a variety of activities while maintaining good academic standing. At Q of R, she was a member of the Aquinas Society, a lunch room monitor, and also participated in plays. Emily played the clarinet in the school band and also plays piano. A talented artist, Emily's design was chosen to promote the school's most recent Walkathon. Emily was this year's valedictorian at Q of R.
Congratulations, Delilah and Emily, and welcome to Molloy! Thank you to Robert Dittus and the Dittus Family for continuing to sponsor this wonderful award. (Pictured left to right: Sharon Dittus '11, Delilah Medina '22, Emily Valle '22 & Robert Dittus '81 | Photo by Fermin Valle © Fermin Valle Photography)
---
Around the School
Class Is Back In Session!
After a long and restful summer, the students of Stanner High returned to Manton Street to kick off another great school year. The first week began with several orientation days, followed by the first full day of classes on September 7th. Freshmen had an additional orientation day on September 6th, which featured a shortened run-through of their schedule before the first full day. Speaking of our freshmen, we have a few interesting stats to share. Molloy is excited to welcome 414 members of the Class of 2022. 35 freshmen who are attending were awarded academic scholarships, while 22 freshmen were awarded named (need-based) scholarships. The Class of 2022 commutes from many different neighborhoods and parishes, mostly in Queens, but also many in Manhattan, Long Island, and Brooklyn. Approximately 80 freshmen are enrolled in Honors classes this year.
We invite our community to join us in prayer for our students and faculty, that they may enjoy great success throughout this new school year.
Don't forget to follow us on Instagram @molloyhs! Use the arrows to the left and right in the embedded post below to scroll through our Instagram gallery.
---
Junior Participates in Summer Journalism Workshop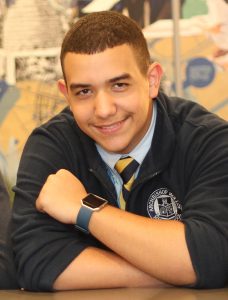 This summer, Sebastian Germosen '20, a member of Molloy's The Stanner newspaper staff, participated in Stony Brook University's summer journalism workshop. The workshop featured numerous seminars led by professional journalists. One guest speaker was John Williams, a Pulitzer Prize winning Newsday photographer. Mr. Williams discussed aspects of photo journalism and how to take professional photos. "It was really cool, because before the program I was never interested in photography, but he piqued my interest in it," said Sebastian. Professor Rick Ricoppo also gave a presentation on TV journalism and broadcasting, which included notes on operating cameras, tripods, and other equipment.
Sebastian also enjoyed hands on experience through reporting on a Long Island Ducks baseball game, as well as by interviewing Mr. Sheldon Polan, a resident of the Long Island Veterans Home. Sebastian was responsible for photography and video for his team, but also provided writing for each story. He later assisted in editing completed video packages using Final Cut Pro. "Overall, the program was an amazing experience and it taught me a lot about how to be a journalist," said Sebastian. You can view some of Sebastian's work at http://greenegazette.com/2018/.
---
Five Stanners Attend Molloy College Business Boot Camp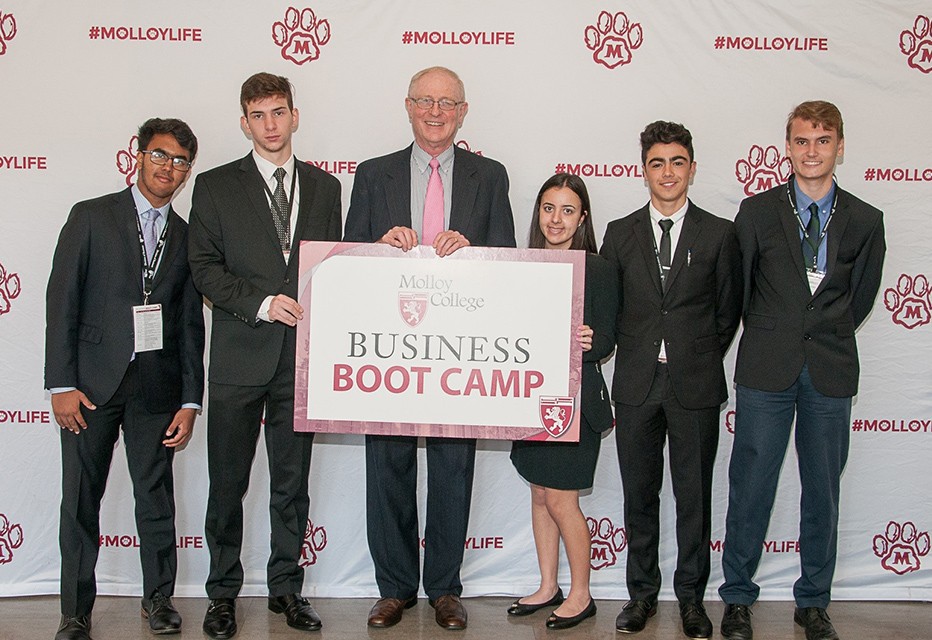 Over the summer, five members of Archbishop Molloy High School's Class of 2019 were accepted into Molloy College's Business Boot Camp. The Boot Camp is held over the course of one week in July and features interactive seminars led by CFOs and Wall Street professionals, a "Shark Tank" trading simulation, business presentations, and marketing competitions. The week also includes opportunities for networking with student ambassadors who are eager to share their real-world experiences. Pictured left to right: Vishal Tongya '19, Dillon Beetz '19, Dean Stephen Bier, Deanna Pellegrino '19, Franco Manriquez '19 & Keenan Guludec '19. | More Information
---
Sports Updates
Molloy Sponsors "Kicking For A Cause"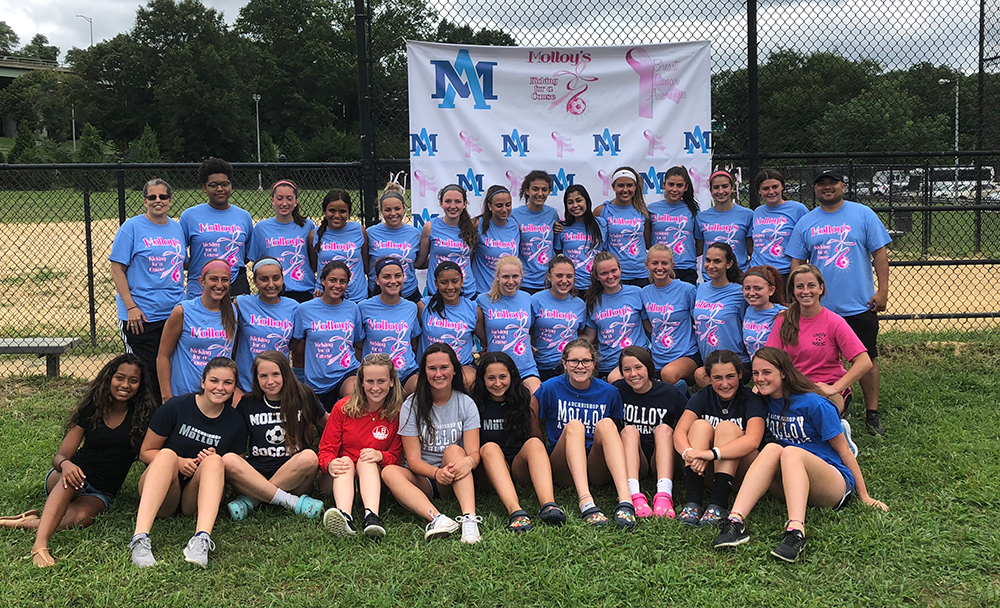 In August, Molloy sponsored the "Kicking For A Cause" tournament, a scrimmage girls soccer tournament supporting breast cancer awareness. The event was held at Alley Pond Park and featured Molloy's girls varsity soccer team as well as teams from St. Vincent Ferrer, The Mary Louis Academy, and Scholars Academy. Congratulations to all players and coaches for participating in this wonderful event!
---
JV Softball Players Work as Ballpersons at US Open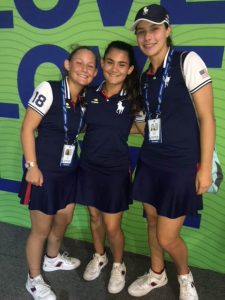 Coach Lou Santos is excited to share that three of his JV softball players were chosen to work as Ballpersons for the 2018 US Open in Flushing. Genevieve Puglissi '20, Emily Mauro '21, and Caterina Fox '21 were the lucky Stanners to be selected for this competitive role. Ballpersons at the US Open must undergo a rigorous tryout process to prove they are up to the task. Ballpersons must show an ability to quickly retrieve balls no longer in play as well as to throw them the entire length of the court. Hundreds of applicants may try out in a given year. Tennis, baseball, and softball players are said to be good choices to serve as Ballpersons due to their built-in knowledge and skillsets. Congratulations Genevieve, Emily, and Caterina! (Pictured above: Caterina Fox '21 – first two photos – and Genevieve Puglissi '20)
---
"Pride for 125" Contest Winners
Earlier this year, we celebrated our 125th anniversary by asking our alumni to share selfies, group photos, and other interesting images on social media that showed off their Stanner Pride. We would like to share our favorites below, and thus the winners of our Pride For 125 contest. Thanks to all who submitted photos! (Winners will be contacted)
Far & Wide (Most Unique Location): Brian Mitchell '69 (with Jerry Simonelli '69 outside the Marist school, College Laval, in Montreal)


Stanner Alumni Reunion for 3's & 8's – REGISTER NOW!
When & Where:

November 3, 2018 @ Molloy

Class Years: 1948, 1953, 1958, 1963, 1968, 1973, 1978, 1983, 1988, 1993, 1998, 2003, 2008 & 2013
Contact: mrizzotti@molloyhs.org | 718.943.3186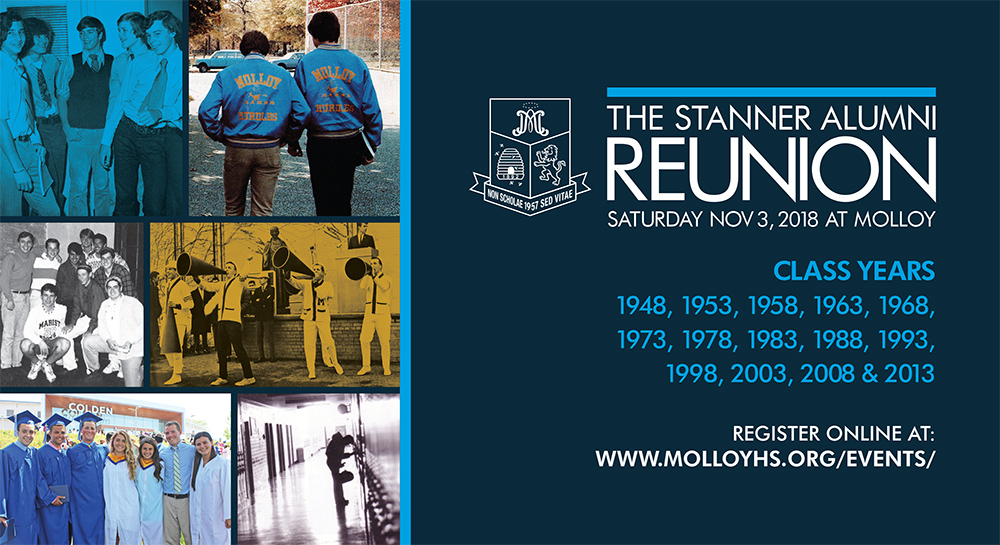 Alumni from class years ending in 3 and 8 are invited to join us here at Molloy on Saturday, November 3rd for the Stanner Alumni Reunion! This is a great opportunity to reconnect with classmates and your favorite teachers, and to walk the halls of Stanner High once again. (Pictured: Postcard invitation coming soon to a mailbox near you!)
BASIC INFORMATION:

4:30PM – Check In Begins
5:00PM – Mass of Remembrance (Ralph DeChiaro Theater)
6:15PM – Cocktails, Dinner, Dancing, Class Photos, & More!
Valet parking available, but spots limited. Public transit or car service encouraged.

VOLUNTEERS NEEDED: If you would like to serve as a class officer, tasked with finding and recruiting classmates, please let us know!
---
Molloy Oktoberfest –

REGISTER NOW!
When & Where: October 4, 2018 @ Molloy
Who: All members of our community (Ages 21+)
Admission: See price options on registration form
Contact: Joe Sommo '03 | 718.943.3148
We are excited to announce that Molloy Oktoberfest has returned to our alumni event calendar this fall. All members of our community (ages 21+, Friends & Family welcome!) are invited to join us on Thursday, October 4th for Bavarian style dinner and music as we kick off our event season with this fun and relaxing evening. Everyone in attendance will also receive a raffle ticket good for a prize drawing later in the evening!
We extend special invitations to members of our Badges Network as well as supporters of the Br. Ron Marcellin Memorial Scholarship. This year's Oktoberfest will be the first to honor Br. Ron in place of the annual dinner held previously every January. All proceeds will benefit the scholarship in Br. Ron's name.
---
Golf Outing Remembering Karina Vetrano '04
When: Thursday, September 27, 2018 | 11:00AM
Where: Upper Montclair Country Club | Clifton, NJ
The family and friends of Karina Vetrano '04 will host their second annual golf outing on Thursday, September 27th, in memory of their beloved Karina. The event will include lunch, a round of golf, cocktails and dinner. Those who register will also have full access to the driving range and locker facilities. All proceeds will support the Karina Vetrano Memorial Scholarship at Molloy, benefiting future young women entering our school. Please click the image to the right or the link above for full details.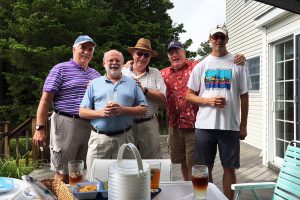 Robert Capuder '71 recently submitted a great photo and notes from a recent "mini-reunion" organized by the Class of 1971. The gathering took place at Shelter Island and was billed as a "retirement party" by its attendees. "All of us have stayed closely in touch since high school," said Bob. "After enduring 40+ years in the work force, it was time to blow off a little steam and celebrate." Pictured left to right are Brian Lowery '71, Dr. Tom Reilly '71, Gerald Stanick '71, Bob Capuder, and George Mlicko '71. Bob went on to say that he and his classmates are all "very grateful for the lasting bonds and friendships that we formed at Molloy." Thanks for sharing, Bob!
---
Over the summer, John Castellaneta '71 bumped into a few Stanners on Long Island. John plays in an over 60 softball league, which is where he connected with Gene Hennigan '69 (pictured left) and Stephen Mayer '70 (pictured center). Gene and Stephen both play on different teams in the league. John recalls talking to Gene, who was wearing a Stanner shirt at the time, when the umpire approached them and identified himself as Vinny Donnelly, Molloy Class of 1961! "It just goes to show you, Stanners are everywhere," said John. A bit more on John – he worked for New York City for 35 years and retired seven years ago as a Deputy Commissioner in the Dept. of Citywide Admin Services. He was responsible for Administration and Security for 55 city owned buildings and spent 10 days at the World Trade Center site in the days after September 11th. "I credit much of my success to the education and study discipline I received at Molloy," said John.
---

John Gemski '66 and wife Patricia shared photos from their recent trip to Las Vegas. John and Patricia won the trip as a raffle prize during Molloy's most recent Stanner Golf Classic in May. John and Patricia stayed at the Paris Hotel and reported that the temperature hit a modest 111 degrees during their visit. John said they had a great time staying cool in the casinos, and he also noted that Patricia was his date for the Molloy Senior Prom back in 1966.
---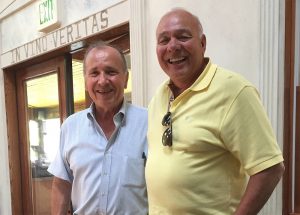 In August, classmates Dan Fogarazzo '63 and Sal Diliberto '63 enjoyed a few fine wines together at Sal's Diliberto Winery in Jamesport, NY. Stanners can find more information about Sal's beautiful vineyard at www.dilibertowinery.com.
---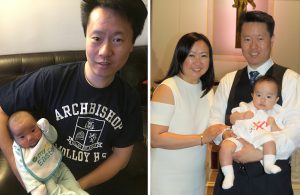 Edwin Wong '90 shares that he and his wife welcomed their son, Kenneddy Wong, into the world on February 16, 2018, coinciding with the Chinese/Lunar New Year of the Dog. Kenneddy was baptized August 18th, and the new parents chose the Baptism name Marcellin in honor of the Marist Institute's founder. Edwin's older brother, Timothy Wong '86, is Kenneddy's godfather. Edwin also shares that he was recognized on the City and State of New York's "10 Queens Residents on the Rise" list. Edwin was honored for his strong track record of community activism /advocacy. As a result of landing on the list, Edwin was invited to participate in a special event hosted by Queens Power 50 on Thursday, July 19th. | Read More about "10 Queens Residents on the Rise" | Queens Power 50
---
Marist Brothers News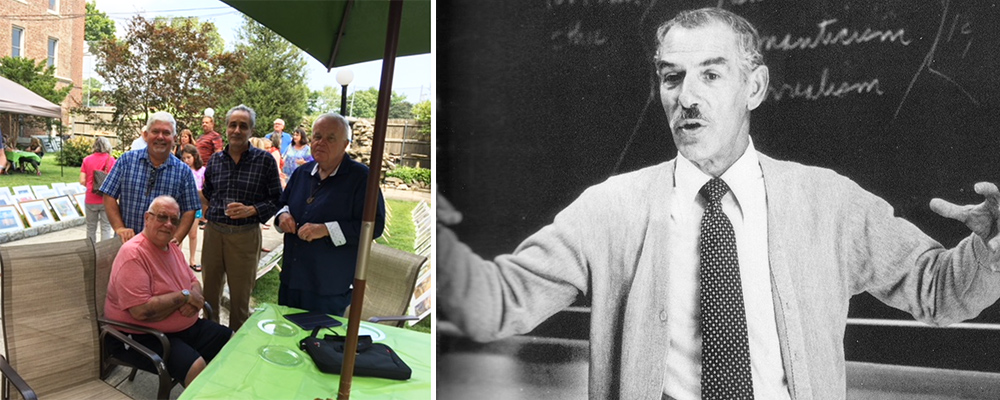 The Marist Brothers of Champagnat Hall (Bronx, NY) recently welcomed over 75 visitors to their fourth annual Art Show. The event was originally inspired by Br. Gerard (Jogues) Cormier, who served on Molloy's faculty for several decades as a track coach and art teacher. The original works of Br. Jogues and several other Marist Brothers were prominently featured during the event. Over 50 original acrylic/watercolor paintings by Br. Jogues were on display, many of which were inspired by his time spent in Bellport, New York. Also featured were photographs taken by Br. Ken Hogan, Br. Steven Kappes, and Br. James Norton '63. These photos focused on nature, still-life objects, and architectural design. For more information, including quotes from Br. Jogues, visit www.maristbr.com.



Molloy is saddened to share the passing of William Flemen Sr., father of faculty member William Flemen '94. We ask that you please keep the Flemen family in your prayers.

As noted in our August 16th Beehive, Molloy has discontinued its alumni login feature at www.molloyhs.org. The link to login has been replaced with a form to update contact information and opt-in for The Beehive. Please encourage classmates and family members to update their information or sign up to receive our newsletter every two weeks. Any questions regarding the login function can be sent to alumni@molloyhs.org.
Molloy recently began working with a new vendor that provides email communication services. As a result, links featured in emails prior to August 2018 no longer work. Readers are advised to click links from Molloy's most recent emails to ensure they reach the intended webpages. If you do not receive our emails, remember that The Beehive can also always be found at www.molloyhs.org/beehive/, or you can opt in at www.molloyhs.org/update/.
Don't forget to sign up for Molloy Oktoberfest and the Stanner Alumni Reunion! Any questions, email alumni@molloyhs.org.

Joe Sommo '03 | Alumni Communications Director / Beehive Editor