Remembering Francis X. Rienzo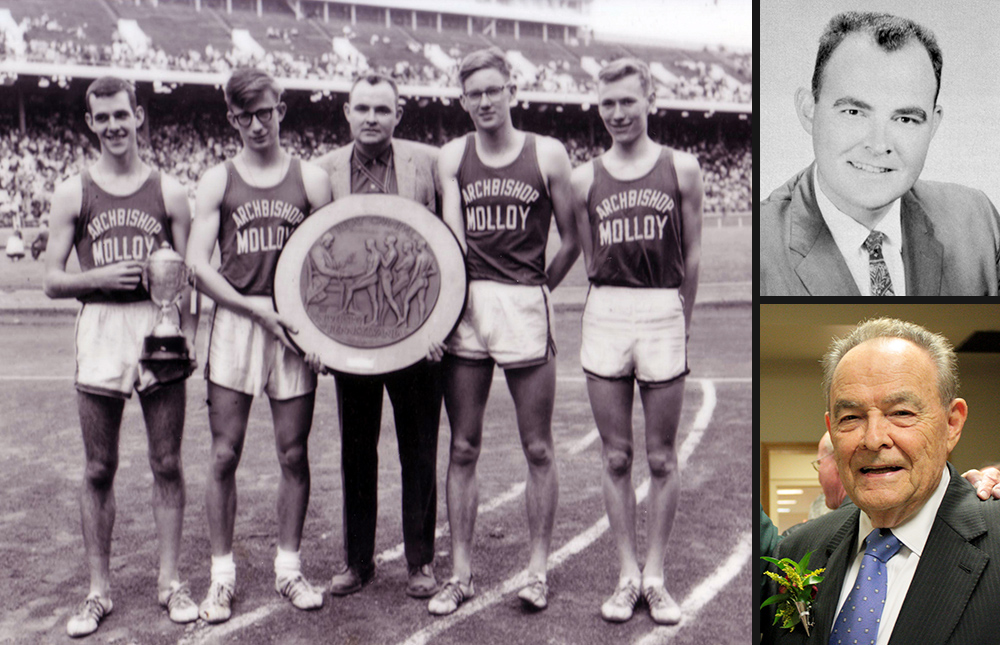 It is with great sadness that Archbishop Molloy High School announces the passing of former track and field coach and teacher Francis X. Rienzo on November 3, 2018. We ask that you please keep Mr. Rienzo and his family in your prayers.
Visitation will take place at Dahlgren Chapel at Georgetown University (37th and O Streets NW, Washington, DC 20007) on Wednesday, November 7th from 5:00-8:00PM. A Mass of Christian Burial will be celebrated at St. Bartholomew Church (6900 River Road, Bethesda, MD 20817) on Thursday, November 8th at 10:00AM. Interment at National Memorial Park, Falls Church, VA.
Members of our community may consider making a donation to the Francis X. Rienzo Scholarship to honor our beloved coach and teacher. Donations made to the scholarship in Mr. Rienzo's name will directly benefit deserving students at Archbishop Molloy High School.

Francis X. Rienzo was born on July 29, 1933 and raised in Bayside, Queens. He attended Sacred Heart Grammar School, Xavier High School, and Maryknoll College in Glen Ellyn, Illinois. He earned a BA in philosophy and a minor in sociology. In the late 1950s, Mr. Rienzo began to establish his legacy as an elite track and field coach. Under Mr. Rienzo's leadership, the Stanners won major team championships in 10 straight years from 1960 to 1969. These included Eastern State Championships, CHSAA City Championships, National AAU Interscholastic Championships, and many Individual Championships. Mr. Rienzo and his fellow coaches (many of them Marist Brothers) led the Stanners to 114 out of 187 championships across all grades and competition levels. That number represents roughly 61% of all championships won during that 10 year span.
In the fall of 1969, Mr. Rienzo, who was considered the most successful track and field coach in the New York metropolitan area of the past decade, was offered an enticing position at Georgetown University. Mr. Rienzo was tasked with revitalizing the university's struggling track and field program. Over time, Mr. Rienzo's leadership and vision helped breathe new life into Georgetown's program, allowing it to expand and enjoy great success. In all, Mr. Rienzo dedicated over 30 years of service to Georgetown, including five years as a coach, 22 years as Director of Athletics, and five years as Senior Director of Athletics. Representatives at Georgetown have described Mr. Rienzo as "having overseen the greatest expansion of athletics and the most successful era in the annals of Georgetown sports to-date."
During his tenure at Georgetown, Mr. Rienzo spearheaded the funding and construction of the university's recreational facility, Yates Field House, as well as the addition of at least 15 new men's and women's varsity teams. Mr. Rienzo was also integral to the founding of the BIG EAST Conference, which elevated the status of Georgetown basketball as well as that of a number of rival programs. The BIG EAST Conference changed the entire landscape of athletics up and down the east coast by allowing traditionally independent schools to form a competitive, meaningful alignment of schools with similar athletic philosophies. Mr. Rienzo served as Chair of the Executive Committee during the first 6 years of the Conference and as Chairman of the Finance Committee. Georgetown was awarded the prestigious BIG EAST Commissioner's Trophy under Mr. Rienzo's guidance in 1988, 1989, 1990, 1992 and 1994. The award is presented annually to the conference team scoring the most combined points in all Men's BIG EAST sports. | Read Remembrance from Georgetown University
Mr. Rienzo was inducted into the CHSAA Hall of Fame in 1983. He received the Patrick Healy Award (Georgetown's highest honor for a non-alumnus) in 1987. He received Georgetown's Vicennial Award for 20 years of service in 1989, and he received the NACDA/NIT Athletics Director of the Year award in 1998. Mr. Rienzo was inducted into the Georgetown University Athletic Hall of Fame as a coach and administrator in 2000. He was inducted into the National Directors of Athletics Hall of Fame in 2006. On November 5, 2011, Mr. Rienzo was inducted into Archbishop Molloy High School's Stanner Hall of Fame in front of a capacity crowd, which included many of his former colleagues and athletes from the 1960s.
"Mr. Rienzo set very high standards in both the track and field program, and how our athletes strive to be Christian ladies and gentlemen." — Joe Dombrowski, Track Coach & Teacher
"I first met Frank Rienzo when I joined Molloy's faculty in September 1962. We became exceptionally close friends. Along with Br. Patrick Lally (Maura), we visited Frank at Georgetown and stayed with him in Fairfax. Frank never forgot Molloy or the Marist Brothers. He was my mentor in track and my brother in life. When he retired from Georgetown, Frank insisted that the first half of the video honoring him was about Molloy. During our last conversation, he said he called to say hello and goodbye. He just came back from the doctor. I joked and said don't do that, Washington is too far from me now. He told me not to come down, just go get a beer and give him a toast. Did he know then? I loved our conversations. Frank was so wise and had great insight. He was fair, loyal, and loved God (by the way he lived his life and sought justice and respect for all). He loved the Marist Brothers and recognized how much we valued him. I have lost part of myself this past Saturday. Non scholae sed vitae." — Br. Pat Hogan, FMS, Retired Track and Field Coach & Teacher
Mr. Rienzo is pre-deceased by his wife of 35 years, Joan. He is survived by his four children, Francis, Teresa, Cecilia, and Matthew, and many grandchildren. Please keep Mr. Rienzo and his family in your prayers.


Stanner Alumni Reunion –

THANK YOU!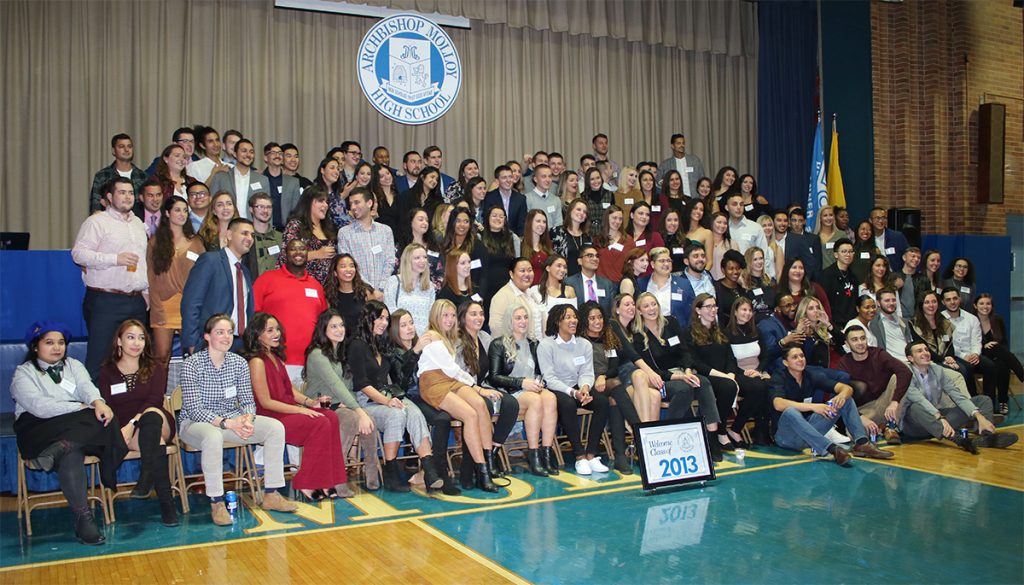 (Pictured above: Preview of Class of 2013 group photo)
We would like to extend our sincerest thanks to the over 580 alumni and guests who attended this year's Stanner Alumni Reunion on November 3rd. Eight decades of Stanners were represented, including some who traveled great distances (Alabama, California, and Oregon!) to reunite with their classmates. It was a memorable evening, and we thank everyone again for their enthusiasm and Stanner Pride! We are still sorting through all of the photos, so look for a full recap and photo gallery in the Beehive next week. Once again, we thank everyone who helped make this a special night. Don't forget, if you have photos to share, post them on social media using #StannerReunion or email them to alumni@molloyhs.org.
Classes ending in 4 & 9, your Reunion is next up on Nov 2, 2019!
---
Class of 1976 Gathers for Birthday Celebration
The Stanner Alumni Center would like to thank and congratulate Joe Caraccia and his Class of 1976, who gathered at Vetro Rooftop Restaurant & Lounge in Howard Beach on October 25th to celebrate their collective 60th birthdays. Joe worked alongside John Catania, Gerard Connolly, Robert Heinemann, and John Mullally to bring the Class of 1976 together for the special occasion. The evening included a delicious dinner, a 50/50 donation raffle, and plenty of time to reminisce.
"Non scholae sed vitae is how 'Celebrate 60!' came to be! Life passes so quickly, but thanks to an idea by Gerard Connolly; John Catania, John Mullally and I got together with the intent of holding a 60th birthday party for all of our 1976 Stanner brothers who turn the big six-oh this year," said Joe Caraccia. "We had almost 30 men and 11 wives come together to 'Celebrate 60!' Some of us either see or speak to one another a few times a year, however, for many of the attendees, this was their first connection back to those glorious 4 years at Molloy, and it felt so natural to be together! The event was nothing short of spectacular, and we were even able to raise over $1,600 for Molloy. We encourage every subsequent year to 'Celebrate 60!' as well," said Joe.
Thank you to the Class of 1976 for making this Mini-Reunion happen, and thank you for your kindness and generosity!
Big Group Photo | Standing Row: Joe Garafola, John Mullally, John Garretto, Larry Chiarelli, Class of 77'er, Bobby Heinemann, Peter Muratore, Kevin Reina, Bill Lynch, Randy Caden, John Catania, Nestor Danyluk, John Boomer, Danny Delargy, Gene Domanico, Joe Nestola, Neil Mulhall, Rob Serio, Larry Vedilago. | Kneeling: Frank McKenna, Fred Sganga, Mike Cavataio, Matt Ackert, Victor Cruz, Gerard Connolly, Stephen Schaefer. | Front and Center: Joe Caraccia
---
Dr. Adam L. Young Serves as Guest Lecturer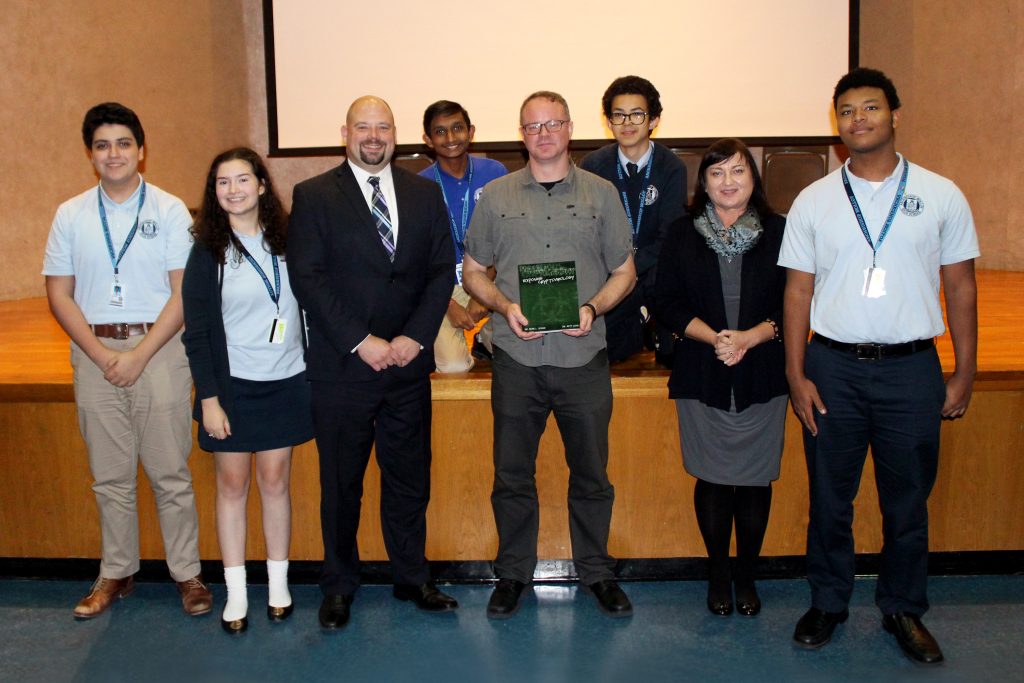 Students and alumni enjoyed a special presentation on October 24th, as Dr. Adam L. Young (pictured center) provided a guest lecture titled Cryptovirology and the Birth of Ransomware. This event was made possible thanks to the efforts of computer science teacher Ms. Edit Boral (pictured second from right) as well as growing interest in Molloy's expanding computer science program.
Dr. Young initiated the area of study known as Cryptovirology in 1996 with Moti Yung at Columbia University. Cryptovirology is the study of the applications of cryptography to malicious software. He is co-inventor of the secure data kidnapping attack known as Ransomware. He is also co-inventor of the discrete-log kleptogram, a backdoor Trojan horse attack. Dr. Young co-authored the book Malicious Cryptography with Moti Yung, which was published by Wiley in 2004. Dr. Young received a BS in Electrical Engineering from Yale University in 1994, an MS in Computer Science from Columbia University in 1996, and a PhD in Computer Science in 2002 awarded with Distinction by the Columbia University Graduate School of Arts and Sciences.
Dr. Young acknowledged that Ransomware is a threat to users of computer systems worldwide, but he and Moti Yung published their findings as a way to warn and prepare users about this inevitable danger of technology. "Cryptovirology is the proactive anticipation of attacks against computer systems and networks. We look at how to develop ways to protect people against these types of [Ransomware] attacks. That's the justification for doing this type of research," said Dr. Young.
Thank you again to Dr. Young, Ms. Boral, and all of the alumni and students who came out to support the lecture!
---
2019 Scholarships for Academic Excellence
PRESS RELEASE – Briarwood, NY – The 2019 Scholarships for Academic Excellence are awarded by The State Education Department, The University of the State of New York in Albany. These scholarships, formerly known as the New York State Regents Scholarships, may be utilized to help offset tuition costs at 4- year New York State colleges and universities.
This school year, Archbishop Molloy High School has been invited to nominate 8 students for these scholarships. The nominations are determined by students' academic standing and cumulative career averages at the end of junior year. The students who are eligible for, and whose names have been submitted for, these scholarship awards are as follows:
$1,500 per year: Mahema Somdat

$500 per year: Andrew Visceglia, Stephanie Szpylka, Kimberly Loyer, Geraldine Ciaccio, Vanessa Marku, Sydney Bryant, and Jane Romero.
---
Congrats JV Soccer Champs, All-League Tennis Players!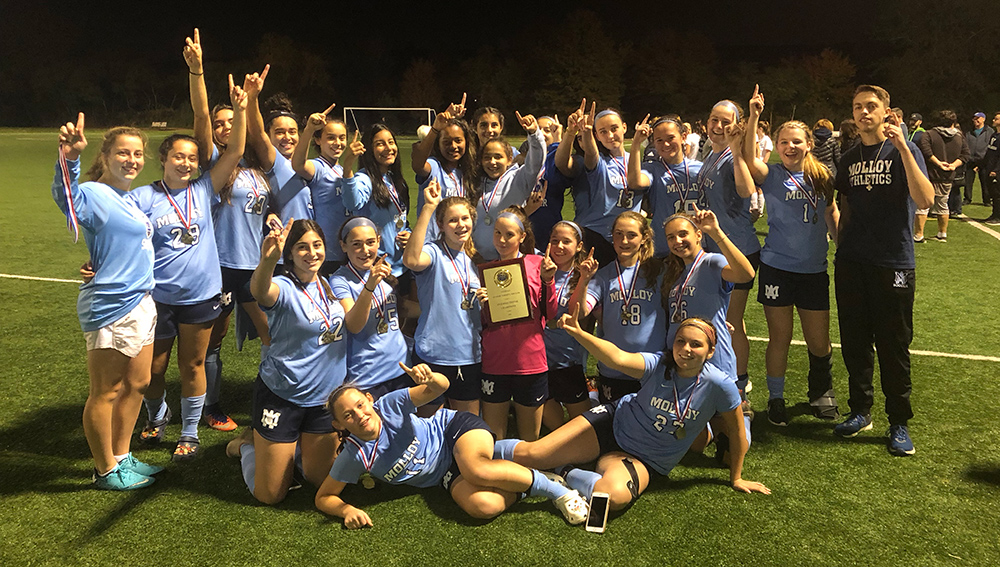 Congratulations to Molloy's girls JV soccer team, who captured the coveted city championship with a 3-1 win over St. Joseph by the Sea High School! Molloy's three goals were scored by the outstanding trio of Brooke Leahy '22, Caterina Fox '21, and Ava Doreste '22.
Two of Molloy's varsity tennis players have been named to the 2018 All League Varsity Tennis Team. Kaitlyn Mendoza '22 and Emily Mauro '21 received certificates commemorating their outstanding performances this season. Kaitlyn and Emily were a big part of Molloy's run to the B/Q championship game versus The Mary Louis Academy. Also this season, Kaitlyn won the CHSAA Singles Championship, meaning she was the overall winner in Brooklyn/Queens, and Nassau and Suffolk Counties. Kaitlyn represented the CHSAA in the State Championship Tournament. Kaitlyn and Emily are pictured right with Principal Darius Penikas, Coach Don Mooney, and President Richard Karsten '81.
---
Track & Field News & Notes
by Charles Stravalle '20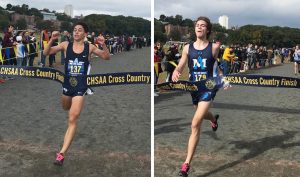 It was a terrific weekend for the Stanners up at Van Cortlandt Park during the NYCHSAA/BQCHSAA championships. The freshmen did very well placing fifth in the city and first in Brooklyn/Queens. The freshmen had a total score of 129 points. Freshman Jeremiah Dorsey '22 placed in the top twenty with a time of 9:37. The JV team also had a very good weekend as they placed third in the city and first for Brooklyn/Queens. The JV boys had a score of 54 points. Senior Christopher Marina '19 won the race with a time of 14:18, which propelled the JV team to come out on top. On the varsity side, the Stanners placed second in the city and first in Brooklyn/Queens with a score of 53 points. Senior James Loeffel '19 won the varsity race with a time of 13 minutes flat. The Stanner freshmen, JV, and varsity teams are all Brooklyn/Queens Champions!
In addition to the B/Q Championships, the Stanners recently competed in the Brown Northeast Cross Country Invitational. Click the following links for all the results and photos: Results | Photos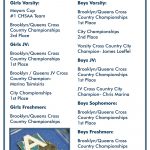 Click the thumbnail above for a list of results from our outstanding Cross Country season thus far.
---
Faculty Updates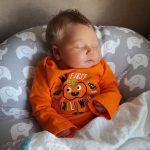 Congratulations to English teacher Ms. Kelly Edelman, who welcomed her daughter Mary Margaret Tulley into the world on October 28th. Mary was born at 8lbs 14oz and 20.5 inches. We are happy to report that mom, dad, and baby are all healthy and happy in the days since.


Cross Country Alumni Race – THIS WEEKEND!
When: Saturday, November 10, 2018
Where: Van Cortlandt Park (Bronx, NY)
Who: Track & Field Alumni
Contact: Frank Gambino '74
***Note: The date listed on the registration form is incorrect. The correct date is listed above. The form will confirm you for this year's race.
All track & field / cross country alumni are invited to run the 2018 Alumni Race over the 2.5 mile course at Van Cortlandt Park on Saturday, November 10, 2018. The race will be held at 12:15pm at the mansion. Race bibs will be available between 10:00am-11:45am at the finish line, and between 11:45am-12:10pm at the starting line. Molloy alumni will be looking to defend their first place finish in the very same race just one year ago (pictured right). After the meet, all runners are invited to "warm down" at the Tortoise and the Hare Bar & Grill.
Click the blue button above and fill out the registration form to sign up. Contact Frank Gambino '74 at fgambino@molloyhs.org with any questions.
---
Thanksgiving Liturgy & Alumni Reception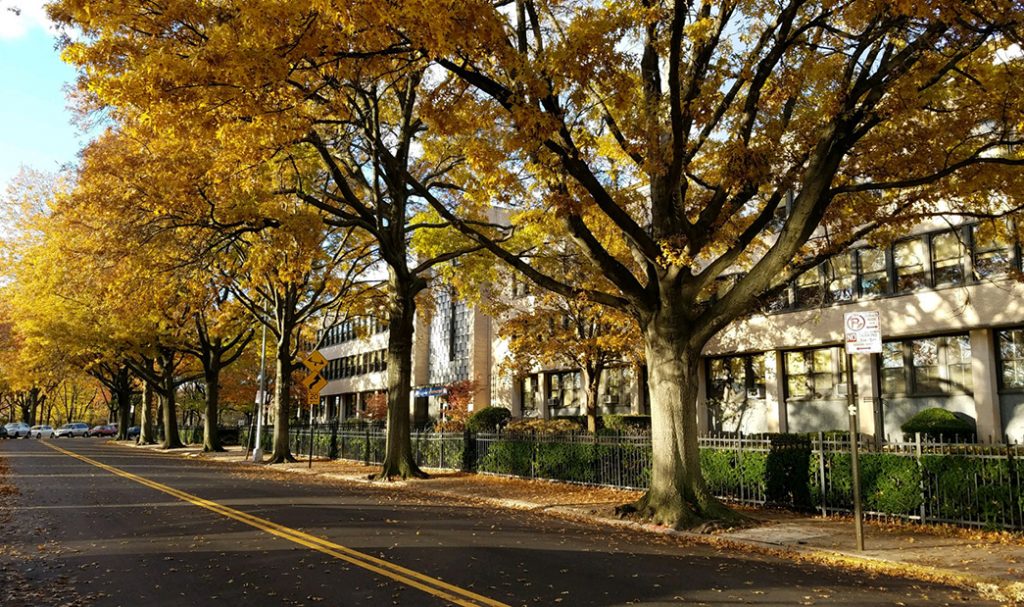 When: Wednesday, November 21, 2018
Where: Molloy's Jack Curran Gym & Student Cafeteria
Who: Alumni, Family Members & Friends
Alumni, family members, and friends are invited to join us on Wednesday, November 21st as we celebrate our annual Thanksgiving Liturgy in the Jack Curran Gym. Following our Liturgy, all alumni and guests are invited to enjoy a light reception featuring cookies and hot chocolate in the student cafeteria. Faculty and staff have also been invited to join us at the reception to help welcome our alumni home. Please note the following schedule of events when making your plans for the day:
10:00am – Suggested arrival for alumni, family members & friends.
10:45am – Thanksgiving Liturgy begins.
12:00pm – Alumni/Guest Reception in cafeteria.
---
Women at Work Panel –

All Welcome!
Click flyer for all the details!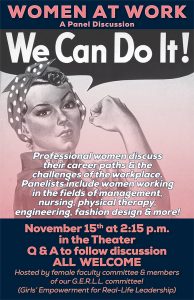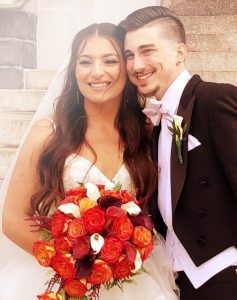 Congratulations to Matthew Morgado '08 and Lisa Diodato '09, who were married on October 13th at St. Mary Gate of Heaven RC Church in Ozone Park. A reception in celebration of their vows took place at Stonebridge Country Club.
Matt has served as Information Technology Coordinator at Molloy since 2014.
---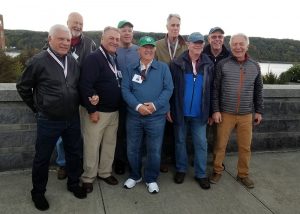 In October, members of Molloy's Class of 1964 attended their 50th college reunion at Marist College. Pictured front row left to right: Joe Napoli, Mike Santimauro, Paul Hickey, Steve Allen, and Rich Guglielmo. Back row: Rich Rowan, Stu Plante, Jeff Kegler, and John Forbes. (Click to enlarge photo)
---
All-American Moses Brown '18 is already impressing his coaches and teammates at UCLA. In his exhibition debut for the Bruins, Moses shot 20 points on 8 of 9 shooting with 13 rebounds and four blocks. His performance was highlighted in the LA Daily News on October 27th. UCLA beat the NYIT Bears 125-73. | Read More
---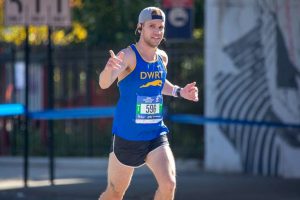 Congratulations to Stephen Bione '07, who finished 99th overall in the NYC Marathon on November 4th. Stephen's time of 2:36:31 made him the fastest runner hailing from Queens! We would love to hear how other alumni and friends did in this year's Marathon! Let us know at alumni@molloyhs.org.
---
Save the date! Tom Pappas '77, also known as "The Baritone From Queens" will perform an evening of jazz alongside Bob Magnuson on sax, Jon Bur on bass fiddle, Takaaki Otomo on piano, and Josh Davis at Kitano Hotel (66 Park Ave, E 38th St, New York, NY 10016) on November 24th. | Tom's Website
---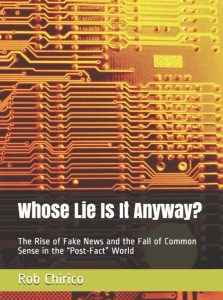 Rob Chirico '70 and co-author Philip Rolstin have written Whose Lie Is It Anyway?: The Rise of Fake News and the Fall of Common Sense in the "Post-Fact" World. The book, published through Amazon, covers the subject of "Fake News" from all angles; from mainstream media and political leaders to celebrities and the Internet. | Product Page
---
Although Henry Gregor '63 could not attend the Stanner Alumni Reunion on November 3rd, he sends his best wishes to his classmates and all who attended. Henry went on to say his spirits continue to be lifted by remaining involved with Molloy, living out our motto, and continuing to honor his late classmate, Medal of Honor recipient PFC Louis Willett '63.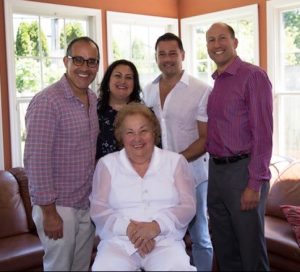 We are saddened to share the passing of Kathleen Gerardi (2/19/35-11/1/18), mother of Paul Gerardi MD '77, Frank Gerardi MD '81, Carl Gerardi MD '85, and Vita Annitto NP (Mary Louis '82).
To honor the memory of Kathleen Gerardi, in lieu of flowers donations can be made to Archbishop Molloy High School. Gifts in memory of Kathleen will directly impact the programs and services at Molloy and continue our mission that began in 1892, a place where "individuals recognize their own self-worth and develop a lifetime of Christian values, critical thinking, leadership skills, and service to others."
Donations in honor of Kathleen Gerardi should be made out to:
Archbishop Molloy High School
Stanner Alumni Center
83-53 Manton Street
Briarwood, NY 11435
For further information or help, please contact the Stanner Alumni Center at 718.441.9210, email Craig Katinas at ckatinas@molloyhs.org, or to make a gift online please go to www.molloyhs.org/donate/.
---

Please pray for the repose of the soul of Jefferson C. Rowland '01.

Please pray for the repose of the soul of John H. Moran '83.

We are saddened to share the passing of Gary Faraone '86 on October 30, 2018. Visitation services continue today, November 2nd, from 2-4PM and 7-9PM at New Hyde Park Funeral Home (506 Lakeville Rd, New Hyde Park, NY 11040). A Mass of Christian Burial will take place Saturday, November 3rd at St. Catherine of Sienna at 9:30AM (33 New Hyde Park Rd, Franklin Square, NY). Please keep Gary in your prayers. | Additional Information

We pray for the repose of the soul of the father of Dr. Frank Antonino '74, Jerry Antonino '79 and Dominick Antonino '83.

We are saddened to share the passing of Roland A. Cadicamo, father of Steven Cadicamo '77, on October 25th. Roland was a sergeant in the United States Army during the Korean War and a Purple Heart recipient. He recently celebrated his 64th wedding anniversary in September. Roland was the youngest of ten children and is survived by his wife, two sons, one daughter-in-law, one granddaughter, and two surviving sisters, as well as many nieces and nephews. Please keep Roland and the Cadicamo family in your prayers.

Please pray for the repose of the soul of Michael Vigiolto, father of Ryan Vigiolto '15. A wake will be held Wednesday, November 7th at Walsh-LaBella & Sons from 4-8pm (70-17 Cooper Ave, Glendale, NY 11385). A Funeral Mass will be held at St. Pancras Church in Glendale on Thursday, November 8th at 9:30am.