Prayers for Kenny Anderson '89 and a Speedy Recovery
We ask the Molloy community to join us in prayer for Kenny Anderson '89, who is recovering after suffering a stroke on February 23rd. According to the NY Daily News, Kenny has been released from the hospital, and a family member has shared that he is resting and improving. We wish Kenny a very speedy recovery.
Kenny Anderson was a major part of many tournament wins and back to back City Championship teams at Molloy ('85-'86, '86-'87). He was a four-time Parade All-American and the second overall pick in the 1991 NBA Draft. Kenny enjoyed an exciting 15 year career in the NBA (1991-2005) playing for the Nets, Hornets, Trail Blazers, Celtics, SuperSonics, Pacers, Hawks, and Clippers. He amassed 10,789 points, 2,641 rebounds, and 5,196 assists during his professional career. More recently, Kenny starred in a documentary about his life called Mr. Chibbs (2017), and in 2018 was named head coach of men's basketball at Fisk University in Nashville.
---
Champagnat Society Volunteers During Winter Break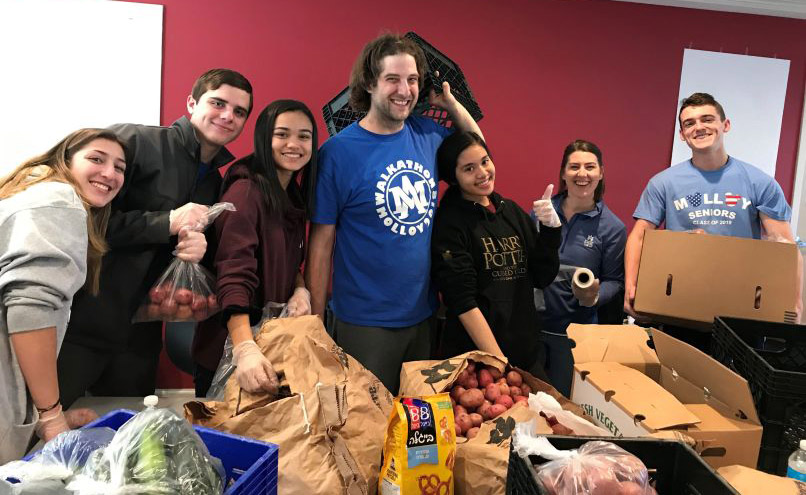 Over winter break, students in Molloy's St. Marcellin Champagnat Society (SMCS) volunteered during their vacation time to help out at the Ronald McDonald House of Little Neck and the Forest Hills Food Bank.
At Ronald McDonald House, students cooked and served brunch to families with children who were staying in the adjacent hospital. Ronald McDonald House opens their doors to these families rent-free while their children are receiving care at the hospital. 11 Stanners set up a buffet and served up eggs, bacon, sausage, toast, bagels, and more.
The next stop was the Forest Hills Food Bank. The SMCS crew prepared many bags of assorted vegetables for pickup. Students rotated between the packing room, fulfilling online orders, and assisting with pick-ups.
"The two trips were both excellent," said Mr. Brian Klimas '98, an SMCS moderator who coordinated both visits. "The kids had an awesome time and they said they can't wait to go back. We are looking at dates this spring." Ms. Sabina Kobinski '04, an SMCS faculty volunteer, said that "the food pantry was a great experience, and I love that our students were able to interact with the neighborhood residents." Br. Pat Hogan, one of the founders of SMCS, was proud of the society's recent charitable efforts. "What a great experience for Molloy students. It is one more chance for the St. Marcellin Champagnat Society to get involved locally. What a gift to the student body." (Photos courtesy of SMCS)
---
Molloy Installs New Digital Intercom System
A new modern two-way intercom system has been installed throughout our campus. The new system provides improved and instantaneous communication between classrooms, the Office of Student Life, and safety & security personnel. "The new intercom system has many state-of-the-art features," said President Richard Karsten '81. "Common areas like hallways and rooms with telephones have one-way speakers, while classrooms have the capacity for two-way communication. The digital alert feature allows emergency notifications to be pushed to each classroom and our 1,725 iPads in the building." Announcements through the system are crystal clear. "The installation of this system was a massive undertaking," said President Karsten. "New hardware, cables, and software integration was necessary throughout the building. I thank our IT department, facilities staff, and everyone who helped make this a reality."
The addition of the two-way intercom system is part of Molloy's larger, ongoing effort to improve communication and security. In addition, Molloy recently expanded its video camera and monitoring capabilities. The number of cameras around school has grown from 32 to 59, while all cameras record in hi-definition. Molloy's Director of Security & Safety and Security Officers, as well as members of our administration, all have access to the monitoring system, creating a collaborative effort to create the safest environment possible for Molloy's students and staff.
---
Yale Women's Chorus to Visit Molloy Later This Month
The Yale Women's Chorus / A Capella Group known as Something Extra is scheduled to perform at Molloy during Spirit Week on Wednesday, March 13th. Members of the group will meet and speak with students interested in applying to Yale, as well as to chorus and music students. The group is also slated to perform for students and faculty after school. Something Extra sought out Molloy as one of their preferred high schools to visit and are said to be extremely excited about this opportunity! Founded in 1977, Something Extra has performed on US television and live throughout the US and Europe. Their portfolio includes everything from contemporary pop and jazz, to indie rock and folk. Learn more about Something Extra or see live performance videos at somethingextrayale.com. (Photo courtesy of Something Extra)
---
Winter Sports Update
---
Remembering PFC Louis Willett '63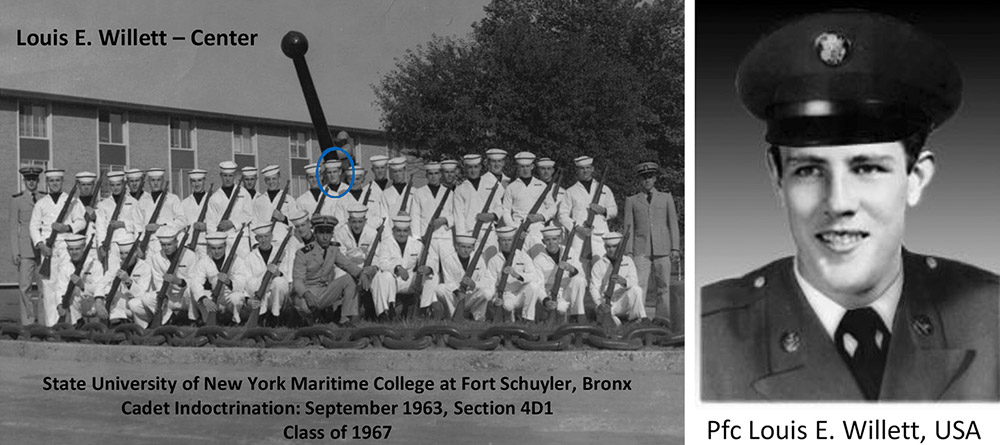 February 15th marked the 52nd anniversary of Private First Class Louis Willett's (AMHS Class of '63) courageous acts on the battlefield in Vietnam. On February 15, 1967, PFC Louis Willett made the ultimate sacrifice while protecting the other members of his platoon from heavy enemy fire. PFC Willett, while mortally wounded, returned fire on enemy forces and provided ample opportunity for his platoon to retreat to safety. PFC Willett was later posthumously awarded the Medal of Honor, which is the US Military's highest distinction. PFC Willett remains the only Stanner to receive this honor. | Learn more or read PFC Louis Willett's official Medal of Honor Citation
---
Br. Pat Hogan Thanked
The Marist Brothers Center at Esopus Board met in Forest Hills earlier this week. During the meeting, the Board thanked Br. Pat Hogan and Mr. Francis Curley for their many years of service to the camps at Esopus. Pictured are Br. Pat and Mr. Curley.


Molloy Blood Drive
Molloy's annual Blood Drive, sponsored by the New York Blood Center (NYBC), is scheduled for this coming Tuesday, March 5th from 8am-2pm in the Jack Curran Gym. Alumni and parents are invited to join our students and faculty in giving the gift of life. According to the NY Blood Center, one in three people will need a blood donation sometime during their lives, and with blood lasting only 42 days, donations remain critically important throughout the year. No advanced signup is required. Click the following link for more information on criteria for eligibility. | Download NYBC Brochure
IMPORTANT: The NY Blood Center recently declared a blood emergency. All blood types are needed! Download the following PDF file to read more about the blood emergency: Blood Emergency Notice
---
Meet the Authors: Billy Mitaritonna '90 & Rich O'Malley '93

The authors have suggested that in lieu of an admission fee donations can be considered for Molloy's Donald Sweeney '90 Guidance Department Fund.
Join us on Thursday, March 7th at 6:30pm for "Meet the Authors" night sponsored by Showcase Kitchens and John Starck '90. The evening will feature an intimate conversation with two alumni authors, a Q&A, and a light reception. The theme of the evening is sports and how following your dreams requires patience and perseverance. Learn more about the authors, Billy Mitaritonna '90 and Rich O'Malley '93, on our event page (click button above).
---
Stanner Hall of Fame Induction Dinner – 3 Weeks Away!

The Molloy community is invited to attend the 2019 Stanner Hall of Fame Induction Dinner. Our new inductees have exhibited strong moral character, outstanding professional achievement, service to their community, and loyalty to alma mater. The Stanner Hall of Fame Selection Committee has agreed that these individuals embody the values reflected in our motto, Not for school but for life: Br. Patrick Hogan, FMS; Chief Peter Hayden '64 (FDNY); Lt. John "Jack" Gremse '68 (FDNY); Major General Patrick Gallagher '64 (USAF); and Whitey Rigsby '74. | CLICK HERE to read more about our Class of 2019 Inductees
Also on March 23rd, Molloy will dedicate classroom 318 in Ms. Mary Pat Gannon's honor. Former students of Ms. Gannon are invited to come out and support our beloved Ms. Gannon as we recognize her 44 years of service to Molloy.
*UPDATE: We previously promoted that Mr. John Diorio would be in attendance for the dedication of his classroom. Due to unforeseen circumstances, Mr. Diorio is unable to attend. Molloy plans to dedicate classroom 312 to Mr. Diorio during another upcoming event. More details are coming soon. We apologize for any inconvenience.
---
33rd Annual Jim Kinnier Stanner Golf Classic
Download your printable invitation/reservation form here or clicking the image to the right.
Archbishop Molloy High School is proud to present the 33rd Annual Jim Kinnier Stanner Golf Classic on Monday, May 6, 2019. Since 1987, the Stanner Golf Classic has raised over $2 million in support of Molloy's scholarship program, which impacts academically gifted students as well as those in need of critical financial support. Your participation makes a meaningful difference in the lives of our students. Find out how you can reserve a spot for your foursome, sponsor a journal ad, purchase raffle tickets, make a gift, or donate auction prizes! Contact Alumni Development Officer Matt Rizzotti '04 for details (see information above).
---
Molloy's First Annual Fashion Show
Archbishop Molloy High School is proud to announce its first annual Fashion Show. This event will be the initial fundraiser for Molloy's Girls' Leadership Scholarships. The Girls' Leadership Scholarships will enrich the school community by helping attract the best and brightest young women to our Molloy family. Recipients will benefit from Molloy's mission to provide its students with Christian values in the Marist tradition, critical and analytical thinking, and leadership skills that serve all our students "Not for school, but for life."
The theme for the event is Dress for Success. The program includes a DJ, dancing, and full brunch. Valet parking and coat check are complimentary. There will also be a Silent Auction, Gift Basket Raffles, and a 50/50 drawing. See our registration form (click button above) for tickets or for more information.
---
St. Ann's Communion Breakfast – NEW DATE*
The Stanner Alumni Center welcomes St. Ann's Academy alumni, Molloy Grads from the Classes of 1960-1968, family and friends to join us on Sunday, June 2nd for our St. Ann's Communion Breakfast. This event is an annual celebration of our roots at St. Ann's, which opened its doors at Lexington Avenue and 76th Street in 1892. Our program includes Mass celebrated here at Molloy, followed by a buffet breakfast. Save the date! Contact Joe Sommo '03 for more information (see above).
*NEW DATE: The date of our St. Ann's Communion Breakfast has been updated to Sunday, June 2, 2019. Please disregard previously published dates. We apologize for any inconvenience.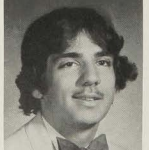 Congratulations to Joe Caruana '78, who has been selected by the people of Queens to be the Deputy Grand Marshal in the 44th annual St. Patrick's Day Parade in Rockaway Beach on Saturday, March 2, 2019. The parade kicks off at 1:00pm at Beach 129th St and Newport Avenue. The route goes to 116th Street, then down Rockaway Beach Boulevard to St. Camillus. If you plan to attend, be sure to show Joe your support!
---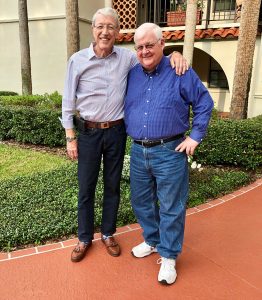 Charlie Flood '68 shared a photo from his recent visit with John Sherry '61 in Winter Park, Florida. The old friends reminisced and shared stories and many laughs. Charlie and John said they are both in great spirits and were very happy to reunite.
---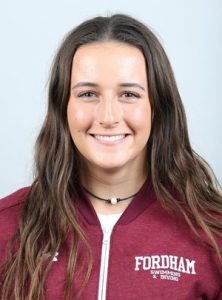 Natalie Ortof '18 was a four-year varsity diver at Molloy who set the CHSAA freshman diving record. Away from Molloy, Natalie also made a name for herself in gymnastics. She was crowned 2016 NY State champion in the balance beam, and 2015 Region VI champion in the vault. Natalie is now finding success on the active roster of Fordham University's Women's Swimming and Diving Team. Natalie also has plans to major in Marketing. (Photo courtesy of Fordham University Athletics) | Source
---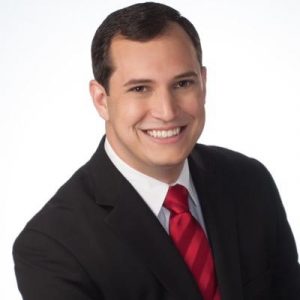 Kurt Semder '01 is a Sports Anchor and Reporter at News 12 The Bronx and News 12 Brooklyn. Previously, Kurt worked as a Sports Anchor with News 12 Long Island and as a Sports Director with WLNY-TV 10/55. Kurt is a graduate of Syracuse University and earned his BA in Broadcast Journalism from the S.I. Newhouse School of Public Communications. Follow Kurt on social media using the following links. | Source | Instagram | Twitter | (Photo courtesy of Kurt Semder)
---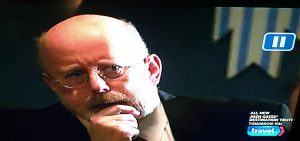 Paul Galbraith '74 was recently featured in the TV series Mysteries at the Museum on the Travel Channel. The episode is titled "Texan Wins Moscow", and Paul plays a Russian music judge during a segment about Harvey Van Cliburn Jr. Cliburn was an American who won an international Tchaikovsky competition in Moscow during the Cold War in 1958.



Please pray for the repose of the soul of John Patrick Casey '57, who passed away on February 15th.

Please pray for the repose of the soul of Charles F. Boyd '48, who passed away August 28, 2018. Ms. Mary Carroll shared that Charles, "was always proud of his Stanners."