Stanner Hall of Fame Induction Dinner –

Next Week!

PLEASE REGISTER BY MARCH 19TH.
When: Sat, March 23rd (See Event Page for Times)
Where: Archbishop Molloy High School
Who: Molloy Community
Admission: $100 per person
Contact: Matt Rizzotti '04 | mrizzotti@molloyhs.org | 718.441.9210
REGISTRATION NOW CLOSED
We welcome the Molloy community to come out and support our Stanner Hall of Fame Class of 2019 next week during a special dinner gala. Our new inductees have exhibited strong moral character, outstanding professional achievement, service to their community, and loyalty to alma mater. The Stanner Hall of Fame Selection Committee has agreed that these individuals embody the values reflected in our motto, Not for school but for life: Br. Patrick Hogan, FMS; Chief Peter Hayden '64 (FDNY); Lt. John "Jack" Gremse '68 (FDNY); Major General Patrick Gallagher '64 (USAF); and Whitey Rigsby '74. | CLICK HERE to read more about our Class of 2019 Inductees
Also on March 23rd, Molloy will dedicate classroom 318 in Ms. Mary Pat Gannon's honor. Former students of Ms. Gannon are invited to come out and support our beloved Ms. Gannon as we recognize her 44 years of service to Molloy.
UPDATE: Due to a scheduling conflict, Molloy plans to dedicate classroom 312 to Mr. Diorio during a different upcoming event. More details coming soon.
---
33rd Annual Jim Kinnier Stanner Golf Classic
When: Monday, May 6, 2019
Where: North Hills, Plandome, North Hempstead Country Clubs
Who: Alumni, Parents, Friends
Contact: Matt Rizzotti '04 | mrizzotti@molloyhs.org | 718.441.9210
More Info: www.molloyhs.org/golf/
REGISTRATION NOW CLOSED
Download your printable invitation/reservation form here or clicking the image to the right.
Molloy is proud to present the 33rd Annual Jim Kinnier Stanner Golf Classic on Monday, May 6, 2019. Since 1987, the Stanner Golf Classic has raised over $2 million in support of our scholarship program, which impacts academically gifted students as well as those in need of critical financial support. Your participation makes a meaningful difference in the lives of our students. Find out how you can reserve a spot for your foursome, sponsor a journal ad, purchase raffle tickets, make a gift, or donate auction prizes! Contact Alumni Development Officer Matt Rizzotti '04 for details.
---
Molloy's First Annual Fashion Show – Last Call!
When: Sunday, March 24, 2019 | 12:00 PM
Where: The Inn at New Hyde Park (214 Jericho Turnpike)
Who: Molloy Community
Admission: See Registration Form for Ticket Info
Contact: alumni@molloyhs.org
REGISTRATION NOW CLOSED
Last Call for Molloy's first Fashion Show! This event is the initial fundraiser for Molloy's Girls' Leadership Scholarships. The Girls' Leadership Scholarships will enrich the school community by helping attract the best and brightest young women to our Molloy family.
The theme for the event is Dress for Success. The program includes a DJ, dancing, and full brunch. Valet parking and coat check are complimentary. There will also be a Silent Auction, Gift Basket Raffles, and a 50/50 drawing. See our registration form (click button above) for tickets or for more information.
---
Click the flyer below for information about the upcoming Firefighter Michael J. Cawley Memorial Foundation 18th Annual Benefit.

---
St. Ann's Communion Breakfast
When: Sunday, June 2, 2019 | 10:30AM
Where: Archbishop Molloy High School
Who: St. Ann's & Molloy Alumni, Family & Friends
Contact: Joe Sommo '03 | jsommo@molloyhs.org | 718.943.3148
REGISTRATION NOW CLOSED
The Stanner Alumni Center welcomes St. Ann's Academy alumni, Molloy Grads from the Classes of 1960-1968, family and friends to join us on Sunday, June 2nd for our St. Ann's Communion Breakfast. This event is an annual celebration of our roots at St. Ann's, which opened its doors at Lexington Avenue and 76th Street in 1892. Our program includes Mass celebrated here at Molloy, followed by a buffet breakfast. Save the date! Contact Joe Sommo '03 for more information.


Download Our Annual Giving Report for 2017-18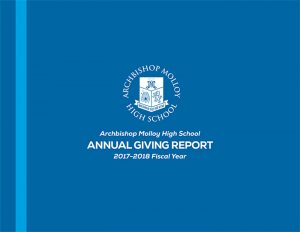 The Stanner Alumni Center is pleased to share Archbishop Molloy High School's Annual Giving Report for the 2017-18 fiscal year. Molloy's fiscal year runs from September 1st through August 31st of the following year. Our school community supports a wide range of scholarships, technology enhancements, facility upgrades and renovations, and other campus priorities through their generous annual gifts. When you give to Molloy, you enhance our Catholic Marist mission and create opportunities for students to achieve their goals. It is your example that encourages others to give. Depending on the amount or designation of your gifts, we are very pleased to induct our benefactors into the giving societies within this Annual Giving Report. Giving Reports from 2010 through 2017 are available on our website. For donor information prior to the 2010-11 fiscal year, please contact the Stanner Alumni Center at 718.441.9210.

---
90s Grads the Stars of "Meet the Authors"
On Thursday, March 7th, Molloy proudly welcomed two Stanner authors for a special "Meet the Authors" event. Billy Mitaritonna '90 and Rich O'Malley '93 were the stars of the evening, each showcasing their new sports-themed books. Billy and Rich talked about their work and answered questions from the audience.
Billy is the author of Last of the Redmen, a memoir chronicling his relationship with his father, Angelo, and his love for and career playing basketball. The story includes the '93-'94 season when he walked-on in the Big East with St. John's University. Coach Jack Curran is also a major part of Billy's story. "The experience of coming back to Molloy brings back so many memories. To go back to the Jack Curran Gymnasium was special. I spent a lot of time there and I felt comfortable despite never playing a minute of high school basketball," said Billy. "It was so much fun to be back at Molloy to share stories about high school and Last of the Redmen. Thanks to Craig Katinas '93 for hosting this event for us."
Rich is the author of One Lucky Fan, which follows Rich on his journey to visit at least one home game of all 123 teams in the NFL, NHL, NBA and MLB over 25 years. "It was both exciting and comforting to return to the place where the writing bug first bit me, the halls of Molloy, and chat about the fulfillment of a dream I've had ever since: writing my own book," said Rich. "To be surrounded by friends and classmates, and to share the stage with Billy, whose tale is similar to mine in his reaching for the stars, made it all the more special. I want to especially thank fellow Class of '93er Craig Katinas for putting Billy and I together and organizing the event."
We invite all Stanner authors to share their latest work with us! Email alumni@molloyhs.org with details about your book(s).
---
Updates on Kenny Anderson '89 & Br. Bob Andrews
In our last Beehive, we reported that former NBA All-Star Kenny Anderson '89 was recovering after suffering a stroke. Kenny continues to recuperate and is undergoing rehabilitation. Kenny's wife, Natasha, released the following statement: ""We would like to thank everyone for reaching out on behalf of Kenny. Our family is extremely grateful for all the prayers and love that we have received over the last few days. We appreciate you continuing to respect our privacy as Kenny heals." We ask the Stanner community to continue to keep Kenny in their prayers while he continues his recovery. | More Information
In January, we reported that Br. Bob Andrews was recovering following a stroke he suffered in December. Br. Bob continues to improve each day, but he is still in need of your thoughts and prayers as he continues his rehabilitation. If you would like to reach out to Br. Bob either with a visit or a letter, please contact alumni@molloyhs.org.
---
Ash Wednesday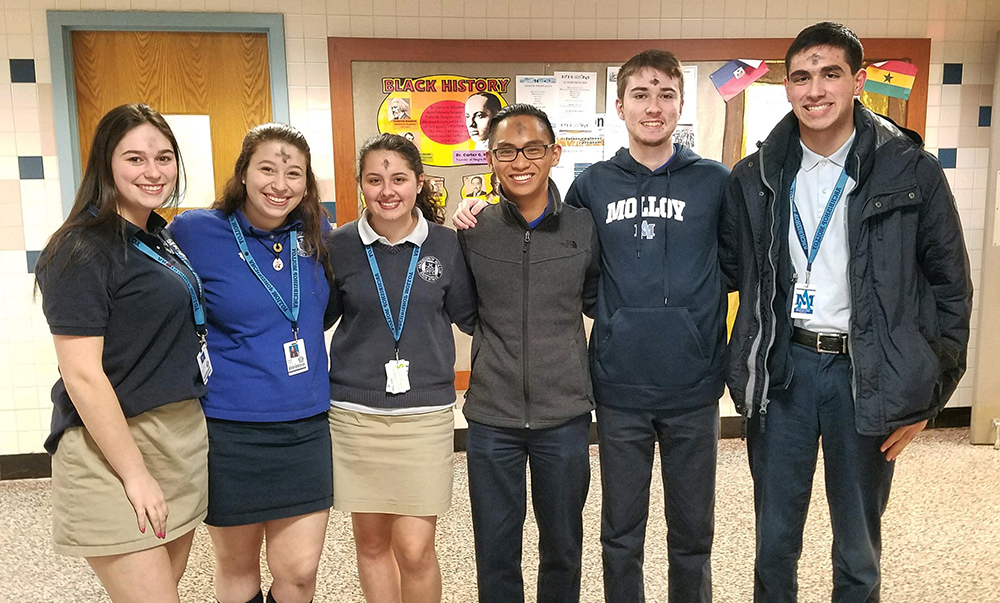 On Ash Wednesday, Molloy students and faculty received their ashes during a Mass held prior to the start of classes. A brief service was also held after school for students who had yet to receive their Ashes. Thank you to our Mr. John Kramer, Mr. Mike Germano, Fr. Anthony Rosado, and the Liturgy Committee for their efforts.
---
International Fair Celebrates Diversity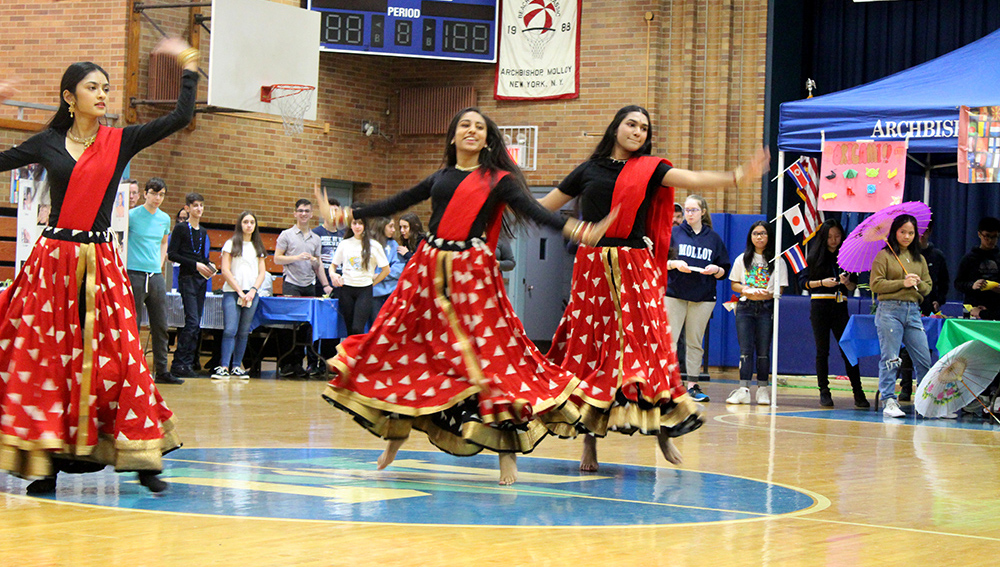 Photos by Ryan Plut '22 & Nyah Balram '19
Molloy hosted its annual International Fair on Sunday, March 10th. The International Fair, previously known as International Day, celebrates the diversity of Molloy's students and families through traditional homemade cuisine, and cultural clothing, dance, and activities. Students represented countries including but not limited to the United States, India, Spain, Greece, Italy, and France, as well as from the United Kingdom, Eastern Europe, and the Caribbean. Each visitor received a passport that was stamped after visiting each country.
"Molloy's International Fair is an important celebration of the traditions and cultures that make up our Stanner community," said President Richard Karsten '81. "Our students and their families had the opportunity to sample many wonderful dishes and witness performances that brought the uniqueness of faraway lands right here to Molloy. We are grateful to all of our students and their families, and to our faculty and staff for supporting this annual tradition." The Beehive extends special thanks to Ms. Dorothy DeNoto and Ms. Jessica Pastore '04, who served as the moderators of this year's International Fair.
---
NYC Science & Engineering Fair
Several Molloy students participated in the preliminary round of the 2019 NYC Science & Engineering Fair (NYCSEF) on March 3rd. The fair, hosted at The City College of New York, showcases the scientific research of hundreds of students from across the five boroughs. These students also enjoy opportunities to network with other NYC high school students and leading STEM professionals. Stanners who participated are all active in Molloy's Science Research program, which is moderated by Ms. Mary Mallia. These students have overseen the entire lifespan of their projects, from conception to fair-ready presentations. Congratulations to the following seniors:
Efecan Balci '19 – Automatic Labeling of Topic Models using Deep Learning
Nicholas Labranche '19 – New Designs in Superconducting Microwave Cavity Resonators
Ashmanie Persaud '19 – Who is a Leader?: Correlations between High School Students and their Perceptions of Leadership
Nikitas Sgantzos '19 – Strength Training: Dropset vs. Conventional
---
Download the Latest Edition of The Stanner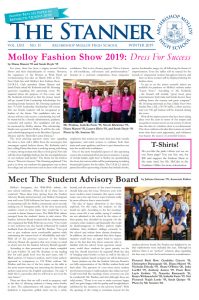 Readers of The Beehive are invited to download a PDF version of the new Winter 2019 issue of The Stanner. Founded in 1944, The Stanner is Molloy's most widely circulated student-run print publication. Topics range from school news, to senior and teacher spotlights, to sports, politics, movie reviews, pop culture, and anything else the staff considers relevant to the lives of teens today. Visitor our website at www.molloyhs.org/stannernewspaper/ to download the winter 2019 edition. Volumes from the past few years and select archives are also available for download.
---
Blood Drive Results
Thanks to the generosity of our students and faculty, the NY Blood Center collected 116 units of blood during Molloy's Blood Drive on March 5th (exceeding last year's total of 103). It is estimated that these units will save the lives of up to 348 people. Ms. Maria Gallagher, RN, announced that a record 27 Stanners used the Alyx machine, which is technology that allows donors to give two units of blood. "The NY Blood Center staff complimented our students on how well they conducted themselves, and also said the students who volunteered were extremely helpful," said Ms. Gallagher. Thank you to everyone who donated blood, Ms. Gallagher for coordinating the Blood Drive, and to the NY Blood Center for spending the day at Molloy.
---
Esopus Seeking New Executive Director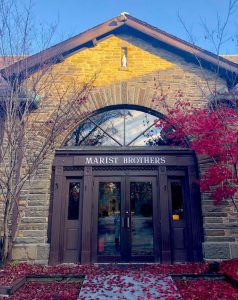 Br. Dan O'Riordan '85, Stanner Hall of Famer and current Vice Provincial of the United States, recently announced that the Marist Brothers Center at Esopus has begun its search for a new Executive Director. Br. Dan also offered congratulations to Br. Owen Ormsby '74, who has served in the role for the past seven years. "All of us in the USA Province are incredibly proud and grateful for the amazing leadership and vision that Br. Owen has displayed over the past seven years in helping to lead and further deepen the mission of the MBCE," said Br. Dan. The Province has established a search committee and released a full job description. Please download or forward the following PDF if you or someone you know might be interested! | MBCE Executive Director Job Description
Thank you to Br. Owen for the hard work he has poured into Esopus for so many years. Esopus has been and will continue to be a cherished safe-haven for countless Stanners thanks to your care. (Photo by Andie Ratilla '20)


Submit Your Update for Next Stanner Life Magazine!
Alumni are invited to submit a brief personal update and photo for publication in the next issue of our annual magazine, Stanner Life. Have you recently landed a new job, switched careers, gotten married, had a child, or met up with a fellow Stanner? Is there a personal or professional accomplishment you'd like to share? We want to hear your Stanner Stories! Send your updates/photos to alumni@molloyhs.org. Please remember to provide captions for your photos. If you or your child recently moved, remember to share new addresses with the Alumni Center so you can be sure to receive your copy of the magazine.
---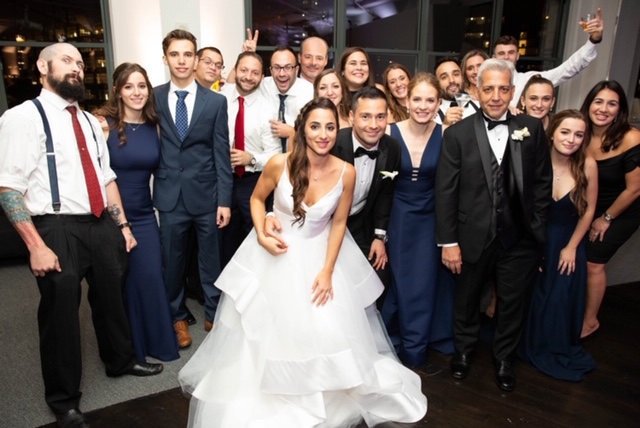 Congratulations to Danielle Olsen-Picerni '04 and Christopher Picerni, who were married on October 19, 2018. Danielle shared a photo from the wedding, which she described as "full of past and present Stanners, including my sisters, brothers, dad, and father-in-law." Danielle attempted to name everyone for The Beehive. From left to right: Matthew Jordan '03, Natalie Jordan '19, Jack Warren '19, Nick Bauer '04, Louis Martinelli '04, Anthony DeVito '03, Anthony Picerni '78, Nicole Siegel '04, Danielle Olsen-Picerni '04, Bridget Marie Heller-Basile '04, Diana Oerzen-Mazzello '04, Natasa Negovan-Martinelli '04, Matthew Olsen '02, Jacqueline Klein '04, Harold Olsen '77, Thomas Culhane '13, Lauren Barbera '17, Christina Jordan '17, and Nicole Matera-Wicelinski '04.



On December 27, 1971, Edward J. Weissenback '60, of Richmond Hill, Queens, was part of a crew aboard a plane headed for Xaignabouli Province, Laos. Edward and his crew were on a resupply mission for the US Agency for International Development during the Vietnam War. While over Laos, communications with the plane were lost. Search and rescue efforts were unsuccessful, and Weissenback and the other three members of the crew were reported missing. On December 20, 2018, the remains of Weissenback, pilot George Ritter, and co-pilot Roy Townley were identified and accounted for. The announcement was made by the Defense POW/MIA Accounting Agency (DPAA) and ended a 47 year search for answers. We ask that you join us in prayer for Edward J. Weissenback and his crew. Please use the following links as additional resources. Thank you to Dan McKnight '70 for informing us of these developments. | Read Full DPAA Announcement | Remembrance by Karen Weissenback Moen (Page 9)