In Memoriam: Brother Michael Fisher, FMS (1948-2019)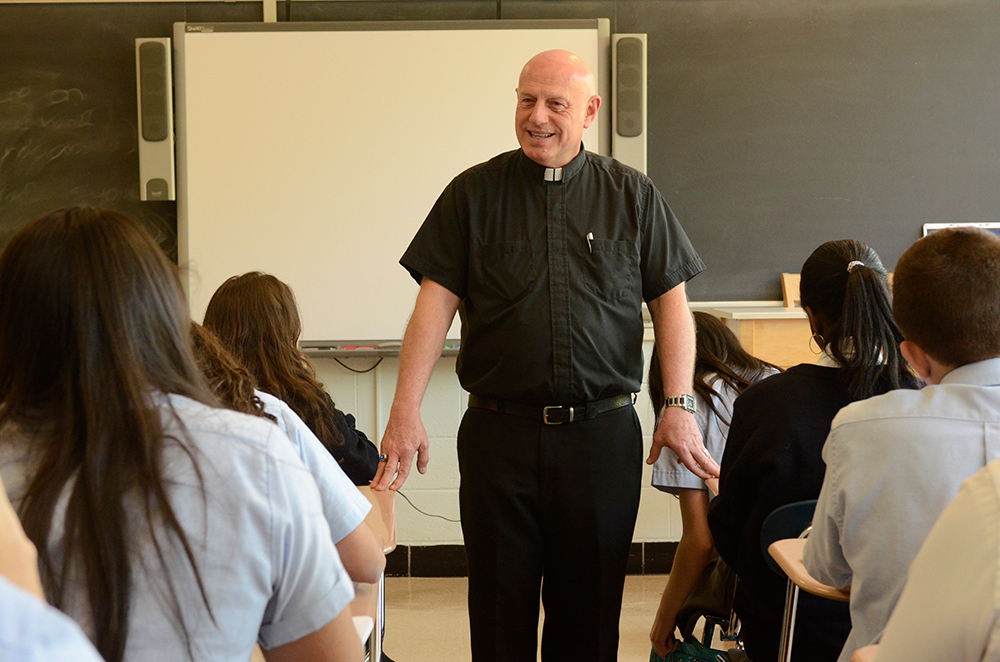 It was with heavy hearts that Archbishop Molloy High School recently announced the sudden passing of Brother Michael Fisher, FMS, on Saturday, May 11th. Brother Michael, a member of the Marist Brothers of the Schools for 55 years, was 71 years old.
Brother Michael was born and raised in Mexico. He became a postulant with the Marist Brothers in 1963 and entered the Marist Brothers Novitiate in Mexico City in 1964. He professed first vows in 1965. After completing his religious and academic studies at the Marist Scholasticate in Queretaro, Mexico, he began his ministry serving as a teacher at Pachuca, Mexico from 1968 – 74. He also served as a teacher at Sauayo, Mexico (1974-76), Colegio Mexico, Mexico City (1976-80), St. Mary's High School, Manhasset, NY, (1984-1990) and at Archbishop Molloy High School in Briarwood, NY. Brother Michael served at Molloy from 1990 until his passing. He also served as Principal / Director at the Marist School in Pachuca, Mexico (1980-84). Brother Michael professed his final vows in 1970. He earned two master's degrees during his years in Mexico.
At Molloy, Brother Michael taught Spanish, moderated varsity soccer (1990-1992), and moderated the Student Activities Committee (1992-1997). Brother Michael is remembered for his faith and commitment to St. Marcellin Champagnat's mission, his inviting classroom demeanor, his professionalism, and his warm sense of humor. He loved and cared for his brothers in our fourth-floor community, his fellow faculty members, as well as the thousands of Stanners he taught. He always brought a smile to our faces.
Brother Michael was the son of Caleb Fisher and Anne (Staffregan). He is survived by his brother-in-law, Enrique Cardona, his sister-in-law, Sandra Cardona, as well as his nieces, nephews, and his Marist Brothers of the Province of the United States. We pray for the repose of the soul of Brother Michael and ask our community to please keep him, his family, his students and colleagues, and the Marist Brothers in their prayers during this difficult time.
We invite you to send your remembrances of Brother Michael Fisher to alumni@molloyhs.org.
Wake:
Friday, May 17th
2:00pm – 5:00pm
Fox Funeral Home
98-07 Ascan Ave
Forest Hills, NY 11375
Funeral Mass:
Friday, May 17th
7:00pm
Our Lady of Cenacle Church
138-06 87th Avenue
Richmond Hill, NY 11418


33rd Annual Jim Kinnier Stanner Golf Classic – New Date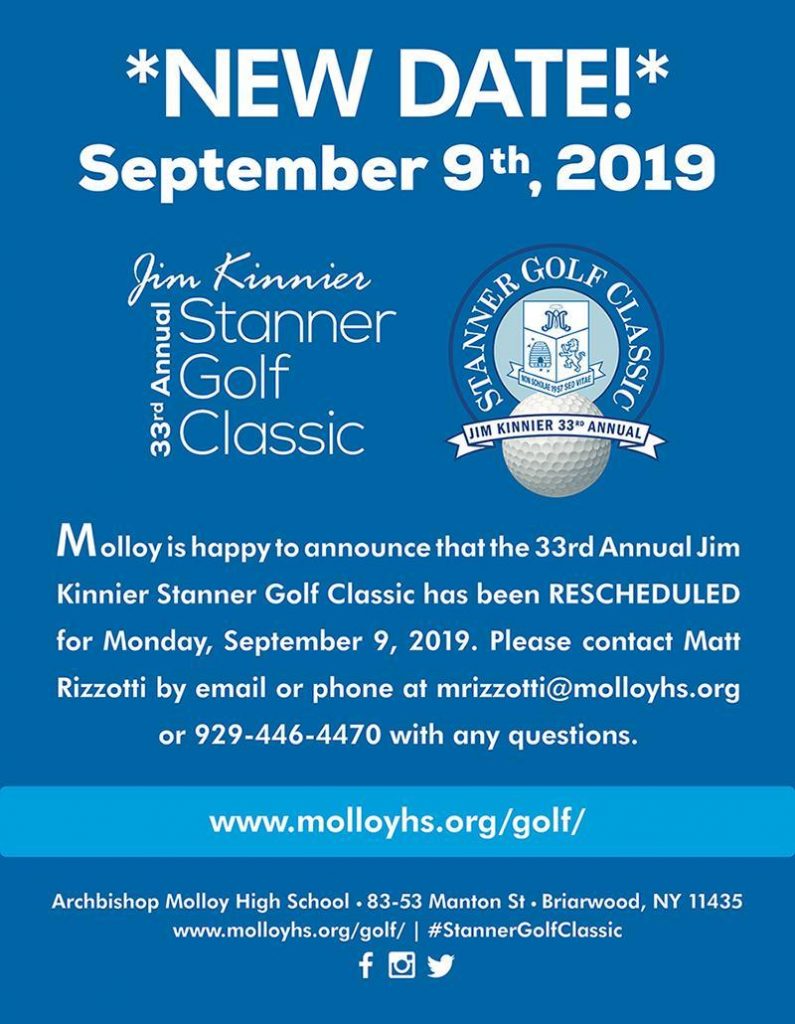 ---
Inaugural Molloy Alumni Education Network Event
When: Wednesday, June 5, 2019 | 5:00pm-8:00pm
Where: Archbishop Molloy High School
Who: Stanners in the fields of Education, Mental Health, Occupational & Physical Therapy
Contact: Joe Sommo '03 | jsommo@molloyhs.org
Admission: Free!
Archbishop Molloy High School is proud to announce its inaugural Alumni Education Network Event on Wednesday, June 5th, 2019, sponsored by the office of President Richard Karsten '81 and the Stanner Alumni Center. Stanners in the fields of Education, Mental Health, Occupational & Physical Therapy are invited to join us at Molloy for a social reception featuring light refreshments and adult beverages. This is a great opportunity to network with other Stanners in your field! Please join us as we establish this new network and work to expand its membership in the coming months.
---
Walk/Run For Karina –

Register Now!
When: Saturday, June 22, 2019
Where: Archbishop Molloy High School
Who: Everyone!
Admission: $25 per person | Kids 12 & Under Free
Contact: Matt Rizzotti '04 | mrizzotti@molloyhs.org | 718.441.9210
We invite the Molloy community to join us on Saturday, June 22nd for our third annual Walk/Run for Karina. Together we will honor the memory of Karina Vetrano '04 with a spirited Walk/Run and 5K Race. The event schedule is as follows:
9:00am – Mass | 10:00am – Light Breakfast | 10:00am-2:00pm – Walk/Run | 10:30am – 5K Race (pizza to follow) | 11-11:15am – Kids Race | 11:30am – Yoga Session
Click the button above to visit the registration page. Family and friends are welcome. If you have any questions please contact Matt Rizzotti '04 (info above). We look forward to sharing this special day with our community.
---
St. Ann's Communion Breakfast –

RSVP Now!
When: Sunday, June 2, 2019 | 10:30AM
Where: Archbishop Molloy High School
Who: St. Ann's & Molloy Alumni, Family & Friends
RSVP to: Merl Doyle | mdoyle@molloyhs.org | 718.441.9210
The Stanner Alumni Center welcomes St. Ann's Academy alumni, Molloy Grads from the Classes of 1960-1968, family and friends to join us on Sunday, June 2nd for our St. Ann's Communion Breakfast. This event is an annual celebration of our roots at St. Ann's, which opened its doors at Lexington Avenue and 76th Street in 1892. Our program includes Mass celebrated here at Molloy, followed by a buffet breakfast. RSVP via phone or email to Merl Doyle (see information above) or online at www.molloyhs.org/events/.


Submit Your Alumni Update for Stanner Life Magazine

The Stanner Alumni Center is currently working on the next issue of our Stanner Life alumni magazine. We are currently seeking your submissions for Alumni Updates. Have you recently enjoyed a personal or professional achievement? Have you gotten married or welcomed a child into the world? Have you bumped into a Stanner recently, or enjoyed a get together with classmates at a mini-reunion? We want to hear about it! Please send your updates to alumni@molloyhs.org by June 15th. Updates should be one paragraph or less and include a relevant photo with a caption. We look forward to hearing your Stanner stories.
---
Read the Spring Issue of The Stanner
The staff at The Stanner newspaper is proud to share their spring issue with you! Click the link below to read student coverage of the latest news and events from around Molloy. Stories include a review of the Stanner Players' spring musical Once Upon A Mattress, highlights from Spirit Week, a recap of Molloy's first Fashion Show, highlights from our Open Mics and Talent Show, information about how students can deal with stress, and more.
Visit The Stanner Homepage | Read The Spring 2019 Issue
Congratulations are also in order as The Stanner recently received a number of awards at The Tablet's High School Press Awards. Molloy earned second place overall in the General Excellence category and received nine awards in total. Congratulations to the following winners:
General Excellence – 2nd Place – The Stanner

Best Photograph – 1st Place – "Stanner Players; The Christmas Carol" by Jennifer Marry '19

Best News Story – 2nd Place – "G.E.R.L.L. Power" by Sarah Doyle '19 and Diana Maneri '19

Best Feature Story – 2nd Place – "Become A Poll Worker ASAP" by Juliana Giacone '19

Best Op-Ed – 2nd Place – "The Non-Existent Future of the Republican Party" by Alexander Gellos '20

Best Column – 2nd Place – "Real Reviews" (Movie Reviews) by Luis Real '19

Best Sports Story – 2nd Place – "Strokes of Victory: Molloy Swimmers Impress Again" by Alex DeFeo '21

Best Multi-Photo Display – 3rd Place – "Stanners Walk With Purpose" by Sydney Bryant '19

Best Front Page – 3rd Place – The Stanner; Winter Issue
---
Seniors Dress Down For College Sweatshirt Day
There may not be many days left on the calendar for our seniors, but the Class of 2019 are doing everything they can to enjoy their last few days of high school. On one recent Friday, our seniors dressed down and wore sweatshirts or hoodies representing the college they'll be attending this fall. Many impressive schools were represented! Check out the photo gallery above for a look at a few of the schools our seniors will be attending.
---
Molloy Hosts STEM Symposium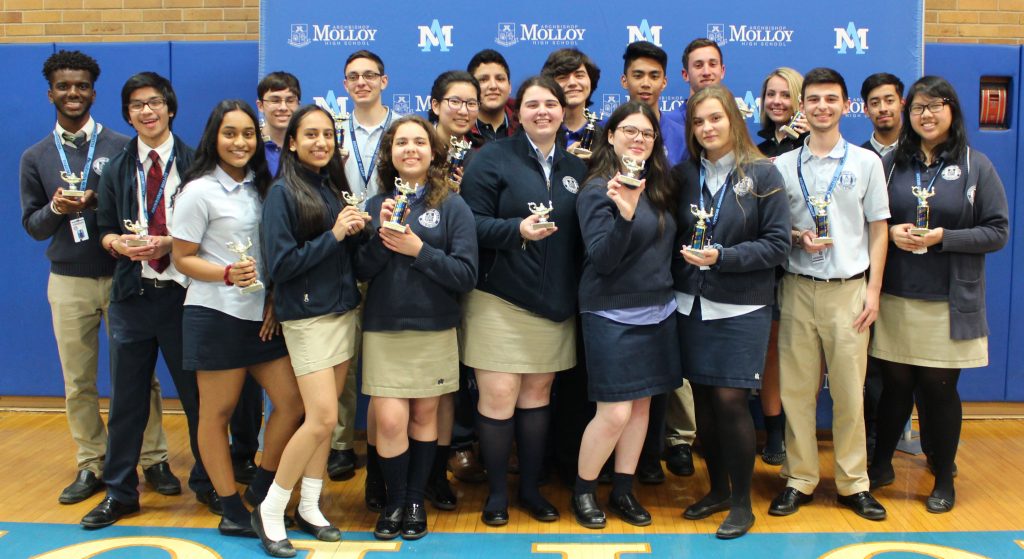 On May 1st Molloy hosted a successful STEM & Science Research Symposium featuring dozens of fascinating student projects. Judges included Christopher Malinowski (LIU Post), Catherine Soderberg Yibirin '07 (Texas Tech Univ. College of Architecture), Ashley Regazzi '04 (Memorial Sloan Kettering Cancer Center), Dr. Mirela Djordjevic (Manhattanville College), Dr. Ralph Walde (Trinity College), Richard Karsten '81 (Molloy President), and Michele McGrade (Molloy, Graphic Design). Awards were presented for standouts in originality, complexity and precision, social impact, 3D and computer graphics design, and interface/ease of use (original apps). Congratulations to all of our award winners! (All photos by Jolie Lu '20)
---
Musical Talent Showcased at Spring Concerts
On May 2nd, our Freshman/Sophomore Chorus and School Band, led by Ms. Ya-Ting Yang, kicked off Molloy's Spring Concert series in the Jack Curran Gymnasium. The evening of May 3rd showcased Molloy's Junior/Senior Chorus, led by Mr. Jim Sheehan '75, in our Ralph DeChiaro Theater. The concert on May 3rd featured many impressive group and solo performances. Check out photos from both evenings below. (Photos by Ryan Plut '22 and Daphne Camacho '22)
---
Students & Alumni Participate in "Esopus Runners"

Esopus Runners is a dedicated team of athletes that comes together annually to show their support for the Marist Brothers' Center at Esopus, home of the Mid-Hudson Valley Camps. This year the Esopus Runners Team participated in events during the Long Island Marathon Weekend, and on May 5th competed in the Esopus Runners 10k, Half-Marathon and Full-Marathon. | Meet the Esopus Runners
The 2019 event saw Molloy students participate as Esopus Runners too. These students include Marina Tsimisiris '21, Jess Biondo, Max McCreesh '19, Henry Eckert, Shane O'Brien, Eleanor Langowski '20, Harris Mirza, and Charlie McFadden. The participation of these students as well as our alumni and members of our faculty supports many of the projects that benefit the camps at the Marist Brothers' Center at Esopus. Many upgrades around Esopus are made possible thanks to this annual event, including much-needed upgrades to the pool. Congratulations to all who participated in this important event. | Learn more at https://esopusrunners.weebly.com/. | Follow @esopusrunners on Instagram.
---
Recent Volunteer Work at Esopus
The Marist Brothers recently extended their thanks to Molloy students and alumni who accompanied Br. John Raeihle '61, Br. James Norton '63, and Mr. Jim Sheldon '88 to Esopus to work as volunteers. The group helped the Marist Brothers' Center at Esopus prepare for the upcoming Marist Youth weekend and the Mid-Hudson Valley summer camps.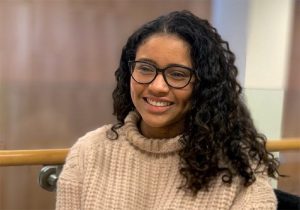 CDT Sarah Rodriguez '18 was recently featured in the Patriot Battalion ROTC Newsletter. Sarah is a freshman at George Mason University. She is the first Cadet from George Mason to be accepted into a ProjectGO program in over two years. Only 6 to 9 Cadets are accepted into this program every year. In the feature, Sarah says she joined ROTC thanks to inspiration from her dad and her desire to fly. "I want to serve my country and be an example to others," she says. Sarah also discusses her upcoming study abroad program in Morocco, as well as her long-term goals including "going either aviation or JAG" and maintaining straight A's. Click the following link to read more about Sarah's inspirational story. (Photo courtesy of the Patriot Battalion Newsletter) | Read More About CDT Sarah Rodriguez '18
---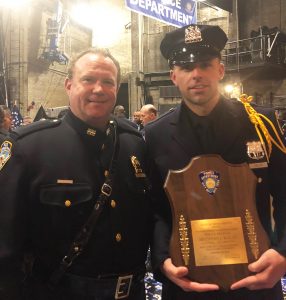 Congratulations to Brendan Kalaf '13 who recently received the NYPD's Chief of Department Award. Brendan joined the ranks of the NYPD in July 2018. He is pictured here with Chris Murphy '87.
---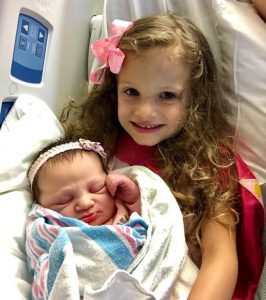 Congratulations to Christian Caputo '98 and family, who welcomed Charlotte Sidney Caputo into the world on May 1, 2019. Charlotte weighed 7 pounds 6 ounces at birth. Baby, parents, and big sister are all doing well in the days since.
---
PRESS RELEASE — Spring 2019 — MATT BOURNE (AMHS CLASS OF 1991) PROMOTED TO SENIOR VICE PRESIDENT OF COMMUNICATIONS FOR MAJOR LEAGUE BASEBALL
Major League Baseball announced today that Matt Bourne (AMHS Class of 1991) has been promoted to Senior Vice President, Communications. Bourne, who was previously MLB Vice President, Business Communications overseeing business, media, and off-field communications, will continue to report to Pat Courtney, MLB Chief Communications Officer.
In his new position, Bourne will be responsible for MLB communications across both baseball and non-baseball initiatives. He will engage with a wide array of media, and work closely with the communications staffs of the 30 MLB Clubs.
"Matt has provided valuable communications guidance for many of our departments and been a trusted liaison to the public relations staffs of our business and media partners," said Baseball Commissioner Robert D. Manfred, Jr. "I am looking forward to having Matt's perspective and involvement across an even broader range of MLB affairs."
Bourne joined Major League Baseball in May 2008 after spending eight years at the NBA, where he managed PR efforts for many of the league's global and domestic business areas. Prior to the NBA, he worked at National Media Group on various sports public relations accounts.
Bourne is a graduate of Marist College, where he was a four-year starter and two-year captain on the baseball team. He currently resides in Tappan, NY, with his wife, Jenn, and their three children.
---
Christian Kane '90 is a mathematics teacher at Toms River High School North and the founder of The Toms River Field of Dreams Foundation (TRFODF), a 501-C3 non-profit organization. Christian, his wife Mary, and their team at the TRFODF are currently working on a $2.2M special needs sports complex that will be built in Toms River, New Jersey. The complex will serve children with special needs and their families. According to their mission statement, TRFODF aims to "provide communities in Monmouth and Ocean Counties an all-inclusive complex which has a playground and other multiple physical and cognitive environments which create and recognize everyone's right to fully participate in equitable play. This inclusive complex intentionally addresses the physical and social inclusion of people of all ages and abilities." Construction began earlier this year and is slated to be completed in October 2019. To date, the TRFODF has raised over $1.8M in funding for the complex. | More Information
---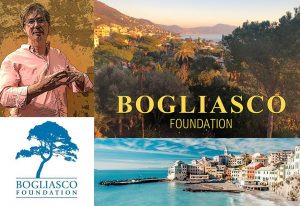 Johannes M.P. Knoops '80 (FAAR, Assoc AIA) was awarded the 2019 Bogliasco Fellowship from the Bogliasco Foundation, where he will be in residence working on In Search of Aldus Pius Manutius. The Bogliasco Foundation describes itself as "a supporter of the Arts and Humanities by providing residential Fellowships at its study center in Italy's most vibrant, historic crossroads, where gifted artists and scholars of all cultures come together to connect, create and disseminate significant new work." A description of the project: "Having confirmed the true location of Aldus Manutius' printing press in Venice, Johannes Knoops will be focused on commemorating his revolutionary achievements with a new memorial. After founding the Aldine Press in 1494, Aldus gave us italic type, commissioned the creation of user-friendly typefaces resembling handwriting, and exploited printing in the quarto and octavo formats beyond ecclesiastical publishing to create small and inexpensive books (forefathers of the modern paperback)." | Read More



As mentioned at the beginning of today's Beehive, please continue to keep our beloved Brother Michael Fisher, FMS, in your prayers.

We are saddened to share the passing of Mrs. Aldana Katinas, grandmother of Eric Katinas '87, Bradley Katinas '90, Craig Katinas '93, Adam Lipsky '93, Matthew Lipsky '99, and Emily Lipsky. Please keep Aldana and the Katinas family in your prayers.

Please pray for the repose of the soul of Kathleen Leichter (Smith), wife (and Molloy Senior Prom date) of Dr. Joseph Leichter, Esq. '74.

Please pray for the repose of the soul of William J. Coyne Jr., father of Robert W. Coyne '79 and John K. Coyne '80. Robert shared that if it weren't for their father, who worked three jobs, he and his brother (and their sister who attended St. Agnes High School), they would never have received a great Catholic education. Please keep William and the Coyne family in your prayers.

Please pray for the repose of the soul of Leo Aloi, father of Leonard C. Aloi, Esq. '64. Leo passed on January 23rd at the age of 99.