Walk/Run For Karina – 2 Weeks Away!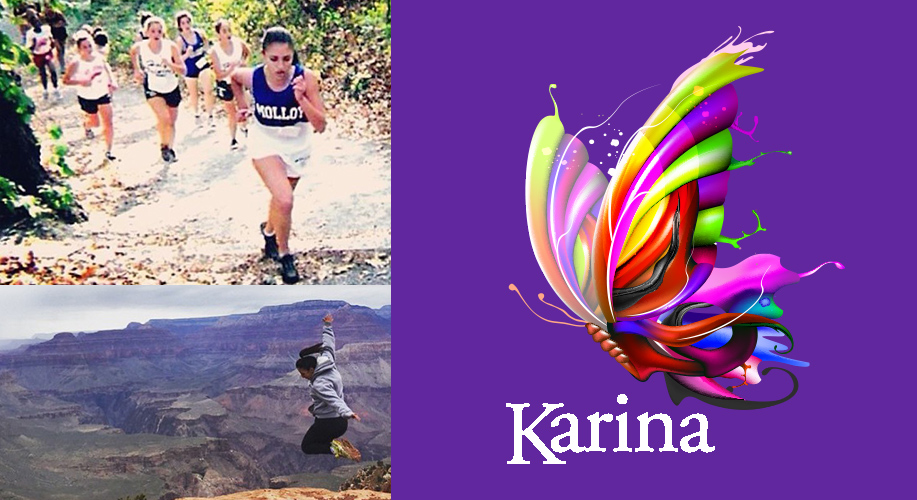 When: Saturday, June 22, 2019
Where: Archbishop Molloy High School
Who: Everyone!
Admission: $25 per person | Kids 12 & Under Free
Contact: Matt Rizzotti '04 | mrizzotti@molloyhs.org | 718.441.9210
REGISTRATION NOW CLOSED
We invite the Molloy community to join us on Saturday, June 22nd for our third annual Walk/Run for Karina. Together we will remember and celebrate the life of Karina Vetrano '04 with a spirited Walk/Run, 5K Race, and other festivities. The event schedule is as follows:
9:00am – Mass | 10:00am – Light Breakfast | 10:00am-2:00pm – Walk/Run | 10:30am – 5K Race (pizza to follow) | 11-11:15am – Kids Race | 11:30am – Yoga Session
Click the button above to visit the registration page. Family and friends are welcome. If you have any questions please contact Matt Rizzotti '04 (info above). We look forward to sharing this special day with our community.


Coming Next Week: The Beehive "Grad Issue"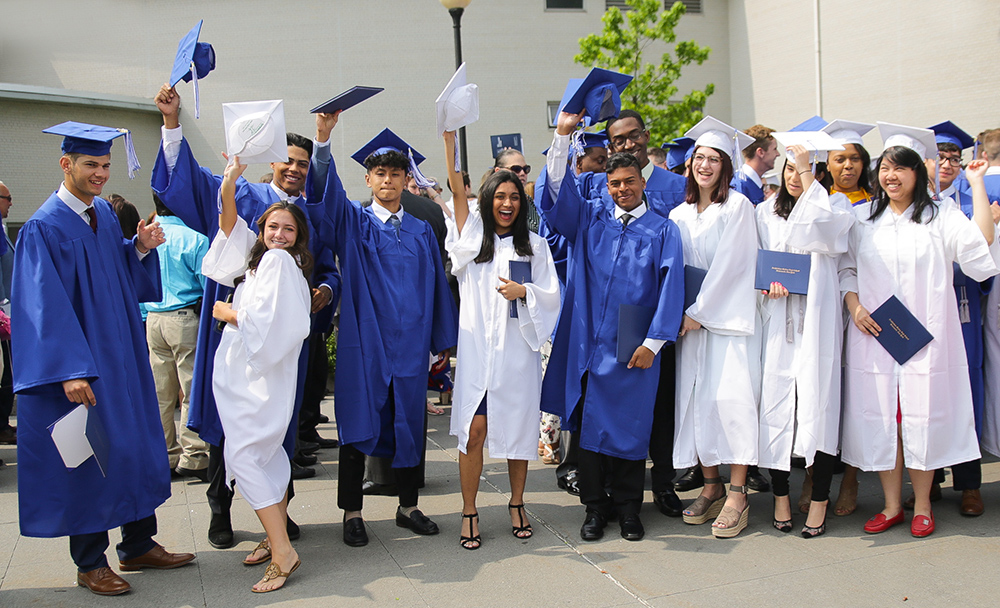 It was a beautiful day on Saturday, June 1st as Molloy's Class of 2019 enjoyed their commencement exercises at the Colden Auditorium at Queens College. 380 seniors ceremoniously moved the tassels on their caps from right to left, signifying the completion of their academic careers at Archbishop Molloy High School. The administration, faculty, and staff of Molloy are extremely proud of this year's graduating class, which collectively were awarded over $100,000,000 in college scholarships and grants.
We will have much more coverage on the Class of 2019, including Prom and Commencement photos, coming in next week's "Grad Issue" of The Beehive. Stay tuned!
---
St. Ann's & Molloy Grads Enjoy Annual Communion Breakfast
On Sunday, June 2nd, Molloy hosted graduates of St. Ann's Academy and Molloy for our St. Ann's Communion Breakfast. This event has been an annual tradition for many years and is a unique opportunity for the students of St. Ann's Academy, also known as our "Original Stanners", to come home and reconnect with the Marist Brothers and each other. The eldest Stanner in attendance was John McConville '48, who graduated from St. Ann's Academy 71 years ago.
In recent years, the St. Ann's Communion Breakfast has been expanded to include graduates who have recently celebrated their 50th anniversary. This year, we were fortunate to have several grads from the 1960s in attendance. We extend an invitation to other Stanners who graduated in the 1960s to please join us at our St. Ann's Communion Breakfast in the future. It is a wonderful chance to reconnect with Molloy and to meet the Stanners that laid the foundation for future generations.
This year's event began with Mass celebrated by Fr. John Serio '71. Readings were provided by Barry Mastellone '64 and Anthony Loscalzo '54. Following Mass, all in attendance enjoyed a delicious breakfast buffet prepared by Culinart Food Services. Alumni reminisced with each other and flipped through yearbooks, and also enjoyed the company of several Marist Brothers who were in attendance including Br. Pat Hogan, Br. James Norton '63, Br. James Maher, Br. Roy George '62, and Br. Bartholomew Boscia. At the conclusion of breakfast, alumni were taken on a walking tour led by Alumni Development Officer Matt Rizzotti '04. The tour group visited updated classrooms, the William J. Murphy Library, and our new College Guidance Suite (currently under renovation, but nearing completion). All in attendance also received a complimentary polo shirt with an embroidered Beehive logo on the front.
"The St. Ann's Communion Breakfast is a great testament to the loyalty our alumni have to their alma mater," said President Richard Karsten '81. "Though no longer at Lexington Avenue and 76th Street, the traditions and values that were instilled at St. Ann's Academy are reflected in what we teach everyday here at Molloy. For these men, who graduated 50, 60, and 70 years ago, to continue to come back and celebrate those traditions with us is remarkable, and it is a great example for present and future generations to follow. Thank you to everyone who attended this year's breakfast."
For information regarding St. Ann's Academy or the Communion Breakfast, please contact alumni@molloyhs.org or call 718.441.9210.

---
Molloy Summer Camps Now Enrolling
Attention parents! Molloy is set to host several exciting summer camps beginning July 8th. Rising sixth, seventh, and eighth graders, and ninth graders attending Molloy this fall, are invited to sign up for the following camp experiences:
Boys & Girls Basketball Camps – Appropriate for all ages, levels and abilities. Inclusive, safe environment where players can develop and have fun while competing in games and contests. Includes morning stretch, instruction, stations, and lunch.
Baseball Camp – The Elite Camp is for the serious player who wants to focus on intense training in the major skills of baseball. All players will get a video analysis of their swing and throwing motion. Includes strength conditioning, hitting and pitching drills, and simulated games.
Boys & Girls Soccer Camp – The ALL-STAR SOCCER CLINIC attracts boys and girls who strive to be the best soccer players they can be. The clinic is designed to provide an excellent learning environment for the game of soccer. Soccer players will enjoy an immersion into soccer that other players will never experience.
Theater Camp – Week-long workshop which focuses on acting technique, story-telling, acting and improvisational activities, and monologue/scene work. Campers will explore their creative side in a safe and encouraging environment led by current Molloy students and recent Molloy alumni. At the end of the week, campers will give a final performance to friends and family to showcase their new skills.
STEM Camp – Offers innovative, fun, hands-on learning opportunities in computer science, engineering, technology, and math. Introductory level camp features developing soundboard app for Android, design and print 3D artifacts, learn about circuits and MakeyMakey consoles, and more. Advanced Level week includes developing video games for Android, deepening knowledge of CAD (Computer Assisted Design), programming Arduino circuit boards, and lessons on the Internet of Things.
There is also an opportunity this summer for Molloy's rising seniors. Molloy will be running its second annual Summer College Workshop over a two-week period this August. The workshop is specifically for rising seniors trying to get a jump-start on the college application process. Only a few spots remain. Please email Mr. Esgro with any questions at gesgro@molloyhs.org. (Click for Application)

---
Ms. Adele Solari Announces Her Retirement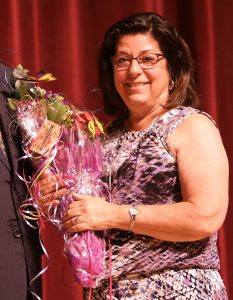 by Joe Sommo '03, Alumni Communications Director
The Beehive sends its deepest thanks and congratulations to Ms. Adele Solari, who recently announced her retirement effective at the end of the 2018-19 school year. Ms. Solari has been a beloved and dedicated member of Molloy's math department since 1996. She has taught a plethora of math courses during her tenure, including Algebra, Geometry, Pre-Calculus, Calculus, Accounting, and College Algebra among others. She has also extended her care outside the classroom, moderating Math League and helping to coordinate important school events such as the Junior Leadership Ceremony and the Senior Graduation Breakfast.
I was fortunate to have Ms. Solari as my math teacher as a sophomore and junior in back to back years. Math was never my strength, and not usually a class I looked forward to. Ms. Solari's class, however, was different from every other math class I had experienced before. She taught at a clear and manageable pace and recognized when students needed additional help. She always instilled confidence in her students, including myself, especially when we weren't quite getting it. She provided opportunities to bounce back through extra credit and helped us believe we could master the material. She was hands down the best math teacher I ever had, and I feel very fortunate to have been able to tell her that recently! Ms. Solari, thank you for making math fun for me and recent generations of Stanners. You will be missed, but we wish you a happy retirement. Please come back to visit!
---
Best Wishes to Mr. Chong & Mr. Maldonado!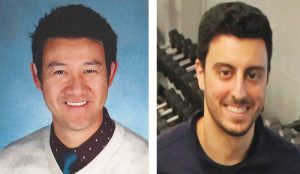 The Beehive extends its thanks and best wishes to Mr. Fabian Chong and Mr. John Maldonado '08 (pictured far right), who are both leaving Molloy at the conclusion of the 2018-19 school year. Mr. Chong has taught physics at Molloy since 2011, while Mr. Maldonado has been a member of the English department since 2016. Both gained notoriety outside the classroom as fierce participants in the annual Seniors vs. Faculty Basketball Game. Mr. Chong will be moving to Texas to teach at Ursuline Academy of Dallas, while the recently engaged Mr. Maldonado will be moving to New Jersey to be closer to family and pursue new opportunities. Best wishes, Mr. Chong and Mr. Maldonado, and thank you for making a positive impact on our Stanners.
---
President Karsten, Catholic Culture Club Visit Marist Brothers At Champagnat Hall in the Bronx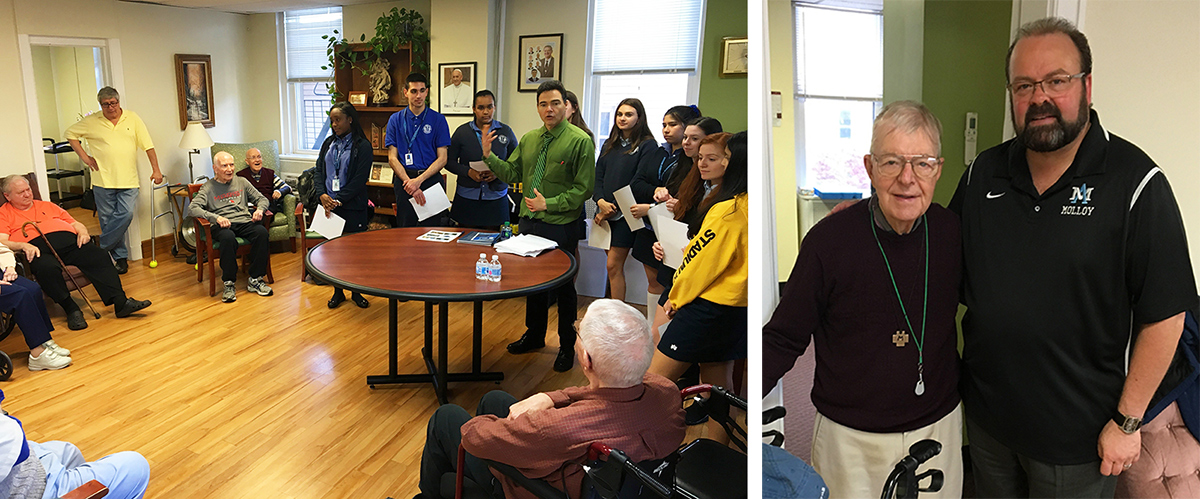 Recently, President Richard Karsten '81, Mr. Matt Kilkelly, and Molloy's Catholic Culture Club visited the Marist Brothers at Champagnat Hall in the Bronx. The afternoon began with a student-led prayer service, which highlighted the namesake Saints of the Brothers present. These Saints served as inspiration to the senior brothers who have dedicated their lives to teaching and inspiring young people. During each reading, everyone prayed to be inspired "by the faith and works of the Marist Brothers." Mr. Karsten then shared a "state of the nation" presentation regarding what's happening at present day Molloy as well as plans for the future as Molloy rolls out its Strategic Plan. Mr. Kilkelly, moderator of the Catholic Culture Club, was pleased with the overall experience. "Seeing the students present this prayer service to the Marist Brothers and interact with them let the Brothers know they are not forgotten. It was a privilege to witness our students do this because it truly helps restore my faith in humanity."
Pictured top: Catholic Culture Club leads a prayer service for the Marist Brothers at Champagnat Hall. President Richard Karsten '81 with Br. Philip Roberts. Lower gallery L-R: President Karsten accompanies the Catholic Culture Club on the school bus, and students take the lead after Mr. Kilkelly's introduction.
---
Molloy Celebrates Top Student-Athletes for 2018-19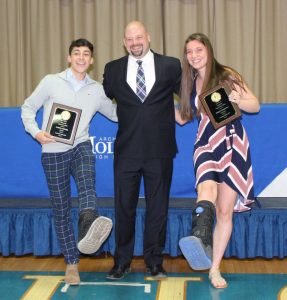 On May 21, 2019, Molloy presented awards to its top student-athletes in each sport, as well as the top male and female overall during its Athletic Awards Night ceremony. James Loeffel '19 and Bridget Montgomery '19 were named the Jack Curran Outstanding Senior Athletes. In addition, outstanding student-athletes who excelled in both the classroom and in athletic competition received Student Academic Awards. (Pictured: James Loeffel '19, Principal Darius Penikas, and Bridget Montgomery '19.)
James Loeffel is a 4 year Varsity athlete. He was captain as a senior and is a four-time State Qualifier. He is an 8-time Brooklyn/Queens Champion. He was a 2-time podium finisher at City Meets. He is a 4-time Meet winner. Through his leadership, motivation, and work ethic he led Molloy to the CHSAA Intersectional State Championship in Cross Country. Molloy has only done this one time before in 1981. He will be attending Seton Hall University on a Track scholarship in the fall.
Bridget Montgomery is a four-year Varsity athlete. She was the captain of her team and broke 10 records including lowering her own record 5 times. As a freshman, she went undefeated in all of her events. In the City Championships she won both of her events, set new school records, and won the City Championship in two relays. As a sophomore, Bridget broke another school record as well lowered her own record in the 500 Free Style. As a junior, she lowered her own record yet again in the 200 and 500 Free Style, and she did that once again as a senior. Bridget will be attending Stonybrook University on a swimming scholarship in the fall.

---
Alumni & Students Remember PFC Louis Willett '63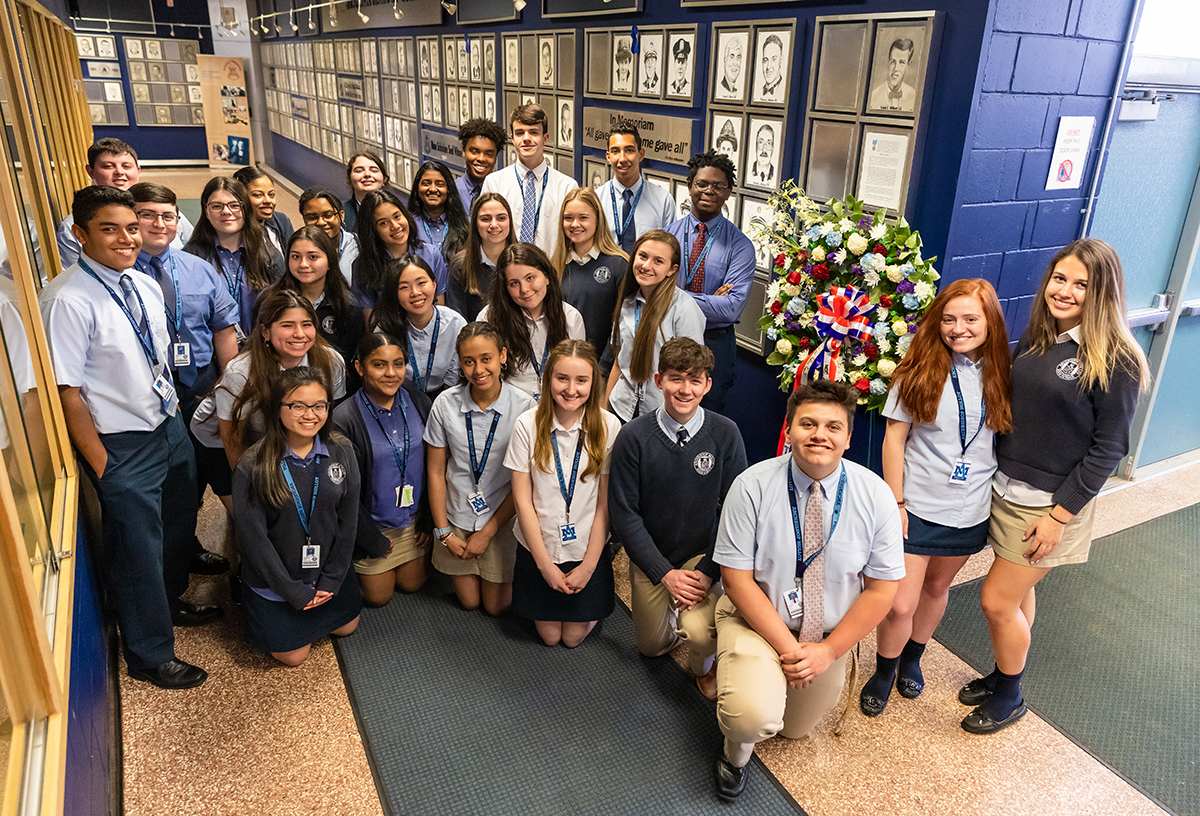 Thank you to the Class of 1963 for continuing their tradition of remembering Private First Class Louis Willett '63 with a floral wreath on Memorial Day. PFC Willett posthumously received the Medal of Honor for his brave and selfless actions on the battlefield in Vietnam in 1967. Pictured here is Mr. Gallagher's history class after a reading of PFC Willett's MOH citation at his Stanner Hall of Fame sketch on Friday. We pray for PFC Willett, Stanners, and all men and women who have made the ultimate sacrifice for our country. (Photo by @gianpaolophoto)
---
Varsity Softball are City Champs, JV are City Finalists
by Ms. Catie Massowd '07
After defeating Xaverian High School for the Brooklyn/Queens Championship, Molloy's Varsity Girls Softball Team beat Moore Catholic HS, 2-1 for the New York City Championship on May 24th at the College of Staten Island. A close game, Molloy pulled out the win with notable performances by shortstop Regan Goger and pitcher Kelsey Carr. At bat, Carr went 2-3 with a lead-off single in the third inning, which became the first run of the game after a triple by Goger drove her home. Goger later stole home to put the team ahead of Moore Catholic. Carr then held down the opposition with 14 strikeouts, including a strikeout of the last batter of the game with the bases loaded. It was a very exciting game and a well deserved victory for Molloy! Molloy ultimately would finish the season as State Finalists.
Congratulations are also due to Coach Lou Santos and his JV softball squad, who finished their season as City Finalists.



When: Saturday, November 2, 2019
Where: Archbishop Molloy High School
Class Years: 1949, 1954, 1959, 1964, 1969, 1974, 1979, 1984, 1989, 1994, 1999, 2004, 2009, & 2014
Ticket Information: Coming Soon
Contact: Matt Rizzotti '04 | mrizzotti@molloyhs.org | 718.441.9210
REGISTRATION NOW CLOSED
Class years ending in 4 and 9 are invited to join us on Saturday, November 2, 2019 at our next Stanner Alumni Reunion! Your class reunion is a great opportunity to reconnect with old friends and teachers, and to reminisce about great memories at Stanner High. Ticket information and online registration will be released in the coming weeks. In the meantime, please save the date and spread the word to your classmates!
If you are interested in serving as a Class Officer, responsible for recruiting classmates and updating contact information, please call or email Alumni Development Officer Matt Rizzotti '04 at the information listed above.
---
Jim Kinnier Stanner Golf Classic – New Date!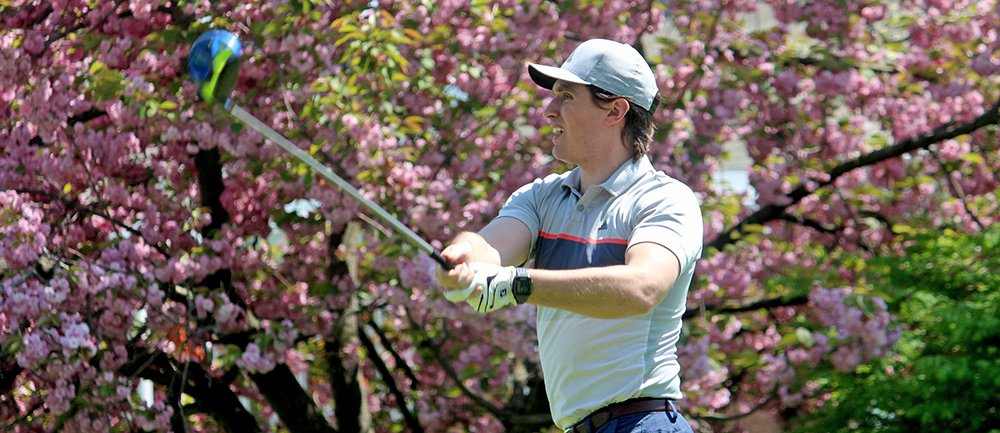 When: Monday, September 9, 2019
Where: North Hills, Plandome, North Hempstead Country Clubs
Contact: Matt Rizzotti '04 | mrizzotti@molloyhs.org | 718.441.9210
More Information: www.molloyhs.org/golf/
REGISTRATION NOW CLOSED
Molloy is happy to announce that the 33rd Annual Jim Kinnier Stanner Golf Classic has been rescheduled for Monday, September 9, 2019. If you were not previously registered and would like to participate, there's plenty of time this summer to get involved! Please contact Alumni Development Officer Matt Rizzotti '04 by email or phone at mrizzotti@molloyhs.org or 929-446-4470 with any questions.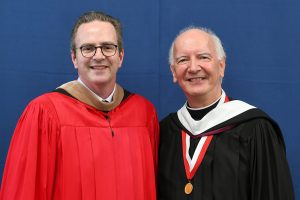 Earlier this spring, at St. John's University Graduate Commencement for the Tobin College of Business, James Shannon '83 gave the Ceremony address while Br. Mike Sheerin, FMS, (Former AMHS Faculty '75-'86 and '88-'94) offered the Closing Benediction. Jim was Br. Mike's student at Molloy and is also the Senior Partner and Chief Operating Officer at Indus Capital Partners, LLC. Jim also serves on Molloy's School Board. Br. Mike is a Campus Minister at St. John's and was the founding director of the Molloy Campus Ministry Program in 1982, then known as Religious Activities. Br. Mike is more than happy to meet up with any Stanner who attends St. John's! (sheerinm@stjohns.edu)
---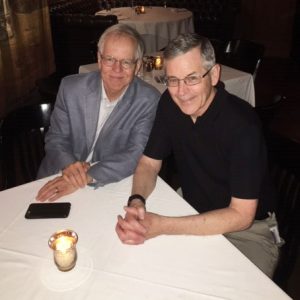 Brian Mitchell '69 and Rich Leidl '69 met up in Washington, DC earlier this spring. It was the first time they had seen each other since graduation day in 1969. Both are planning to attend their 50th anniversary reunion on November 2, 2019.
---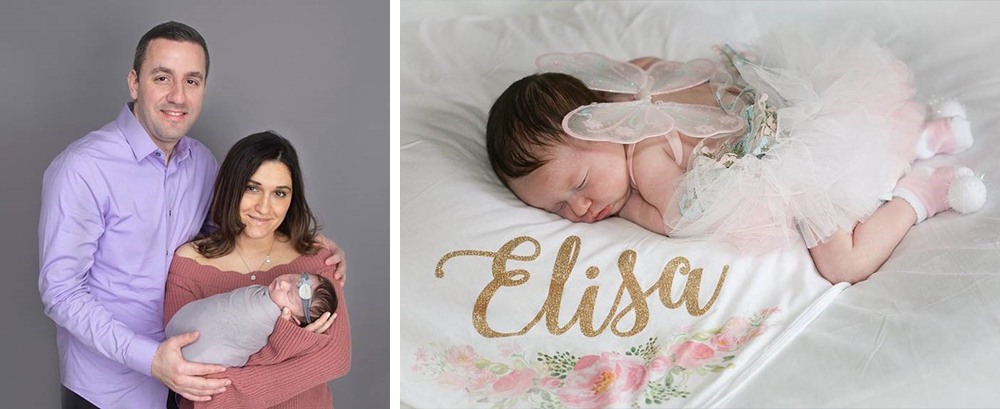 On Tuesday, March 19th, Salvatore Graffeo '01 and his wife Carmelisa welcomed their newborn baby girl Elisa. Congratulations to Sal, Carmelisa, and family!
---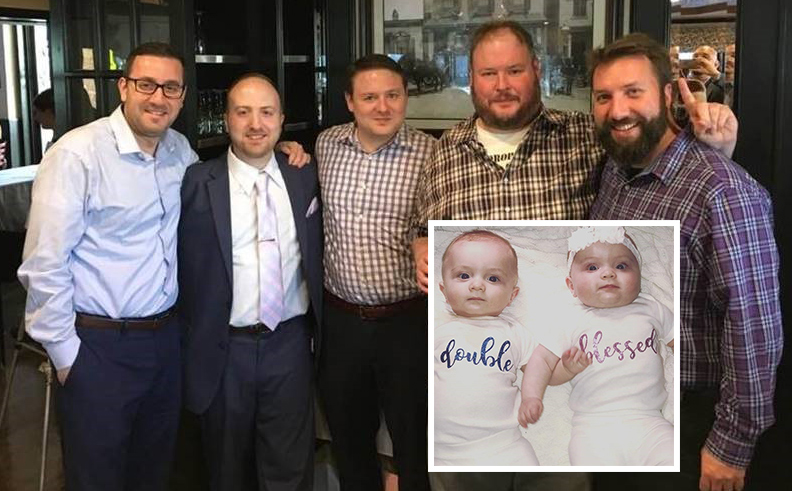 On Saturday, April 27th, Jonathan DiDonato '01 and his wife Nicole baptized their twin children, Zachary Joseph & Audrey Sienna (pictured inset), who were born on December 14, 2018. At the Baptism, several of the guests were also Stanners from the Class of 2001, making it a mini-reunion. Pictured L-R: Salvatore Graffeo '01, Jonathan DiDonato '01, Jason Pitera '01, Billy Enright '01, and Kevin Sivak '01.
---
In May, Brittney Salvador '16 completed her junior CUNYAC season at Hunter College. It was her best season yet. Brittney led the Hawks in nine offensive categories, tied for first in games played (30), and placed second in batting average (.432). Brittney was named a CUNYAC First Team All-Star for the third consecutive year. Brittney's team-leading stats include: At Bats (88), Hits (38), Home Runs (6), Runs Batted In (33), Total Bases (62), Slugging % (.705), Multi-Hit Games (11), Multi-RBI Games (8), and Longest Consecutive Game Hitting Streak (11). She placed third in team On Base % with .468 and fourth in Runs Scored (27). | Read More
---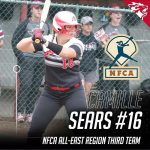 Congratulations to Camille Sears '16, who along with her teammate Allison Melahn became the first players in Albright College softball program history to earn NFCA All-Region honors. A pitcher and first baseman this season, Camille tallied 54 hits, 38 RBIs, 3 home runs, and a .409 batting average. On the mound she earned 7 wins with a 3.99 ERA and 28 strikeouts. | Read More


We are saddened to share the passing of Stanner Hall of Famer Joseph Russo '62 on May 27th. Joseph Russo earned a BA in History from St. John's University and an MA in Physical Education from NYU. While a student at St. John's University, Russo played freshman baseball and basketball and served as captain of varsity baseball in 1963. He became a member of Team USA in the Global World Series in Hawaii in 1966. He played in the NCAA Summer Leagues in Massachusetts in 1963 and shortly after in South Dakota in 1965.

Russo went on to teach social studies, English, and physical education and coach varsity baseball and basketball at Christ the King High School. He later taught at his alma mater, St. John University. While back at St. John's, Russo was appointed head baseball coach from 1973-1996. During his tenure he earned the title of winningest Coach in St. John's history with an all-time record of 1011-443 across multiple sports. Russo also had coaching experience with the NCAA Summer Leagues for the Atlantic Collegiate Baseball League dating back to the 1960s. He was head coach for international games for TEAM USA at the Pan American Games in 1995. Russo was head coach for the NY/Tokyo Friendship Series in 1989.

Russo participated in many workshops and camps for disadvantaged children. He was president of the Baseball Coaches Advisory Board in 1985 during the Big East Conference. He was also a Pro-Liaison to Major League Baseball franchises including the Mets and Yankees. In 1975, Russo served as president of the Atlantic Collegiate Baseball League and in 1980 as the president of the National Association of Summer Leagues.

Russo is credited with several publications including The Fundamentals of Coaching and Playing Baseball and Championship Baseball: Techniques, Fundamentals and Drills. Over the years he was honored with the following: Northeast Coach of the Year 1980; North Shore University Hospital Service Award 1990; Police Athletic League Service Award 1990; Big East Coach of the Year 1990 and 1991; College Coach of the Year National Italian Hall of Fame 1993. Russo was inducted into Christ the King's Hall of Fame in 1990 as well as the American Baseball Coaches Association Hall of Fame in 1997. Russo's illustrious 22-year career in the Big East earned him national recognition as well as the opportunity to coach future famed athletes including major league pitchers Frank Viola and John Franco.

Please keep Joseph Russo, his family and friends in your prayers.
---

Please pray for the repose of the soul of Robert "Bobby" Farrell '83. | Memorial Page

Please pray for the repose of the soul of Ronald Biamonte '65. | Read More