Congrats Class of 2019! Molloy's 126th Commencement Exercises Held at Queens College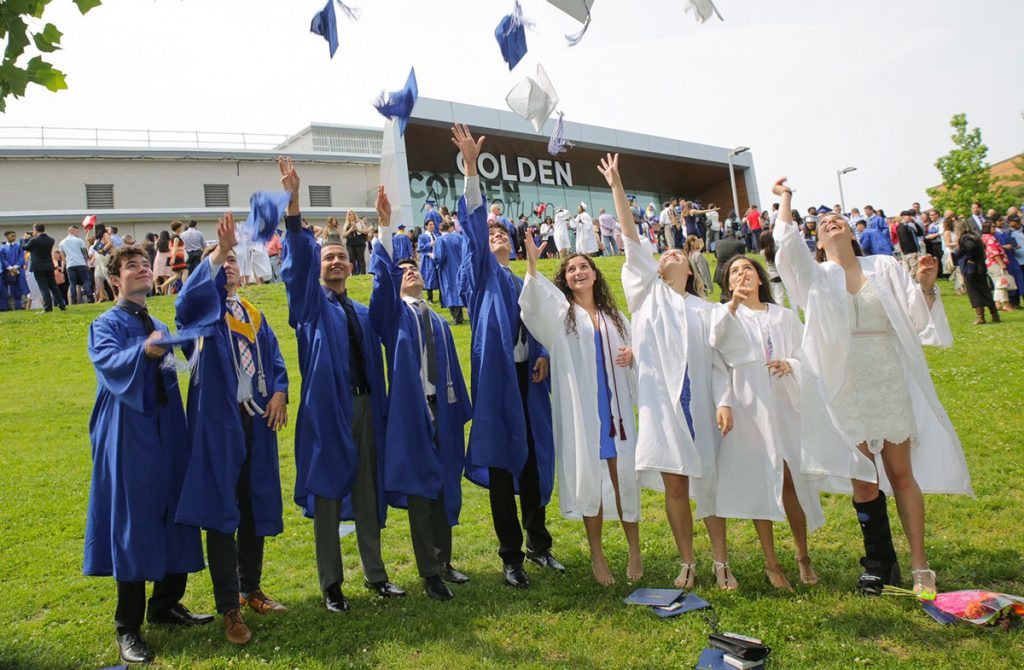 Graduation Photos by Sal Graffeo '01.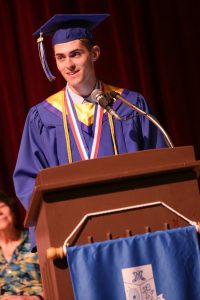 On Saturday, June 1st, the Class of 2019 were the stars of Archbishop Molloy High School's 126th commencement exercises, which took place at the Colden Auditorium at Queens College. 380 seniors ceremoniously moved the tassels on their caps from right to left, signifying the completion of their academic careers at Molloy. The Class of 2019 were collectively awarded over $100,000,000 in college scholarships and grants. Among their ranks are future scientists, engineers, computer programmers, journalists, writers, educators, lawyers, doctors, performers, athletes, public servants, and so much more.
Salutatorian Andrew Visceglia '19 (pictured right) opened this year's commencement exercises with a few remarks. "Our class has grown over the past four years, probably some of us more than others. We came in as young, naive freshmen, and now we leave our mark on Molloy as mature seniors," said Andrew. "We've worked hard to manage our time between extracurricular activities, academics, and enjoying our time with friends. The time and effort have paid off, and I am so happy to see the progress we've made as a class." All that time spent participating in extracurricular activities, sports, retreats, and service trips was fun, but Andrew noted that above all these experiences built community. "While we all did a variety of activities, it's not necessarily the things we did that stand out; it's the impact we had on others that makes the difference."
Later in his remarks, Andrew singled out several teachers that inspired him throughout his high school journey. "Mr. Kelly was my English teacher twice. His idea of reading to understand, and not just to get it done, not only encouraged me to analyze books with a deeper meaning, but also made me more interested in reading. I had Brother James Norton for Peer Groups in sophomore year, and I was a peer group leader for him in senior year. Whenever anyone was worrying about something that hadn't happened yet, he would always remind us that the future doesn't exist, and you can only control what's happening right now. I'll always remember walking into Mr. Kilkelly's junior English class everyday: he'd give everyone a fist pump and tell us that today was going to be a big day, which was always true. Mr. Harrison, my personal finance teacher in senior year, had a knowledge and passion for finance that was infectious, but his love for squirrels really made the class interesting." Each of these teachers had a hand in Andrew's formation. "Molloy made me a more confident person, and helped strengthen my leadership qualities."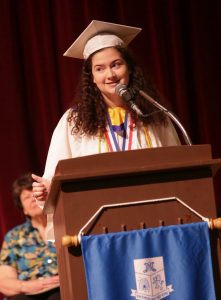 In closing, Andrew left his classmates with some profound words: "What will matter is not what you bought, but what you built, not what you got, but what you gave. What will matter is not your success, but your significance. What will matter is not what you learned, but what you taught. What will matter is every act of integrity, compassion, courage, or sacrifice that enriched, empowered or encouraged others to emulate your example."
Later, valedictorian Stephanie Szpylka '19 (pictured left) addressed her classmates and spoke about the meaning of simple words with big impact, including those that help define "Non scholae sed vitae." "Values: I believe that human beings are born with a sense of morality, but the environment they're in is responsible for enriching those values. Molloy has built upon that foundation in providing us with Marist values." Stephanie cited small acts of kindness like holding the door open or listening to a friend as the foundation that eventually led her classmates to become peer group leaders, retreat leaders, team captains, and class officers. "Non scholae sed vitae on the most basic level means applying our morals to everyday life. We have the capacity to make differences in others' lives with kindness and compassion," said Stephanie.
Stephanie then considered the word adjustment. "Our time at Molloy was a lot like the daily task of climbing the stairs from floor to floor. Each step represents minute changes that we experience constantly, which require adjustment, whether or not we notice them," said Stephanie. She referenced starting out as a shy freshman who, over the years, grew into a confident and outgoing upperclassman. "Even while we were 'comfortable' there were constantly ways we had to adjust. As the years went on, we had to adapt to new friends, new classes and teachers, new seasons of sports. Each coming year was a little bit like starting all over again, but not quite." Stephanie assured her classmates that though they are about to start all over again as college freshmen, this will be less daunting because of their successful Molloy experience. "Life outside of a controlled environment is random, but our experience of constant adjustment will make future transitions smoother."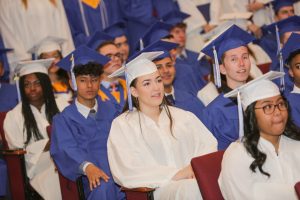 Lastly, Stephanie examined self-understanding. "A big part of why our personalities are the way they are involves the intangible. We have defining experiences, yet we can't pinpoint exactly what makes us, us right now…. Everything we encountered during this time period caused us to evolve into who we think we are now. I say 'think' because there is no way to completely know ourselves, and that's okay. What is most important is our conscious effort to grow as people. Non scholae sed vitae means accepting that some parts of ourselves can't be explained, but utilizing experiences and lessons can free us to grow into our best selves."
The Class of 2019 has been accepted into a plethora of outstanding universities across the United States and abroad including but not limited to: Barnard College, Boston College, Brandeis University, Brown University, Columbia University, Drexel University, Fordham University, Johns Hopkins University, Loyola University Maryland, Marist College, Northeastern University, Pennsylvania State University, Pratt Institute, Rensselaer Polytechnic Institute, Seton Hall University, St. John's University, SUNY Geneseo, Syracuse University, United States Air Force Academy, University College Dublin, University of Notre Dame, Vanderbilt University, Vassar College, Villanova University, Wagner College, and Yale University.
Congratulations, Class of 2019. Remember that you will always be Stanners, and that you are always welcome back home. Please stay in touch, read the Beehive, and let us know how you're doing! Contact the Stanner Alumni Center any time at alumni@molloyhs.org.

---
View Photos: Senior Prom, Grad Breakfast & Liturgy
We invite our graduates to view photos from several recent events including Senior Prom, the presentation of awards at graduation practice, the Graduation Liturgy, and the Senior Grad Breakfast. Some photos have been shared on our Instagram page (@molloyhs) while full photo galleries have been added to our Facebook page. If you don't use Facebook, don't worry. The Facebook galleries are public and do not require an account to view. Links to these galleries are available by clicking the blue buttons below or by searching the Molloy homepage under latest news and the trending now links. (Grad Liturgy photos by Ryan Plut '22. Senior Prom photos by @2plus2djs, Ms. Sawyer '07 and Nyah Balram '19. Senior Breakfast photos by Mr. Sommo '03)


---
Follow @MolloyHSAlum on Instagram
Molloy recently created a new Instagram account for alumni! The Class of 2019 and all alumni are invited to follow us @MolloyHSAlum for alumni updates, event photos, retro posts, and more. For school news and events, please continue to follow our main school account @molloyhs.
---
Read The Stanner's 2019 Senior Issue Online
The Class of 2019 and all Beehive readers can now download a digital version of The Stanner: Senior Issue. This special edition highlights our outstanding senior class, from a cover story about Valedictorian Stephanie Szpylka '19 and Salutatorian Andrew Visceglia '19, to a center spread full of senior spotlights, to senior reflections, and more. You'll also find remembrances of Br. Michael Fisher, stories about the retiring Ms. Adele Solari and the departing Mr. Fabian Chong, and a teacher spotlight on Mr. Jim Sheehan '75 (who isn't going anywhere just yet!).
You can download the other issues from this year, or issues from years past, by visiting www.molloyhs.org/stannernewspaper/
Special thanks and congratulations to the entire staff of The Stanner on another great year!



Walk/Run for Karina – NEXT WEEK!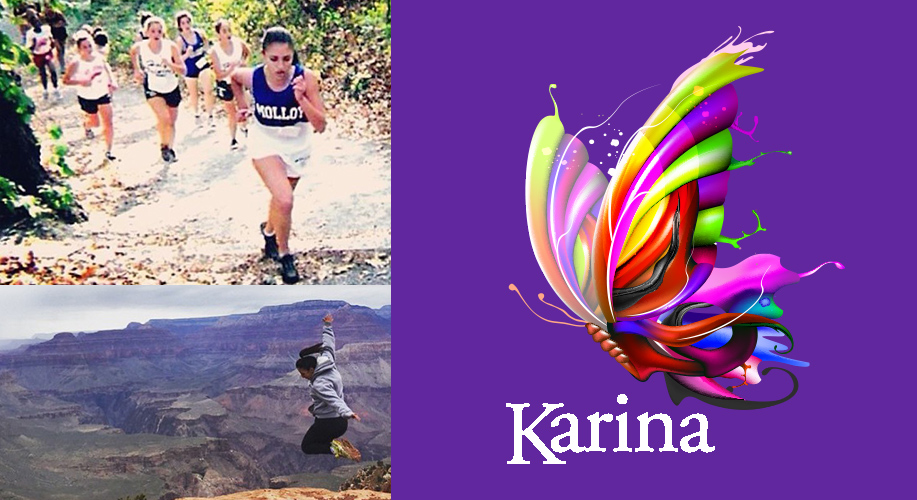 When: Saturday, June 22, 2019
Where: Archbishop Molloy High School
Who: Everyone!
Admission: $25 per person | Kids 12 & Under Free
Contact: Matt Rizzotti '04 | mrizzotti@molloyhs.org | 718.441.9210
REGISTRATION NOW CLOSED
We invite the Molloy community to join us on Saturday, June 22nd for our third annual Walk/Run for Karina. Together we will remember and celebrate the life of Karina Vetrano '04 with a spirited Walk/Run, 5K Race, and other festivities. The event schedule is as follows:
9:00am – Mass | 10:00am – Light Breakfast | 10:00am-2:00pm – Walk/Run | 10:30am – 5K Race (pizza to follow) | 11-11:15am – Kids Race | 11:30am – Yoga Session
Click the button above to visit the registration page. Family and friends are welcome. If you have any questions, please contact Matt Rizzotti '04 (info above). We look forward to sharing this special day with our community.
---

When: Saturday, November 2, 2019
Where: Archbishop Molloy High School
Class Years: 1949, 1954, 1959, 1964, 1969, 1974, 1979, 1984, 1989, 1994, 1999, 2004, 2009, & 2014
Ticket Information: Coming Soon
Contact: Matt Rizzotti '04 | mrizzotti@molloyhs.org | 718.441.9210
REGISTRATION NOW CLOSED
Class years ending in 4 and 9 are invited to join us on Saturday, November 2, 2019 at our next Stanner Alumni Reunion! Your class reunion is a great opportunity to reconnect with old friends and teachers, and to reminisce about great memories at Stanner High. Ticket information and online registration will be released in the coming weeks. In the meantime, please save the date and spread the word to your classmates!
If you are interested in serving as a Class Officer, responsible for recruiting classmates and updating contact information, please call or email Alumni Development Officer Matt Rizzotti '04 at the information listed above.
---
Jim Kinnier Stanner Golf Classic –

New Date!
When: Monday, September 9, 2019
Where: North Hills, Plandome, North Hempstead Country Clubs
Contact: Matt Rizzotti '04 | mrizzotti@molloyhs.org | 718.441.9210
More Information: www.molloyhs.org/golf/
REGISTRATION NOW CLOSED
Molloy is happy to announce that the 33rd Annual Jim Kinnier Stanner Golf Classic has been rescheduled for Monday, September 9, 2019. If you were not previously registered and would like to participate, there's plenty of time this summer to get involved! Please contact Alumni Development Officer Matt Rizzotti '04 by email or phone at mrizzotti@molloyhs.org or 929-446-4470 with any questions.



Please pray for the repose of the soul of Dr. Michael Cassano '76. | Memorial Page