Molloy Remembers Karina Vetrano with 3rd Annual Walk/Run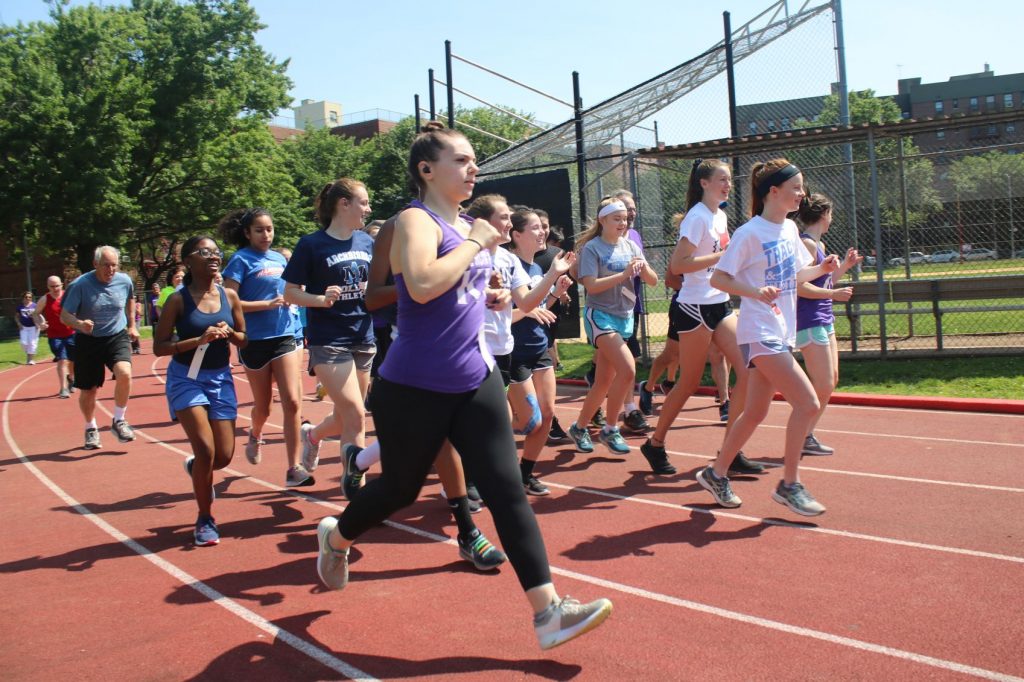 Click Here for Coverage of this Year's Event on NY1
The Molloy community enjoyed a beautiful day on Saturday, June 22nd as friends and family joined together to celebrate the life and memory of Karina Vetrano '04. Molloy hosted its third annual Walk/Run for Karina, which included several spirited activities.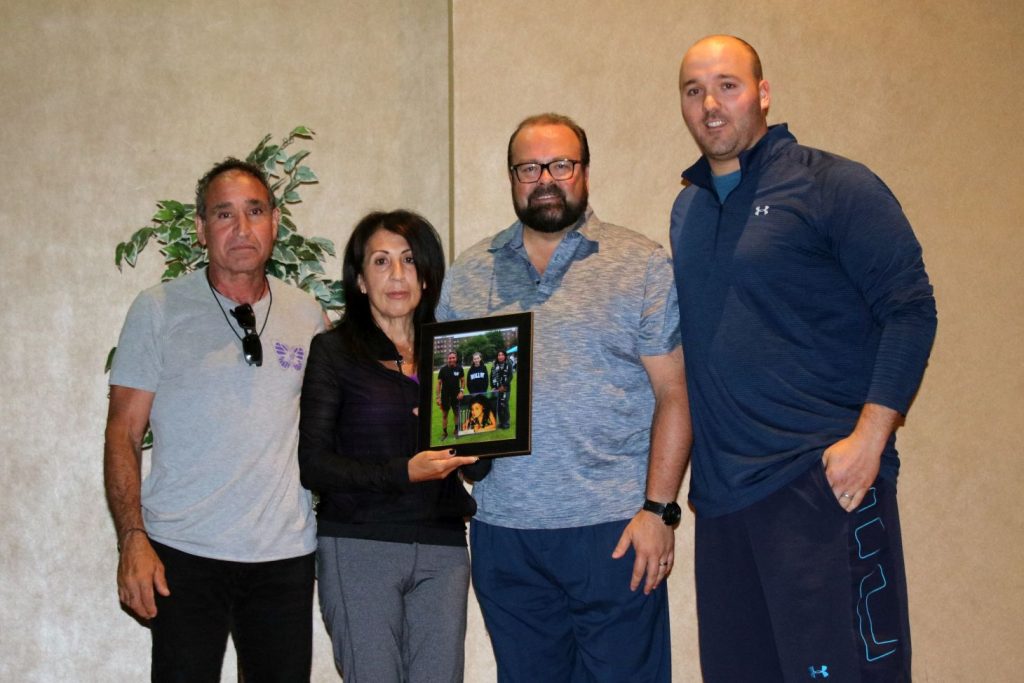 The event began with a Memorial Mass celebrated by Fr. Christopher Heanue, with music provided by Allison Terranova '14 and Stephen Velez '16. Following Mass, Phil Vetrano '74, Karina's father, thanked everyone in attendance for their continued presence and support of the Karina Vetrano Memorial Scholarship. Phil also thanked event sponsors Mr. Robert Agostinelli,the Jordan Family, and Mr. Brad Katinas '90 and family for their generosity. President Richard Karsten '81 and Alumni Development Officer Matt Rizzotti '04 then presented the Vetrano family with a framed photo featuring Karina's parents with Jenna Schonmann '22, the first recipient of Karina's scholarship. Jenna, who was in attendance, is excited to begin her sophomore year this fall. | Read More About Jenna
The Walk/Run began with Phil running the first lap solo while holding Karina's running shoes. This is a tradition Phil began at the first Walk/Run in 2017 has continued at each eventsince. The event also featured a 5K race on Molloy's track, a children's race, and a yoga and meditation session led by Jen Kelleher '04 of Body Love by Jen.
We extend our deepest thanks to everyone who supported this year's event. Your generosity helped Molloy raise over $35,000 for the Karina Vetrano Memorial Scholarship. Thanks to you, this scholarship will continue to benefit future students just like Jenna. "Thank you to everyone who helped make the Walk/Run for Karina a wonderful success," said President Karsten. "It was a lovely tribute to a beautiful life. We are honored to help Karina's scholarship continue to thrive and help more students."
If you were unable to attend the event but would like to show your support, please consider making a gift to Karina's scholarship at www.molloyhs.org/donate/.


---
Molloy Launches Alumni Education Network

The Stanner Alumni Center was proud to launch its new Alumni Education Network on Wednesday, June 5th during an evening reception in Molloy's William J. Murphy Library. The event was a great success, with over 60 alumni in the education field (including teachers, administrators, counselors, and physical and occupational therapists) in attendance. The event provided an opportunity for Stanners to gain valuable insights from fellow alumni as well as many members of Molloy's outstanding faculty.
Look out for our upcoming Stanner Life magazine this August for full coverage of the event, including plans for the future of this budding network. Thank you to all who attended, and special thanks to Education Network Committee Co-Chairs Chris Dougherty '91 and Ted McGuinness '81, Alumni Development Director Craig Katinas '93, and committee members Alison Brennan '08, Caitie Clark '06, Robert Costello '08, Ryan Harrington '07, Morgan Kelly '07, Alexandra Klesin '15, Vito Prainito '09, and Sarah Stiglianese '14.
---
Summer Camps
Attention parents! There is still time for your child to enroll in several exciting summer camps (set to begin July 8th). Rising sixth, seventh, and eighth graders, and ninth graders attending Molloy this fall, are invited to sign up for the following camp experiences. Click the attached flyer for contact and sign up information.
Boys & Girls Basketball Camps – Appropriate for all ages, levels and abilities. Inclusive, safe environment where players can develop and have fun while competing in games and contests. Includes morning stretch, instruction, stations, and lunch.

Baseball Camp – The Elite Camp is for the serious player who wants to focus on intense training in the major skills of baseball. All players will get a video analysis of their swing and throwing motion. Includes strength conditioning, hitting and pitching drills, and simulated games.

Boys & Girls Soccer Camp – The ALL-STAR SOCCER CLINIC attracts boys and girls who strive to be the best soccer players they can be. The clinic is designed to provide an excellent learning environment for the game of soccer. Soccer players will enjoy an immersion into soccer that other players will never experience.

Theater Camp – Week-long workshop which focuses on acting technique, story-telling, acting and improvisational activities, and monologue/scene work. Campers will explore their creative side in a safe and encouraging environment led by current Molloy students and recent Molloy alumni. At the end of the week, campers will give a final performance to friends and family to showcase their new skills.

STEM Camp – Offers innovative, fun, hands-on learning opportunities in computer science, engineering, technology, and math. Introductory level camp features developing soundboard app for Android, design and print 3D artifacts, learn about circuits and MakeyMakey consoles, and more. Advanced Level week includes developing video games for Android, deepening knowledge of CAD (Computer Assisted Design), programming Arduino circuit boards, and lessons on the Internet of Things.
---
Ms. Winters Nominated at Josephine Foundation Gala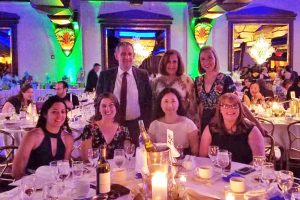 Congratulations to Stanner Players Director Ms. Shannon Winters '06, who was nominated for a Josie Award at the "Follow Your Dreams Gala" presented by The Josephine Foundation at Crest Hollow Country Club in Woodbury on June 21st. Ms. Winters was nominated for Best Director in recognition of The Stanner Players' 2018 musical You're A Good Man, Charlie Brown. The musical was also nominated for Best Production of 2018. Representing Molloy at the event were Ms. Winters, Ms. Sabina Kobinski '04, Ms. Dyana Christie, Ms. Alison Scalice, Ms. Ya-Ting Yang, Ms. MaryAnn Safrey, and Mr. Jim Sheehan '75.
According to their website, The Josephine Foundation "raises money and distributes 100% of these funds to help give individuals and approved programs an opportunity to achieve their goals in life. Through the disciplines of properly run music, arts and sports programs, young people and adults can reach for their dreams regardless of race, creed, nationality, gender, age, or financial status."
We are happy to share that The Josephine Foundation has generously awarded Molloy's theater and music programs with $3000 in grants as they continue their mission to support the arts in our schools.
---
The Danny Rainis Memorial Softball Game
Kristin Rainis '14 has created a beautiful tribute for her father Danny Rainis, who passed away in 2017. Donations made through the annual Danny Rainis Memorial Softball Game directly impact students who wish to attend any of Molloy's sports camps but face economic hardships. A portion of all gifts includes tuition for one incoming freshman every four years and will support that student throughout their time at Molloy.
This year's memorial softball game will be held on July 27th at 2:00pm at FHYAA Fields (6601 Fleet Street, Forest Hills, NY 11375). Entry is just a $30 donation. Drinks and snacks will be provided, and the event will also include a DJ and an after party at Austin Ale House. See the attached flyer for more information, or contact Kristin directly at Kristin.rainis@gmail.com to be placed on a team or if you have any questions. Remember to bring your game gear if you're playing!
---
Handball Team Wins City Championship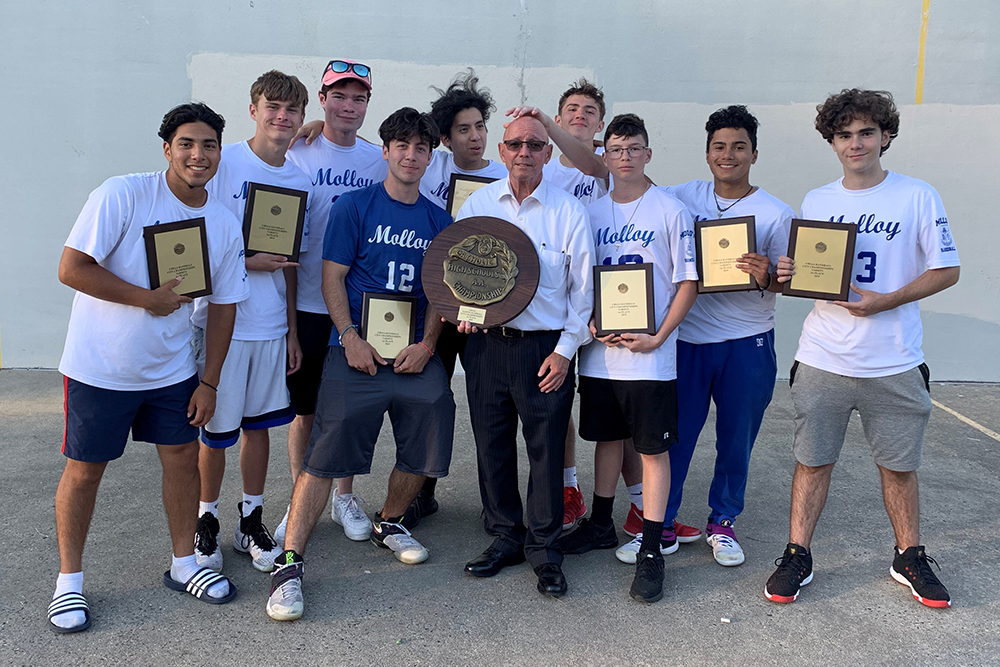 Congratulations to our handball team and Coach Vinny Leonardo, who won their first City Championship since 2002! Molloy topped Holy Cross in the championship 3-2 with standout performances by four-year veterans Greg Mulett '19 and Matt Perez '19.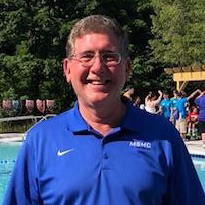 ---
Marist Brothers Center at Esopus Names New Executive Director
Br. Patrick McNamara, US Provincial, has announced that Mr. Jim Raimo has been appointed as the new Executive Director for the Marist Brothers Center at Esopus. Mr. Raimo was most recently the Vice President for Auxiliary Services at Mount St. Mary College after also serving as their Vice President for Facilities and Operations, Acting President, and Executive Director of Operations. In a statement, Br. Patrick spoke of Mr. Raimo's leadership. "Mr. Raimo personally exemplifies strong Catholic faith and commitment to leadership in Catholic education. Please join me in prayerful support and welcome for Executive Director Jim Raimo as he will work to promote our Marist Brother mission."



When: Saturday, November 2, 2019
Where: Archbishop Molloy High School
Class Years: 1949, 1954, 1959, 1964, 1969, 1974, 1979, 1984, 1989, 1994, 1999, 2004, 2009, & 2014
Ticket Information: Coming Soon
Contact: Matt Rizzotti '04 | mrizzotti@molloyhs.org | 718.441.9210
REGISTRATION NOW CLOSED
Class years ending in 4 and 9 are invited to join us on Saturday, November 2, 2019 at our next Stanner Alumni Reunion! Your class reunion is a great opportunity to reconnect with old friends and teachers, and to reminisce about great memories at Stanner High. Ticket information and online registration will be released in the coming weeks. In the meantime, please save the date and spread the word to your classmates!
If you are interested in serving as a Class Officer, responsible for recruiting classmates and updating contact information, please call or email Alumni Development Officer Matt Rizzotti '04 at the information listed above.
---
Jim Kinnier Stanner Golf Classic –

New Date!
When: Monday, September 9, 2019
Where: North Hills, Plandome, North Hempstead Country Clubs
Contact: Matt Rizzotti '04 | mrizzotti@molloyhs.org | 718.441.9210
More Information: www.molloyhs.org/golf/
REGISTRATION NOW CLOSED
Molloy is happy to announce that the 33rd Annual Jim Kinnier Stanner Golf Classic has been rescheduled for Monday, September 9, 2019. If you were not previously registered and would like to play, there's plenty of time this summer to get involved. Please contact Alumni Development Officer Matt Rizzotti '04 by email or phone at mrizzotti@molloyhs.org or 929-446-4470 for all inquiries.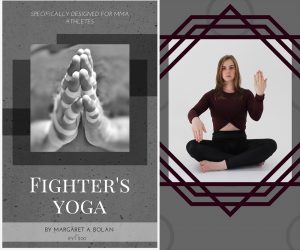 Maggie Bolan '09 (pictured in a challenge pose) is a school psychologist for the Department of Education as well as a certified yoga teacher with a passion for jiu-jitsu and many friends in the MMA world. Maggie has channeled her passion into her first e-book titled Fighter's Yoga, which contains over 60 poses focusing on Brazilian Jiu Jitsu, Muay Thai, boxing, areas of injury (knee, hip, lower back, shoulder, wrists), recovery, breathing techniques, and notes on meditation. "I realized there was no crossover in my two hobbies, so I decided to create some myself," said Maggie. "I know that my time at Molloy and all the support and encouragement I received in various sports and to follow my intuitions had a huge influence on this creation. Thank you to the AMHS family." Maggie's book is available for purchase by using the following link. Follow Maggie on Instagram: @thefightersyogi. | Purchase Fighters Yoga
---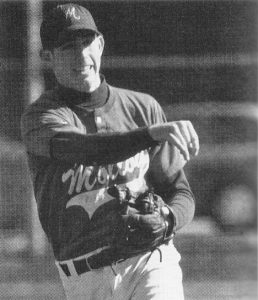 Congratulations to Mike Baxter '02, who recently won the NCAA Division I Championship as an assistant coach with the Vanderbilt Commodores. Vanderbilt achieved a 59-12 record during the 2019 season (.831 winning percentage) and ultimately beat Michigan 8-2 in the 3rd game of the College World Series to clinch the title. Baxter once played for Vanderbilt and continued his professional playing career as a minor leaguer. In 2010, Baxter made his major league debut with the San Diego Padres. The Pride of Whitestone then played for his hometown Mets from 2011-2013, and later played for the Los Angeles Dodgers and Chicago Cubs. In 2012, Baxter famously made a catch that helped preserve the Mets' first ever no-hitter. Baxter tallied 95 hits, four home runs, 28 RBI, and 10 stolen bases during his six year major league career.
---
Congratulations to Nicole Werner '19 and Anthony Cipri '19, who were both recently awarded $1,500 Merit Scholarships from the Kiwanis Club of Maspeth. The Kiwanis Club has served the Maspeth community for 67 years. Special thanks to Leonard Masone, Scholarship Chairperson, for informing Molloy of this wonderful news.
---
Kiley Roberts '18 shares that her first year at Scranton University was about finding a balance between studying, spending time with friends, and Netflix for herself. She learned that hard work pays off, meeting new people gave her new perspectives, and that the many changes that come with going away to college can be a positive thing. Her hard work and ability to adjust helped her finish her second semester with a 3.9 GPA for the year.
---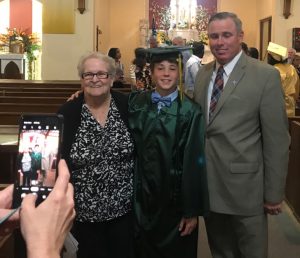 James Henning shared the following: "For the past 10 years, a member of my family has presented a scholarship in memory of my grandmother, Mae Corrigan, to a graduate of St. Camillus School (our alma mater) in Rockaway Beach, which closed at the end of this school year. I presented our last scholarship to Joseph Foye '23, who is attending Archbishop Molloy High School in September. Pictured with Joseph and myself is his grandmother, Frankie Rogers, who was the school secretary for Kerry (Henning), Tim (Henning '98), and myself spanning four decades."
---
John Matulaitis '78 shares that his daughter, Ilona Matulaitis, is coordinating a Catholic retreat for young adults in Alaska. The event, taking place July 11-21, will include a four-day hike along the Crow Pass Trail, and a stay at the Holy Family Retreat Center which will include discussions about theology and philosophy, celebrating Mass, prayer and adoration, and more. Click the following links to learn more. | Information | Sign Up



We are saddened to share the passing of Maureen T. Henning, mother of guidance counselor Kerry Henning, James Henning '93, and Tim Henning '98; mother-in-law of John McGuinness '87; extended family of Ted McGuinness '81; grandmother of Molly McGuinness '22 and Dillon Henning '22. Please keep Maureen and the Henning and McGuinness families in your prayers.

Please pray for the repose of the soul of Frances Palmieri, mother of Andrew Palmieri '81. The following is a remembrance provided by the Palmieri family: "Frances was a strong woman, having been raised in the depression and losing friends in the Second World War. From humble beginnings as a child of an immigrant father and first-generation mother, she worked by day to attend Brooklyn College in the evenings. She earned multiple graduate and post-graduate degrees, and she committed her life to the education of others. Frances worked in both public and parochial schools at the elementary and high school levels. Our mother was a force of nature and a uniquely talented woman. She commanded respect, required that you always give your best effort, and doled out unconditional love. Frances was a loving mother and grandmother with a strong, but sensitive, heart. She shared the spirit of her heart with so many, and for those she touched during her 90+ years on this planet, that spirit will live on."