Coming Soon: Stanner Life Magazine!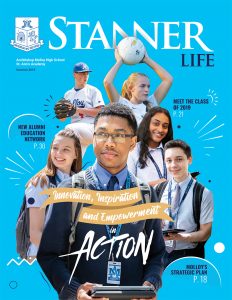 We're excited to announce that the summer 2019 edition of Stanner Life magazine will hit mailboxes everywhere very soon! This year's edition features an in-depth look at our new approach to admissions, news about additions to our 2019-20 curriculum and the recently founded Murphy Scholars Program, graduate spotlights, and much more. You will also read about the results of Molloy's Strategic Plan survey as well as the goals and initiatives that will drive Molloy forward into an exciting future.
Don't forget to update the Stanner Alumni Center with your new mailing address! Please contact alumni@molloyhs.org or 718.441.9210 if you recently moved. Some families may receive multiple copies due to generations of Stanners living at one address. If your children recently moved, please remind them to contact us and update their information. We are also happy to mail you multiple copies upon request. We look forward to sharing Stanner Life with our community.
---
Early Peek at Summer Capital Projects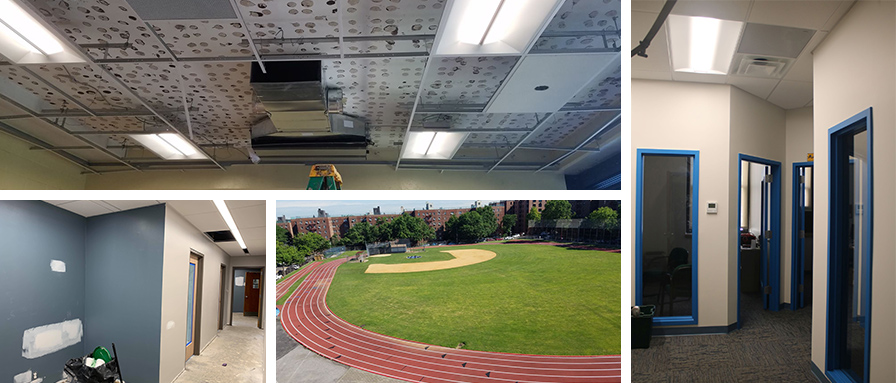 Molloy has been buzzing with activity this summer! Since late June, significant work has been done to install air conditioning in 22 classrooms facing Manton Street. These classrooms are also being upgraded with new ceilings, energy-efficient lighting, transparent window shades that let in more light, and window film that reflects heat. Elsewhere, Molloy's track has received repairs and fresh paint, the engraved quote above our front entrance has been restored, and our roof has received extensive repairs as part of a multi-phase project. In addition, the guidance suite (above, lower left) and college guidance suite (above, far right) are both receiving total makeovers with new air conditioning, drywall, paint, ceilings, doors, carpeting, and furniture. All of these projects are in the final stages as we prepare to open school next week.
These upgrades have been made possible thanks to the generosity of our community in support of The Fund For Molloy and our annual Walkathon. On behalf of our administration, faculty, staff, and students, thank you for your continued commitment to our mission! Look for photos of these completed projects in our next Beehive. (Note: Photos above and below document various stages of renovation.)
---
Follow Our New Admissions Instagram Account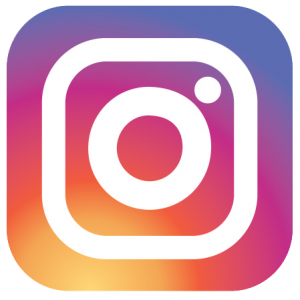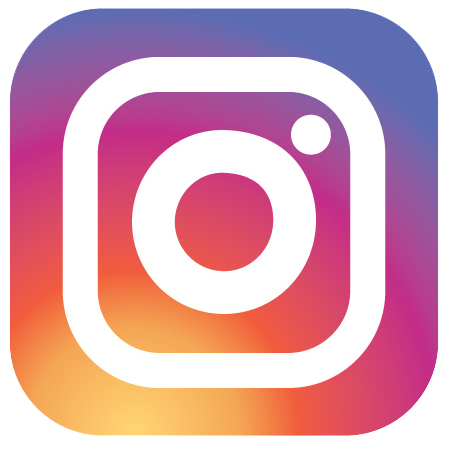 Molloy's Admissions team is excited to launch its new Instagram account: @MolloyHSAdmissions. This account will provide prospective students and their families important information and facts about Molloy, upcoming events like Open House and high school fairs, and much more.
We also invite you to follow our other Instagram accounts: @MolloyHS (school news) and @MolloyHSAlum (alumni news).
---
Molloy Hosts Exciting Summer Camps
This summer, Molloy hosted a variety of exciting summer camps for rising sixth, seventh, and eighth graders. These camps also welcomed ninth graders attending Molloy this fall. Read on for more details about these unique opportunities as well as contact information.
STEM Camp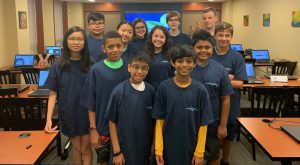 STEM Camp is a week-long workshop that provides innovative, fun, and hands-on learning opportunities. This summer, campers developed apps for Android devices, designed and printed objects in 3D using CAD software (Computer-Assisted Design), and learned about the Internet of Things and how to fly a drone. In addition, students took a field trip to the Hall of Science where they immersed themselves in the wonders of flight, space travel, and aerospace innovation. STEM Camp culminated with the exhibition of campers' original 3D artifacts and a presentation of projects to parents and visitors. Contact Ms. Edit Boral at eboral@molloyhs.org for information about future camps.
Theater Camp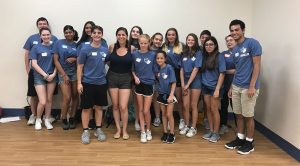 Theater Camp, directed by Ms. Shannon Winters '06, is a week-long workshop that covers storytelling, acting and improvisational activities, and monologue/scene work in a creative, judgment-free environment. This summer, campers participated in icebreakers and acting games designed to help them come out of their shells. Our campers also performed monologues of their choosing, wrote original stories and commercials, and even performed scenes from real Broadway shows. At the end of the week, campers performed for family and friends, showcasing the new skills they learned. They also had the opportunity to participate in a talent show where they could sing or play an instrument.
Theater Camp also includes an annual field trip with a focus on real-world experience. This year's trip was to Camp Broadway at Pearl Studios in Manhattan (where current Broadway auditions take place and where upcoming Broadway productions rehearse). Campers enjoyed a special workshop led by a working actor and participated in a variety of activities including improv, scene readings, and more. Visit the Stanner Players on Instagram (@stannerplayers) or email stannerplayers@gmail.com for more information.
Memorial 5 Camps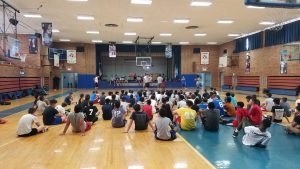 The Memorial 5 Camps, honoring the late Jack Curran, provide an inclusive, safe environment where young players can develop their skills in baseball and basketball while competing in games and contests. The basketball camp runs daily for two weeks (10 days) and features morning stretches, instructional time, drills, games, and challenges. The Elite Camp for baseball is held for one week (4 days) and is for serious players who wants to focus on intense training in the major skills of the sport. Activities include morning stretches, conditioning, strength and agility training, drills, and hitting, fielding, and pitching exercises. Visit http://memorial5.com/ for more information.
---
Scenes From Freshman Camp 2019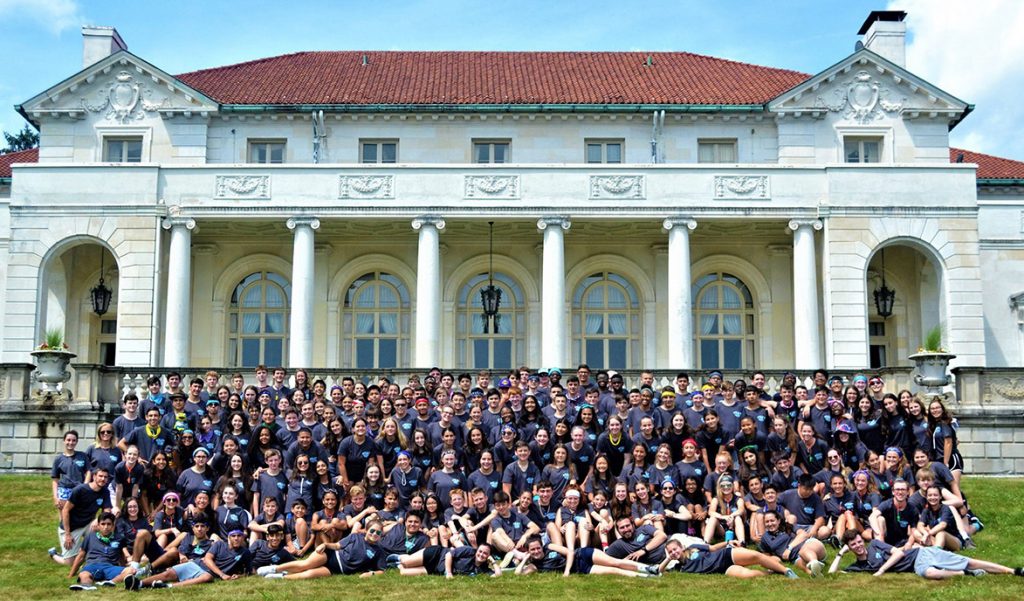 Since the 1970s, incoming freshmen have had the opportunity to make new friends, meet some of their teachers, and have a great week to start the summer at Molloy's annual Freshman Camp. Freshman Camp welcomes Molloy's newest Stanners to The Marist Brothers' Center at Esopus, where a wide variety of fun activities helps build self-esteem and a sense of community before the start of the school year. Campers celebrate Mass together as they begin to discover the Marist charism, while field trips, swimming, tubing down the Esopus Creek, a dance party, games in the recreation hall, and Flag all round out the experience.
"The Br. Declan Murray Freshman Camp was, once again, a transformational week for campers, counselors, and organizers," said Dr. Darius Penikas, Ed.D, Molloy's Principal. "We are so grateful to all those who organized, worked, and participated in this unique Molloy experience. It truly sets the tone for a great four years." (Photos by Mr. Jim Sheldon '88)
The Beehive would also like to give a shout out to the many alumni who volunteered at Freshman Camp (see photo below, top left corner). Thank you for infusing the camp with your enthusiasm!
---
Molloy Jersey Featured in Gatorade Commercial
Rivalries are good for sports because they make us raise our game even higher. That's why we're proud to help @Gatorade fuel rivalries. #MakeYourRivalYourFuel #GatoradePartner
You may have noticed a familiar jersey in a major TV commercial over the summer. The Beehive can confirm that the "Molloy" jersey worn in the Gatorade commercial starring JJ Watt is indeed Molloy's Girls Varsity Basketball jersey! The athletes depicted in the commercial are actors, but the jersey is authentic. The commercial has been airing on major networks and during prime time programming since July, meaning Molloy has been getting some major exposure! The spot will run on TV, Hulu, and YouTube until September 9th, so there's still time to spot it during a live broadcast. You can also check out the commercial right now via the embedded video player below. Thanks to Athletic Director Mr. Mike McCleary for working with Gatorade to make this happen!
---
Molloy Hosts 2019 CHSAA Team Camp
Earlier this summer, Molloy hosted the 2019 CHSAA Team Camp. In attendance were 94 Division I coaches, 54 Division II and III coaches, and 32 local and national media members. 53 scholarships totaling $9.4 million were offered to local athletes by universities including Rutgers, St. Bonaventure, Fordham, Hofstra, Iona, Seton Hall, and more. Click the thumbnail to the right for more information.
---
School Opens Next Week!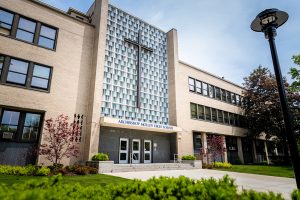 We are excited to welcome our students, faculty and staff back to school after Labor Day! All grades will return next week for orientation days, with the first full day of school scheduled for September 9th. Be sure to follow all the latest news during the 2019-20 school year in The Beehive! (Photo by Gianpaolo Fabiano)

Molloy Oktoberfest –

REGISTER NOW!
When: October 3, 2019 @ 6:00PM
Where: Molloy
Who: Everyone! (Ages 21+)
Admission: See prices on registration page
Contact: alumni@molloyhs.org
We are excited to host Molloy Oktoberfest once again this fall! All members of our community (ages 21+, friends and family welcome!) are invited to join us on Thursday, October 3rd for Bavarian style dinner and music as we kick off our event season with this fun and relaxing evening. Everyone in attendance will also receive a complimentary raffle ticket good for a prize drawing later in the evening!
We extend special invitations to members of our Badges Network as well as supporters of the Br. Ron Marcellin Memorial Scholarship. All proceeds from this event will benefit Named Scholarships at Molloy.
---

When: Saturday, November 2, 2019
Where: Archbishop Molloy High School
Class Years: 1949, 1954, 1959, 1964, 1969, 1974, 1979, 1984, 1989, 1994, 1999, 2004, 2009, & 2014
Ticket Information: Coming Soon
Contact: Matt Rizzotti '04 |mrizzotti@molloyhs.org | 718.441.9210
Class years ending in 4 and 9 are invited to join us on Saturday, November 2, 2019 for our Stanner Alumni Reunion! Your class reunion is a great opportunity to reconnect with old friends and teachers, and to reminisce about great memories at Stanner High. Click the button above to register online and reserve your spot as soon as possible (and look out for a postcard invitation in the mail within the next week)!
If you are interested in serving as a Class Officer, responsible for recruiting classmates and updating contact information, please call or email Alumni Development Officer Matt Rizzotti '04 via the information listed above.
---
33rd Annual Jim Kinnier Stanner Golf Classic –

September 9th!
Molloy is all set for the 33rd Annual Jim Kinnier Stanner Golf Classic on Monday, September 9th! All golfers are advised to download the schedule for their course by clicking the buttons below. We also invite our golfers and all members of our community to download our 2019 Golf Journal by clicking the long bar below. The Golf Journal features information about this year's honorees Scott Mager (CEO & Chair, Perfect Building Maintenance) and Jack Irushalmi (Owner, Tri-Star Construction), as well as ads for many Stanner-owned or Stanner-friendly businesses. If you have any questions before the event, please contact Alumni Development Officer Matt Rizzotti '04 at mrizzotti@molloyhs.org or at 929.446.4470.


Members of the Molloy community walked in the footsteps of St. Marcellin Champagnat this summer during a pilgrimage in France. Pictured in first photo left to right: A. Miserandino (former President of Mount St. Michael Academy), AMHS President Richard Karsten '81, Ms. Dorothy DeNoto, Mr. Joseph Chowske '81 & Mr. Mike Germano '93 at St. Marcellin's table at La Valla, the first home of the Marist Brothers in 1817.
---
In July, J.P. Dolan '10 traveled to Bulgaria with the Irish National Baseball Team to play in the 2020 Olympic Qualifying Tournament. "I represented Ireland alongside New York Mets pitcher Ryan O'Rourke. We played against the national teams from Bulgaria, Greece, Russia, Serbia, and Israel," said JP. "Unfortunately we didn't win the tournament and lost our chance to go to the Olympics, but we are trying to grow the game of baseball in Ireland by any means we can. Being in the tournament helped get the word out." JP is a proud member of the Suffolk County Police Department.
---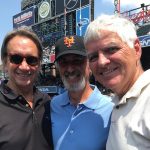 George Byrne '70, Bob Palmieri '70, and Dan McKnight '70 got together at Citi Field on August 7th to see the New York Mets take on the Miami Marlins. "We hadn't seen one another in close to 10 years, so this was very special," said Dan. The classmates later went to dinner, reminisced about their Molloy days, and raised a glass to fellow Stanners, especially the late Doug Lange '70. Pictured left to right: George, Bob, and Dan.
---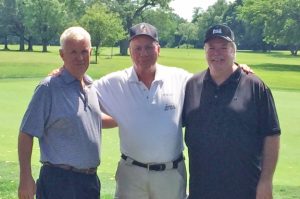 Richard Blaum '68 recently encountered two fellow Stanners by chance during a summer golf outing at Clearview Golf Course. Rick and his son were attending a memorial golf outing as a guest, and through a mix-up was placed in a foursome with two other golfers whom they had never met. While they were waiting to tee off, the foursome began to chat. It quickly became apparent that the two previously unknown golfers were indeed Stanners: Jim Kenny '67 and Pat Cumiskey '77. "Needless to say the stories flowed nonstop throughout the round and continued at the after party. It was a most surprising and enjoyable day," said Rick. "To top things off, it turns out that Jim & I both attended Mt. St. Mary's College in Emmitsburg, MD (now Mt. St. Mary's University), although we still didn't cross paths there, or at least not that we can remember. You can't make this stuff up."


We are saddened to share the passing of Donald J. Greene (8/7/19), father of Chris Greene '81.
Mr. Greene practiced law at Mendes and Mount from 1960-64, and then at LeBoeuf, Lamb, Leiby & MacRae from 1964 until his retirement in 2001. He served as the senior partner and Chairman of the firm for many years. In 1993 the firm was renamed to LeBoeuf, Lamb, Greene & MacRae, in his honor. While practicing law, Mr. Greene concentrated in serving insurers throughout the world. He was named Chief General Counsel to Lloyds of London, starting at age 36, through his retirement. In 1998 he was invested as Honorary Commander of the Most Excellent Order of the British Empire by Queen Elizabeth II for his decades-long service to Lloyds of London, the British insurance industry, and the community of international insurance and law. Additionally, he formed a reputation as a thoughtful mentor to young attorneys who were learning how to navigate the world of insurance law. Mr. Greene became a director of AXA Financial Services, Equitable Life Insurance, Aegis Services, Inc., Axis Reinsurance, and Lloyds Syndicate #235.
Mr. Greene grew up in Manhattan, attending St. Ann's Academy Grammar School and High School. He was a long-term benefactor of St. Ann's successor: Archbishop Molloy High School. He graduated from Fordham University in 1955, attended the Nike Program as a US Army Officer from 1955-57, and graduated from Columbia University Law School in 1960. His great loves in life were traveling, mentoring young attorneys, and, most importantly, spending time with family at his homes in Vero Beach, Florida and Westhampton Beach, New York. His 15 grandchildren were the pride of his life. He was a generous host to not just family, but also friends and all those who came to know him. He was greatly loved and will be missed.
Donations in memory of Donald J. Greene can be made to the Greene Family Scholarship Fund at Archbishop Molloy High School. To make a gift, visit www.molloyhs.org/donate/, select Fund For Molloy, and type "Greene Scholarship" in the comment field.
---

We are saddened to share the passing of Mr. Frank D'Angelo, father of Michael D'Angelo '93. A viewing will be held on Tuesday, September 3rd from 4:00-8:00PM at Leahy McDonald Funeral Home, located at 111-02 Atlantic Ave, Richmond Hill, NY 11419. A Funeral Mass will be held on the morning of Wednesday, September 4th, time to be determined, at St. Helen's Church, located at 157-10 83rd Street, Howard Beach, NY 11414. Contact Leahy McDonald Funeral Home at (718) 849-0785 or visit https://leahymcdonaldfh.com/ closer to September 4th to confirm time of Mass. Please keep Frank and the D'Angelo family in your prayers.

Please pray for the repose of the soul of retired FDNY Firefighter John "Jack" Boyle, father of Caitlin Boyle '04. | Memorial Page

Please pray for the repose of the soul of Michael Mancino '83. Michael received his bachelor's degree from St. John's University in 1987. After St. John's, Michael forged a career in the syndication business at Hearst, King Features, and United Media. Michael was well known in Forest Hills, where he stayed locally his entire life. He loved The Rolling Stones, The Who, the New York Mets, and the New York Jets. Please keep Michael and his family in your prayers. | Memorial Page

Please remember in your prayers the repose of the soul of Erna Mezic (10/11/1938-08/20/2019). May the Mezic family be consoled by friends and comforted by the promise of the Resurrection. She was the mother of Richard Mezic '86; aunt of Robert Rom '86 and Edmund Rom '87; and grandmother of Stefani Morscher '11, Matthew Morscher '16, Nicholas Mezic '19, and Lukas Mezic '20. In her memory, the family requests that you consider donations for polycystic kidney disease research: 1.800.PKD.CURE or https://pkdcure.org/make-a-donation/.

We are saddened to share the passing of Daniel Pignataro '91 on July 13, 2019. Daniel is survived by his wife, son and daughter, and five brothers who are all Stanners: Frank '92, Anthony '95, Matthew '98, Dominic '03, and Andrew '08. Please keep Daniel and the Pignataro family in your prayers. | Memorial Page

We are saddened to share the passing of Alfred P. Lozito '60 on July 26, 2019. He is survived by his wife, two children, and two grandchildren. Please keep Alfred and his family in your prayers. | Memorial Page

Please pray for the repose of the soul of Daniel C. Eckhoff '75, who passed away April 23, 2019. | Memorial Page

We are saddened to share the passing of Margaretta (Compton) Schwarz (9/12/23 – 8/19/19), mother of Terry Shugrue '73. Terry shares: "She raised me as a single mom in Briarwood, across from Molloy's athletic field. She always made sure I had anything that I ever wanted including sending me to Molloy and Syracuse University. She was preceded in death by her knight in shining armor and husband of 40 years, Robert T. Schwarz." Please keep Margaretta and her family in your prayers. | Memorial Page

Please pray for the repose of the soul of Jim Nealis Sr., father of Jim Nealis '78 and Kevin Nealis '79, uncle of James Whelan '81, Therese Krische, and Edward Krische '13, and extended family of Paul Krische '81. "He was a big supporter of everything Molloy," said Jim '78. Please keep Jim and the Nealis family in your prayers.