Molloy Oktoberfest –

LAST WEEKEND TO REGISTER!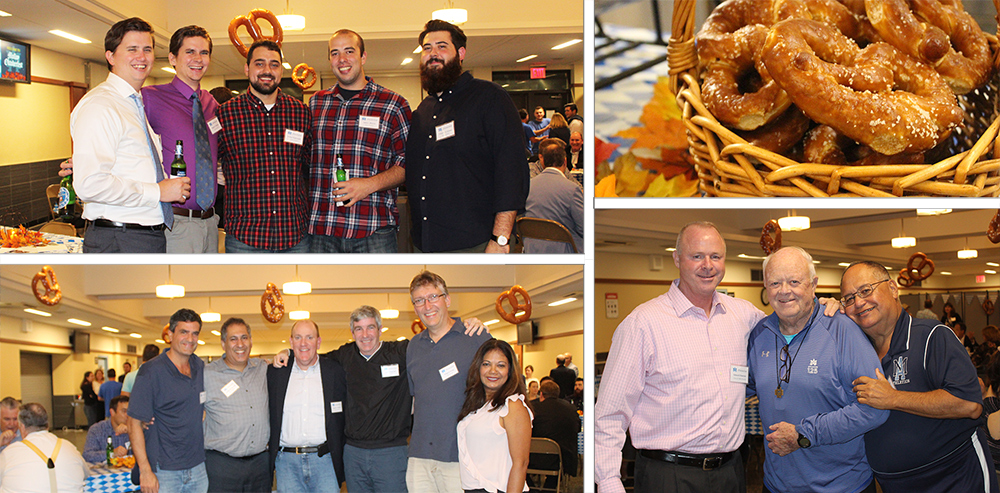 Molloy Oktoberfest is just days away! All members of our community (ages 21+, friends and family welcome!) are invited to join us on Thursday, October 3rd for Bavarian style dinner and music as we kick off our event season with this fun and relaxing evening. Everyone in attendance will also receive a complimentary raffle ticket good for a prize drawing later in the evening.
PLEASE REGISTER BY OCTOBER 1

st

. All proceeds from this event will benefit Named Scholarships at Molloy.
---
Stanner Alumni Reunion –

5 WEEKS AWAY!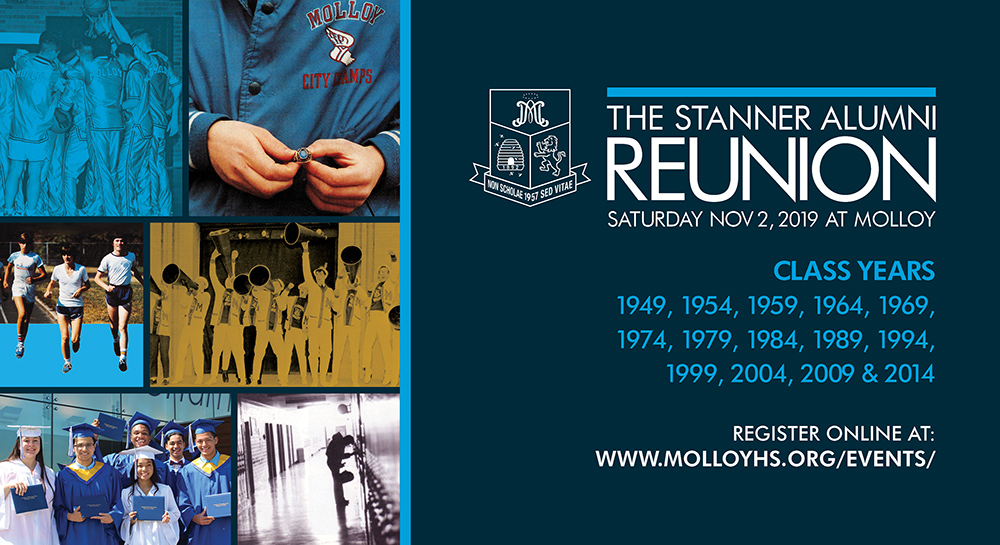 The Stanner Alumni reunion for class years ending in 4 and 9 is just five weeks away! Join us on Saturday, November 2, 2019 as we reconnect with old friends and teachers, and reminisce about great memories at Stanner High. Click the button above to register online and reserve your spot as soon as possible. A schedule for the evening and a list of those currently signed up is posted on the event page.
If you are interested in serving as a Class Officer, responsible for recruiting classmates and updating contact information, please call or email Alumni Development Officer Matt Rizzotti '04 via the information listed above.
---
Molloy Presents: Radio Bingo –

REGISTER NOW!
The Molloy community is cordially invited to attend Radio Bingo this October. Join students, parents, alumni, and friends for this inaugural Molloy event. Click the flyer to the right for more details.
RADIO BINGO IS: Name That Tune meets Bingo! Musical-themed Bingo games, hosted by DJs @ Work, will highlight 80s music and 90s music, TV show themes, and much more that will appear on players' bingo cards. You may want to brush up on your knowledge of popular music to prepare! Radio Bingo is sure to bring a smile to your face (and probably lead to a few sing-alongs too).

EVENT FEATURES: Admission includes multiple bingo boards. Guaranteed prizes and winners for all games. Raffle drawings too! Snacks and drinks for students, cash bar with adult beverages for guests ages 21+ (will receive bracelet upon entry).

PROCEEDS SUPPORT: The Girls' Leadership Scholarships Fund, benefiting young women entering Molloy in the future.

SPONSORED BY: The Girls Leadership Scholarships Fund Committee and female faculty and staff.
---
Connecticut Alumni Gathering –

SAVE THE DATE
Alumni living in Connecticut and around New England are invited to join members of the Stanner Alumni Center at Two Roads Brewery (1700 Stratford Ave) in Stratford, Connecticut, for our third New England/Connecticut Alumni Chapter event on Wednesday, November 13th. Your ticket includes dinner and drinks for the evening. Past gatherings have included a brewery tour. Join us for the fun as we catch up with our Stanners north of NYC. Spouses and family members ages 21 and up are welcome.


Molloy Launches First In Series Of New School Videos
This week, Molloy Admissions launched the first in a series of new promotional school videos highlighting what makes Molloy a dynamic and memorable learning experience. The first video, Discover Your Passions, Drive Them Forward, showcases Molloy's outstanding academic, athletic, extracurricular, and college guidance programs. Our wonderful alumni network also gets a shout-out! The next videos in the series will be released across social media (Facebook, Twitter, Instagram, LinkedIn) and via email in the weeks leading up to Open House on Sunday, October 20th. You can catch a sneak peek of all three videos by visiting our website. Please share this and future videos with your children, family members and friends and help spread the word about Molloy! Don't forget to visit our Open House on October 20th from 11am-4pm!
---
Open House – October 20, 2019 – 11am-4pm
Archbishop Molloy High School's fall Open House is set for Sunday, October 20th from 11am to 4pm. Open House is a great opportunity for future Stanners and their families to visit Molloy and learn all about our amazing school. Alumni attending Open House are invited to stop by room 124 and say hello to the staff at the Stanner Alumni Center!
VOLUNTEERS NEEDED! Alumni and parent volunteers are encouraged to sign up as volunteers to fill different roles throughout Open House. These include greeting and directing visitors, speaking one-on-one about their own Molloy experiences or those of their children, and more. Please contact our admissions department at admissions@molloyhs.org to express interest.
---
Each Class Celebrates Mass of the Holy Spirit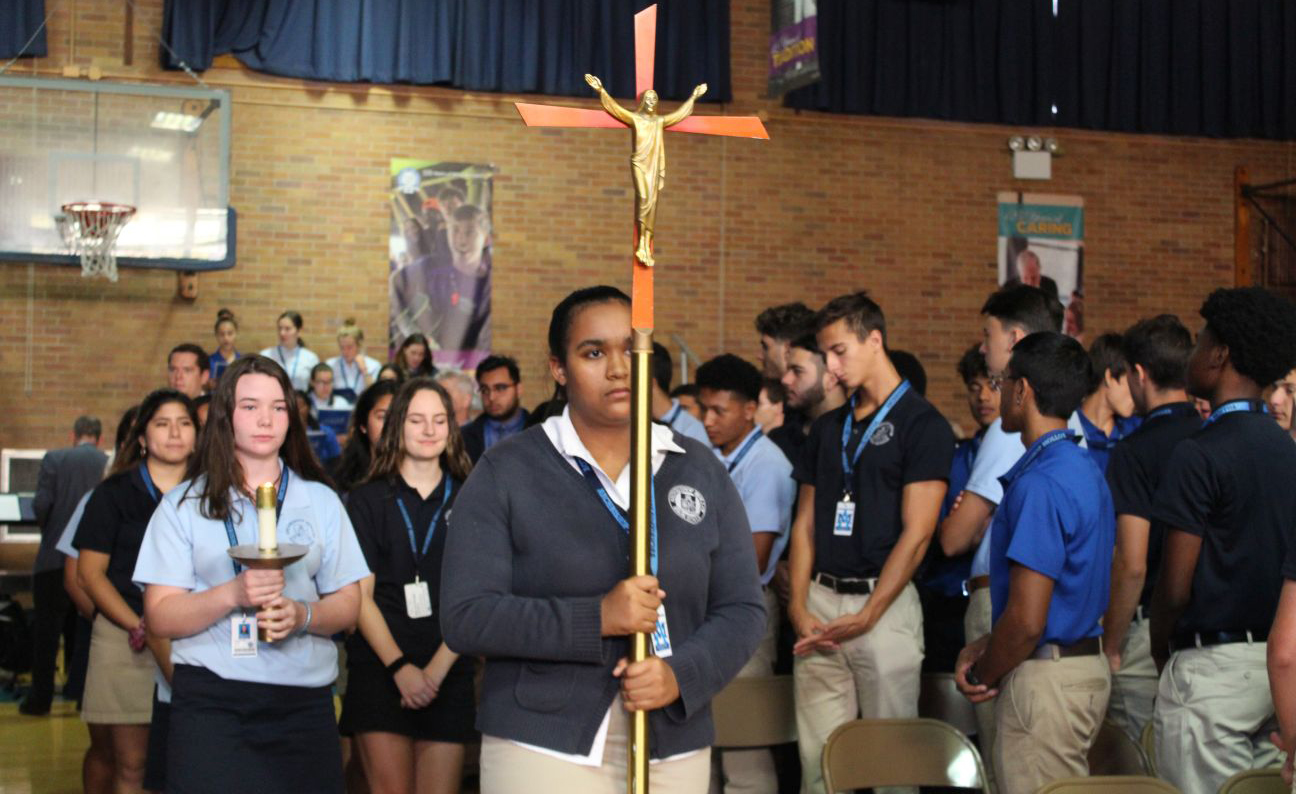 This week, each class celebrated Mass of the Holy Spirit in the Jack Curran Gymnasium. While the Liturgy Committee organizes numerous liturgies throughout the year, the Mass of the Holy Spirit in September represents the only time each class celebrates together. This is an important tradition that gives all students a chance to pause and reflect on themselves, each other, and the year ahead.
Leading up to the week, Students in the Liturgy Committee painted flames that represent gifts given to us by the Holy Spirit, things which set us "on fire" and help us be our best selves. Students in each homeroom were encouraged to write words on the flames that represent things they are passionate about which allow them to be their best selves. Students wrote words such as parents, friends, sports, music, theater, and much more. The flames were then displayed at the altar during each Mass.
There's of course another tradition that took place this week: Freshman Field Day! We'll have that story and some great photos in our next Beehive.
---
Molloy Remembers 9/11 Heroes
On September 11th, Principal Penikas led Molloy in prayer during homeroom announcements. He reflected on the tragic events while reading the names of those in our Stanner family who were lost, but who are not forgotten. Together we prayed for all those affected on that day, including those who continue to battle 9/11 related illnesses. A memorial display was also placed in our first floor lobby.
---
Cross Country Update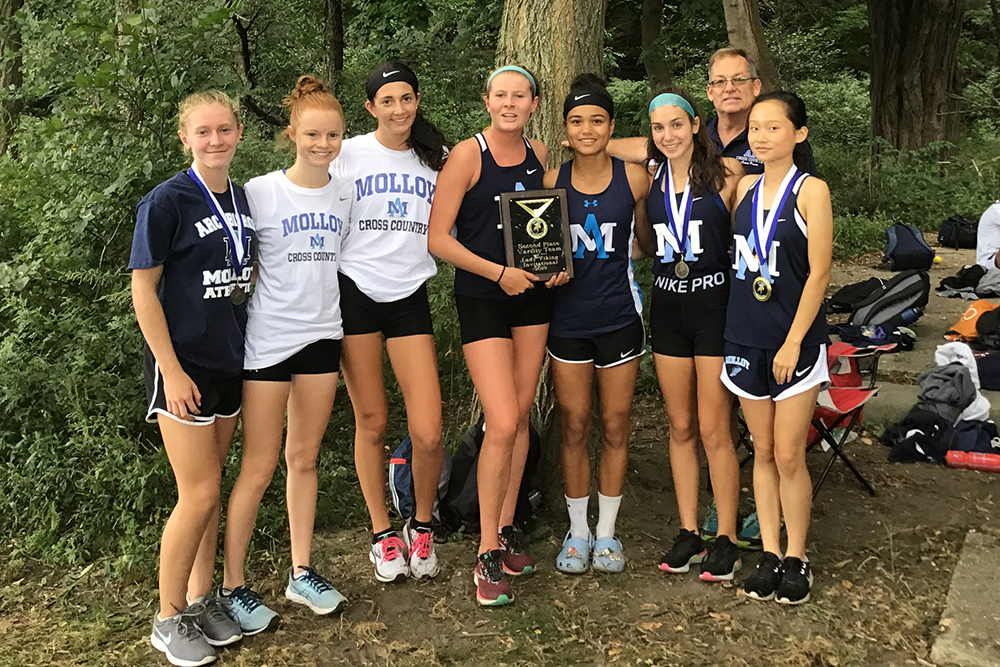 Congratulations to our Varsity Girls Cross Country team, who took second place at the Lady Viking Classic at Van Cortlandt Park on September 14th. Stats: Grace Murphy 16:35.6 – Amber Walters 17:09.5 – Cher Mei 17.49.7 – Marina Tsimisiris 17:50.7 – Sophia Fernandez 18:17.8 – Isabell DeSantis 19:45.9 – Casey Gilroy 19:52.2 | View Full Results
---
Seniors Learn Teamwork in Virtual Enterprise
As you may have read in our new issue of Stanner Life, Molloy has added Virtual Enterprise as a senior elective. Students in Virtual Enterprise intellectually conceive and implement their own online businesses. They oversee a virtual marketplace and can spend hypothetical money on each other's businesses. To run their virtual enterprise successfully, students must strategize and learn aspects of finance, marketing, research, public relations, and internal governing structure.
Seniors in Mr. Touzin's Virtual Enterprise class recently participated in a team-building exercise. In teams of five, students had 18 minutes to build the tallest free-standing structure using 20 sticks of spaghetti, one yard of tape, one yard of string, and one marshmallow. The marshmallow must be on top. The activity promoted group problem solving, collaboration, strategy, and communication.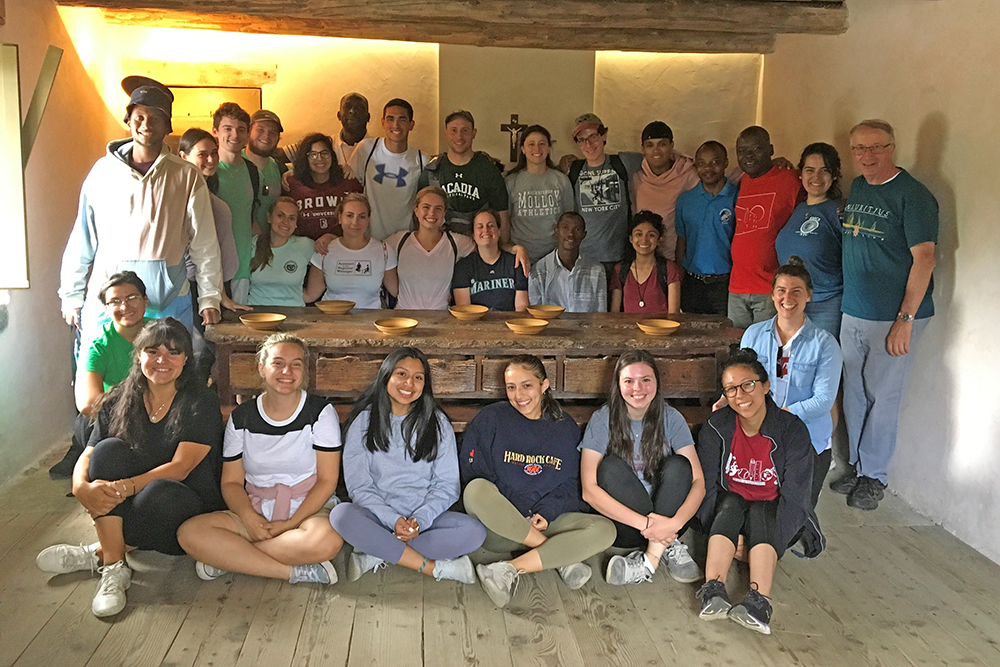 Over the summer, 20 alumni joined members of Molloy's faculty on a St. Marcellin Champagnat Society service trip to Lourdes, France, as well as a pilgrimage to the Marist Brothers' Hermitage in La Valla. "Lourdes is the city where Saint Bernadette witnessed several apparitions of Mary, which makes it a popular Catholic pilgrimage site, especially for the sick," explained Ms. Dyana Christie, one of the trip organizers. "While in Lourdes we volunteered in the baths, at the Rosary Procession, and at Mass." SMCS then traveled to The Hermitage, where they spent several days reflecting on the Marist Pillars and how they influenced their service in Lourdes. Thank you to our alumni and our faculty volunteers Ms. Christie, Ms. Catie Massowd '07, Mr. Gus Esgro, Mr. Chris Dougherty '91, and Ms. Jessica Pastore '04.
---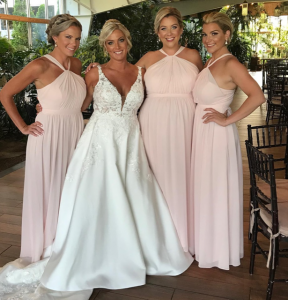 Congratulations to Amanda Ruecker '05 and Anthony Casasanta '05, who were married in Saint James, New York on July 26, 2019. Attending the celebration were three of Amanda's Molloy classmates and softball teammates. Pictured L-R: Kristin Steffens '05, Amanda, Mary Braunstein '05, and Danielle Mascia '05.
---
This past summer, Molloy worked with the Sisters at Queen of Peace Residence in Queens Village, Peter Allen '63, and friends of Michael Severino to present Michael with an honorary high school diploma. Michael, now 99 years old, was abandoned at birth and raised in the New York State orphanage system where only three years of elementary education were offered. He taught himself math and how to read. At age 18, Michael was drafted into the armed forces, which led him to The Battle of Iwo Jima during World War II. After returning from the war, Michael found work as a carpenter. He also located his birth mother, who was in need of care. Michael put off any further educational pursuits and cared for his mother over the next 20 years until her passing. As a result, he was never able to pursue a high school education. "The honorary diploma has meant so much to Michael and everyone who has shared his inspirational life for the past 15 or so years," said Peter. "The celebration at Queen of Peace was wonderful, and Michael was quite overcome as the center of attraction in his (borrowed) cap and gown. Thank you to Molloy for all the joy you brought him and to all of us who love him. He truly is a remarkable man."
---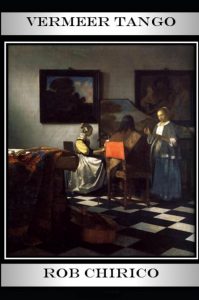 Rob Chirico '70 has published a new book titled Vermeer Tango about the Isabella Stewart Gardner Museum Heist of 1990, an event regarded as one of the most notorious and high valued art heists in history. According to the book's description: "Shortly after midnight on St. Patrick's Day 1990, two men broke into the Isabella Stewart Gardner Museum in Boston and committed the greatest, and still unsolved, art heist in history. Among them was The Concert by Jan Vermeer. In the novel, Max Brand, a bartender, former art historian, and man of the world, is persuaded by a U.S. official to travel to Argentina to assist an art appraiser in tracking down what appears to be the stolen painting." | More Info on Vermeer Tango
---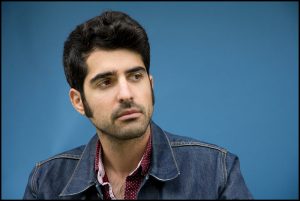 Pete Mancini '05, former frontman of the rock band Butchers Blind, is currently on a solo tour and will be making a local stop at The Community House in Forest Hills (15 Borage Place). Pete Mancini & the Hillside Airmen and other artists will perform on Saturday, October 5, 2019 at 7:30pm. According to his website, Pete's debut solo album, Foothill Freeway, "explored the Americana influences that were a hallmark of his work with his former band." Pete's career has included opening for acts such as Blues Traveler, Gin Blossoms, Pure Prairie League, and more. Click here for event information.



Please pray for the repose of the soul of Douglas Lange '70, who passed away on July 13, 2019.