Stanner Alumni Reunion – 3 WEEKS AWAY!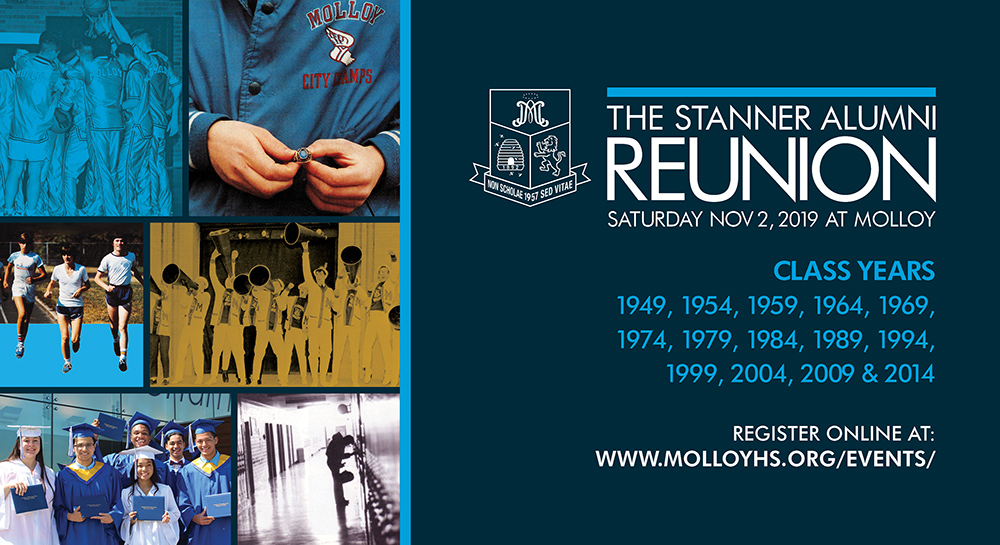 When: Saturday, November 2, 2019
Early Check-In Begins at: 4:30pm
Where: Archbishop Molloy High School
Class Years: 1949, 1954, 1959, 1964, 1969, 1974, 1979, 1984, 1989, 1994, 1999, 2004, 2009, & 2014
Ticket Information: Coming Soon
Contact: Matt Rizzotti '04 |mrizzotti@molloyhs.org | 718.441.9210
REGISTRATION NOW CLOSED
The Stanner Alumni Reunion for class years ending in 4 and 9 is just three weeks away! Join us on Saturday, November 2, 2019 as we reconnect with old friends and teachers, and reminisce about great memories at Stanner High. Click the button above to register online and reserve your spot as soon as possible.
A schedule for the evening, ticket pricing, and a list of alumni currently signed up to attend are all included on the Reunion event page.
If you are interested in serving as a Class Officer, responsible for recruiting classmates and updating contact information, please call or email Alumni Development Officer Matt Rizzotti '04 at the information listed above.
---
Connecticut Alumni Gathering – REGISTER NOW!
When: Wednesday, November 13, 2019 | 6:00pm
Where: Two Roads Brewery (Stratford, CT)
Who: New England/Connecticut Alumni (Ages 21+)
Contact: Matt Rizzotti '04 | 718.441.9210
REGISTRATION NOW CLOSED
Online registration is now open! Alumni living in Connecticut and around New England are invited to join members of the Stanner Alumni Center at Two Roads Brewery (1700 Stratford Ave) in Stratford, Connecticut, for our third Connecticut/New England Alumni Chapter event on Wednesday, November 13th. The admission price of $25 per person includes dinner and drinks for the evening. Past gatherings have also included a private brewery tour. Join us for the fun as we catch up with our Stanners north of NYC. Spouses, family members and friends ages 21+ are welcome!
---
Thanksgiving Liturgy – SAVE THE DATE
When: Wednesday, November 27, 2019
Mass Begins: 10:40am
Where: Archbishop Molloy High School
Who: All are welcome!
Contact: alumni@molloyhs.org | 718.441.9210
Alumni, family members and friends are invited to join us for our annual Thanksgiving Liturgy on Wednesday, November 27th. Mass will begin promptly at 10:40am. We encourage all guests to please arrive by 10:15am to allow for extra time to be seated. A light reception will follow. We look forward to your homecoming! Please send any questions to alumni@molloyhs.org.


Watch Our School Videos! – Open House 10/20 11am-4pm!
On September 26th, Molloy launched the first in a series of new promotional school videos. Molloy has since published all three of its new videos as it gears up to host its fall Open House on Sunday, October 20th from 11am to 4pm. Each video has a unique theme and highlights what makes Molloy a premier college preparatory school:
Video 1 – Discover Your Passions, Drive Them Forward – Highlights include Molloy's outstanding curriculum including honors and AP courses, 60+ extracurricular activities and 44 team sports, our dedicated faculty, and college guidance counselors that work with each student to find the college that's right for them.
Video 2 – Broadening Perspectives, Deepening Beliefs – Highlights include Molloy's Catholic Marist identity, students' personal and spiritual growth through service programs and activities, our caring Guidance department and renowned peer counseling program, Freshman Camp, and our four-year retreat program at the Marist Brothers Center at Esopus.
Video 3 – Creating The Leaders Of Tomorrow – Highlights include Molloy's focus on STEM, leading-edge technology, and providing a modern learning environment, a campus and facilities that foster community and creativity, and inspiring leadership through innovation.
We encourage readers of The Beehive to share these videos with your children, family and friends to help us spread the word about Molloy! We also welcome you to attend our Open House on Sunday, October 20th from 11am-4pm as we meet the next generation of Stanners. Alumni are invited to visit the Stanner Alumni Center in room 124 to say hello!
---
Stanners Gather for Molloy Oktoberfest
On October 3rd, Over 60 alumni, parents, faculty and friends gathered for our annual Molloy Oktoberfest celebration. This casual dinner featured a delicious Bavarian-inspired dinner catered by Mike McGuire '81 and our friends at Trinity Restaurant of Floral Park. Guests enjoyed a wide variety of German beers as well as music and décor that helped bring an authentic Oktoberfest feel to Briarwood. Each guest also received a complimentary raffle ticket for a drawing later in the evening. Winners of the raffle took home polo shirts as well as a few Oktoberfest-inspired glassware.
During the event, Alumni Development Director Craig Katinas '93 shared a few words with the crowd, highlighting that proceeds from the evening would support both The Br. Ron Marcellin Memorial Scholarship and The Lou Santos Scholarship. "These scholarships are of great importance because they help students experiencing extraordinary circumstances at home and or financial burdens that might otherwise hinder their ability to attend Molloy," said Craig. "Oktoberfest was not only fun, it was that much more important because we were able to continue directly helping gifted and deserving students in need."
We'd love to see you at next year's Molloy Oktoberfest! We will announce the date of next year's event in a future issue of The Beehive. In the meantime please send questions or comments regarding the event to alumni@molloyhs.org.


---
2018-19 AP Scholars Announced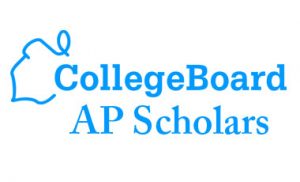 A total of 81 Archbishop Molloy High School students/recent graduates received Scholars recognition from the College Board's Advanced Placement Program for their achievement on the May 2019 AP exams during the 2018-19 school year.
Of this total, 48 Molloy students were recognized as AP Scholars, 21 as Scholars with Honors, 12 as Scholars with Distinction and one as a National AP Scholar. Molloy's AP Scholars received an average score of 3.56. Scholars with Honors earned average scores of 3.91. Scholars with Distinction achieved average scores of 4.12. Molloy's National AP Scholar excelled with an average score of 4.63.
The following current Molloy seniors were named AP Scholars. These students received scores of 3 or higher on three or more AP exams by the end of junior year: Ana Barreira, Nicholas Cusumano, Caroline Favelson, Veronica James, Si Young Kim, Haley Kirmaier, Agniewska Kowalczyk, Thomas LaPinta, John Mosley, Shane O'Brien, Althea Onaifo, Jonathon Overton, Isabella Pimienta, Ashleigh Requijo, Fiona Roche, Krista Schemitsch, Margaret Timothy.

The following current Molloy seniors were named Scholars with Honors. These students received scores of at least 3.25 on all AP exams AND scores of 3 or higher on four or more AP exams by the end of junior year: Susan Jacob, Sadie Lozano-Mieles, Tara O'Reilly.

The following current Molloy senior was named AP Scholar with Distinction. Among these recognized students are those who receive at least 3.5 on all AP exams AND scores of 3 or higher on five or more AP exams: Gregory Sharma.

Archbishop Molloy's 2019 Graduated Seniors. AP Scholar Recognition: John Aliberti, Anthony Autera, Marissa Barba, Chris Barbera, Ryan Boettcher, Daniella Campos, Nikola Ciric, Emily Encalada, Elizabeth Hertler, Katelyn Hoosein, Maya Janicki, Patrick Kelly, Kimberly Loyer, Christopher Lucik, Jessie Ma, Mariah Mendez, Aidan Mooney, Brendan Moy, Diana Munoz, Nirmala Narine, Sean O'Connell, Ashmanie Persaud, Tristan Prashad, Jane Romero, Olivia Sackitey, Raymond Savastano, Nikhil Solanki, Isis Soto, Anthony Talion, Jacqueline Torres, Andrew Visceglia.

Archbishop Molloy's 2019 Graduated Seniors. AP Scholars with Honors: Rafael Arichavala, Efecan Balci, Sydney Bryant, Hazel Charcos, Andrew Coleman, Nicholas Discala, Vanessa Marku, Jack McDade, Andrew McGrory, Timothy Mehta, Peter Paolo, Nathan Papadogiannis, Bianca Parrinello, Nicholas Pindulic, Mahema Somdat, Jada Thompson, Andrew Zaoutis.

Archbishop Molloy's 2019 Graduated Seniors. AP Scholars with Distinction: Arrianne Bautista, Alexandra Celedon, Geraldine Ciaccio, Sarah Doyle, Juliana Giacone, William Kanellopoulos, Amma Opam, Sarah Quispe, Stephanie Szpylka.

NATIONAL AP SCHOLAR: The following 2019 Molloy graduate was one of the United States students recognized by the Advanced Placement Program for receiving scores of at least 4 on all AP exams AND scores of 4 or higher on five or more exams: William Kanellopoulos.
---
Class of '23 Cheer Each Other On During Freshman Field Day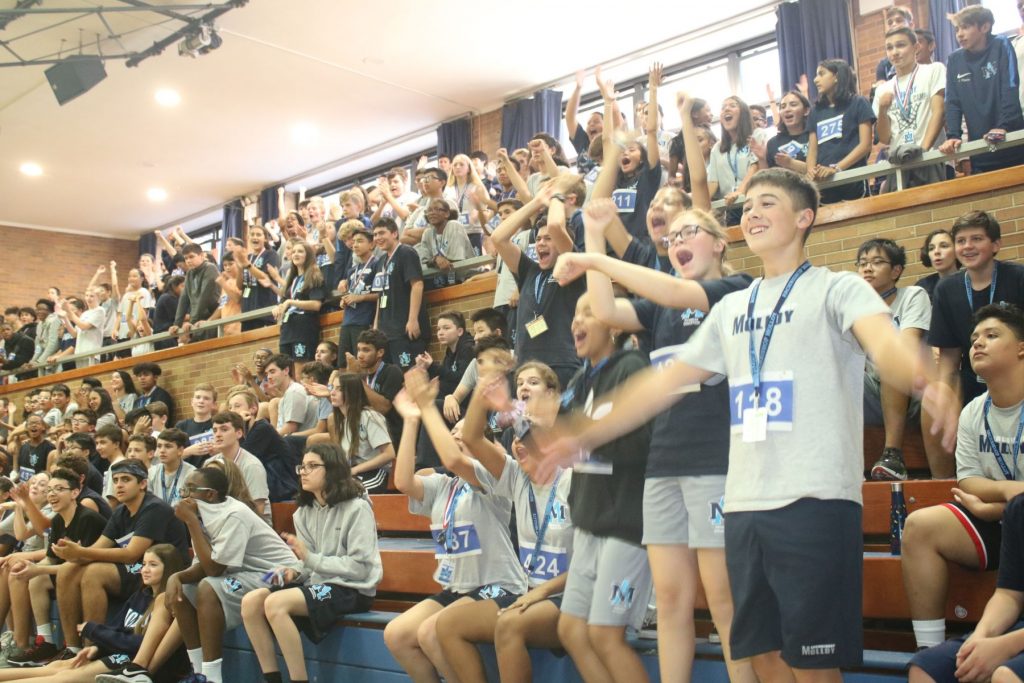 On Friday, September 27th, Molloy held its annual Freshman Field Day. This important and long-running tradition helps build a sense of community among the freshman class. The day began with a Mass of the Holy Spirit and continues with a series of athletic and academic challenges that promote teamwork and inspire class spirit. Homerooms competed against each other in events such as basketball, soccer, track relays, shot put, long jump, spoon race, potato sack race, and the high jump. The high jump, the final event of the day, gave the entire freshman class an opportunity to join together, regardless of which homeroom they're in, and cheer on each freshman challenger as they tried to clear that pesky bar. The cheers got louder and louder as the bar got higher and higher. Overall, the Class of 2023 had a great day that we hope they'll always remember! Do you remember your Freshman Field Day event? Send your memories to alumni@molloyhs.org.
The photos below were taken by Photography Club members Ryan Plut '22, Jackson Seeley '22, Angelina Warren '22,and Julia Warren '22.
---
Students And Their Families Attend Communion Breakfast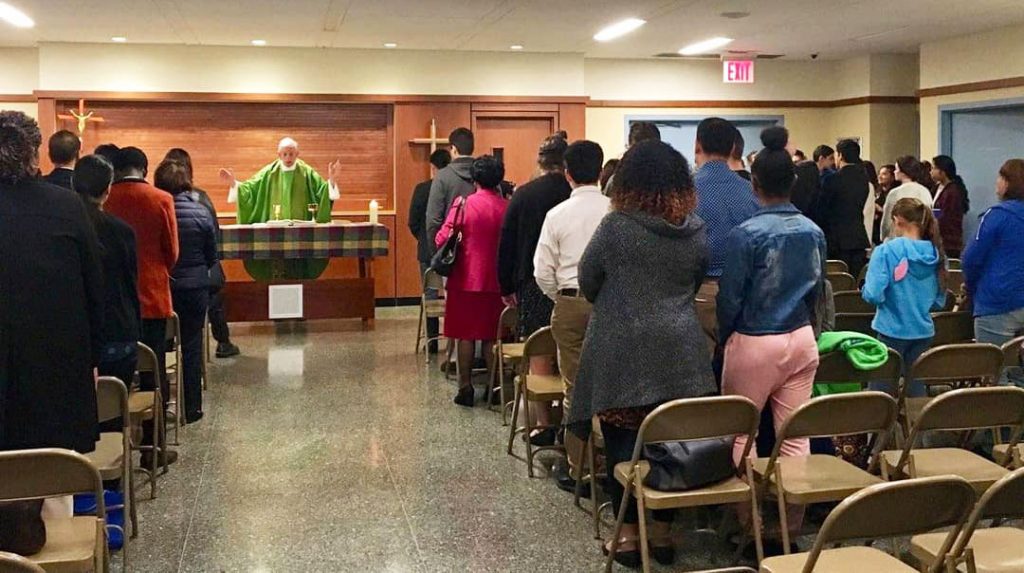 On Sunday, October 6th, over 100 freshmen, sophomores, and their families attended Molloy's second annual Communion Breakfast. Mass was celebrated by Father John Serio '71, after which a light reception was held. This event helped build a deeper sense of community between Molloy and its underclassmen and their families.
---
Senior to be Honored by New York Mets
Emelie Gonzalez '20 has been selected as a New York Mets Latino Leadership Scholarship recipient. This is a full-tuition scholarship for one LIU Post High School Scholars course and includes an invitation to a special dinner to be held at Citi Field. The event will include an appearance by special guest Edgardo Alfonzo, former All-Star second baseman for the Mets.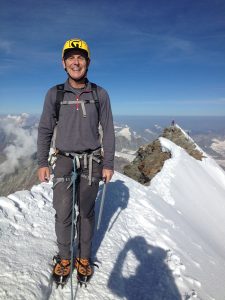 Dan Gallagher '81 is a skilled mountain climber who is about to embark on an adventurous hike up one of the world's most imposing mountains. Ama Dablam is a mountain in the Himalayas that, at its highest peak, reaches 22,349 feet. Dan will fly to Kathmandu, the capital of Nepal, and then travel to Ama Dablam. His return flight is not yet booked because it is not yet known how long the climb will take, though it is anticipated to take several weeks. Dan will need to tap into his many years of experience for this adventurous, challenging hike. Good luck, Dan!
---
Congratulations to Efecan Balci '19, who's research paper Automatic Labeling of Topic Models using Deep Learning, which he wrote in Ms. Mary Mallia's science research class, has been accepted at the International Conference on Applied Internet and Information Technologies (University of Novi Sad, Serbia) and will be published in the proceedings.
---
Thomas Adkins '64 submitted the following note: "I was reading the Class Updates in the Summer 2019 edition of Stanner Life and was moved to share. Then I listened to the readings for the 24th Sunday of the year and was even further moved. If you're a classmate who remembers me, you probably remember that I was probably the most ill-behaved student at Molloy from 1960 to 1964. But without going into detail, I can now say that Our Good Father 'mercifully treated' me as he did Paul 'so that in me…Christ Jesus might display his patience as an example.' I cannot begin to enumerate all the blessings that have been bestowed on me, but among them has been His call to be an Extraordinary Minister of the Eucharist, a Lector, and a member of my parish's RCIA team. My own past grievances have allowed me to be less judgmental and more forgiving. I may not have realized it at the time, but seeds were being planted in me at Molloy which I truly believe have produced some good fruit."
---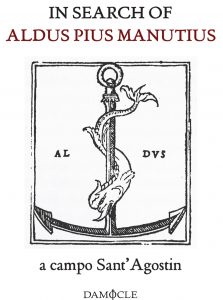 "In Search of Aldus Pius Manutius a campo Sant'Agostin" by Johannes Knoops '80, published by Damocle Edizione in November 2018 in Venice, outlines the allegation against the currently celebrated location of Aldus's printing press on campo Sant'Agostin, while illustrating the true location in Venice. Denounced shortly after the commemorative plaque's installation in 1828, historians have long questioned the site's legitimacy. This is the first time the true location has been so clearly mapped and argued for. The book's proposition was defended with a full-page article in Gazzettino, northern Italy's daily newspaper. Ultimately, this publication led the offices of the Soprintendenza di Venezia and the Commune di Venezia to approve a new commemoration of Aldine Press's achievements at its proper location. Initiated 3 years ago, this Herculean quest will conclude with the installation of the Aldine stemma above its door in early 2020. Pictured right is the cover of the publication by Johannes.



We are saddened to share the passing of A. William Urquhart '65 on October 4, 2019. William was a co-founder and respected attorney with Quinn Emanuel Urquhart & Sullivan. He had been with the firm, known as the largest law firm in the world devoted to business litigation, for 31 years. Please keep William and the Urquhart family in your prayers | Memorial Page