Stanner Alumni Reunion –

THIS WEEK!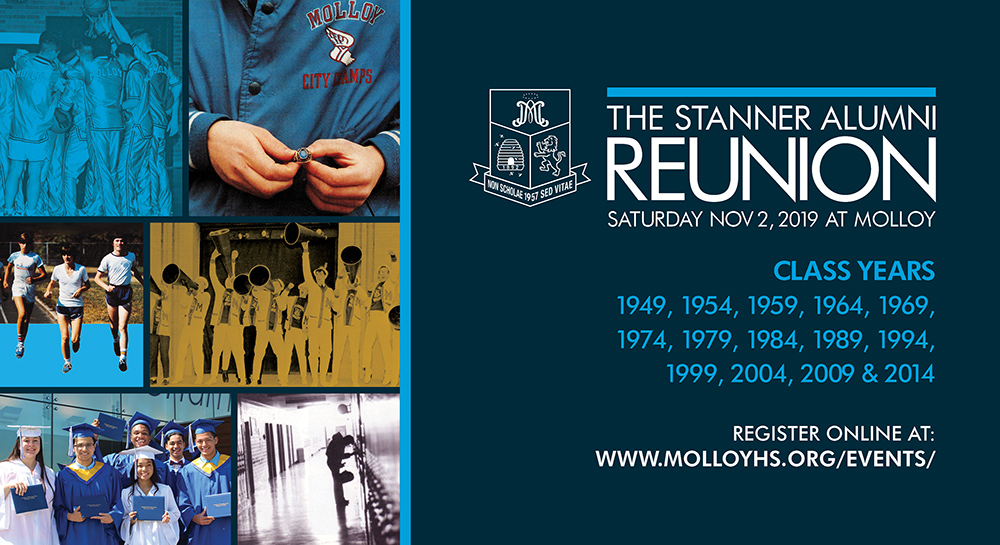 The Stanner Alumni Reunion for class years ending in 4 and 9 is THIS WEEK! Join us on Saturday, November 2nd as we reconnect with old friends and teachers, and reminisce about great memories at Stanner High. Click the button above to register and reserve your spot as soon as possible.
A schedule for the evening, ticket pricing, and a list of alumni currently registered are all included on the event page. Please share this information and the link with your classmates and encourage them to sign up by the October 28th deadline. A large crowd is expected and space is ultimately limited so please do not delay!
---
Alumni Race at Van Cortlandt Park –

2 WEEKS AWAY!
Track & Field alumni are invited to represent Molloy in the 2019 Alumni Race over the 2.5 mile course at Van Cortlandt Park on Saturday, November 9th at 12:15pm. Race bibs will be available from 10:00am-11:45am at the finish line and from 11:45am-12:10pm at the starting line. This year, a suggested $5 donation will help the CHSAA cover rising meet costs. After the race, alumni are invited to the Tortoise and the Hair Bar & Grill (6115 Broadway, Bronx, NY). (Click for additional information about CHSAA Intersectionals) (Pictured: 2018 Alumni Runners)
---
Connecticut Alumni Gathering –

3 WEEKS AWAY!
Register soon! Alumni living in Connecticut and around New England are invited to join members of the Stanner Alumni Center at Two Roads Brewery (1700 Stratford Ave) in Stratford, Connecticut, for our third Connecticut/New England Alumni Chapter event on Wednesday, November 13th. Your $25 per person admission includes dinner and drinks for the evening. Past gatherings have also included a private brewery tour. Join us for the fun as we catch up with our Stanners north of NYC. Spouses, family members and friends ages 21+ are welcome!
---
Thanksgiving Liturgy –

SAVE THE DATE!
Alumni, family members, and friends are invited to join us as we celebrate our annual Thanksgiving Liturgy on Wednesday, November 27th. Mass will begin promptly at 10:40am. We encourage all guests to please arrive by 10:15am to allow for time to be seated. A light reception with cookies and hot cocoa will follow. We look forward to your homecoming! Please send any questions to alumni@molloyhs.org.

"Radio Bingo" Supports Girls Leadership Scholarships Fund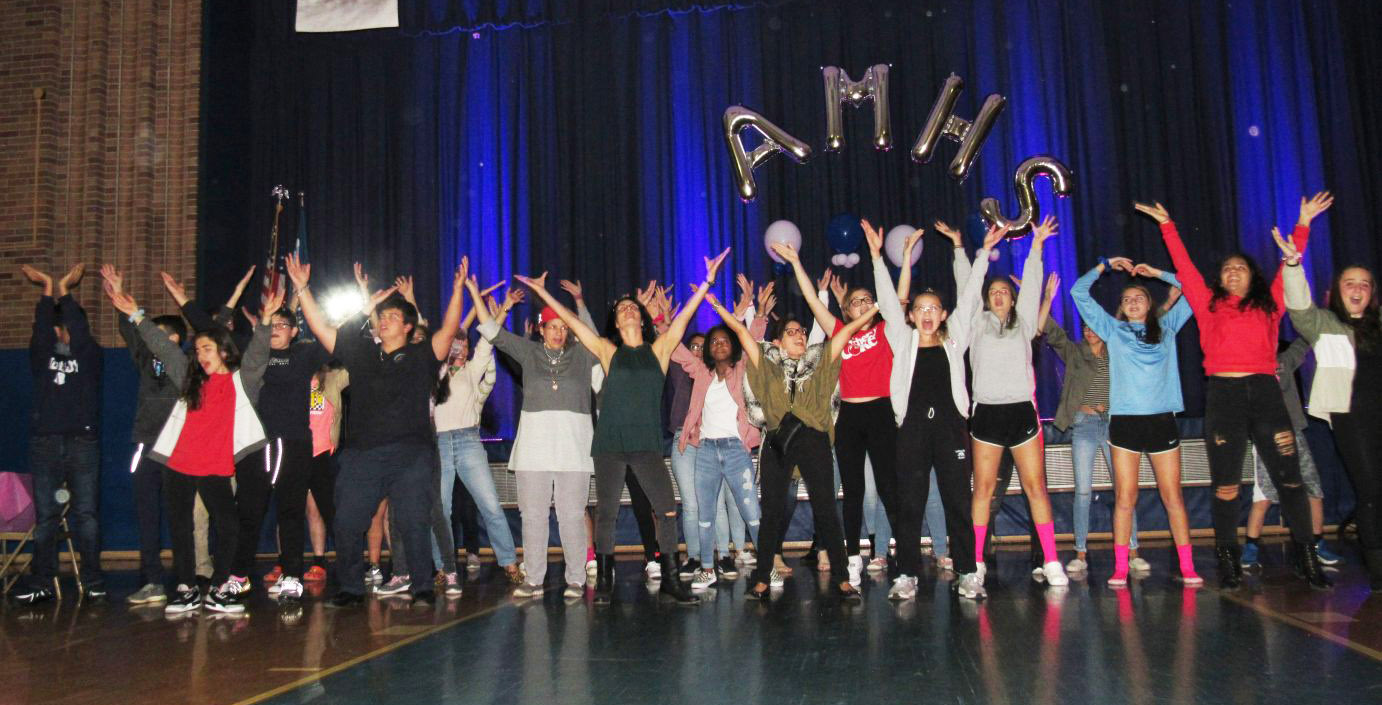 Earlier this month, Molloy hosted its first ever Radio Bingo event, with proceeds benefiting the recently established Girls Leadership Scholarships Fund. Over 200 students, teachers, alumni, family members and friends across generations attended the event. The Marist Brothers and members of Molloy's School Board also had a presence at the event.
What is Radio Bingo? It's Name That Tune meets Bingo, of course! Musical-themed Bingo rounds, hosted by DJs@Work, highlighted 80s and 90s music, and TV and movie themes, while players were tasked with identifying the song clips and scoring their Bingo cards accordingly. The evening also included a raffle drawing and prize baskets, a 50/50 raffle, and plenty of singing and dancing. "It was a great event for young and old," said Ms. MaryAnn Safrey, a member of the Girls Leadership Scholarships Fund Committee. "The best part was watching all of the interactions at the tables during the game and later on the dance floor."
In all, Radio Bingo raised over $10,000 for the Girls Leadership Scholarships Fund. This comes off the success of Molloy's first Fashion Show in March of this year, which raised over $23,000 for the fund. "The committee hopes these scholarships will help continue to attract exceptionally motivated and talented girls to Molloy," said Ms. Safrey. The committee said it plans to sell t-shirts and water mottles from Radio Bingo, marked with the motto "Inspire Others – Be A Leader" throughout the year, while more events are also being considered to help the fund grow even stronger.
THANK YOU

We extend our sincerest thanks to everyone who supported the Radio Bingo and the Girls Leadership Scholarships Fund, or who volunteered their time and efforts in making the event a great success. We extend our thanks to the following:

Thank you to committee members MaryAnn Safrey, Sabina Kobinski '04, and Kerry Henning. Thank you to our faculty and staff volunteers: Jeanne Longerano, Helen Belen-Kelly, Dorothy DeNoto, Jim Sheldon, Andrea Sottas, Brian Kelly, Ted McGuinness, Shannon Winters, Jessica Pastore, Jennifer Lamb, Liz Murdocca, Jim Sheehan, Danielle Santucci-Gracchi, and recent retiree Adele Solari.

Thank you to our hard-working student volunteers: Jaimie Arocho-Kelly '20, Ana Barreira '20, Keren Elmore '21, Fiona Roche '20, Brianna Garrison '21, Nikita Persaud '21, Melany Santiago Rivas '21, Katherine Savastano '20, Elizabeth Sullivan '20, Cynthia Zachariah '20. Thank you to Photography Club members Ryan Plut '22, Sofia Drobinko '22 and Stephanie Mohabir '23 (their photos are below).

Thank you to alumni Tim Sullivan '00, John McGuinness '87, and Eric Drobinko '95, and to School Board members Rob Donohue, Steve Langowski, and Theresa Foy. Thank you as well to our emcee Tim Henning '98 of DJs @ Work. Thank you to "Nick the Balloonatic" of Howard Beach for donating all of the colorful and creative balloons. Thank you to Nick Bamonte of 69th Street Distributors of Maspeth for donating beverages. Thank you to Sean O'Sullivan '02 and John Cregan of Woodhaven House and Maspeth Discount Wine & Liquors. Thank you to the generous attendees who chose to donate back their winnings, and to the anonymous donor who matched a last minute "flash" collection at $500.
---
Molloy Welcomes Future Stanners To Fall Open House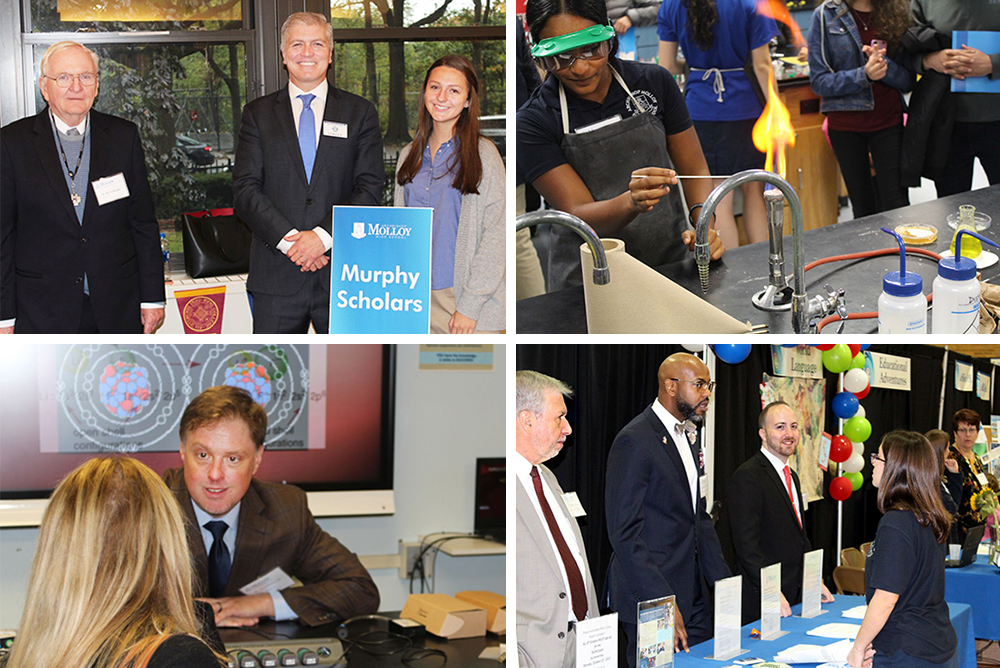 Photos by Jonathan Joseph '21
On Sunday, October 20th, Molloy welcomed over 3,500 visitors to its fall Open House. The day featured spirited presentations by all academic departments, athletic teams, and extracurricular activities. Students and teachers, as well as many parent and alumni volunteers, represented Molloy and shared everything they love about the Stanner experience!
"Our 2019 fall Open House was a great success," said Jonathan DiDonato '01, Admissions Coordinator. "We found that creating several tour routes improved the flow around the building, giving several groups of visitors more time to explore various presentations either before or after their tour concluded. Doing so added that personal touch as individualizing every person who walks through the building is important to us, even on a day like Open House which it is attended by thousands." Jonathan went on to say that Molloy's students, faculty and staff, and alumni and parent volunteers were "on point" and were wonderful representatives. "We thank them from the bottom of our hearts. We also extend an extra special thanks to Molloy's Parents Guild who were extremely friendly and helpful to our guests."
"Since August, all of our marketing, from our new school videos, to unique print ads and school fair visits, was designed to reach thousands of prospective students and their families and invite them to our Open House," said President Richard Karsten '81. "Open House is our primary vehicle for showcasing our Catholic Marist identity and everything Molloy has to offer. I believe this year's Open House left a positive lasting impression on our next generation of Stanners and their families."
Missed Open House? Visit www.molloyhs.org and search under "Admissions" to find out more about applying to Archbishop Molloy High School! CLICK HERE to watch our new school videos!
---
National Merit Scholarship Commended Students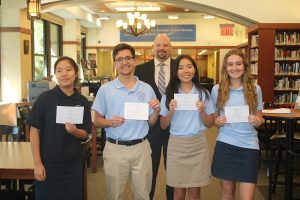 Principal Dr. Darius Penikas, Ed.D and Archbishop Molloy High School announced that Nicholas Cusumano '20, Si Young Kim '20, Haley Kirmaier '20, and Nhi Ly '20 have been named Commended Students in the 2020 National Merit Scholarship Program. A Letter of Commendation from the school and National Merit Scholarship Corporation (NMSC), which conducts the program, has been presented by Dr. Penikas to these scholastically talented seniors.
About 34,000 Commended Students throughout the nation are being recognized for their exceptional academic promise. Although they will not continue in the 2020 competition for National Merit Scholarship awards, Commended Students placed among the top 50,000 scorers of more than 1.5 million students who entered the 2020 competition by taking the 2018 Preliminary SAT/National Merit Scholarship Qualifying Test (PSAT/NMSQT).
"Those being named Commended Students have demonstrated outstanding potential for academic success," commented a spokesperson for NMSC. "These students represent a valuable national resource; recognizing their accomplishments, as well as the key role their schools play in their academic development, is vital to the advancement of educational excellence in our nation. We hope that this recognition will help broaden their educational opportunities and encourage them as they continue their pursuit of academic success."
---
Sports Updates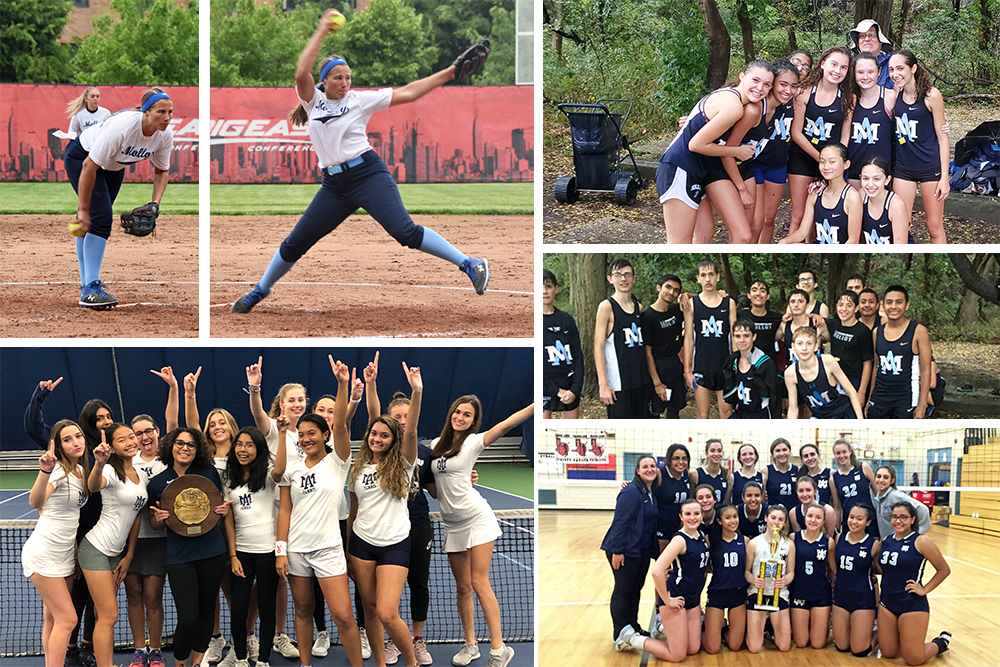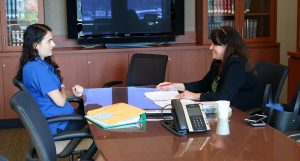 ---
LIU Post President Interviews Seniors
On Wednesday, October 23rd, Molloy welcomed Dr. Kimberly R. Cline, president of Long Island University (LIU Post). Dr. Cline spent time with our College Guidance counselors and later interviewed a group of seniors for potential scholarship opportunities at LIU Post.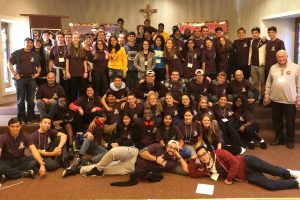 ---
Students Attend LaValla Weekend
From October 11th – 14th, Molloy students joined students from other Marist schools in the United States for LaValla Weekend, held at the Marist Brothers Center at Esopus. The weekend gave students the opportunity to spend time in an experience of solidarity and engage in service at Esopus. Activities included icebreaker games, group prayer and reflection, presentations on migrant and refugee experiences, and various service projects including cleaning up waste near the river and repairing infrastructure.

Attention NYC Marathon Runners!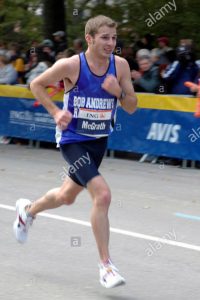 Resident sports historian Mr. Joe Dombrowski is attempting to compile another of his lists: every Stanner who has completed the NYC Marathon. Dan McGrath '01 (pictured) completed the race in 2:23.08 back in 2008. Kieth Florenza '05 finished in 2:33.47 back in 2010. More recently, Steve Bione '07 ran the race in 2:36.31 in 2018. We know there are many more.
If you have finished this historic race, recently or even 20 years ago, please send in your best times. Mr. Dombrowski will take your times and put together a master list that will properly archive these great Stanner achievements. Contact Mr. Dombrowski at jdombrowski@molloyhs.org.
---
John "JC" Coffey Inducted into Order of Prometheus at Pathfinder UAS Symposium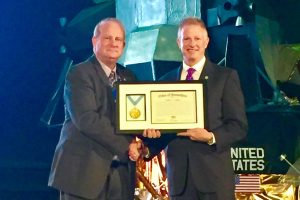 PRESS RELEASE – HUNTSVILLE, Alabama – In Greek mythology, Prometheus was a Titan, a benefactor to humanity, and a champion of mankind. John "JC" Coffey '82, Executive Director, Unmanned Systems for Cherokee Nation Businesses, was named to the Order of Prometheus during the 2019 Pathfinder Chapter Unmanned Aircraft Systems Symposium in Huntsville, Ala. The Order of Prometheus Medallion recognizes the significant and enduring contributions of the inductees to the unmanned systems community, both air and ground. Each inductee must have exemplified the highest ideals, aspirations and accomplishments in order to receive the honor.
"I am very honored to be a member of this group and receive this award," Coffey said. "Membership in the Order of Prometheus represents the highest ideals, aspirations and accomplishments resident to the unmanned systems community."
"It has been an incredible experience to be part of the winning Cherokee Team during the exponential growth of this technology, and its expansion from defense to the civil and commercial markets ," said Coffey. "I knew while in uniform and I know now that unmanned systems are valuable assets to our nation in both military and civil/commercial applications and have saved numerous lives. I'm proud to be part of the dedicated community that supports the development of these systems and contributes to the education of our next generation for continued excellence in engineering, test and operations."
Following an address by U.S. Rep. Mo Brooks at the conference, JC was on an AUVSI Unmanned Systems Technology Panel. The conference highlighted Private Public Partnerships, a Public Safety Summit and the Army's Unmanned Aircraft Systems Roadmap to the Future, along with many other service and industry updates. Conference speakers updated attendees on Dept. of Defense unmanned systems, emerging requirements, the recently selected FAA test sites and emerging commercial applications. Additionally, over 40 exhibitors with many new technologies were on hand at this year's symposium, held August 13-15 at the NASA's US Space and Rocket Center.
JC Coffey is a board member of the Association for Unmanned Vehicles/Systems International (AUVSI), supports numerous government agencies through the Cherokee Nation, and co-founder to the Federal Unmanned Systems Tribal Interest Group. | More information can be found at: http://cherokeenationbusinesses.com/Pages/Coffey-inducted-into-Order-of-Prometheus.aspx
---
Marist Youth Internship Program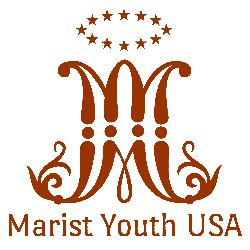 Attention Stanners! Marist Youth USA is launching a new paid internship program with Marist Youth Ministry. Interns should be at least 21 years of age and in their junior or senior year of college (grad students may also apply). They should be able to commit about 20 hours per week to the role, including some weekends for Marist Youth Encounter Christ Retreats and the Marist Youth Gathering. Applicants for this year should be in the NY/NJ area. Interns will assist with the creation of programs and retreats to reach the new generation of Marist Youth currently in Marist schools. They will also participate in formation as Marist Youth Ministers. | Click for Job Description | Click for Application Form