Connecticut Alumni Gathering – **POSTPONED**
DUE TO THE INCLEMENT WEATHER IN THE NORTHEAST AND WITH RESPECT TO THOSE WHO REGISTERED, THE STANNER ALUMNI CENTER HAS DECIDED TO POSTPONE OUR EVENT AT TWO ROADS BREWERY IN STRATFORD, CONNECTICUT SCHEDULED FOR 11/13 UNTIL A FUTURE DATE TO BE DETERMINED. REFUNDS WILL BE ISSUED TO THOSE WHO REGISTERED, AND WE ENCOURAGE YOU TO SIGN UP AGAIN IN THE FUTURE WHEN A NEW DATE IS ANNOUNCED. IF YOU HAVE ANY QUESTIONS PLEASE CONTACT MATT RIZZOTTI AT THE INFORMATION BELOW. WE APOLOGIZE FOR ANY INCONVENIENCE AND THANK YOU FOR YOUR UNDERSTANDING. – THE STANNER ALUMNI CENTER | CALL 718.441.9210 OR EMAIL MRIZZOTTI@MOLLOYHS.ORG.
---
The Stanner Players Present: Little Women
When: Thurs, 11/21 @2:00PM (private performance for students & faculty only); Fri 11/22 @ 7:00PM; Sat 11/23 @ 7:00PM; Sun 11/24 @ 2:00PM
Where: Archbishop Molloy High School
Who: Everyone!
Tickets: $5 for Students & $10 for adults
Reserve Tickets on Eventbrite: https://www.eventbrite.com/e/little-women-tickets-78970864983
Our community is invited to come out and support the Stanner Players this month as they present the classic stage play Little Women by Peter Clapham. Adapted from the novel by Louisa M. Alcott, witness the journey of the March sisters as they experience childhood and grow into adulthood in an America torn apart by the Civil War. The Stanner Players have been working very hard during rehearsals and can't wait to see you in the Ralph DeChiaro Theater. Performance dates and times and a link to reserve tickets are all listed above. (Flyer artwork by Abby Mallia '23)
---
Thanksgiving Liturgy – COME HOME!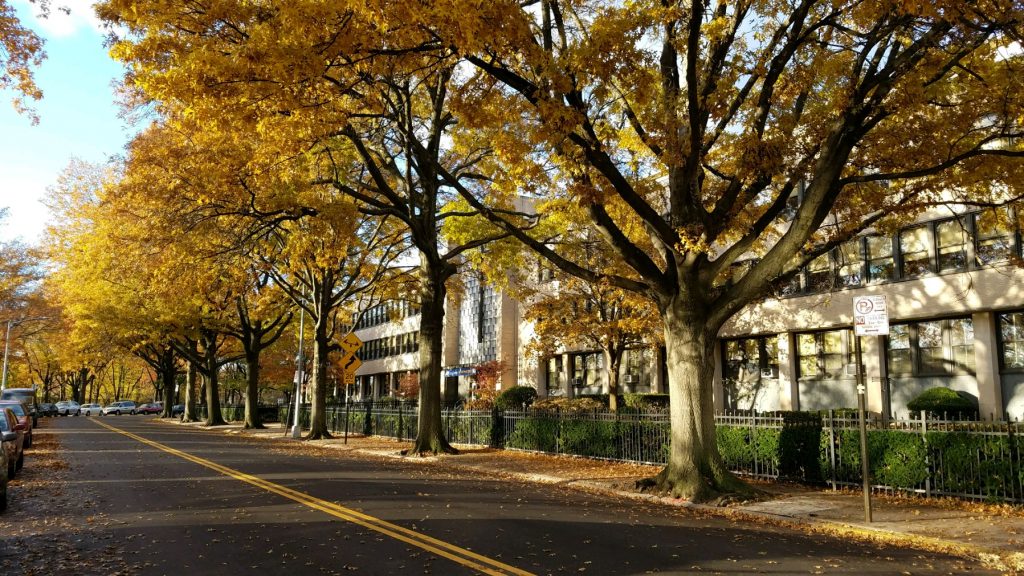 When: Wednesday, November 27, 2019
Alumni Arrive: 10:15am
Mass Begins: 10:40am
Where: Archbishop Molloy High School
Who: All are welcome!
Contact: alumni@molloyhs.org | 718.441.9210
Alumni, family members, and friends are invited to join us as we celebrate our annual Thanksgiving Liturgy on Wednesday, November 27th. Mass will begin promptly at 10:40am. We encourage all alumni and guests to please arrive by 10:15am to allow for enough time to be settled and seated. A light reception with cookies and hot cocoa will follow. We look forward to your homecoming! Please send any questions to alumni@molloyhs.org.
---
Alumni Race at Van Cortlandt Park
When: Saturday, November 9, 2019 | 12:15pm
Where: Van Cortlandt Park
Who: All Track and Field Alumni
REGISTRATION NOW CLOSED
Track & Field alumni are invited to represent Molloy in the 2019 Alumni Race over the 2.5 mile course at Van Cortlandt Park on Saturday, November 9th at 12:15pm. Race bibs will be available from 10:00am-11:45am at the finish line and from 11:45am-12:10pm at the starting line. This year, a suggested $5 donation will help the CHSAA cover rising meet costs. After the race, alumni are invited to the Tortoise and the Hair Bar & Grill (6115 Broadway, Bronx, NY). (Click for additional information about CHSAA Intersectionals) (Pictured: 2018 Alumni Runners)


Stanner Alumni Reunion –

THANK YOU!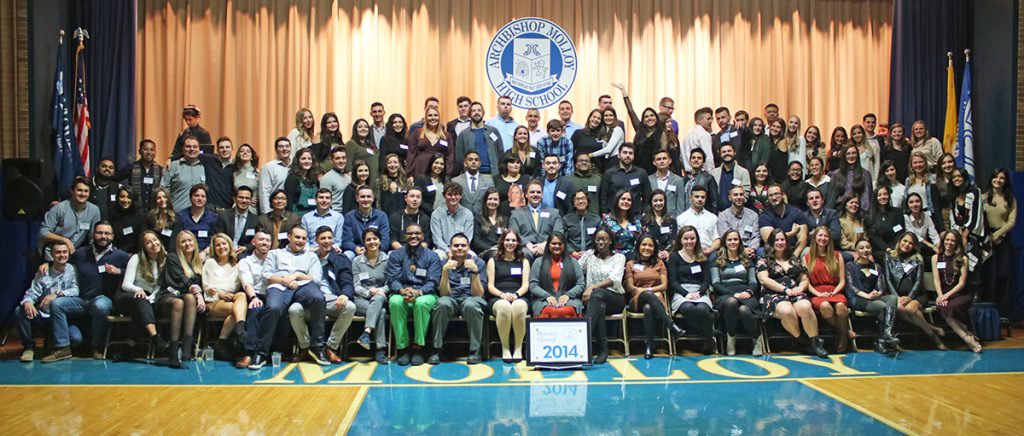 On behalf of everyone at Molloy, THANK YOU to the 569 alumni and guests who registered or attended the Stanner Alumni Reunion on November 2nd. We had a wonderful evening celebrating the return of class years ending in 4 and 9. Seven decades of Stanners were represented at the Reunion! Congratulations to all returning classes including those with the largest turnouts: the Class of 2014, who had 116 members return to celebrate their 5th anniversary, and the Class of 1969, who had 93 members return to celebrate their 50th anniversary. We will publish a full recap of the Reunion in our next Beehive along with all of the photos from this memorable night. Thank you once again to everyone who attended.
SAVE THE DATE – The next Stanner Alumni Reunion for classes ending in 0 and 5 is tentatively scheduled for Saturday, November 7, 2020!
---
Jim Kinnier Stanner Golf Classic Update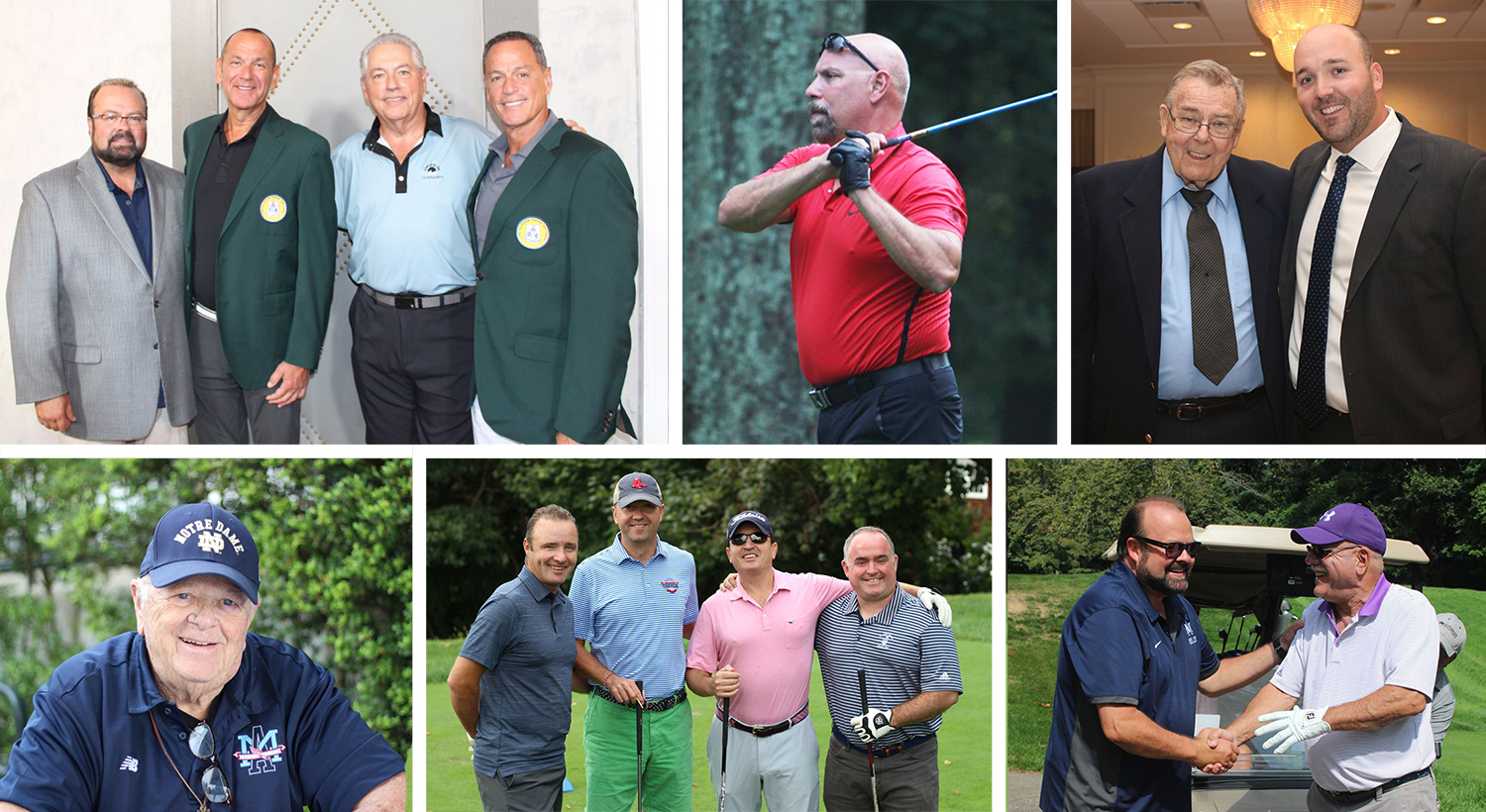 The Stanner Alumni Center is excited to announce that over $160,000 was raised in support of the 33rd Annual Jim Kinnier Stanner Golf Classic, which was held September 9th. This is a phenomenal result in an unconventional year, which saw the outing rescheduled from its original May date due to bad weather. Money raised in support of this event directly benefits deserving students in need through Molloy's scholarship program. We extend our thanks to our wonderful community, who generously supported the outing through foursome reservations, journal sponsorships, auction bids, raffle ticket sales, donations, and volunteering their time and energy throughout the day across all three private courses. We also thank this year's chairmen Jack Irushalmi (Tri-Star Construction) and Scott Mager (Perfect Building Maintenance), our dedicated Golf Board, our alumni and corporate sponsors, and everyone who contributed to the success of our outing. We encourage you to click the button below to download a digital version of our journal, which includes general information as well as ads sponsored by many Stanner-owned or Stanner-friendly businesses. We are also happy to share photos from the 33rd Annual Jim Kinnier Stanner Golf Classic. Photos from this year's outing are courtesy of Vicky Higuera (Plandome), Jonathan DiDonato '01 (North Hempstead), and Joe Sommo '03 (North Hills). Click the blue button below to access the photo gallery.
SAVE THE DATE! The 34th Annual Jim Kinnier Stanner Golf Classic will be held on Monday, May 4, 2020! Join us at North Hills Country Club, North Hempstead Country Club, and Garden City Country Club! Call 718.441.9210 or email mrizzotti@molloyhs.org for more information.


---
Lou Santos Now A NYS Baseball Hall of Famer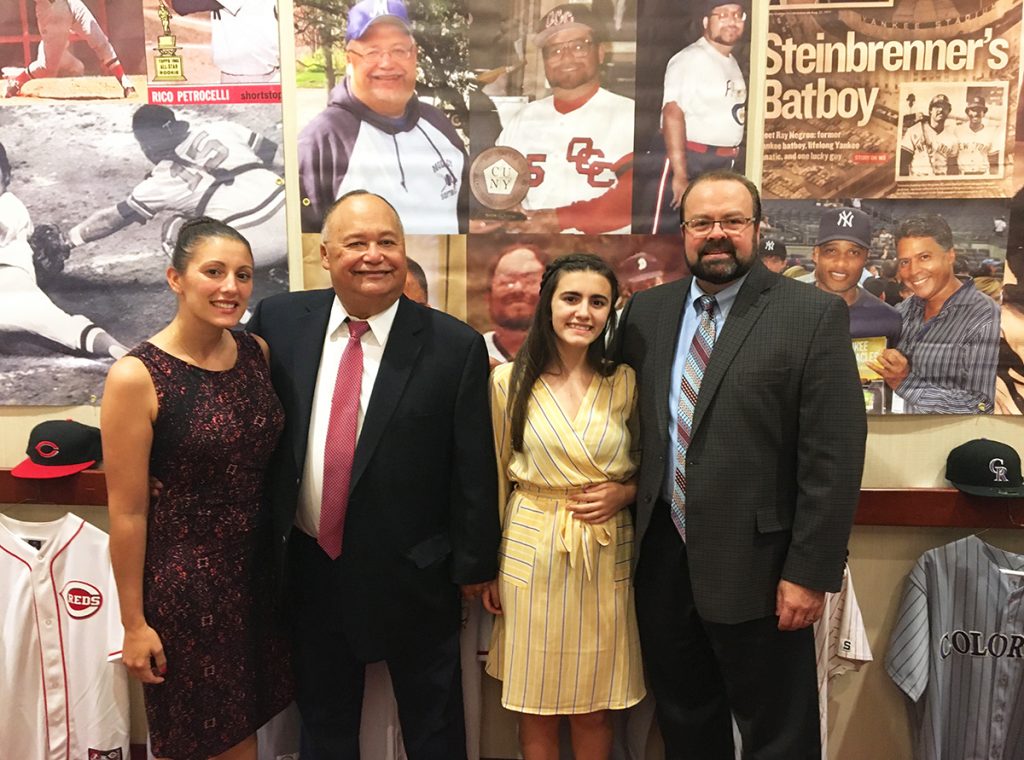 Pictured L-R: Priscilla Miano Nelson, Lou Santos, Carolina Nelson '23, and President Richard Karsten '81.
On Sunday, November 3rd, Mr. Lou Santos, an educator at Archbishop Molloy High School for the past 41 years, was inducted into the New York State Baseball Hall of Fame during a special reception in Troy, New York. The NYS Baseball Hall of Fame recognizes the love of and commitment to baseball of individuals at all levels, from professional players and broadcasters, to college coaches and journalists, to athletic trainers and little league instructors. Mr. Santos was recognized for his decades of leadership and dedication to numerous baseball and softball organizations and teams in New York City including the Greater New York Sandlot Athletic Alliance, St. Helena/Msgr. Scanlan High School, Christ the King High School, Queensborough Community College, the Flushing Tigers, and Molloy's JV softball team among others. Beyond the field of play, Mr. Santos has established an inspiring legacy of volunteerism and philanthropy, organizing countless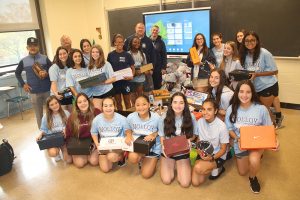 fundraisers to help those in need. Most recently, in October, Mr. Santos and his JV softball players collected and donated over 300 pairs of athletic shoes, baseball gloves, toiletries and medical supplies to underprivileged children in the Dominican Republic through the Cesar Presbott Foundation (pictured right). Mr. Santos has organized this fundraiser annually for many years.
Mr. Santos' induction was witnessed by family and friends as well as Molloy President Richard Karsten '81 and many other colleagues. Two other special guests included Molloy freshman Carolina Nelson '23 and her mother Priscilla. Carolina is a recipient of the Brother Ronald Marcellin Memorial Scholarship, which Mr. Santos helped create and has supported for over 25 years. The scholarship, honoring the late Br. Ron Marcellin '52, FMS, benefits students experiencing financial burdens or extraordinary circumstances that might otherwise hinder their ability to attend Molloy.
Mr. Santos was inducted alongside many outstanding figures in the game of baseball including Bobby Murcer (Yankees, posthumously), Ron Guidry (Yankees), Thurman Munson (Yankees, posthumously), Art Shamsky (Mets), Gene Monahan (Yankees), Rich Aurilia (San Francisco Giants), Howie Rose (Mets broadcaster), Ron Darling (Mets player/broadcaster), Ray Negron (Yankees), Bill Madden (journalist), Matt Senk (Stonybrook University), Phil Cuzzi (MLB umpire), Chuck Sohl (Siena College), and Mike Chiaparelli (Mamaroneck High School).
Pictured below L-R: Lou Santos and President Richard Karsten '81, Lou delivering his acceptance speech, a vintage Lou photo collage, and Lou with Ron Guidry.
Read additional coverage on Mr. Santos' induction on NJ.com in an article published by Rob Jennings '89: CLICK HERE FOR NJ.COM ARTICLE
---
Students Raise Money for More AC Through Walkathon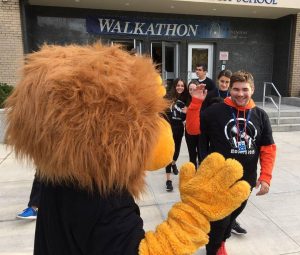 On October 25th, students participated in Molloy's annual Walkathon, which includes a walking route around Briarwood as well as several special senior events. Each year, students and their families raise money leading up to the Walkathon in support of a new capital project around the school. This year, money was raised for the third and final phase of Molloy's air conditioning project. Over the past two years, over 30 classrooms have been updated with air conditioning, window and ceiling enhancements. Thanks to the generosity of our families in support of year's Walkathon, the remaining 13 classrooms and special spaces currently without AC will be updated in summer 2020.
Seniors had the opportunity to participate in events including the Sport-A-Thon, Game-A-Thon, Zumba, and the World Trade Center Walk. The WTC Walk (pictured in the first row of our gallery below), founded in 2004, is a 12-mile walk led by Mr. Chris Dougherty '91 in tribute to SMILE founder Br. Leo Richard. The late Br. Leo was known for his long walks and deep conversations as well as for his own walks to the World Trade Center. The route takes Stanners from Briarwood through Forest Hills, Middle Village, Ridgewood and Williamsburg, over the Williamsburg Bridge, and into lower Manhattan for the final stretch. The walk ends at the World Trade Center reflective pools, where students participate in a moment of reflection. Over 75 seniors participated in this year's WTC Walk, which was a new record for the event.
---
Chorus Sings at Marist Brothers' Arco Norte Meeting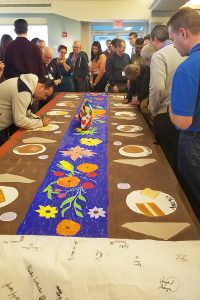 In October, Molloy's junior/senior chorus performed at the Marist Brothers' Arco Norte Regional Meeting held in Long Branch, New Jersey. The meeting was a gathering of Provincial Councils of six provinces including Canada, the United States, México Centrale, México Occidentale, America Centrale, and Norandina. The meeting included discussions to determine areas of commonality and issues regarding Marist schools in the western hemisphere. Molloy students sang for the brothers during 5:00pm Mass.
"Our students became the official representatives of the American schools," said Ms. MaryAnn Safrey, who accompanied the students along with chorus director Jim Sheehan '75. "Our students were asked to present jackets to each of the visiting Marist Brothers and to welcome the brothers in their native languages including Spanish, French, Portuguese, and English. Our students also brought a mural from last year's Thanksgiving Liturgy (pictured right), which was created by Rebecca Donowski '20. The banner depicts table settings representing many of the countries within Arco Norte. Rebecca was recognized for her artwork and our students gathered with the brothers around the mural to engage in conversation. The brothers signed the mural, which we brought back to Molloy and plan to display again during this year's Thanksgiving Liturgy."
"It was an amazing gift to have Molloy's chorus join the Arco Norte Regional Meeting," said Vice Provincial Br. Dan O'Riordan '85. "Jim, MaryAnn, and the students really had a profound impact with their presence, and the fact that they traveled to the meeting on a day off speaks volumes of their willingness to live our motto."
---
Sports Updates
Boys Varsity Soccer – Brooklyn/Queens Champions & reached the Quarter Finals of the City Playoffs (State Playoffs are Friday 11/8 5:00 PM vs St. Joseph's of Buffalo at SJU, finals on Sunday).

Boys JV Soccer – Reached the City Championship game.

Girls Varsity Soccer – Finalist for the Brooklyn/Queens Championship.

Girls JV Soccer – Reached the Semi-Finals of the Brooklyn/Queens Playoffs.

Varsity Volleyball – Reached the Semi-Finals of the Brooklyn/Queens Playoffs.

JV Volleyball – Reached the Semi-Finals of the Brooklyn/Queens Playoffs.

Girls Tennis – Brooklyn/Queens Champions & State Finalist. Team was invited to the Mayor's Cup Tournament for the Elite Tennis Teams in NYC. Kaitlyn Mendoza '22 qualified for the NYS Catholic Tennis Tournament (Best Players in NYS).

Girls Varsity Swimming started undefeated at 3-0.

Boys Freshman Swimming started 2-2.

Varsity Bowling started at a solid 4-2.

JV Bowling is looking to rebound from a 2-4 start.


Attention NYC Marathon Runners!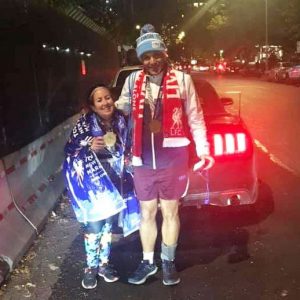 Resident sports historian Mr. Joe Dombrowski is attempting to compile another of his lists: every Stanner who has completed the NYC Marathon. If you have finished this historic race, recently or even 20 years ago, please send in your best times. Mr. Dombrowski will take your times and put together a master list that will properly archive these great Stanner achievements. Contact Mr. Dombrowski at jdombrowski@molloyhs.org. You can also send The Beehive your times for alumni updates!
In response to Mr. Dombrowski's request, Ryan Contino '96 informed The Beehive that he ran the 2019 NYC Marathon in 4:09, while his wife Maria (pictured right) completed the race in 6:27. This was the first NYC Marathon for both runners. According to Ryan's father, Mike Contino '68, "Ryan and Maria trained and succeeded together. We are all very proud."
---
Class Updates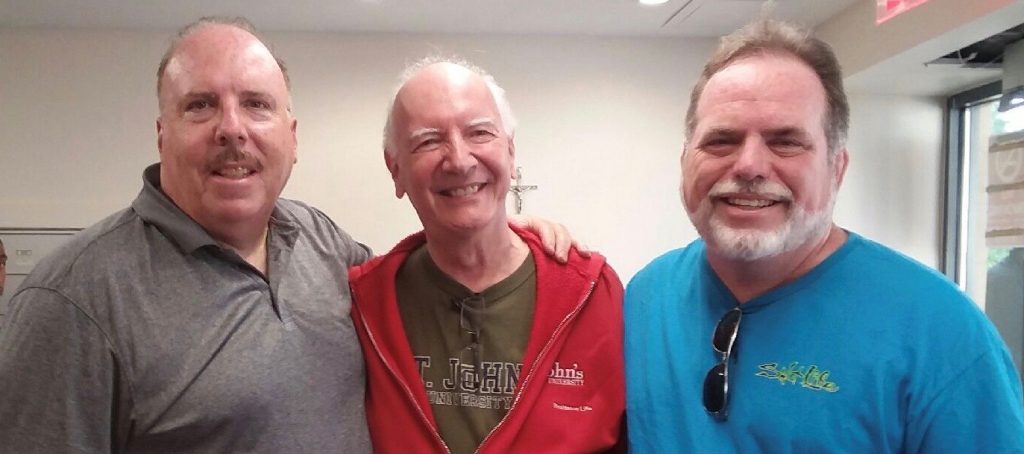 Robert Coyne '79 dropped his daughter off at St. John's University earlier this year and she ended up being assigned to the residence hall where Bro. Mike Sheerin, FMS, has his Campus Ministry office. John Coyne '80 came along for the ride. Bro. Mike taught both of them Religion at Molloy.



We are saddened to share the passing of Kevin C. Kalmbach '70 on October 9, 2019. He was retired from a 40-year career at AT&T as a technology engineer, where he was member of an elite team that managed the software operating the domestic telephone network. Kevin resided in Bluffton, South Carolina. He is survived by his wife, Maureen, and son, Jeff. Kevin was one of three brothers who attended Archbishop Molloy in the 60s and 70s. Please keep Kevin and his family in your prayers.