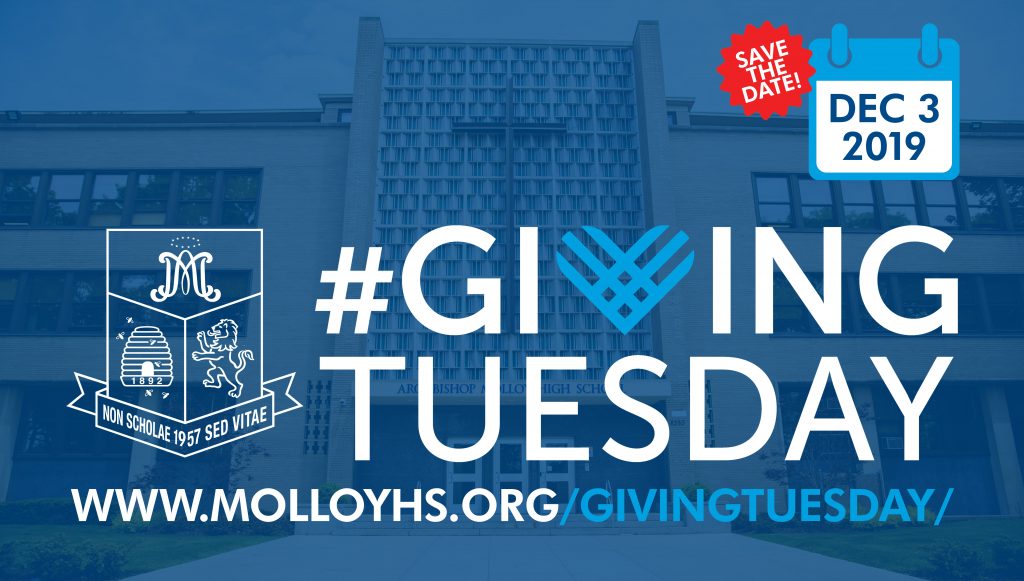 Tuesday, December 3rd is Giving Tuesday! This international movement empowers people far and wide to give generously to organizations and causes they believe in. Archbishop Molloy High School will join in the celebration of this global day of giving by sharing thoughts from members of our community who have witnessed first-hand the tremendous impact that giving to Molloy has on our students. Join us on social media (Facebook, Twitter, Instagram, LinkedIn), like and share our posts, use #GivingTuesday, and help us spread the word about this wonderful opportunity to give back to our alma mater.
Your tax-deductible gifts to Molloy strengthen our academic, athletic, and retreat programs, perpetuate our ability to work with outstanding and dedicated faculty, enable us to maintain our beautiful and evolving 6-acre campus, and so much more. We look forward to celebrating #GivingTuesday with our Stanner family.



Stanner Alumni Reunion – PHOTOS NOW AVAILABLE!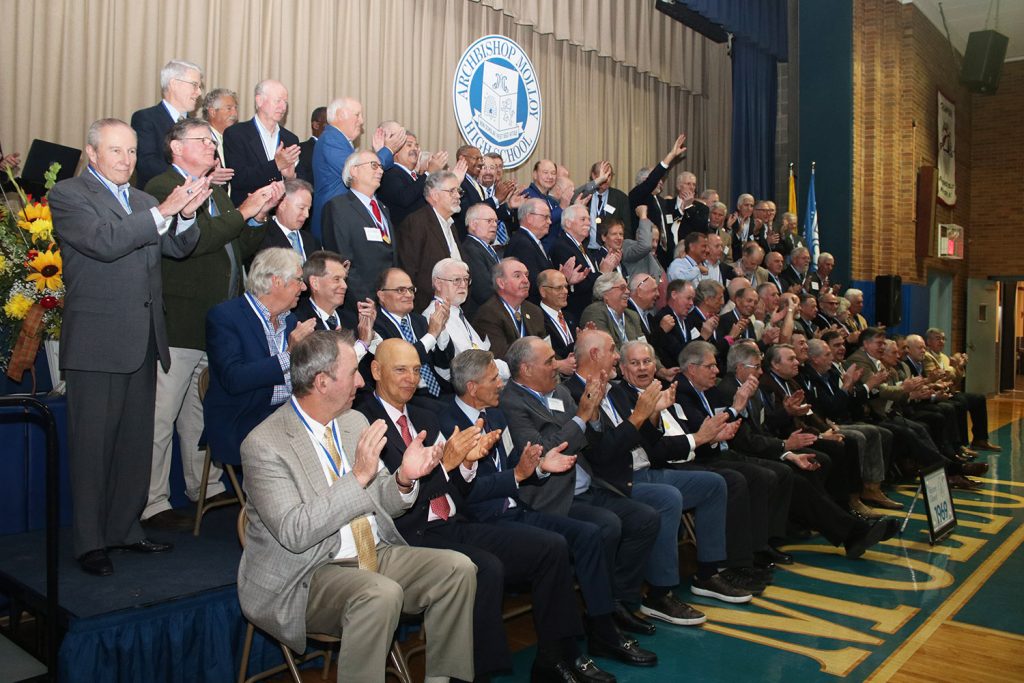 On Saturday, November 2nd, Archbishop Molloy High School welcomed over 560 alumni and guests in celebration of the Stanner Alumni Reunion! Seven generations of alumni represented class years ending in 4 and 9. It was a night to reconnect and reminisce with old friends and teachers, create new friendships, and walk the halls of Stanner High once more. For some is was their first visit back to Molloy since graduating 50 years ago.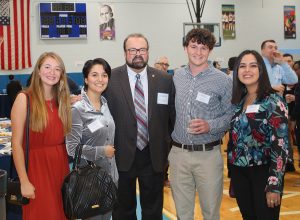 The evening began with a Mass of Remembrance in our Ralph DeChiaro Theater, which honored the memory of those Stanners who we have lost or learned of the passing of over the past year (download program). Following Mass, each class was invited to a cocktail reception meant to help break the ice. Guests later moved into the Jack Curran Gymnasium for dinner. Br. Patrick Hogan led everyone in prayer and reflected on the impact of their return all these years later. "You are still Stanners. You are always welcome home." Br. Pat was followed by President Richard Karsten '81, who prompted a standing ovation for the Class of 1969, who were standing on stage, in recognition of their 50th anniversary.
The evening continued with class photos, dinner, dancing, dessert, and so many stories. Congratulations to all returning classes including those with the largest turnouts: the Class of 2014, who had 116 members return to celebrate their 5th anniversary, and the Class of 1969, who had 93 members return to celebrate their golden 50th anniversary. The Class of 1994 also returned to Molloy to celebrate their silver 25th anniversary.
"To quote Richie Rodgers '65, 'This was the best reunion that I've been to.' What an excellent night and a great group of alumni," said President Karsten. "The enthusiasm and energy from our returning alumni and their guests, as well as from our celebrating faculty, created a night to remember. We had almost 600 in attendance, and the efforts of so many were evident in the quality of the event. The team in the Stanner Alumni Center and myself are very grateful to everyone who attended this special evening as well as to our facilities staff, IT department, Liturgy Committee, and Culinart Food Services."
SAVE THE DATE! The Stanner Alumni Reunion for class years ending in 0 and 5 is tentatively scheduled for Saturday, November 7, 2020! The Class of 1970 will celebrate their 50th anniversary! The Class of 1995 will celebrate their 25th anniversary!

---
Principal Penikas Earns Doctor of Education Degree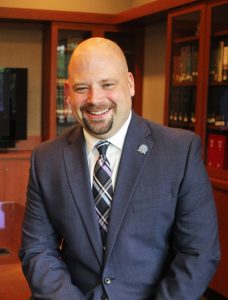 Earlier this year, Principal Darius Penikas earned his Doctor of Education in Educational Administration and Supervision from St. John's University. His dissertation was titled The Impact of Blended Learning on Student Outcomes and Teacher Perceptions. Dr. Penikas' research included examining a k-8 school that adopted a rotational blended learning initiative. This learning style, which blends face-to-face interaction with the use of media, promotes personal development, social engagement, and teamwork through collaborative classroom projects.
Dr. Penikas came to several conclusions through his dissertation. He found that educators interviewed in the study believed that blended learning produced happier students and an overall better learning environment. He also found that blended learning provided educators with a higher level of knowledge about the specific academic progress and overall academic and personal realities of their students. Students were also found to be more active and involved during class, and peer collaboration, teacher-student interaction, and individual engagement with academic material increased significantly.
"Conducting research and continuing to engage in the academic realm was a very inspirational and nourishing experience, and I learned a tremendous amount that is applicable to my role at Molloy," said Dr. Penikas. "With the rapid pace of change and evolution in our society, studying trends in k-8 education is crucial to having leading-edge programs in secondary education. For Molloy to continue to be a top school, we need to understand how grammar school students' experiences are changing as well as the different skills they are coming to us with. Once we understand that we can provide a curriculum that will help these students elevate to an even higher level and help them to be successful in college and professionally."
---
Queens Park Renamed In Memory of FF Michael Davidson '99
On October 30th, the late FDNY Lt. Michael Davidson '99 was honored by local representatives and NYC Parks with the renaming of a new park at Phipps Playground in Sunnyside Gardens in Davidson's honor. A large crowd made up of family, friends, FDNY colleagues, and members of the community gathered for the ceremony near 39th Avenue in Sunnyside. Davidson grew up across the street from the park, which will now forever bear the name of this beloved fallen hero. Davidson, a 15-year FDNY veteran, was tragically killed while fighting a fire in Harlem on March 23, 2018. Please click the following links for additional media coverage. | CBS Local | Sunnyside Post | QNS.com
---
Molloy Hosts Marist Brothers for Vocations Week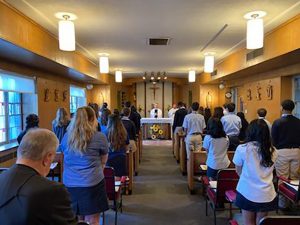 During the week of November 4th, Molloy hosted Marist Brothers Vocation Directors Br. Al Rivera (Provincial Office) and Br. Brian Poulin for Vocations Week. Molloy was the first stop on their tour of each Marist school in the United States. As Vocation Directors, Br. Al and Br. Brian accompany individuals who may be considering religious life. When visiting schools, Br. Al and Br. Brian know that many in such large audiences may not be called to religious life, and in turn they take an educational and informational approach focused on helping students think about choosing lives full of meaning.
Each day of Vocations Week featured a unique event. On Monday, Bishop Raymond Chappetto and Fr. Sean Suckiel, Vocation Director for the Diocese of Brooklyn, celebrated Mass with the Marist Brothers and a group of students in Molloy's fourth floor community chapel (pictured right). On Tuesday, during a meeting of the Lantern Club, the students' prayer centered on the theme of vocations. On Wednesday, a group of students was again invited up to Molloy's fourth floor community for a discussion with the Marist Brothers as well as a tour of some of the facilities. On Thursday, students were invited to a panel discussion with several people in religious life and lay people to hear different perspectives. Finally, on Friday, Br. Brian joined Molloy juniors on their retreat to Esopus as a way to extend the presence of Vocations Week. In addition, throughout the week, Br. Al and Br. Brian were invited to classrooms and were featured on daily morning announcements to answer questions about the Marist ministry and what it's like to live out a religious vocation.
"Our message to all of our students is to find the life that you're meant for," said Br. Brian. "It's not necessarily what other people have told you to do. Listen for how God is speaking in your own heart. Part of that is who you are as a person and the experiences you've had, but how can you meet the needs of the world or make a difference with your personal gifts? Everyone can make a significant difference if they align with their true purpose."
Pictured below: Mass and Q&A with Marist Brothers in Molloy's fourth floor community; posters celebrating Marist Pillars which were hung in the hallways around Molloy during Vocations Week. Photos courtesy of Mike Germano '93, Director of Campus Ministry.
---
Read The New Issue of The Stanner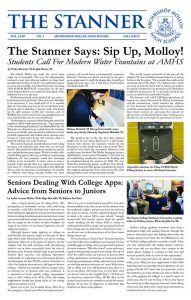 Alumni and friends are invited to download the fall 2019 edition of The Stanner. Featured in this issue: Haley Kirmaier '20 and Jade Rivera '20 make their pitch for new water fountains, Editors-In-Chief Olga Mavridis '20 and Sadie Lozano-Mieles '20 reflect on their college application experience for the benefit of juniors, Jake Temkin '20 and James Galeno-Budion '20 report on this year's Walkathon goal, Tessa Cooke '21 investigates a new lunch rule and how it could affect students, and much more. Kevin Diep '23 also writes about the 75th anniversary of The Stanner. After several prior iterations, including Academy News and St. Ann's Monthly, St. Ann's Academy renamed its student newspaper The Stanner in 1944 and pledged to continue to be a prime vehicle for sharing student opinion. Click the button below or the thumbnail to the right to read a digital copy of the newspaper in PDF format. Select archives can be found at www.molloyhs.org/stannernewspaper/.

---
Celebrating Women in Technology

In early November, members of Molloy's IT Department, including Janice Bonczek, Vicky Higuera, and Nancy Cantalino gave an after-school presentation on the Experiences & Careers of Women in the Technology Field. Members of Molloy's G.E.R.L.L. Club (Girls Empowerment for Real Life Leadership) and the Girls Who Code Club attended the event. Of Molloy's five-person IT staff, three are women – a ratio that is not common in the tech field. The presentation included a brief history of women in technology (including info about trailblazers like Ada Lovelace and Grace Hopper), an overview of Janice's, Vicky's, and Nancy's professional backgrounds, a discussion about opportunities and obstacles for women in technology, and how the future for women pursuing careers in computer science is currently trending. Janice, Vicky, and Nancy ended by noting that today companies are doing a better job of giving women fair opportunities to pursue careers in technology. Click the following links for additional resources: | Women In Computer Science | Girls Who Code Summer Immersion Programs | girldevelopit.com
Earlier this year, Molloy was recognized by The College Board with the AP® Computer Science Female Diversity Award for attaining female student representation in AP Computer Science Principles for 2018. Among the more than 18,000 secondary schools worldwide that offer AP courses, Molloy is one of just 685 schools that has achieved this important milestone. The College Board recognizes the importance of diversity in computer science and has commended Molloy's leadership in computer science and commitment to preparing its young women for the in-demand tech jobs of the future.


Thanksgiving Liturgy

–

THIS WEEK!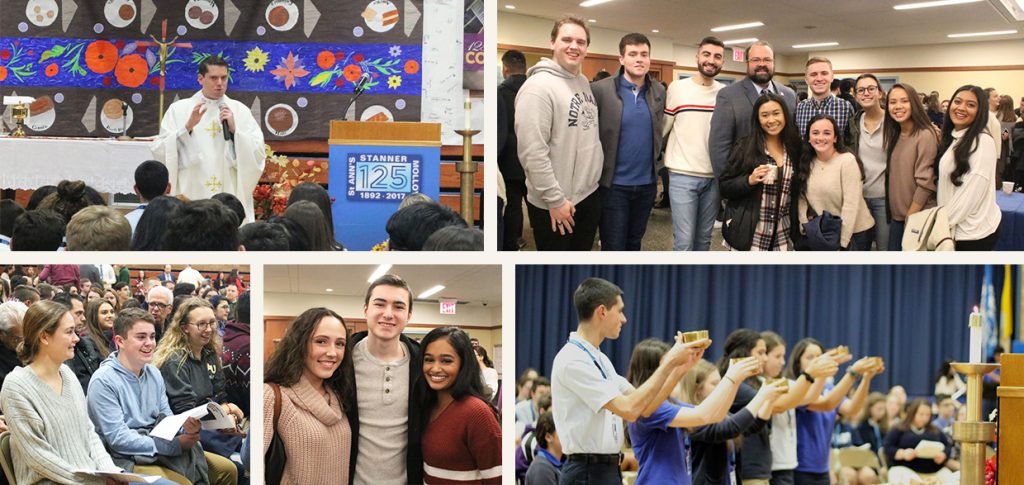 When: Wednesday, November 27, 2019
Guests Arrive: 10:15am
Mass Begins: 10:40am
Where: Archbishop Molloy High School
Who: All are welcome!
Contact: alumni@molloyhs.org | 718.441.9210
No RSVP Required!
Parents, alumni, family members, and friends are invited to join us as we celebrate our annual Thanksgiving Liturgy on Wednesday, November 27th. Mass will begin at 10:40am. We encourage all guests to arrive by 10:15am to allow for enough time to be settled and seated. The theme of this year's liturgy will highlight the diversity of our students and our international Marist community with a mural representing table settings from around the world. Following Mass, all guests are invited to a light reception with cookies and hot chocolate in our student cafeteria. We look forward to your homecoming this week!
---
Molloy Wine Tasting –

SAVE THE DATE!
When: Thursday, February 6, 2020 | 6:30pm
Where: Archbishop Molloy High School
Who: Parents, Alumni, Family & Friends (Ages 21+)
Contact: hgreen-wresch@molloyhs.org | 718.441.2100 x155
REGISTRATION NOW CLOSED
Join us on February 6, 2020 for a unique wine tasting experience led by Molloy's in-house wine expert Mr. Jim Sheehan '75. Participants will enjoy small bites and sample five to six different wines chosen by Jim (theme to be announced). You will learn how to evaluate each wine based on appearance, taste, smell, and other defining characteristics. We welcome parents, alumni, family members and friends (ages 21+) to this special evening. Online registration will open soon, or contact Ms. Heather Green-Wresch for more information (see contacts above).



Senator Joseph P. Addabbo Jr. '82 recently visited Molloy to serve as a guest speaker in Mr. Shannon's classes as well as in Ms. Rayappa's AP Government class. Senator Addabbo discussed various aspects of his public service career including how he has worked with civilians to pass new local laws.
---
Francis Finneran '06 shared an article from earlier this year about the life-saving actions he and his colleagues were credited with. Francis was among a team of medical professionals at UR Medicine Thompson Hospital in Canandaigua, NY, that saved the lives of a mother and her newborn baby after the mother had gone into cardiac arrest just two days before a planned c-section. "Given the circumstances surrounding this delivery the outcome was truly a miracle," said Francis. "I'm proud of being part of the team that helped that miracle come to fruition. This whole experience was made even more surreal when my wife and I had our first child just three days later." | Click here to read the full story
---
Thanks and congratulations to Tyler Bay '11 (14:14.8; 6th place individually), Patrick Goldberg '13 (15.49.2; 22nd place individually), and Walter Rodriguez '12 (16:16.0; 25th place individually), who represented Molloy in the annual Alumni Race at Van Cortlandt Park on November 9th. As a team they finished in 4th place overall. Click the following links for additional info. | Alumni Race Full Results | Meet Info
---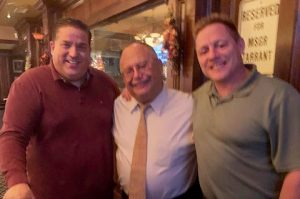 Mr. Lou Santos recently connected with Joe Aguirre '86 and Jim Urban '86. Lou shared a picture from their meeting.
---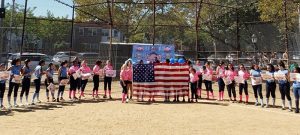 Earlier this fall, Coach Lou Santos extended thanks to Don Erickson '90 for donating a large American Flag in honor of the 20th anniversary of the Lady Diamond Pros, Lou's softball organization. Lou and a contingent of softball players held a ribbon-cutting ceremony with NYC Parks and Recreation, who they recently partnered with to adopt a field. "Our celebration was highlighted by our players presenting the colors on the field with City Councilman Peter Koo in attendance," said Lou.
---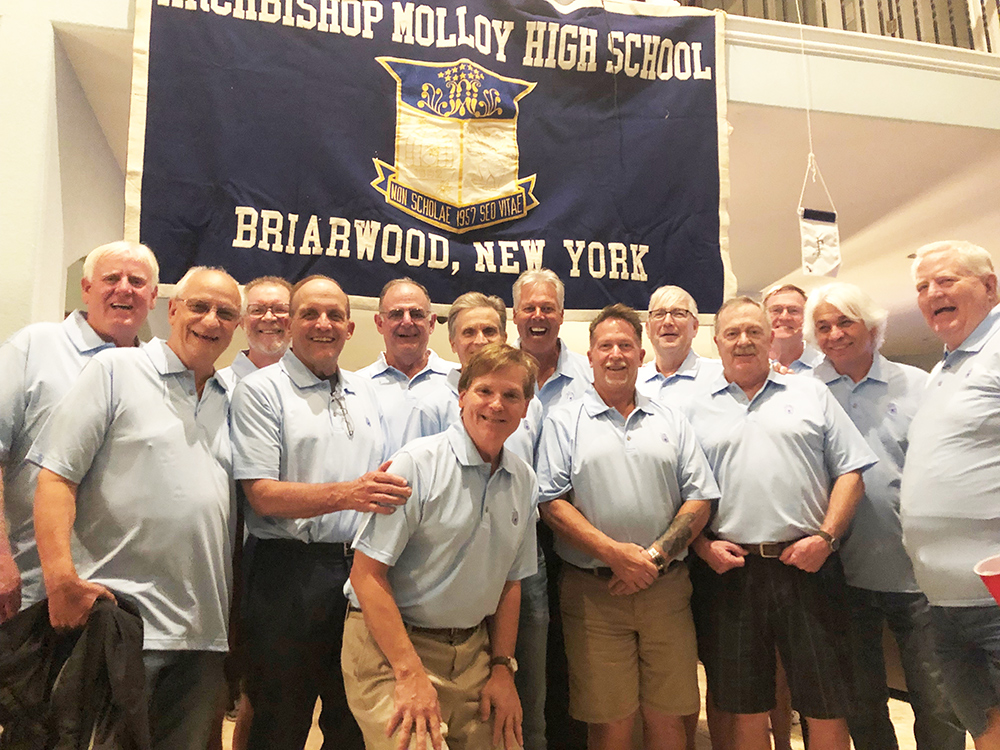 Ed Kurpiel '71 shared a photo from his Fast Eddie Open golf outing, which welcomed a large contingent of Stanners. Ed attempted to name everyone in the photo. Pictured: Joe Gallo '70, Jim Fraser '75, Mike Sparacino '70, Carl Czurda '70, Marc Costello '71, Steve Bianco '70, Tom Hopke '71, Eddie Kurpiel '71, Rich Nicolosi '75, Kevin Tennant '69, Billy Mcgoldrick '70, Kevin Raftery '70, Joe Martino '68, and Vinny Clausen '70. Not pictured but arrived later in tournament: Tom Mcgoldrick '76, Charles Camarda '70, Billy Johnson 71, Rich Kisielewski '70, and Mike Sorrentino '70. Molloy donated golf shirts for all Stanners in attendance.



Please pray for the repose of the soul of Firefighter Matthew J. McDevitt, brother of Garrett McDevitt '00.

Please pray for the repose of the soul of Ms. Jennifer Gravagna, mother of Julia Gravagna '20 and Christopher Gravagna '21.

Please pray for the repose of the soul of Ethel C. Terkelsen, sister of Br. Robert Andrews.