Alumnae Yoga & Meditation
Registration is now closed.
Molloy will host its third Alumnae Yoga & Meditation event this Sunday, January 12th at 11:00am. Join Jennifer Kelleher '04 of Body Love by Jen for a renewing session suitable for both new and experienced yogis. Participants are encouraged to bring their own yoga mat and a water bottle (water will also be provided). Light refreshments will be provided after the conclusion of the session.
---
Safety Awareness Event
In its efforts to help educate and empower the community we live in and serve, Molloy has partnered with several organizations during Runner Safety Awareness Week (January 22-25). Whether you're a runner, avid athlete or just enjoy a walk in the park, come out and learn valuable insights and tactics on how we can all be safer. Listen to experts share advice and personal stories that can help us all be safer. This event is free to all in the Molloy and greater Queens communities. Activities include presentations by the NYPD, Boston-Based Self-Defense Group Train Your Roar, national speaker Kelly Herron, a Q&A, and more. Drinks and snacks will be provided. Please share our flyer with family and friends.
---
Alumni Night / Boys Varsity Basketball Vs. SFP
All members of our community are welcome to join us for Alumni Night, sponsored by our Badges Network! Join us for an evening reception beginning at 6:00 PM on January 31st. Cost of a standard adult admission includes food, soft drinks, and adult beverages (ages 21+) as well as entry into the Game of the Night in the Jack Curran Gymnasium. Catch tipoff at 7:30PM from VIP seats as Molloy's boys varsity basketball team faces off against St. Francis Prep. Our Badges Network will also honor beloved longtime teacher and Stanner Hall of Famer (and now retiree) Mr. John Diorio during a special presentation at 6:30pm. Mr. Diorio was one of the founders of the Badges Network. Please join us as we celebrate our Stanner Alumni, our Badges Network, the beginning of a new year, and the legacy of Mr. Diorio.
---
Molloy Wine Tasting – REGISTER NOW!
Join us for a unique wine tasting experience led by Molloy's in-house wine expert Mr. Jim Sheehan '75. Participants will enjoy small bites and sample six different wines from the Pacific Northwest United States chosen by Jim. Learn how to evaluate each wine based on appearance, taste, smell, and other characteristics. More thoughts from Jim:
"Although the wines of the Pacific Northwest United States don't carry the immediate cache of those from California, there are many splendid wines from Oregon and Washington State, many of which are more affordable than their California cousins. The climate and terroir of a number of appelations in the Willamette Valley, Oregon, share strikingly close characteristics with those of Burgundy, the region which sports the most dynamic and expressive Pinot Noirs in the world. And in Washington, Cabernet Sauvignon, Merlot, Syrah and a diversity of red blends lead the way with quite a few stunning, unexpectedly expressive stars. Please join us for an exploration of six of these exciting wines." — Jim Sheehan
We welcome alumni, parents, family members and friends (ages 21+). We also welcome members of our Parents Guild. Contact Ms. Heather Green-Wresch for more information about this event or the Parents Guild.


The Fund For Molloy – Needs Assistance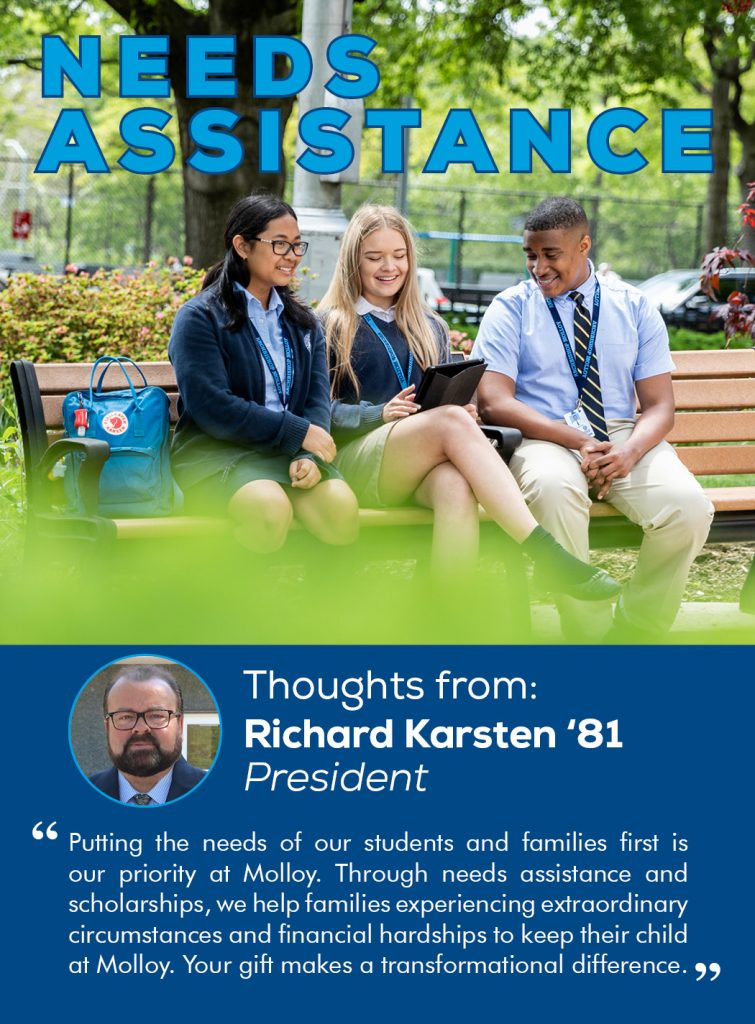 This week we continue our Beehive series highlighting the impact of your generosity by focusing on Needs Assistance. Each year, gifts made to The Fund For Molloy directly benefit our scholarship program, which includes Academic Scholarships, Named Scholarships, and Needs Assistance. Academic scholarships are based on academic performance, while each named scholarship (in honor or memory of a member of our community) is based on criteria indicated by the founding benefactor of the scholarship. Through Needs Assistance, Molloy considers many intangibles and ultimately supports currently enrolled students who's families are experiencing extraordinary circumstances.
The unfortunate reality is that many students experience challenges. Whether they are raised by a single parent, faced with family illness or unemployment / underemployment, divorce, or they have suffered the loss of a parent, each of these circumstances can create an emotional and financial burden. A portion of The Fund For Molloy is reserved for such cases, allowing the school to help these students and their families in their time of need.
President Richard Karsten '81 has met with many parents and families over the years. "Molloy awards upwards of $225,000 annually in Needs Assistance to keep students in school. This includes incoming freshmen as well as students already enrolled at Molloy," explained President Karsten. "I can say with 100% certainty that Molloy has never and will never ask a student to leave due to their family's inability to pay tuition. If a situation comes to light, we will do what we can to provide the appropriate support."
President Karsten also noted that between Needs Assistance, Academic Scholarships, and Named Scholarships, over 23% of Molloy students receive some form of tuition assistance. "Gifts made to The Fund For Molloy are a critical piece of the puzzle. They strengthen each of these scholarship programs and allow them to flourish. Needs Assistance in particular is at the heart of our scholarship program. Thanks to the philanthropy of our many dedicated benefactors, we can afford our students with every opportunity to complete their education. Our graduates go on to do amazing things personally and professionally throughout their lives. Our mission is to continue to create confident leaders and good citizens, and Needs Assistance helps make that possible for many students."

---
Faculty Members Visit Br. Aquinas

On January 2nd, the feast day of the Marist Institute, several Molloy faculty members and Marist Brothers visited Br. Aquinas Richard '48 at De La Salle Hall in New Jersey. Br. Aquinas has been recovering at the facility following a medical issue. Pictured are Br. Aquinas (center) with Br. Pat Hogan, Mr. Lou Santos, Mr. Joseph Chowske '81, Mr. Joe Dombrowski, Br. William Lavgine, and Br. Hugh Andrew. Br. Aquinas was in good spirits and sends warm wishes to all Stanners and friends. Please keep Br. Aquinas in your prayers as he continues his recovery.
---
Students Support Charities With December Drives
In December, Molloy students supported several Campus Ministry drives benefiting people in need. From December 9-13 students donated new or slightly used coats for individuals at Briarwood Shelter and other local shelters. Students also donated used eyeglasses through a local Lions Club. Later in December students purchased Candy Cane Grams with proceeds benefiting our Toy Drive for local charities. The Toy Drive, held December 17-19, saw students collect many new toys to be distributed by three different charities.
---
Speech and Debate Club Returns And Makes History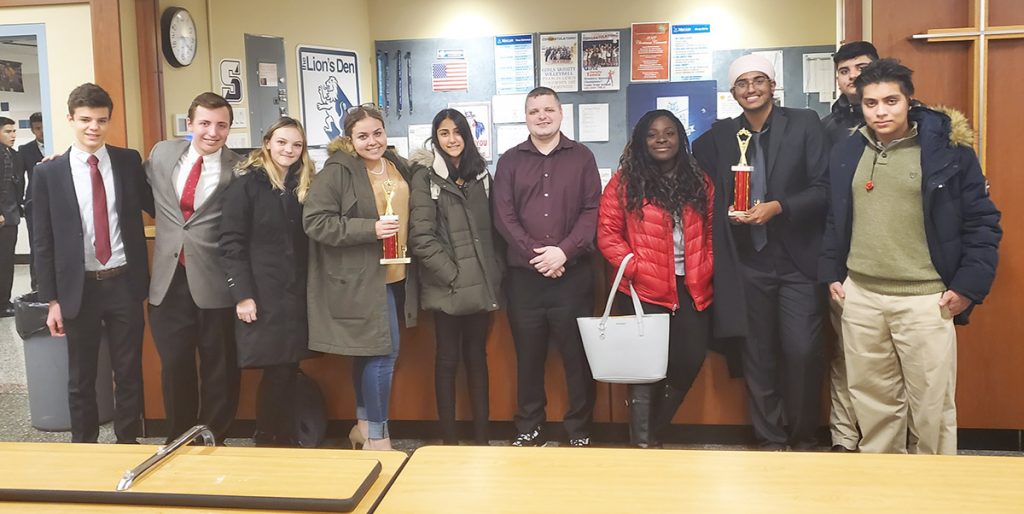 In December, Molloy hosted its first full State and National Speech and Debate tournament since 1996. Nine Molloy students competed in the tournament in categories ranging from speech (dramatic performance, poetry/prose, etc.) to actual debate. The team of Ash Sodhi '21 and Angelica Katcher '21 (pictured with trophies) not only won their rounds with a perfect 3-0 record (all three rounds were won against more experienced competitors), they finished second place overall in their category. This earned Ash and Angelica a half-qualification in the NY State Championship along with national recognition. Molloy's Original Oratory competitor (create your own 10 minute speech) Ryan Curran '22 (pictured second from left) was also recognized. Ryan scored 95 out of 100 in speaking points. His speech was about his personal struggle with his hearing impairment. "In just our second time competing we created a wave of talk within the national circuit," said Speech and Debate Club moderator Mr. Larry Reilly (pictured center). "I am extremely proud of our team and very humbled by the help and support from Molloy's administration and faculty."
---
Molloy Hosts Citywide Baseball Clinic

On December 26th, The Greater NY Sandlot Athletic Association (GNYSAA) held its 8th Annual Lou DeMartino Hot Stove Clinic. Molloy donated use of its facilities for the event, which was coordinated by Mr. Lou Santos. This is a free clinic open to all children in New York City. All coaches present were volunteering their time to assist with the event. Vic Feld, President of the GNYSAA, introduced several dignitaries who volunteered including John Ceprini (Scouting Director for the Cincinnati Reds), Ken Auer (former CW Post doubles record holder), Craig Everett (Head Coach at Concordia College), Frank Battaglia '93 (NYIT Assistant Coach), and Bob Pertsas (PSAL Baseball Director) among others. | Full List of Volunteers
---
Download the 2020 Winter Athletics Schedule
Click the image below to enlarge, right click to save.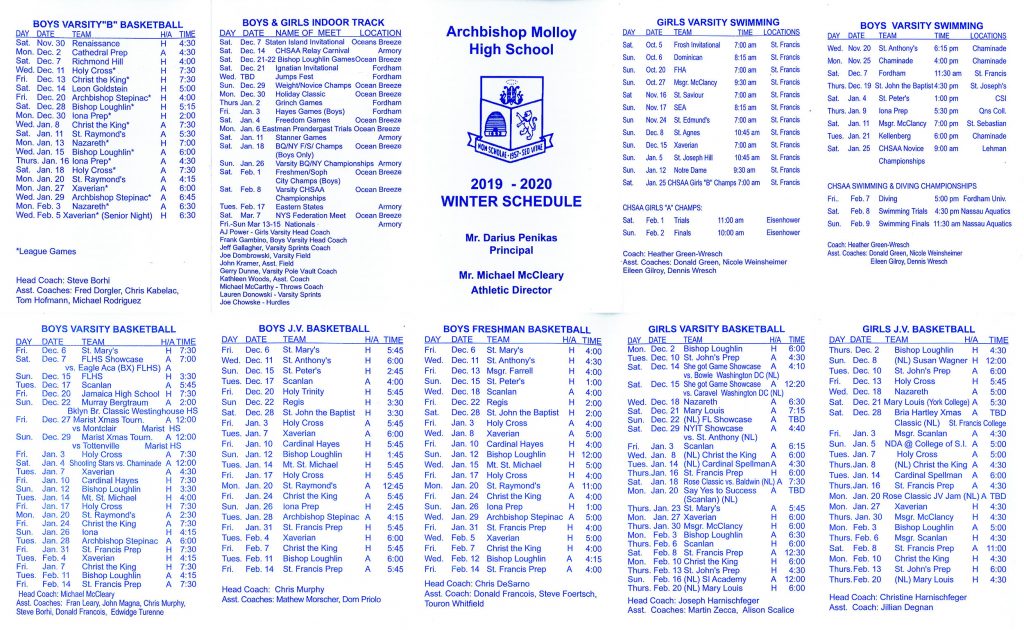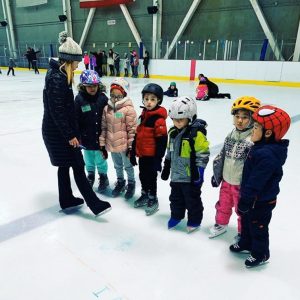 Lok-See Lam '18 has been a figure skater for eight years and has since begun coaching youth ice skating. Lok-See is a coach at World Ice Arena in Flushing and Andrew Stergiopoulos Ice Rink in Great Neck. After working for a year at World Ice Arena as a Junior Coach and gaining teaching experience on the ice, she was ready to take on additional lessons in Great Neck. Lok-See now teaches group classes at both rinks and private lessons for beginners in Great Neck. "I love working with children and sharing the joy of skating with them," said Lok-See. If you are interested in enrolling your child in one of Lok-See's group classes or private lessons please contact alumni@molloyhs.org.



Please pray for the repose of the soul of Leo Aloi, father of Leonard C. Aloi '64.