Safety Awareness Event
When: Friday, January 24, 2020 | 6:00-9:00pm
Where: Archbishop Molloy High School
Who: Molloy & Queens Communities
Admission: Free. All Welcome!
Contact: alumni@molloyhs.org
REGISTRATION IS NOW CLOSED
This event is free to all in the Molloy and greater Queens communities. In an effort to help educate and empower the community we live in and serve, Molloy has partnered with several organizations during Runner Safety Awareness Week (January 22-26). Whether you're a runner, avid athlete or just enjoy a walk in the park, come out and learn valuable insights and tactics from organizations who care. Listen to experts share advice and personal stories that can help us all be safer. The event will feature presentations by the NYPD, Boston-Based Self-Defense Group Train Your Roar, national speaker Kelly Herron, a Q&A, and more. Snacks and refreshments will be provided.
---
Alumni Night / Boys Varsity Basketball Vs. SFP
REGISTRATION IS NOW CLOSED
When: Friday, January 31, 2020 | 6:00pm
Where: Archbishop Molloy High School
Who: Badges Alumni (and all Alumni!) Family & Friends
Admission: $40 Per Adult | $10 Per Child 12 & Under
Contact: alumni@molloyhs.org
REGISTRATION IS NOW CLOSED
Come out to Molloy for Alumni Night, sponsored by our Badges Network! Join us for an evening reception beginning at 6:00 PM on January 31st. Cost of a standard adult admission includes food, soft drinks, and adult beverages (ages 21+) as well as entry into the Game of the Night in the Jack Curran Gymnasium. Catch tipoff at 7:30PM from VIP seats as Molloy's boys varsity basketball team faces off against St. Francis Prep. Our Badges Network will also honor beloved longtime teacher and Stanner Hall of Famer (and now retiree) Mr. John Diorio during a special presentation at 6:30pm. Mr. Diorio was one of the founders of the Badges Network. We look forward to seeing you!
---
Molloy Wine Tasting – SOLD OUT!
When: Thursday, February 6, 2020 | 6:30pm
Where: Archbishop Molloy High School
Who: Alumni, Parents, Family & Friends (Ages 21+)
Contact: hgreen-wresch@molloyhs.org | 718.441.2100 x155
Admission: $50 per person | $80 per couple | $40 young alumni discount
THIS EVENT IS SOLD OUT AS OF 2/3/20
Join us for a unique wine tasting experience led by Molloy's in-house wine expert Mr. Jim Sheehan '75. Participants will enjoy small bites and sample six different wines from the Pacific Northwest chosen by Jim. Learn how to evaluate each wine based on appearance, taste, smell, and other characteristics. More thoughts from Jim:
"Although the wines of the Pacific Northwest United States don't carry the immediate cache of those from California, there are many splendid wines from Oregon and Washington State, many of which are more affordable than their California cousins. The climate and terroir of a number of appelations in the Willamette Valley, Oregon, share strikingly close characteristics with those of Burgundy, the region which sports the most dynamic and expressive Pinot Noirs in the world. And in Washington, Cabernet Sauvignon, Merlot, Syrah and a diversity of red blends lead the way with quite a few stunning, unexpectedly expressive stars. Please join us for an exploration of six of these exciting wines." — Jim
We welcome alumni, parents, family members and friends (ages 21+). We also welcome members of our Parents Guild. Contact Ms. Heather Green-Wresch for more information about this event or the Parents Guild.


Alumnae Enjoy Yoga & Meditation Session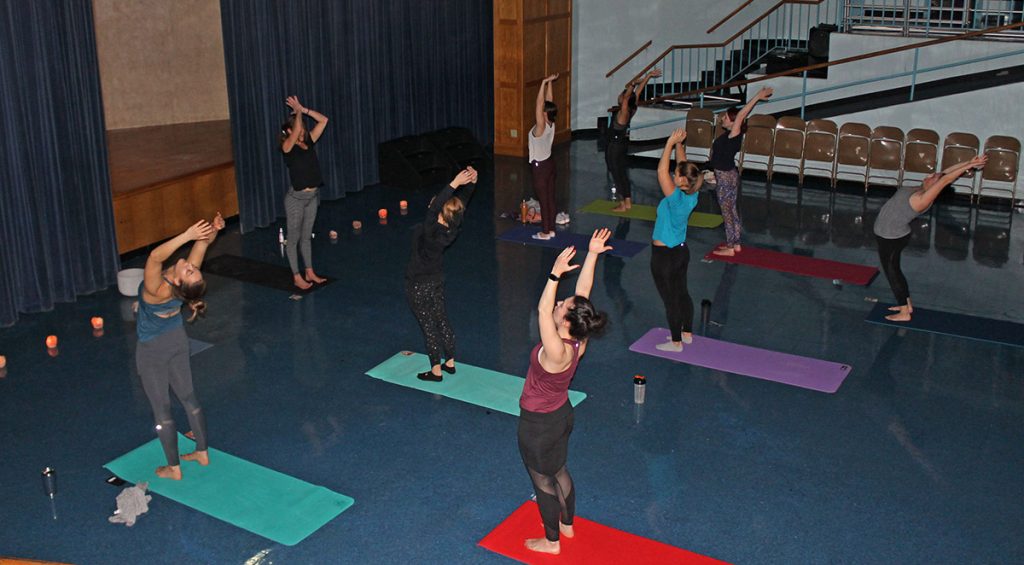 The Stanner Alumni Center would like to thank Jen Kelleher '04 of Body Love By Jen for volunteering her services during our first event of 2020. Jen led a group of our alumnae in a rejuvenating yoga and meditation session suitable for all experience levels. The event was a great way to start this new decade with a health-conscious approach. Jen is available for events/group bookings as well as one-on-one health coaching. For more information visit www.bodylovebyjen.com.
---
Molloy Basketball To Be Featured In Museum Exhibit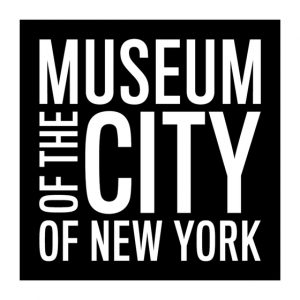 On February 14th, the Museum of the City of New York (MCNY) will open its newest exhibit: City/Game: Basketball in New York. According to a press release, the exhibit "intertwines New York's vibrant history of street and playground basketball with the narratives of the players, coaches, and moments that have made the city's high school, college, and professional game the stuff of legend." Molloy will be among other local high schools represented in the exhibit with items including vintage photos of Jack Curran, a ball signed by Lou Carnesecca '43 and one of his championship teams, and a high school jersey once worn by former pro Kenny Anderson '89. We encourage Stanners interested in Molloy and NYC basketball history to check out the exhibit, which will run through January 3, 2021. The MCNY is located at 1220 Fifth Avenue at 103rd Street in Manhattan and is open daily from 10am-6pm. Click the following links for more info: Press Release | Museum Website | Exhibit Website
---
Three Seniors Awarded Posse Scholarship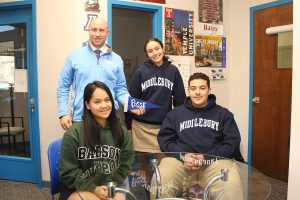 Molloy is pleased to announce that three outstanding seniors have been awarded with full college scholarships by The Posse Foundation: Elizabeth Duran '20 (Middlebury College), Johnny Gaston '20 (Middlebury College), and Gemma Magsino '20 (Babson College). According to The Posse Foundation website, the Posse model "works for both students and college campuses and is rooted in the belief that a small, diverse group of students – a Posse – carefully selected and trained, can serve as a catalyst for individual community development." The Posse Foundation considers candidates from a large pool of diverse leaders who have demonstrated academic excellence in high school. Students from 58 partner schools in 10 major US cities, including New York, are eligible. Approximately 2,000 applications are submitted in New York City alone. As a partner school, Molloy was invited to nominate as many as five students, while any of Molloy's past Posse participants (most recently Kelly Santiago '17) could also nominate students. Nominees must go through a dynamic assessment that includes a skills test in groups, observed games and questions, and a one-on-one interview. As a result of this evaluation, The Posse Foundation selected Elizabeth, Johnny, and Gemma as finalists.
"The Posse Scholarship is significant in several ways," said Mr. Gus Esgro, a College Guidance Counselor at Molloy. "First, students are empowered to be leaders on campus. Second, each recipient is plugged into an expansive nationwide network that includes other Posse Scholarship winners. Molloy's network of Posse recipients also grows, resulting in more available nominations for future Stanners. Lastly, this scholarship removes the cost of tuition, allowing recipients to focus their energies on school without a financial burden. We are very proud that Elizabeth, Johnny, and Gemma are representing Molloy as Posse Scholars." | More Information
---
Student-Athletes, Volunteers Shine At Stanner Games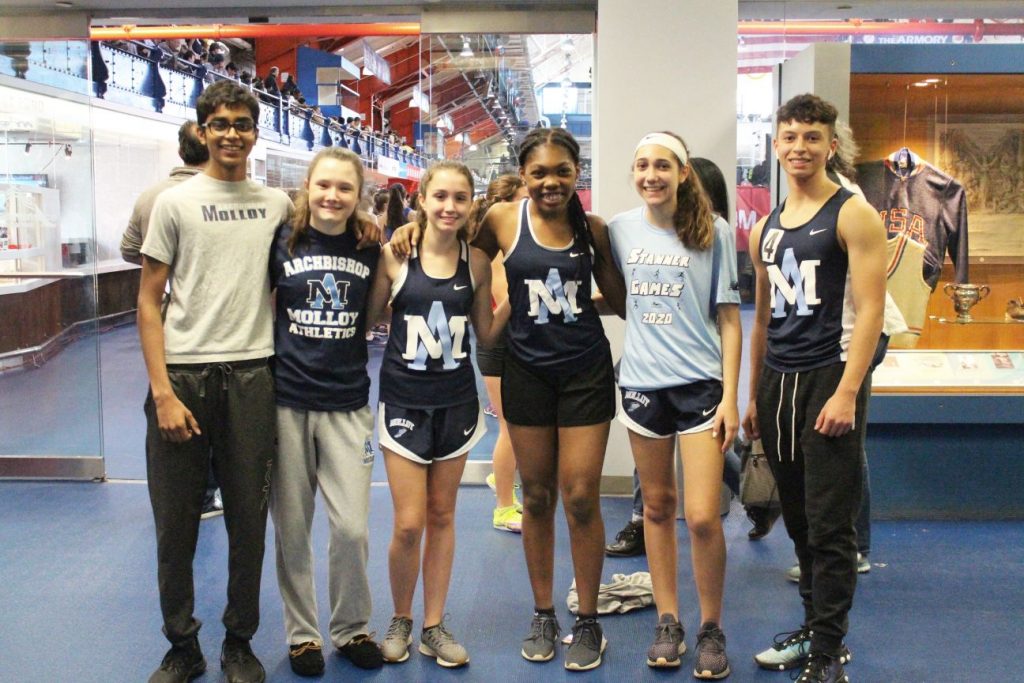 On January 11th, over 3,000 student-athletes competed in Molloy's annual Stanner Games. Hosted at the legendary Armory Track on Fort Washington Avenue, student-athletes from over 140 schools put their skills to the test during a full-day of indoor track and field events. Stanner Games is a nationally recognized meet due to its large scale, efficiently run program, and how frequently it sees national records set. Coach AJ Power '84 was ecstatic about the meet and explained what makes it unique. "This year's Stanner Games was a complete success. What sets our meet apart from others is our coaches and volunteers. There is no other meet in the country that is run by this many volunteers," said Mr. Power. Over 80 volunteers, including alumni, students, faculty, and family members assisted in organizing events and directing the thousands of participating athletes throughout the day. "Numerous coaches from other schools praised our volunteers. Even The Armory web media crew was impressed by the positivity and energy of our volunteers." Alumni volunteers represented each decade from the 1960s through the 2010s.
Several nation-leading performances were recorded this year, and many other personal bests were set. Representing Molloy, Peter Meehan '20 and Abigail Jefferies '22 each earned medals in their events, while Ike Anaege '21 won the Long Jump. Grace Murphy '23 won the 1600M Run setting a new frosh record.
CLICK HERE FOR FULL STANNER GAMES RESULTS
Coach Gambino extends special thanks to the clerking crew which included many recent graduates: Kara Gallagher '19, Monica Martinez '09, Kennedy Kirk '19, Chris Marina '19, Paige McDade '19, and James Loeffel '19 and John Loeffel '19.
Photos by Marina Tsimisiris '21, Cher Mei '22, and Eric Akosa '21.
---
Follow Molloy On Social Media!
We invite alumni, family members and friends to follow Molloy on social media! Get news updates, see the latest photos, learn about upcoming events, and join the conversation. Following Molloy on Instagram, Twitter, Facebook or LinkedIn is a great way to stay up to date on Molloy news in between each issue of The Beehive. Click the links below to select the feeds you'd like to follow!


Ivan Pereira '03 recently began a new job at ABC News Digital on January 8th. He will be covering national news for the TV news network's website. He previously worked at amNewYork and freelanced for the New York Times.
---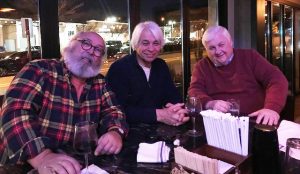 In mid-January, the stars aligned for three Stanners from the Class of 1968 to meet up in Glen Cove for dinner. Pictured left to right: Mike Friend '68, Joe Martino '68, and Charlie Flood '68 (visiting from Nashville). Mike shared stories from his stage debut in Glen Cove's Community Theater group, and a good time was had by all.
---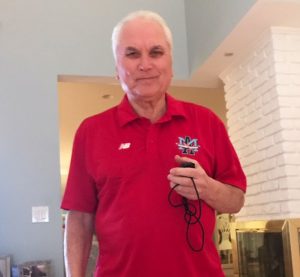 Back in the early days of Molloy, Bruce Willman '59 was a standout Track & Field athlete. Bruce was notably on a Penn Relays winning mile relay team with Tom Farrell '61. Bruce's son Brian is currently a Track & Field / Cross Country coach on Long Island. Joe Dombrowski, a Stanner Games official, recently sent a Stanner Games volunteer polo shirt to Bruce care of his son. Bruce has been wearing the shirt proudly since it arrived (pictured)!
---
Congratulations to Henry Roubian '85 on his recent promotion to Investigator Corporal in the Nassau County Sheriff's Department, assigned to the Office of the Commissioner.
---
Congratulations to the Giachin family. Anthony Giachin, son of Dan Giachin '81, has been named a consensus All-American baseball player at 3rd Base. Anthony plays for Army.



Please pray for the repose of the soul of St. Ann's Academy graduate Peter R. Sammarco '48, who passed away on June 24, 2019 at age 88. Peter is survived by his wife of 60 years Janet, his son Peter, and daughter Jennifer. He is also survived by two granddaughters and two great grandsons. He was predeceased by his son Robert. Please keep Peter and his family in your prayers.

We are saddened to share the passing of Winnie C. Wong, mother of brothers Timothy '86, Edwin '90, and Christopher '91. Winnie passed away December 5, 2019. Please keep Winnie and her family in your prayers.